A memorable shared dining experience in Northern Italy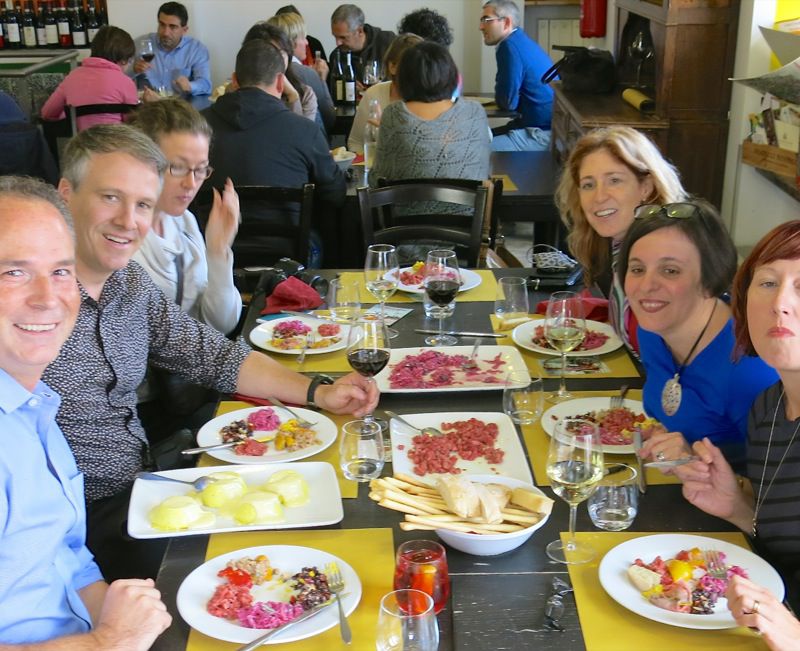 After an incredible morning at the Truffle Market in Alba, a part of the annual Alba Truffle Festival, a stop at a well respected local Torone factory outlet store purchasing gorgeous nugget and a visit to the Castello di Grinzane Cavour, a Unesco Heritage Site that hosts the annual Alba White Truffle Auction for charity (by invitation only) each year, we were hungry! More e Macine awaits! (Here is the link to its Facebook Page as no website could be found.)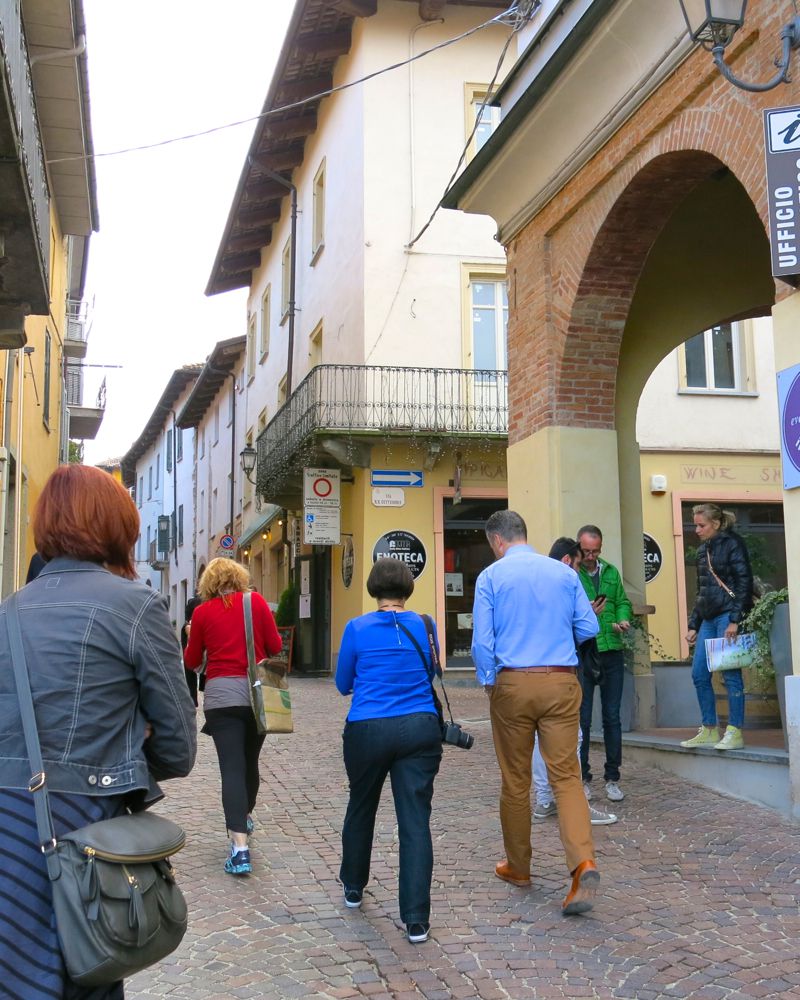 The trouble with taking a tour is time: there is a schedule that must be adhered to. The advantage of taking a tour is time: the time given is maximized to include a host of opportunities that would likely not present themselves outside of the context of a tour. Thus, no visit to the charming old town square of La Morra where we stopped for lunch. This village lay near Barolo amid the rolling and vast hills of the famous Piemonte wine region. The Nebbiolo grape, used to make the mighty Barolo, is revered in this region. There was once a law with grave consequences against cutting down any Nebbiolo vine. La Morra is in the province of Cuneo, southwest of Alba, in the region of Peimonte. This province is famous for the Barolo and Barbaresco wines both made from the Nebbiolo grape, as well as the Barbera, made from the Barbera grape, the most widely planted in the area. Everyone was looking forward to a bold big red Barolo and a great dish of pasta with the White Alba Truffle for lunch this day.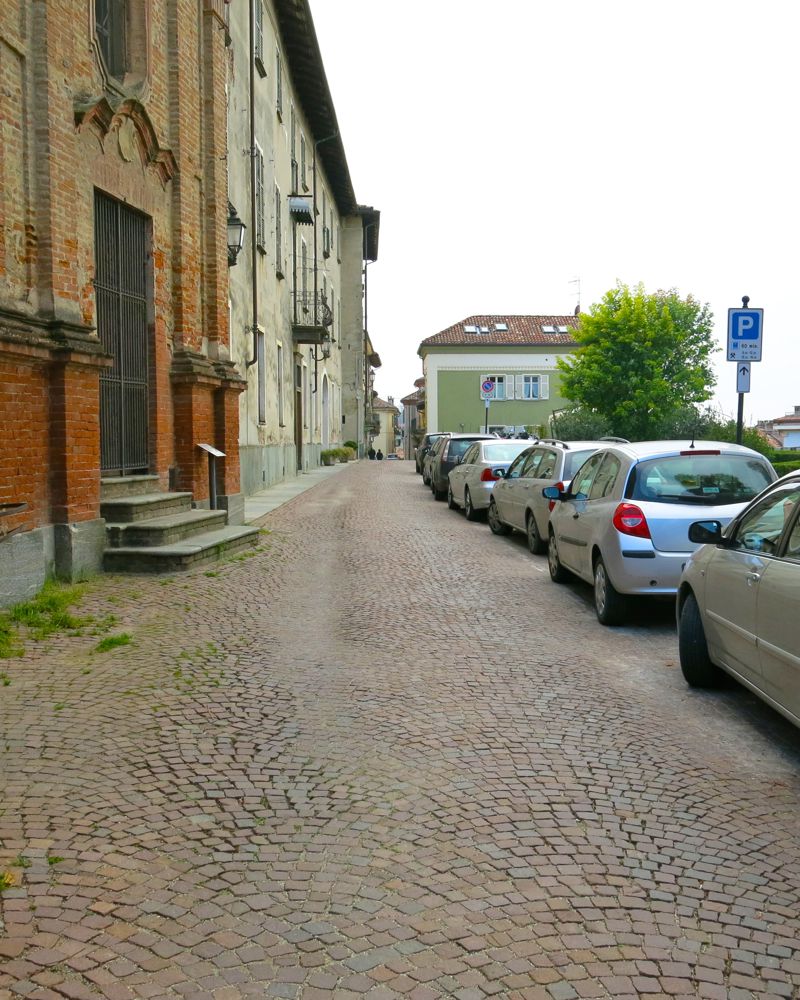 The restaurant is the green building to the right at the end of the road, above.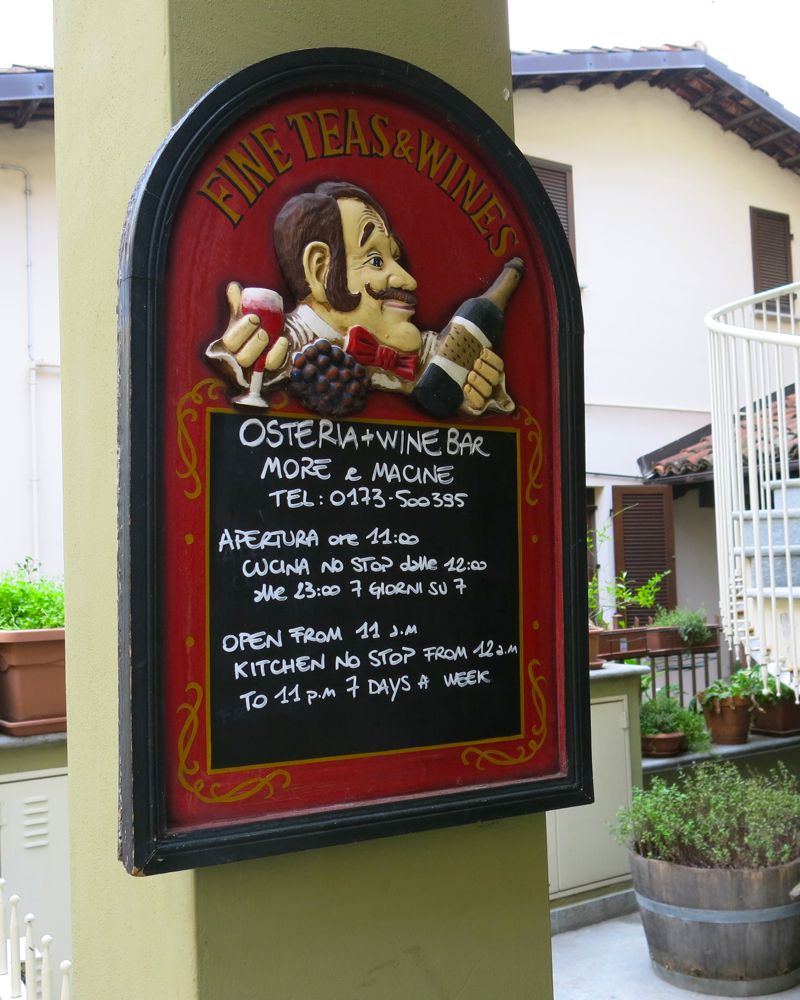 The experience provided by More e Macine surpassed our expectations. We did not enjoy a White Truffle lunch, but the unexpected is sometimes unforgettable. This was one of those times.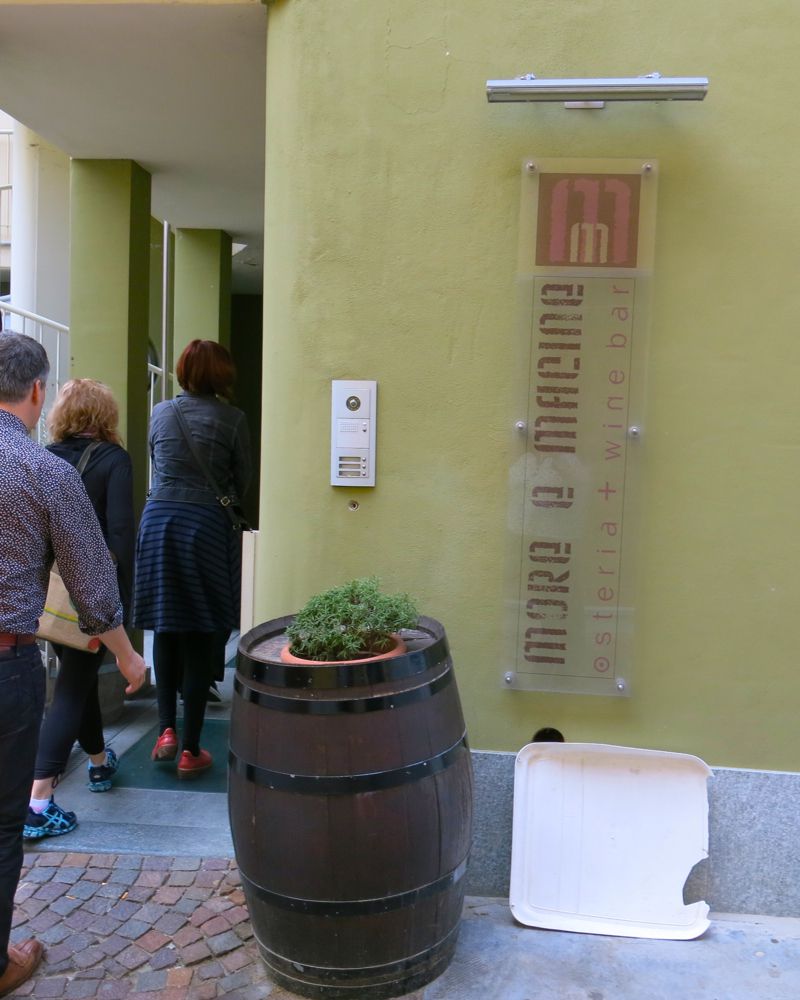 Arriving about 10 minutes late, our table appeared to be in use. The room and patio were teeming with chatter of friends and family gathering on a Sunday afternoon, enjoying a leisurely lunch. Within a few minutes, we were seated and welcomed.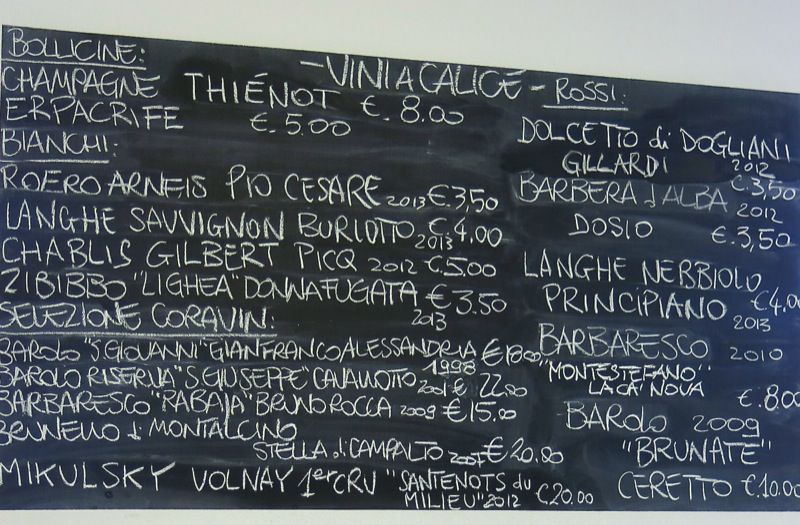 Drink menu above.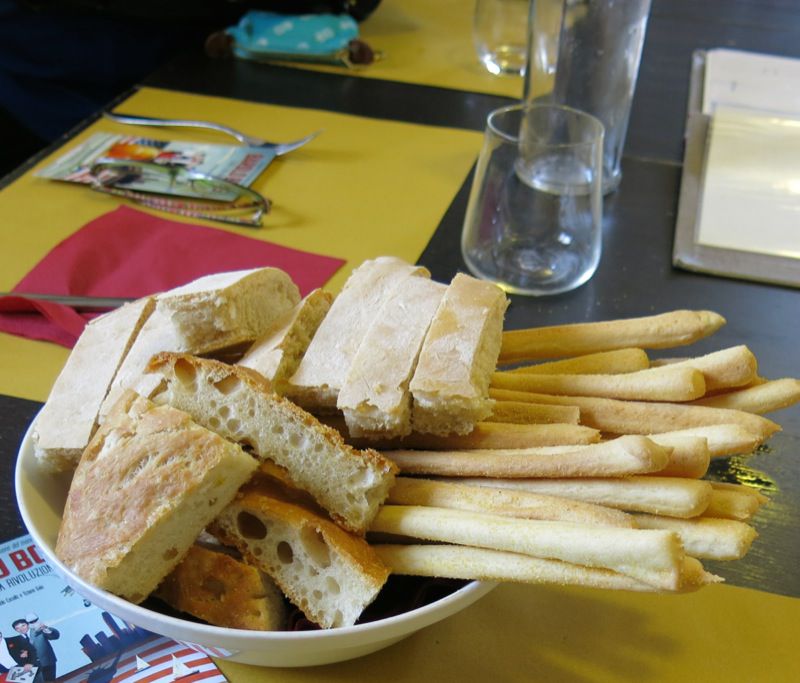 Piemonte is the land of the grissini, or breadsticks. I find them delicious and they are offered everywhere.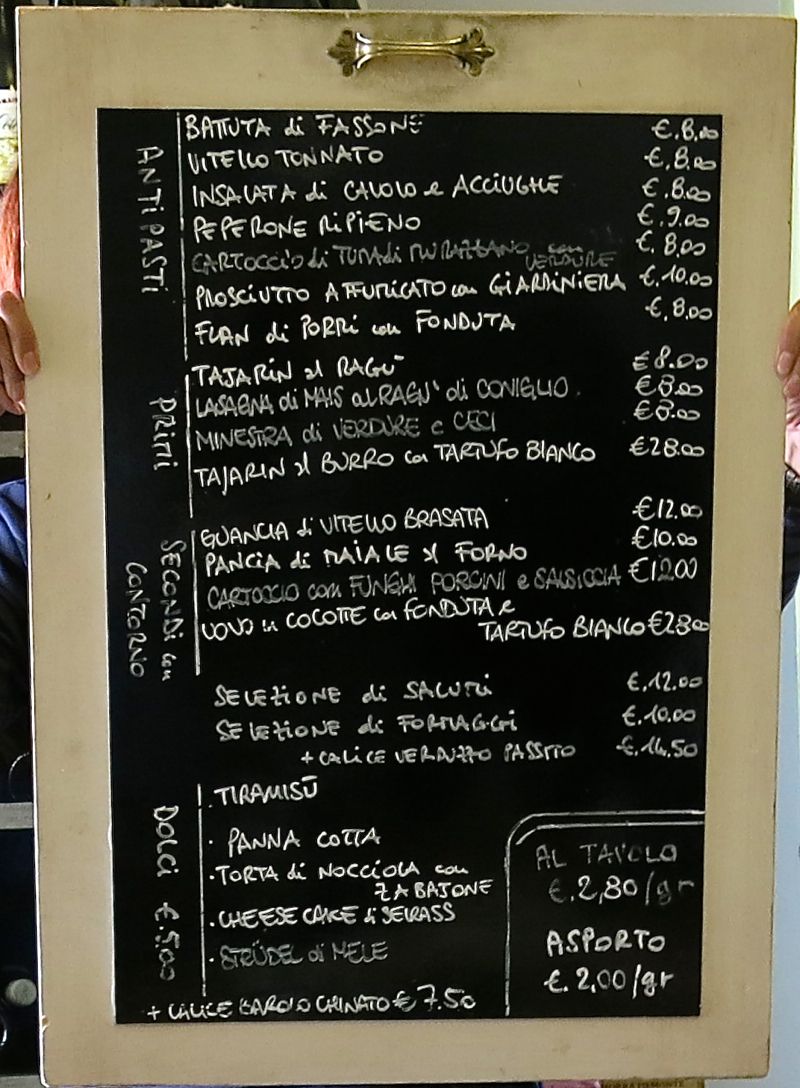 Italian, anyone? Google translation on a smart phone is a beautiful thing.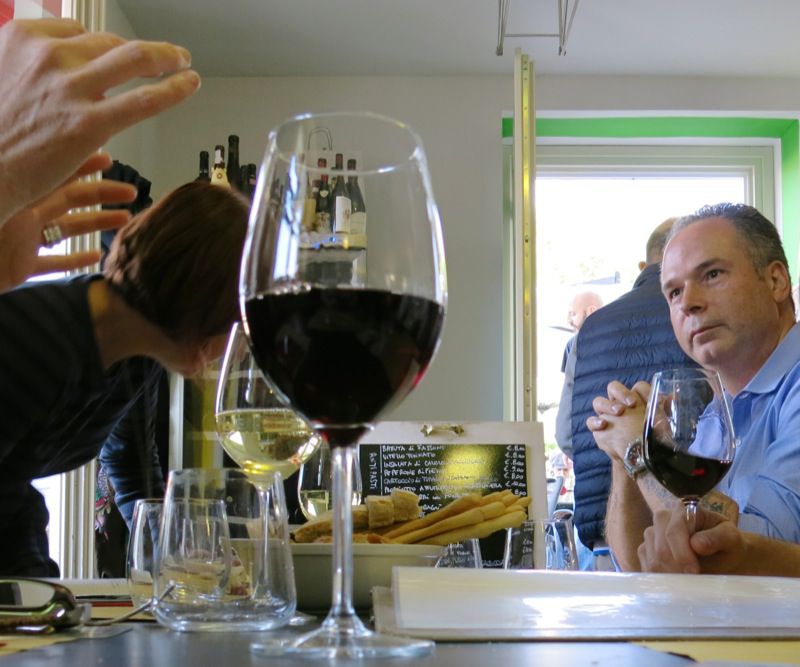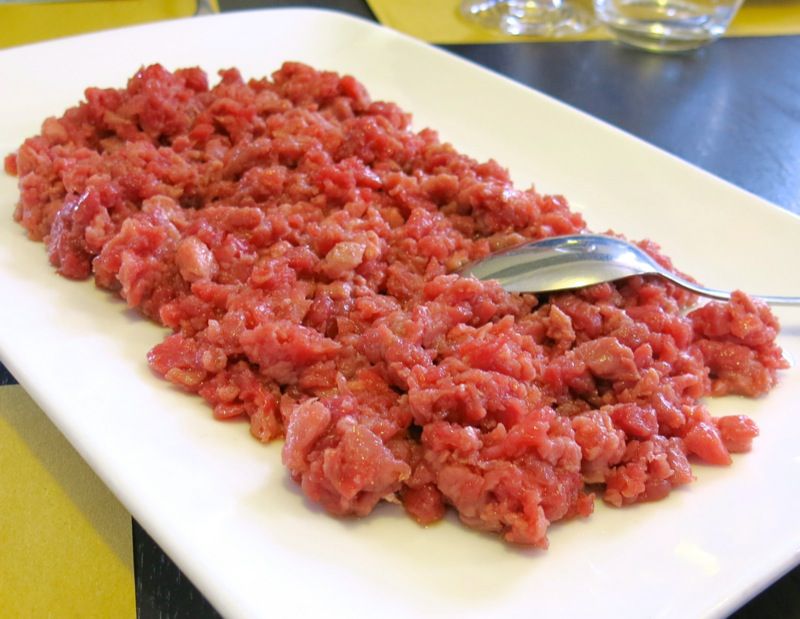 It was indubitably apparent that getting served in a timely fashion was going to be a challenge. Don't be discouraged. Make the time. The waiter suggested we enjoy a selection of the antipasti to save time with initial ordering. What unexpected splendor unfolded before us. Above, a very traditional battuta di fassone which is the carefully hand minced gorgeous flesh of the noble Fassone breed of cow, originally a dairy cow, from Piemonte. This local beef is revered, not only for its history, but for its low fat content: 0.5-1% versus 3% of other bovine breeds. The beef produced by this breed is actually leaner than many white meats and lower in fat-content than many varieties of fish. It is internationally acknowledged as one of the best meats in the world due to its nutritional value. Oh, had I known this when eating it. Now, I understand why the beef melted in the mouth. Seasoned only with salt, pepper and olive oil, this is truly a very special and rare taste opportunity for a traveler, and one I will cherish. The battuta is on many a menu. It is the battuta di fassone that one must watch for.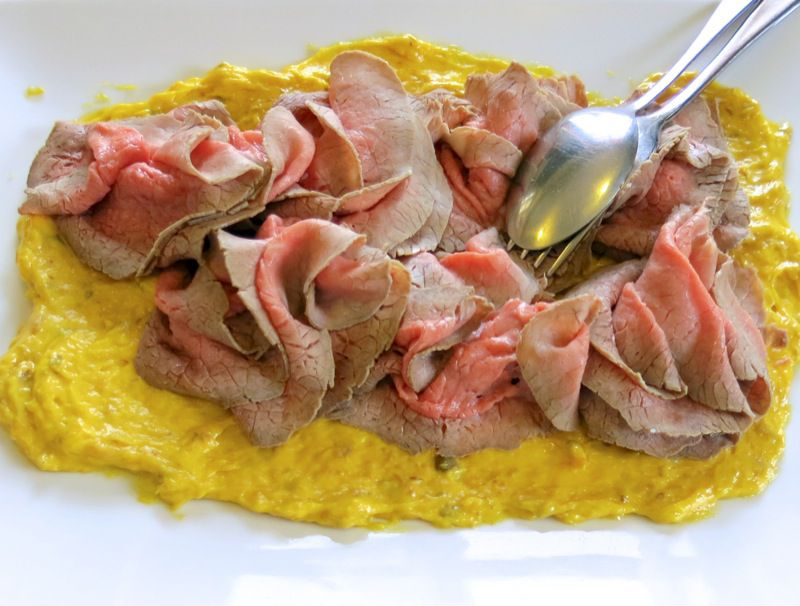 An equally reverent dish, the vitello tonnato, or Veal with Tuna Sauce, served chilled or at room temperature in the Summer and Fall, is most often a main dish or served as a very elegant addition to an antipasti platter. This labour intensive dish is usually cured in the refrigerator on the service platter for 5 days to develop the desired intensity of flavour. This particular version was mildly flavoured with tuna, so I would guess not done in the traditional fashion. Although, I had this dish three times in Piemonte, different each time, but only subtly. Each of the vitello tonnato servings was delicately flavoured with tuna. An unexpected combination of flavour that is a signature dish of this area and somehow leaves one longing for more.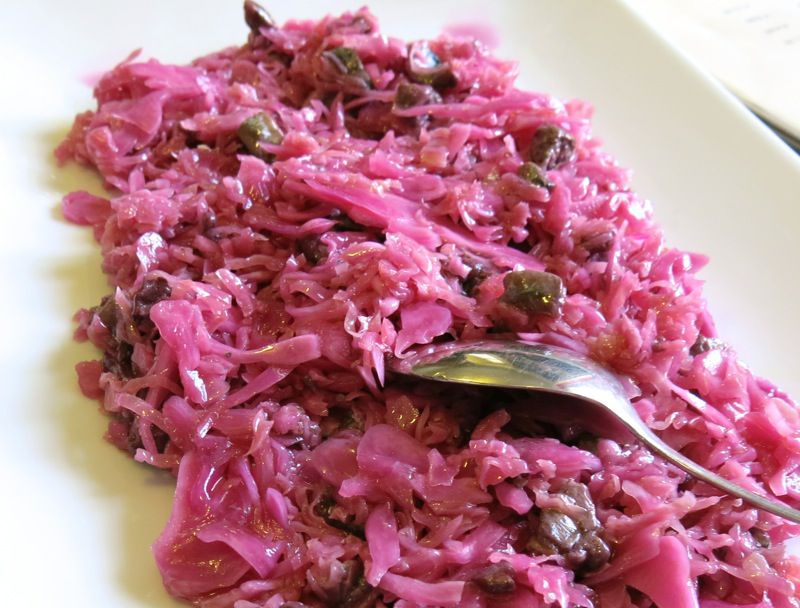 The insalata di cavolo e acciughe or Cabbage Salad with Anchovies was a surprise. My palate was framed with an entire different set of flavour expectations. Purple cabbage salad holds an Eastern block smoky flavour profile for me and the first bite exploded with a strong off putting fishiness. However, once I adjusted my expectations, and understood there was a bold little fish dressing these crunchy shards of cabbage, I quite enjoyed the experience. Would I order it again? No. However, I am happy that I had the opportunity to experience the texture and flavour combination. This dish doesn't appear to have the same deep historical roots as the ones prior, yet the combination of ingredients are clearly representative.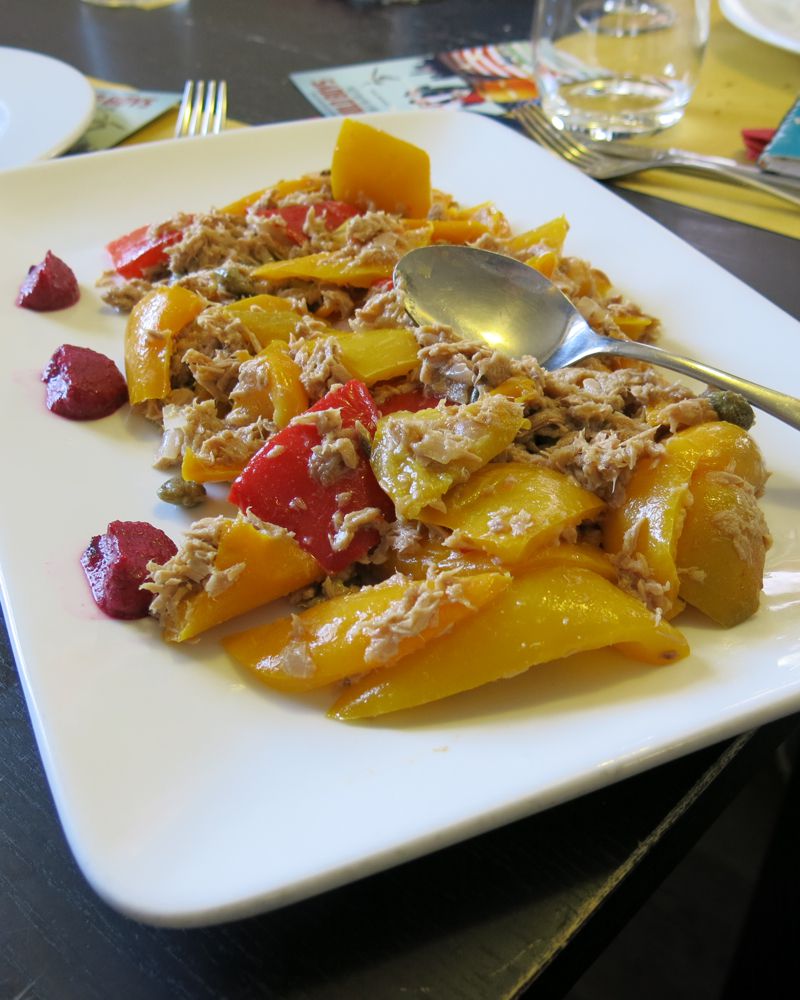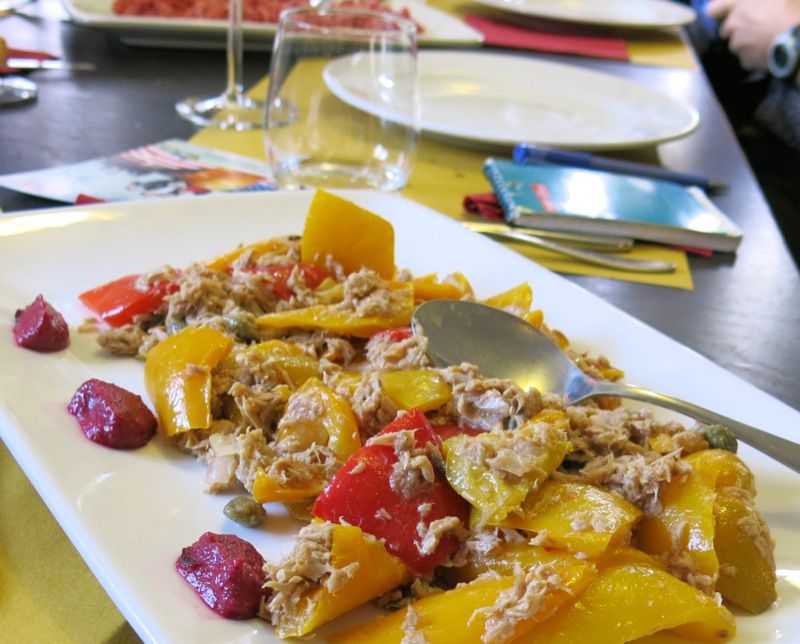 Vegetables, tuna and anchovies actively influence regional dishes. The above cartoccio di tunadi con verdure or Tuna with Vegetables, is an example of that. My response to this dish was similar to the Tuna and Cabbage Salad.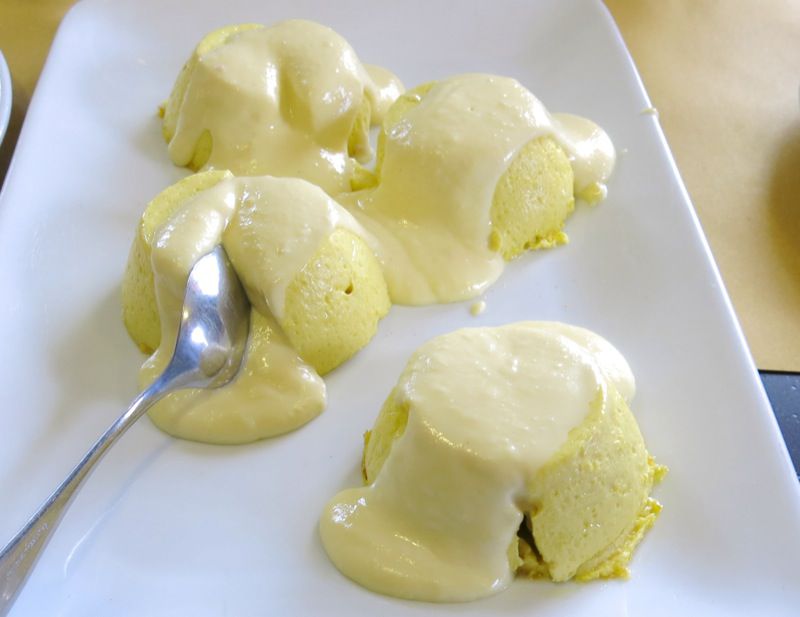 The flan di porri con fonduta, or Leek Flan with Fonduta Sauce, above, was an ethereal textural experience and a lick my plate clean pleasure. My first reaction? "UGH!" responding only the Funduta sauce and the pungent essence of barnyard oozing from it was immediately off putting. Yet, together, the sauce and the flan were divine. The savory flan is a very typical regional dish originating with the heritage Tartrà recipe deemed to be over a thousand years old. Piemontese spinach, mushroom and vegetable flans are second to none and are common dishes in homes and restaurants.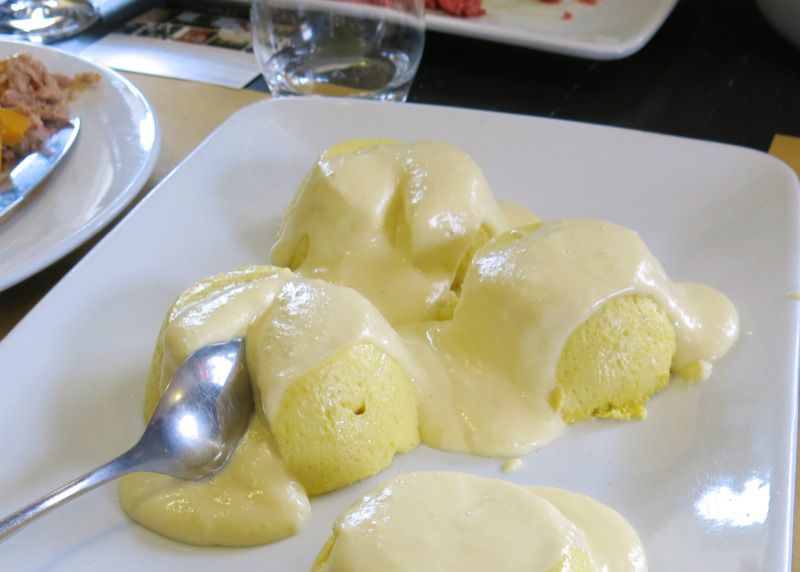 Fonduta, or fondu, is typically understood to have deep roots in Switzerland, yet the origin of the fondu is vehemently contested by four neighbouring regions: Switzerland, France, Piedmont in Italy and Valle d'Aosta in Italy. Each claims the birthplace of this dish. Historically, it is written that monks, unable to eat solid foods for religious restrictions, began the tradition of melting cheese for sustenance. A recipe for fonduta is included in the "Treaty of the Kitchen" via John Vailardi, the personal chef of the House of Savoy from Torino which provides strong evidence to the Peidmont claim.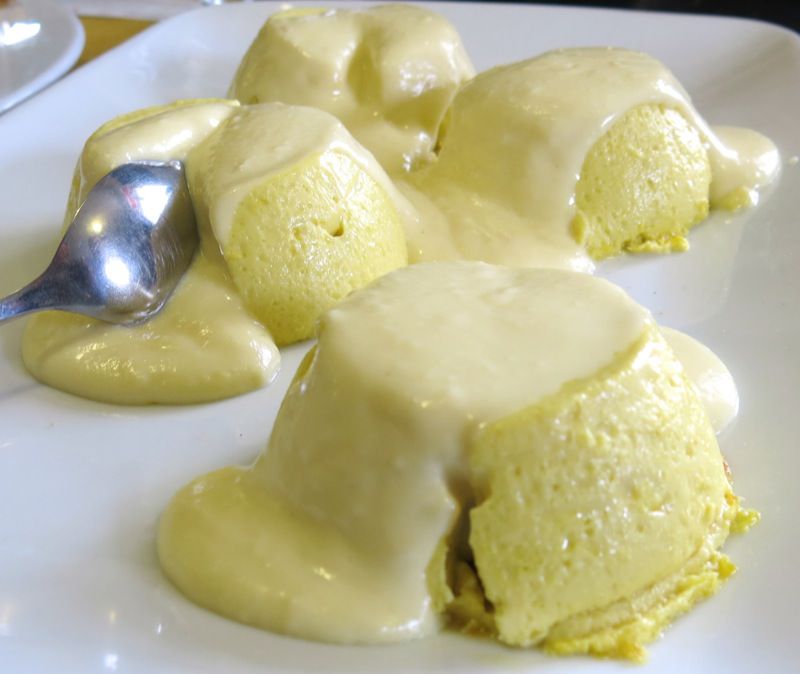 This sauce is traditionally made with Italian Fontina cheese, vastly different than Danish Fontina. The authentic Italian Fontina is made in the Italian Alps, near the French and Swiss borders. These high-altitude pastures provide lush, unique grasses for the cows to graze upon whose milk gives us Fontina. Genuine Fontina is made only in Valle d'Aosta. This special heady cheese is "made at the chalets in the alpine pastures, and in the winter months it's made in creameries lower down in the valley." Only fresh, raw milk from a single milking of Valdostana cows is used to make Fontina. Authentic Fontina is considered one of the best Italian flavor experiences.
The cheese is smooth and buttery, almost spreadable, when young. It's milky, and you can detect the smell of the alpine meadows. It has a pale straw color and a few small holes fairly evenly distributed throughout. As the cheese matures, it becomes darker and much drier. The older cheese develops an earthly but fruity aroma and a mellow flavor that's both nutty and fruity. Authentic Fontina Valle d'Aosta has a mark on it stenciled in purple on one side of the cheese: it is a large circle with a mountain in the center of it with the word "Fontina" printed across the mountain. The Piemontese fonduta uses the authenic Fontina cheese melted with a mixture of butter, eggs, and usually wild mushrooms.This is one dish I want a "tried and true" recipe for. I will write More e Macine and can only hope they will share their with me. In turn, I will share it with you!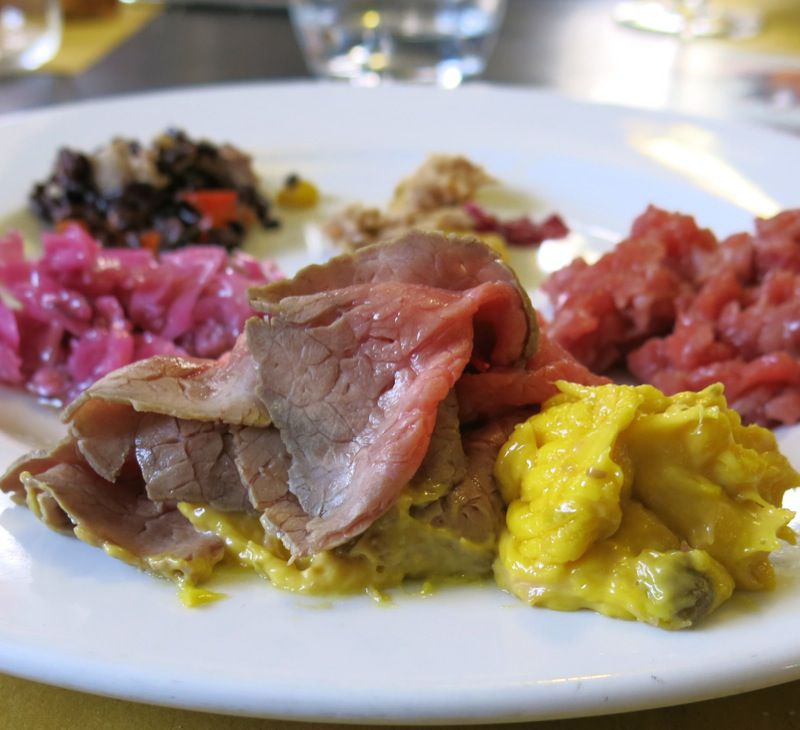 I cannot imagine any of these dishes any better than this.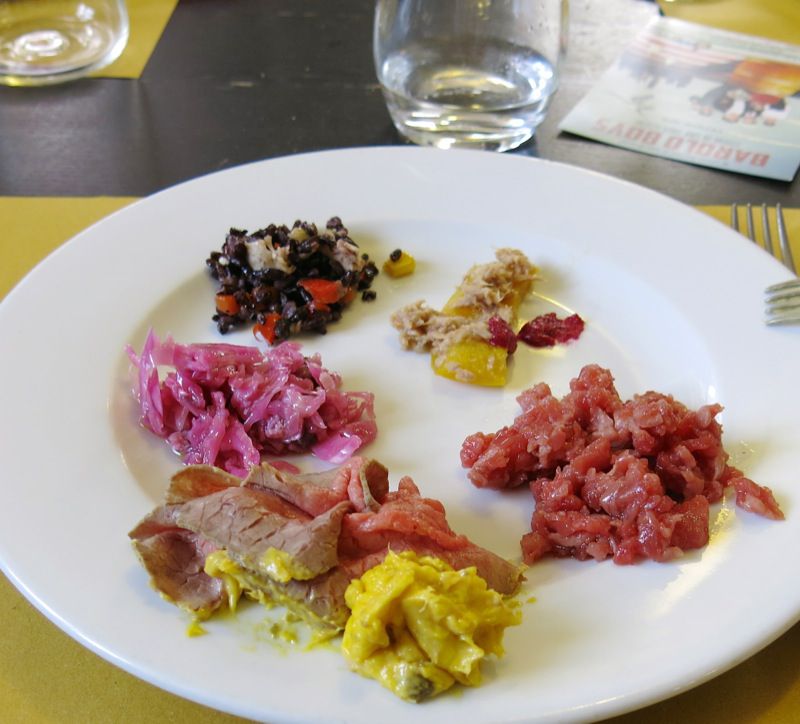 There is a black rice dish that I didn't get a photograph of and that doesn't appear on the menu. It also contained tuna. It was chewy which offered a welcome textural contrast to the other dishes, but at this point, I was "tuna-ed out", though I will say the dishes were significantly unique and distinct, and by now, an obvious combination of regional flavours.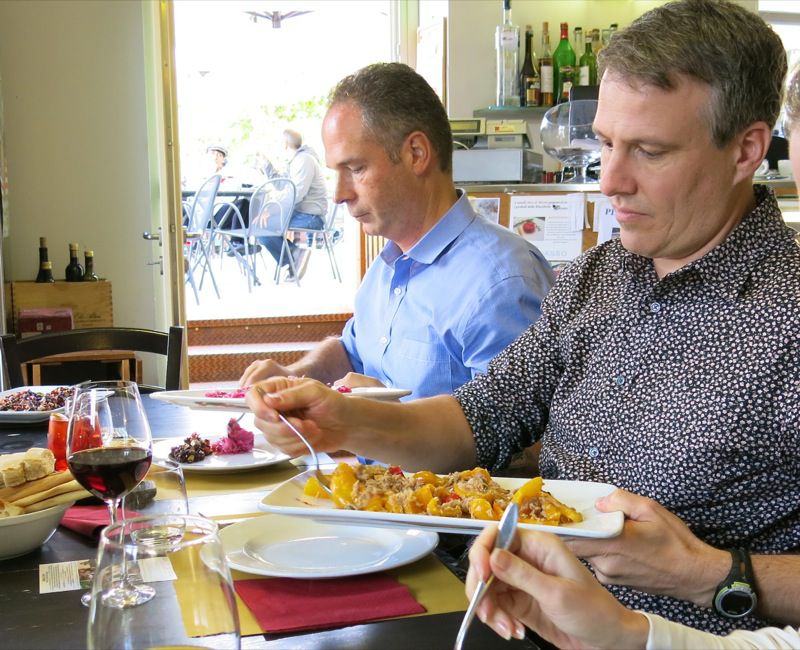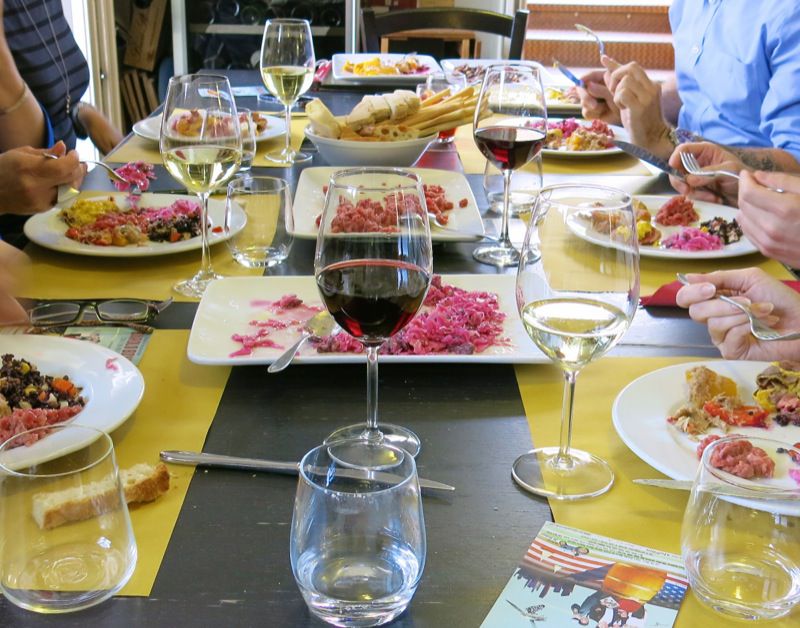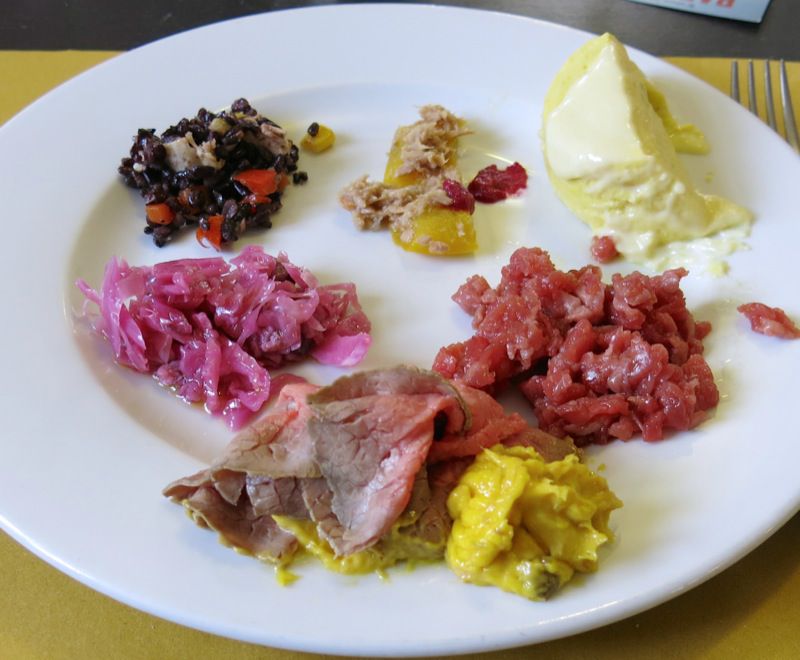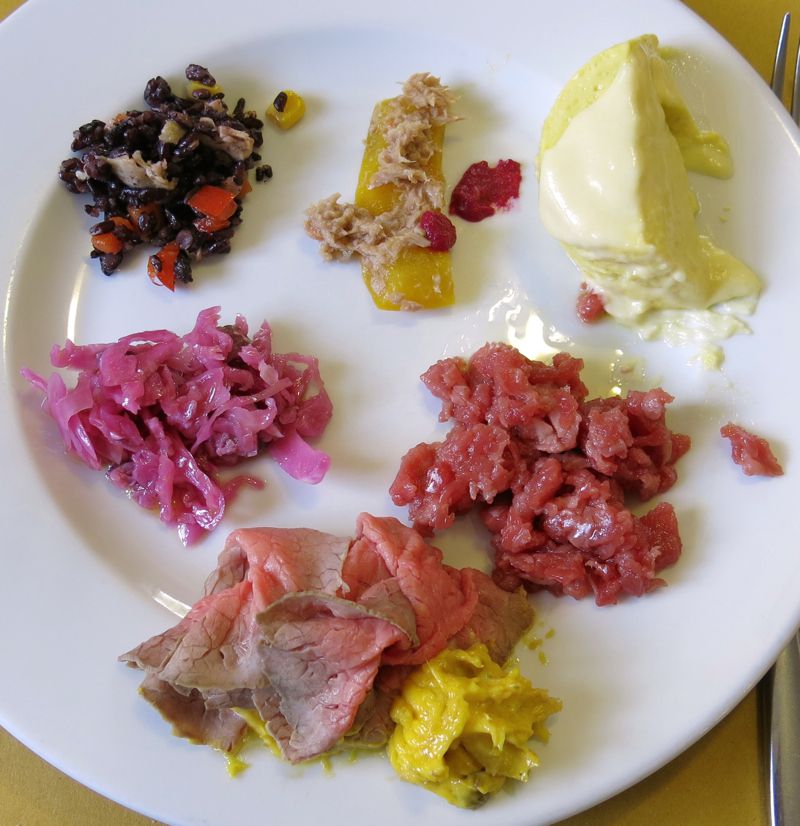 I do not and did not drink wine, but am told it brought a whole other personality to the meal which is not to be missed. Each enjoyed two or three glasses of the wonderful bold regional Barolos offered.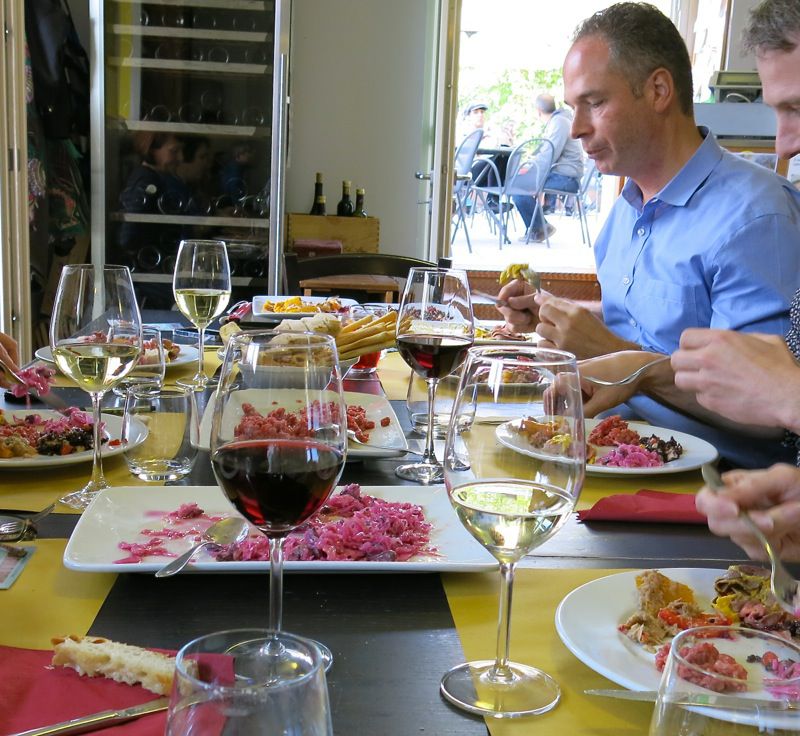 Our waiter's flair and personality added to the experience!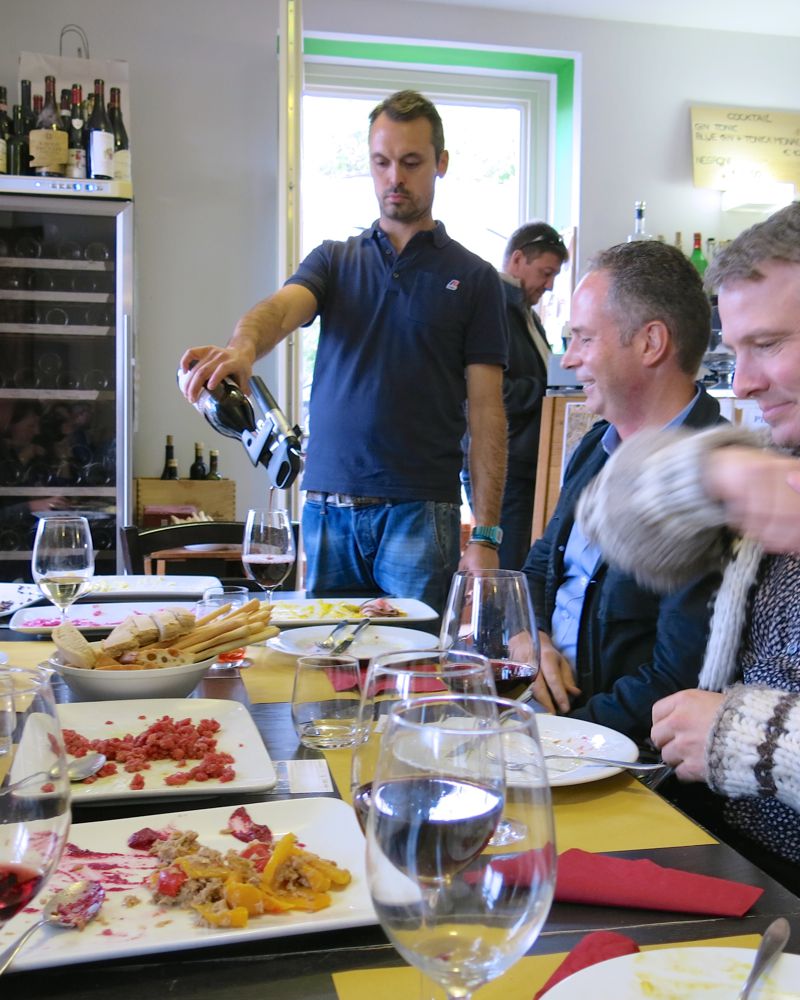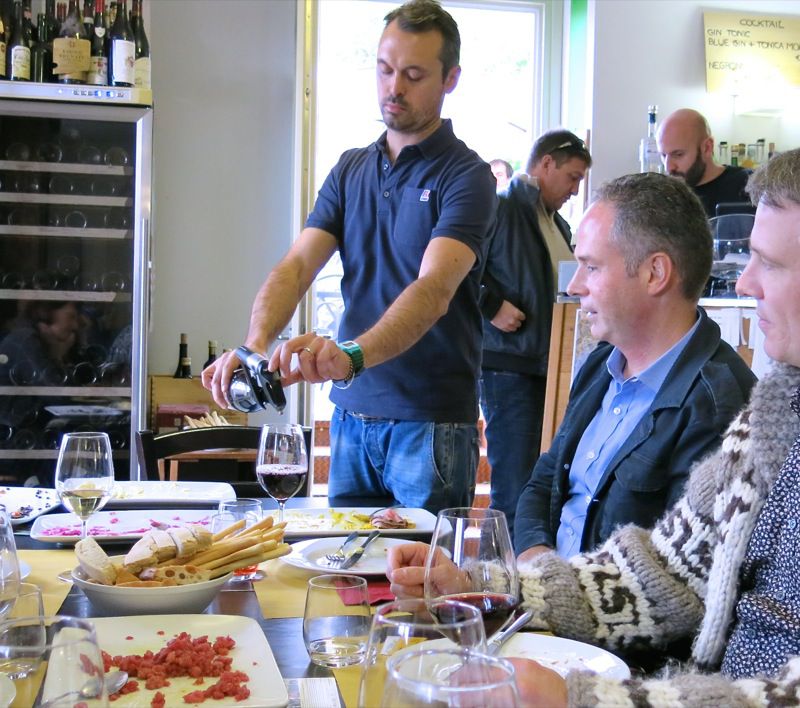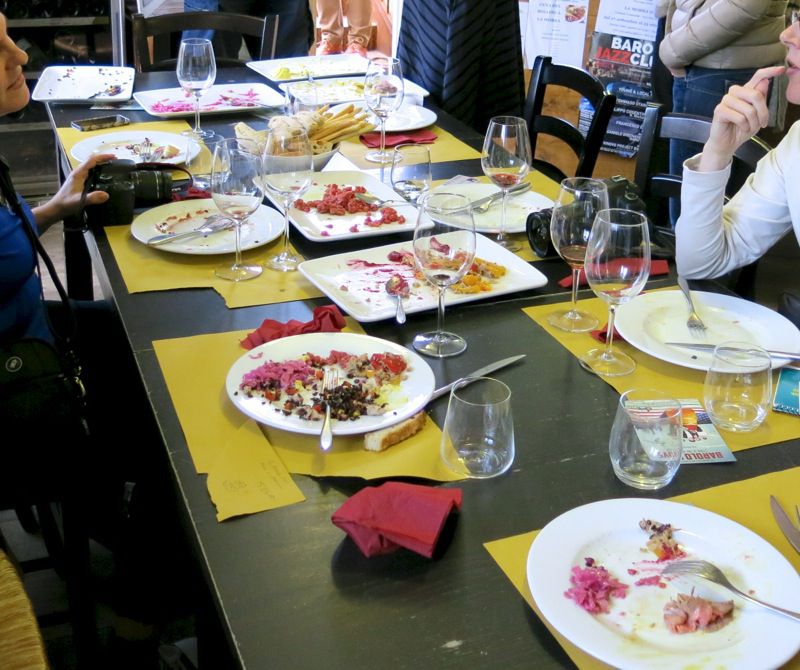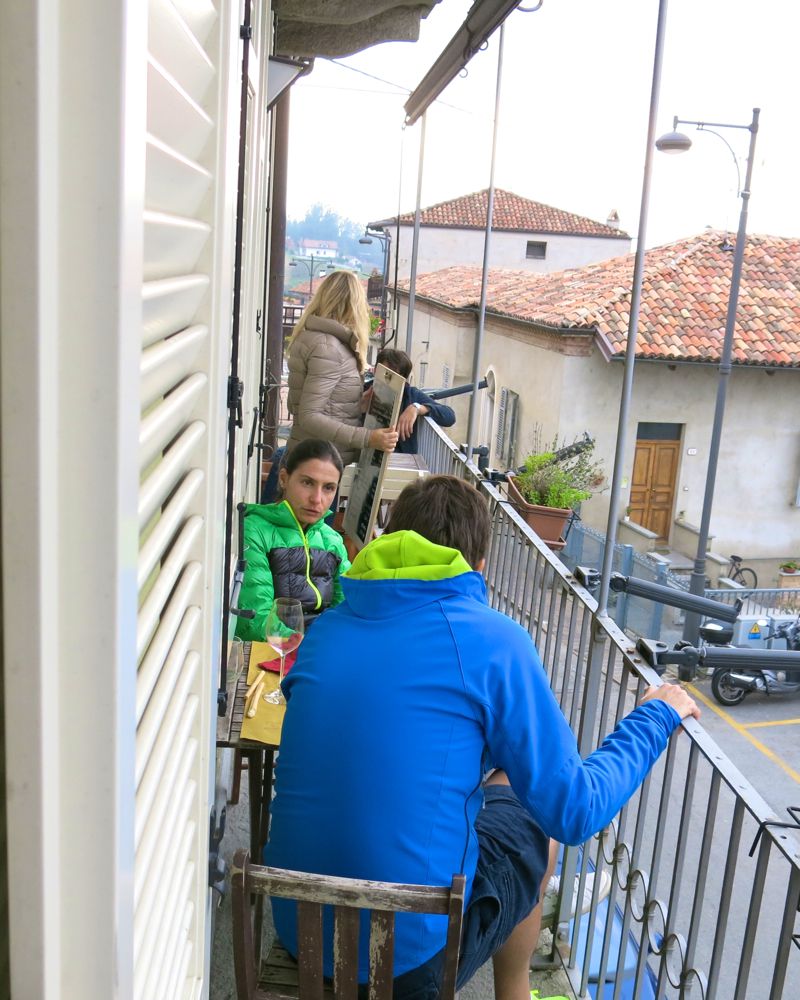 The main room was small. The balcony was narrow, yet also packed. It was a chilly day for we Canadians, yet the Piemontese bundled up and chose outdoor spaces.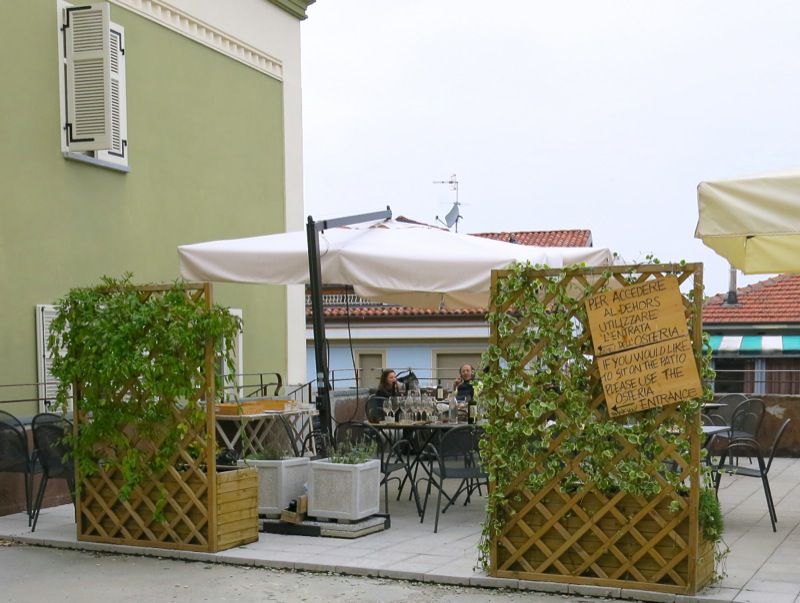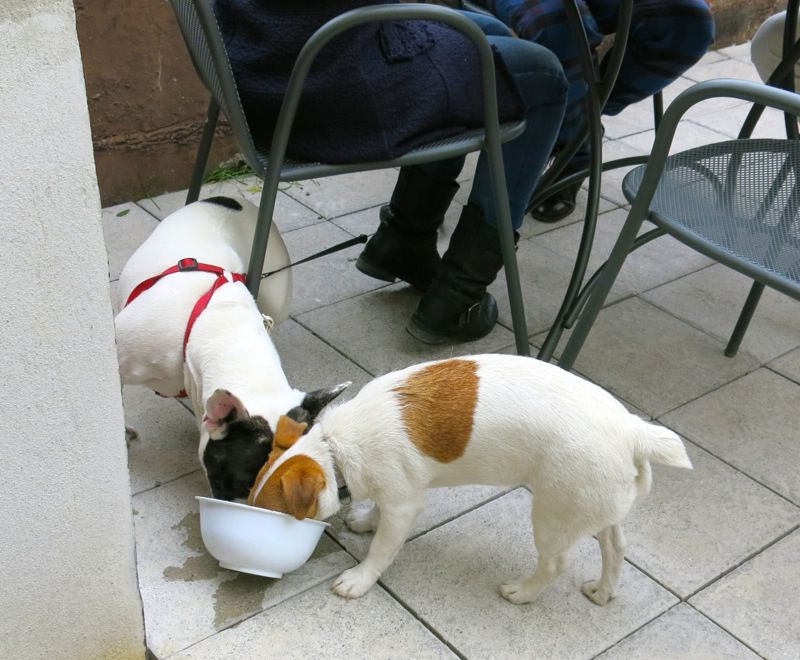 The patio was immense and dogs are not only allowed, but fed. The basement was the same small space as the upstairs and lined with diners.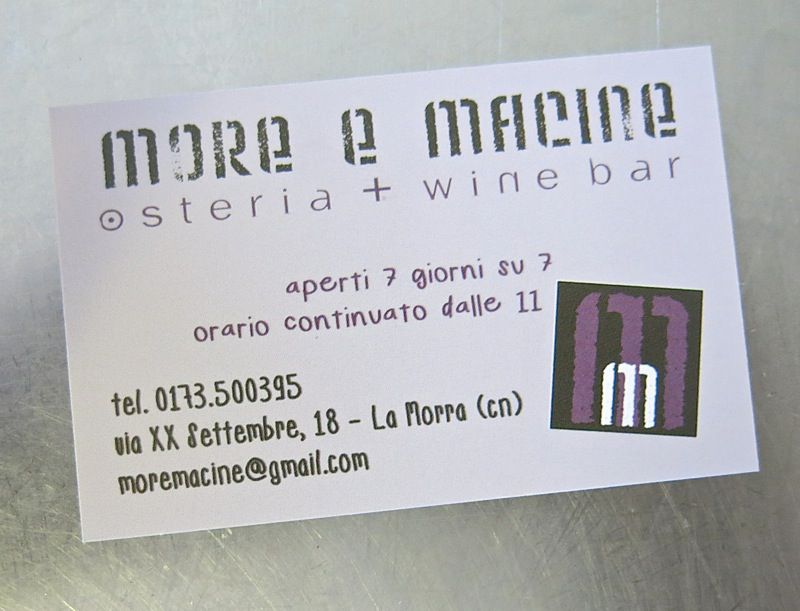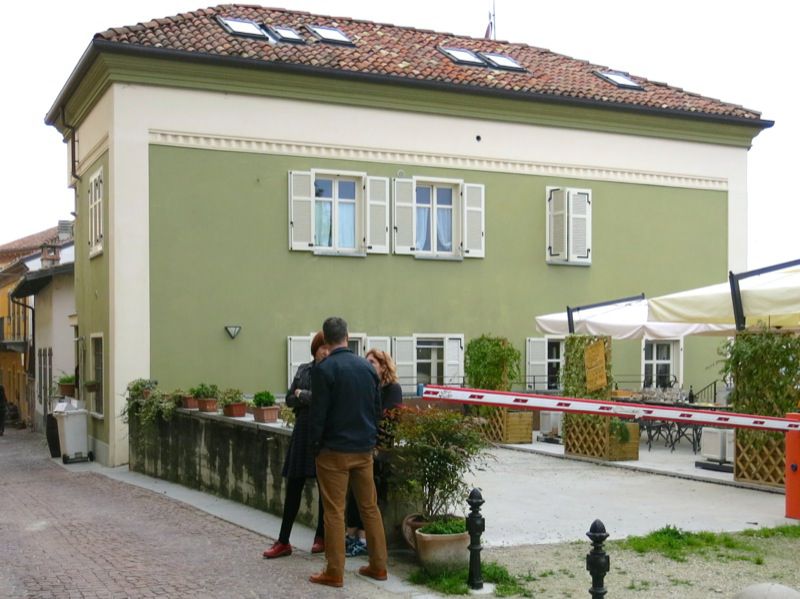 Now, off to Barolo for wine tasting and shopping, then to Bra to the world renown wine vault and more tasting. Mary, one of the gals in our group with Italian family, advised: "Go for lunch or dinner; never both on the same day." Next time, I will heed Mary's advice. Our dinner was lovely, but less would have been more as it was this lunch that put a blush on our cheeks and a smile in our hearts.