Peggy shares her recipe for Sauerkraut Ham Balls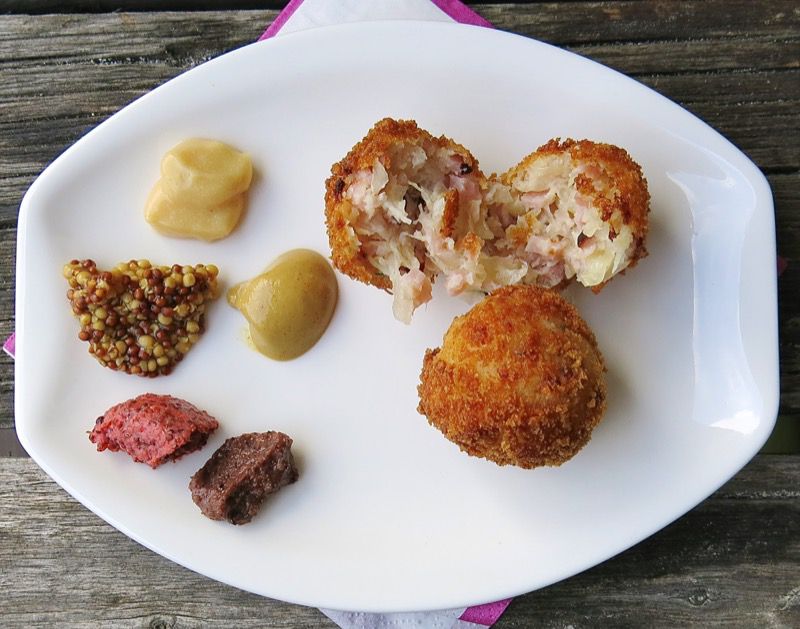 Peggy wrote, "I first remember making these as a young bride in the early 70's. Not sure where the recipe came from; my best guess would be from a magazine, possibly Sunset or a newspaper. I don't make them often because I hate the mess of deep frying! These are well received, as long as I don't mention the 'S' word. If kraut phobes don't know it is in there, they like them! I used to make them around Christmas, but moved to Australia which changed the season on me."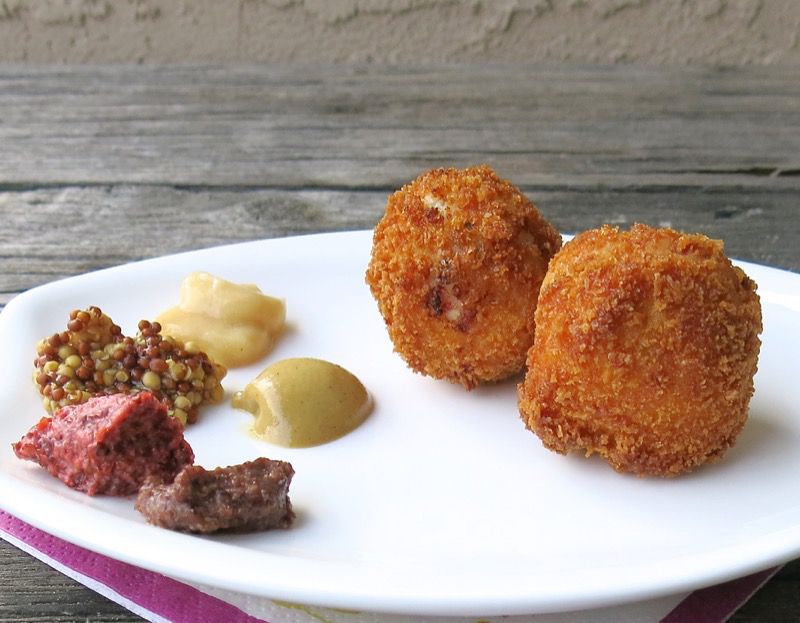 Teaching at Parkview Elementary Junior High School in the late 1980's, I had a little Language Arts student in grade 7 who gifted me this recipe, but it was called: Corned Beef Balls. Each year at Christmas, I would get lovely, quite expensive gifts from some student, and nothing from others which was fine, but they would look sad or embarrassed. Therefore, very early in my teaching career I made the "teacher's gift" policy. No one was allowed to buy me a gift for any occasion, but I asked everyone to please gift me with their favourite family recipe: the one everyone asks for. The "Corned Beef Balls" recipe was written in script, painstakingly by a grade 7 boy, small in stature, with a smile that wrapped clear around his ears. I cherished the recipe, and it became very tattered, as I would read it every Christmas and think: "This is the year I am making these." And then, I wouldn't quite make it happen.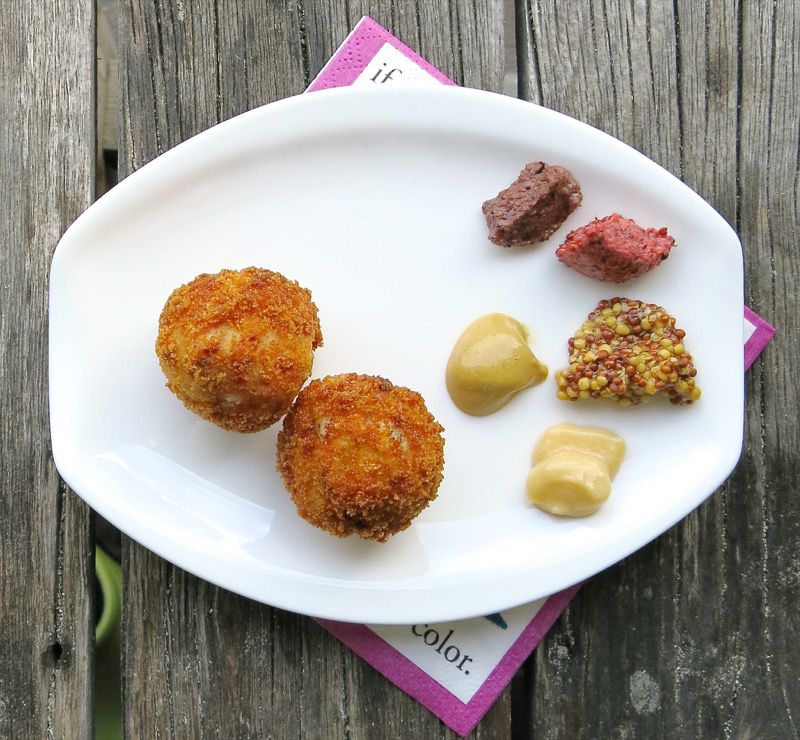 I never forgot my student, or his recipe. I did, sadly, somehow, lose it. Then, on New Year's Day, after reading my post about
Mushroom Turnovers
, Peggy answered my plea to "Bring on the retro recipes. Share them with me!" and shared her retro memory of Ham and Sauerkraut Balls, reviving my own longing to make that beloved Corned Beef Ball recipe. Now is the time.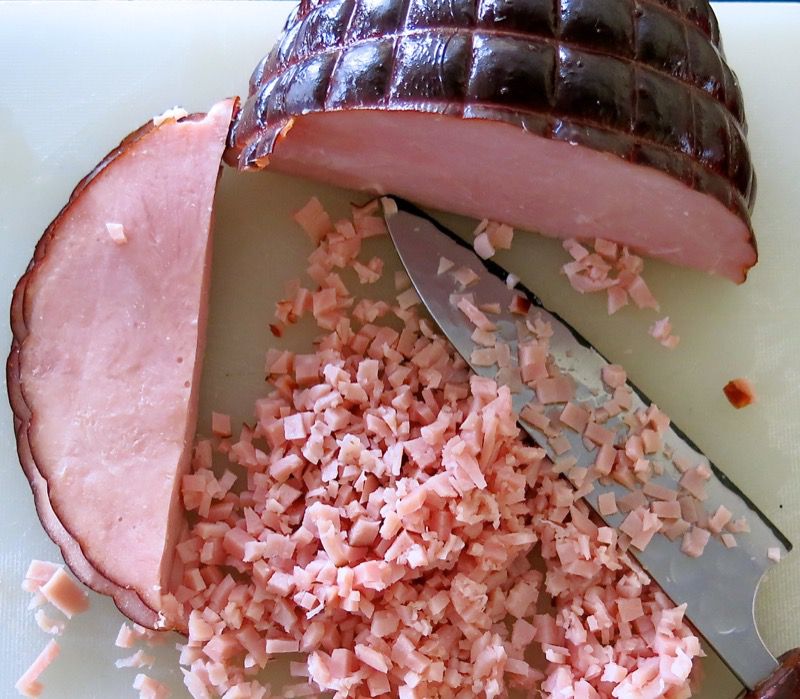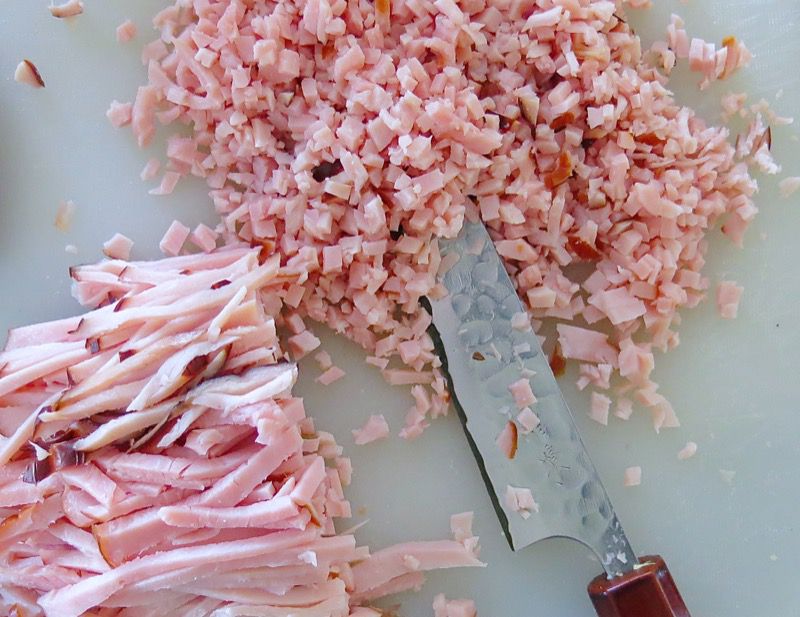 I did research and stress a bit. I really believed using a really good corned beef would be better than ham, yet I also didn't want to use a really good corned beef in a recipe like this. It is such a treat "straight up", so ham it was. And the sauerkraut? Vanja and I had gone to Nova Scotia and brought back the famous
Tancook Sauerkraut from the area
. It is truly special, on the
Slow Food in Canada Ark of Taste
(
details here, as well
), less salty and a clean crisp flavour that is addicting. Yet, mine had actually gone bad. Surprise! So, I used regular canned kraut. Maybe too much, too.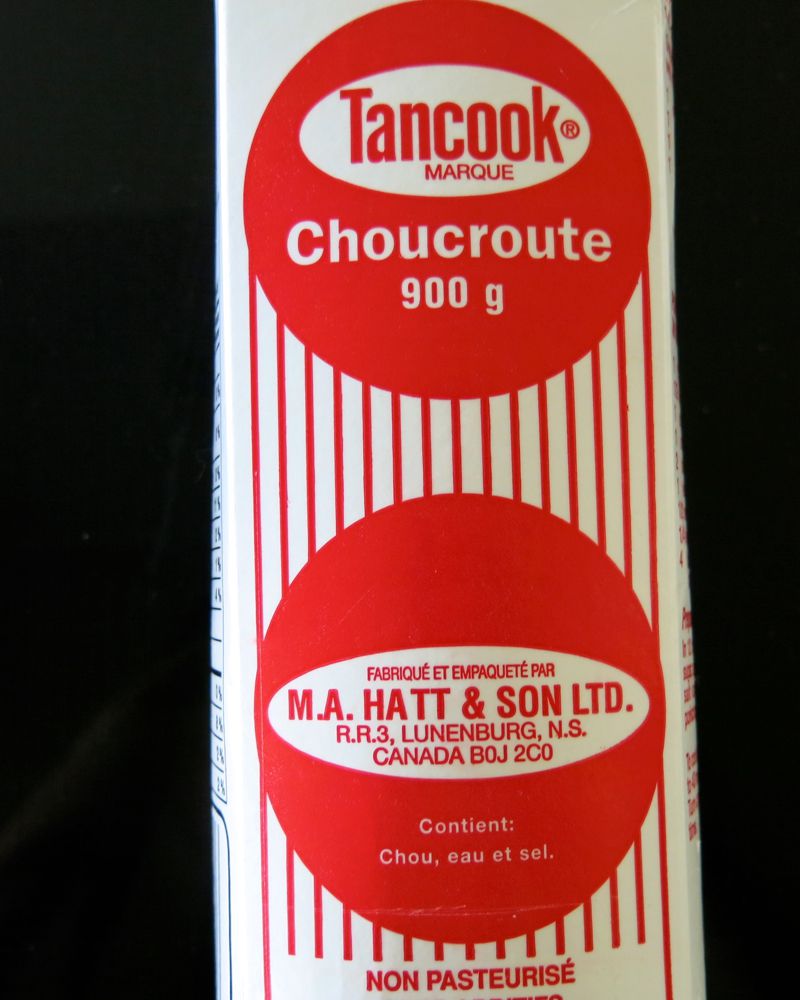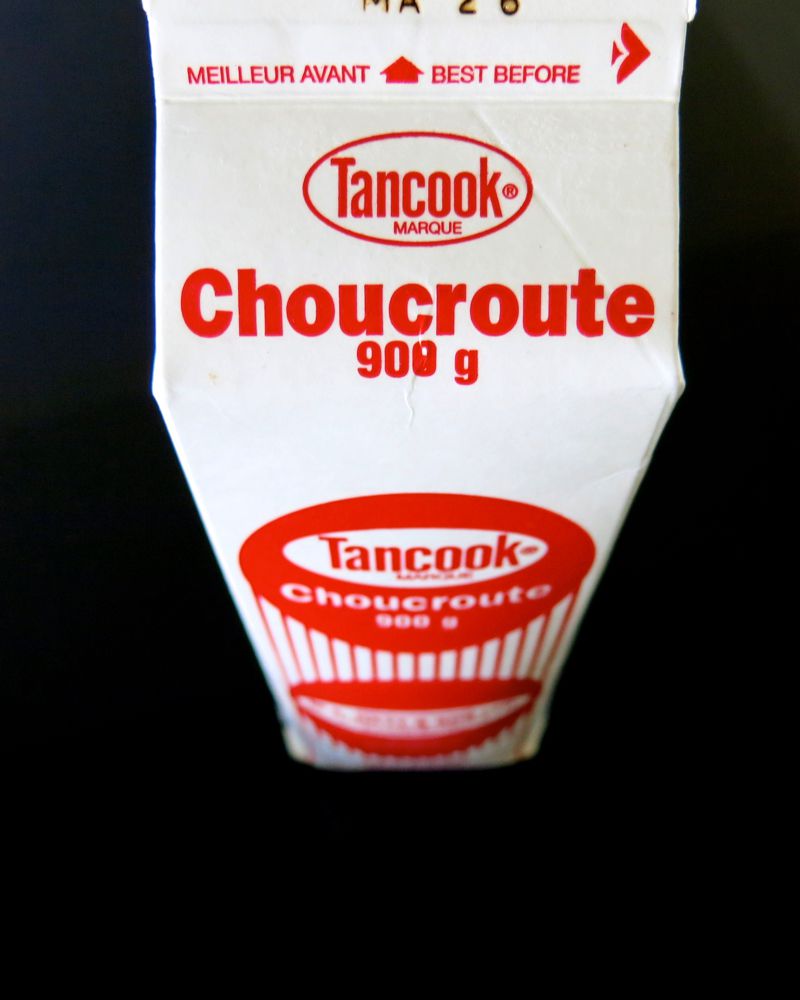 Peggy wrote, "I've wanted to try these as a shallow fried small patty, but haven't gotten around to that yet. Provenance enhances the recipe experience, which is why I was so disappointed when I found several people claiming this recipe as their own. I, too, would love to know where it originated. Lynne Oliver, at Food Timeline, has traced a couple of things for me in the past, so I might pester her again. Given the ingredients, I suspect it is a fairly modern recipe."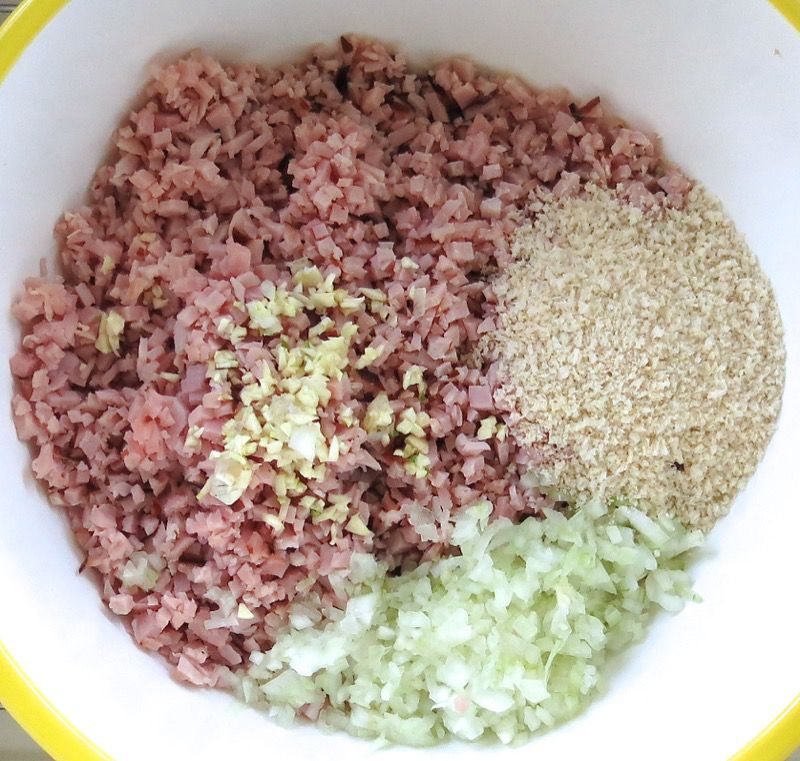 Peggy did send me her recipe, in the end, and that is the one I chose to use. There are so many that are so similar, and yet, vastly different. If I live long enough, it would be fun to try them all.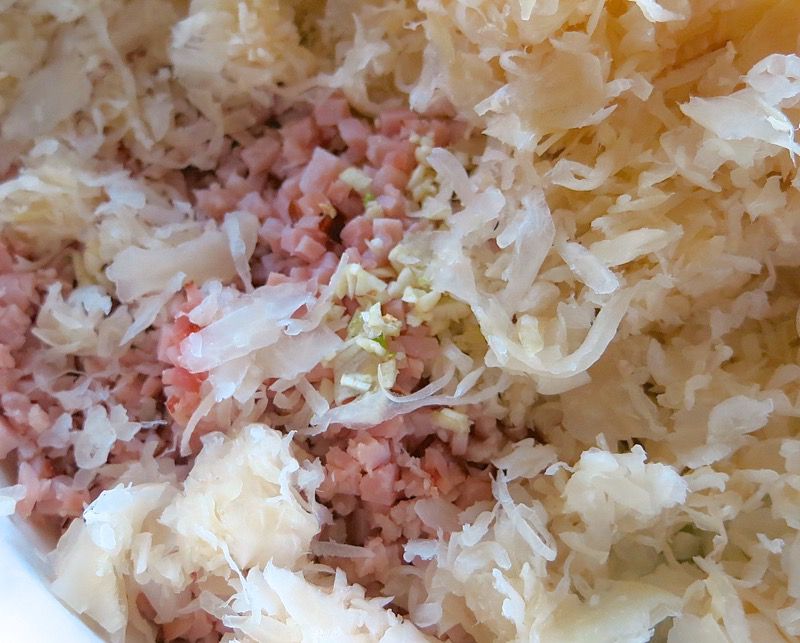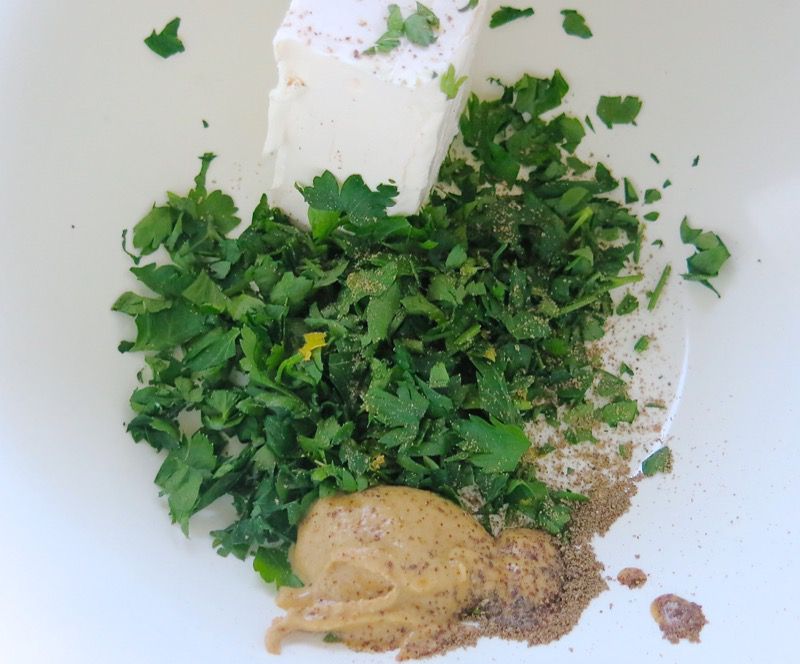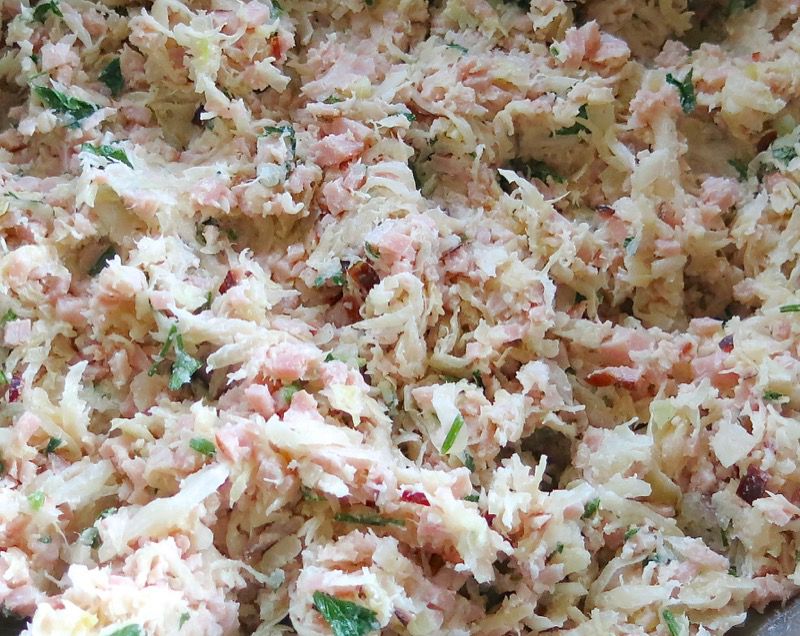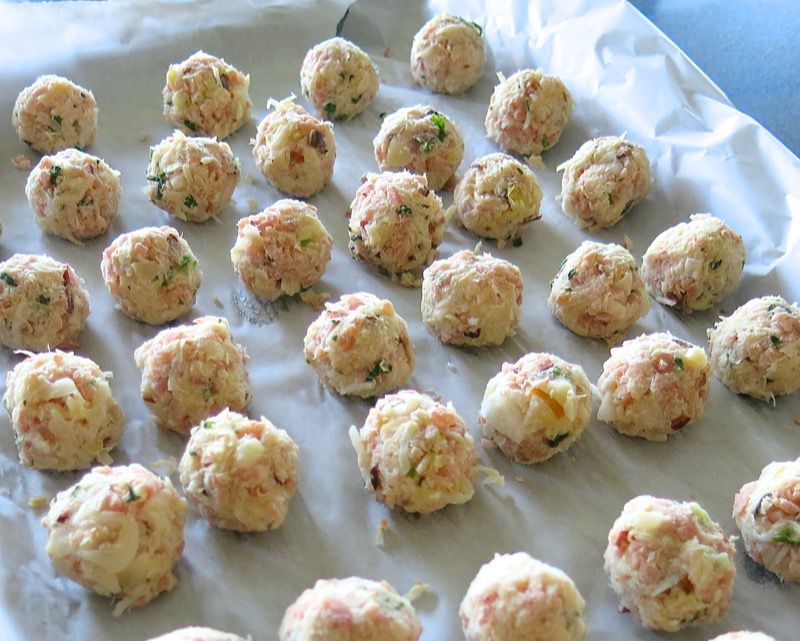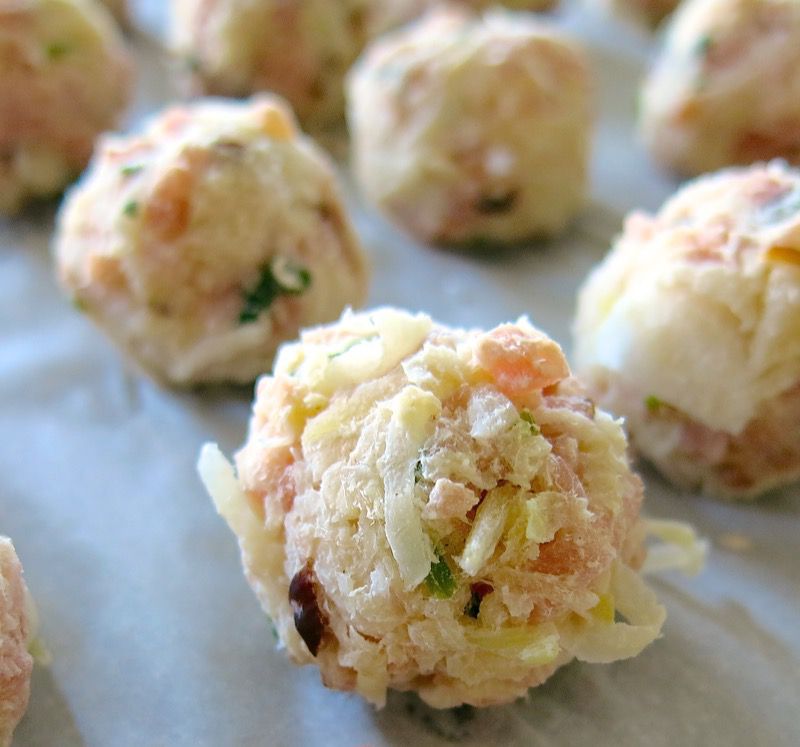 The mixture formed easily into balls. I froze them overnight like this.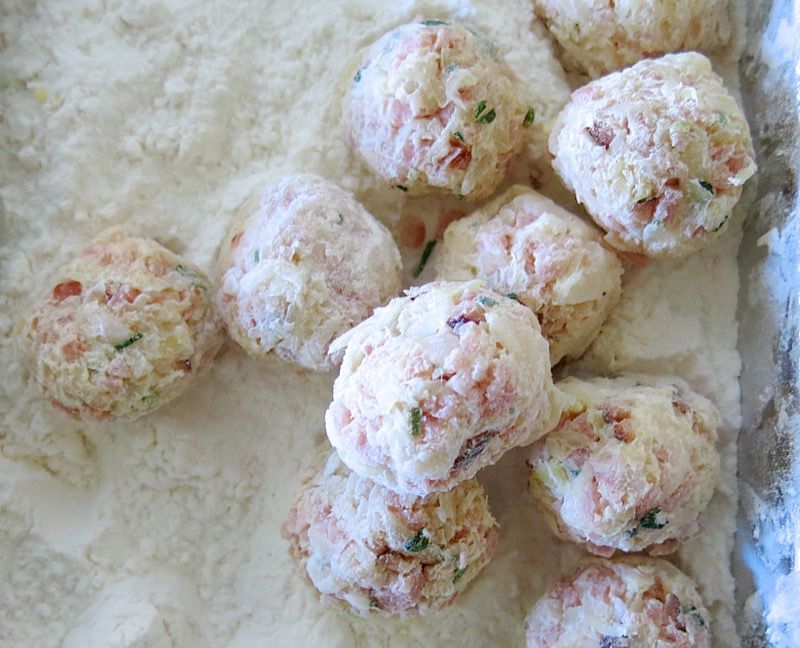 Floured, battered and rolled each in panko crumbs the following day.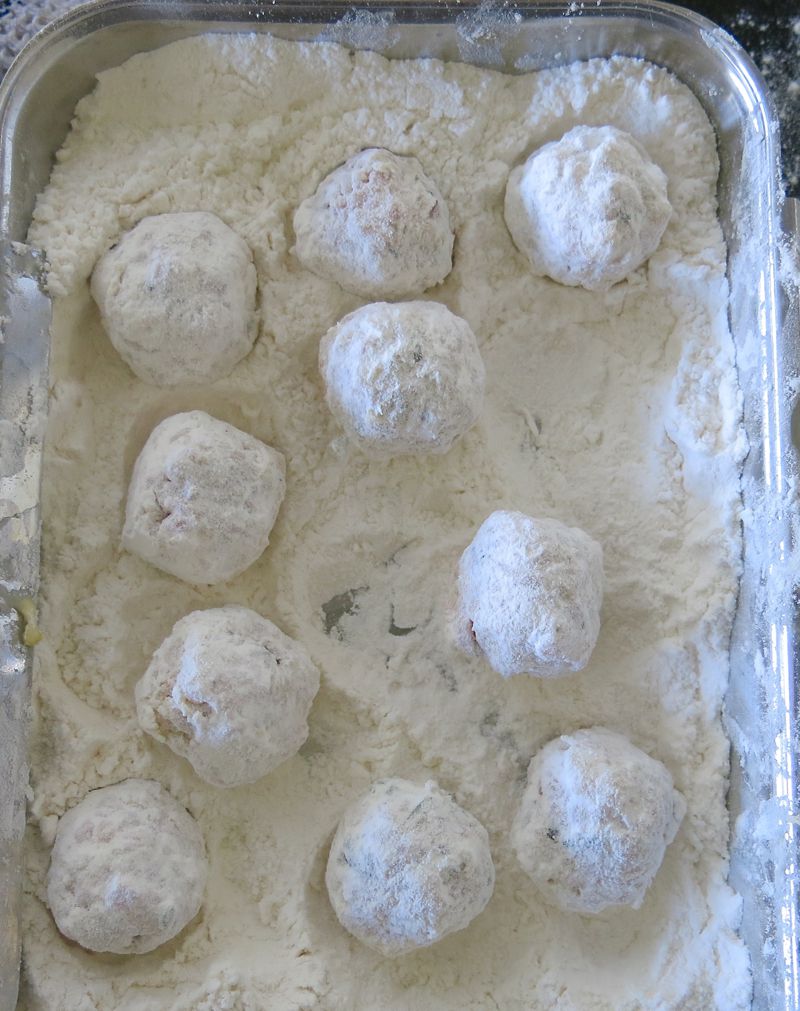 And froze the entire batch once more, single layer, on parchment paper.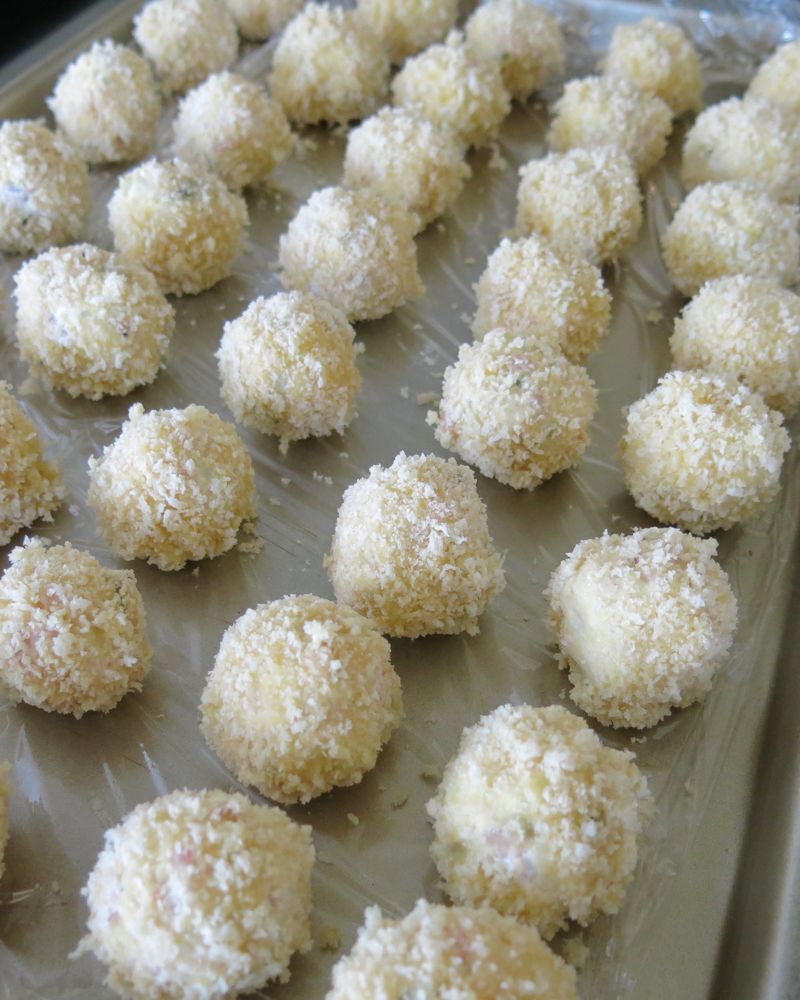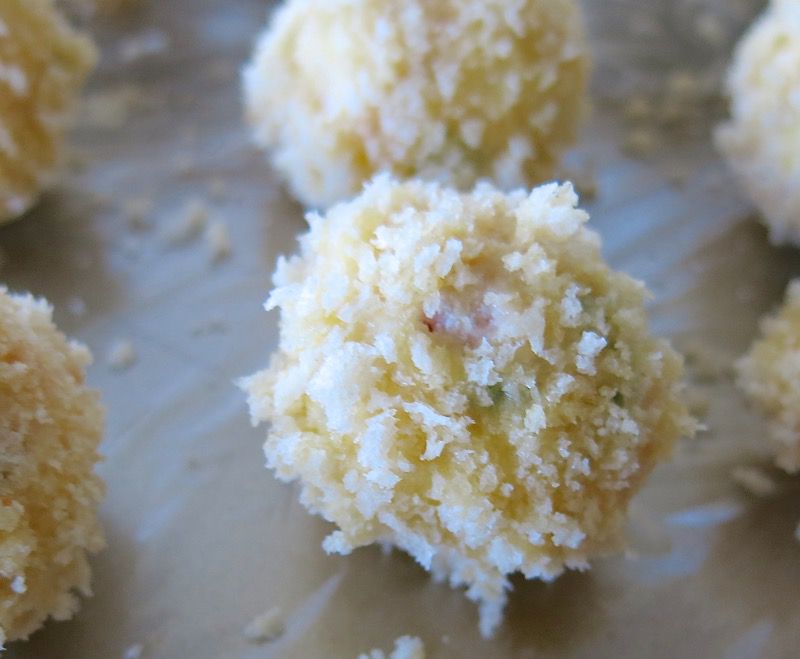 The following day, again, out of the freezer they came, into zip log bags they went, a dozen per bag: dated and labelled. I definitely thought I would make these before Easter. Oh, the plans I had. The entire first two weeks of January were spent filling my freezers with meals for Vanja and Ragan in anticipation of the birth of my new grandson at the onset of March. Yet, with his early arrival February 12, my freezer was plenty full enough for my family! Upon my return March 16, the Ham and Sauerkraut Balls were on the appetizer list for our Easter Family Dinner. No doubt about it.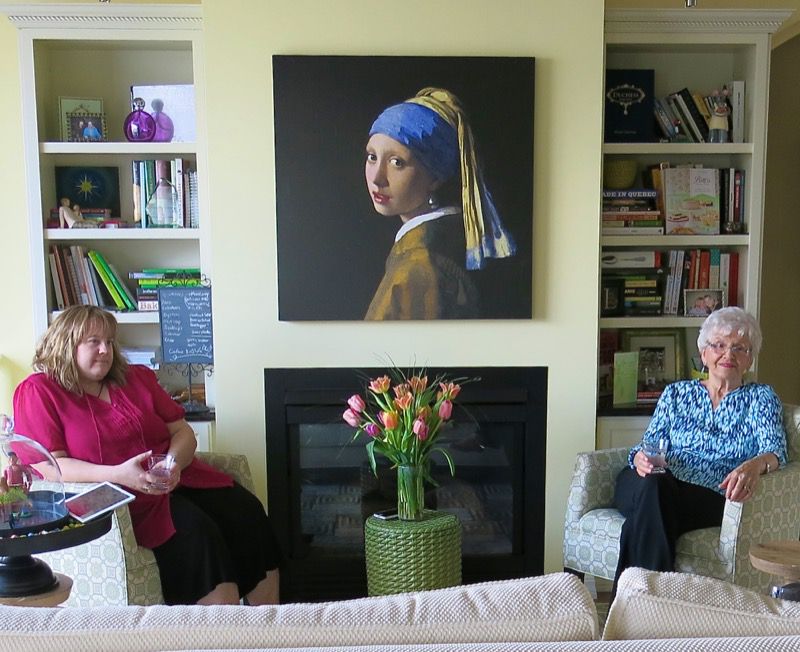 It was also Ramona's birthday! Now, you tell me what good German gal would not appreciate a good kraut ball? Or two?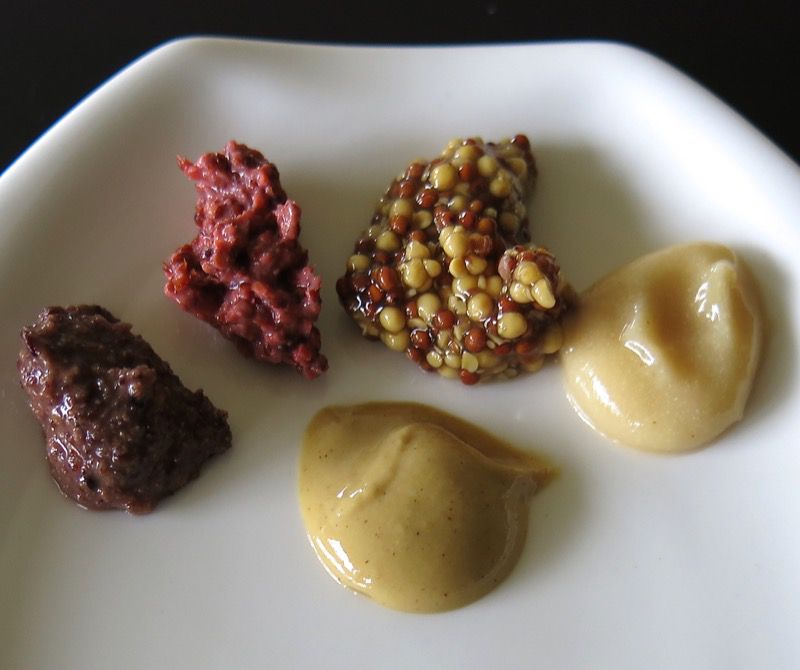 While the gals visited and sipped (Ramona not pictured, above), I had plated the dips: 5 different mustards. I am a mustard fiend. I collect them when I travel. I adore mustard. Left to right: Saskatoon Berry Mustard made in Saskatchewan, Cassis Mustard made in France, Grainy Mustard in White Wine made in Alberta, Champagne and Honey Mustard made in Alberta, and at the bottom, the classic Dijon made in France. The Cassis is outstanding. Unexpected, rare and pairs with so much one would not expect. The grainy Brassica mustard is outstanding. Second to none and a "must have at all times" condiment at our house.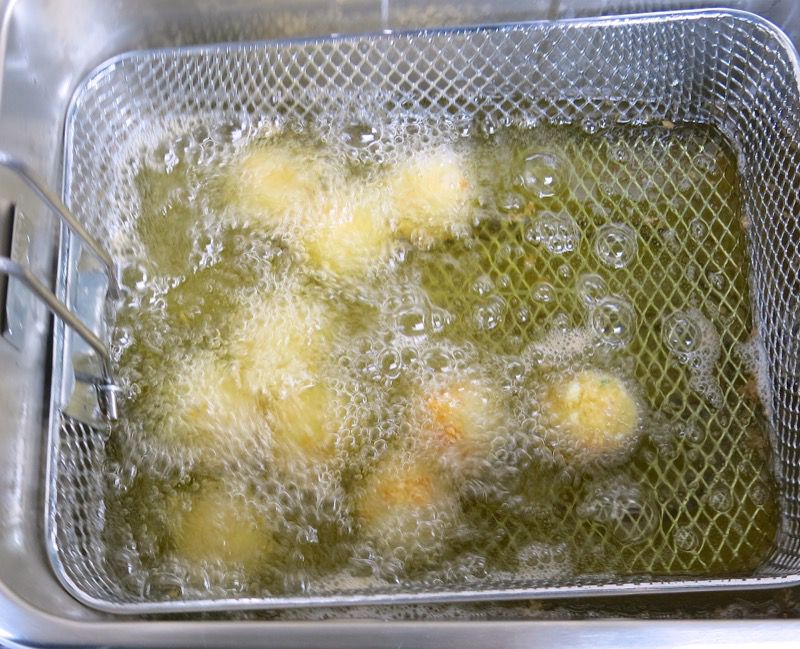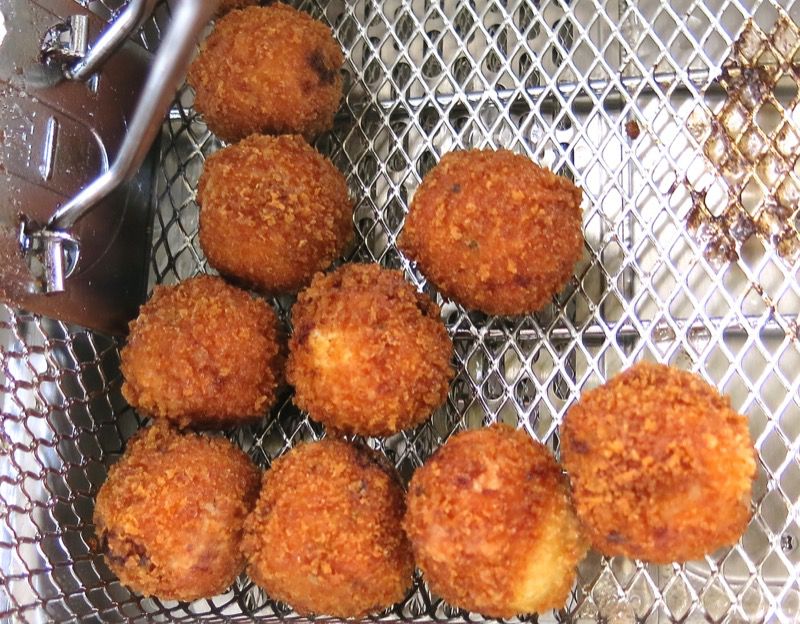 I fried up the balls in no time. Actually, I got talking and forgot about them, but they turned out perfect.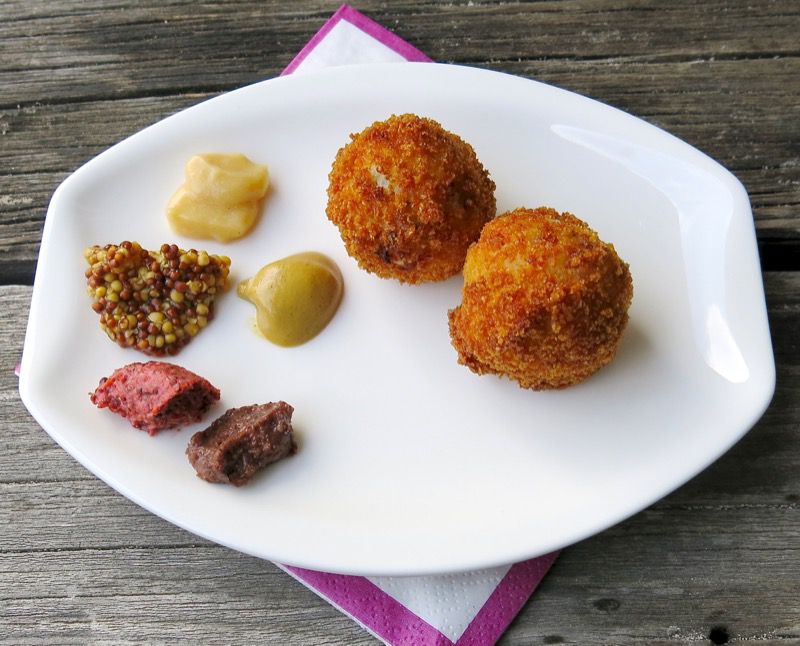 Served with a small fork, but really? Fingers it is!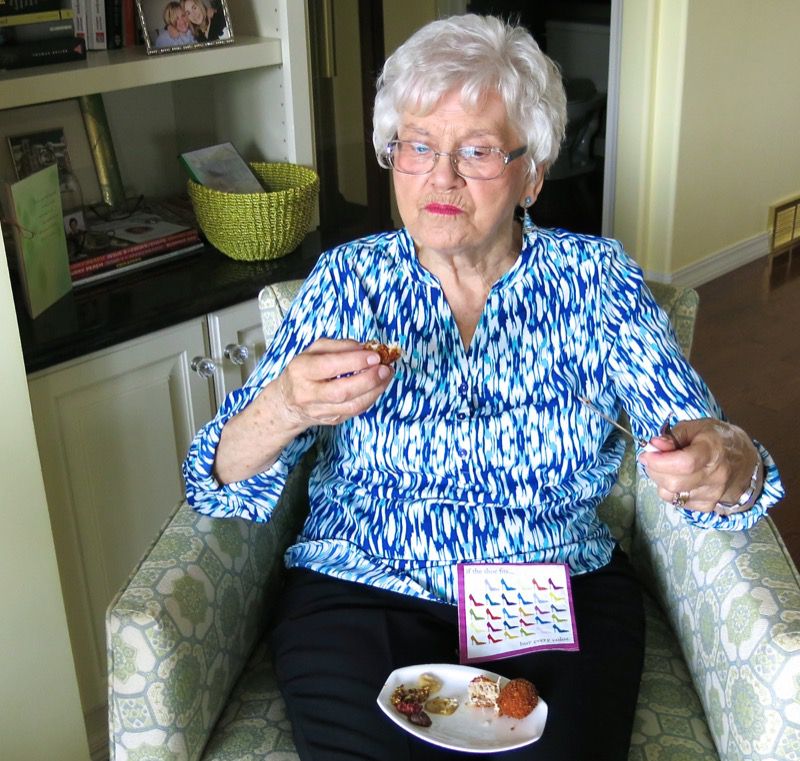 Mom is deciding what she thinks. Peggy told me that kraut haters won't know there is sauerkraut in these. That's how I know I did something wrong. The sauerkraut was the predominant flavour in mine. They were still tasty, but not the unexpected flavour combination I had looked forward to with the kraut being and anonymous visitor to the party. This balls were mighty krauty. I love sauerkraut, so they appealed to me!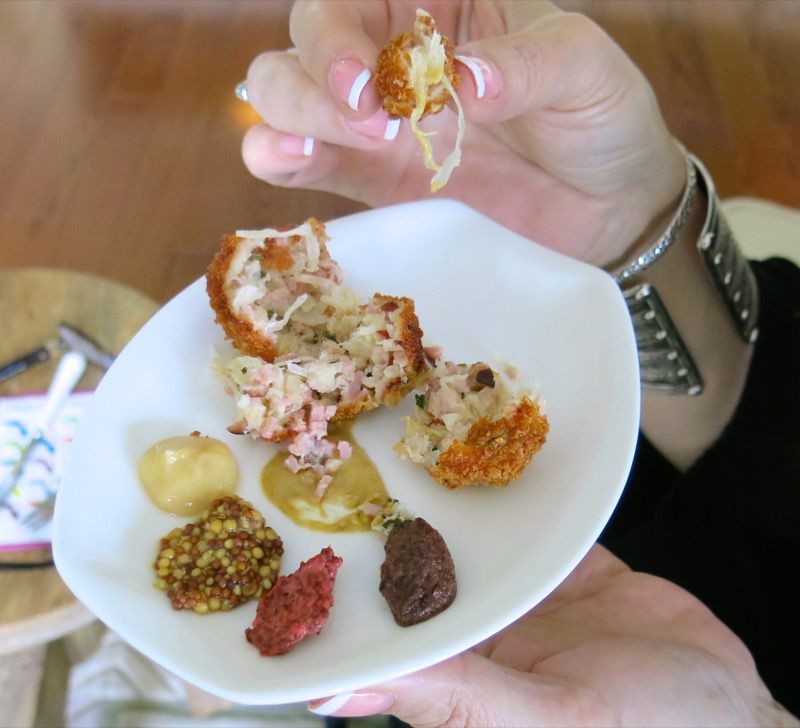 The champagne honey mustard paired the best with the Ham and Sauerkraut Ball as the sweetness balanced the salty kraut. (Ramona is my new hand model.)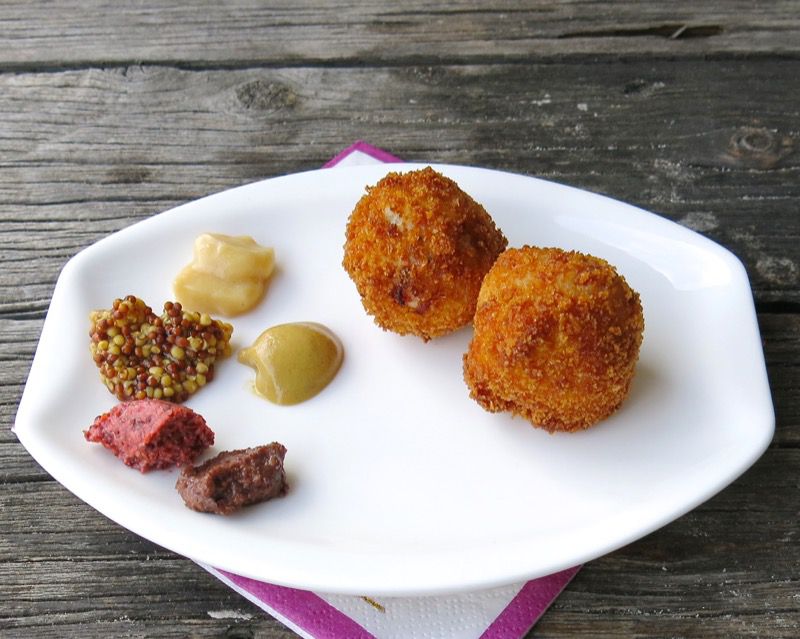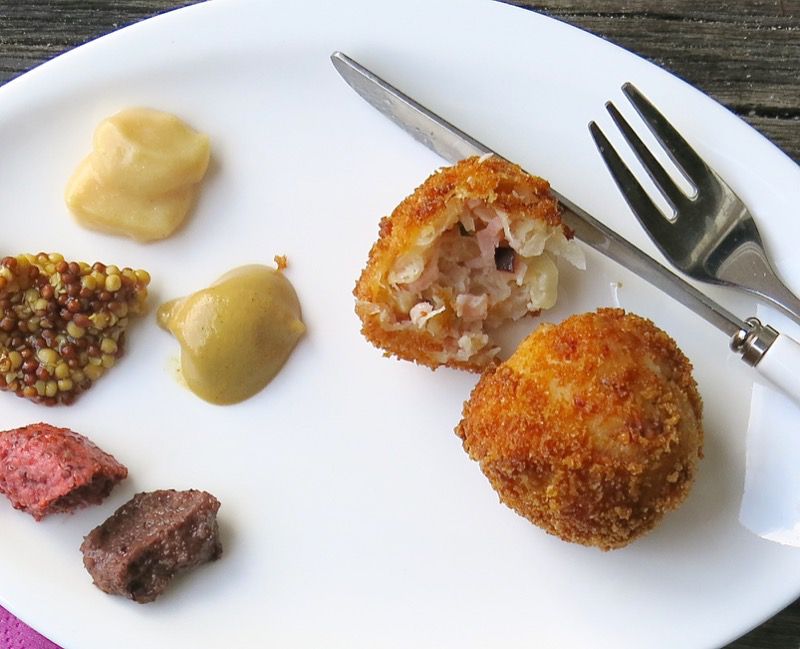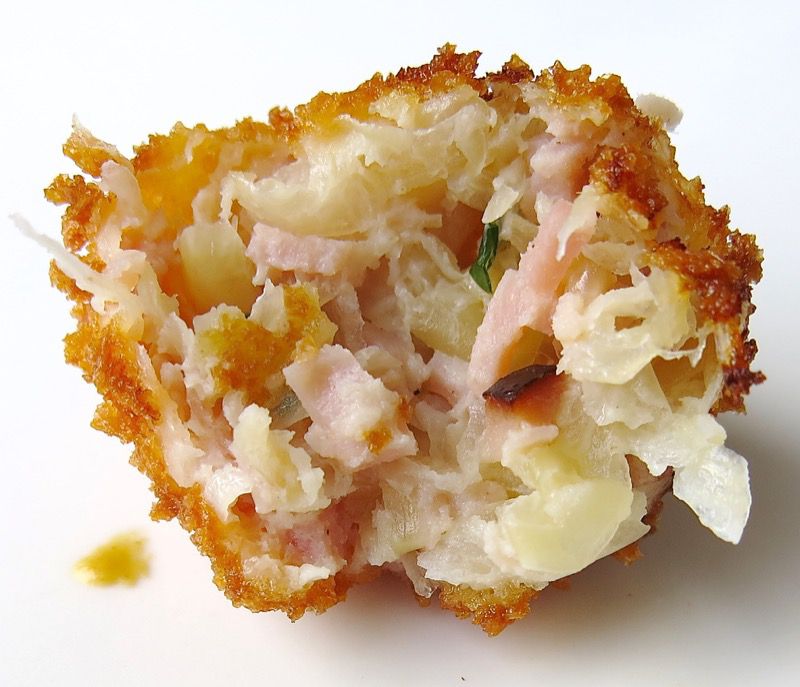 As with anything deep fried, they are best "hot off the press"! They were crisp, salty, sour and bold. Tasty, at room temperature, as well. This would be a great little ditty served with piping hot cocktail sausages and beer. Perfect for a sports game.
Every mustard was tasty with these crispy critters.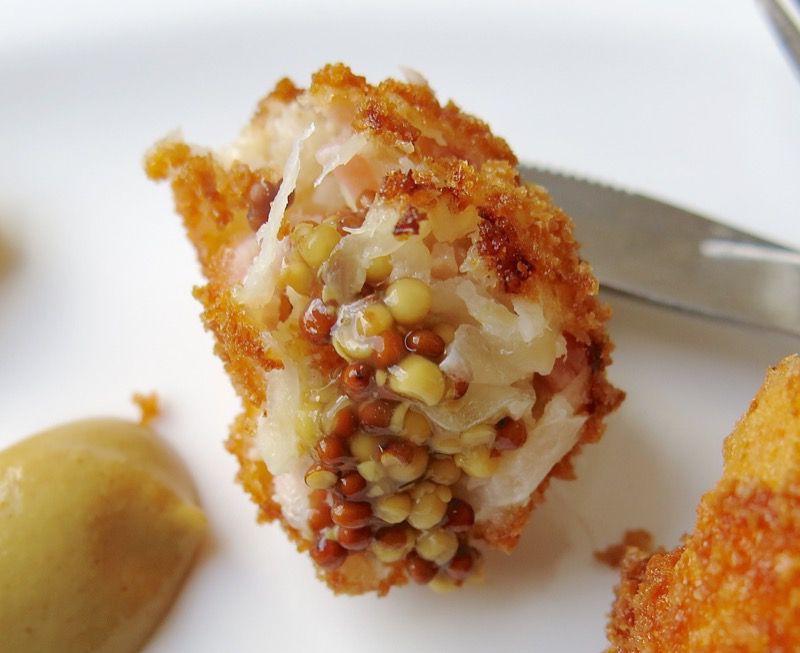 I really enjoyed making them and am absolutely motivated to try similar recipes with corned beef and less kraut. However, I have a truckload of these in the freezer that need to be invited to a party! Just sayin'.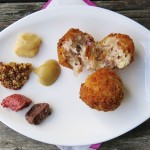 Sauerkraut Ham Balls


This unexpected bite will have your guests pucker up for more!
Total Time
1
hour
20
minutes
Ingredients
Ingredients for balls:
600

g

. cooked ham very finely ground

500

g

can drained and chopped sauerkraut

(about 24 ounces)

50

g

onion

, finely chopped

1

garlic clove

, minced

3

tablespoons

dry bread crumbs

5

ounces

cream cheese

, room temperature

3

tablespoons

fresh flat leafed parsley leaved

, chopped

2

tablespoons

Dijon mustard

1/8

teaspoon

pepper

dipping sauces of your choice
Ingredients for Frying Sauerkraut Ham Balls:
1/2

cup

flour

2

eggs

1/4

cup

milk

3/4

cup

dry bread crumbs

oil for deep frying
Instructions
Instructions for Day One:
In a large bowl combine ham, sauerkraut, onion, garlic and 2 tablespoons of the breadcrumbs; add cream cheese, parsley, mustard, and pepper and mix ingredients together, by hand

Chill 1 hour; shape ham mixture into small 3/4 inch balls

Place each on a parchment lined cookie sheet and freeze over night
Instructions for Day Two:
Prepare three containers for coating each ball: flour, egg mixture, panko bread crumbs

Dip each frozen ball into the flour, then the egg mixture, and roll to cover in the crumbs.

Place on parchment lined cookie sheet; when all are coated and fast freeze overnight
Instructions for Day Three:
The following day, package in freezer proof ziplock bag labelled and dated until ready to serve
Instructions for Day of Service:
Heat oil to 375 °F in a deep-fat fryer

fry in small batches until golden, about 5 minutes

Serve Immediately with dipping sauce
Recipe Notes
Each batch takes only 5-7 minutes to cook from frozen if 10 to 12 balls are in a larger deep frier
Now that you can see what happens when a reader shares a retro recipe with me, I hope this fosters confidence in each of you to share more!