A Delicious Finale for any Mid-Summer Moment!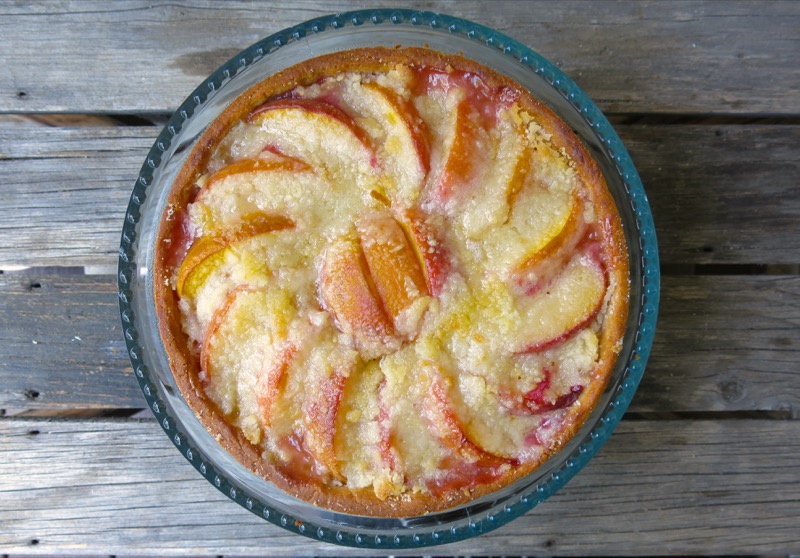 The crystal-sugared buttery crunch topping coupled with the juicy perfumed peaches resting inside the toothsome butter based shell creates a spectacular salute to summer peach season.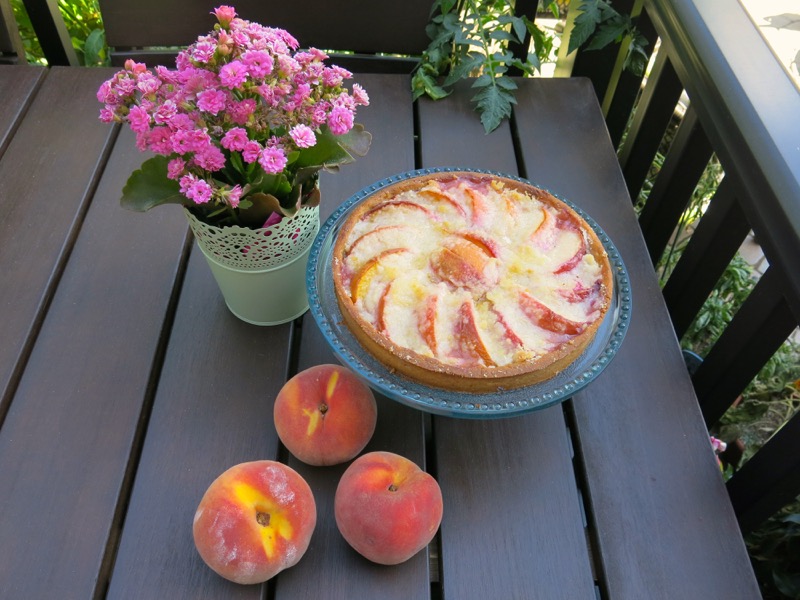 Exceptionally delicious hot from the oven, topped with vanilla ice cream and a little fresh mint.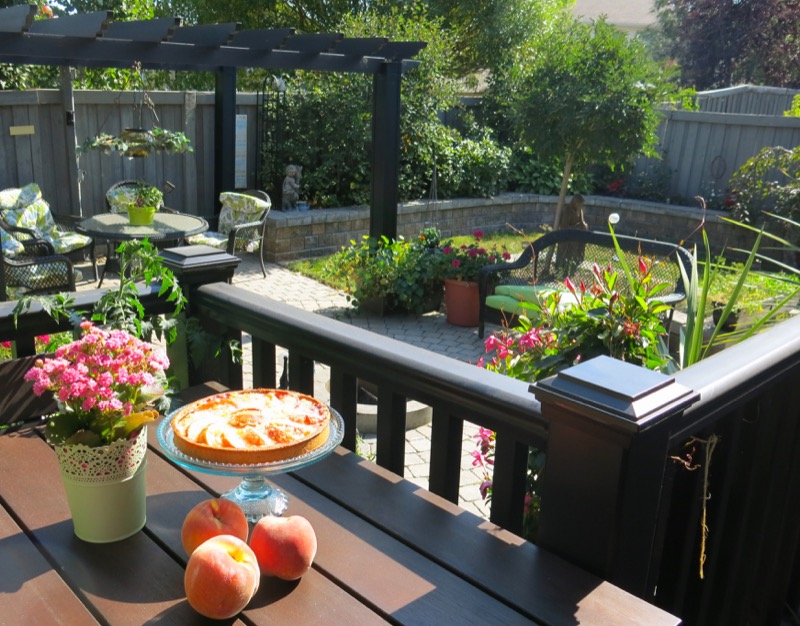 Inspired by the recipe from Food 52, I bumped it up a notch, and was tickled with the result.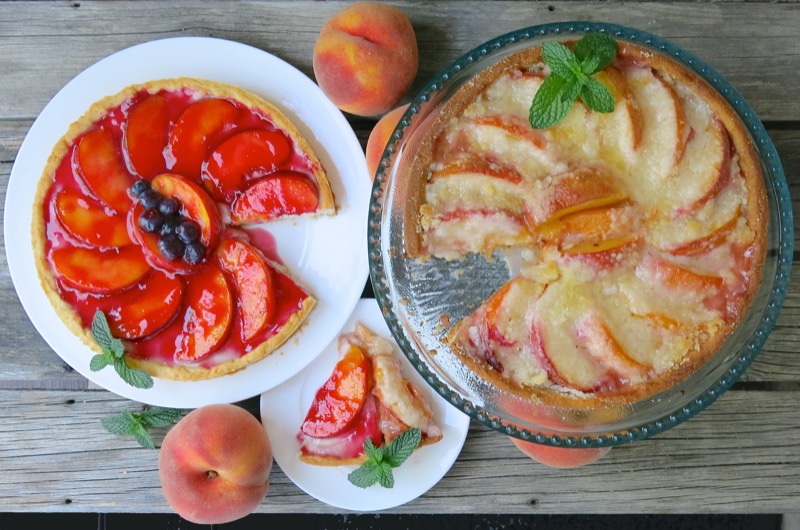 The only labour intensive part of this dessert is preparing the pastry and partially blind baking the shell. After that, it is a breeze.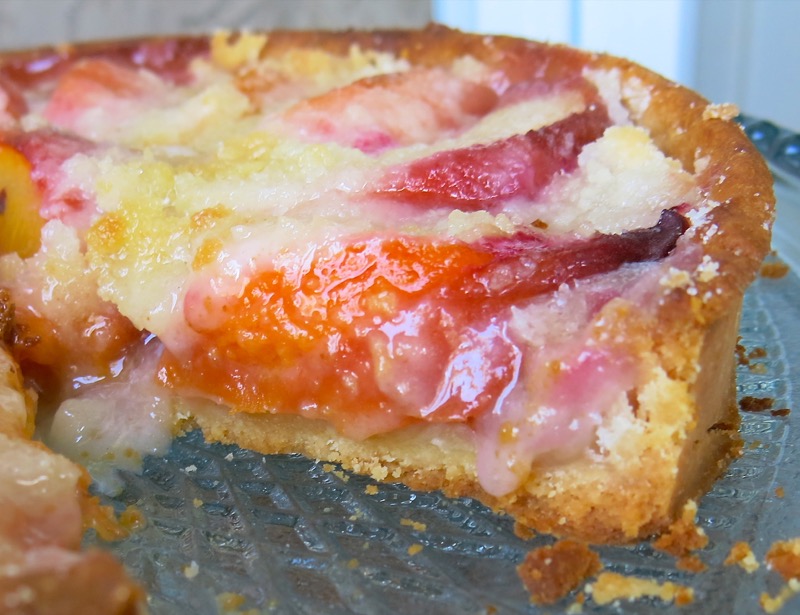 This tart must be served to a crowd so it is all eaten shortly after it comes out of the oven. I promise you, it will be a tremendous hit! However, do not make it in the morning to serve in the evening, or you will be disappointed. The crystal sugared topping will dissipate and eventually pool in the bottom of the shell creating an off putting texture that is as surprising and unexpected as the irresistible pleasure of the texture and taste of the tart hot from the oven.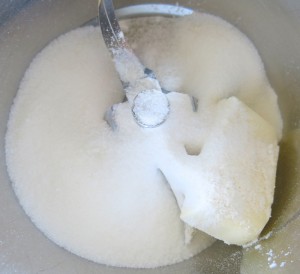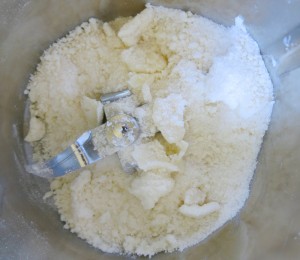 Mixing the topping in the Thermomix takes 5 seconds.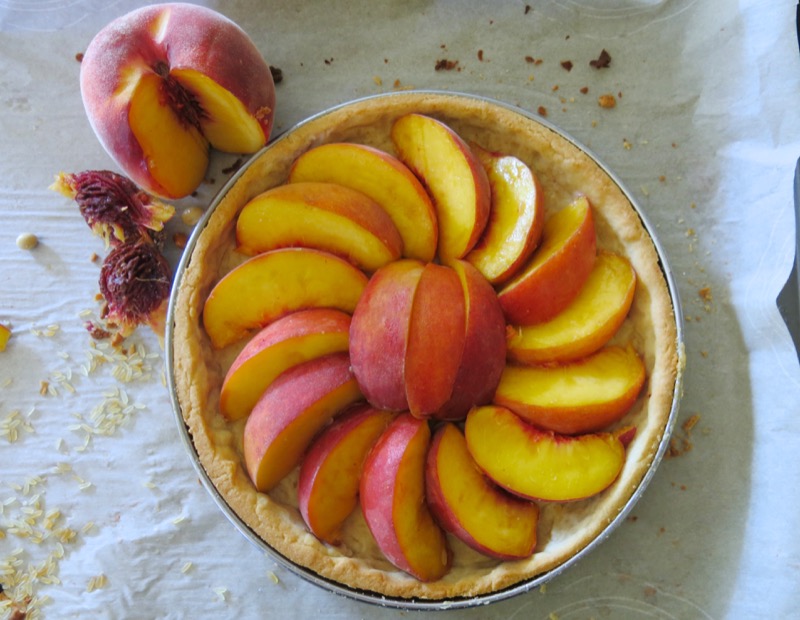 There are so many ways to arrange the peaches in the shell that are decorative. This is a 10 inch ring and the peaches were a larger medium.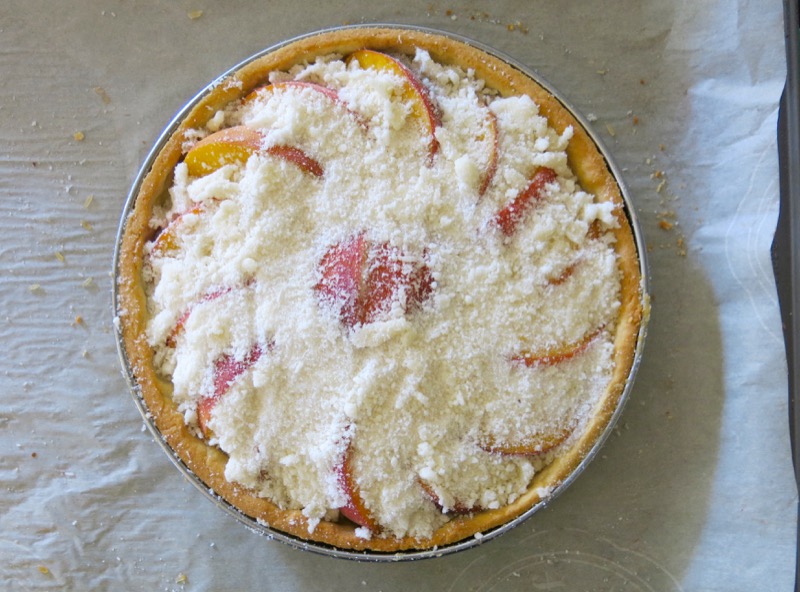 That looks like a lot of butter crumble on the top of the fresh peaches, but it will melt and cook into the most delectable crystallized buttery sugared crunch!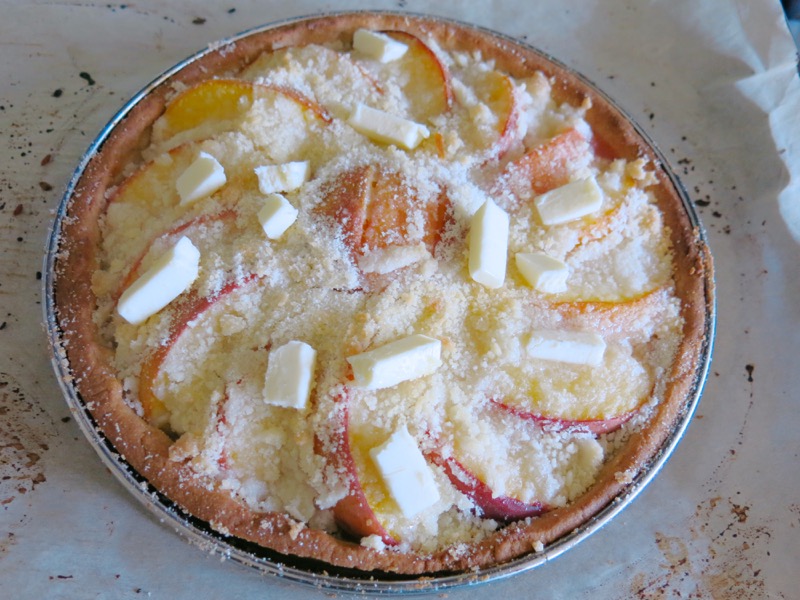 The extra 2 tablespoons of butter on top ensure that will happen.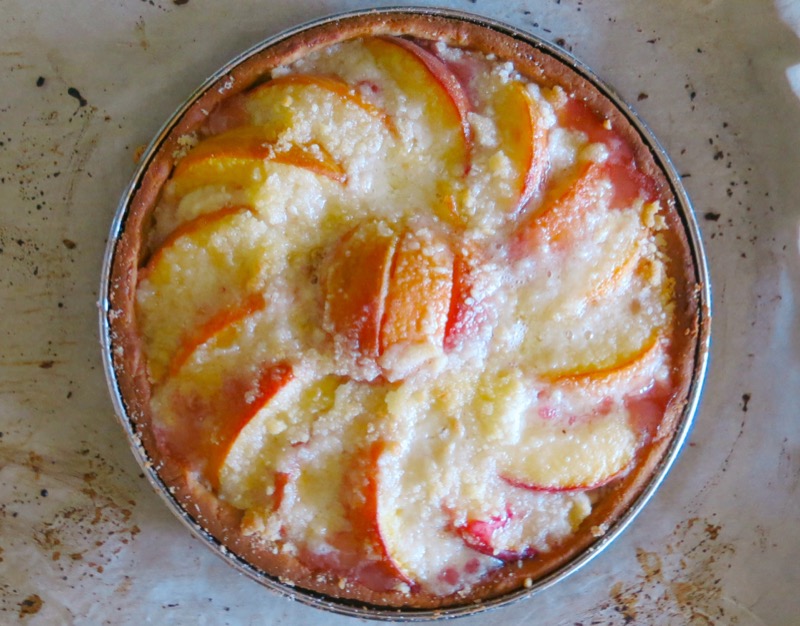 C'est finis! Voilá! Trés magnifique!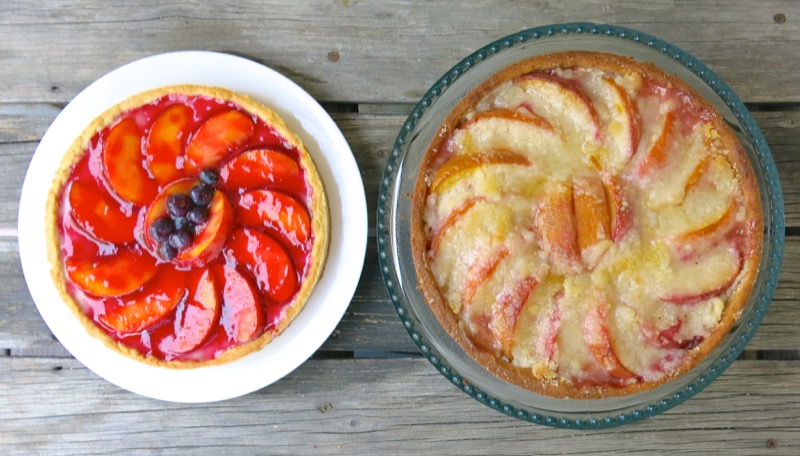 Both tarts are the same size, but this Simple Summer Peach Tart is on a pedestal which makes it appear bigger than the Fresh Peach Tart.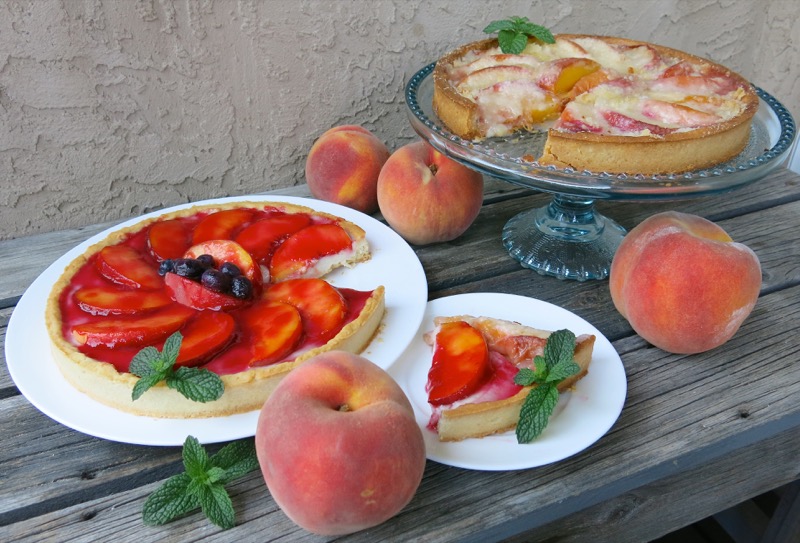 Both were delicious, but it was surprising for me to taste them side by side.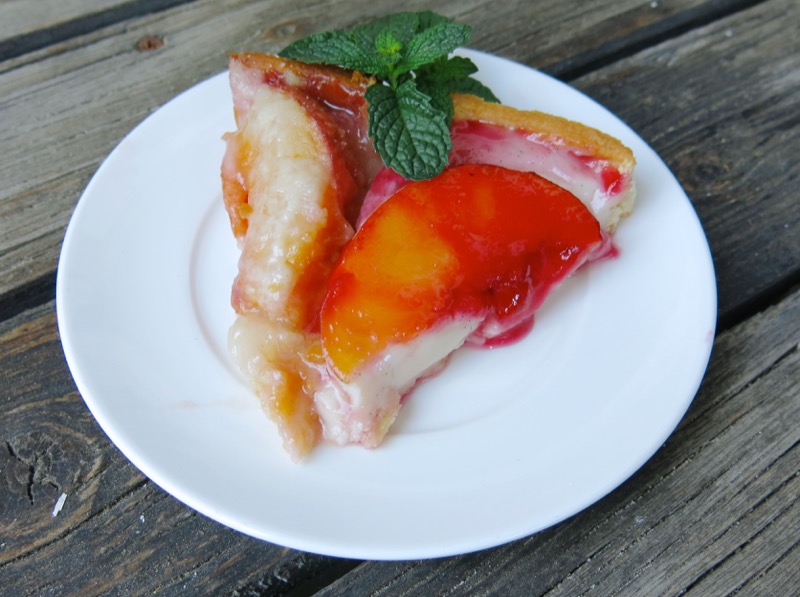 I completely expected the Fresh Peach Tart would be my favourite. How can a baked fresh peach taste better than a fresh one? Well, it did. The flavour, mouth texture, and taste experience was profound and vastly different for each tart. I would compare it to eating a raw apple to a baked apple. So, not so surprising on one hand, yet I did not expect to prefer the baked pie to the fresh. If you make it, let me know what you think, as always: love to hear your feedback! And, please share your favourite peach recipes for the summer in the comments section below. Love to learn and share favourite family recipes!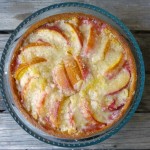 Simple Peach Tart


Fresh peaches baked with a simple butter crumble inside a French Tart Shell for a simply delicious finale to any mid-summer moment.
Ingredients
100

g

or 1/2 cup sugar

20

g

or 2 tablespoons flour

5

g

or 1 teaspoon salt

60

g

or4 tablespoons cold

, unsalted butter, divided

2-3

medium ripe peaches

, pitted and thickly sliced (about 1/2-inch wide)

one disc Pâte Brisée
Instructions
Instructions for Pâte Brisée:
Partially blind bake tart shell as illustrated in photo essay, above: 360°F for 18 to 20 minutes

Cool completely
Instructions for Filling:
Pre-heat oven to 350°F

Combine sugar, flour, salt and half the butter (If your peaches are especially juicy, add 1 tablespoon additional flour); pulse in food processor or set turbo for 3 seconds in Thermomix

Arrange the peaches overlapping in a concentric circle over partially blind baked pastry shell; fill in center decoratively

Sprinkle sugar butter mixture over all; daub with remaining butter

Bake for 40 minutes bubbly and fruit emerges through sugary crust; cool on rack

Serve immediately with homemade or excellent quality vanilla ice cream
Recipe Notes
This tart does not keep well; it is best eaten immediately and is an outstanding company dessert
When cold, it is does become runny and soggy