Using the Thermomix TM5 Automated Custard Recipe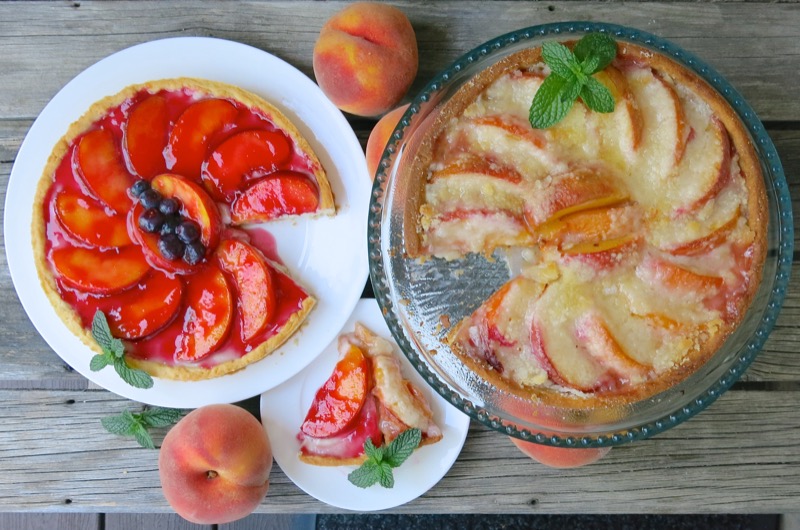 Peaches are in Season! There is no replicating the fragrant perfume, profound beloved flavour and the fuzzy globes of sunshiny sweetness. Peach season is a celebration of yet another miracle of Mother Nature.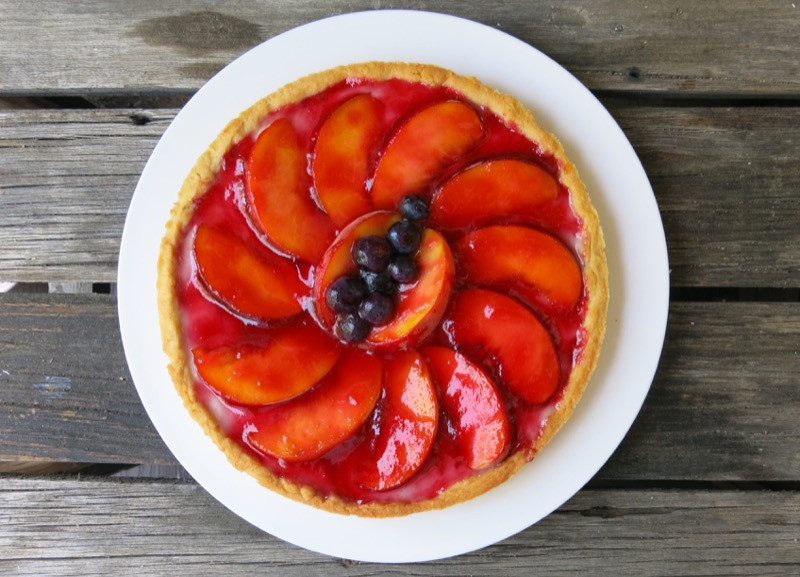 This fresh peach tart is a French Peach Tart with an homage paid to my love of peaches and cream. Really, nothing need be added to a peach. It is an irresistible fruit, when ripe, and pulsating with all that fleshy fruity juicy goodness. Yet, sliced peaches, macerated in sugar, doused in a good dose of thick farm fresh cream is an ultimate pleasure. And not just for me: peaches and cream is considered an ultimate flavour combination. This tart finds the freshly sliced peaches nestled into a bed of vanilla custard, blanketed with a glistening glaze of sun hot summer raspberry jelly. The Saskatoon berries are propped into the middle only to punctuate the bounty of the garden.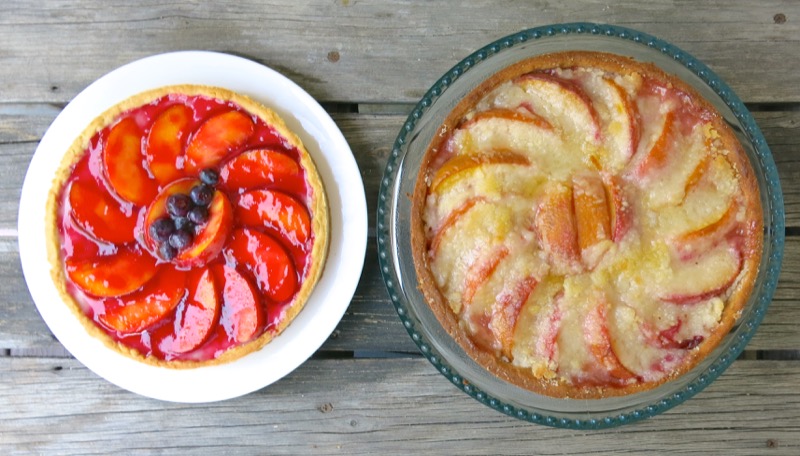 Both tarts are the same size, but the baked Summer Peach Tart, on the right, above, is on a pedestal, which makes it appear bigger. Why not celebrate in style? A fresh peach tart and a baked one… and so much more!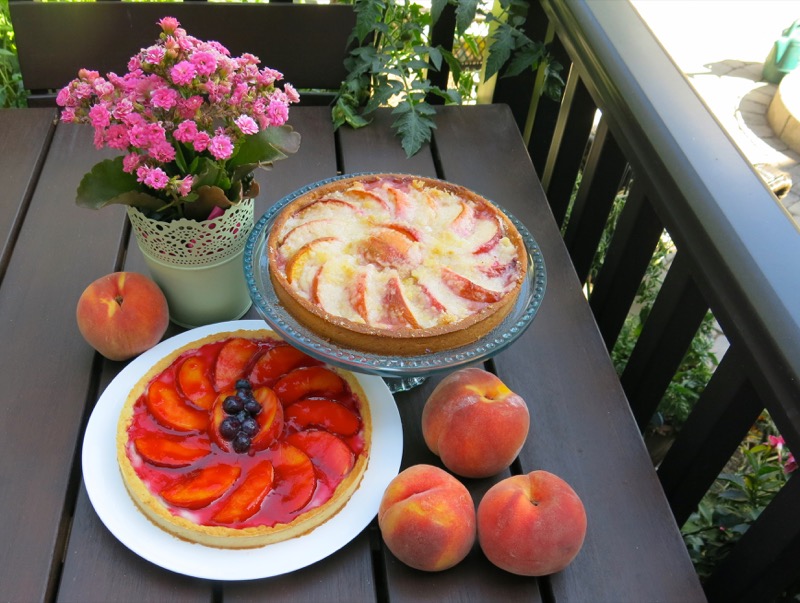 With peach season so short, one simply must take advantage of every scintilla of it. Mom is at home canning hers, and has been doing so for the past 65 years. What did she feed us when we were ill? Canned peaches and toast. Can any one relate, or was it just my mom. Such a comforting bowl of goodness that always made us feel better.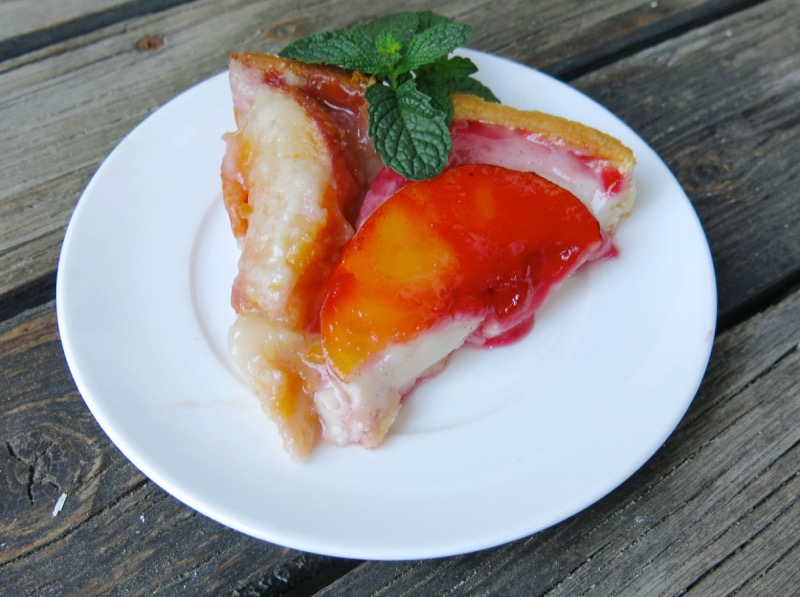 When there are two tarts, which one do you pick to try? Both, of course! I must say, both were delicious, and each one dramatically different than the other.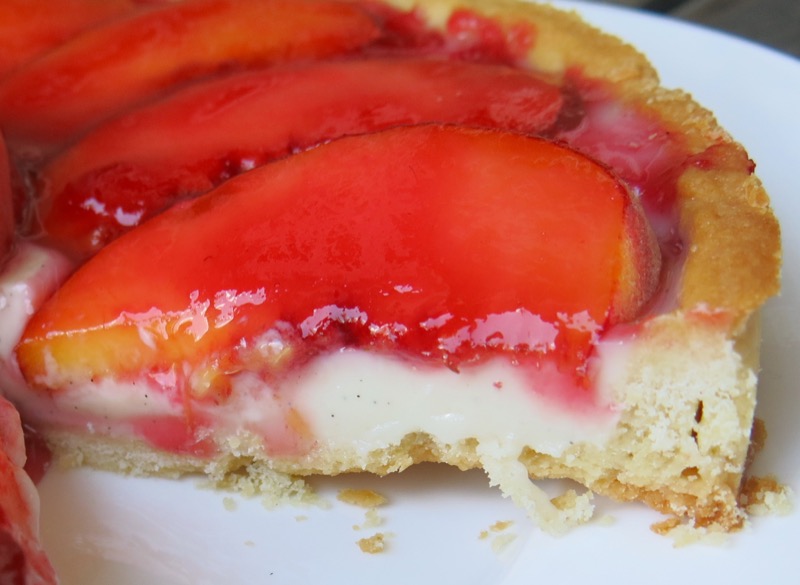 I thought this one would be my favourite. How can you beat peaches and cream. Well, silly, that is not possible. Yet, the baked tart, warm from the oven with the buttery crunch is a sensational combination of flavour, texture and hits every decadent note in the palate. The fresh tart is light and bright and clean and fresh. Yet. somehow, when compared beside the baked buttery sugar crystalized tart emoting enough heat and love to melt a mountain of the best vanilla ice cream, there is just no comparison.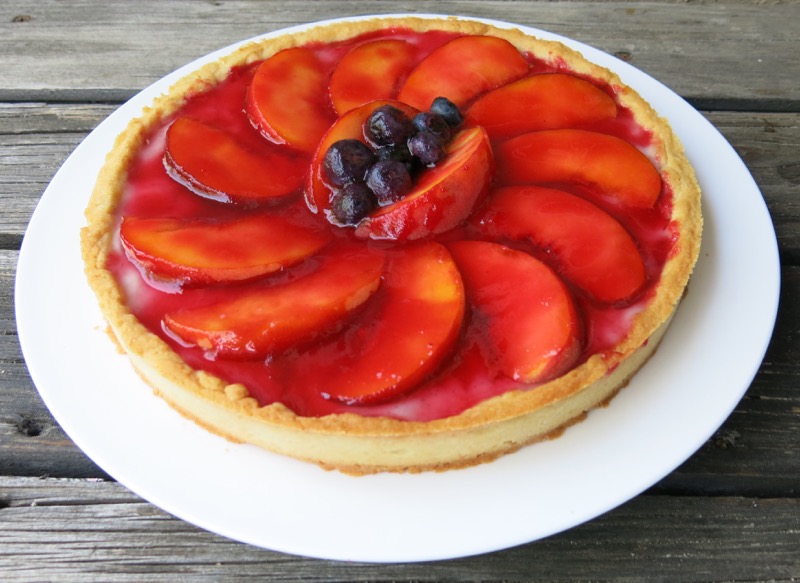 The tart was gorgeous without the glaze, but Nadja had just gifted me with this huge, lovely jar of homemade raspberry jelly and I could not resist using it. It is delicious on everything…. and though not necessary, added another a little red lipstick, or perky personality and pizzaz to this little celebration so summer: all dressed up with no place to go.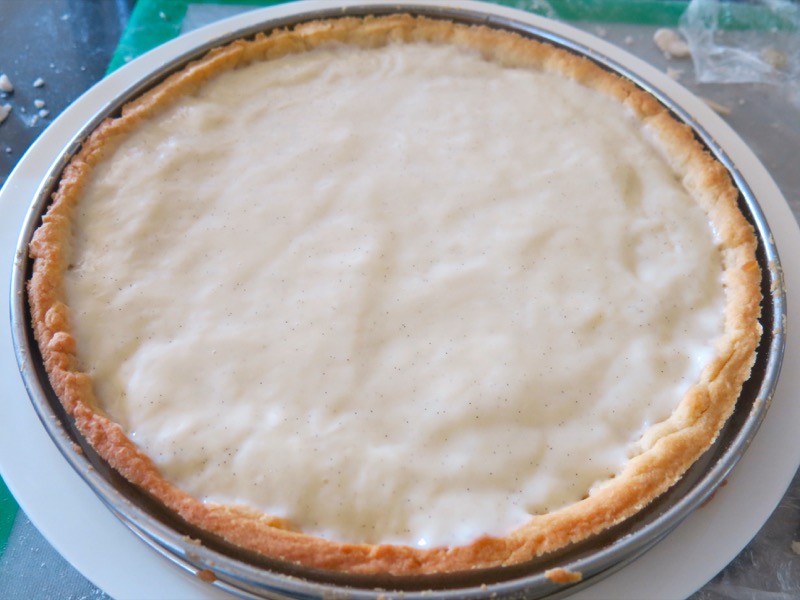 After filling the blind baked French Tart Shell, there was a good amount of the custard left: two small or one large serving.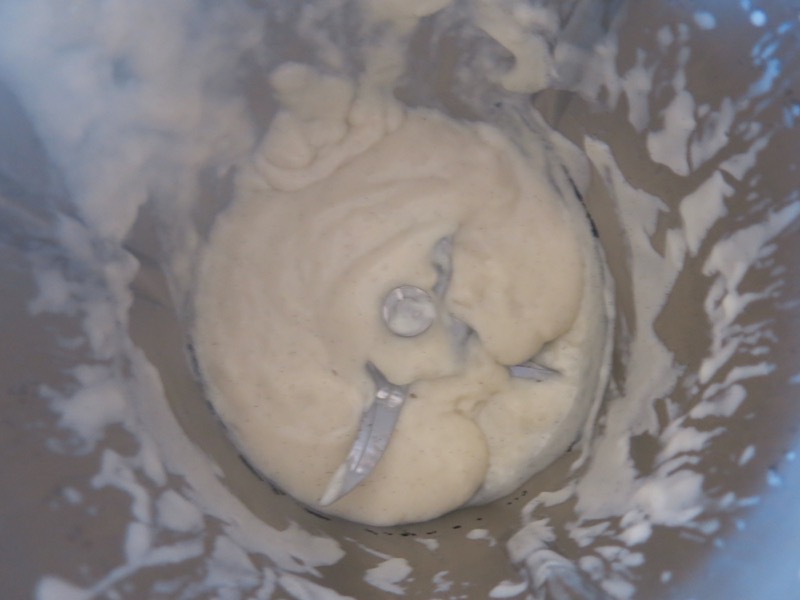 So, if you are celebrating peaches at your house, share your favourite recipe in the comments below! Join the party! If you make either of these recipes, please chime in and let me know what you think!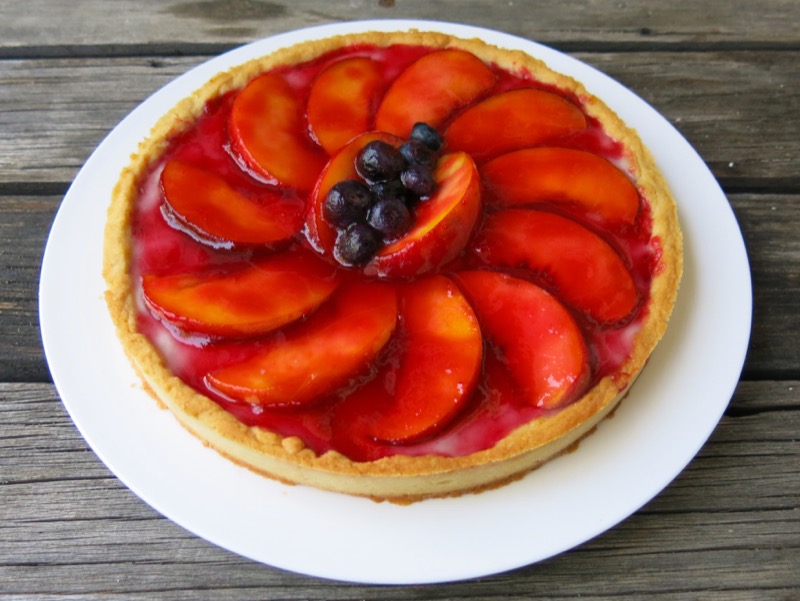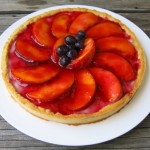 Fresh Peach Tart: French Tart Style


Celebrate peach season with this simple little peaches and cream tart all dressed up to make a big impression for any summer party.
Ingredients
Ingredients for Custard:
1

tablespoon

vanilla paste of 1 vanilla pod

500

g

milk

2

egg yolks or 1 egg

50

g

sugar

1

pinch salt

20-30

g

cornstarch
Ingredients for Tart:
2-3

medium ripe peaches

, pitted and thickly sliced (about 1/2-inch wide)

one disc Pâte Brisée

50

g

raspberry jelly
Instructions
!Instructions for Pâte Brisée:
Fully blind bake tart shell as illustrated on Pâte Brisée recipe page (360°F for 22 to 25 minutes)

Cool completely
Instructions for Custard in the Thermomix TM5:
Scale all ingredients directly into the TM bowl; turn the Selector Dial; custard will be prepared in 8 minutes

Pour immediately into prepared tart shell; pour remainder into a small bowl
Instructions for Custard without a Thermomix:
Blend all ingredients in blender; heat slowly over medium heat, stirring constantly for 8-10 minutes, until mixture thickens

Stir constantly for 1 more minutes; remove from heat and pour into tart shell

Pour remainder into a small bowl
Instructions for Putting it all Together:
Decoratively arrange the peach slices on top of the custard

Gently heat the raspberry jelly until melted; brush over surface of tart, sparingly

Chill for 2 hours, or until service

Will keep for a day or two, but best eaten right away