Guacamole Turkey Burgers are delicious, nutritious and very filling!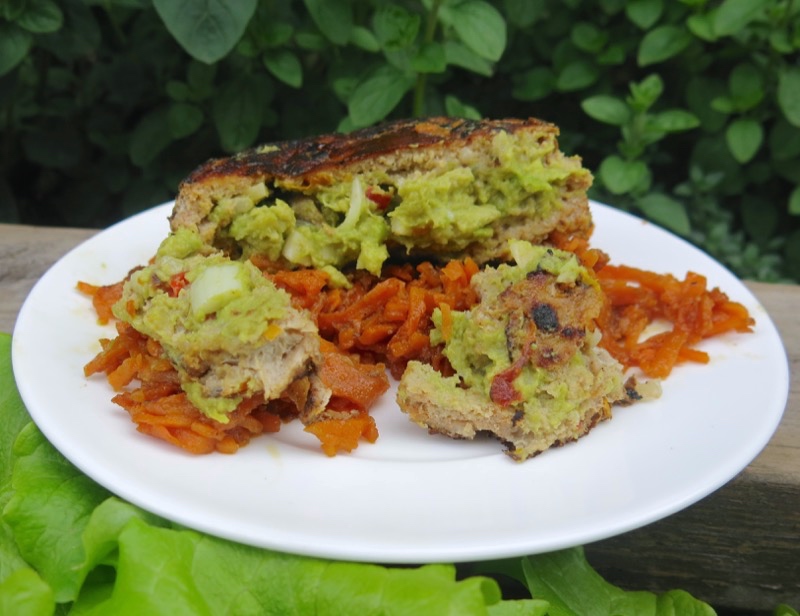 Is it just my imagination, or does that look spectacular? I suppose, if you hadn't read the title, you would ask, like my Serbo Charger did, "What is that?" Never heard of Guacamole Turkey Burgers, let alone a Guacamole Stuffed Turkey Burger until I visited Prince William last month. Lauren and Aaron have been on a healthy eating plan since I came home from the Birthday trip at the end of February. In two and a half months, they both had lost a considerable amount of weight and felt so very healthy. Neither of them had to loose weight, in my humble opinion, but we all need to work at eating healthy. That is key.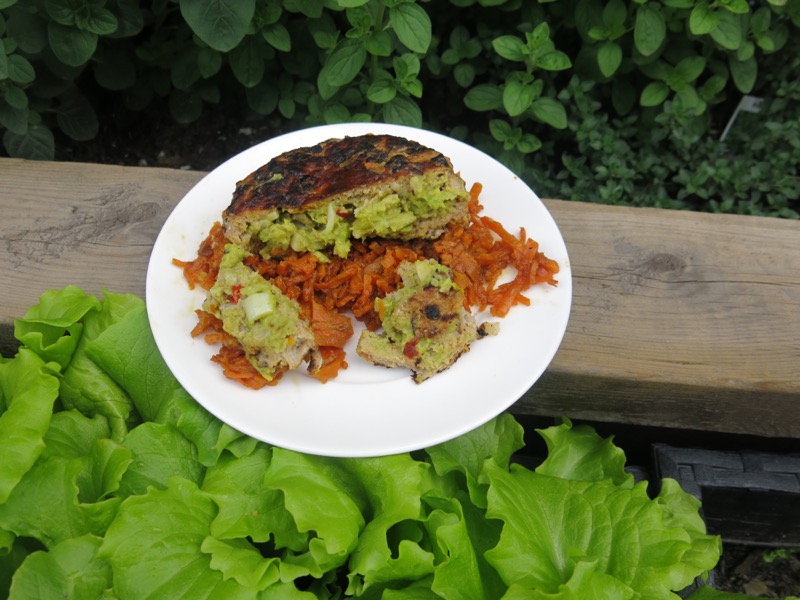 Food is medicine and I have learned that the hard way, having so many digestion issues that have prevented me from enjoying one of life's simplest pleasures for years: a great big crunchy leafy salad. I had no idea that salads were so difficult to digest. And meat. Well, I knew that eating less meat, or none at all, was desirable. That didn't happen by choice, and I would likely feel great about that if I could eat that giant leafy salad. However, I found I could eat a far greater variety than I can at home when I was at Lauren's eating "her way". I was more satisfied, felt I had more energy, and lost weight!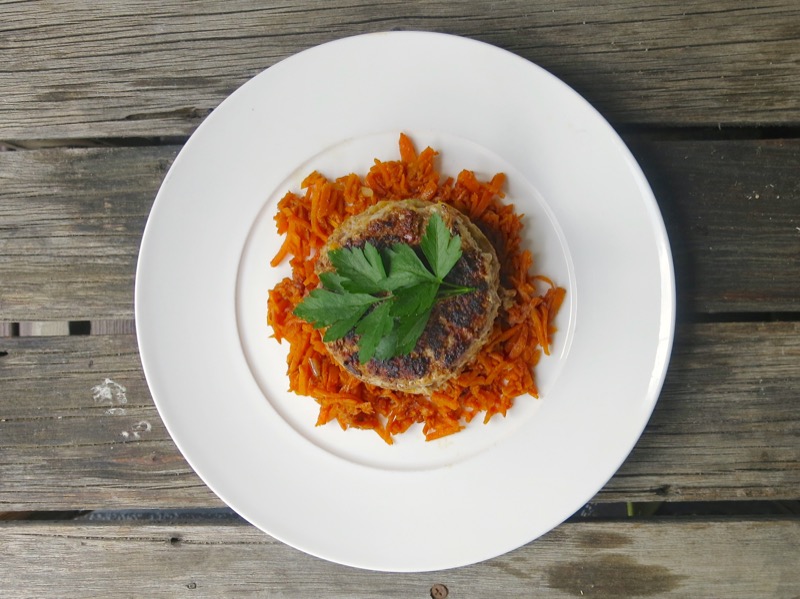 This is the first visit where she was actively cooking daily. What a difference to the family environment. And her fridge was stuffed with fresh fruits, vegetables and the most irresistible healthy snacks like watermelon cubes, pineapple chunks, yogurt, and sugar snap peas. She was preparing meals from her fitness instructor and the portions were small, but packed with flavour, protein and energy, so satisfying and delicious. I had a few favourites I will share with you, but it will be my version as I am recreating each of the recipes by memory coupled with experience, due to the copyright on the ones Lauren was using. This Guacamole Turkey Burgers recipe is inspired by one of our evening meals.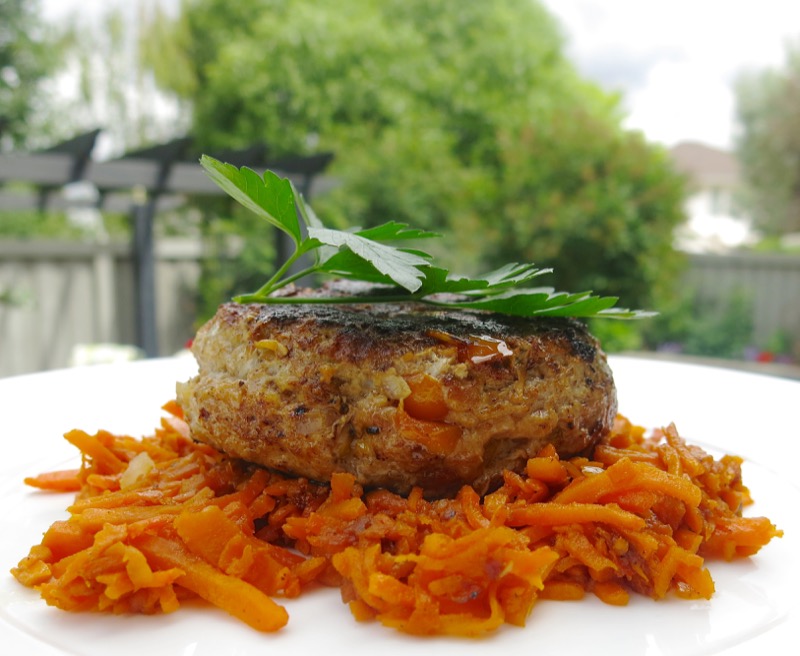 I could digest it! Found it packed with flavour and really enjoyed it wrapped in a butter lettuce leaf with a couple of slices of tomato, pink Himalayan salt and a squirt of French's yellow mustard. I actually only ate half of the above portion, as I made 8 very thin patties from the same recipe, which can definitely be done. I could not believe the compliment of that mustard to the burger. Outstanding. One of the other meals she made had spiralized sweet potatoes fried in a smidge of coconut oil with an entirely different protein. This side is dense and delicious. Chewy, flavourful and full of nutrients. I was craving both, so put them together for my evening meal. I am trying to regain that energy and healthy lifestyle I enjoy so much when at Lauren's.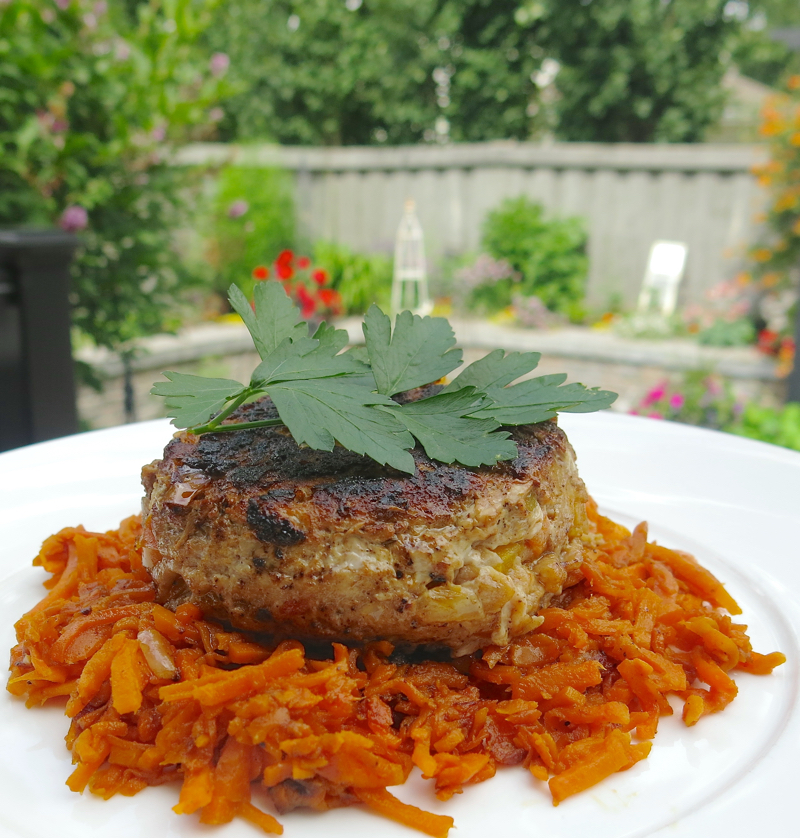 So pretty…. It's not that I don't eat healthy. I certainly try. But, I am cooking for my personal local carnivore on a daily basis, therefore usually don't feel like making a delicious, nutritious and colourful effort just for me. Silly, eh? I am going to try to improve upon that as I most definitely learned that I feel so much better when I do.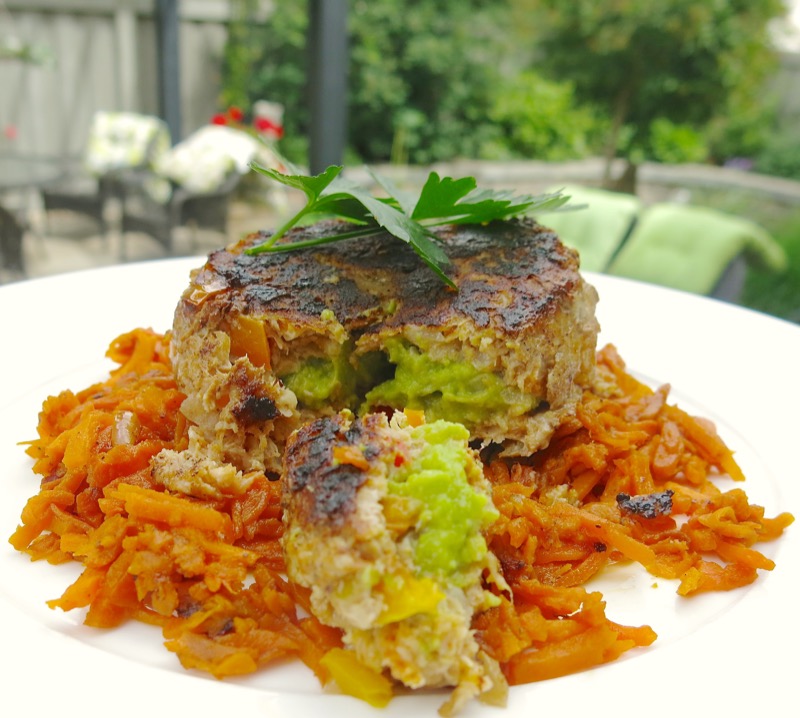 Surprise! The avocado adds the unctuous mouth feel to that lean turkey meat. Surprisingly, you don't "taste" the avocado as you would if it was a guacamole topping. It marries so well with the patty, that it adds texture, pleasure, nutritive value and vibrant colour. The nutrient packed patty has exceptional staying power and hunger is non-existent for long after. Though packed with avocado, there is only 1/4 of an avocado in each of these Guacamole Turkey Burgers.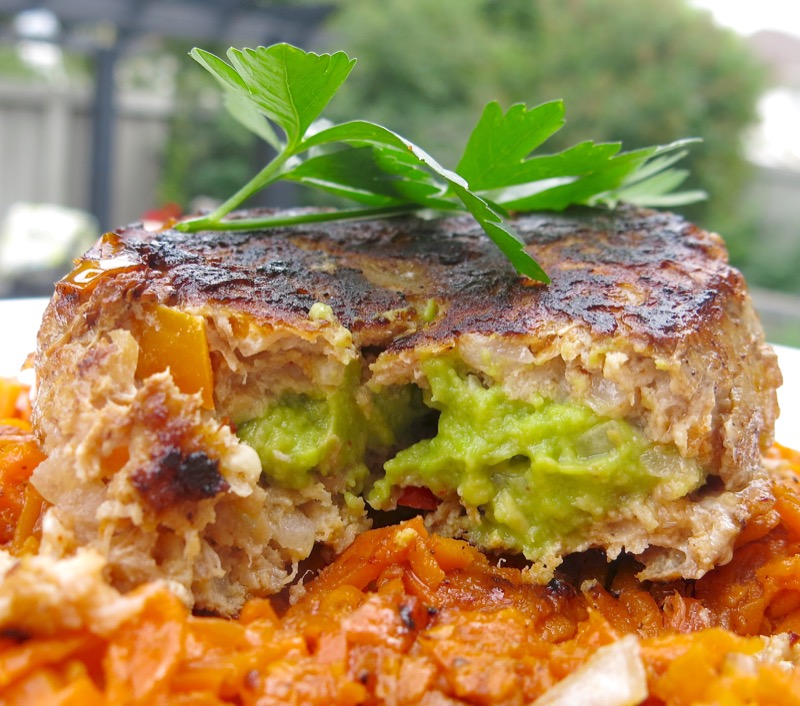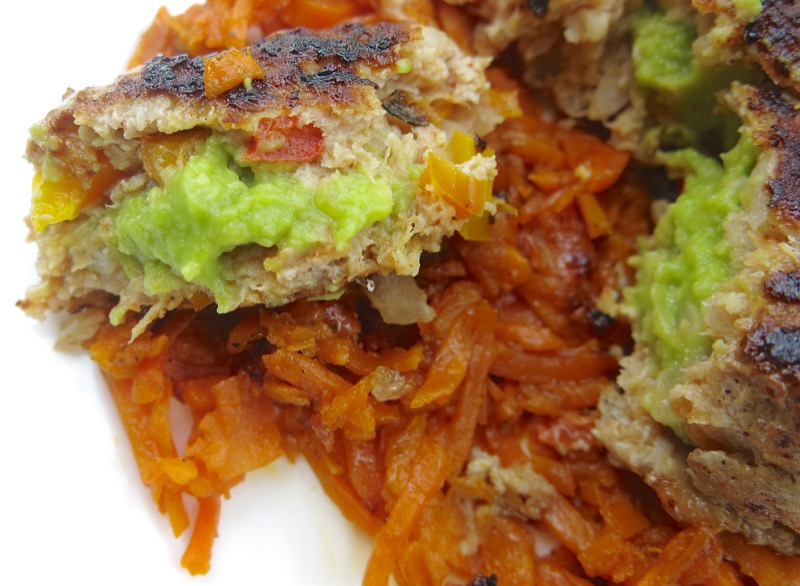 Making Guacamole Turkey Burgers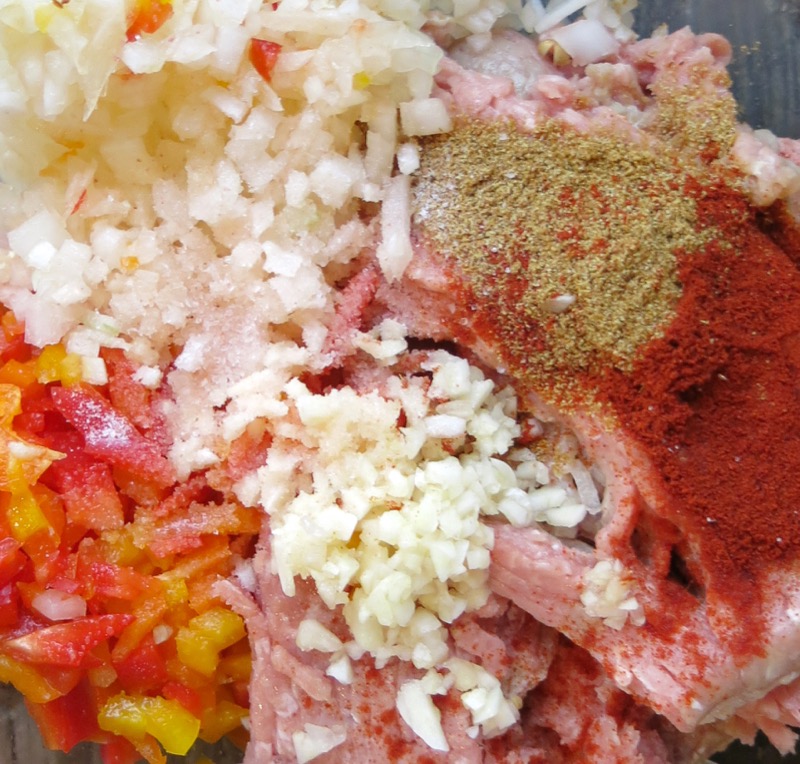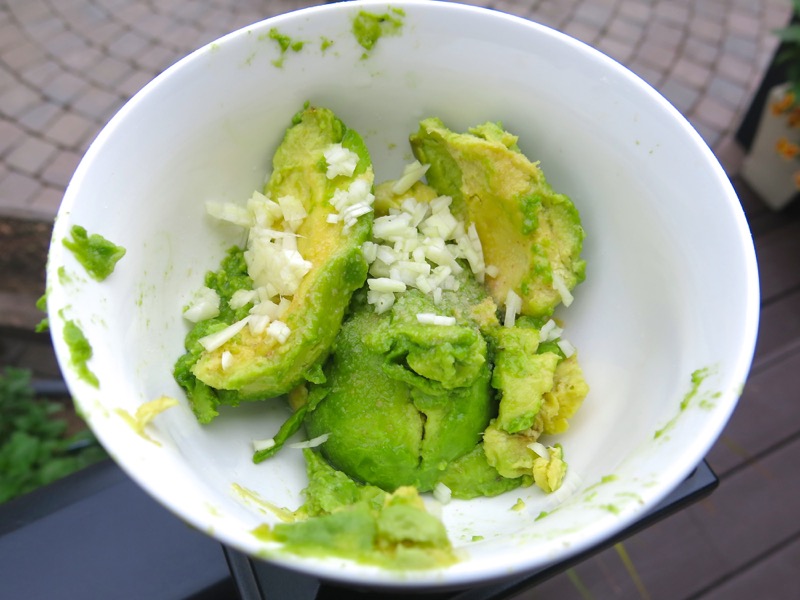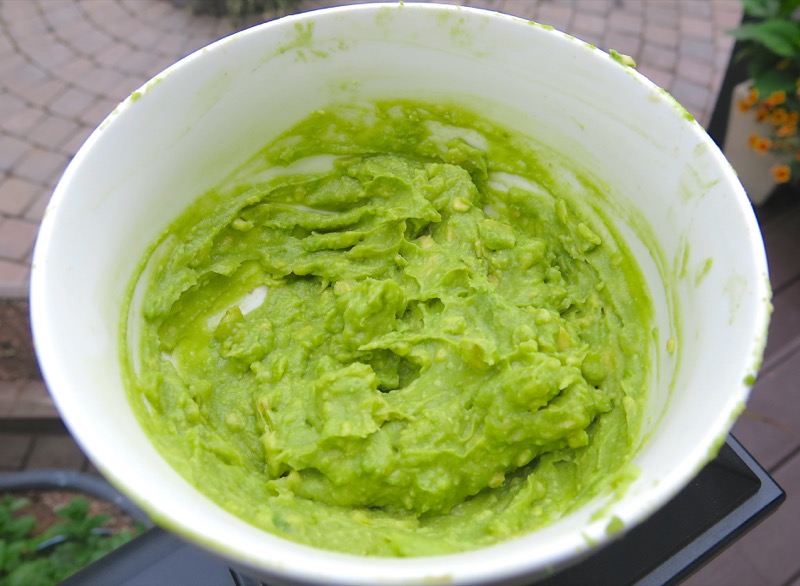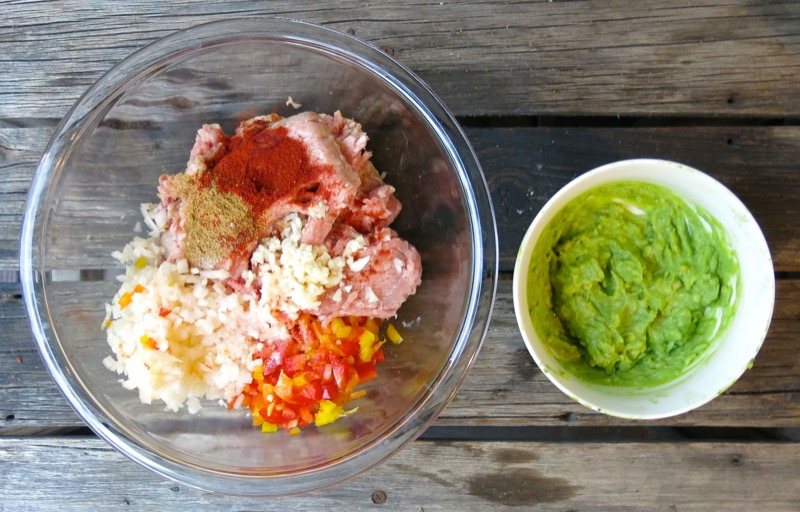 Simple, delicious ingredients.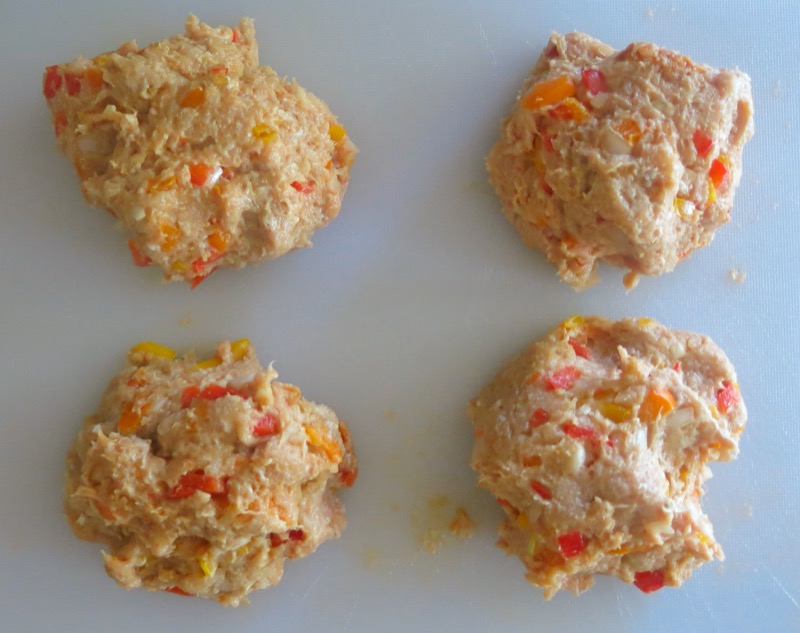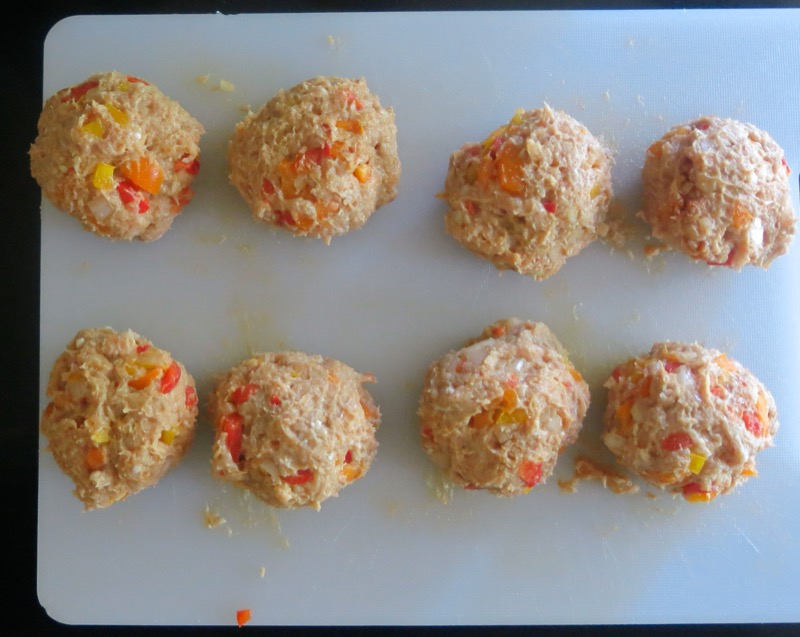 Meat mixture combined thoroughly, weighed, and divided into 4 portions. Each portion is then halved.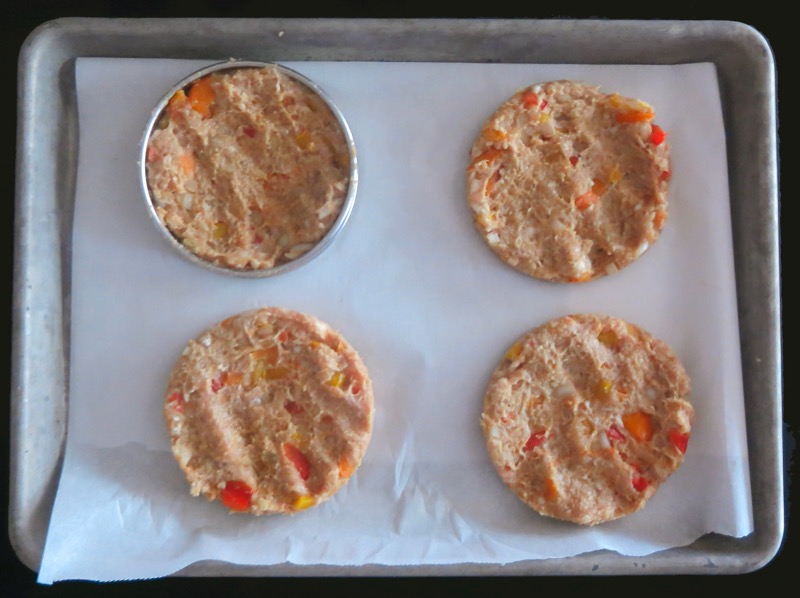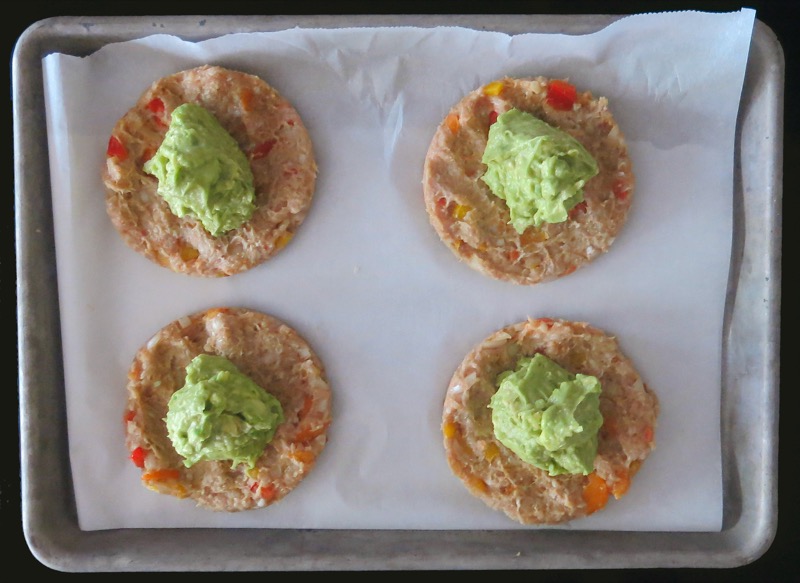 A small pastry ring mould works perfectly to shape each patty. Not necessary, but easy. Four halves are pressed into an even thickness. The avocado filling is weighed and divided into 4 equal portions, placing one on top of each formed patty.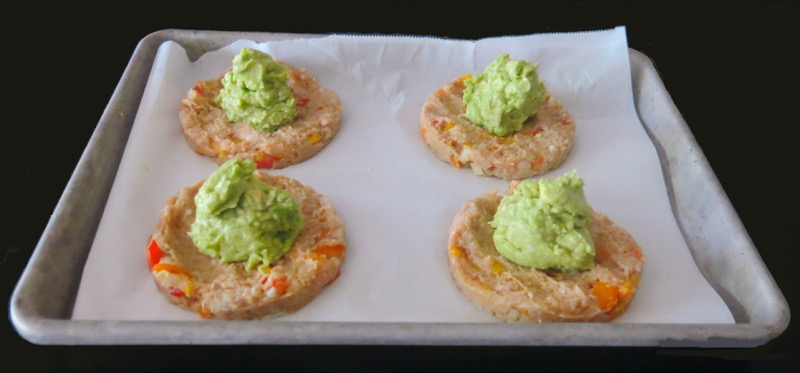 It looks like so much more than only a quarter of an avocado per each of the Guacamole Turkey Burgers.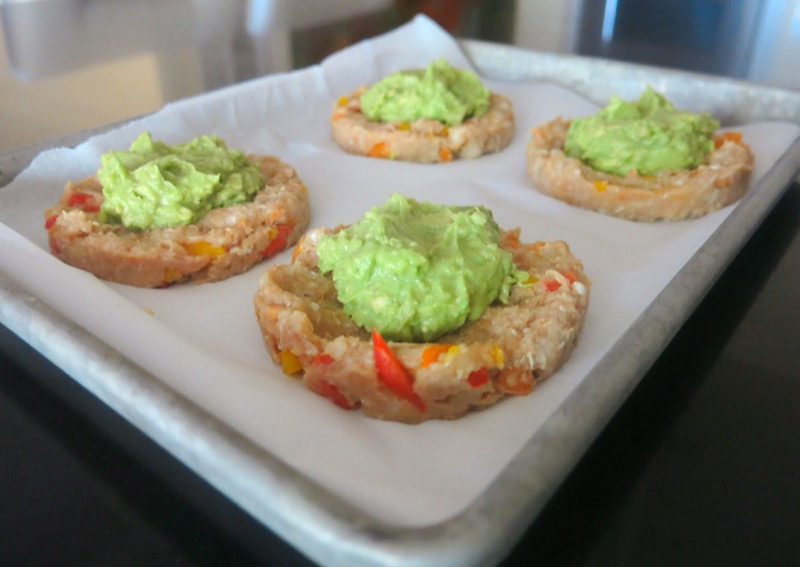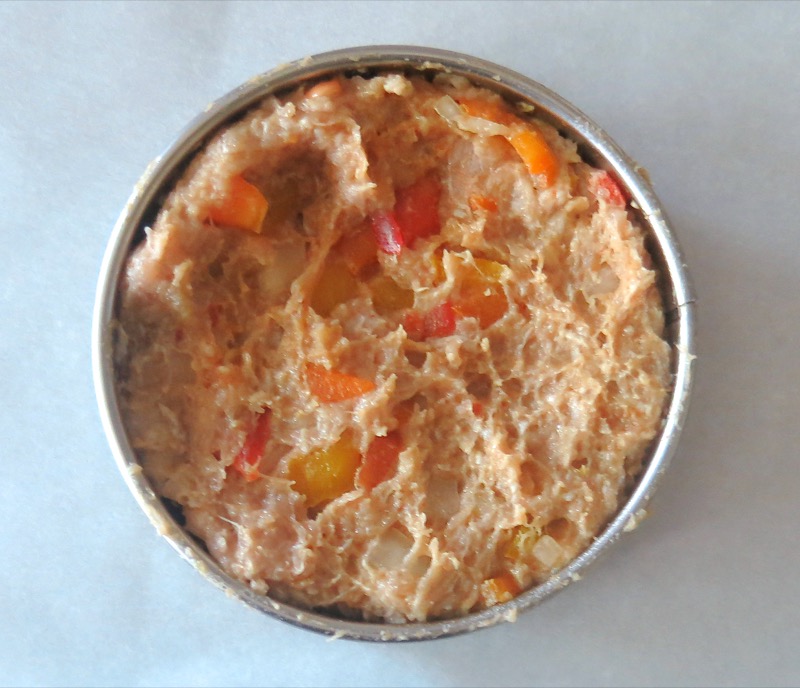 Avocado is patted into the center of each patty, to the edge as far as possible, leaving room for a seal. Then, form the other half of each portion into a patty.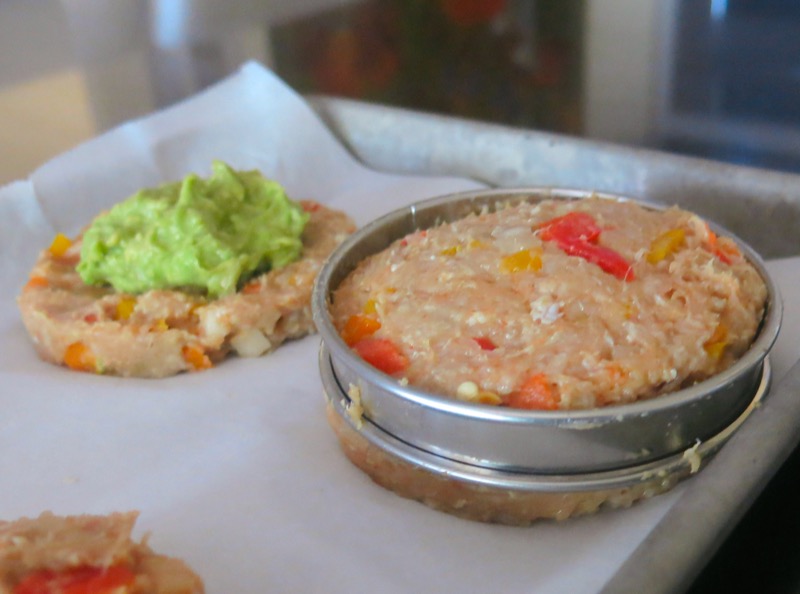 I gently replaced the pastry round on top of the first half portion with avocado on it, turned the second half portion over into the pastry ring and patted it in place over the avocado stuffing to form a gentle but secure seal all around the edge.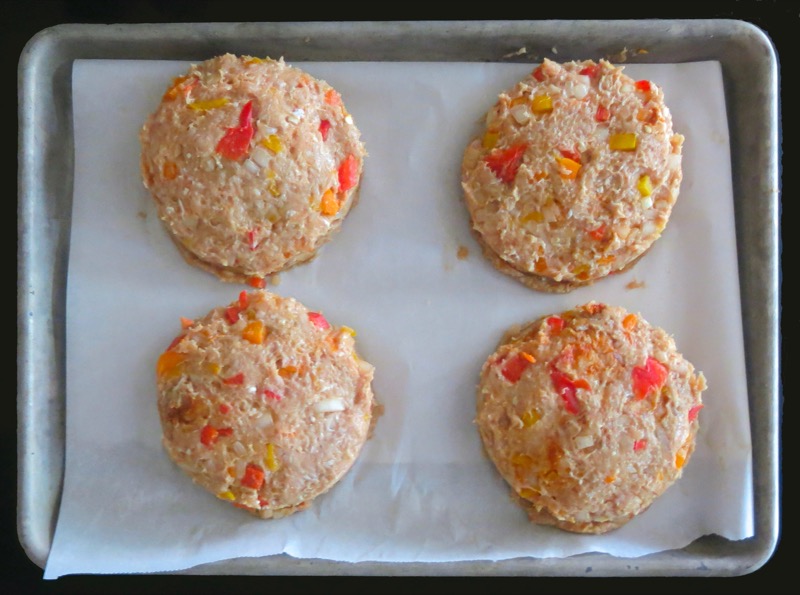 Four hearty guacamole stuffed burgers above. I placed them on a parchment covered pan to freeze.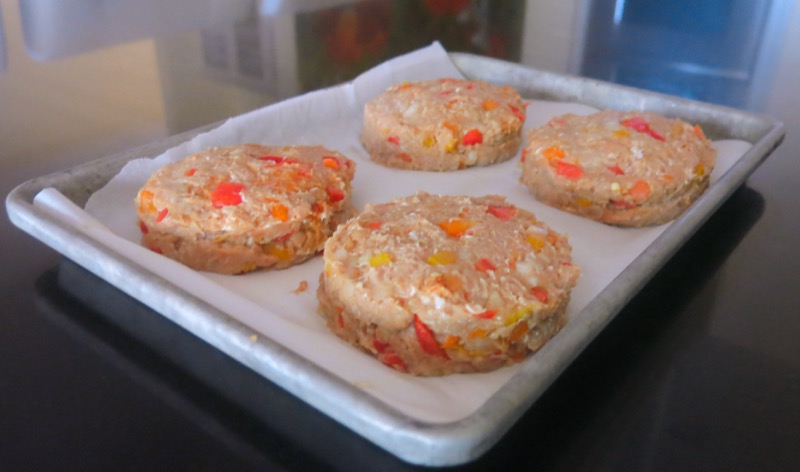 Once fast frozen, I packaged each of the Guacamole Turkey Burgers into an individual freezer bag, and then placed all into a larger dated, labelled freezer bag.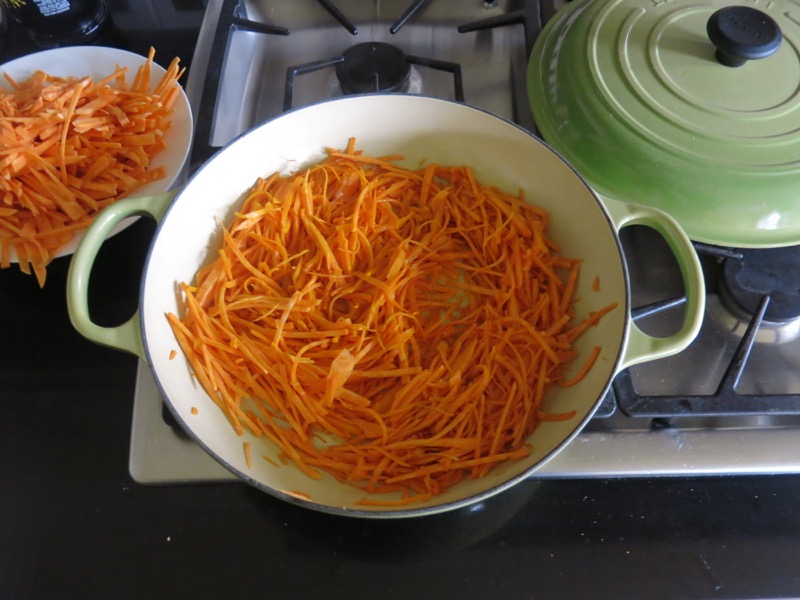 Half of a sweet potato (well, a yam, actually) julienned and frying in coconut fat. I needed to stir it constantly as this was not a teflon pan, and it does take a considerable amount of time to cook the strings of potato in this manner. But the texture and taste is most definitely worth the time. Only Himalayan pink salt, freshly ground black pepper, the coconut oil and potato, but the flavour is dynamic and nothing like a baked sweet potato.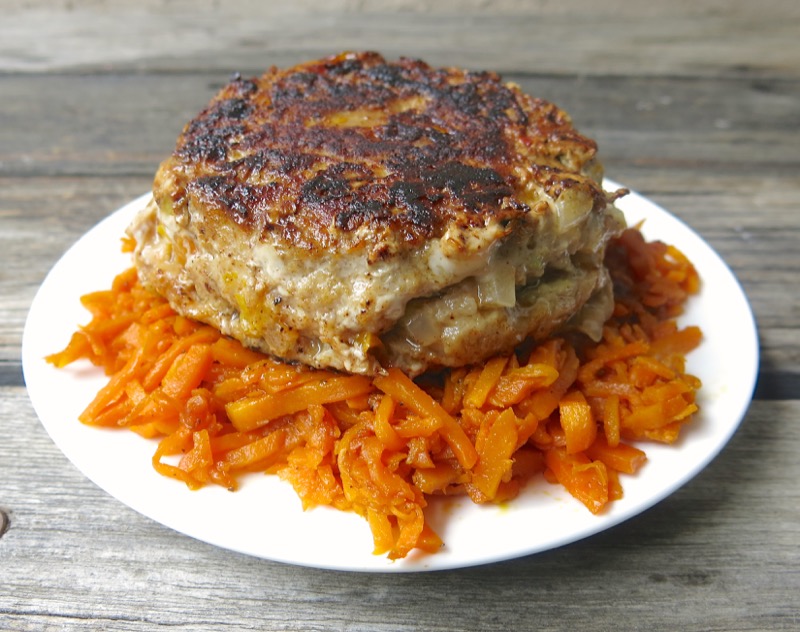 Confession. The plate is tiny. But, still, that is one whopping burger and those nutrients are dense, delicious and have that all important "stick to your ribs" staying power.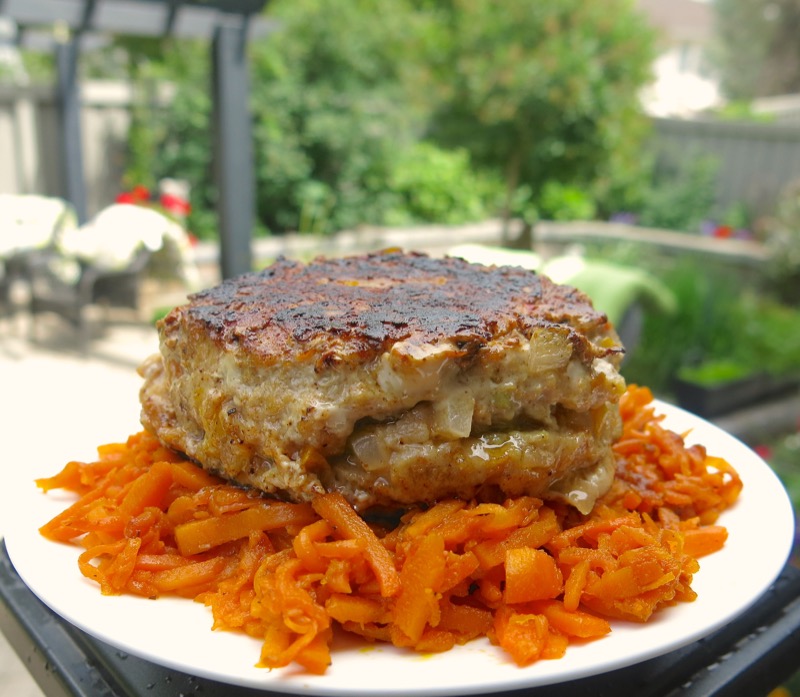 OK. I know. You'd think I was over indulging you with family photos. Well, it is somewhat similar when developing a recipe. When you have a triumph, you celebrate it.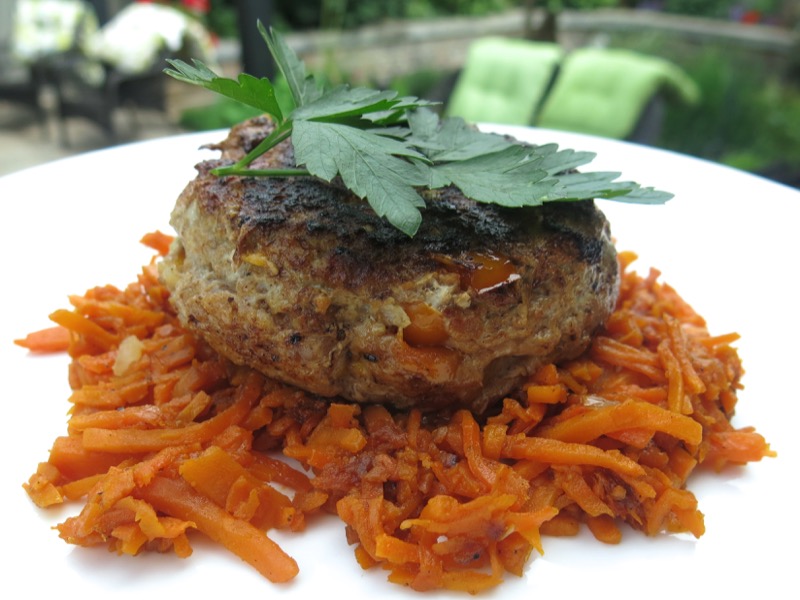 The Guacamole Turkey Burgers needed a little crowning glory. Green, clean, lean and mean: there's no in between. This burger is "the bomb". Now, it is not a fatty patty. Not one of those "off the grill Alberta Beef burgers" dripping in umami laden fat that gets your entire palate a-quiver with anticipation. Yet, this lean, mean bright bite will revitalize. I promise you.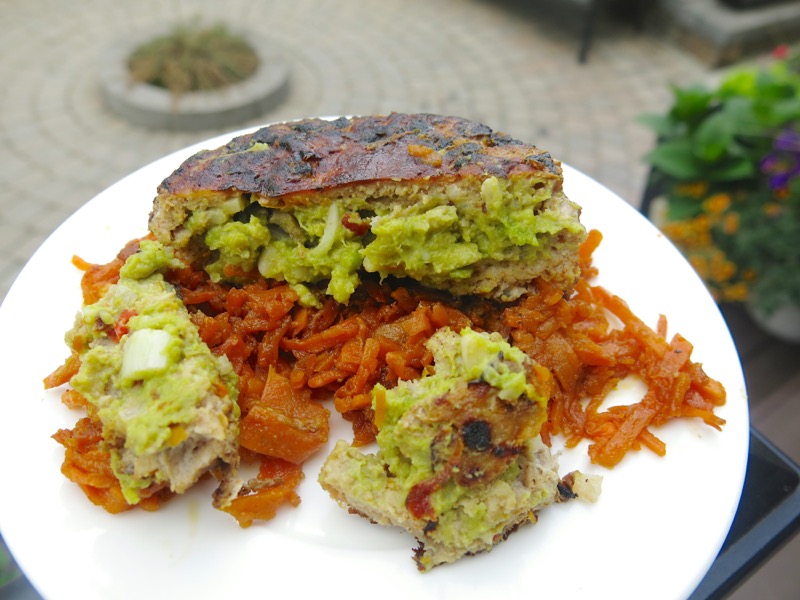 Tasty! And children love the surprise in the middle!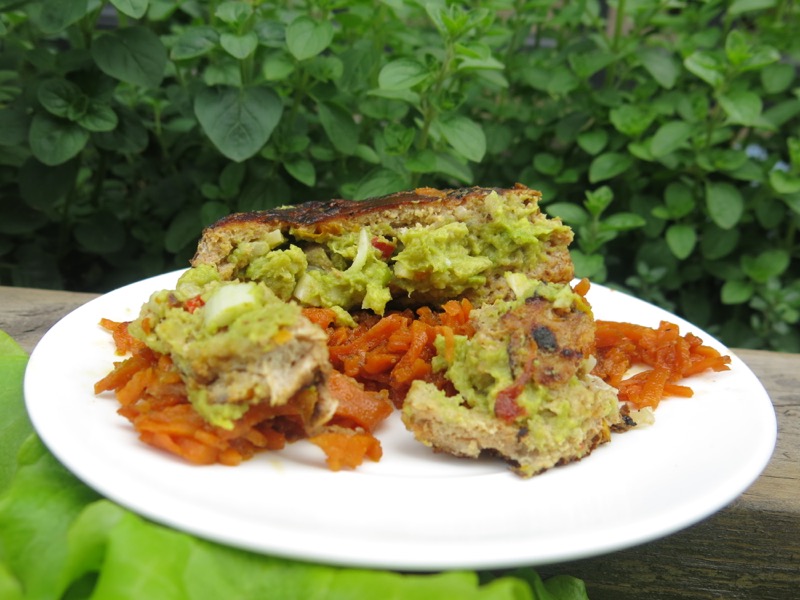 Making it? Let me know. Have a similar healthy meal to share? Yes, please! (Come on! Make my day – comment below!)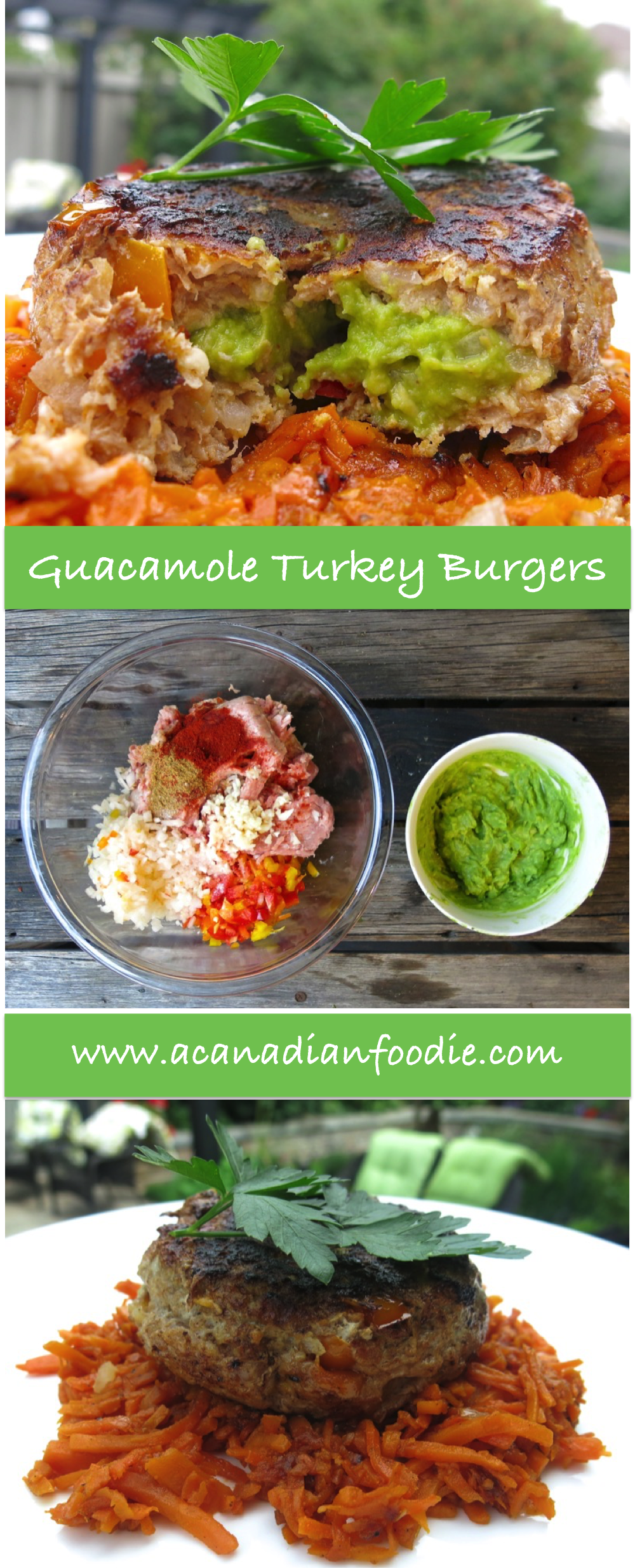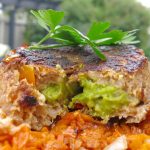 Guacamole Turkey Burgers


Very filling, tasty, and healthy! These summer burgers are scrumptious grilled and a very satisfying hit with those watching their waistline over the summer!
Ingredients
1

ripe avocado

Juice of 1/2 lemon

(about 2 tablespoons)

Himalayan pink salt

, to taste (about ¼ teaspoon)

454

g

or one pound extra lean ground turkey

½

cup

onion

, minced

½

cup

bell peppers

, minced (more colourful, the prettier the burger)

5

g

or 1 teaspoon garlic

, minced

1.24

g

or 1/4 teaspoon cumin or 2.5g or 1/2 teaspoon Taco Seasoning

(to taste)

5

g

or 1 teaspoon Himalayan pink salt

2.5

g

or ½ teaspoon chipotle chili powder

Butter lettuce

2

slices

tomato per serving

Mustard

, optional
Taco Seasoning Ingredients (makes 3 tablespoons)
1

tablespoon

ancho chili powder

1

teaspoon

ground cumin

1

teaspoon

garlic powder

1

teaspoon

Hungarian paprika

½

teaspoon

Mexican oregano

½

teaspoon

onion powder

¼

teaspoon

salt

¼

teaspoon

freshly ground black pepper

¼

teaspoon

chipotle powder

1

teaspoon

flour

(optional)
Instructions
Mash avocado until fine, adding salt with splash of lemon juice to taste; set aside

In separate bowl, add ground turkey, onion, bell pepper, cumin, chili powder, garlic and salt; mix with hands to combine well

Weigh ingredients; divide into 8 equal portions

Weigh avocado mixture; divide into 8 equal amounts

Form eight thin patties; place one amount of mashed avocado in center of each patty

Cover avocado with second patty; seal edges

Continue until 4 turkey burgers are stuffed with guacamole

Place on skillet or grill; cook at medium 5-7 minutes per side OR

Freeze on parchment lined sheet pans; package in labelled and dated freezer bags til ready to use

Thaw; place on skillet or grill; cook at medium 5-7 minutes per side

Wrap each serving in butter lettuce, top with a dash of yellow mustard and seasoned tomato slices OR

Serve each over a 100g portion shredded sweet potato fried in coconut oil
Recipe Notes
The avocado filling adds the much needed healthy fat to the lean patty, and surprisingly, the yellow mustard adds a powerful and unexpected flavour compliment to the bite!
Homemade Taco Seasoning
If using homemade taco seasoning, use 1 teaspoon of it and no chipotle or cumin in this recipe; it is really delicious, but I learned this the second time making the burgers.
Calories
676 calories in one pound of ground raw turkey
250 calories in one ripe avocado
34 calories in ½ cup raw onion
20 calories in ½ cup raw bell peppers
32 calories in 8 slices raw tomato
30 calories for head or 230g of butter lettuce
1042 total calories divided by 4 servings equals 260 calories per serving
8g fat; 30g protein
Calories for Shredded Sweet Potato
76 calories for 100g cooked sweet potato
57 calories for 1 1/2 teaspoon coconut oil
133 total per serving for sweet potato side AND
393 per serving for entire "meal"