Made with Buttermilk, believe it or not!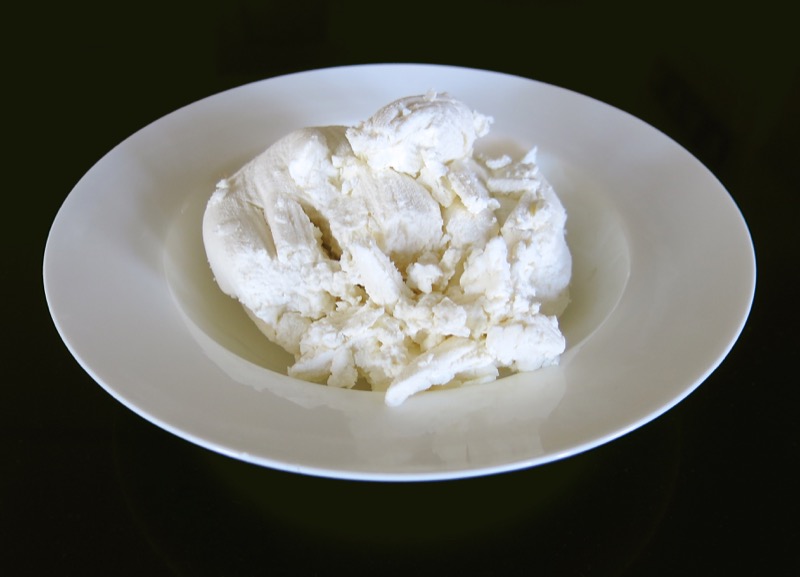 The thick, dense, creamy mass in the bowl is Quark. And what is quark, exactly? Certainly, it is a dairy product, but it is not a cheese and it is not a yogurt – technically. Most recognize it as a fresh cheese. However, it doesn't use any rennet or require any starter. Thus, not a cheese or a yogurt. It tastes like a cross between cream cheese and yogurt cheese: it is a little sweet, a little tangy and very thick and smooth on the palate. All that from buttermilk!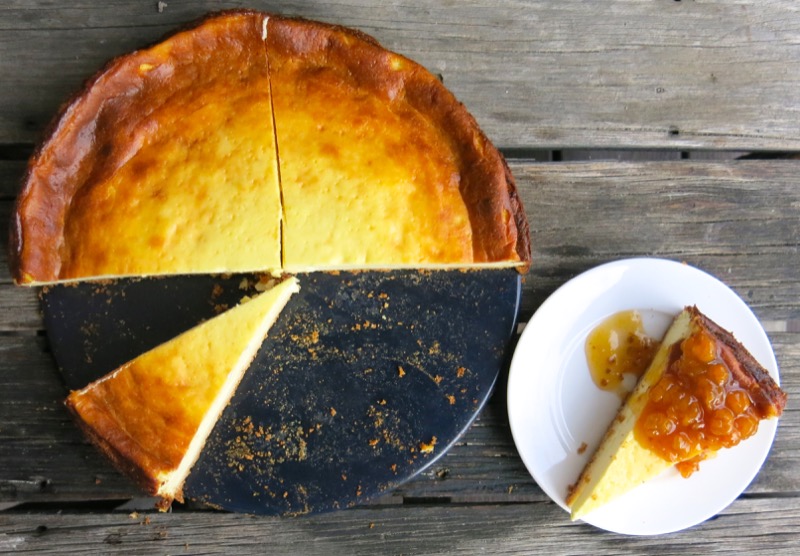 So, why quark? Matthias's incredible Quark Cheese Cake or "Käsekuchen Mit Quark". Yup. Not like a cheese cake, but like a cheese cake. Not sweet at all, but a dessert. A piece of unadorned quark cake is not decadent, but it is delicious. As satisfying as a healthy snack, unadorned, and dressed up with preserves, as above, certainly ready for a party and much more fancy.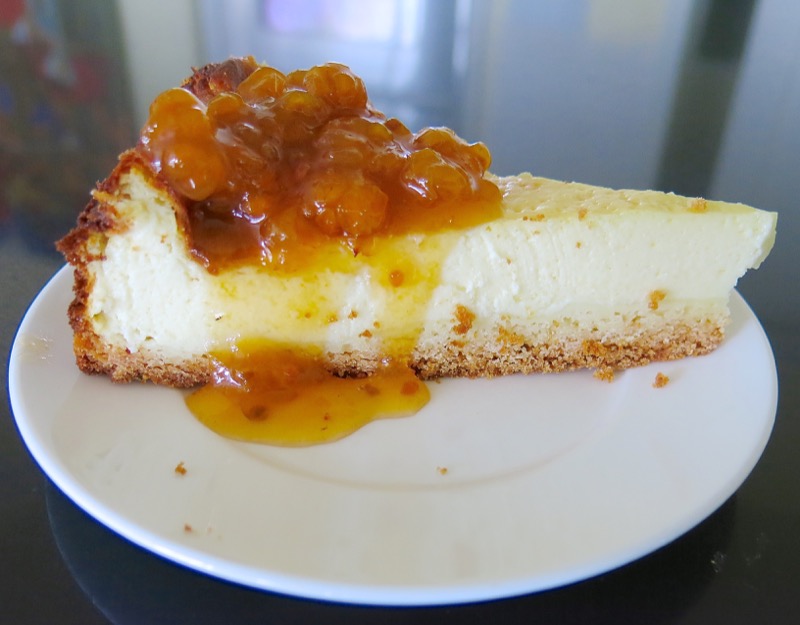 Dress it up or leave it plain – either way, Quark Cake is my new favourite treat. Quark is a nutritional goldmine!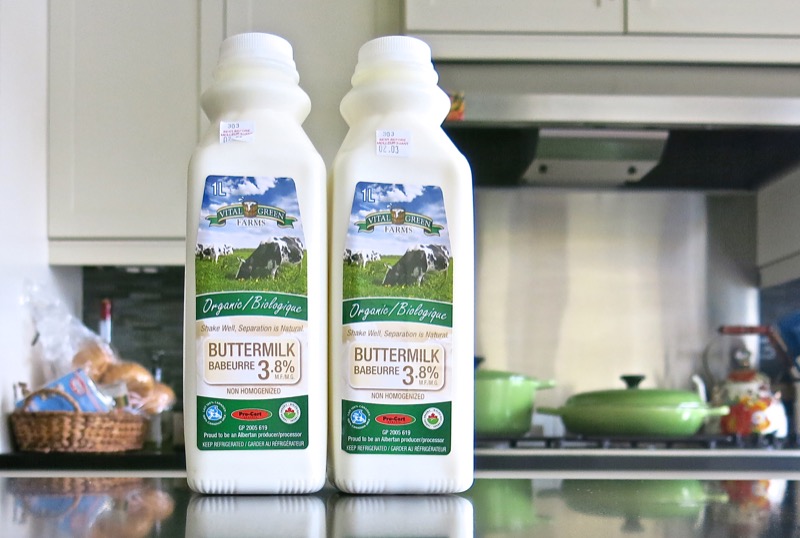 Made with buttermilk (Vital Greens is my preference), as I have made it, it is very low in fat (less than 0.1g in 100g Quark). It is 1/5th the calories of full fat cream cheese. Eventhough no salt is added, trace amounts of salt remain from the milk itself. And the grand drum roll: quark contains twice the protein content as low fat yogurt! Who can argue with those facts?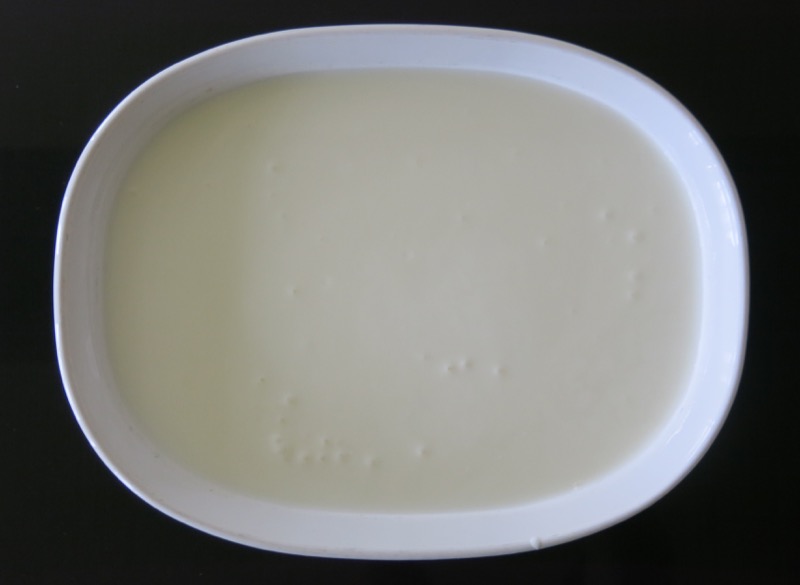 Buttermilk used to be the milk left behind after making butter, but today it is a completely different beast. What I have bought, and what we all buy now, is cultured buttermilk. (Thank you, Deb!) In the dairy farming days of yore, housewives waited to collect a large amount of cream on top of the milk to make a good amount of butter. As the milk and cream needed time to sit and separate, bacteria would enter into the mix naturally and the milk would sour. After the churning, "Traditional Buttermilk" remained, but it is not the same as what we can buy these days. Naturally-occurring sour milk, or "Traditional Buttermilk", become increasingly rare in the late 1800's and early 1900's due to immigration, urbanization and modern refrigeration. Therefore, commercial dairies, spotting an unfilled niche, began to culture it sold this completely different product as buttermilk in the early 1920s. Quark is made with only cultured buttermilk, or sour milk, over time with varied temperature and mesophilic culture. As Deb said in the comments below, this cultured buttermilk includes that mesophilic culture and creates an incredibly lovely quark. I find it simply amazing that those before have created such delicious recipes from what appears to be almost nothing. So many ways to use scrumptious buttermilk were touted in 1845 when the first baking soda was manufactured creating an increased need for it, and now, by accident, a way to distill the essence from what used to be "milk waste" can be used to make cheese only because it is a completely different cultured product. Above, 2 litres of buttermilk in an oven proof dish. Below, after 2 hours in the oven at 175F , then an overnight rest in the oven: quark curd.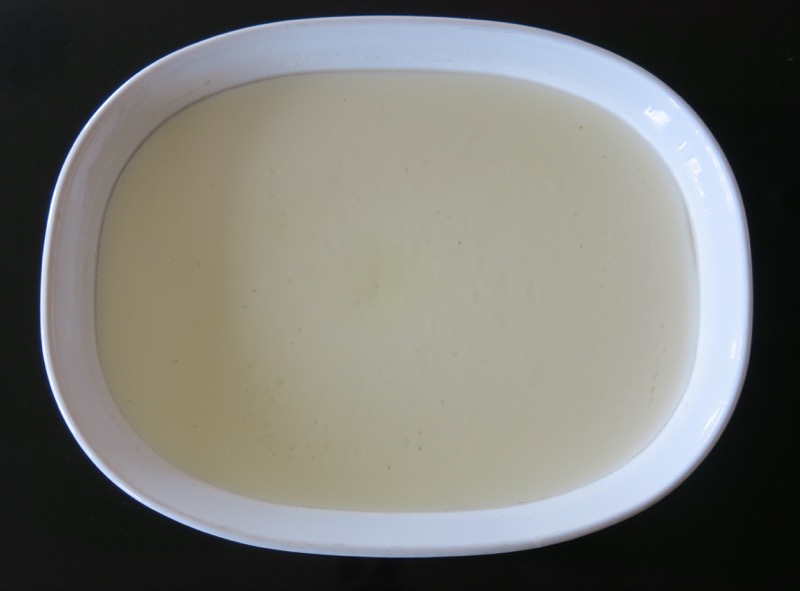 The solid mass is evident, below as I push on it with my spoon to reveal the whey.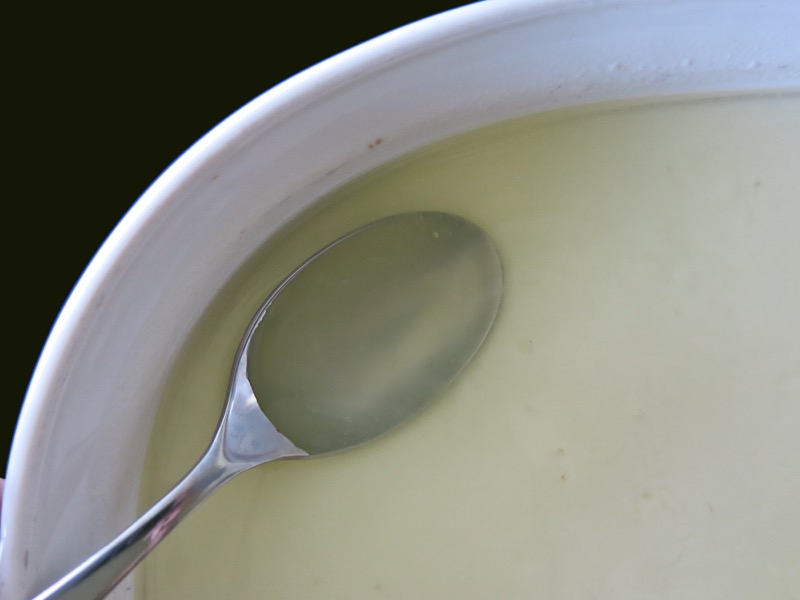 A sense of the thickness of the mass can be seen in the images below.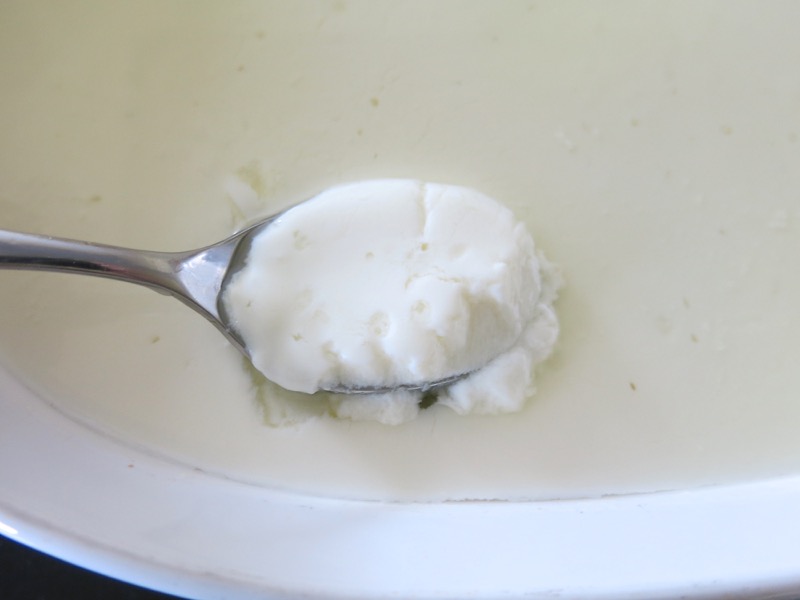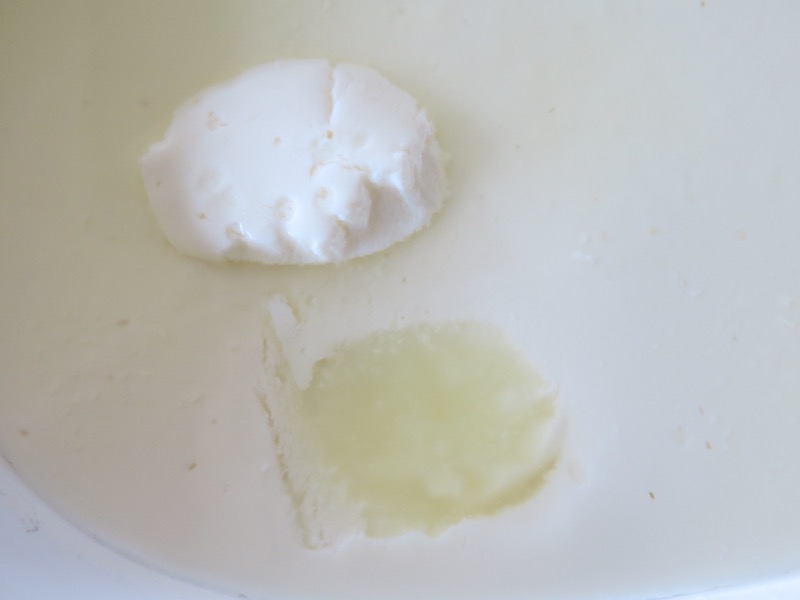 Below, preparations begin to strain the solid mass with a sieve covered by cheese cloth.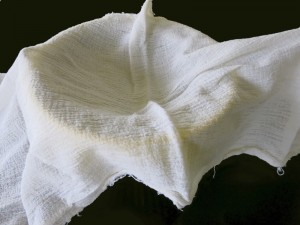 The curd is poured into the sieve, below.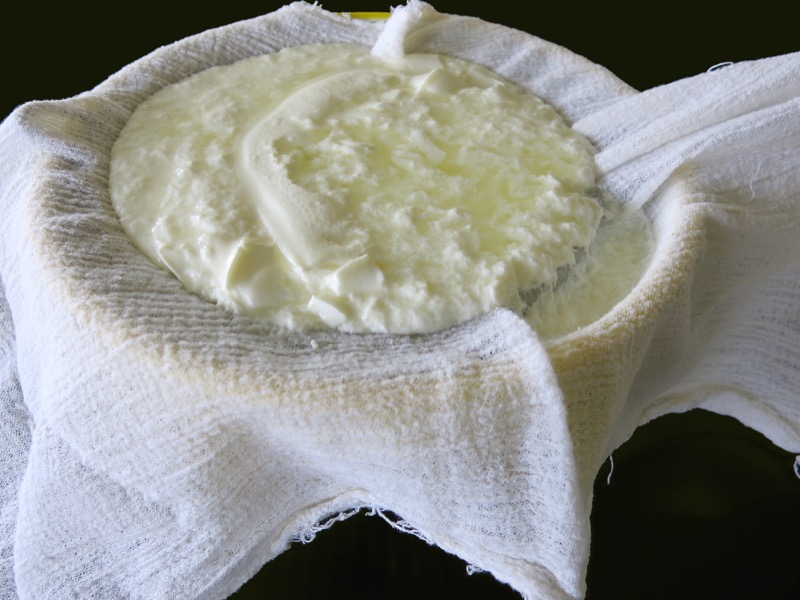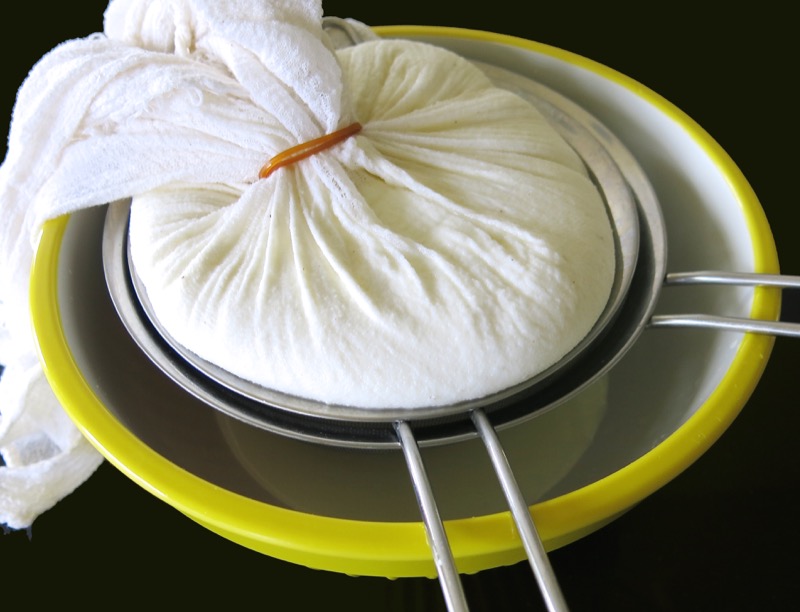 The cheese cloth wrapped around the curd to form a sac for draining the whey…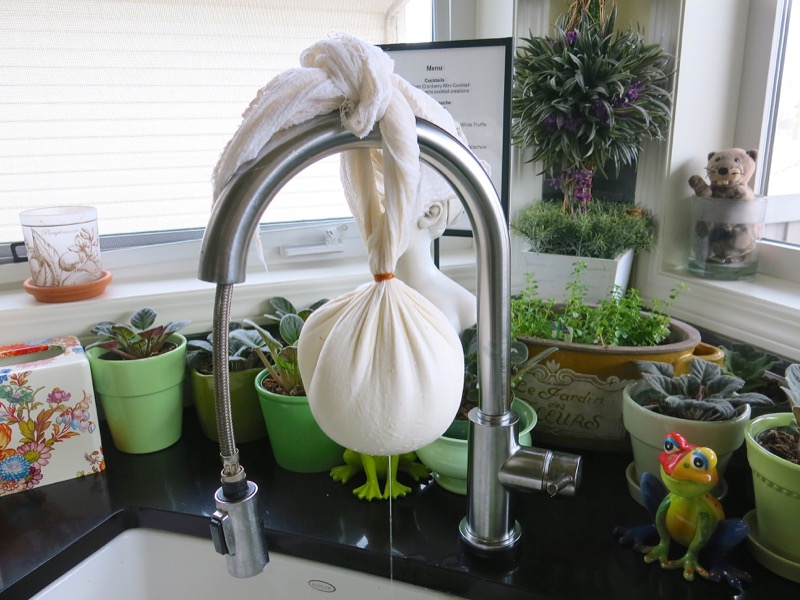 …is tied over the faucet and hung for about 90 minutes.
Usually there is about a 600 gram yield after 90 minutes. I was out of the house and held up for a few hours, so my quark is much drier – which is always a choice – and more dense, gleaning only 500 grams of mass.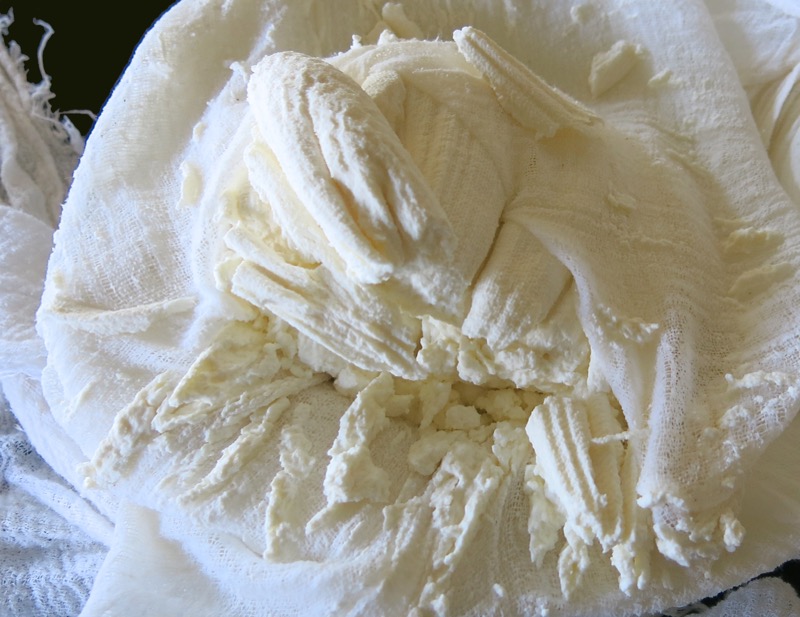 Delicious, thick thick thick, creamy with a lovely delicate flavour not nearly as lively as yogurt cheese and not at all as rich as full fat cream cheese.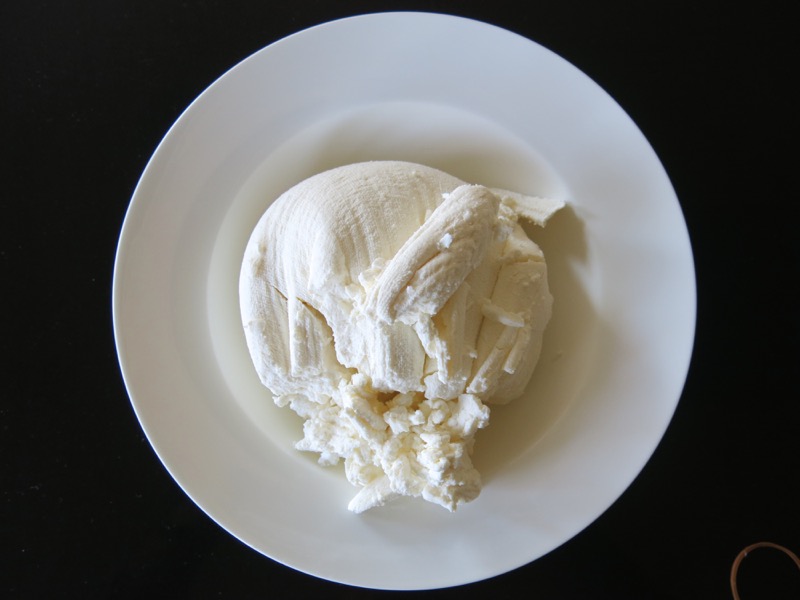 What am I going to do with it? You know! I need to make more batches and try different recipes and ideas with it. I may invent something as famous as my yogurt cheese balls. Who knows?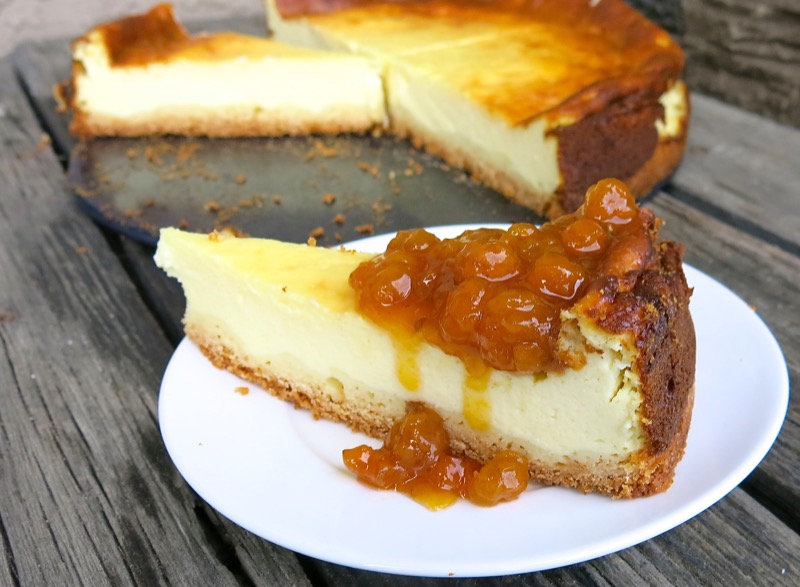 But this one is specifically for Matthias's "Käsekuchen Mit Quark"!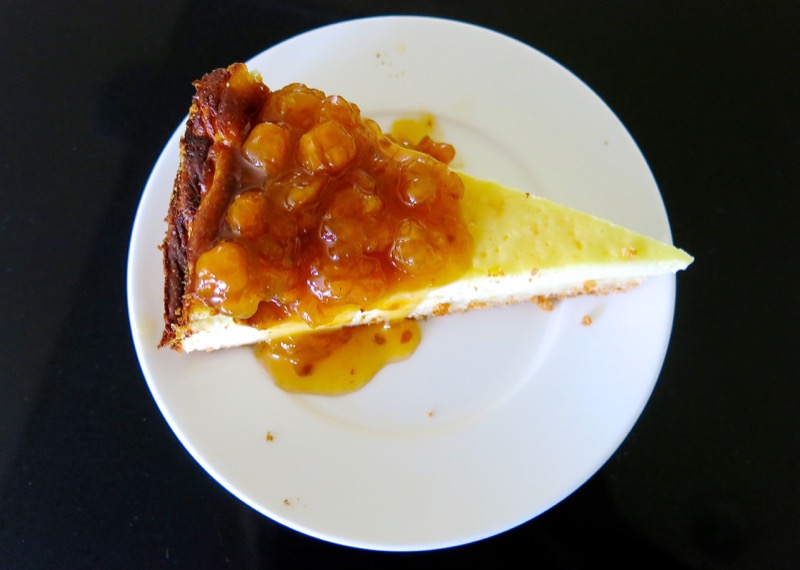 Give it a try. This is one "cheese" anyone can make. A really fun recipe to make with your kids at home, and then it will include a lesson in patience, too!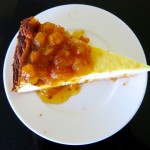 Homemade Quark Cheese


Buttermilk is the milk left behind after making butter. Quark is made with buttermilk.It is a very simple process. Two litres of buttermilk yields 500g quark.
Total Time
2
hours
1
minute
Ingredients
2

litres 3.2% fat

(will yield about 500g quark)
Instructions
Pre-heat oven to 175 F

Pour buttermilk in 3 litre heat resistant glass dish; set in oven for 2 hours, turn off heat and leave in oven overnight (will appear like yogurt)

Strain with cheesecloth lined sieve for 1.5 hours to get a solid mass: the solid mass is quark