An American Dream: A Mechanical Engineer Becomes Earlywood Woodworking Artist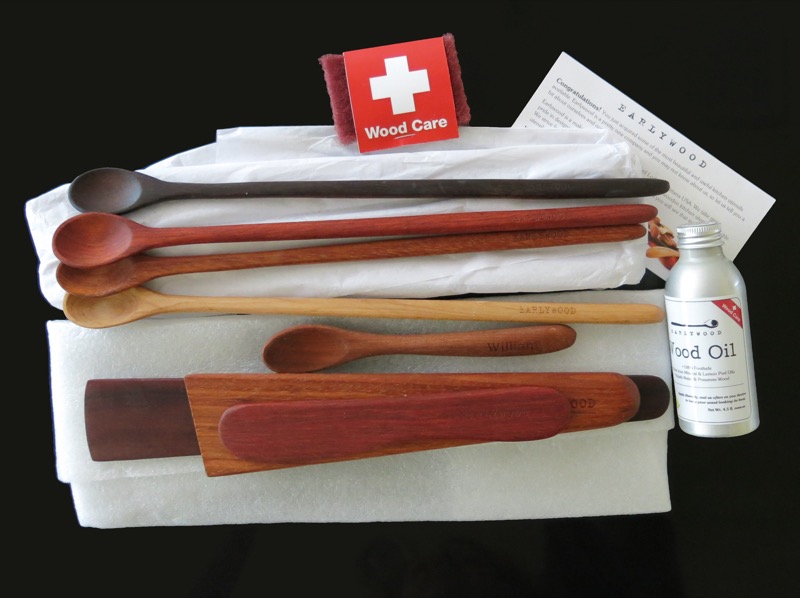 Why Earlywood?
As I am subscribed to Food in Jars, I read Marisa's post that included an opportunity to win a set of Earlywood Tasting spoons and was charmed. First, they were aesthetically appealing, clearly hand made out of four gorgeous hard woods and absolutely compelling. I had to connect with the maker of these spoons and ask for the same give-away for my readers because Tastings are my absolute favourite culinary activity. Somehow, I could immediately visualize spooning tastes of this and that into the mouths of my willing friends, each with their own Earlywood hardwood tasting spoon.
The Giveaway on Earlywood: El Quatro (read below for the giveaway here)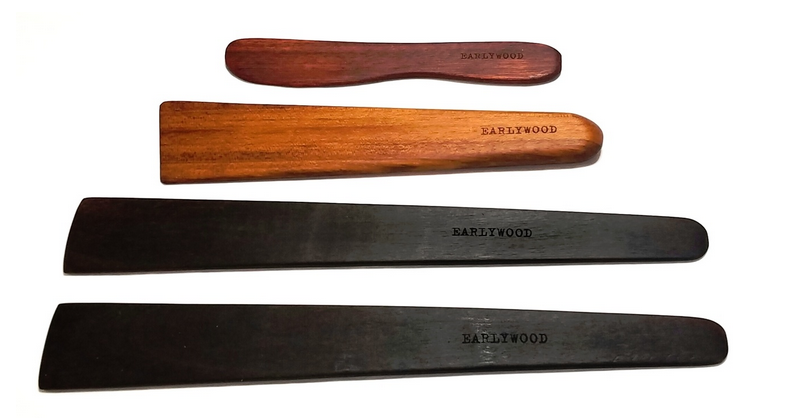 There is currently a giveaway on the Earlywood site! Subscribe to their Facebook page to enter to win "El Quatro"! Check it out to find out what it is. Brad also has a giveaway every two weeks on his Facebook Page. Believe me, any Earlywood product is worth the price, and to win anything will convert you to being a forever fan, like me. Brad's tools are not expensive when you consider that each piece is handmade with a beautiful hardwood. The combination of science and art is where Brad stands head and shoulders above others. Each piece is so carefully designed, aesthetically appealing, and natural. The perfect gift for anyone who loves to cook and for anyone who has a baby. A baby? Yes! He also makes ergonomically correct baby and toddler spoons. Gramsy was thrilled to hear that!


Yes, that's my baby grandson William with his toddler spoon at 17 months. Brad sent it with his name engraved on the handle, but once we gave it to him, we couldn't pry it away from him to take a photo of the inscription. The difference in William's ability and enjoyment in eating with a spoon changed 100% once he received this spoon and when I spoke with Brad, I didn't even realize he had baby and toddler spoons. I was too focused on the Tasting Spoons, so this was a surprise and I think a gift that must be given to every baby and toddler. It is a brilliant tool.

Young moms and Grandma's, did you read that? Get thee over to the Earlywood site and purchase one for each of the babies and toddlers you love.
Why an American Company?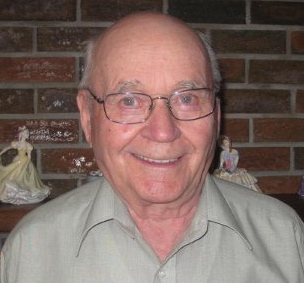 I have never promoted or written about an American company before, yet there was something about these spoons that spoke to me. The simplicity of the shape and the dramatic difference between each wood was aesthetically pleasing, yet there was something more….
My dad worked with wood throughout my entire life. It was his passion and hobby, though it could have easily been his profession in a different place and time. He built me a tiny rocking chair that William now rocks in.
He built me a playhouse with real shingles, insulation, electricity and a hardwood floor. He built my children a playhouse much the same. He built me funky cubed stackable tables when I was in university. He built each of us grandfather clocks and roll top desks.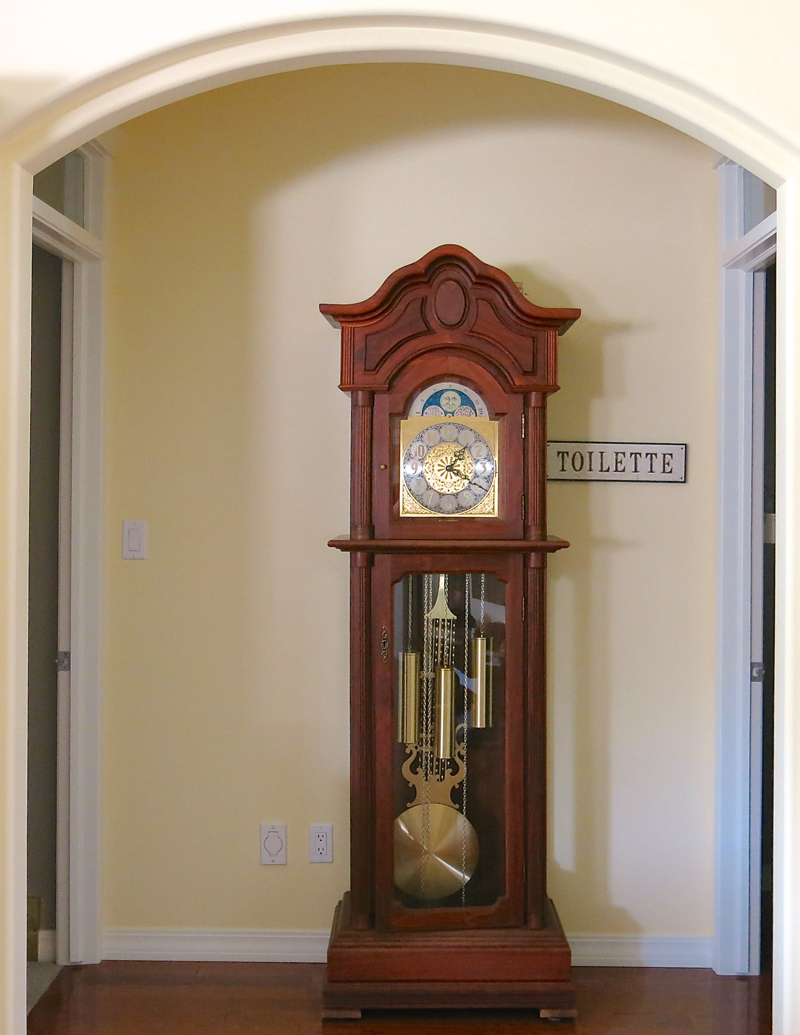 The smell of freshly cut wood from the shavings on his workshop floor was as delicious to me as my mother's chocolate cake in the oven. Brad and I share our love for that aromatic smell of freshly cut wood. Dad built and built and built until his asthma became COPD and his COPD became unmanageable and he had to quit. It was wonderful to grow up in a home where my father built beautiful things. Freshly cut wood awakens excitement, imagination, innovation and motivation within. Something beautiful would emerge and he would be filled with such pride. That deep sense of accomplishment derived from hard work coupled with passion is the legacy dad left each of us. Thus, I was drawn to Brad, his story, and the realization of his dream.
What is early wood?
Early wood is the part of the wood in a growth ring of a tree that is produced earlier in the growing season. The cells of early wood are larger and have thinner walls than those produced later in the growing season. Brad paid homage to his medium via the naming of his company.
Who is Earlywood?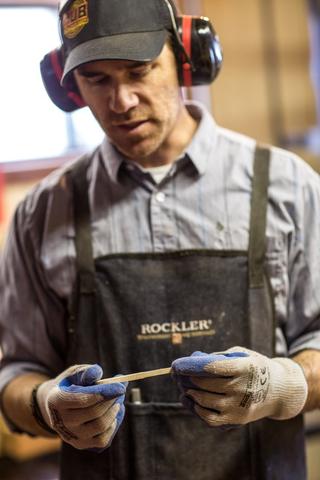 I wrote and connected with Brad Bernhart and had the most enjoyable and enlightening conversation. Brad's story is one that begs to be told over and over as it is one that illustrates, yet again, the possibility that exists to live the American Dream. Though the opportunity is there, it is consistently the will of the human spirit coupled with a truck load of ability that makes it happen. Brad made it happen.
Who is Brad Bernhart?
Brad is a small town American guy born in Montana who didn't know what he wanted to do when he grew up. He took 5 years off before college to build houses and ski. Some would say that was the American Dream! Somehow, that smell of freshly hewn wood was addictive. Building houses with soft woods motivated him to investigate hardwoods; he started exploring them in University designing spoons. He finished mechanical engineering in Portland around 2005ish and worked remotely as an engineer for 2-3 years. "An artistic dude from a very young age", he found himself artistically deprived and began designing kitchen tools made out of wood aesthetically and ergonomically using his artistic ability and engineering smarts. "I am a design engineer" and before he knew it, he had two full time jobs. His hand crafted tools were highly sought after and he was soon able to take the leap, and work full time engineering handcrafted wooden kitchen tools in the beautiful quaint hometown of Red Lodge (population, 3000) at the Northeast entrance to Yellowstone Park in Montana nestled at the base of Bear Tooth Mountains with his wife and two young children. If that is not living the dream, I am not sure what is. Brad rarely does any custom work. He sells enough from his website to "keep myself and another guy employed full time, as well as a half time guy, a gal that does shipping part time, and a writer that helps me a great deal, also part time". His goal was to make as much selling spoons as he made as an engineer. Last year he reached that goal and this year surpassed it. Standing ovation, Brad!
Early days at Earlywood
"It took years coming up with a design that worked, so I could make a bunch of copies of that one excellent design": that was the goal. Therefore, Brad has fewer designs, but each one is well thought out and can be used in a variety of ways. "My wife is my sounding board. She's a nurse, working 2 days week and my cheerleader, always listening. She has supported me every step of the way, inviting her friends to view and provide feedback."
What is the Most Popular Product?

The Trifecta is far and above the most popular product. It consists of a flat sauté, a scraper, and a spreader. "The longest piece is the large flat sauté and everyone's favourite. The second longest is the scraper and everyone's second favourite. I thought of the function and came up with those 2 designs. I have 12 flat sautés in my own kitchen last count. I couldn't believe I had that many! They needed to have a length, not a bowl and they work sensationally." I also love my set. I was thrilled when he told me he would gift me with it. I use sauté and the scraper all of the time for almost everything that doesn't need cutting or clasping.
How do you care for the hardwood handmade products?
"So simple: aash with hot soapy water or a scratchy sponge in hot soapy water. There will be no stain as these are all natural colours and washing and scrubbig will be continually re-vibrating the wood. I have soaked mine in water overnight with no problem. Many of my clients even put them in the dishwasher. I wouldn't recommend that, though they say it works without any harm to the product. I say they will need to replace it in a couple of years." Brad has also written a detailed post about how to care for his products here.
My favourite product from Earlywood?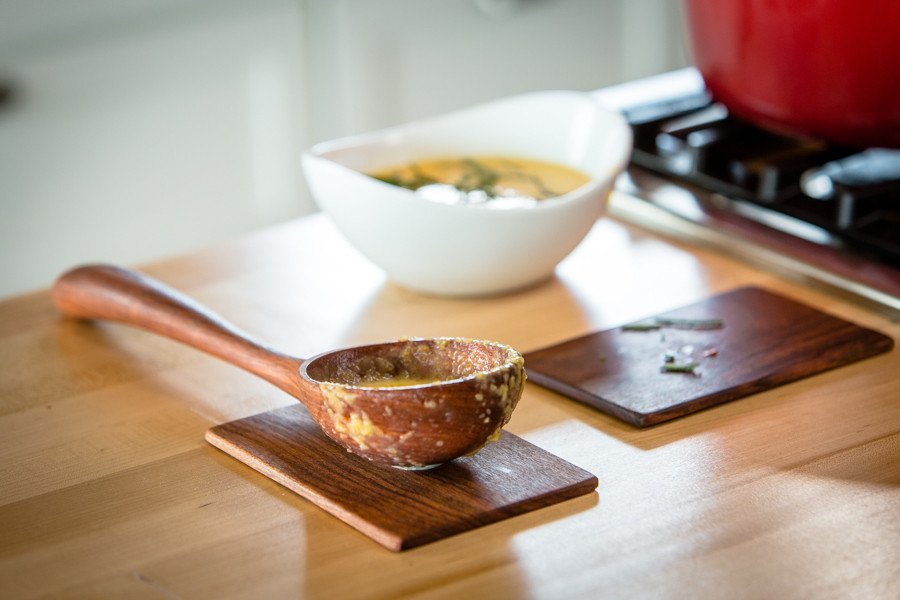 I thought it would be the Tasting Spoons, but it is the Toddler Spoon. I completely missed that Brad makes a baby spoon and a toddler spoon. He will even put the name of the child on the spoon! These are so carefully designed. William loves his spoon. Brad recommended the toddler spoon as he was just turning 18 months. I was amazed at how much more able he was to manage eating with a spoon when using this one. William must have realized that, too, as he likes to take it with him everywhere! Yet, I am pretty sure it will soon be the ladle. I am getting that one next. How did I miss it when I was scrutinizing Brad's site? The photo above is from his site, as are all the tool photos with the white backgrounds. How can you look at that photo and not want that ladle?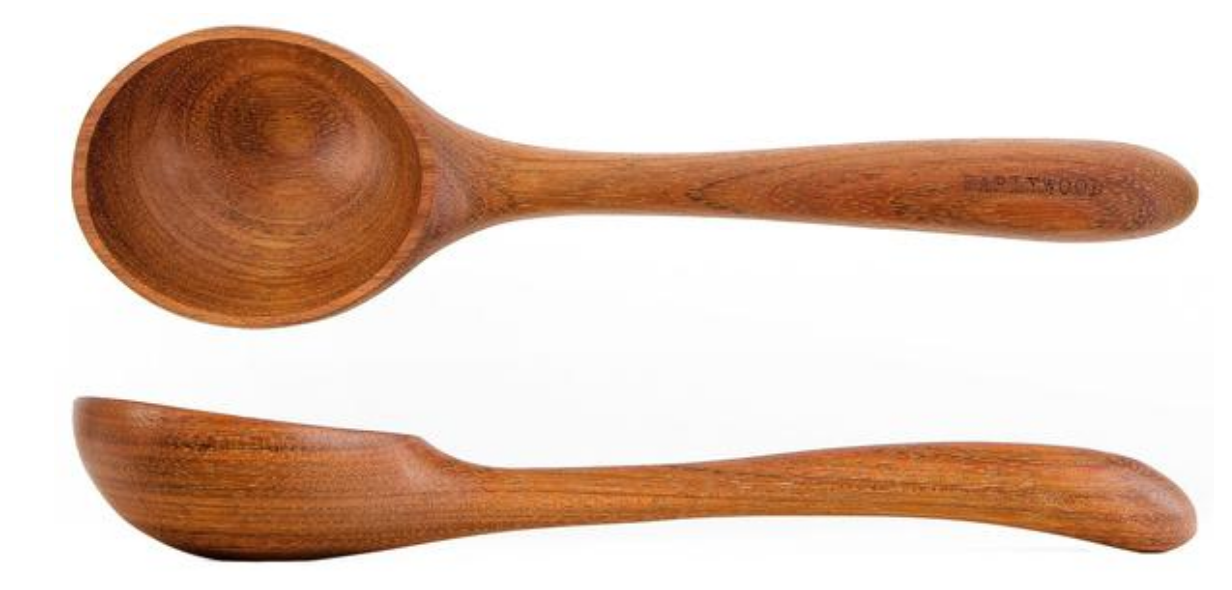 What a gorgeous work of art! Knowing and using the tools I have from Brad, I can imagine how much I would enjoy using the ladle. Slave in front of the stove no more! Handling and holding a wooden tool instead of a metal or plastic one while working with food is edifying in a warm tangible manner, somehow connecting to a deep inner providence providing a profound primordial pleasure. I am addicted. I want all of my counter tool cylinders to be brimming with Brad's hand hewn tools.
Brad's Reforestation Policy
My life philosophy and food philosophy limits what I promote, and I really like that. Leaning from Brad that he also has a Reforestation Policy, I was completely in awe. This is a man that sees the big picture. Thank you, Brad. He values sustainability and works to make it happen. He used to plant 100 trees for every one tree he used; now, he donates 1 dollar "for every order I get to replant the Atlantic forest in southern Brazil." There is much more information on his site about each hard wood he uses and the sustainability and regulations. Suffice it to say that tropical hardwoods have to be certified which includes when and where each is harvested. Unfortunately, there are a number of middlemen in the business. Brad consistently works to track where his wood comes from to know the chain of custody for each of his pieces. This is surprisingly hard to do as the middlemen are "not overly eager to give you the names of their suppliers".
Tasting Spoons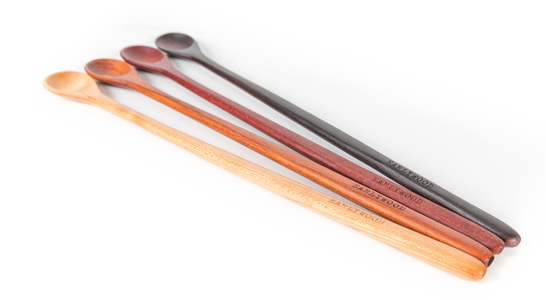 Brad spent so much time designing each of his products as each must function in so many different ways, but the Tasting Spoon was different. As is very utilitarian, it was much easier to design. His goal: "I wanted one to fit into a blender with my protein powder. I was tired of making everything have 28 functions. Eating ice cream with them is super fun. I like the way they look and feel, yet each has only one basic function".
Tasting Spoons Giveaway!
Brad has kindly agreed to giveaway one set of these gorgeous Tasting Spoons to one of our readers.
Here's how: Valerie's Giveaway Policy is here
Giveaway open to all legal residents of Canada who have reached the age of majority at the time of the contest in the province or territory in which they reside. No purchase necessary to enter.
Giveaway will run from August 20 2016 and closes August 31 2016, 12 midnight Mountain Standard Time.
Winner will be contacted via email and given 48 hours to respond with mailing address. If not, a new winner will be chosen.
Prize value $60 USD
The name and address of the winner will be passed to the company who will mail out the prize in a timely fashion.
The winner will be notified via email Thursday, September 1 2016 and congratulated right here:
Congratulations to (WINNER'S Name)!!!
Please be sure to leave a proper email within the comments section to enable me to connect with you, should you win!
The Deets: To enter the contest, you must complete #1 or #2 below. Six chances to participate and unlimited entries per person for #2 as long as you share different names with your tweet ((include the tag of two different friends each new entry)
Indicate what you would use the Tasting Spoons for in the comments below for one entry.
Tweet the contest and include @acanadianfoodie and #Earlywood in the tweet (as well as commenting below to tell me you did so) so I can count it as an entry in the draw: sample tweet (you can use) here: WIN a set of 4 #Earlywood Tasting Spoons by Brad Bernhart (include the tag of two friends here) @acanadianfoodie http://wp.me/p2OMxc-hMk

Like the Earlywood Facebook page (make sure you let me know you did)
Subscribe to the Earlywood Newsletter by scrolling down to the bottom of the page, you will find the "subscribe" window (make sure you let me know you did)
Like my facebook page, if you haven't already
BONUS: You can get extra entries entries if you share the link to this post and this contest on your own personal Facebook page (as well as commenting below) so I can count it as an entry in the draw!
Website: http://www.earlywooddesigns.com/
Facebook: https://www.facebook.com/Earlywood/
Disclosure:
I received a the entire lot of Earlywood products in the opening image as a gift from Earlywood. I did not receive monetary compensation for my post, and was delighted to share my review of these incredible hand made products with each and everyone of you as I initiated this proposal with Brad. Please let me know if you purchase any of his products. They will become treasured gifts by the recipient, and family heirlooms, I am sure.