Sarma Sour Cabbage Rolls baked with Double Smoked Pork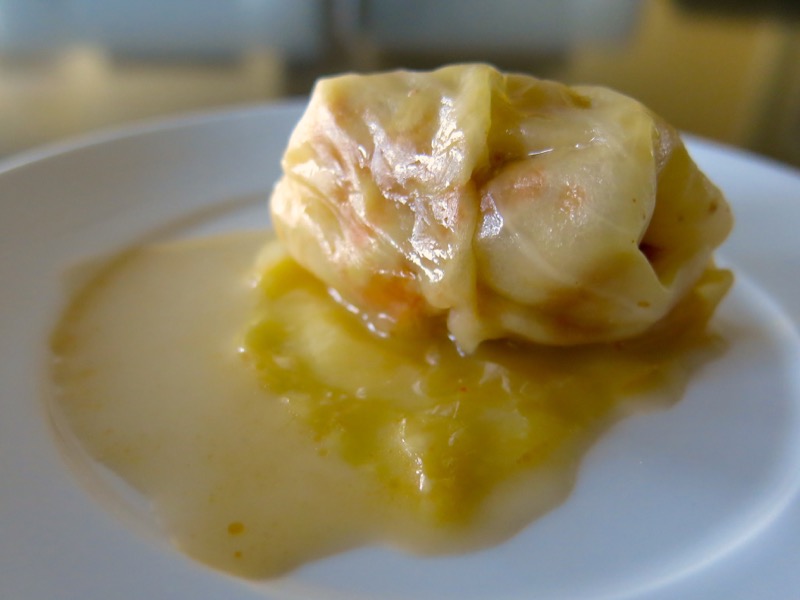 There'll be no going back once you taste Sarma Sour Cabbage Rolls. All my central Alberta Canadian prairie girl life I had eaten very delicious sweet Canadian Ukrainian Cabbage rolls with tomato sauce. Not often, but often enough. Certainly, a special occasion dish that my mom was an expert at making, though none of us were Ukrainian, the Northern Alberta settlement had long ago introduced this humble dish and it is impossible not to fall in love with. Don't you agree?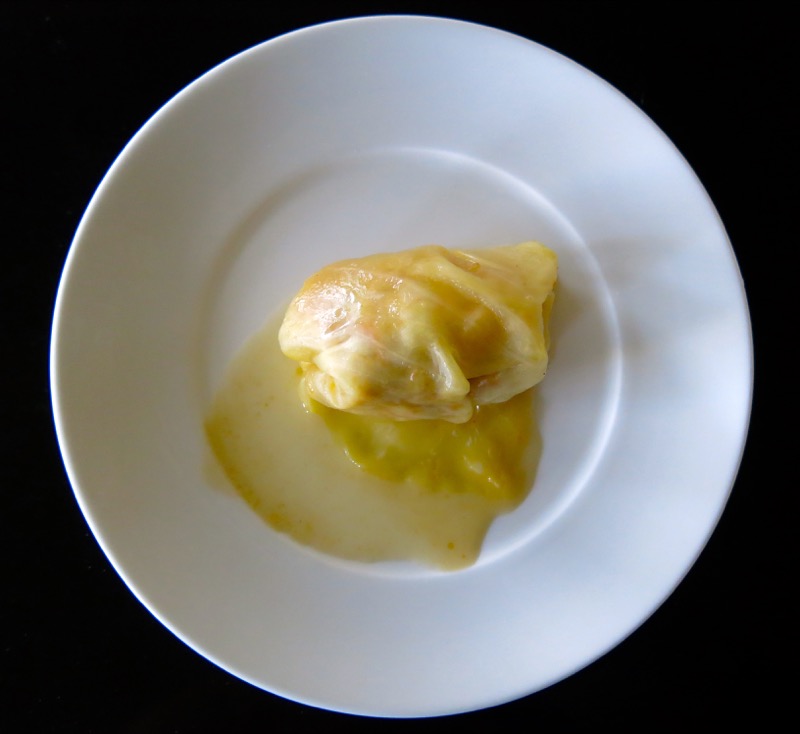 Much later in life I was introduced to the sour cabbage rolls of Eastern Europe made by the elderly mama's and grandmama's of friends. Fatty sumptuous lush pillows of sour and savory flavour so unexpectedly new and deeply satisfying. Then, I met Vanja and was introduced to a similar dish, but nestled next to the rolls, are dried and double smoked pork ribs and thick fatty slices of dried and smoked bacon. Oh. My.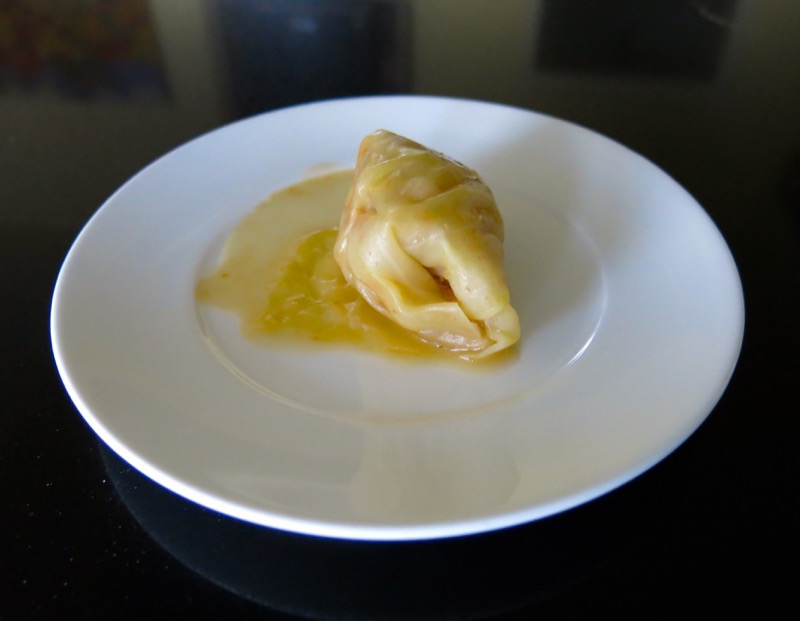 Truly eyeball rolling food. Addictive. Unusual and absolutely unforgettable. Once you have tasted Sarma Sour Cabbage Rolls, you will either be motivated to learn to make them yourself or become very good friends with the person who introduced them to you.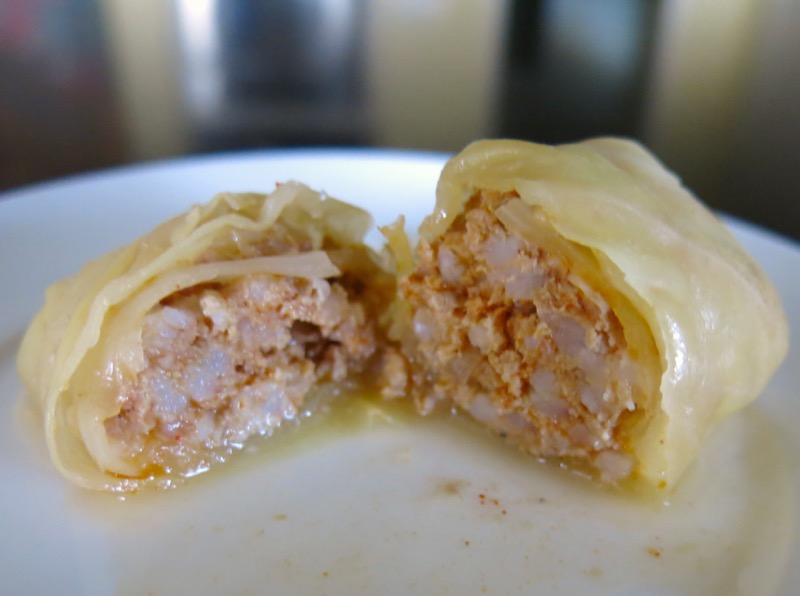 As with any simple, delicious, home food, it is the ingredients that must be exceptional for the dish to present its delectable unctuous umami laden personality.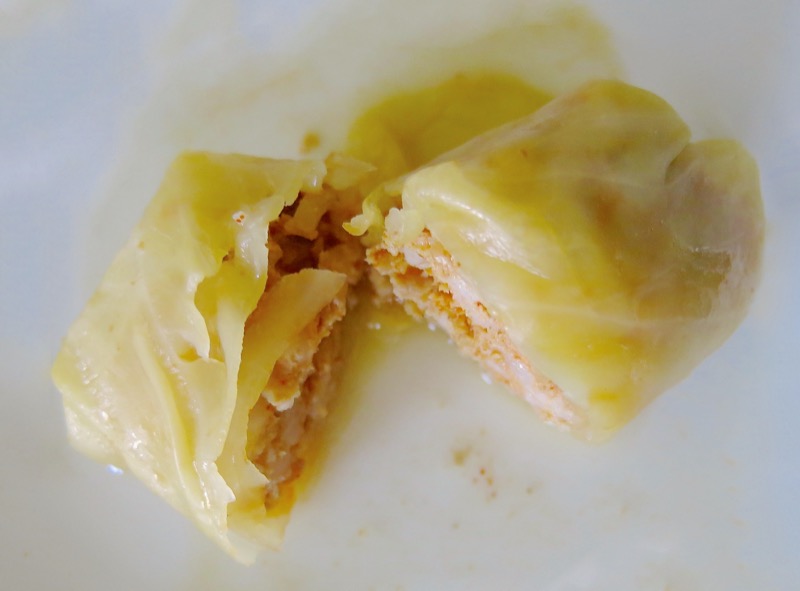 Often, it is the man who is in charge of mixing the meat for this dish and the man who makes it as there is so much pride in the presentation. Certainly, most families raise their own pork, or at the very least, cure it and smoke it in the former Yugoslavia. Not so much with the younger generation, but everyone knows a family member who does this. The smoked meat is fundamental to the taste. The 40% fatty know-your-farmer or raise-it-and-feed-it-yourself pork is as fundamental. Forget about lean meat for this dish. The cabbage is as fundamental as the ground pork and the smoked pork. Everyone in the countryside ferments their own cabbages. Not just a little, but a lot. They eat more of it that you or I could ever imagine. Of course, they use their own sour cabbage, as well.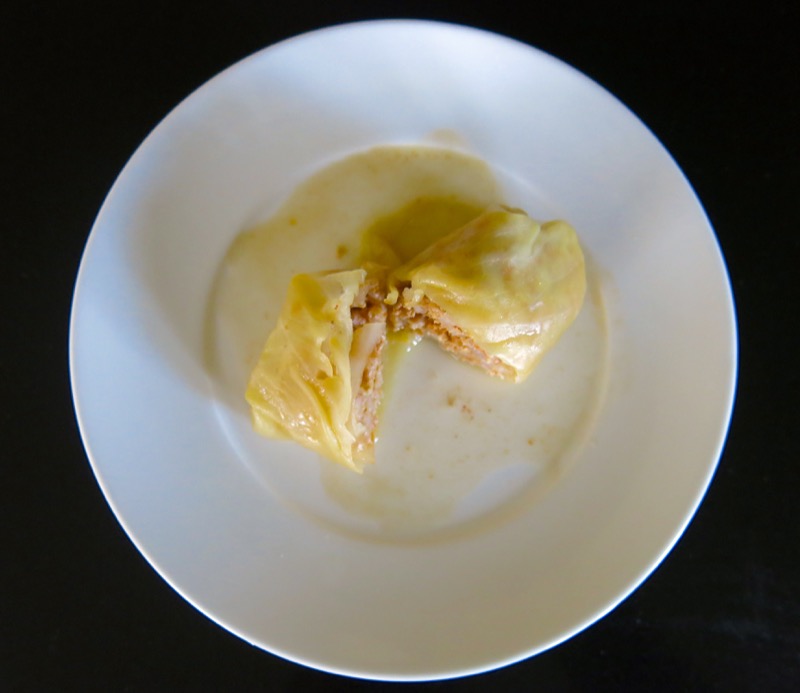 My smoked ribs and bacon comes from the Hungarian store in town called The Budapest Deli, owned and operated by a family from the former Yugoslavia. They know how to cure and smoke their meat. They also make a great sour cabbage. We get both from them. Certainly, both are pricey. That's why if you eat a lot of it, you make it yourself!
Sarma Sour Cabbage Rolls: Making the Filling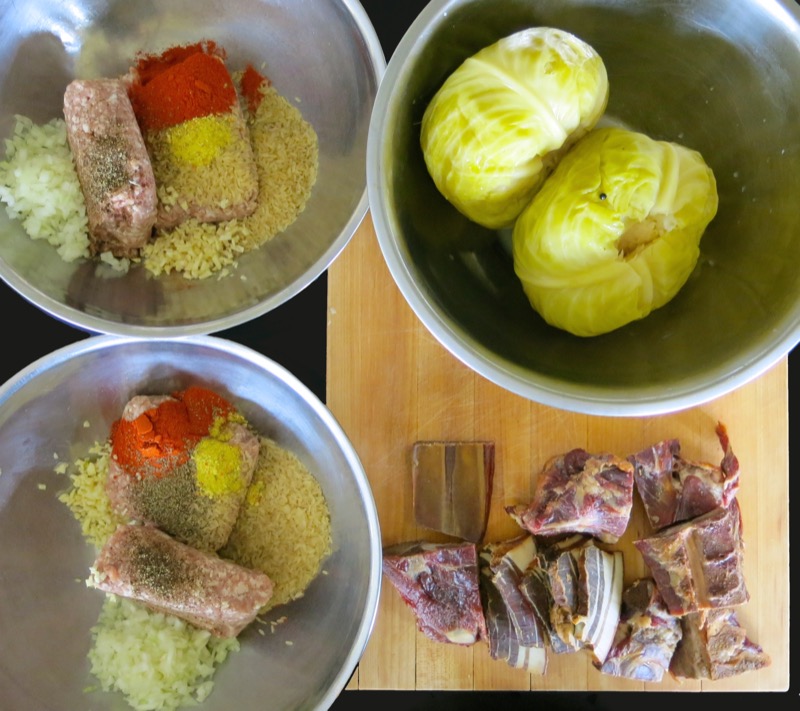 Mis en place above. I am making 2 batches, so each bowl contains the ingredients for one head of sour cabbage and one batch of Sarma Sour Cabbage Rolls. The ribs and bacon are divided in two, half per batch.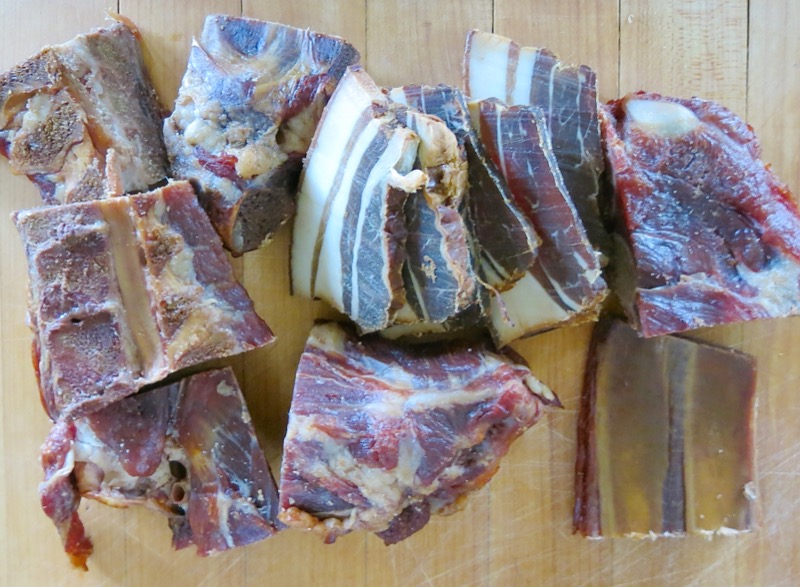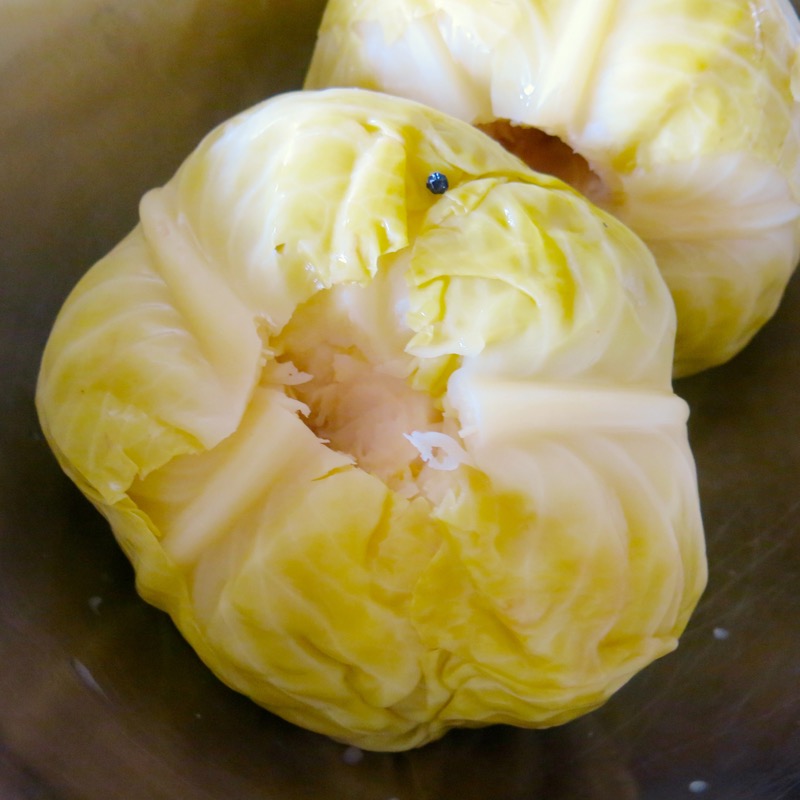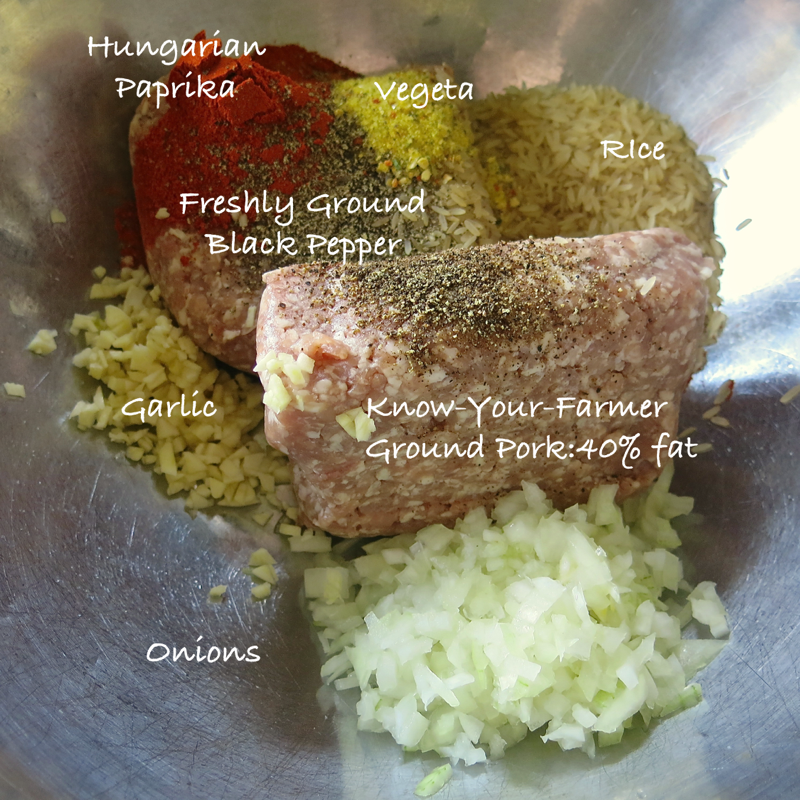 We are using Tamworth pork which is a delicious heritage breed that is raised free range eating acorns and foraged foods on the farm bushland, but Berkshire boar is another pig with exceptional flavour in its fat. The flavour of the pork is in the fat and that is an important component to this recipe. This is not a recipe for the faint of heart. There will be little glossy globules of fat floating on the cooking liquid, but if you have sourced your animal thoughtfully, you will be eating and digesting fat that is actually good for you.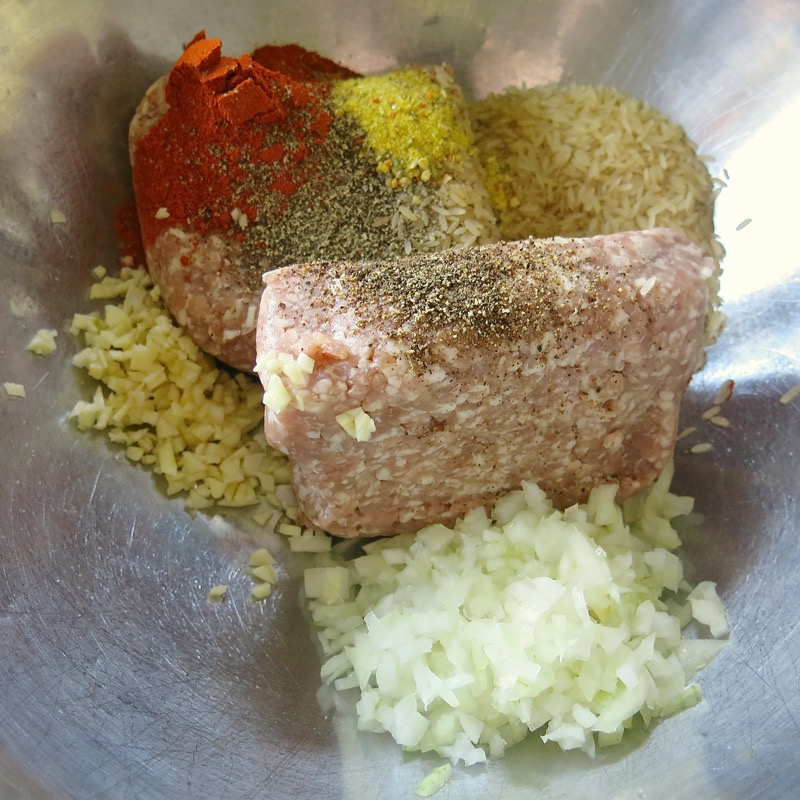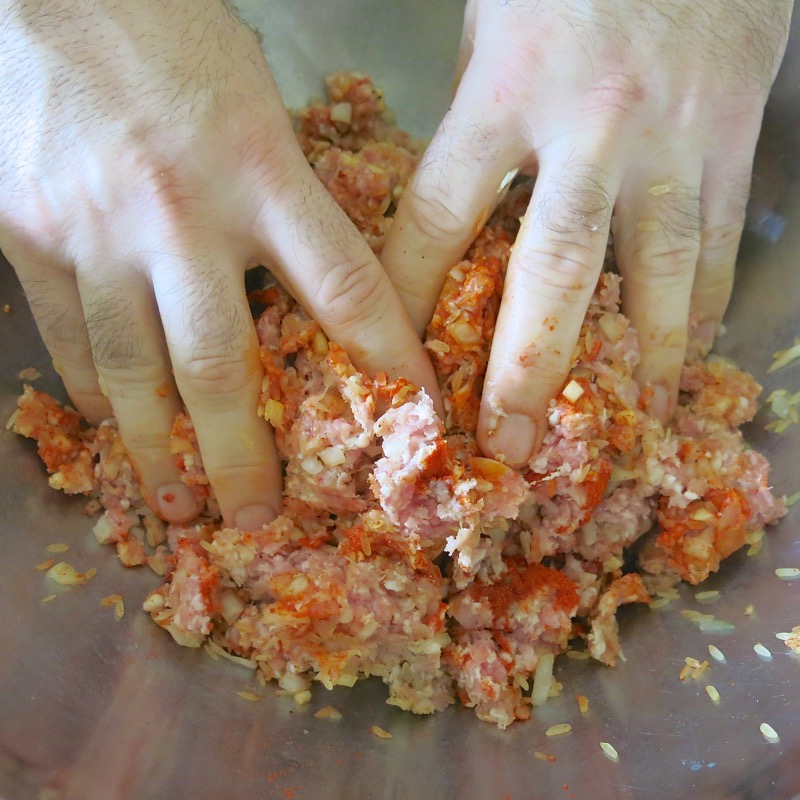 The filling is mixed together, then rested for about 30 minutes for the flavours to combine.
Sarma Sour Cabbage Rolls: Filling the Rolls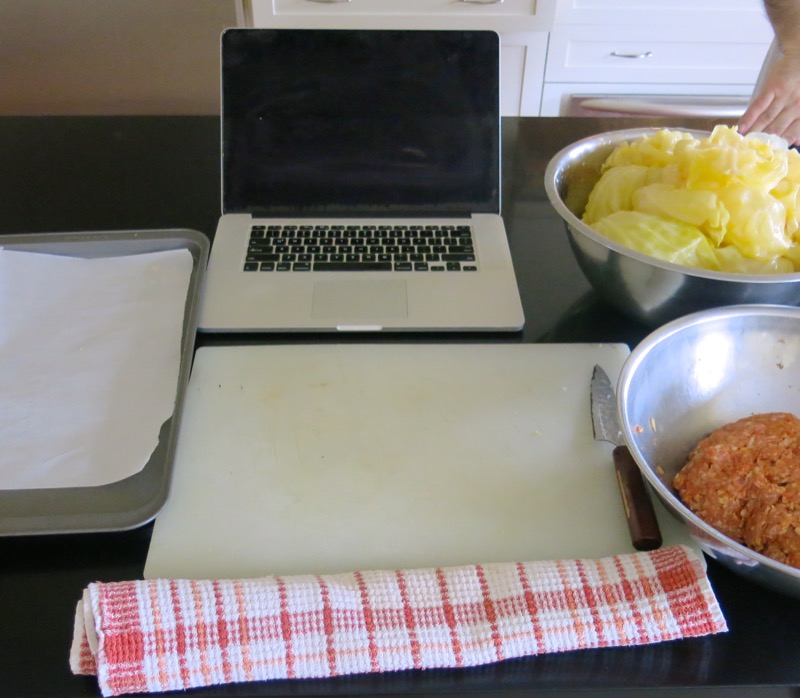 Making Sarma Sour Cabbage Rolls is a serious business. I get set up to enjoy the process. My computer in front of me so I don't miss important messages from family. The tea towel to catch the brine from the cabbage from soaking into my arms or spilling onto the floor. The filling beside me to the right, a parchment covered cookie sheet for the rolls to be placed on to the left. The cabbage is just above the filling and above the cookie sheet is a bowl for the cabbage ribs and end pieces.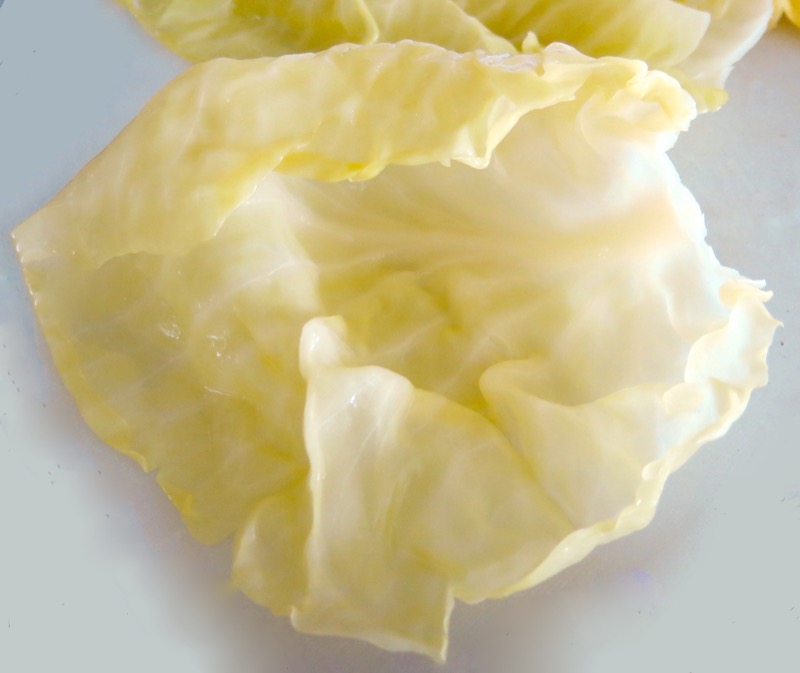 There is beauty in a lovely fermented or sour cabbage leaf. The darker greener ones are on the outside, but they are mostly golden. They are always cut in half and the rib removed from the middle, as it is tough.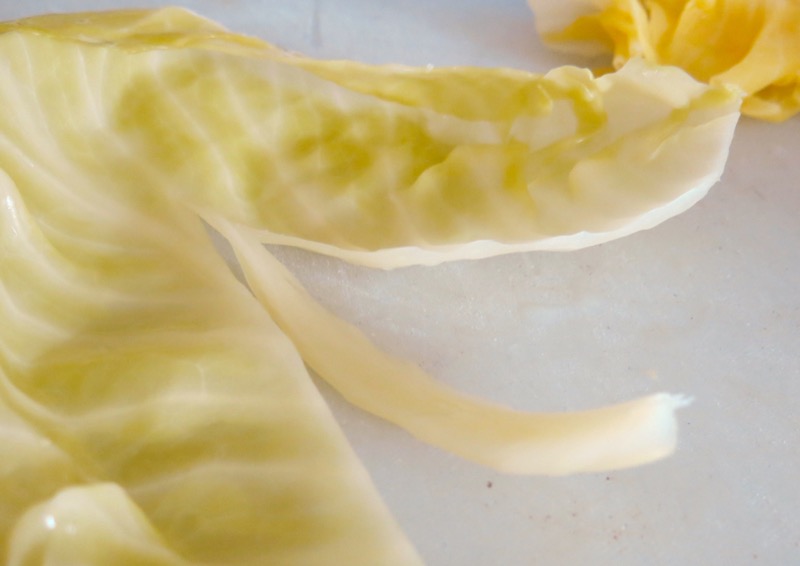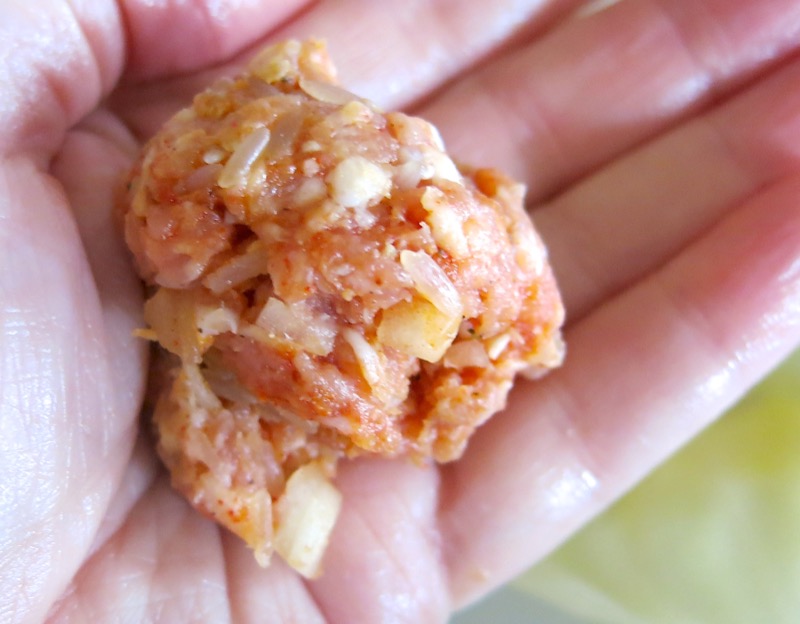 Above, left, rib removed from a large leaf. Smaller leaves are left whole with rib removed and the opening closed by placing leaf halves overlapping one another and rolling that way. A meatball sized dollop of meat is what I use. I have made much smaller ones for "appetizer" occasions. Many make them much larger, but I do not like them huge. A good ratio of sour cabbage to meat is necessary to make great traditional Sarma Sour Cabbage Rolls.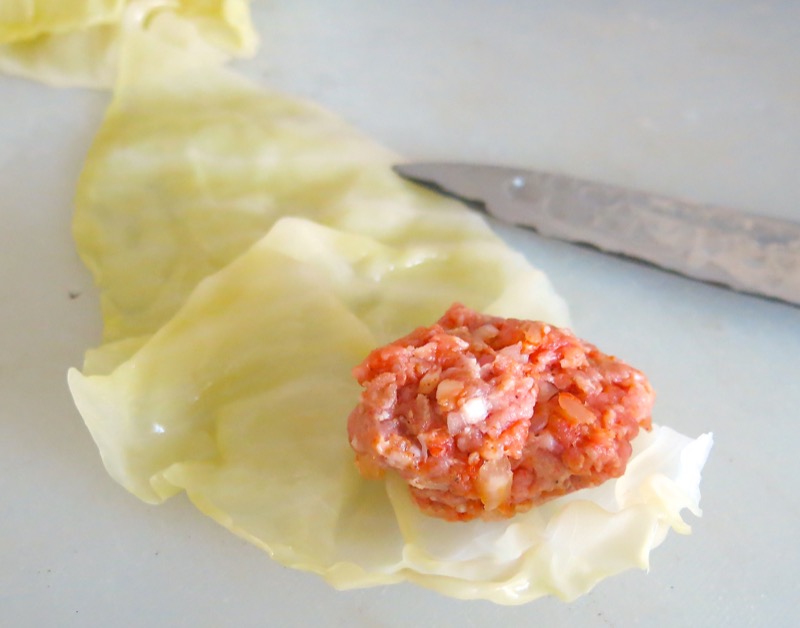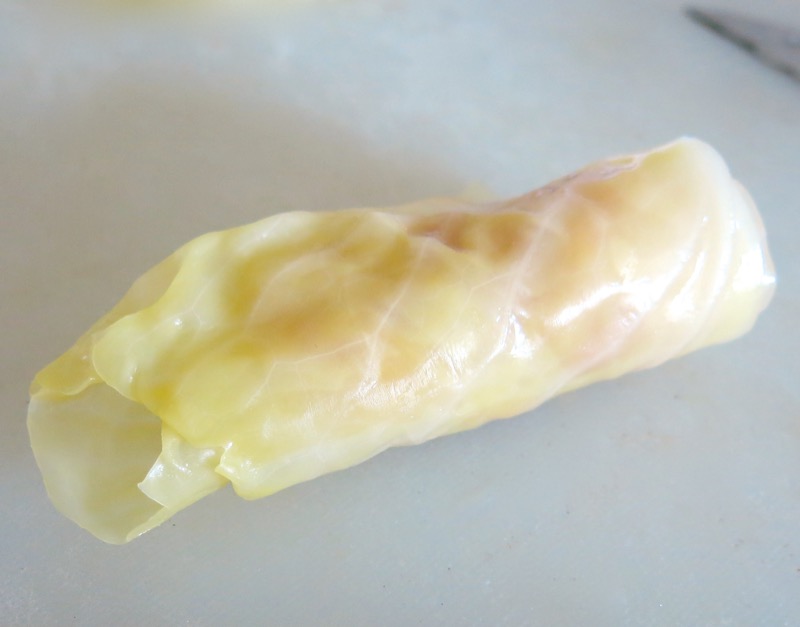 Meat is not packed. The rice will expand and the meat needs to be loosely packed, then rolled up in the leaf.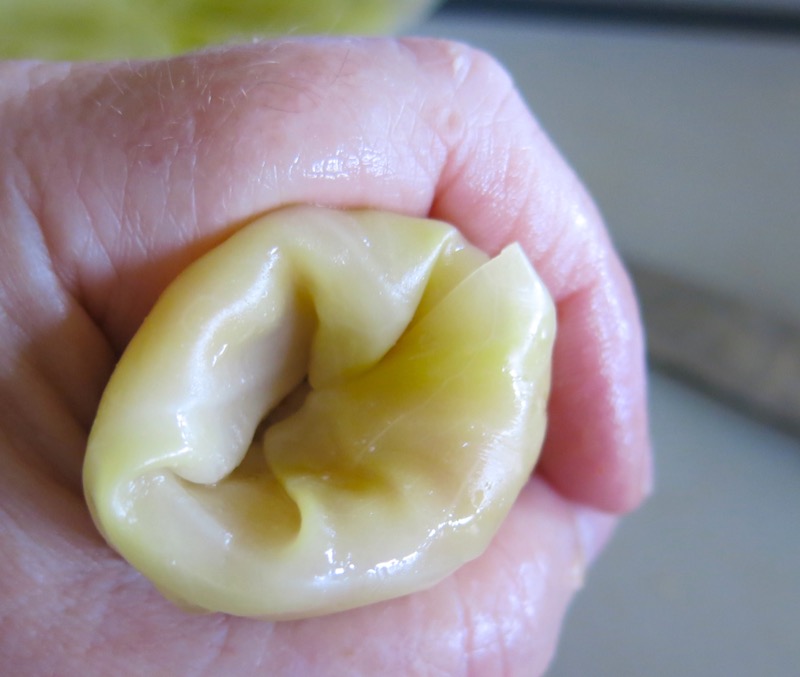 Hold the roll in one hand, then use the thumb of the other hand to push the ends of the roll inside of itself. You will find this is much easier to do than you might think. The other side is more difficult, as there will be one side with the rib end (where the leaf was cut) that is more stubborn to push into itself, but the same technique will wtill work.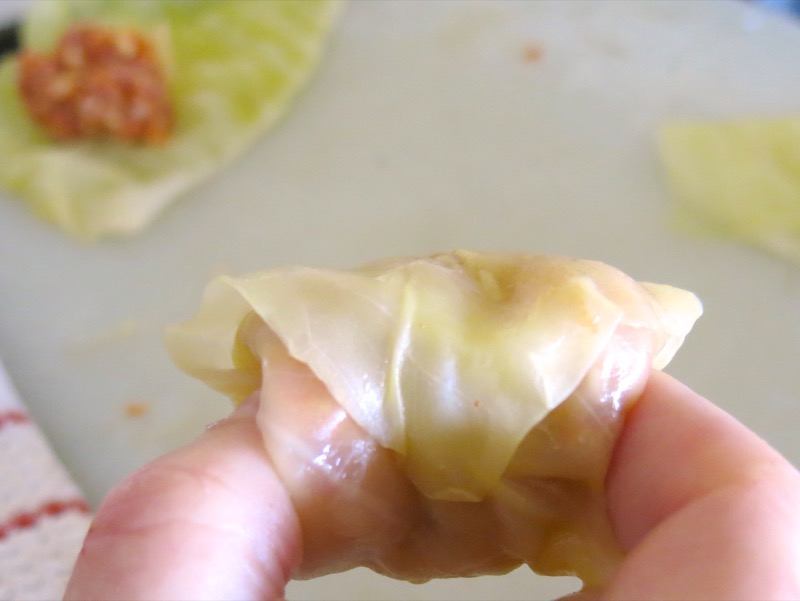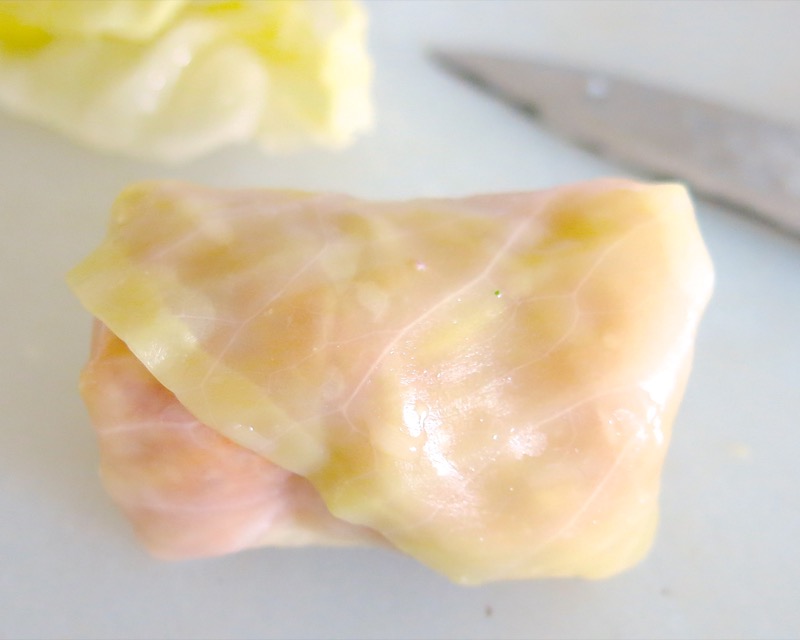 Voilà! A beautiful, and slickly rolled little Sarma.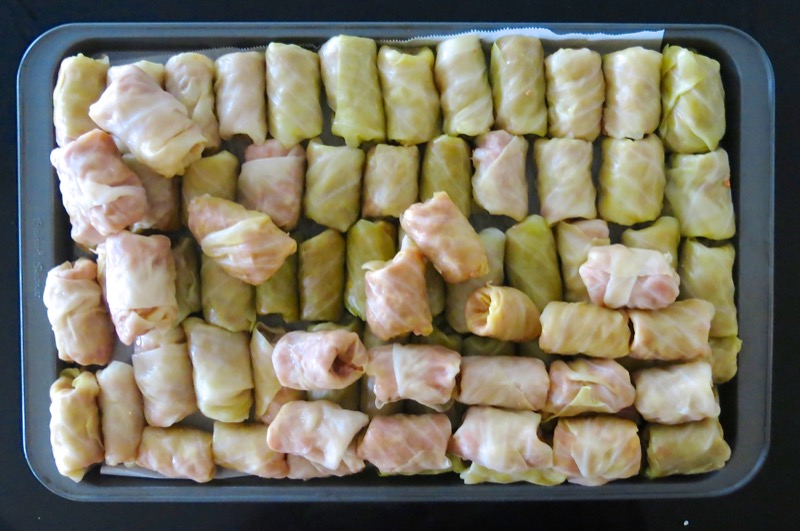 Sarma Sour Cabbage Rolls are placed on the baking sheet until all meat and cabbage is used. Usually there neither of either left over. Keep in mind the above image is a double batch.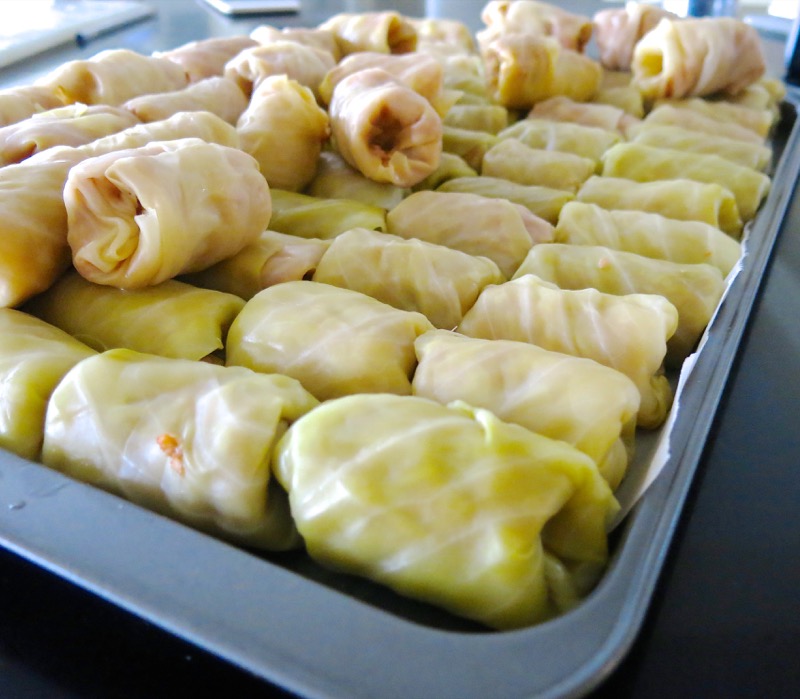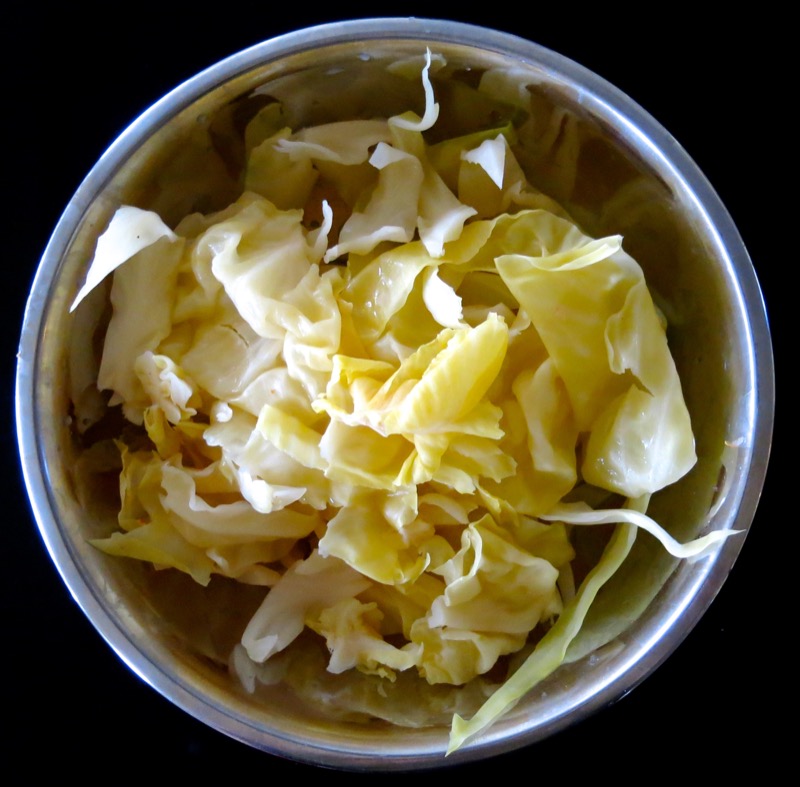 The ribs and ends of the cabbage are also used. Every bit is important. There is no waste.
Sarma Sour Cabbage Rolls: Cooking the Rolls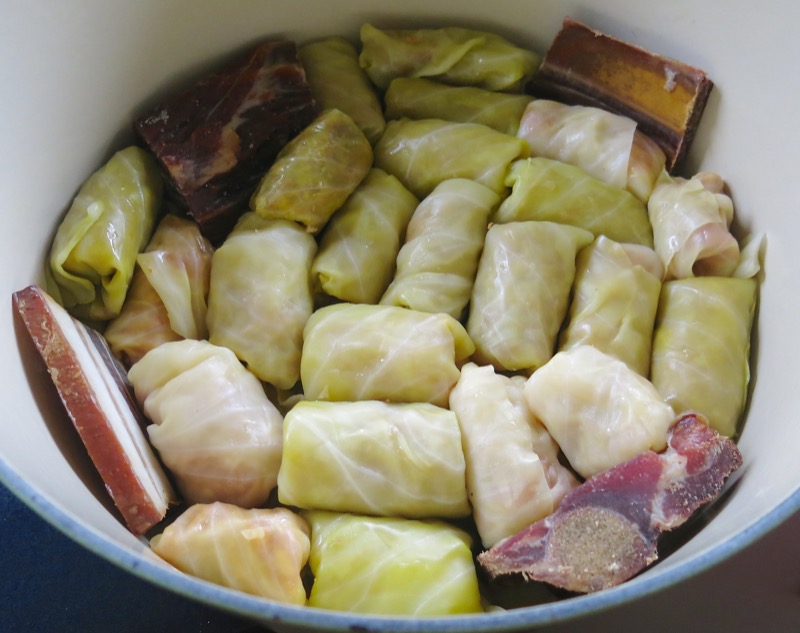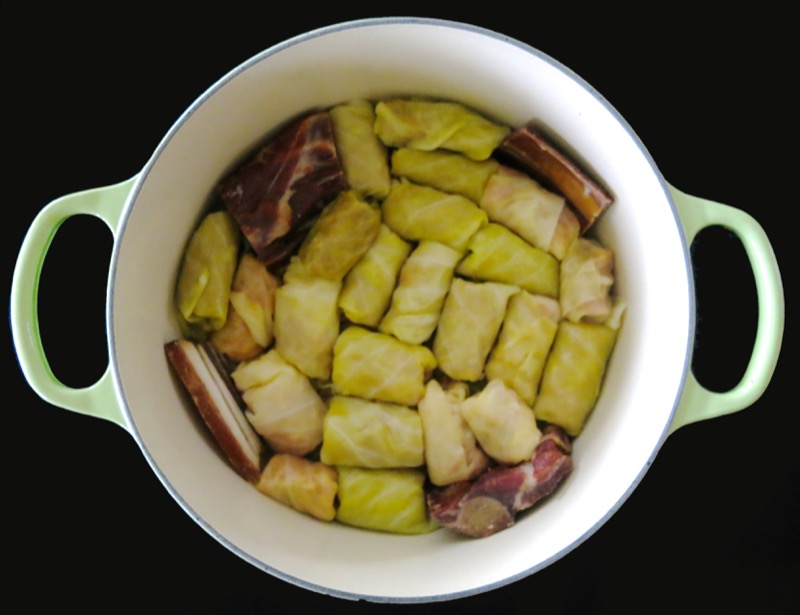 Sarma Sour Cabbage Rolls are cooked on the stove top in a heavy pot. Above, left, the bottom is prepared with some ribs and smoked bacon and pork ribs. Middle image above, the rolls are nestled into the bottom and the layers continue with smoked meat on each one and rolls nestled between.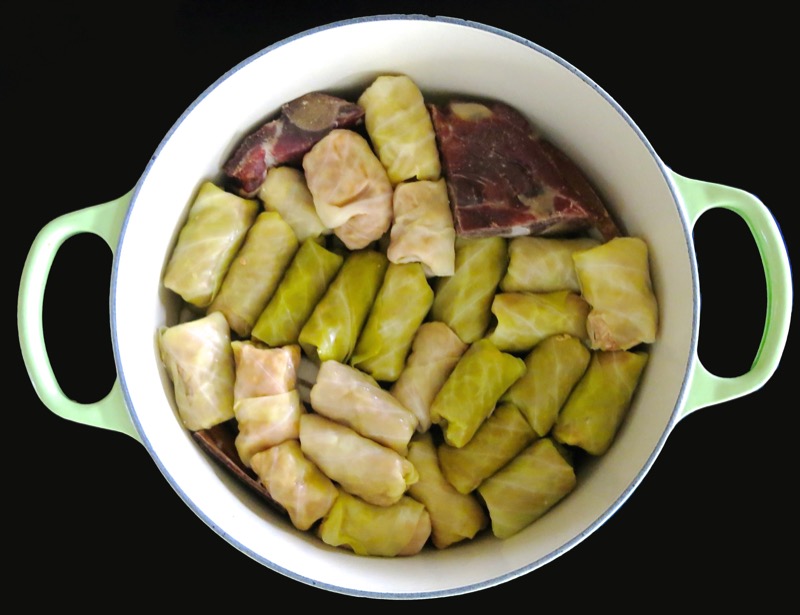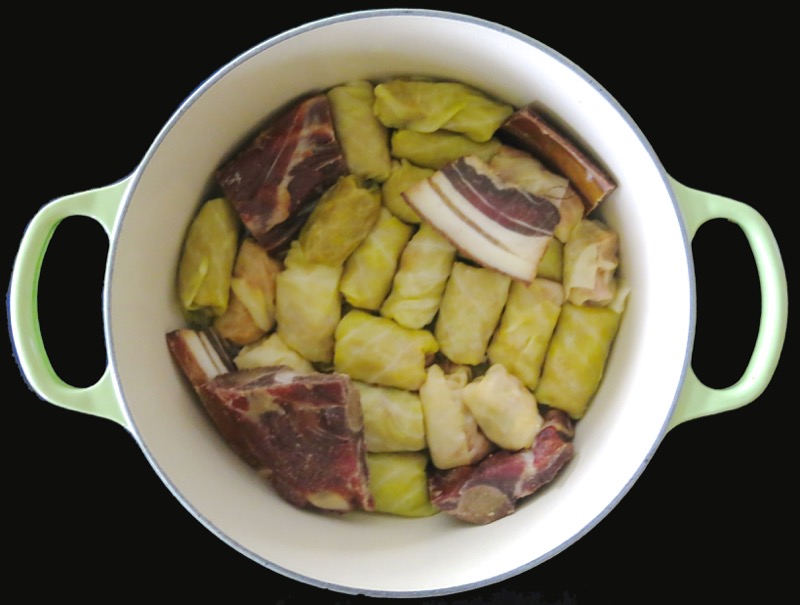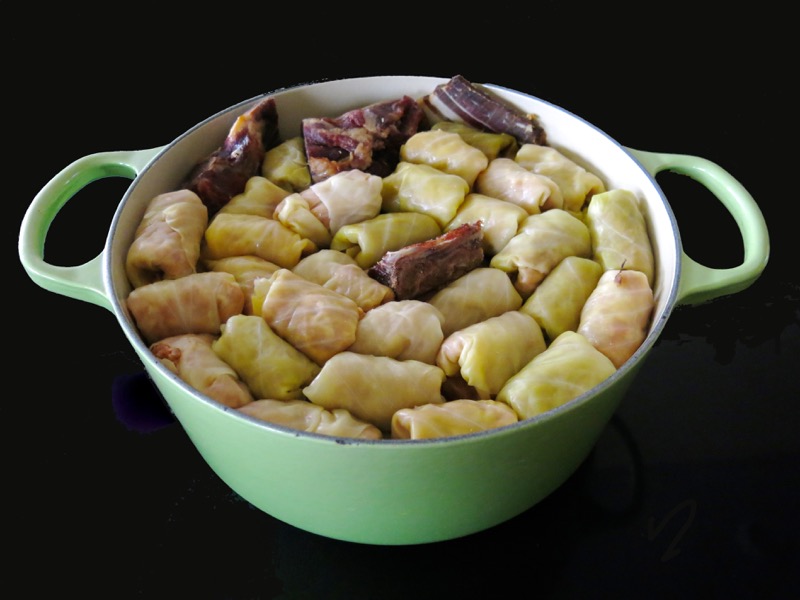 Smoked meat and bacon, then layer two nestled into them. Smoked meat and bacon ilis laid and layer three nestled into that for the finish. Three layers in all.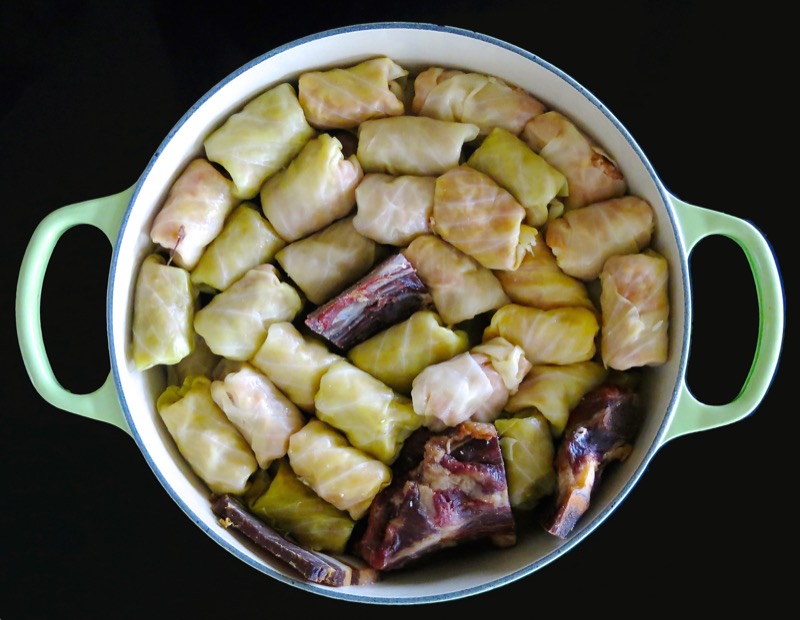 The entire double batch fit into this pot, so not all of the bacon and ribs were used. It is completely covered in water, and simmered 3-4 hours.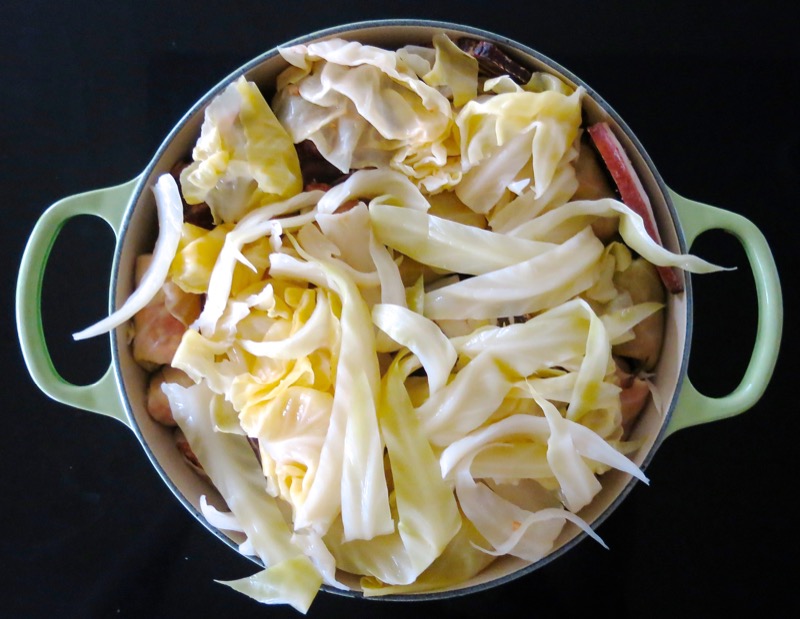 But, covered with the last of the leftover ribs and cabbage ends to keep the top rolls moist.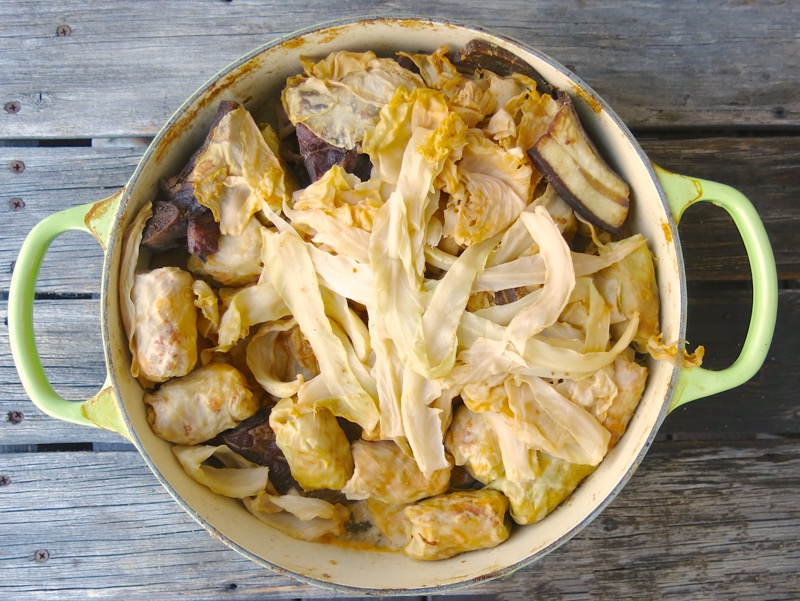 Water might need to be added through the process. It looks like comeone snuck a couple of rolls out of the pot above! It is irresistable to not sneak one hot out of the pot after waiting so long for them to cook!
Sarma Sour Cabbage Rolls: Serving and Storing the Rolls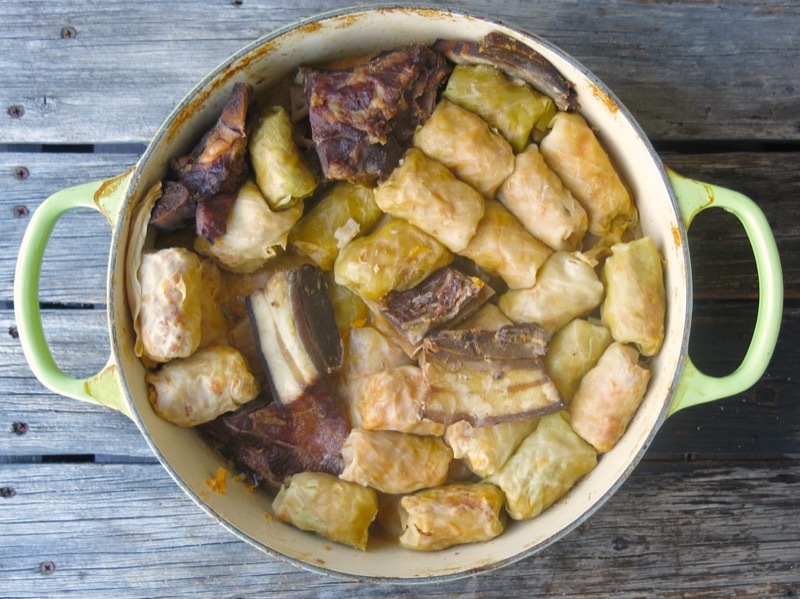 Removing all cabbage after sitting overnight. Fat globules settled.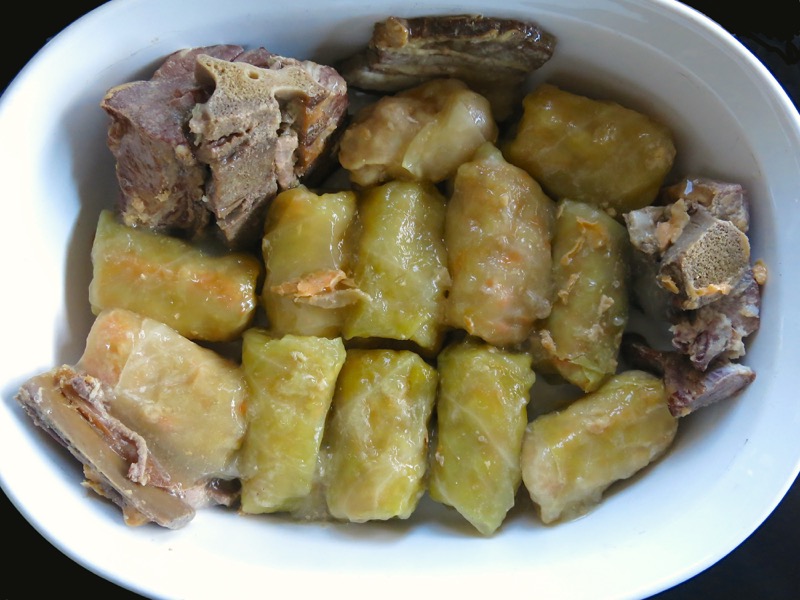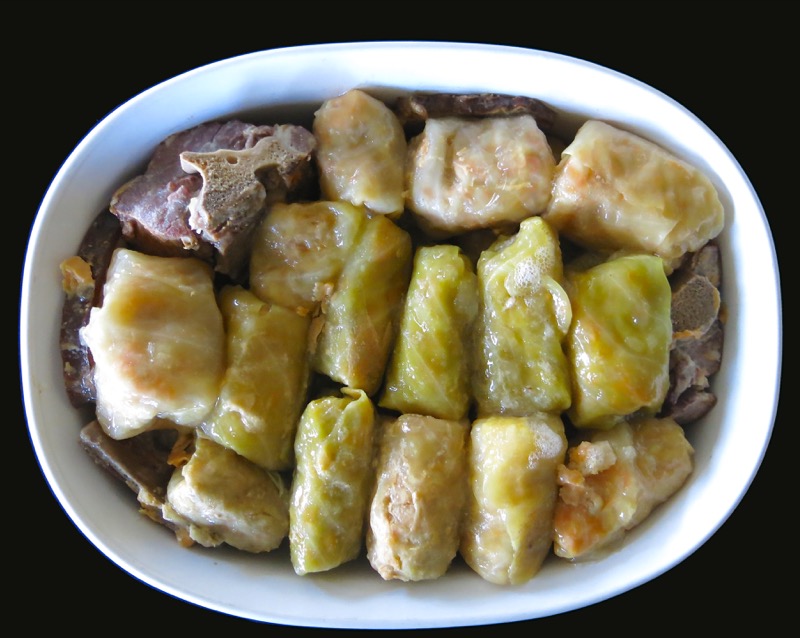 Vanja usually has one meal straight out of the pot the night they are made, then I divide them into serving dishes for the freezer to last through the holiday season, and more.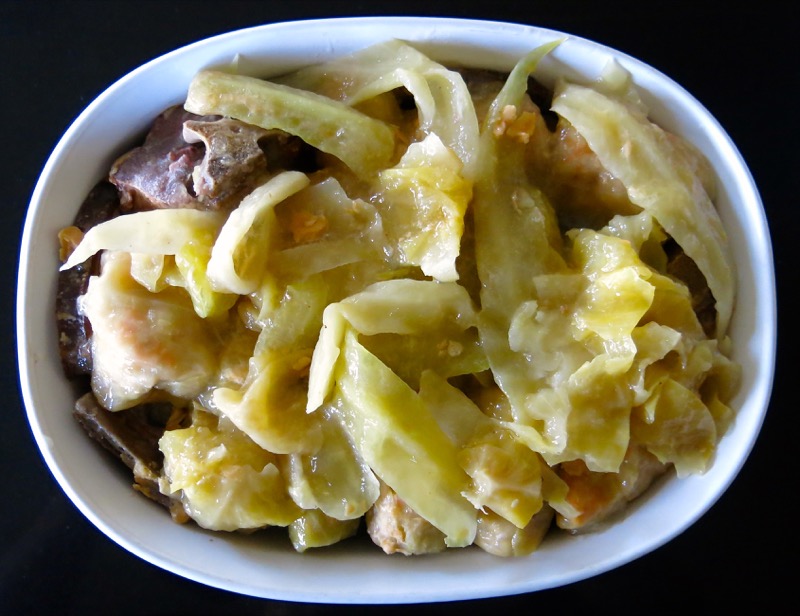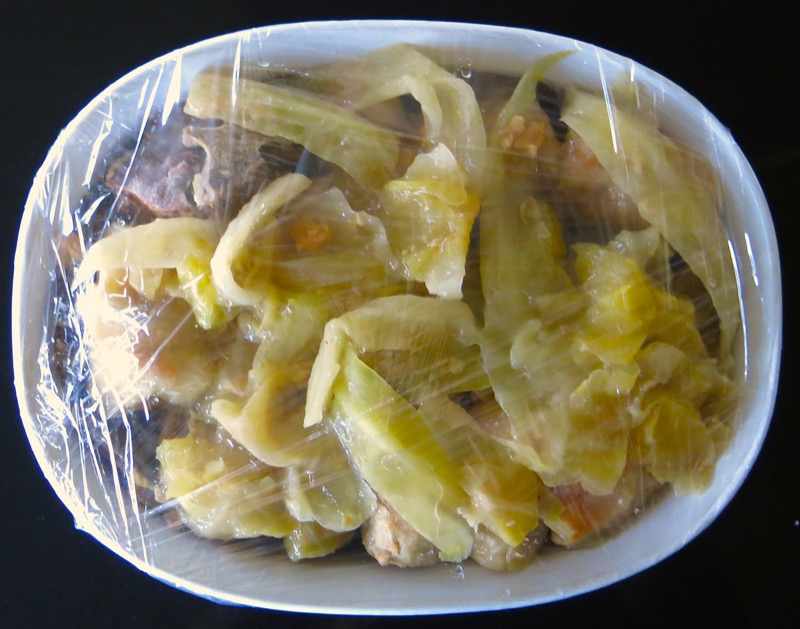 The biggest dish is for Christmas dinner and arranged as it was in the pot, but without any rib ends on the bottom. Pork and bacon go in with the rolls nestled in two rows between. Rib ends topping the casserole dish to keep the rolls moist and the liquid from the cooking pot poured over just to the top of the dish. Then into the freezer it goes to be served with Christmas dinner.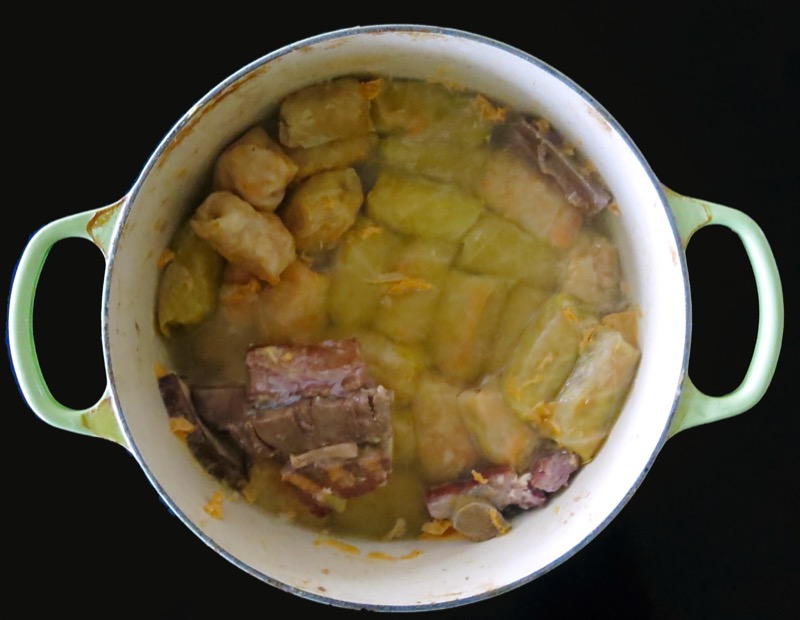 The remaining rolls are divided among casserole dishes according to needs. Some for New Years, some for a private little feast for Vanja….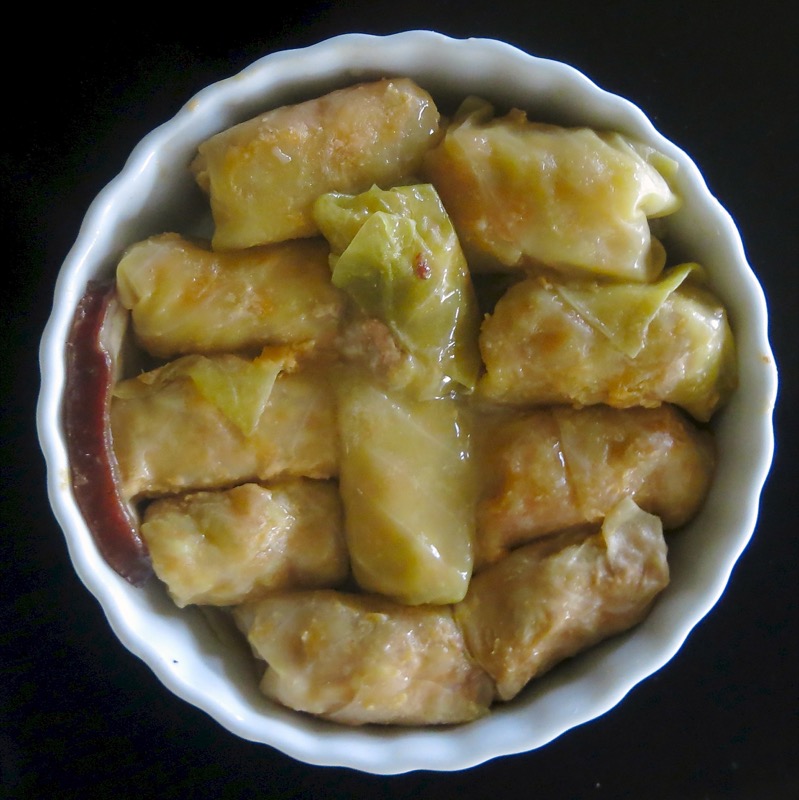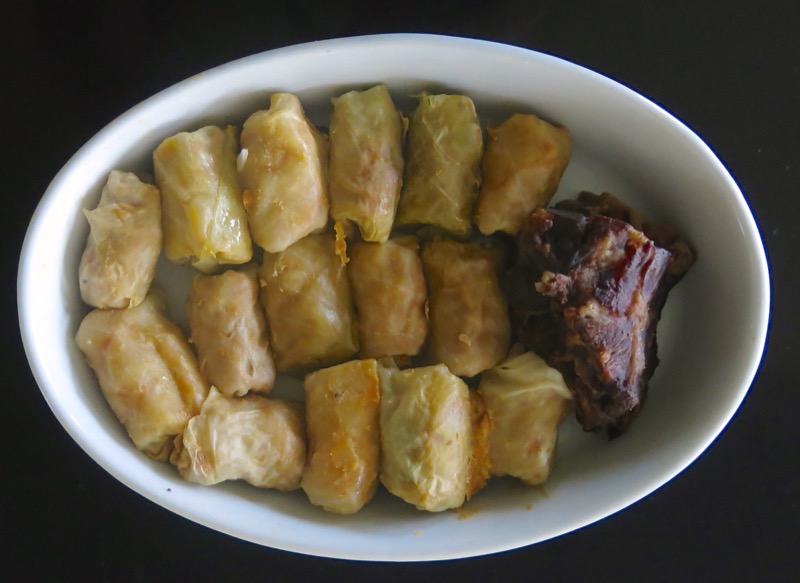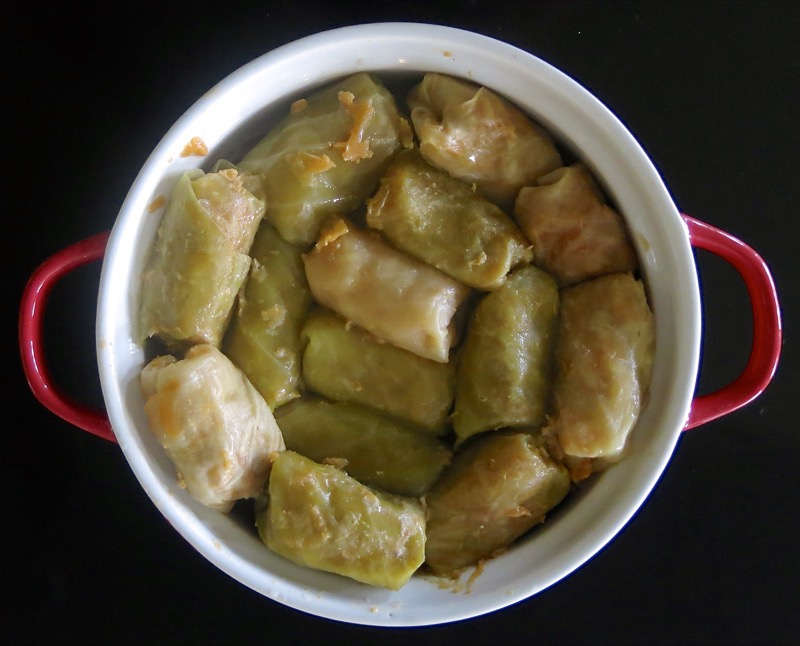 And some leftover for another time. Each one filled with liquid from the pot, frozen properly sealed and labeled.
Sarma Sour Cabbage Rolls: Eating the Rolls

Each delicious morsel is a sumptuous celebration of heritage, home, and simple good food.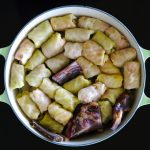 Sarma Sour Cabbage Rolls 2017: A Traditional Serbian Specialty


Sarma Sour Cabbage Rolls: a traditional Serbian speciality with smoked pork ribs and bacon. Step by step instructions for this melt in your mouth recipe.
Prep Time
1
hour
30
minutes
Total Time
4
hours
30
minutes
Servings
40
-50 small rolls
Ingredients
1

kilo fatty know-your-farmer ground pork

(40% fat)

½

cup

rice

½

cup

onion

, minced (about ½ large onion or whole small onion)

3

cloves

garlic

, minced

1

tablespoon

excellent quality sweet paprika

(Hungarian or Serbian)

1

teaspoon

Vegeta

½

teaspoon

freshly ground black pepper

, or to taste

½

teaspoon

salt

, as required by taste (sour cabbage and Vegeta are both salty)

1

large head sour cabbage

½

rack of double smoked pork ribs

, sliced and separated

1

four inch slab of double smoked pork bacon

, sliced
Instructions
Mix first eight ingredients together by hand, until completely incorporated; set aside

Rinse cabbage leaves, if necessary (if too salty); separate leaves from head and place in large bowl

Set up work surface with cutting board, knife, tea towel, filling, leaves, bowl for leaf ribs and lead ends, sheet pan covered with parchment paper

Cut out large tough vein from leaf; roll a meatball sized portion of meat into each leaf half (outer leaves may be exceptionally large, and divided into four)

Hold roll in one hand with open end facing up; using thumb of other hand, push leaf ends into middle of roll tucking all inside to close it; turn roll over and repeat process with other end

Place neatly rolled and tidily closed roll seam side down on parchment covered sheet pan; continue until done

Cover bottom or a heavy large pot or Dutch oven with leaf ends and ribs, adding smoked ribs and sliced smoked bacon around the sides and/or on the bottom of the pot; nestle first layer of rolls into the bottom of the pot

Add more ribs and bacon around edges or on top of first layer of rolls; nestle second layer of rolls around smoked meat

Repeat process until pot is filled and all rolls are gone with a good inch or two remaining at top: be sure to have 3 to 4 good pieces of meat per layer (not only does it flavour the rolls, it is a delicious accompaniment in its own right, and all too often fought over)

Fill with water to completely cover all ingredients in pot (enough room for simmering at top of pot is necessary to prevent overflow on stove top); cover completely with remaining leaf ribs and ends to keep top layer of rolls moist

Place lid on an angle with vent for steam to escape; bring to slow rolling simmer-like boil for a minimum of three hours

Add extra water to keep rolls covered throughout cooking process, as needed (check every hour)

Feast on it straight out of the pot, when done, of course, with fresh baked bread: YUM!

Cool remainder completely; re-plate rolls and smoked meat into casserole dishes and freeze well sealed, labeled and dated for future use, covering with extra leaves, and ensuring rolls in each dish are covered with remaining cooking juices from pot
Recipe Notes
Traditionally served with sour cream and crusty bread. Nothing else. Or, always on a celebration table with a host of other traditional celebratory foods.