Irish Colcannon: Demystifying an iconic Irish side that is too easy not to make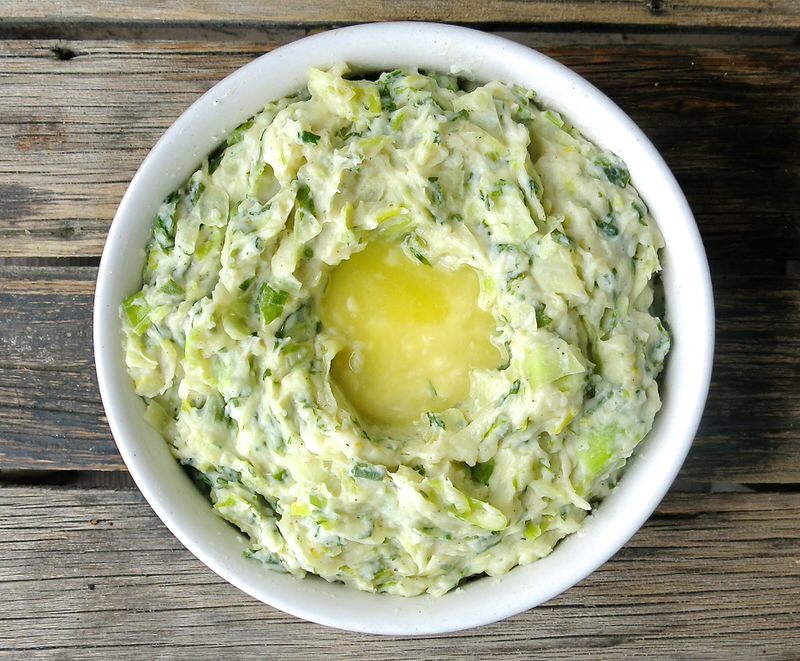 Colcannon. Getting in touch with my Irish roots has been an ongoing quest. Dad was the baby with 4 older siblings, and the only one born on Canadian soil in 1929 near Bengough Saskatchewan where his hard-working ma and pa got land for a farm to start a new life in America. "Ah, the American Dream." Did I say 1929. Yes. Just a couple of years settling in with their young family and a new baby in a new land on a new farm before the "Dirty Thirties" knocked them on their keel. And, there they were for the remainder of my dad's life in that house. Flat out poorer than poor. Dad left home at 17 after being pulled out of school at 13 to replace his 18 year old brother's position on the farm when he was conscripted to the army. Ne'ry an iota of Irish cultural anything imprinted on within or about my dad's being. Only the ethic of hard work with the highest level of integrity. Can you believe I was intimidated by this simply recipe?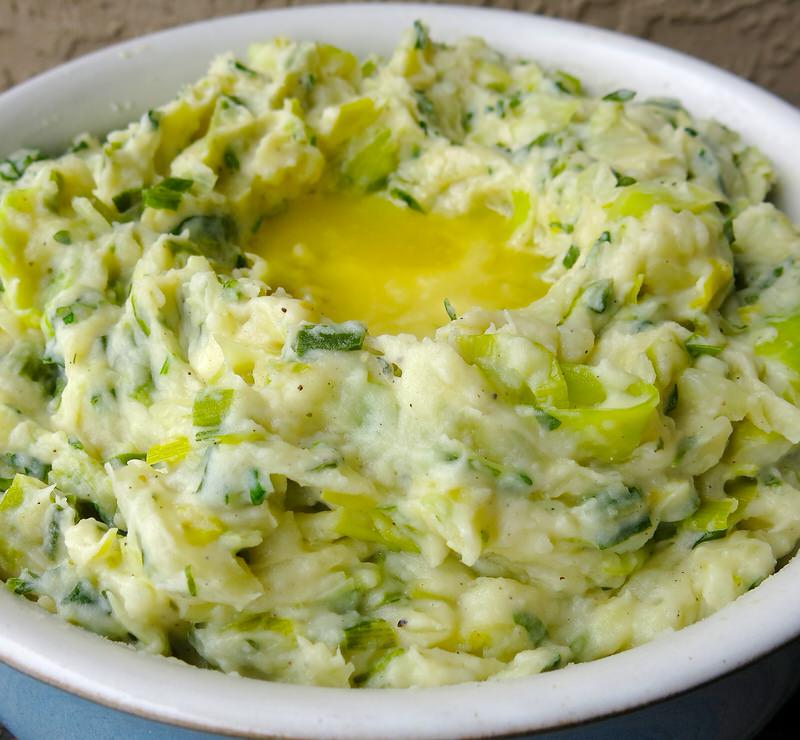 Company for dinner left me with more than my usual amount of lovely mashed potatoes just prior to St. Patrick's Day. Colcannon. I need to climb that mountain and conquer that beast. Beast? This recipe is so easy, a child can make it and it is the perfect way to dressing up those leftover mashed potatoes. Of course, most recipes call for the potatoes to be mashed at the time of making the Colcannon. But, hey – you cannot tell me that a frugal Irish ma didn't use the leftover mash for this recipe in her day. It works like a charm. Easy. I like that. Delicious. Even better. And… even tastier than I had imagined it would be. The leeks and the cabbage compliment the potatoes and become one with each other. Ommmm. Ommmm. (Knees folded like the swami I am.)
Irish Colcannon: Mis en Place with Mashed Potatoes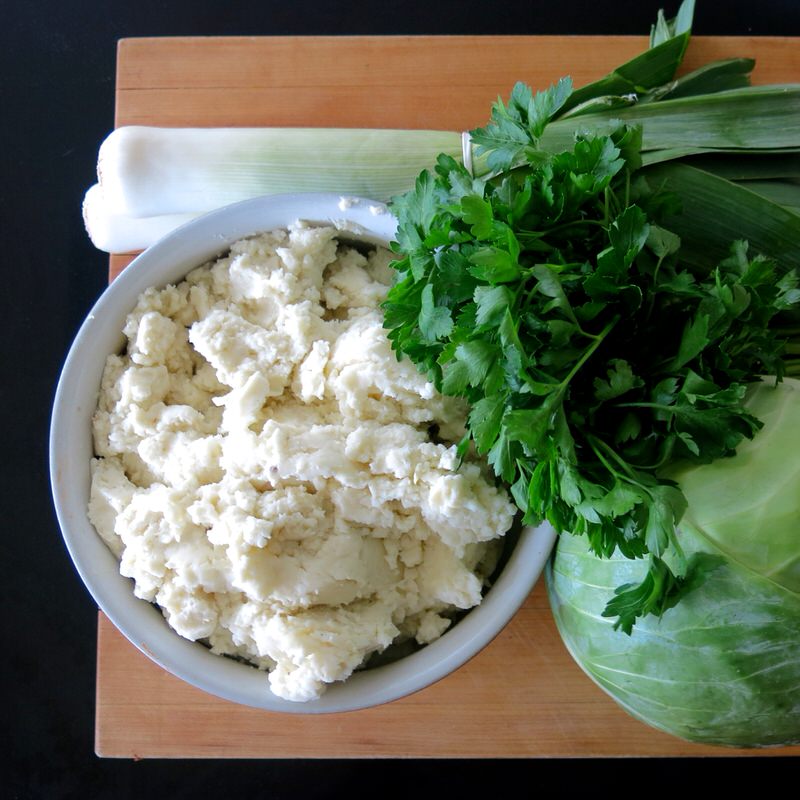 OK, seriously, though. It tastes really good. The Irish were the first to seriously consider the potato as a staple food. It is very rich in Vitamen C. Hands up if you did not know that. By 1770 "the potato" was known as "the Irish Potato" due to their poverty and need for a primary food source from August to March while waiting for f the oat harvest. Though a diet of potato and oatmeal was regarded as inferior to what they ate in more lucrative times, it was nutritious and allowed the population to increase. Even now, visiting an Irish pub in Ireland, when you order a meal, there will be many different kinds of potato dishes served at the same time. One starchy dish is plenty for those of us in Canada. A pasta. Rice. A potato. Not there. Even now.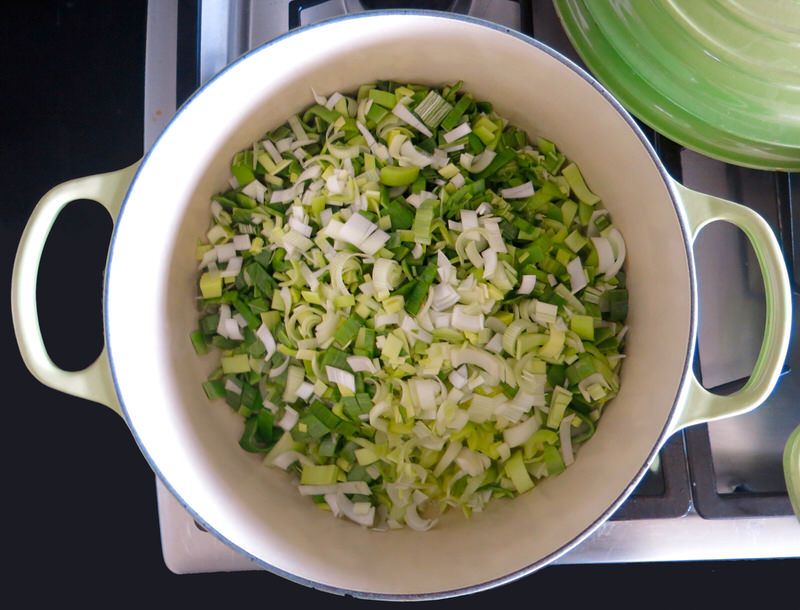 Leeks are cleaned, chopped and plopped into a pot well versed in butter.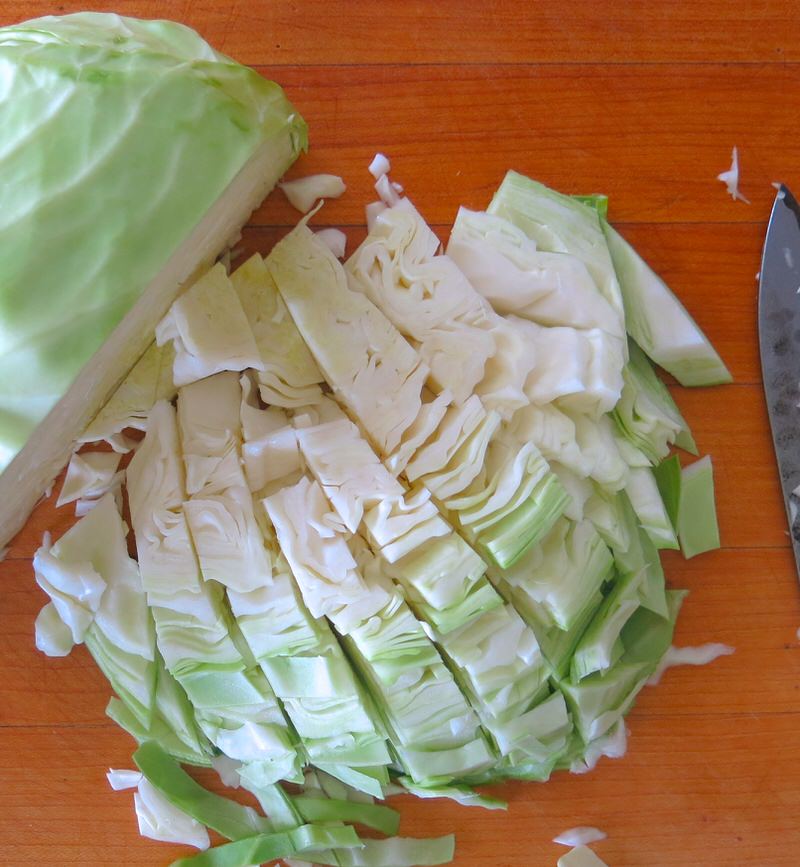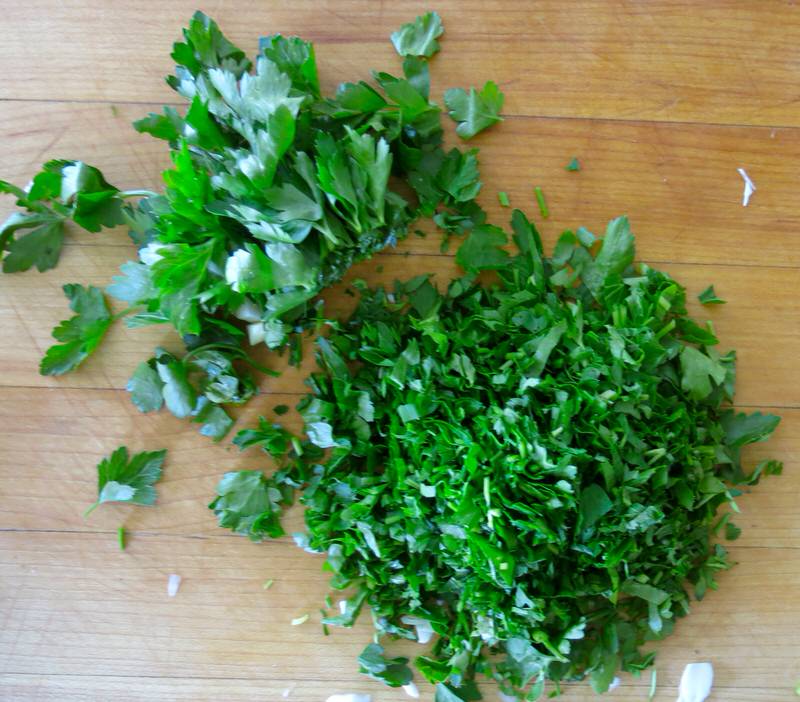 Cabbage (savoy is best, but use what you have on hand) or kale or any strong leafy green and flat leafed parsley are chopped and added.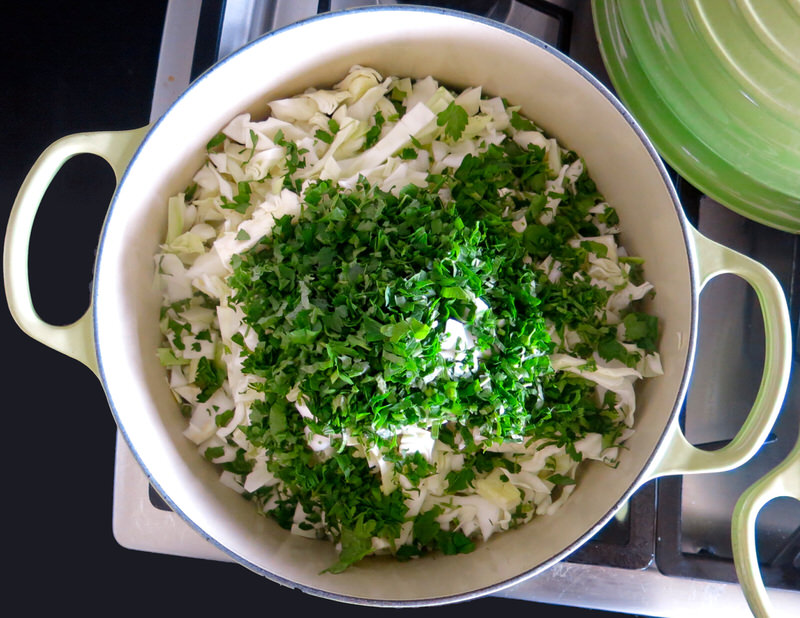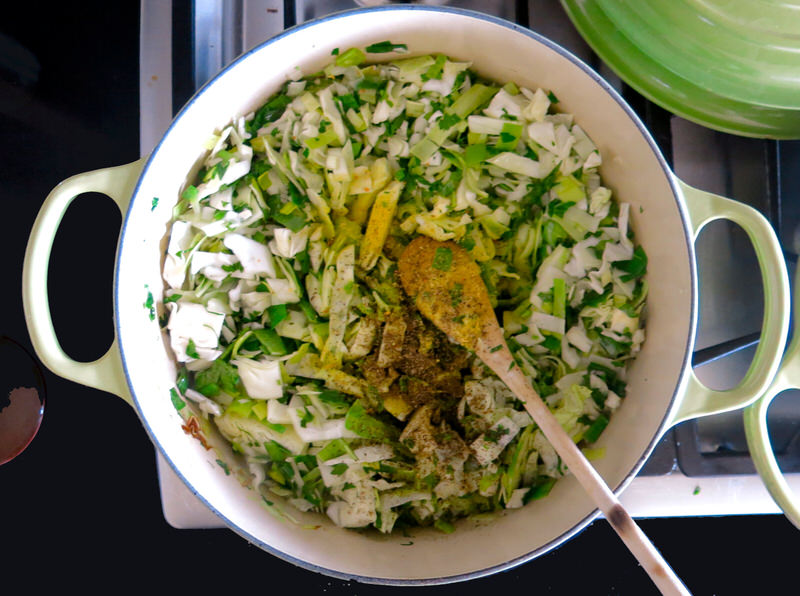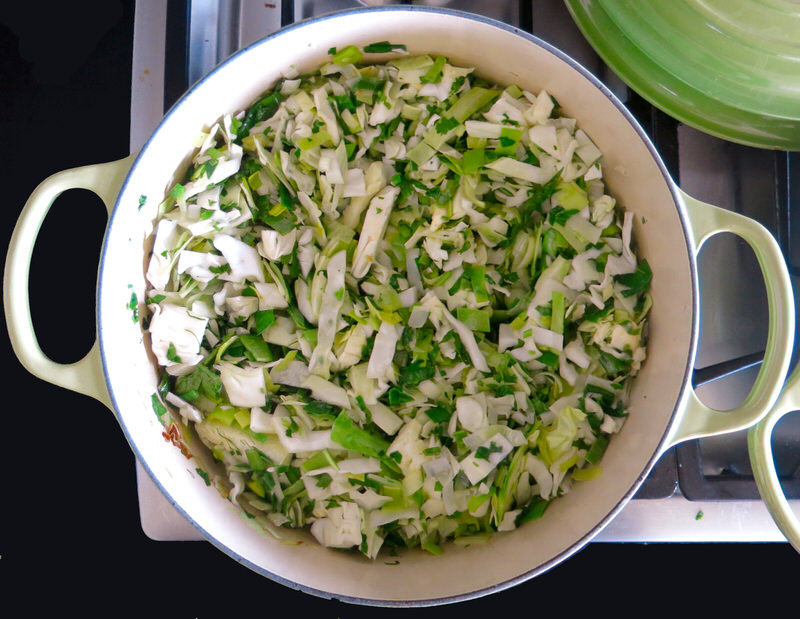 Mixed well together in a heavy pot on medium high….
Irish Colcannon: Saute the Vegetables in Butter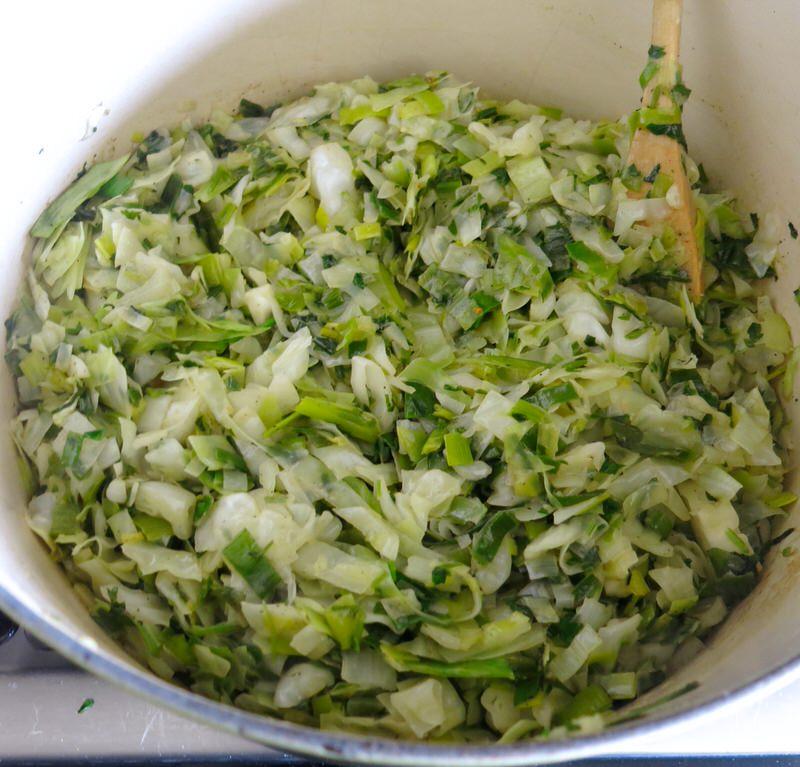 Stir constantly until leek and cabbage are limp and transparent. This is not the time for cooking the vegetables al dente. This is the time to simmer them into soft buttery submission.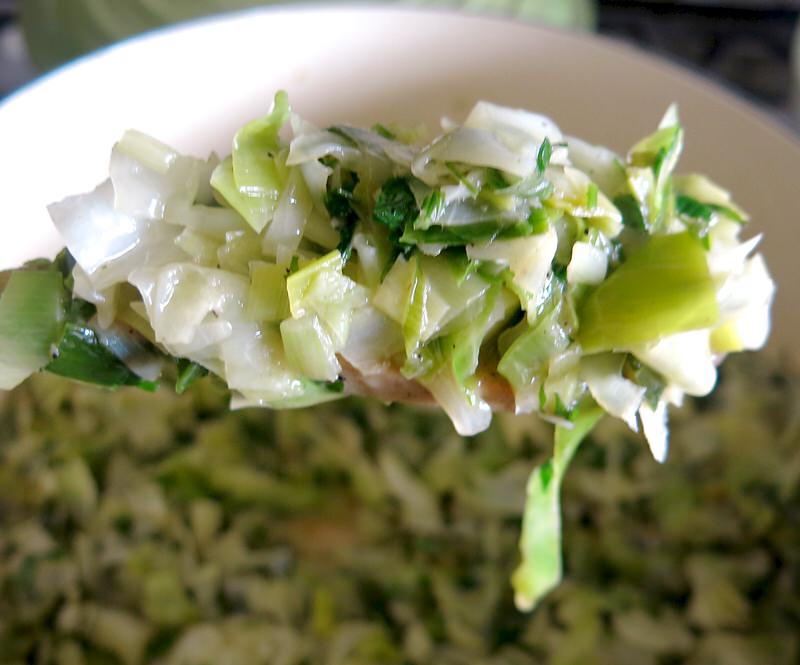 Season the ingredients well with salt and freshly ground black pepper. Yes. I also add Vegeta and put in less salt.
Irish Colcannon: Mixing in the Leftover Mashed Potatoes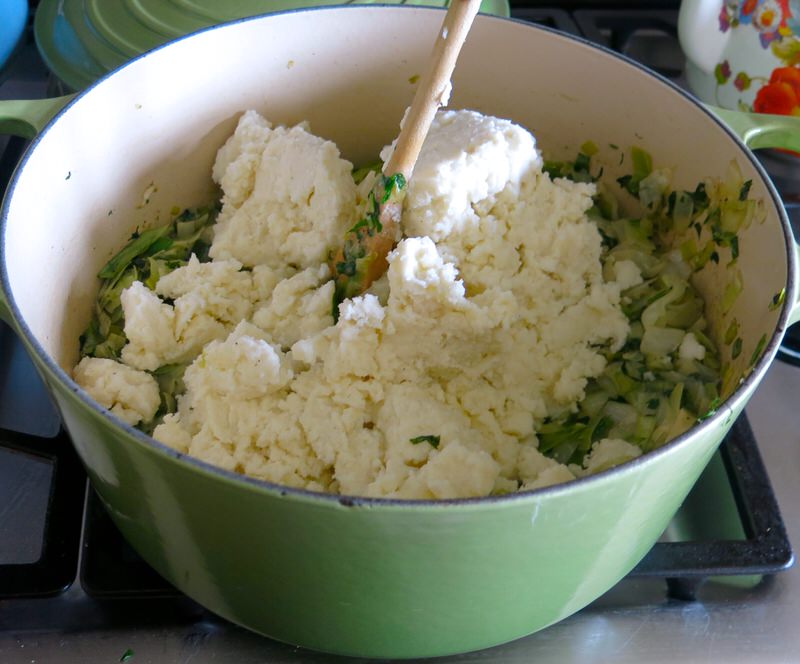 Do not add all of the mash at once. Above, is about half of the leftover mashed potatoes that I added to the pot. Stir to completely combine. Colcannon is a dish that requires all ingredients to be fully incorporated.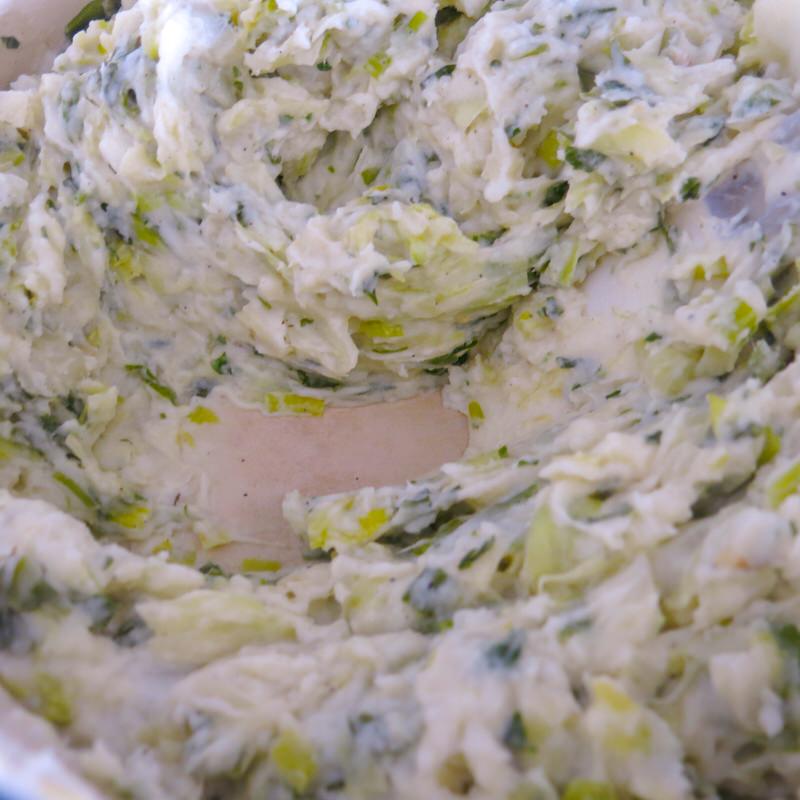 There might be a little lump of leek or cabbage. Those vegetables definitely add tooth to the mash, but there should not be any lumpy potatoes.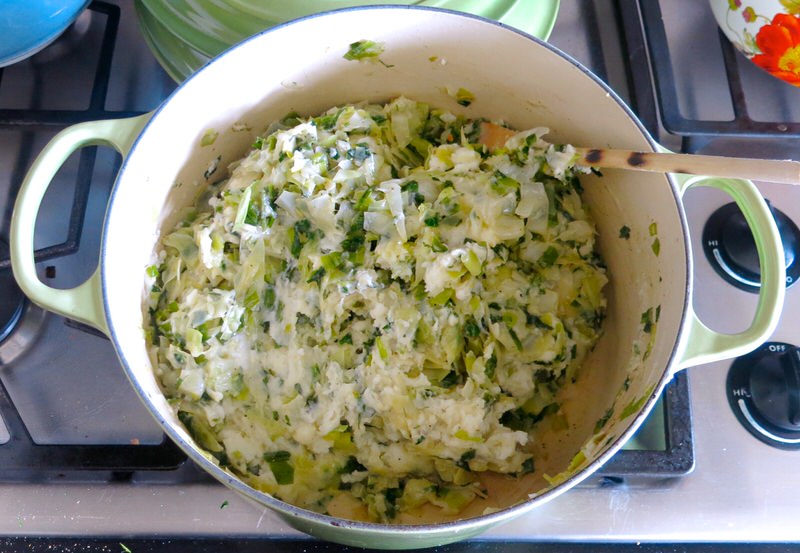 Season and add butter at this point, as needed. It is tasty with very little butter if properly seasoned. It is knock-your-socks-off deadly delicious roll-your-eyes-back-into-your head and happy-to die-in-Irish-heaven good with lots of butter. That is how it is expected to be served in an Irish home.
Irish Colcannon: Serve Steaming Hot with Melted Butter in the Middle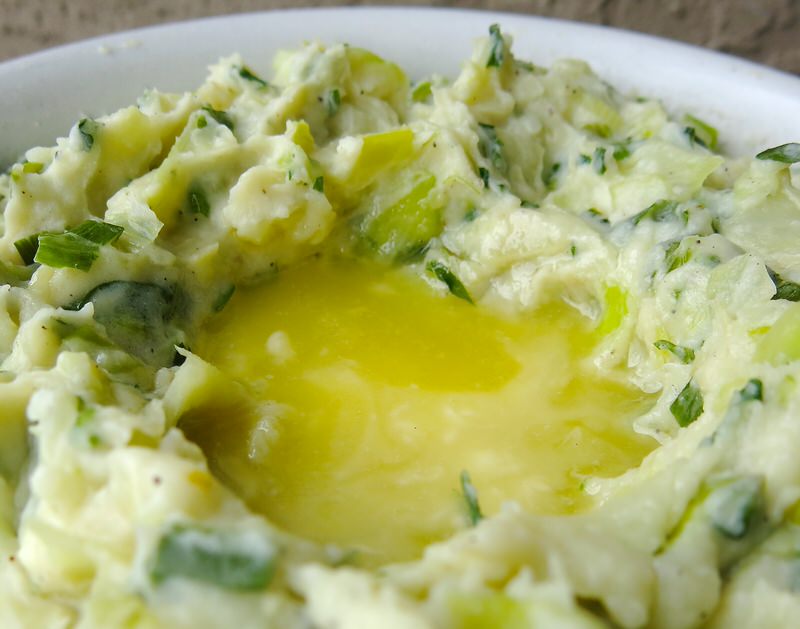 How do you eat it? Dip into the middle and be sure to get some melted butter in every spoonful. This is a family serving, but the individual servings are preferential. Everyone gets their own butter that way!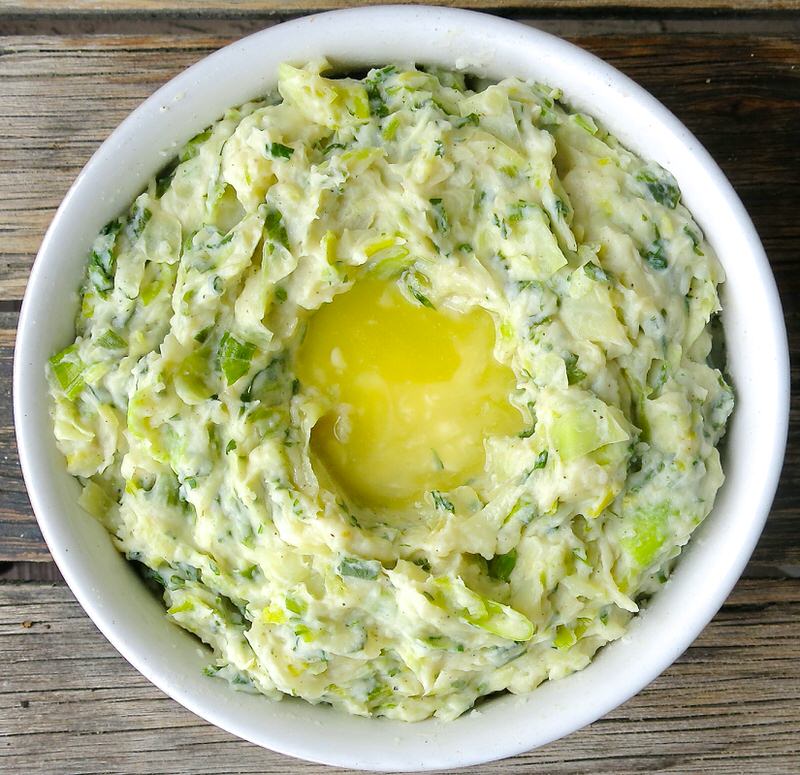 See how simple this is? I am ashamed of myself. No more fear! Let me know if you try it. (Don't even think of a diet. )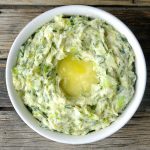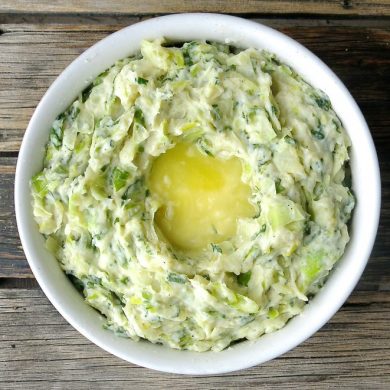 Colcannon


Irish Colcannon makes a delicious side dish magically reinventing leftover mashed potatoes. Excellent recipe for iron rich green leafy vegetables that the kids even love!
Ingredients
½

cup

unsalted butter

, divided, plus 2 tablespoons

2

medium leeks

(4-6 cups), white and green parts, cleaned well, then sliced and diced

½

large savoy cabbage

(4-6 cups) cups, shredded

1

punch of flat-leafed Parsley

(1/3- ½ cup), minced

6-8

cups

of leftover mashed potatoes

Kosher salt and freshly ground black pepper

2-3

green onion

, thinly sliced on an angle
Instructions
Melt ¼ cup butter in Dutch oven or large heavy pan; add leeks , cabbage and parsley and cook, stirring frequently

Season with 2 teaspoons salt and at least ½ teaspoon freshly ground black pepper

Add remaining butter; continue to stir and cook until very soft (10-15 minutes in total)

Add potatoes in two portions; in same pot with heat on, stirring am mixing to fully incorporate and smoothly combine mash with green vegetables

Taste and adjust seasoning, as necessary

Transfer to large heavy oven proof serving bowl serving bowl; top with remaining 2 tablespoons butter and garnish liberally with green onion