Thermomix Shrimp Cakes in less than 10 minutes, then Savor the Flavour!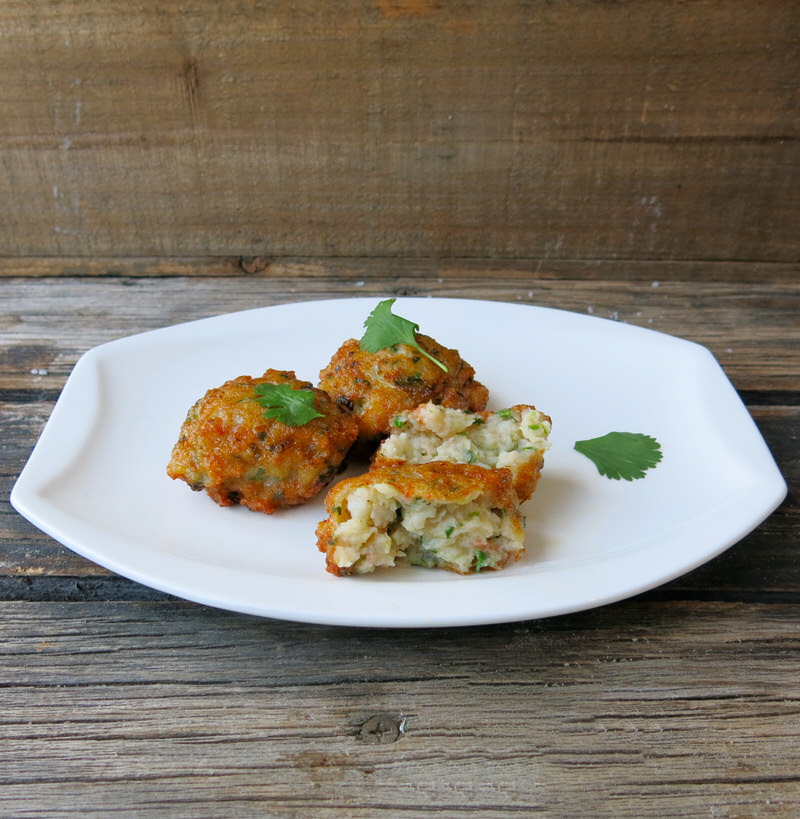 Thermomix Shrimp Cakes. I have never eaten a shrimp cake anywhere. Have you?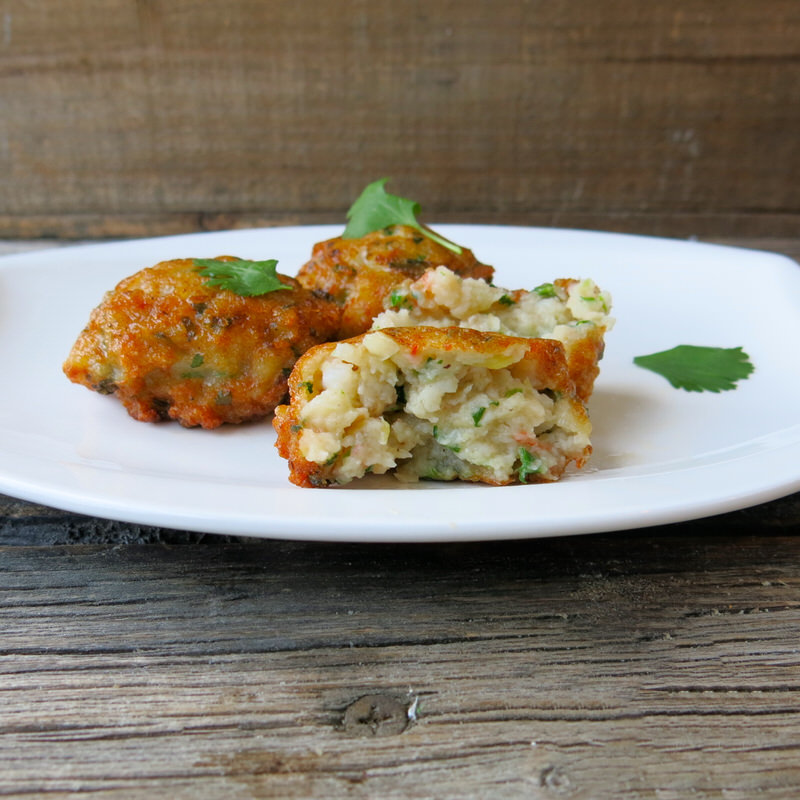 I've had gorgeous shrimp Dim Sum in rice wrappers and lovely shrimp filling in dumplings, but never a shrimp cake. Crab cakes are common. Why not shrimp cakes?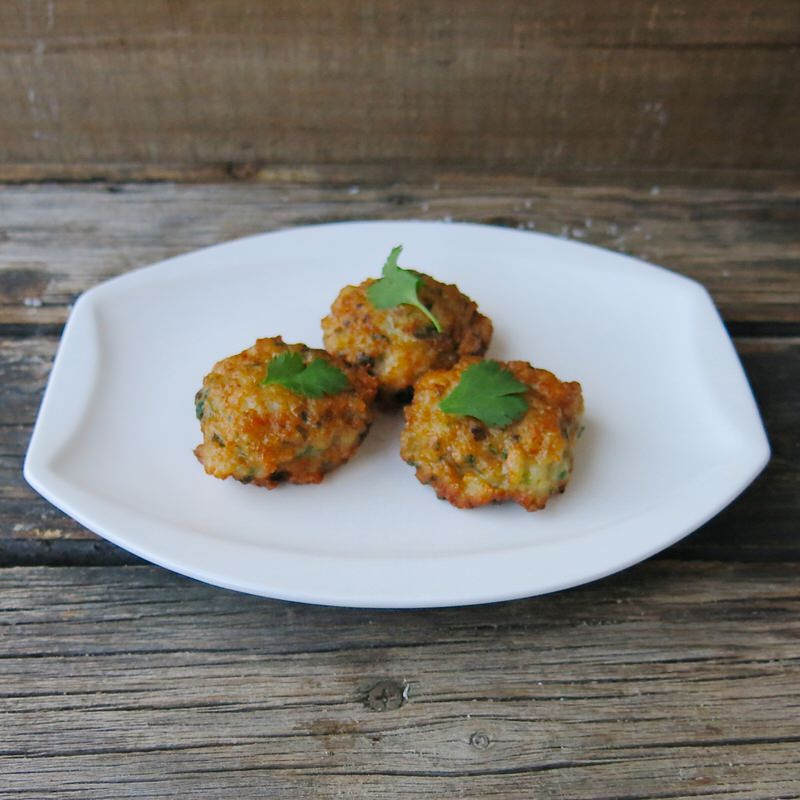 Could be the cost. Crab cakes are often made with canned crab. Canned shrimp is completely different than the shrimp used in these cakes. While I imagine the best crab cakes are also made with fresh crab. Yet, a crab cake using canned crab can be tasty, but a shrimp cake made with canned shrimp? I don't think so.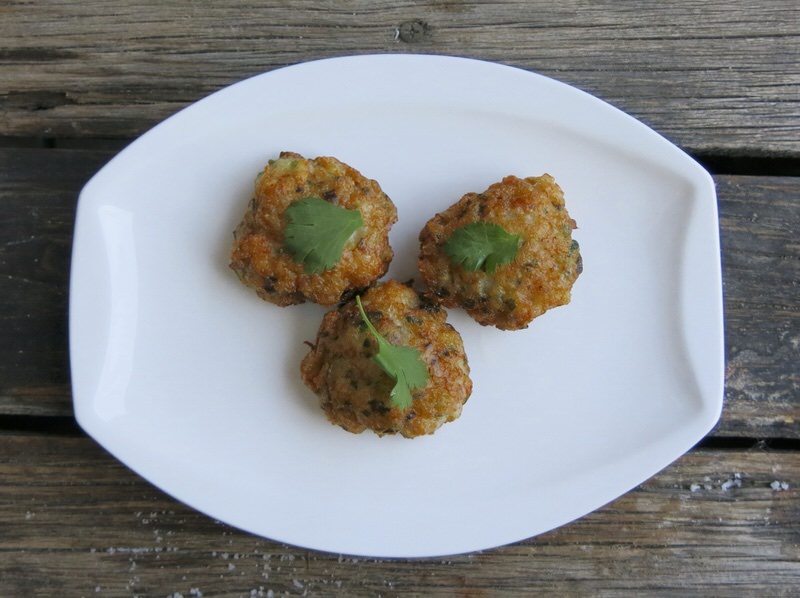 For we land-locked Canadians, the thought of messing with our seafood is almost blasphemy. Lobster. Oh, my. A lobster sandwich? Whaaat? Of course, they are revered and scrumptious when living on the East Coast. But here? Such a delicacy most choose to enjoy boiled with drawn butter. It is similar with shrimp, though we are more creative as there are so many varieties, sizes and price points.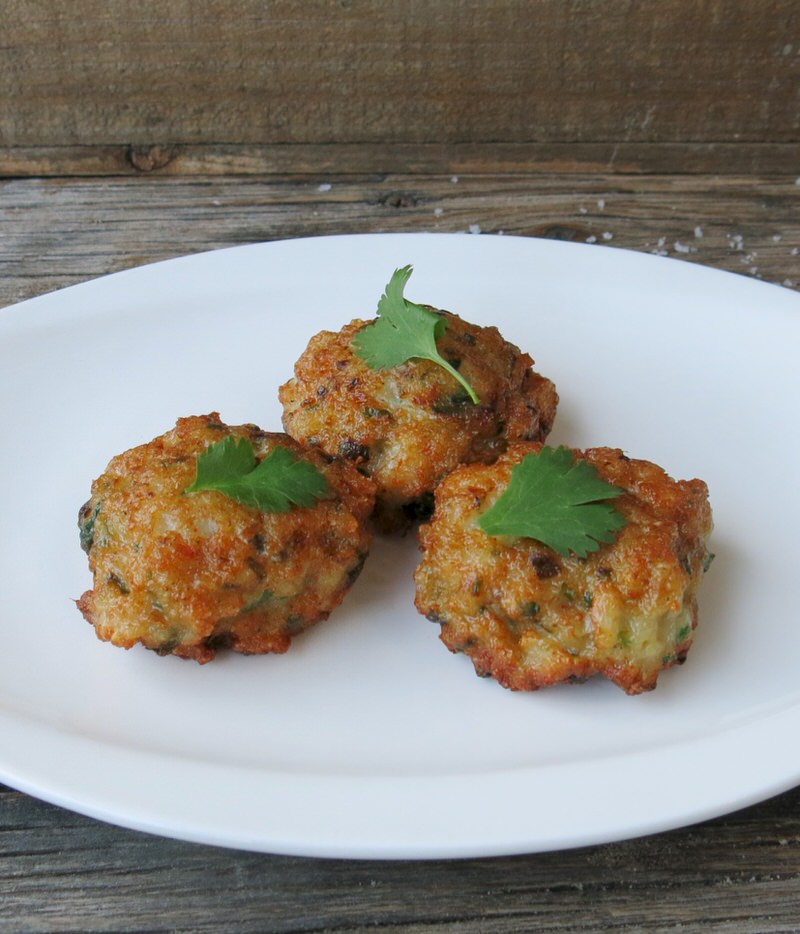 Ask anyone around here. Shrimp is best-eaten whole. In pasta. In a stir-fry. Cold on a platter with dip. But, whole. Yet, I challenge you to move past your comfort zone on this one. Buy a great big bag of frozen whole shelled and deveined tail on shrimp at T&T for just under 20 dollars, thaw it in the fridge and go nuts.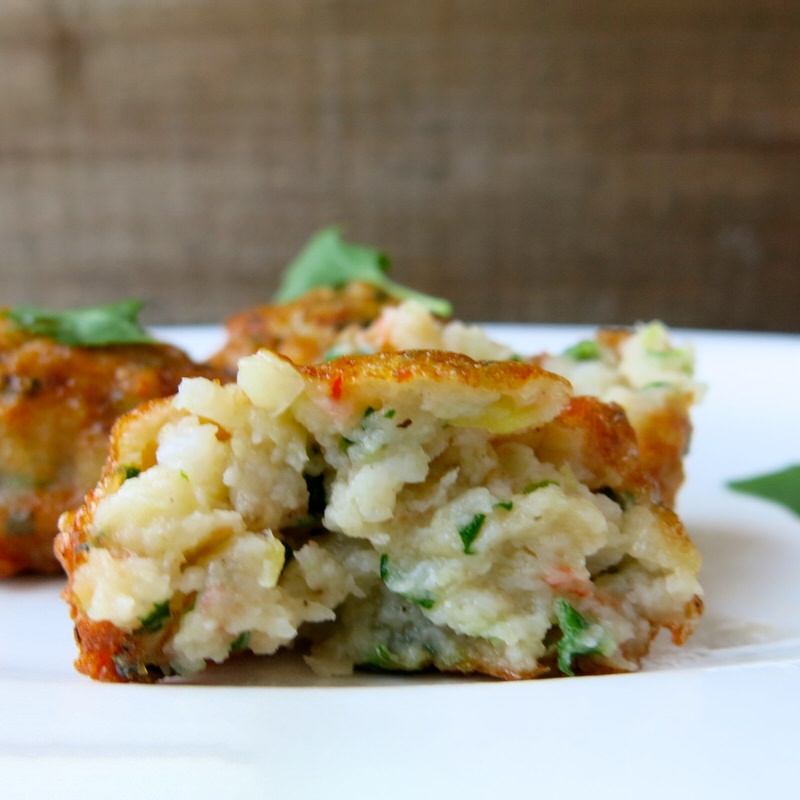 The flavour is delicious, but almost no one identifies the flavour of shrimp until I tell them what it is. We are not accustomed to experiencing the flavour of shrimp in a shrimp cake. And, it is the lovely texture of the fresh shrimp that presents a very moist, and lovely textural experience that elevated the flavour experience. As there are a good number of large shrimp in each small Thermomix Shrimp Cake, some land-locked folk may argue that this is a very extravagant little bite. Yet, I did the math. Each is about one dollar in shrimp. That little calculation, my past students of math, found me back at T&T buying a couple of more bags of that lovely shrimp. For a dollar each, I am definitely going to indulge my special friends. family and guest in the joy of this Thermomix Shrimp Cake.
Thermomix Shrimp Cakes: Mis en Place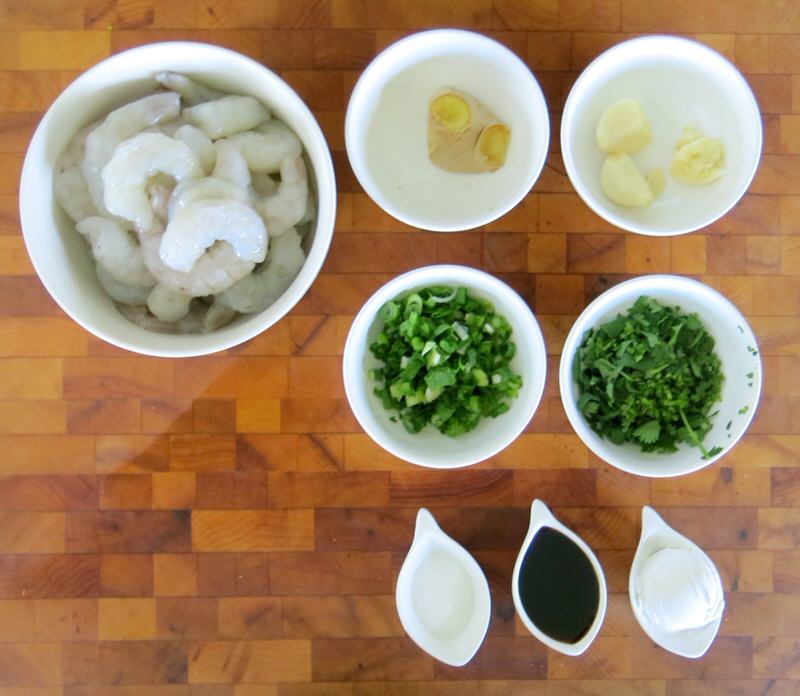 You likely are completely unaware that I am on an Asian mission. Our local Edmonton Thermomix Consultant Team is hosting a Thermomix Chinese Cooking Class for our owners this coming Saturday (March 17, 2018), and we have been working through a rather intense learning curve. Oh, what fun we have had! These shrimp cakes will not be on that menu, but were certainly a part of my research. They will likely be on the menu of a future class. This round, the dumplings made the cut. Wait until I write about those! For now, the only two ingredients you will need to stock in your pantry that you won't likely have is Tapioca Flour and Fish Sauce: both easily available at most major grocery stores.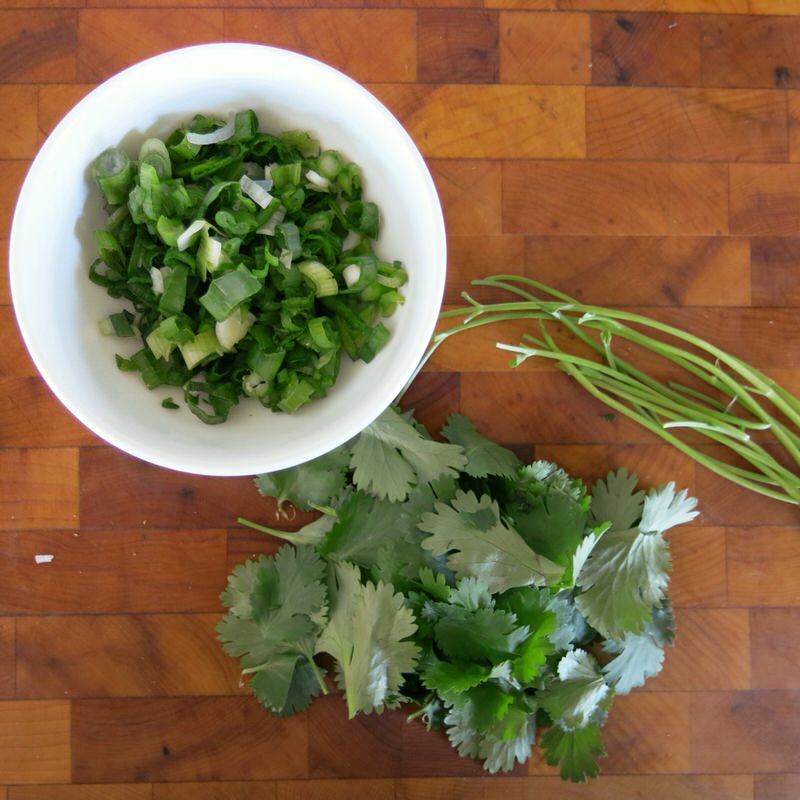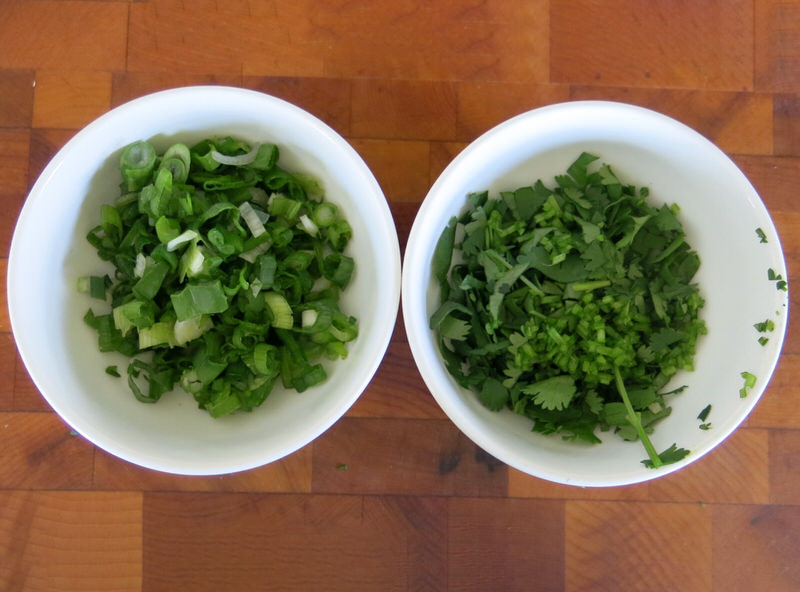 A balance of flavour is key in this dish. Equal amounts of ginger and garlic and similar amounts of green onion and cilantro.
Thermomix Shrimp Cakes: Two Seconds to Mince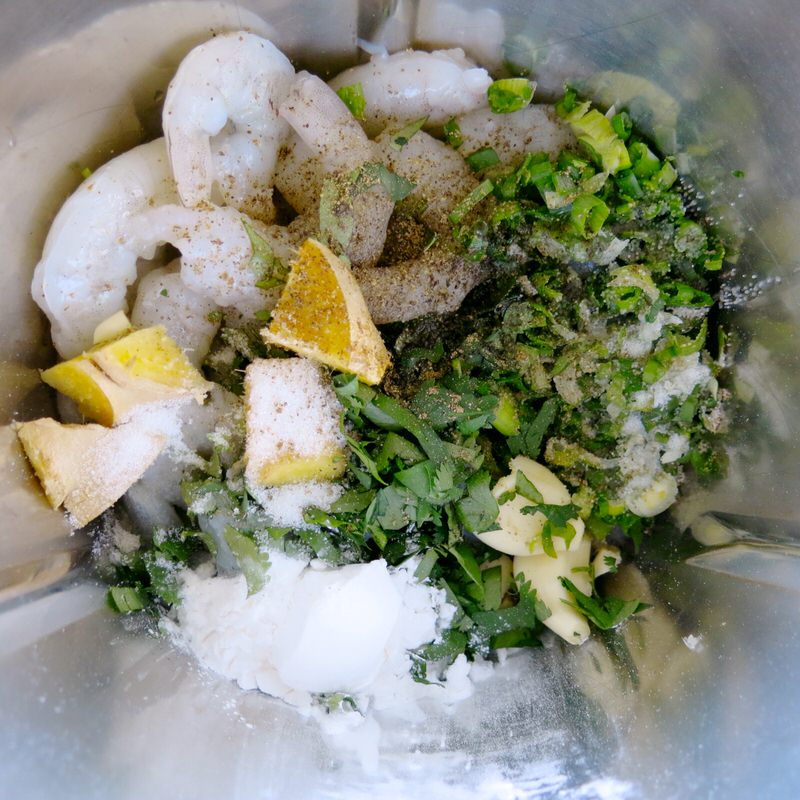 I have made these a few times and learned to chop the ginger and garlic first. They are dense and require an extra second that the shrimp do not require. I like the texture to be loose, not paste-like. So, just follow the instructions in the recipe. The ginger and garlic are chopped for a second, scraped down to the bottom of the bowl. All other ingredients are added and again, one second at turbo.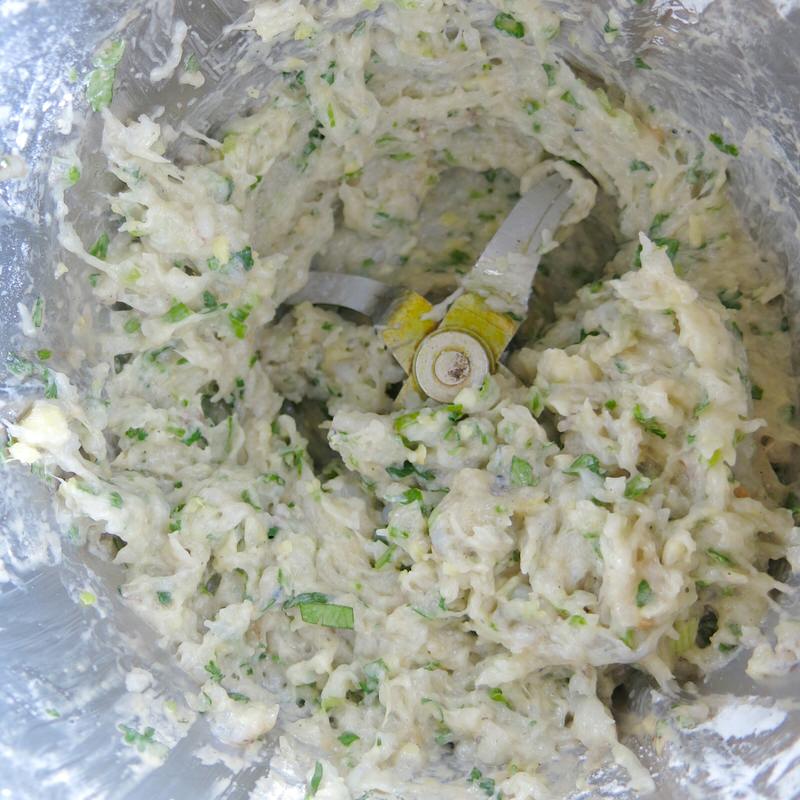 If there are any larger shrimp pieces that remain, place them into the middle of the bowl near the blade and turbo for only 0.5 seconds more. That is truly it.
Thermomix Shrimp Cakes: Two Minutes to Admire then form into Patties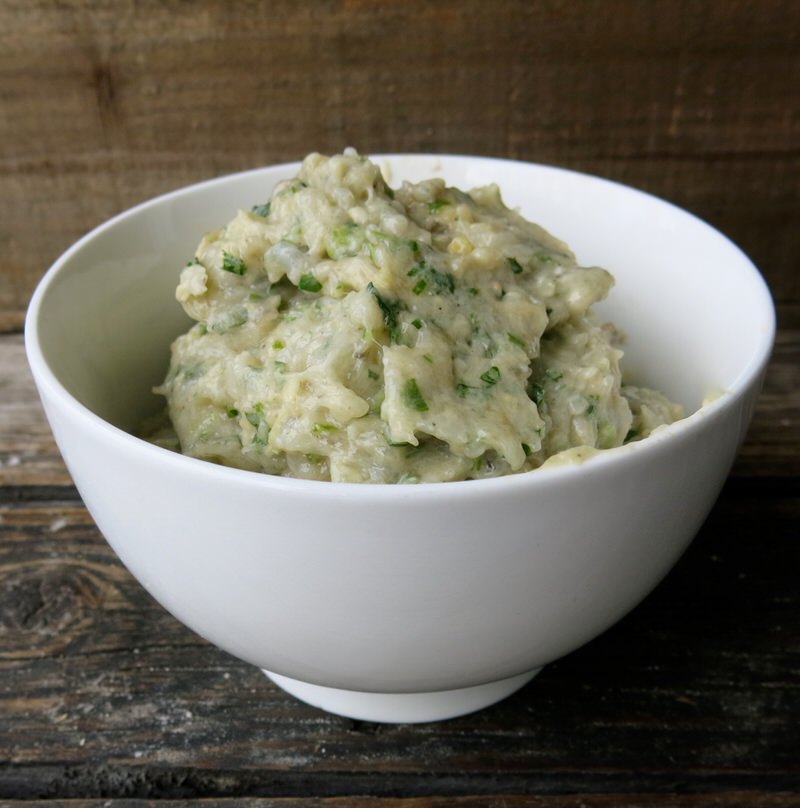 Scoop the ingredients into a bowl. Every tiny little bit of goodness. Do not miss even a little bit as each morsel of this mixture is a precious tidbit that can be added to a shrimp cake.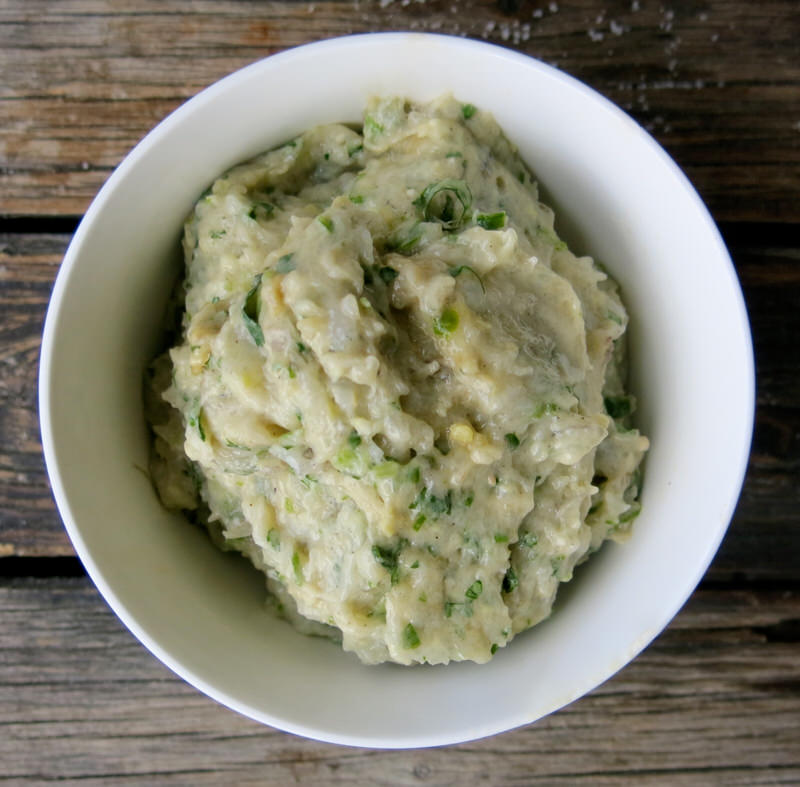 Near the end of my teaching career (I was an English Teacher), I taught foods. I don't think my students ever knew that a spatula was a spatula. They just knew it was called, "Mrs. Rodgers Money-Saving-Tool." as that is always what I called it (and Rodgers was my teaching name).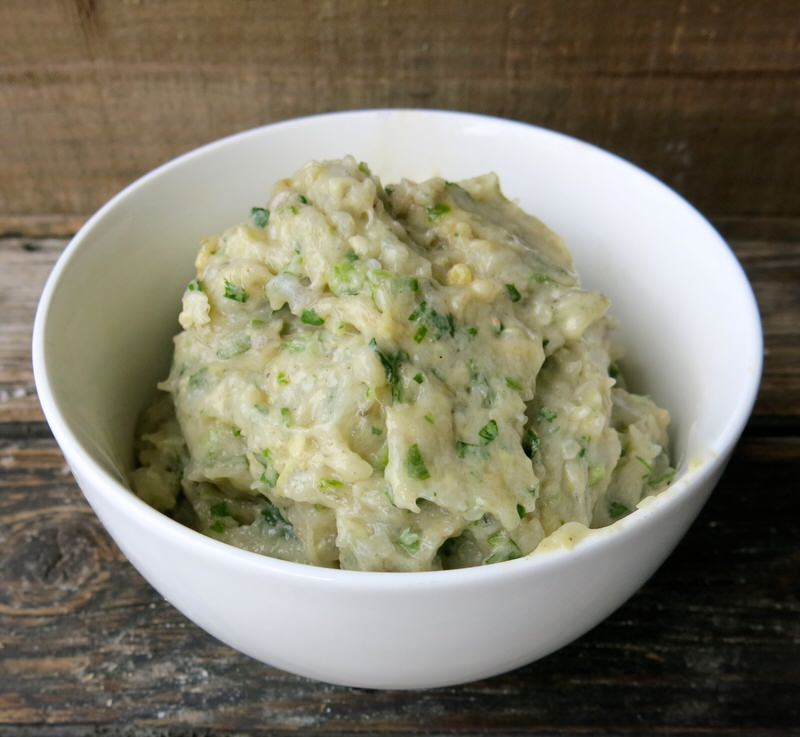 I was concerned that this small amount of mixture would not easily portion into 12 Thermomix Shrimp Cakes but I managed to make it work.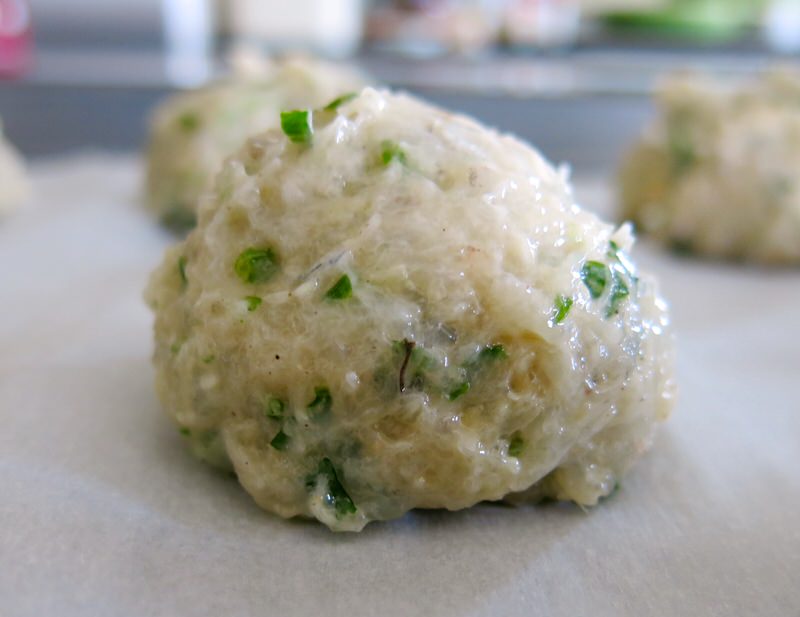 I used a smaller ice cream scoop I use for larger meatballs and it worked perfectly. They will shape in the pan. All you can do with this mixture is portion it. It is far too moist to shape by hand.
Thermomix Shrimp Cakes: Four Minutes to Fry and Serve!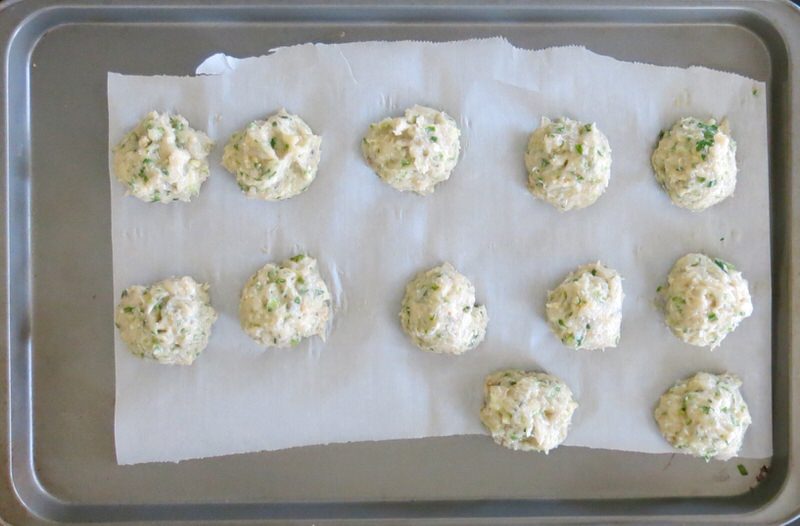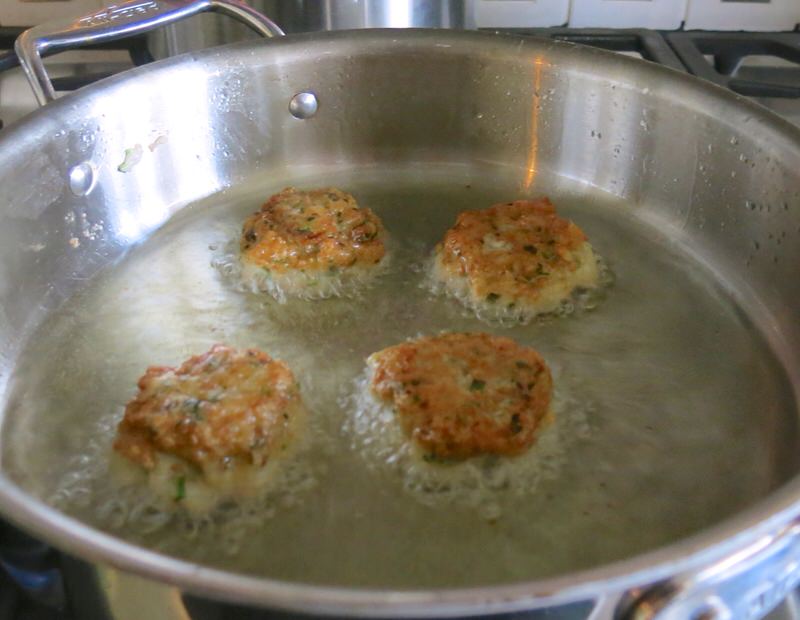 Into hot oil, but not too hot. The cakes need about 2 minutes per side to cook through and to turn into that lovely golden colour. Each portion gave way to a lovely little patty shape. Mama was pleased.
Thermomix Shrimp Cakes: Taste and Texture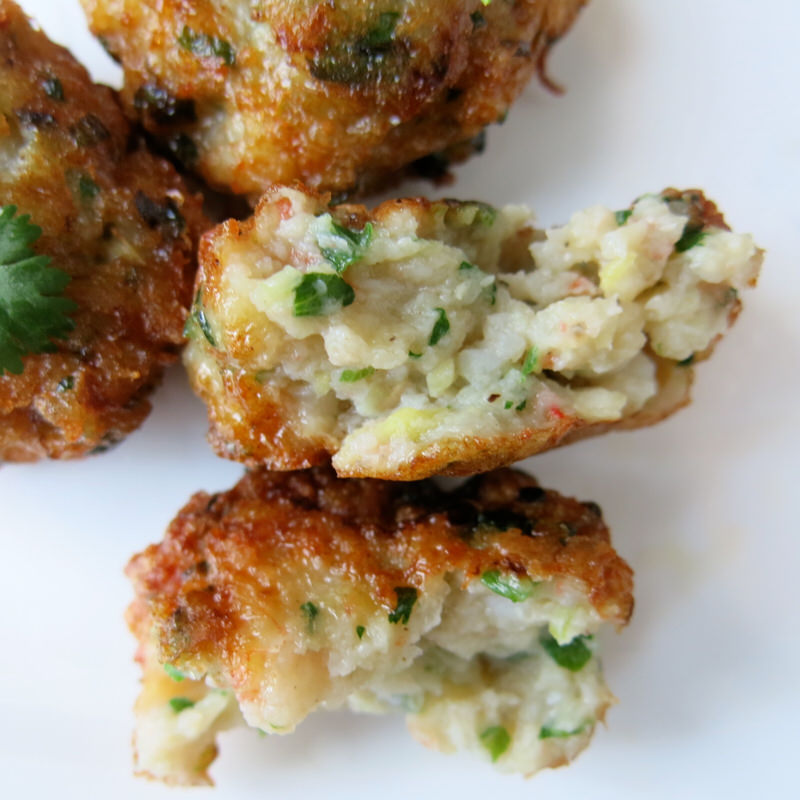 Served hot off the press is the best way for Thermomix Shrimp Cakes. Usually, they need to be fried, back on the cookie sheet with parchment, and reheated for the party. That will work, too – and without a side-by-side comparison, they are spectacular. Yet, hot from the fire after a moment on paper towel: Oh, my. You can see why I prefer only 1 second on Turbo. This texture. Divine. Little bits of shrimp, green onion, garlic, ginger and cilantro. Truly a pleasure on the tongue.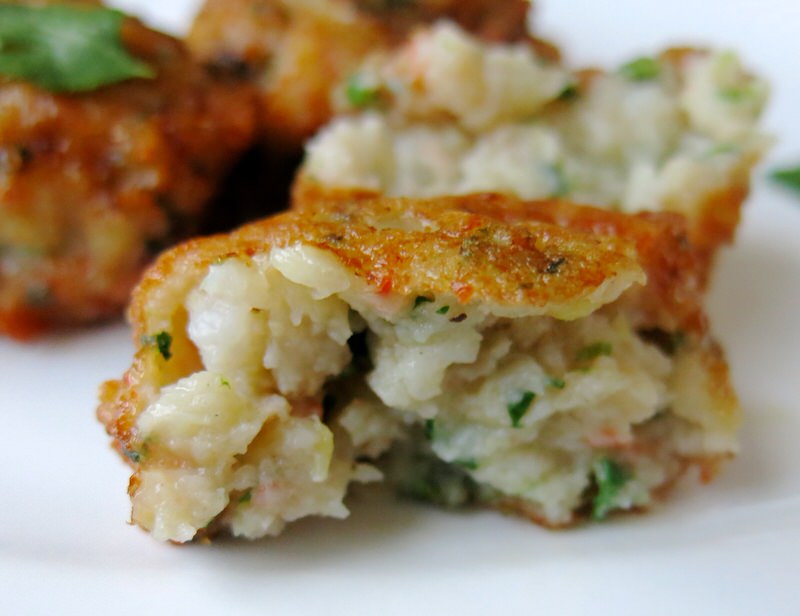 That je ne sais quois flavour keeps guests intrigued and is met with an excited "A-Ha!" as soon as you reveal that they are eating Shimp Cakes. I promise you, there will be none left on the platter and this is one Asian appie where there is no dip required.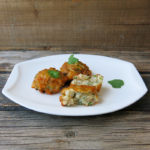 Thermomix Shrimp Cakes
Thermomix Shrimp Cakes are delicious and very easy to make with few ingredients. This recipe is an absolute crowd pleaser at an appetizer party.

Ingredients
Ingredients
10

grams

garlic

10

grams

ginger

3

green onions

quartered

18

sprigs cilantro

roughly chopped

600

grams

large raw shrimp

peeled

1

tablespoon

tapioca flour

1

tablespoon

vegetable oil

1

tablespoon

fish sauce

1

teaspoon

sugar

¼

teaspoon

salt

¼

teaspoon

pepper

vegetable oil for frying
Instructions
Instructions
Weigh first 2 ingredients into TM bowl; chop for 1 second on Turbo

Scrape down sides of bowl; chop 1 second again, if necessary

Weigh all remaining ingredients into TM bowl; combine for 1 second on Turbo

Scrape down sides of bowl moving larger pieces toward blade; combine 0.5 seconds on turbo

Divide into 18 equal portions; fry in vegetable oil 2 minutes per side over medium heat until golden

Serve immediately garnished with cilantro and a dipping sauce of your choice
Recipe Notes
Can be frozen and fried straight from freezer; 3 minutes per first side and 2 minutes on reverse.