Simple 100% Natural Source Ingredients You Can Pronounce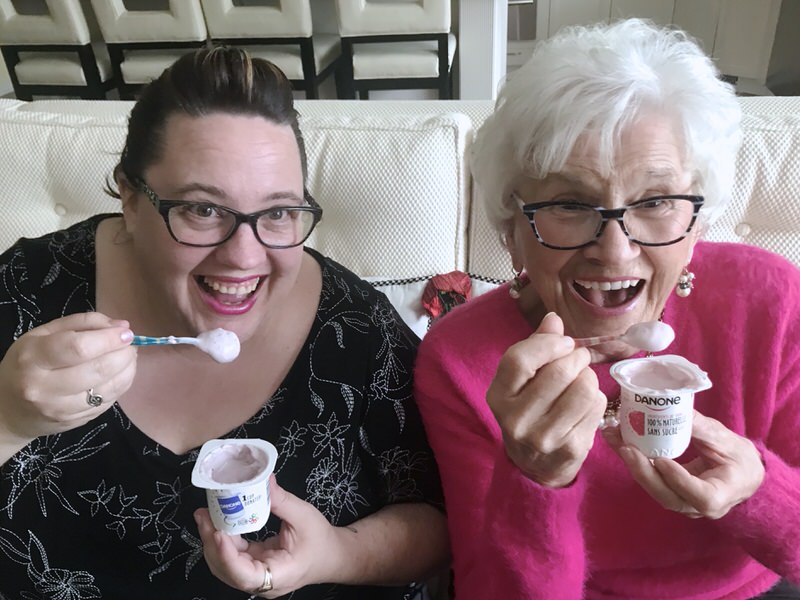 Danone Canada launched this no sugar added delicious and nutritious product February 20, 2019 – just a little over a month ago! How lovely to find a fruit flavoured snack-to-go for young and old alike in the dairy section of your neighbourhood supermarket! This "should be" the number one yogurt-to-go choice for student lunch boxes. I was tickled as pink as my mom's sweater, above, to learn about this new Canadian product. I am being paid by Danone Canada to write this article about the product, but I always give my honest opinion in all of my paid promotions. Made with 100% traceable fresh milk exclusively sourced from a small network of Canadian dairy farms, it is the first naturally flavoured yogurt in Canada with no added sugar or artificial sweeteners. You will love it!
Danone Yogurt: The Back Story
"Our new Danone-brand yogurt is our boldest commitment yet to set the benchmark for what good food should be–simple and nutritious, with no added sugar. We want to help Canadians appreciate how delicious food can be in its natural state," said Pedro Silveira, President of Danone Canada."As Canada's largest consumer-facing Certified B Corporation®, Danone has a responsibility to lead the way with healthy products that benefit both people and the planet, using our business as a force for good."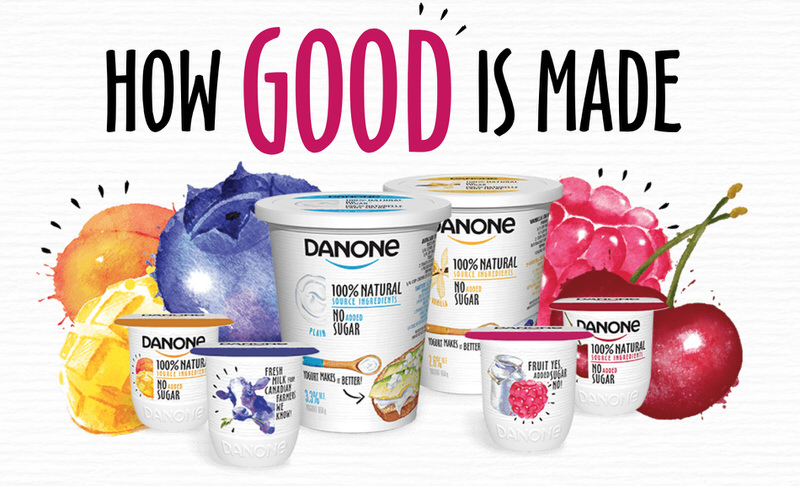 Their campaign for this product is as compelling as the flavour of a creamy fruity scoop of this yogurt. I will always buy a Canadian product before any other offered at the market and it is gratifying to know our own Canadian company, Danone Canada, has worked to produce a product I am happy to promote. The story is a simple one as a story of delicious whole food should be.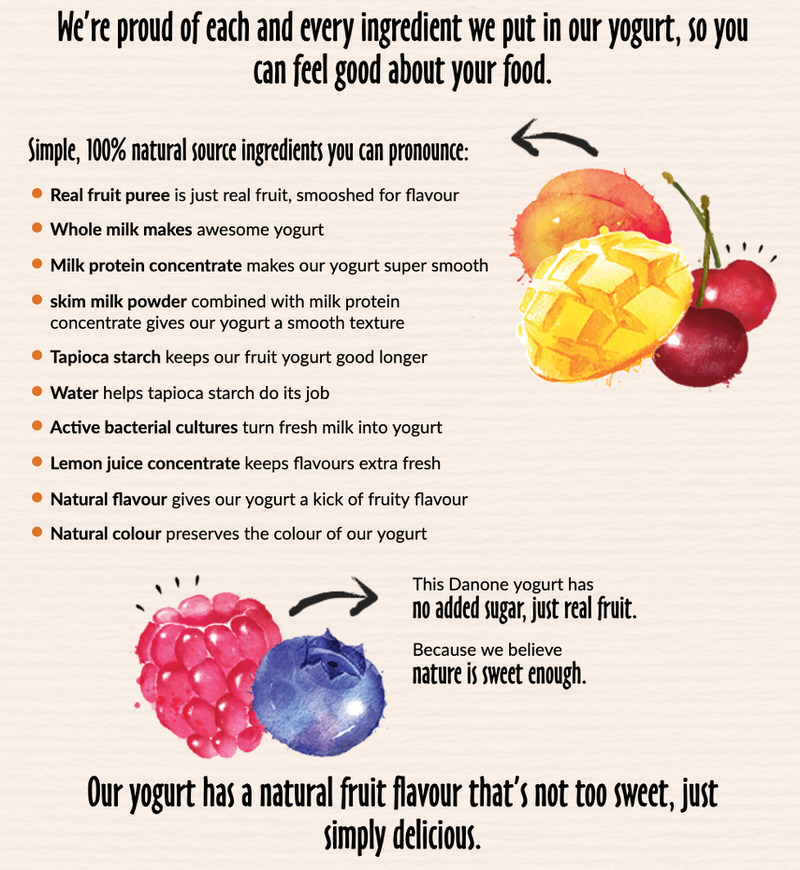 Naturally sourced ingredients, fresh milk, healthy bacteria and zero sugar added. It is a beautiful thing, particularly as it is packaged in 100mL containers: the perfect size for a healthy snack to curb hunger or a tasty and healthy finale to a lunch box meal.
Danone Yogurt: 100% Traceable Milk is a BIG Deal
This is an important step toward Danone Canada's commitment to sustainable agriculture. Thanks to a new partnership with Nutrinor Cooperative, 100% of the fresh milk used in this new Danone-brand yogurt is exclusively sourced from a small network of Canadian dairy farms. The partnership allows Danone to trace its fresh milk supply, giving consumers the ultimate confidence that their yogurt comes from local producers.
"Danone Canada and Nutrinor Cooperative both value sustainable farming and collaborate to share and explore new ways of working. We know how much Canadians care about where their food comes from, and we invest that same care into developing products that are made more responsibly," added Mr. Silveira.
Danone Yogurt: The Flavour Choices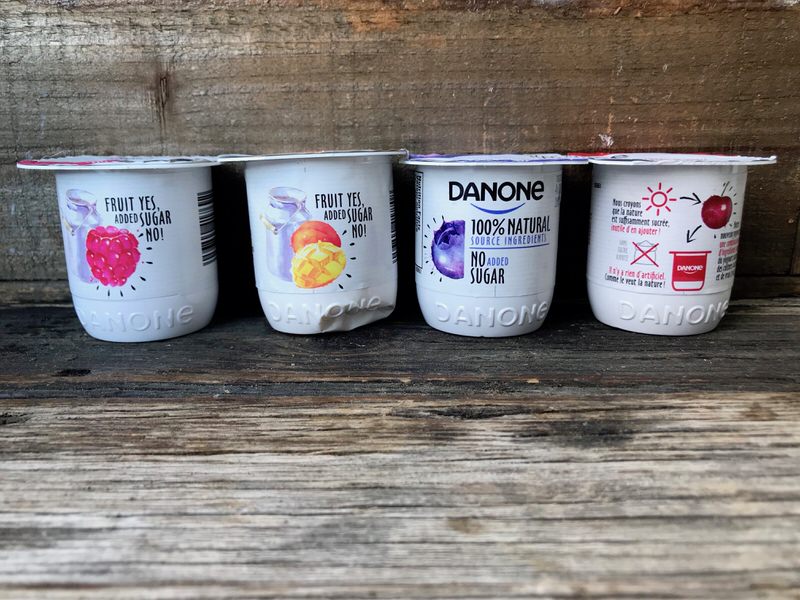 Above are the 4 fruit flavours: raspberry, peach-mango, blueberry and cherry. There is also a plain and vanilla offered in the 650g size.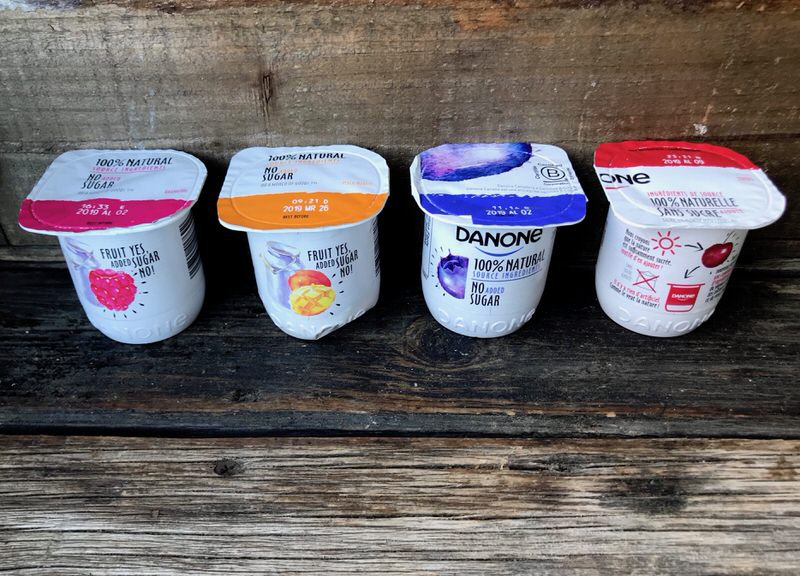 Each displays its individual personality through varied packaging.
Danone Yogurt: The Texture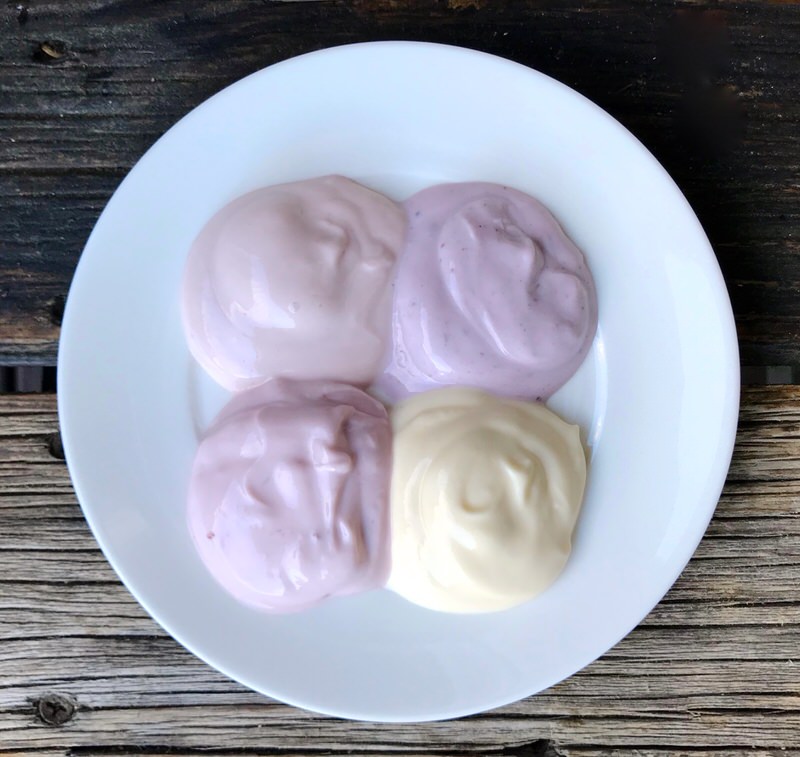 Can you guess which flavour is which colour? I will tell you at the end. You can see there is a lovely plump body within each flavour.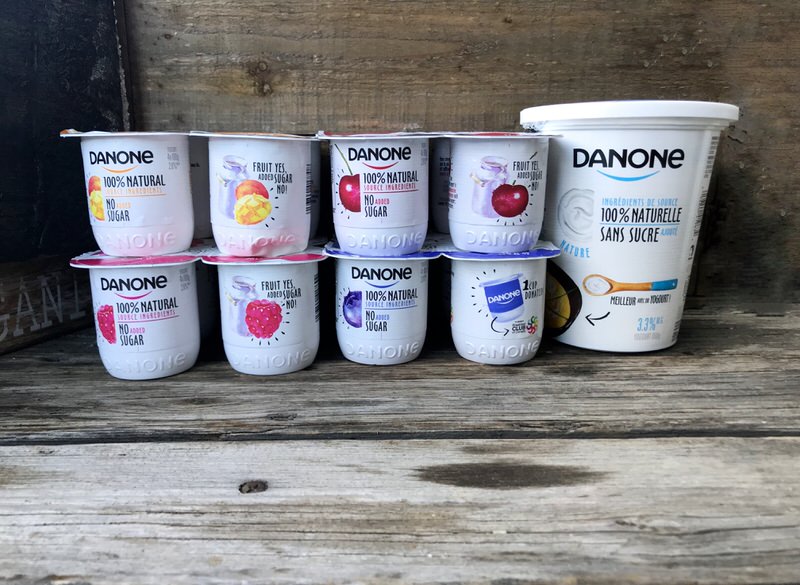 The blueberry was tough to find for me. All stores were out until the following week and I couldn't locate the large vanilla flavoured tub, either. I have seen it since, and definitely, have it on my grocery list for next week! One of my pet peeves has been the amount of sugar added to vanilla flavoured yogurts.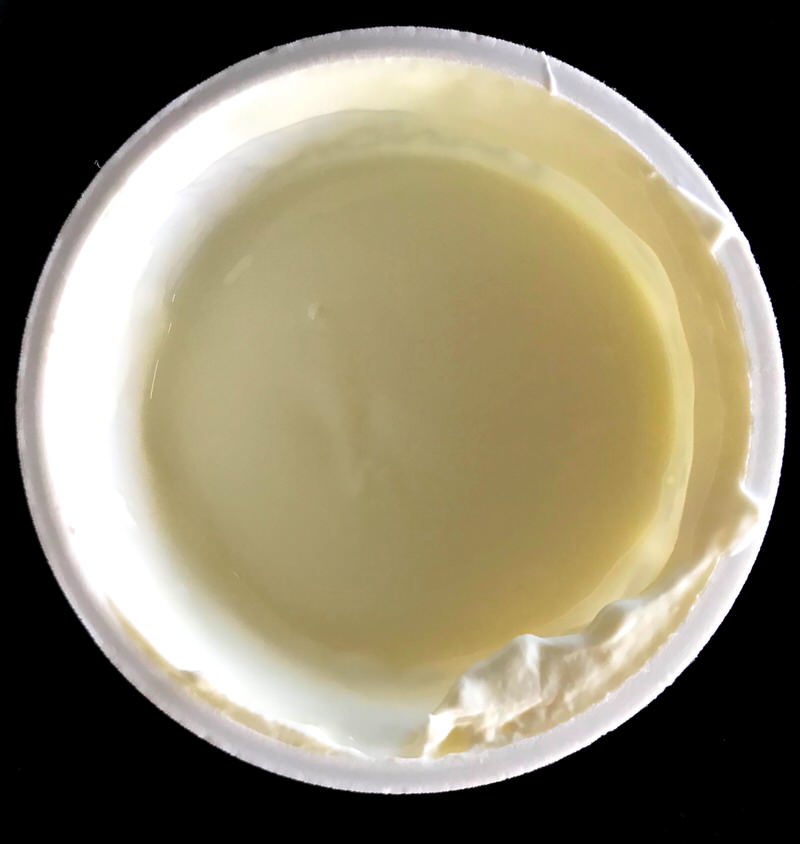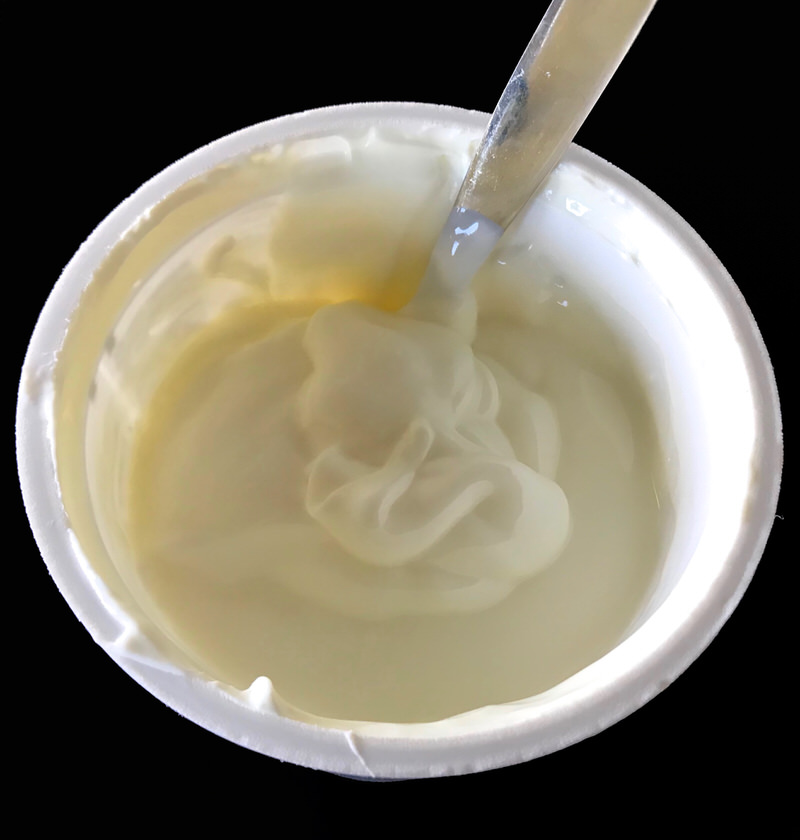 You can see the velvety texture and thickness of the plain Danone yogurt, above. The mouthfeel is as it should be: luxuriously thick and smooth as silk.
Danone Yogurt: The Taste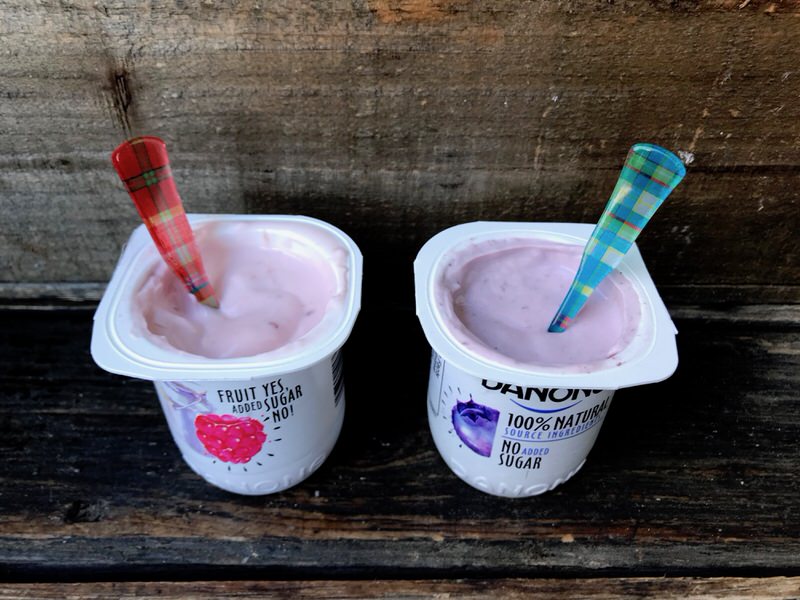 Raspberry or blueberry? What is your preference?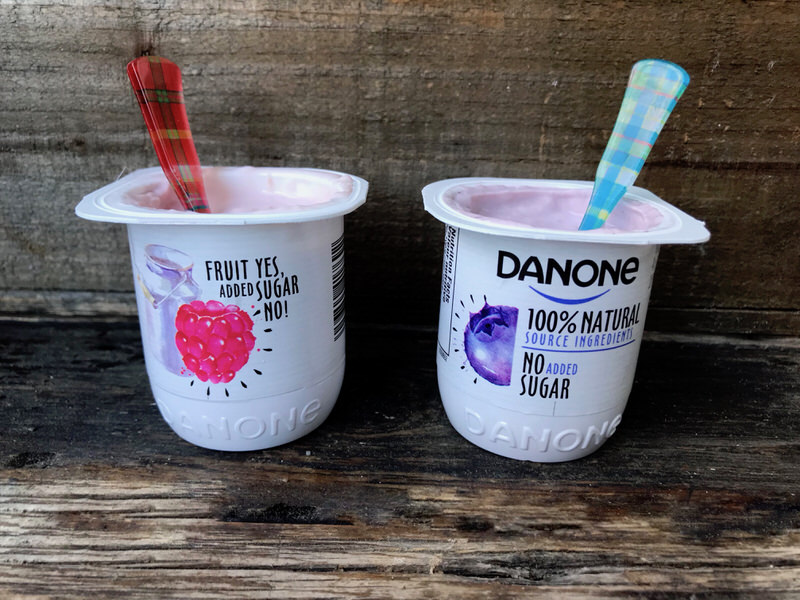 See the subtle, yet charming packaging difference? I am a raspberry gal, through and through. Yet, the blueberry was out of stock. As Danone Canada claims, this yogurt is sweet, but not too sweet. If you buy those fruit added yogurt brands that give me a toothache, you might find this not sweet enough for you. Though raspberries are usually tart and bright, this raspberry flavour was subtle and very satisfying.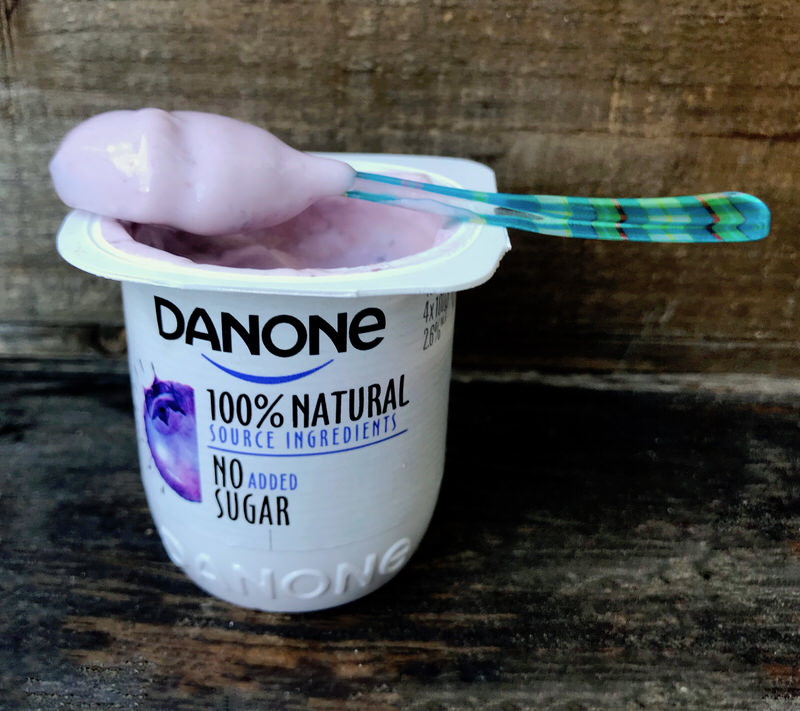 Ooooooh! So thick! The blueberry was tasty as well, and though I am a raspberry fan, I couldn't choose a favourite here. Vanja said it was blueberry, hands down.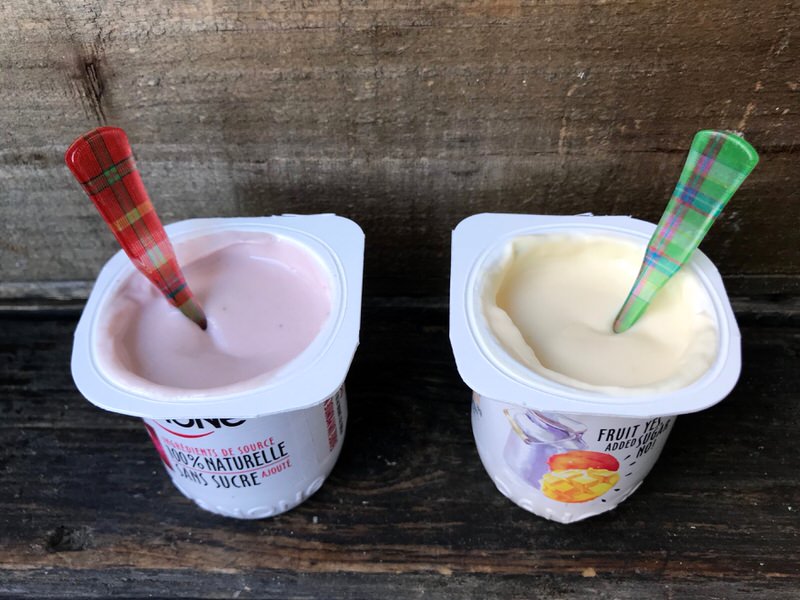 Cherry or peach-mango? What is your choice?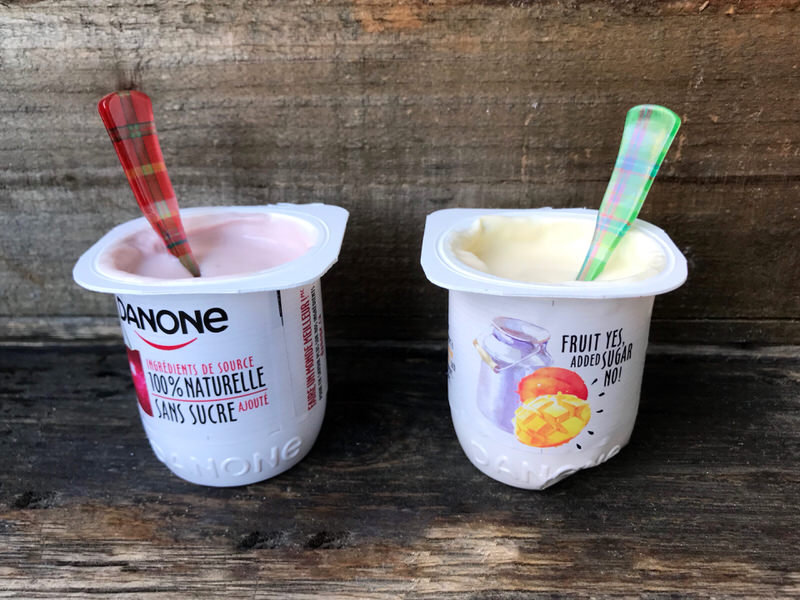 I am a cherry gal all the way. There is an almond note in the cherry I find addictive, but I've always been a cherry lover. Vanja and Ragan and I all favoured the cherry and mom choose the peach-mango. Each owns its fruit, but the cherry brings a little more oomph to the party and I found it a bit brighter in flavour.
Danone Yogurt: The Ingredients and The Conclusion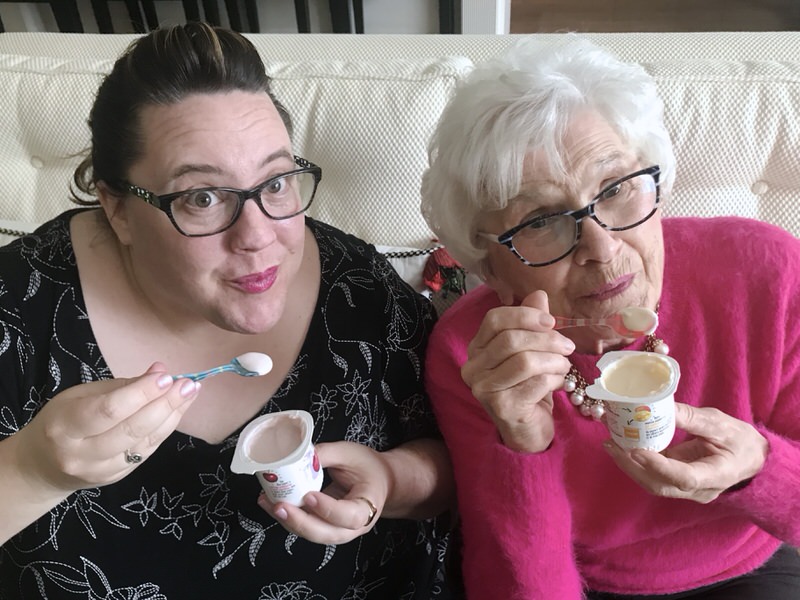 We all agreed that this is not a sweet yogurt and that is was a welcome change to have a healthy tasting fruit yogurt that was not sweetened, yet really tasty and very much a treat. The ingredients are in this order for the cherry: whole milk, black cherry puree, water, skim milk powder, milk protein concentrate, tapioca starch, natural flavour, lemon juice concentrate, natural colour and active bacterial cultures. As Ragan, Vanja and I are currently on a very healthy and special eating program without added sugar at this time, we can enjoy this Danone Yogurt! Yeah! The only item in the ingredient list that we cannot have on Phase 1 of our program is the tapioca starch, even though there is very little of it in the mix. These fruit flavoured little parcels have found their place on the permanent side of my weekly grocery list.
Danone Yogurt: Which Colour is Which Flavour?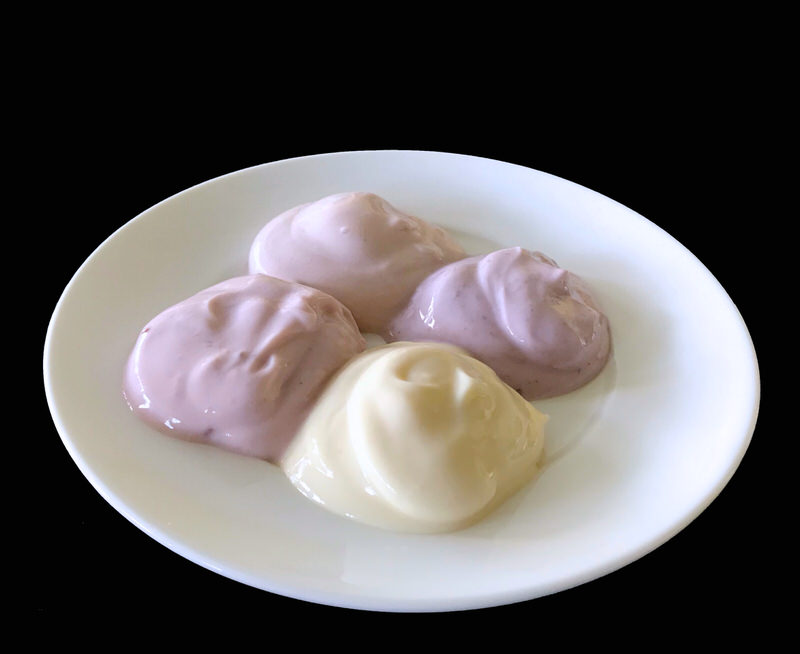 Try one more time? OK. Here are the answers for you. From the top, moving clockwise: raspberry, blueberry, peach and cherry! How did you do? When you go pick some up, let me know how you like it! The new Danone-brand yogurt is available in a convenient 4x100g format (Blueberry, Cherry, Peach-Mango and Raspberry), for a suggested retail price of $2.99*, at grocery and big-box stores across Canada. Plain and Vanilla flavours are exclusively available in a 650g format for a suggested retail price of $4.19*.
*prices may vary from store to store