Evolv Health May 2019: April Progress Report
Where last month's progress report was lengthy, this month's will be very brief. Why? Certainly not because there is not a lot to write about, but primarily because I am away visiting my grandchildren and don't want to dwell too much on my personal epics, a "Tale of Two Cities": "It was the best of times, and the worst of times…" or my inner "War and Peace": "The strongest of all warriors are these two — Time and Patience." Oh, my. What I have done the first 8 months seemed easy compared to month 9 and this, month 10. When the end is near, those pounds hugging onto my torso hold on for dear life and the struggle is hard.
And there was not a struggle until these past two months. The first 8 months was simply a process. They were all about the miracle of feeling revitalized and alive and healthy – that state of being I never believed I would experience again.
Yet, now, the focus is on weight as "feeling great" is my new normal. Isn't that great? What a trip wrapping my mind around all of this and getting in the driver's seat on this one! If I feel so great, why are these last "few pounds (twenty to twenty-five)" such an issue? Me thinks because I associate my "feeling great" to my former self at a "normal" weight so though "feeling great" now is incredible, the next step seems to read: my body must align with the image of my body in my head of what "a feeling great body" looks like.
And the one I am sporting now just isn't it. It is, and it isn't. It is, as I no longer am obese. I am not small, for sure, but I am in the "normal" range. OK. The high end of normal. For sure. But, let me give myself a break, here. It isn't, because I have done so extremely well this past 10 months and accomplished so very much that my end goal just must be possible. It must. But, that end goal, which is only now that end goal, seems so elusive.
I cannot even report my weight loss this month as I haven't been home for the last 10 days of the month and don't have access to my home scale. Last month my total was 71.5 pounds total loss and I do believe I have not lost one more pound this month. Thus, this reflection. Before I left to visit my grandchildren, I was up 4 pounds from last month. Disappointed, heck, yes! Discouraged? Nope! I don't understand it, yet, I do. The end is near and oh, so far.
Evolv Health May 2019: Intermittent Fasting and Exercise
After returning from the Evolv Health Conference at the end of last month, I learned about Intermittent Fasting. One of my old standby's: "If you always do what you've always done, you'll always get what you've always gotten." So, I knew I needed to shake up my routine a bit to bring about change, but how to shake it up without messing with my psyche. That is key to a person with deeply rooted weight issues. Intermittent Fasting seemed like a great little shake-up for me.
I found this article a great introduction into the process and I opted for the 8/16 hour fast for 3-5 days at a time. The first bout I lost 4 pounds and was thrilled. It wasn't so difficult for me as Ragan and I started walking rigorously at the mall in March and in the second half of April joined a gym at a local neighbourhood YMCA. So, the fasting for 16 hours and then eating the foods for my program from 2 pm to 10 pm worked well for me.
Ragan and I make a great team. Up and usually out of the house around 7:30 – 8 am to a great work out, then coffee and a chat (our reward) and home by 9:30-10:00 to start our workday. Eating on the Evolv Health Total Reboot program has never been hard for me. I feel satisfied most of the time and rarely have cravings. The difficulty for me is determining what amount is the right amount to maximize my weight loss. I am currently 5 foot 8 inches and have been eating from 1050 to 1150 calories a day, which is very little, as I was so sedentary…., but (drum roll, please) I am no longer that!
Calories per day are usually determined by your height and the average weight for that height on a chart with a zero added. For example, at 5 foot 8 my average weight "should be" 150 so my daily calorie intake at rest – or completely sedentary – would be 1500 calories a day. Therefore, as I am now working out, and feeling great, my body might be holding onto my weight, as it tends to do when one eats too little. I am hungrier now that my metabolism has been boosted, but I still have a strong ability to control my hunger by working around it with the various strategies I have learned over time. So, what amount of food should I be eating to maximize my weight loss is my current question?
As I cannot answer it, logic tells me that as I feel great, and I am eating healthy food, exercising daily and increasing that exercise, slowly, over time, I will eventually experience the success I desire weightwise. I will add, that working out rigorously is so very hard. Darn hard. Getting there is hard. The first 10-15 minutes are excruciating some days, but the joy – the high – the endorphin feast – is so gratifying and satisfying that the intermittent fasting on these days is actually easy. That morning gift to myself makes all the difference.
Evolv Health May 2019: The Ever Changing Definition of Success
The success I sought at the onset of this program was experienced early on and has been achieved full on this past month as a new awareness has reared its head within my intellectual being. The revitalization experienced from my new healthy state of being has been coupled with resilience from the endorphins released during my daily exercise, now. Euphoria.
"It is a shame for a man to grow old without [feeling] the beauty and strength of which his body is capable." Socrates
"I am woman. I am invincible." Yes. I really am. No. I do not fit into what I want to fit into, but I have somehow found my way to and through my own spirit of forgiveness to acceptance. Which, in itself releases me from the confines of those destructive hormones that wreak havoc upon one's metabolism. I no longer feel my heart fall past my toes and like I am going to throw up and want to toss myself over the nearest bridge when my scale reads up a pound or two.
If I was off the program, I know why it reads up. If I wasn't, I know I am doing the right thing, which has been the case this entire month, and eventually, my body will have to release more of me as it fights to hold onto so much more of me. That is just common sense and as I can make no sense of the scale, I can make sense of how I feel and I do know what I am doing is what I should be doing, so I simply believe that, in time, it will happen.
Of course, I am not always feeling so accepting, but if I am going to the gym every day and doing my best there, I never leave feeling defeated. I leave every day feeling invincible. And that definitely helps me deal with that bloody scale.
So, what is Success? It is feeling great, feeling invincible, and the powerful feeling of knowing I have control of my personal health and well-being thanks to the Evolv Health Total Reboot program and my personal journey through it.
"No one is ever going to give you anything of value. You have to work for it, sweat for it, fight for it. But there is far greater value in accomplishments you earn than in accolades that are merely given to you. When you earn something, you never have to worry about justifying that you truly deserve it." Well said, Ronda Rousey!
Evolv Health May 2019: What's Cooking?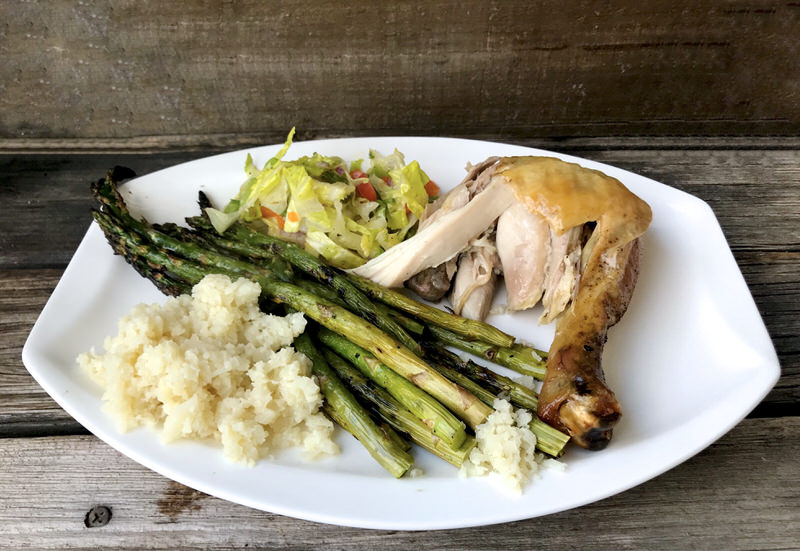 Easter Dinner was the first big holiday since venturing into this project publically. It was the first time in all my life, about 43 years, that I didn't make turkey dressing or have hot cross buns, homemade buns or Grandma Maude's Strawberry Pie for dessert. Life is about choices. Someday, we will all plan for, and enjoy again our traditional dinners. But, now is not that time. We had roast chicken, veggies and thanks to Ragan, and amazing Total Reboot Strawberry Panna Cotta (recipe to come, soon)!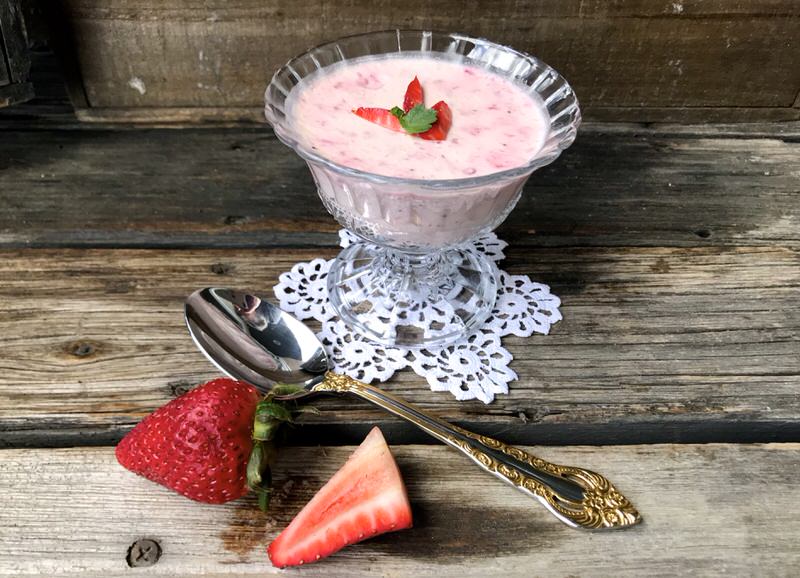 Evolv Health May 2019: The Saturday Morning Support Group in April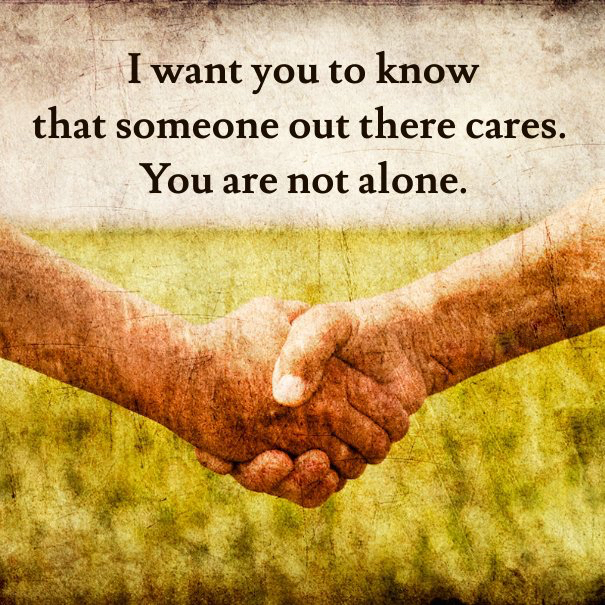 Let's keep this one short. I haven't had time to check in with everyone as the last two weeks of the month I have been away. Of course, I stay connected so I can say this much. It has been a struggle in April for every one of us, but we have one another. We are not alone. Nothing is ever easy once "you are in it" for a few months. I can also say this. Every one of our small group is still completely committed to the process which warms my heart and is a testament to the quality of character and the level of commitment of each person, as well as a testament to the product and process, together. You are not alone.
Evolv Health May 2019: EVOLV HEALTH TOTAL REBOOT KIT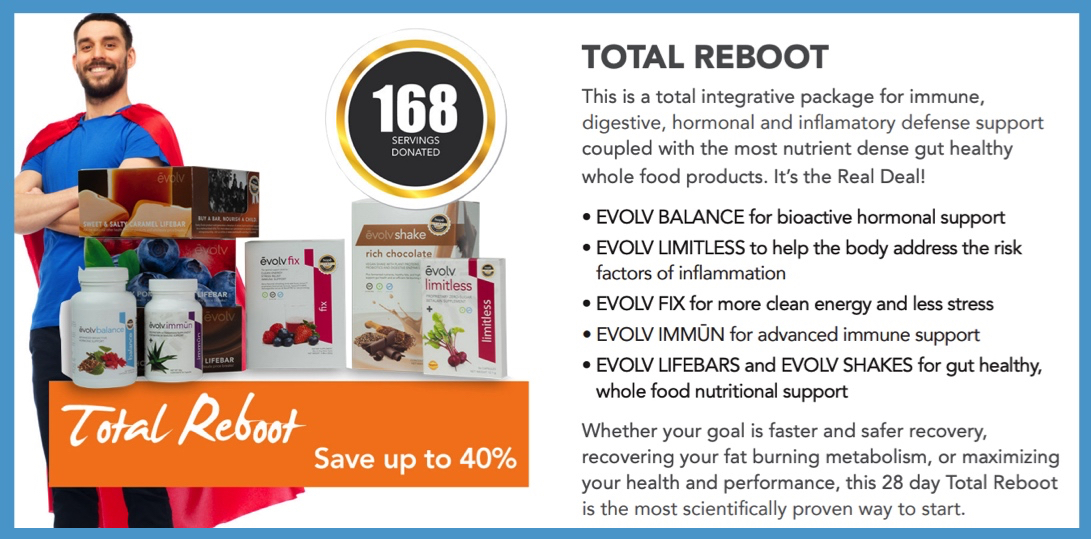 In my humble opinion, everyone, even those most healthy, needs a Total Gut Reboot once or twice a year. Think of it as a 28-Day Challenge. Invest a little money, discipline and time in a healthy future. You are worth it.
Eating sugar and grain free certainly has contributed to my health and well being. I have too often heard, "Well, no wonder you're feeling better! Anyone would, not eating sugar or grains!" Absolutely true, however, Diana would be the first to attest to that truth as she was sugar-free and grain free for 2 years before joining us. That comment is usually followed by this question, "How do you know any of those supplements help at all?"
Again, ask Diana. Sugar and gluten-free for two years before her first Total Reboot and her blood sugars are now normal. A diabetic for over 40 years, this is a first for her. Eating gluten and sugar-free didn't do this. The only addition to her diet was the Evolv Health Total Reboot Kit. plant-based proprietary GMO-free and organic supplements. It happened because of the supplements in the Evolv Health Total Reboot Kit.
The greatest contributor to me being off all of my medications and feeling as revitalized and youthful as I do is the combination of these whole food supplements coupled with the healthy eating that has brought me from a malnourished, lethargic, morbidly obese, sedentary woman to a fierce force filled with hope and gratitude!
Read my reflection after four months into the program from June 14, 2018, to October 28, 2018. (Password: Evolv ), and further reflections:
Each month, in the above reflections, I am posting updates of my progress for this project and reflecting upon

goals I have achieved and am working to achieve,
actions I am taking to make them happen,
my strategies,
my hardships,
and my triumphs.

Now that there are 4 others on this journey with me, in the monthly update, as they provide it, I am also including information about each regarding

weight loss,
health benefits,
successes and
struggles.
EVOLV HEALTH FEBRUARY 2019: JOIN US
If you want to join me, let me know in the comments section below. I am holding on-line Saturday morning "Total Reboot Support Sessions"
Everyone has their story. This is mine. I am still living inside of it and will be sharing it with you as it continues to unfold through 2019.
Disclaimer: I have not been hired by anyone or paid in any way to share my personal Total Reboot Gut Health Story. (password: Evolv)
"It's not about what we know but what we do! The distance between who am I am and who I want to be is only separated by what I do!" unknown