Retro Frosted Tea Sandwich Loaf: Celebrate Helen McKinney at 89!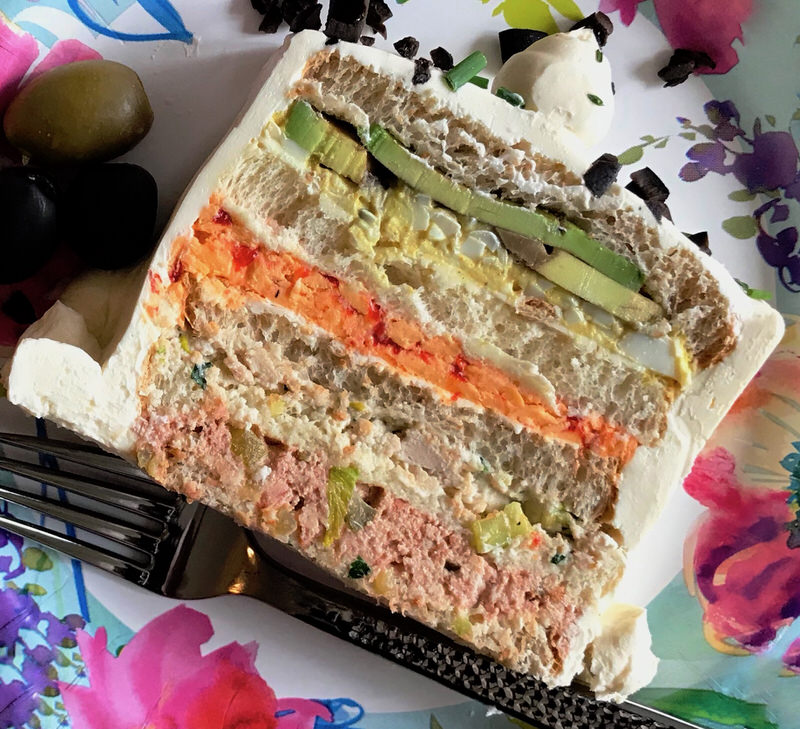 What better than a delicious and show-stopping Retro Frosted Tea Sandwich Loaf to celebrate mom's 89th? It was such a fun afternoon tea to put together for her!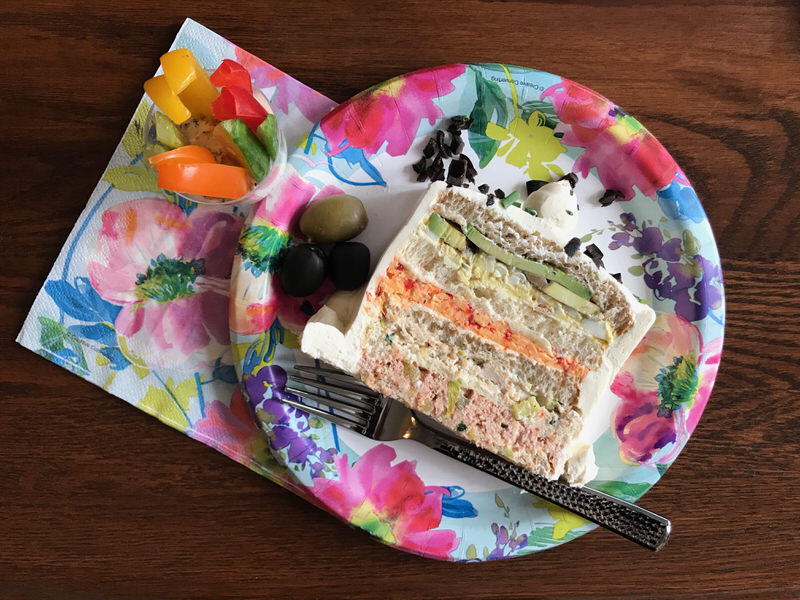 Tea sandwiches were definitely happening, but as she ranted about "keep it simple" and "don't make too much food", I decided one sandwich loaf would fit that bill. And, it did!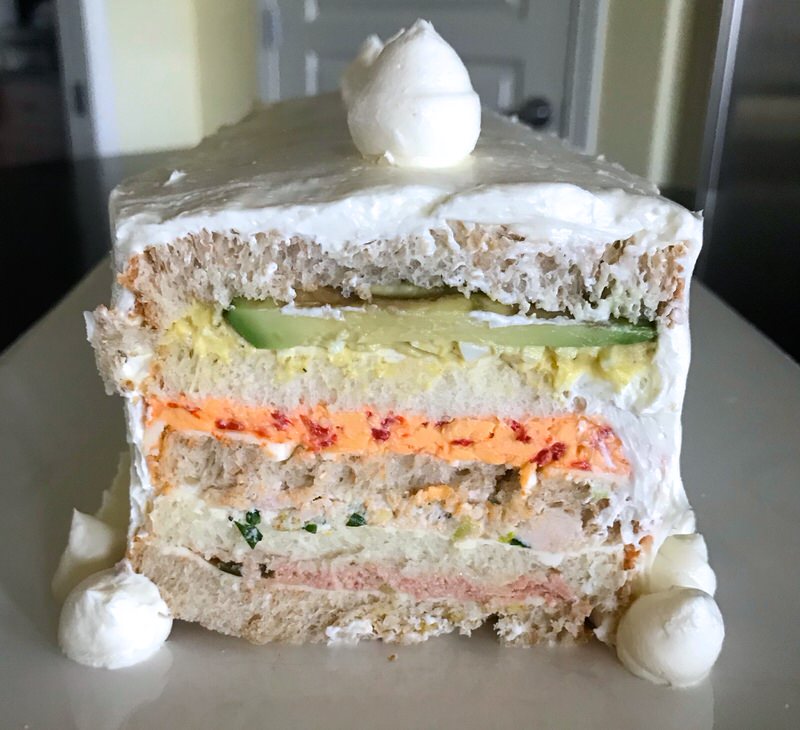 We usually made the individual ones in the "retro days" of this tea sandwich loaf era, but I had seen these. We just never made one like this ourselves. Now was definitely the time.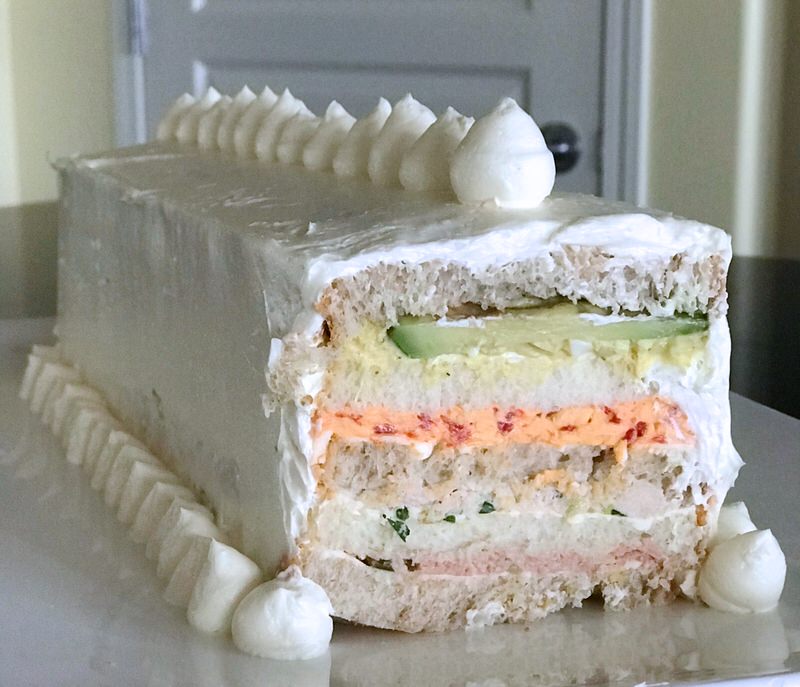 Isn't it a pretty little ditty? I can never compete with the celebrations my mom had for her mother. It would be silly to try as I recall her making 20 angel food cakes for her mother's 80th birthday as well as enough tea sandwiches to feed an army… and petit fours and so much more. When she was 75, I had a lovely luncheon for her and when she was 80 I had a lovely tea for her. Certainly, much smaller than the one she did for her own mom, but it was just lovely and then another much simpler celebration at 85. Simple for me, as she baked 12 angel food cakes for her own party that year! I ordered the sandwiches and veggie trays!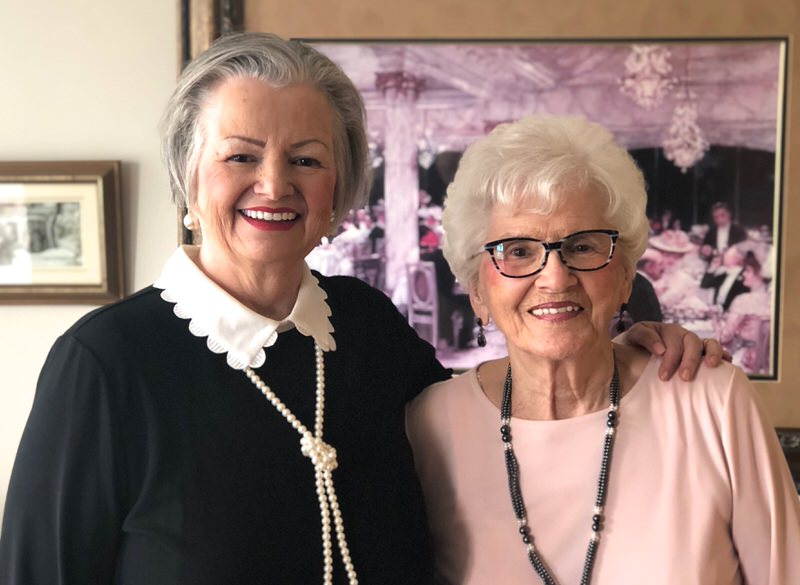 Next year, the family will be taking our first trip together to celebrate her 90th. Early, in the fall. It's more economical, and it ensures we can still have another party for her at her condo, as well. We are all so excited about it; however, when you get to be this age and as healthy and vibrant as mom, every year deserves a celebration.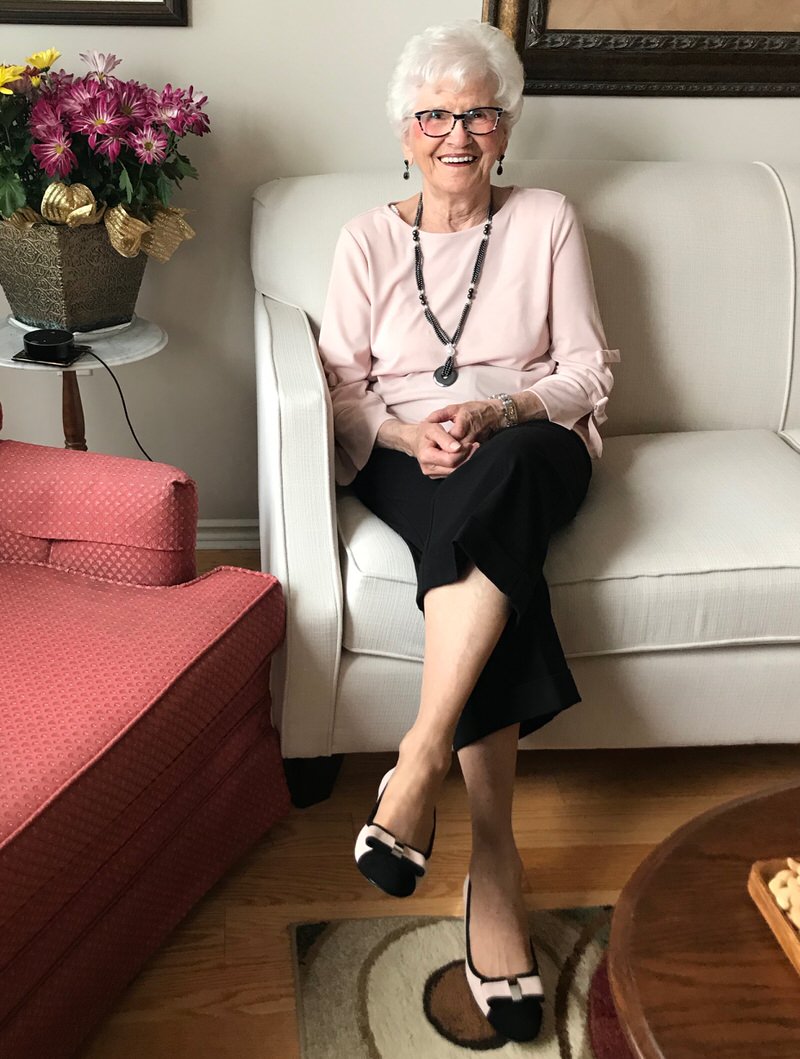 Sporting a lovely 2019 seasonal pink Karl Lagerfeld top with bows down the arm and matching shoes with bows, she's always set a fashion standard second to none.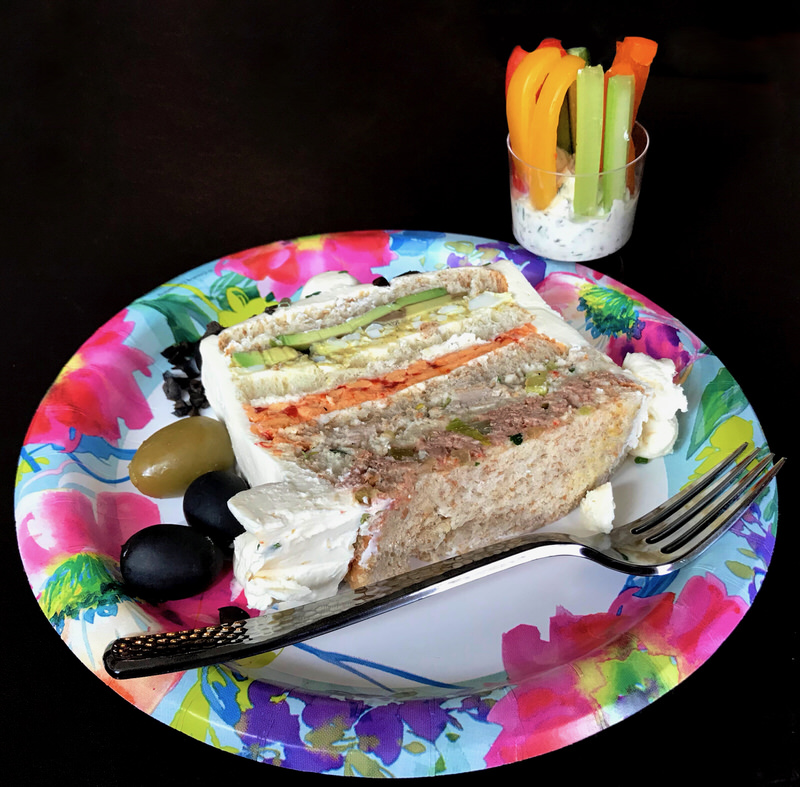 Ragan and I put together the four fillings for the sandwich two days prior, then put the two loaves in the recipe below together and frosted it the night prior to the tea. That is also when we made the veggies and dip, below.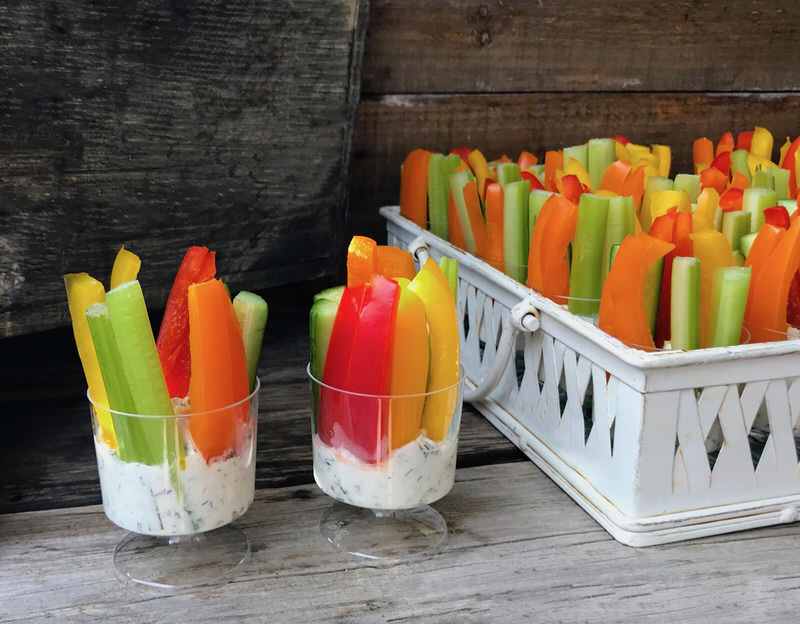 Isn't this a great (and so simple) idea for a tea? I prepared this for Amy's Baby Shower a couple of years ago, too. It's a nice little idea to have up your sleeve when doing a function like this.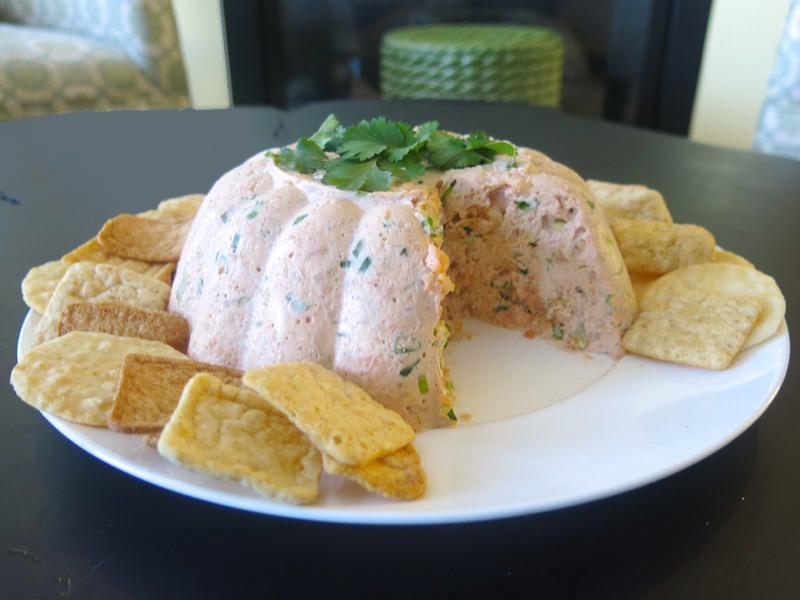 Ragan and I also prepared our favourite Retro Tomato Soup Shrimp Dip when we made the fillings as we could both have it on Evolv Health Total Reboot Program and it rounded out the savoury menu nicely as the four fillings included chicken, ham, pimento cheese and curried egg salad. No shrimp.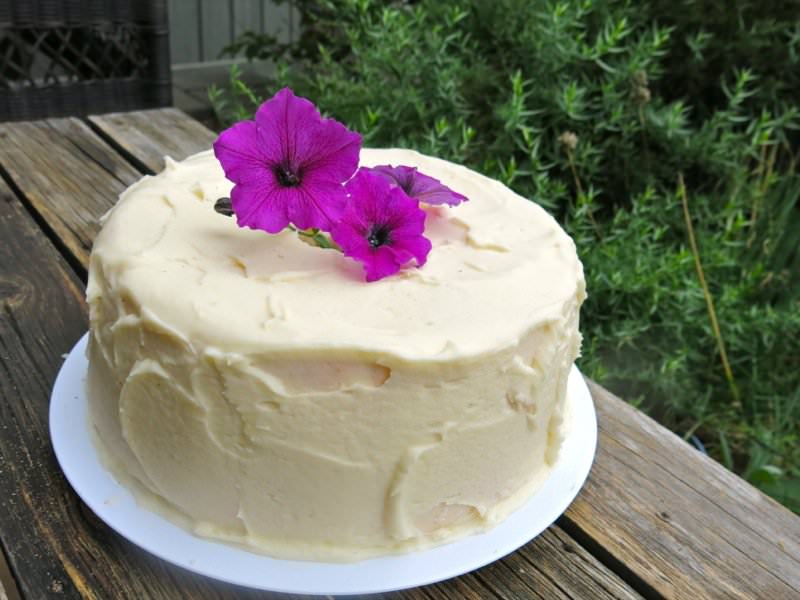 Of course, mom made her own birthday cake! She actually made 4, iced two, and I only allowed one to be served. It wasn't all eaten, but that was only because I also made her a cake. She is famous for her angel food cakes and if you have never had one made from scratch, you should put it on your bucket list immediately.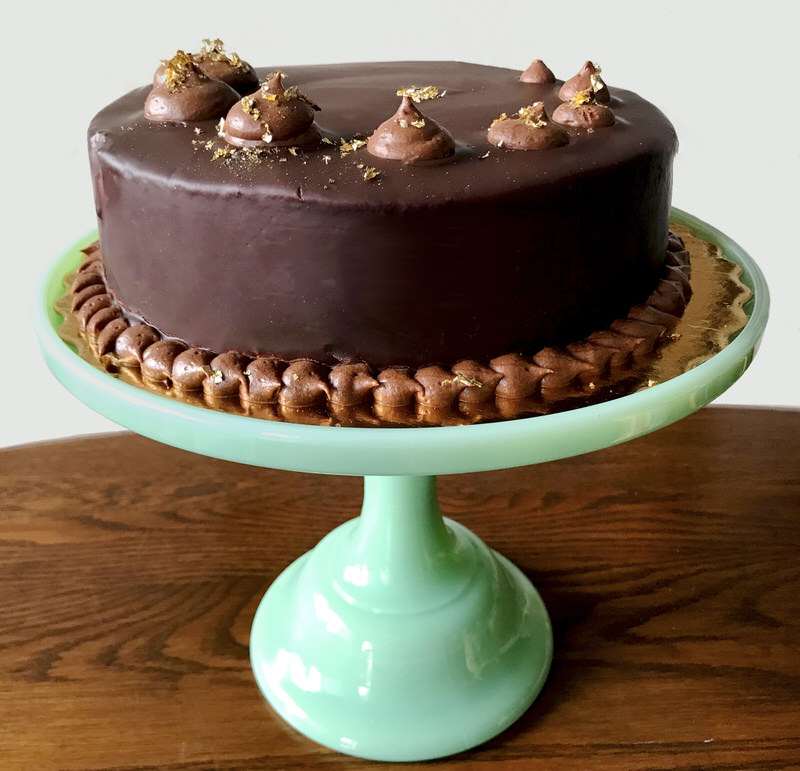 The Duke Cake from Duchess Bake Shop is Vanja's favourite cake and my favourite chocolate cake for a grand finale or an occasion as special as this. It is a process; it is a production. I will likely write about the class I took learning to make it, but suffice it to say, this cake did disappear during the afternoon tea, only because everyone there had a piece of each and some had only the chocolate as they knew they could come back for a slice of mom's cake, anytime!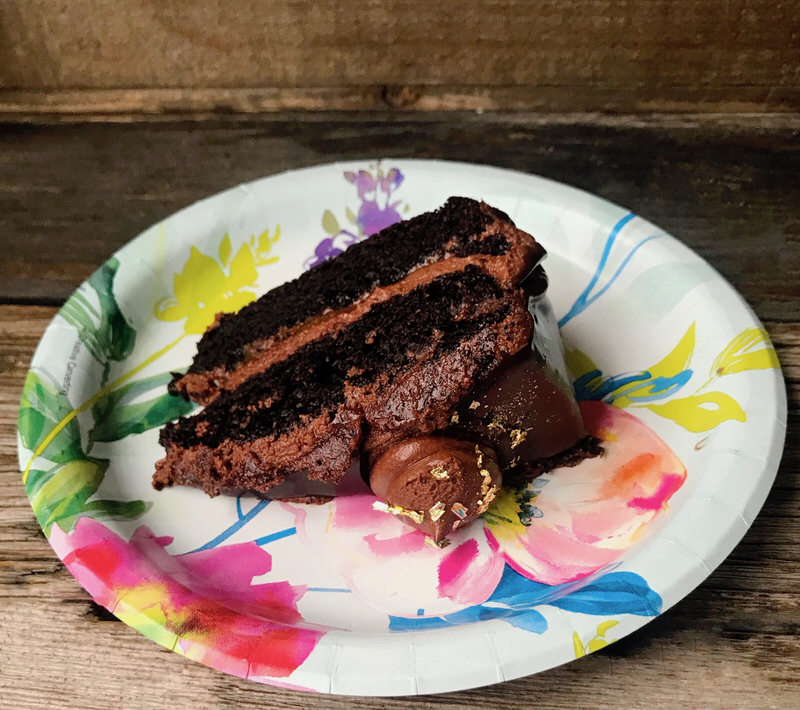 Two perfect cakes for this event as they are polar opposites in flavour, texture and appearance, but rivals regarding which is best. It would be impossible for me to pick. So, mom's hair done, Ragan and I arrived a couple of hours early to set up, and oh, what a day it was!
Retro Frosted Tea Sandwich Loaf: Read for the Party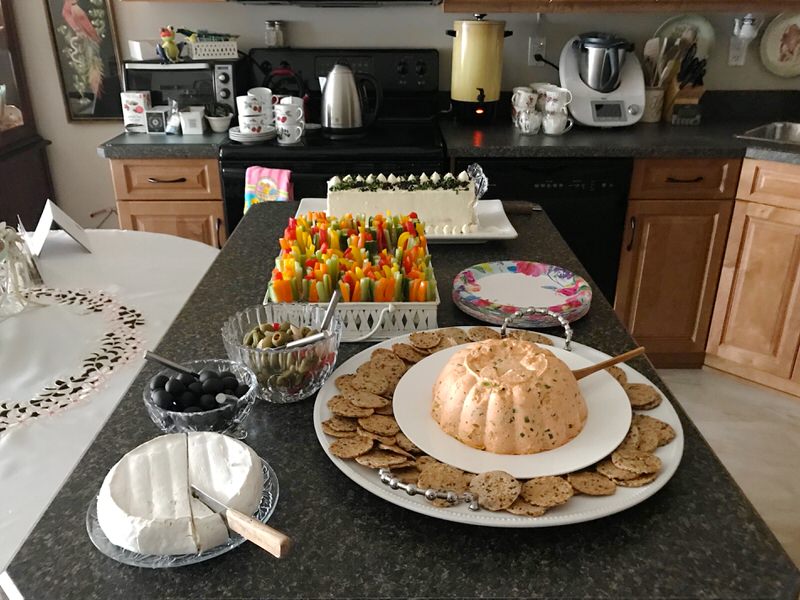 Olives, brie, Tomato Shrimp Dip with crackers, Veggies and Dip, and the Frosted Sandwich Loaf are the savoury offerings set out on mom's island of her "over 45 years old owners only" condo kitchen.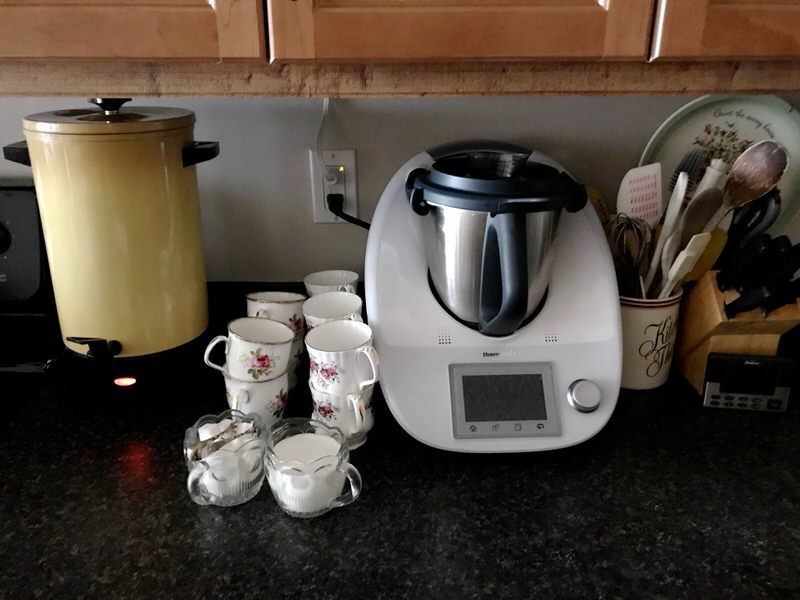 Coffee ready in an urn. Only way mom ever makes it when having company. (Yes, my mom got a Thermomix for Christmas from me last year! She loves it!)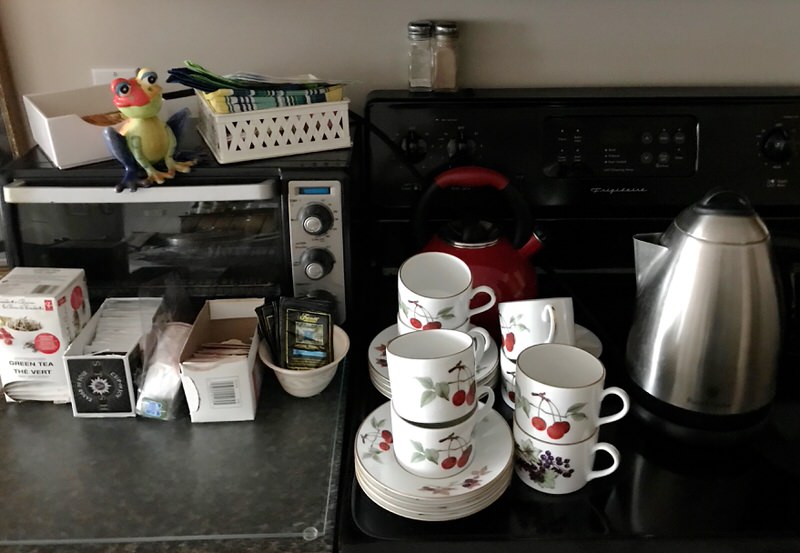 All kinds of teas available…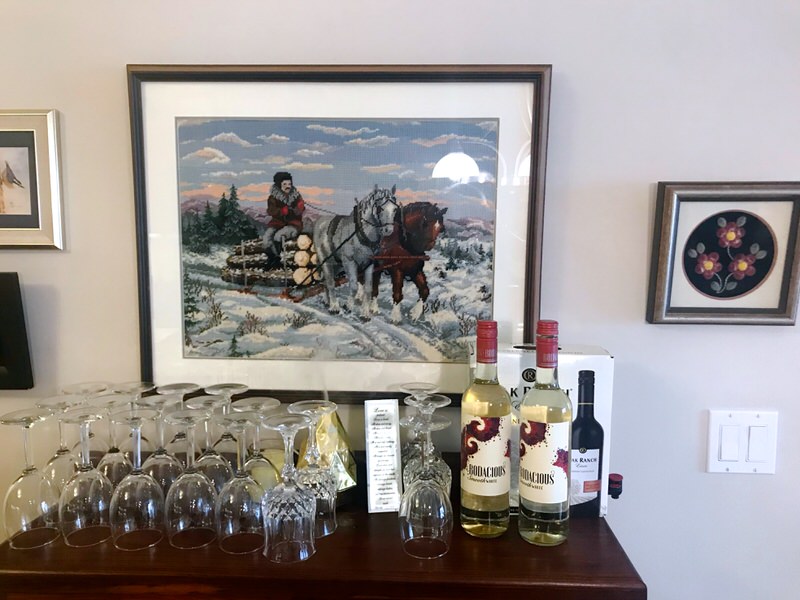 But even though this is a senior party, they'll be passing on the coffee and tea, in general, and sloshing the wine! After all, most of the guests live right in the building. No worries about not getting home safely. Well, nothing substantial. There are always a few of these lovely gals that could make an unexpected hook up on the way home. Tee-hee.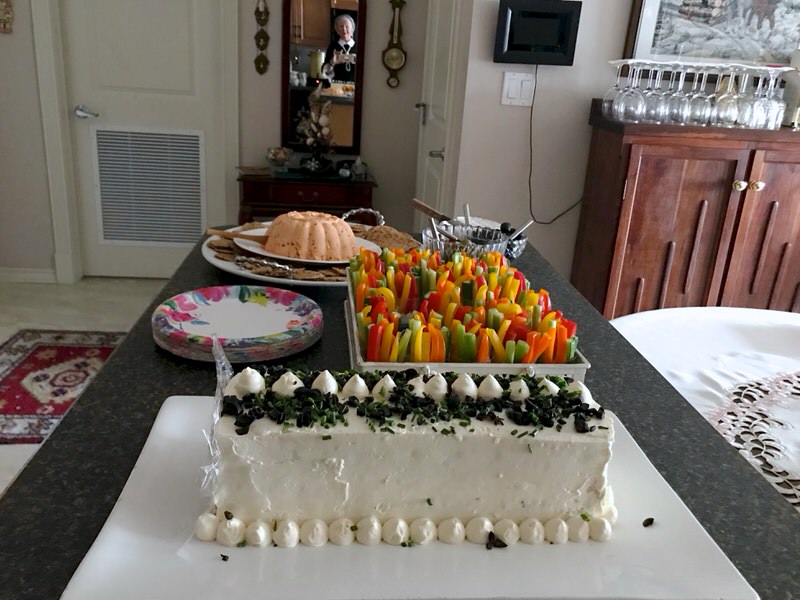 View from the stove to the entry. I dressed the top of the Frosted Tea Sandwich Loaf with chives and minced black olives.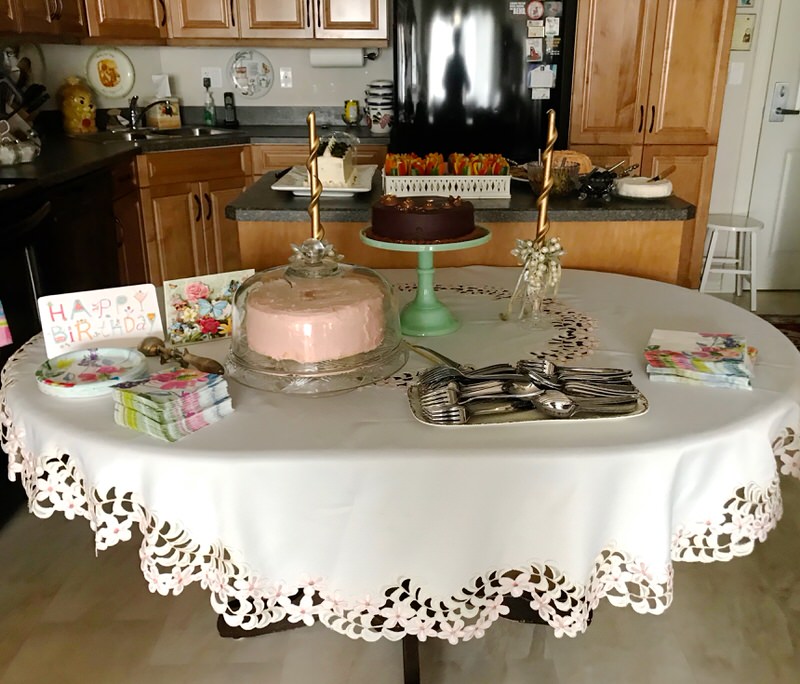 The kitchen table is pushed up to the island to accommodate the over 20 guests and sporting mom's famous homemade angel food cake and the sumptuous dark chocolate Duke cake that I made the day prior. Both will be served with Marble Slab Vanilla ice cream with fresh raspberries smashed into it. Pause for a moment and just imagine. Oh, my.
The view from the kitchen island.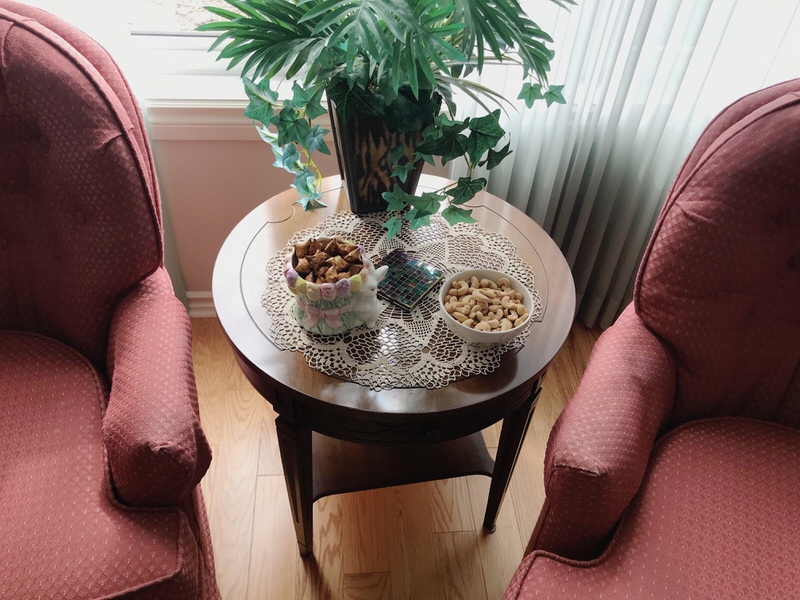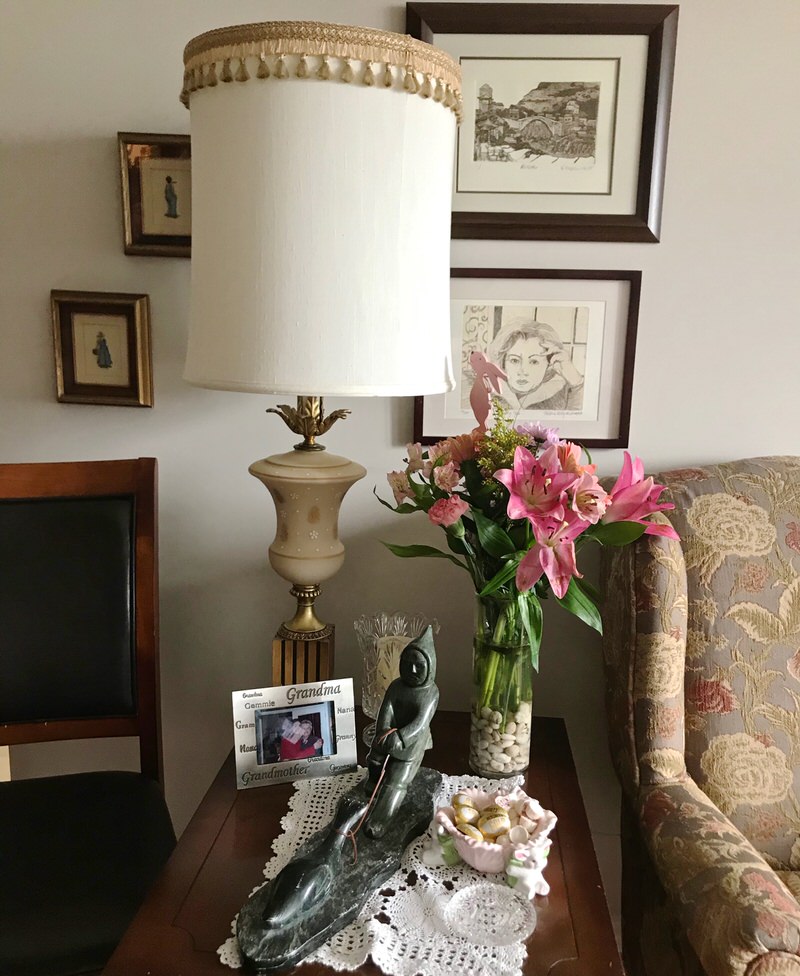 Every table is laden with nuts, chocolate or some kind of delectable nibble. Isn't that always the way at Grandma's house?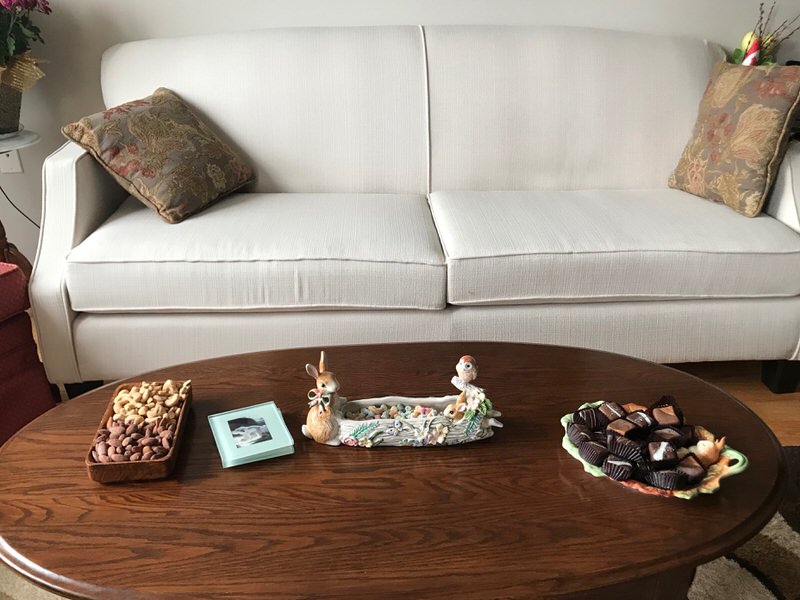 Pretty seasonal dishes that warm the heart pulled out and filled year after year after year.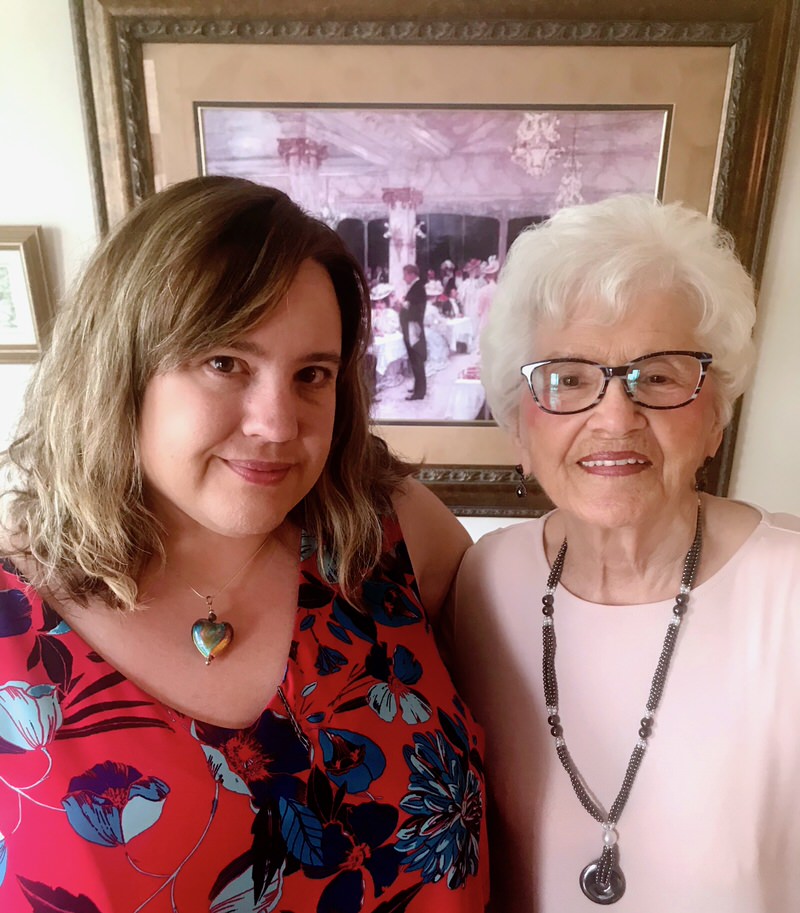 Mom and Ragan.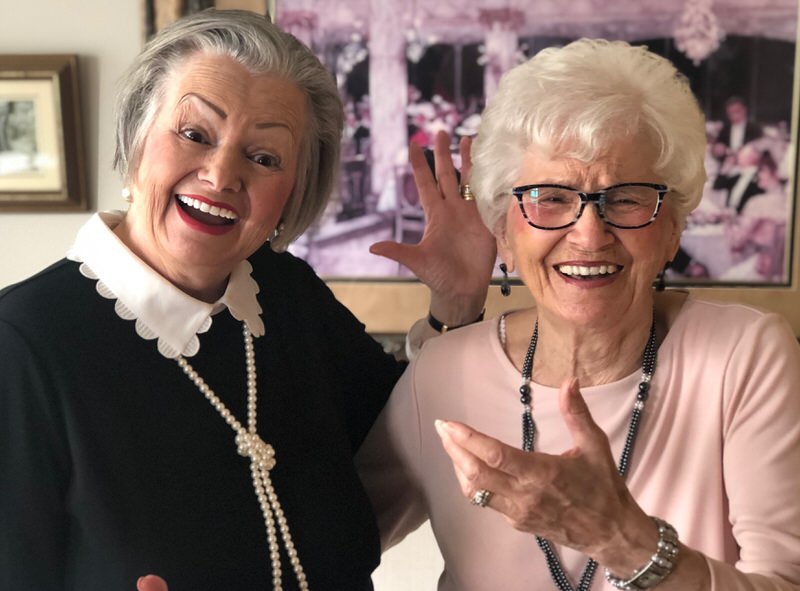 Mom and I. Getting one's picture taken to preserve the memory of an event isn't painless; so, a good laugh often helps.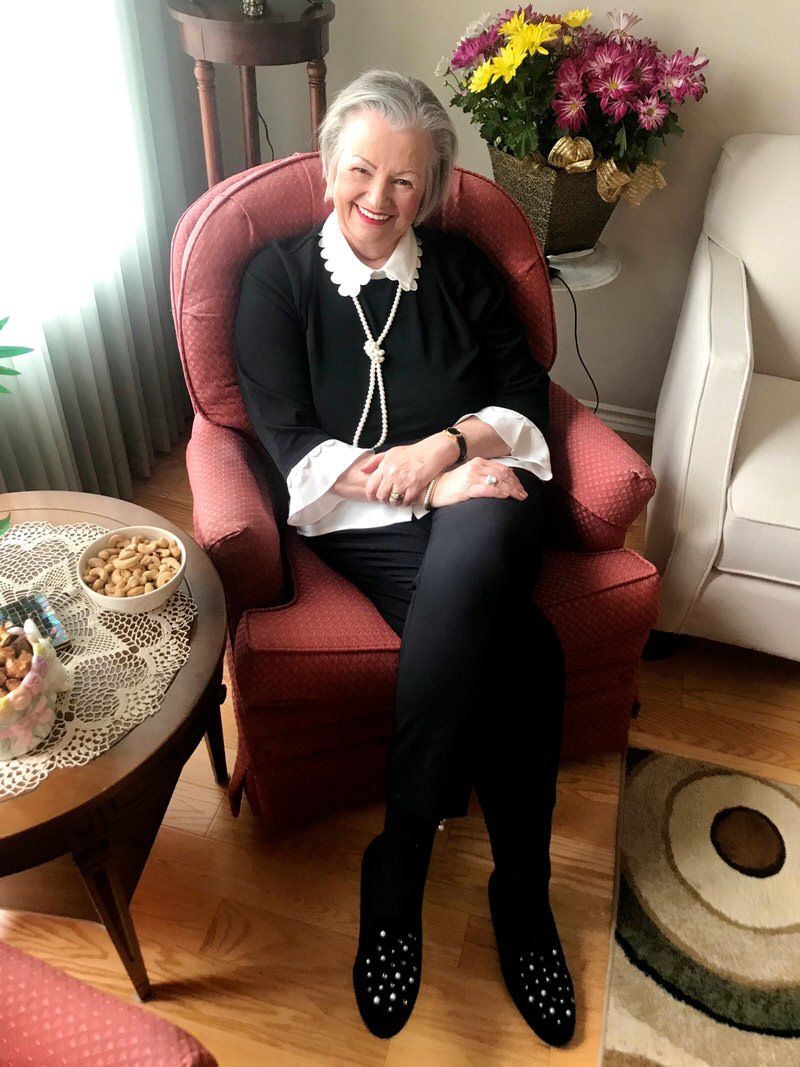 I am usually behind the camera. This was a nice surprise.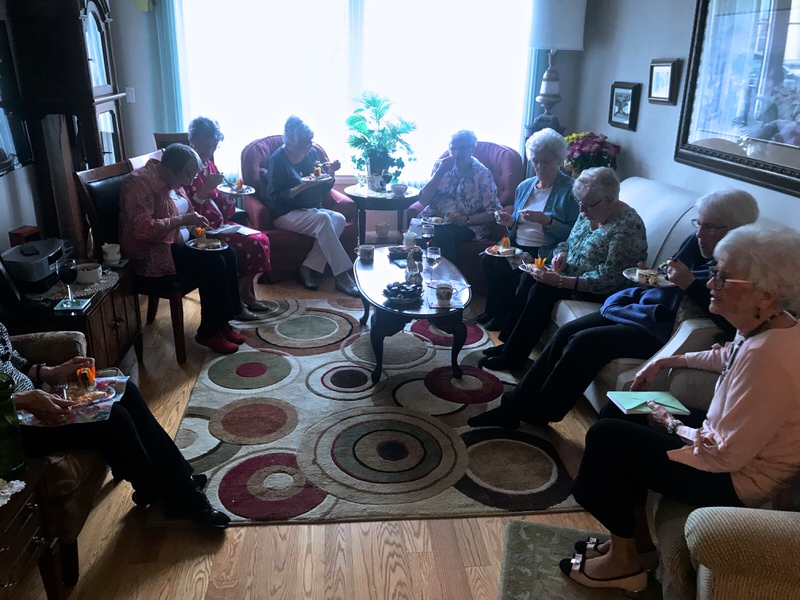 The grandfather clock chimed – one, two, three – and immediately there was a knock on the door with a steady stream of lovely ladies and within 15 minutes, all were seated with a plate in hand and a drink nearby.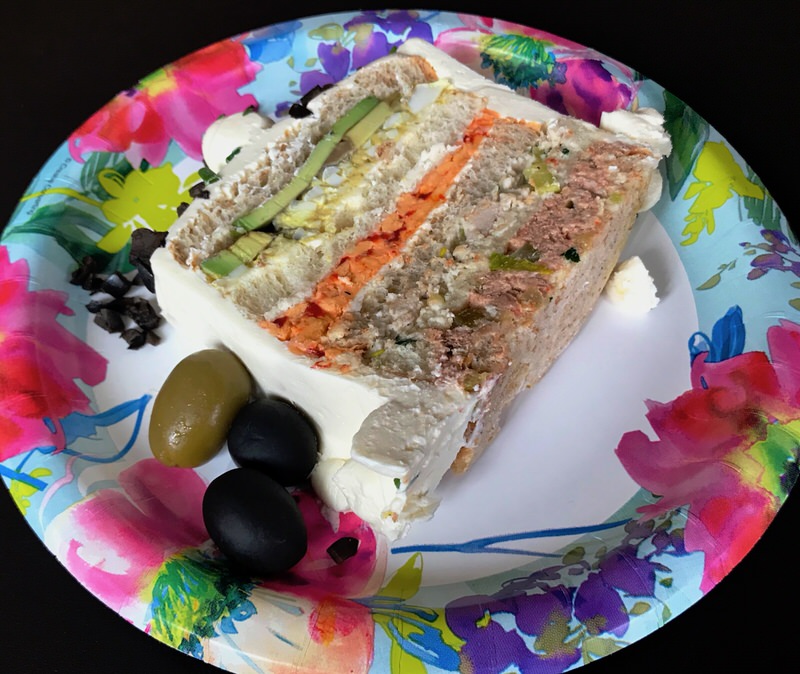 From the bottom of the frosted tea sandwich loaf up: deviled ham and pickled filling, chicken salad filling, pimento cheese filling and curried egg salad filling topped with a thin layer of buttery luscious and colourful avocado.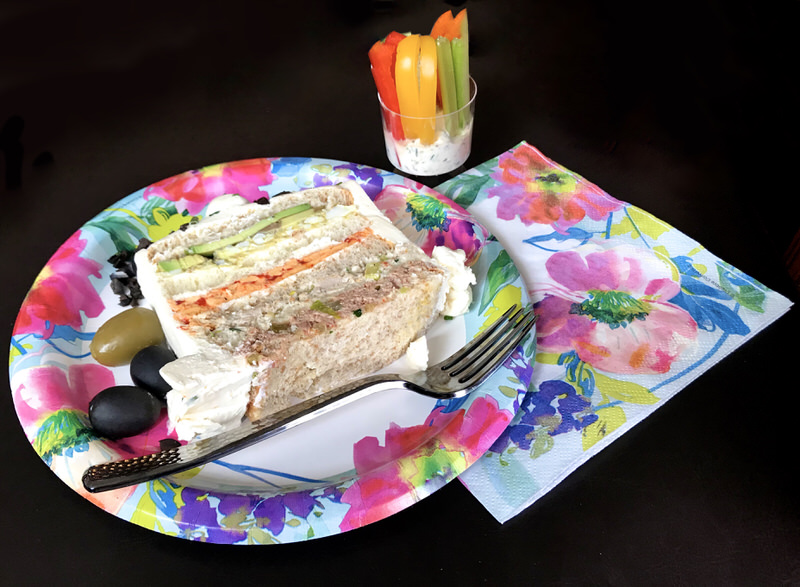 Olives and veggies and dip accompanied every offering with many also adding on the Retro Tomato Soup Shimp dip with some crackers for scooping. Have a favourite layer or is there one missing you would have added or replace a filling with? Do tell!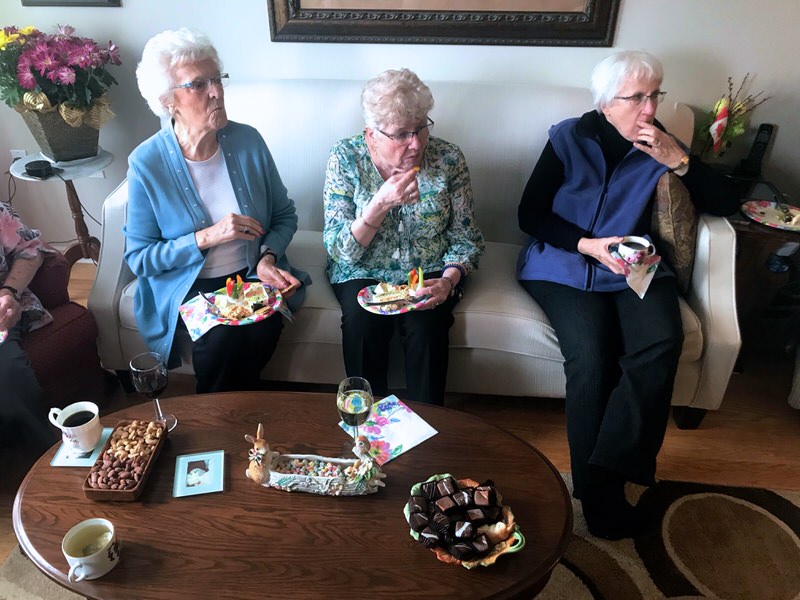 What a lovely way to spend the Thursday afternoon prior to the Easter weekend. A sip and savour with a great visit amongst friends.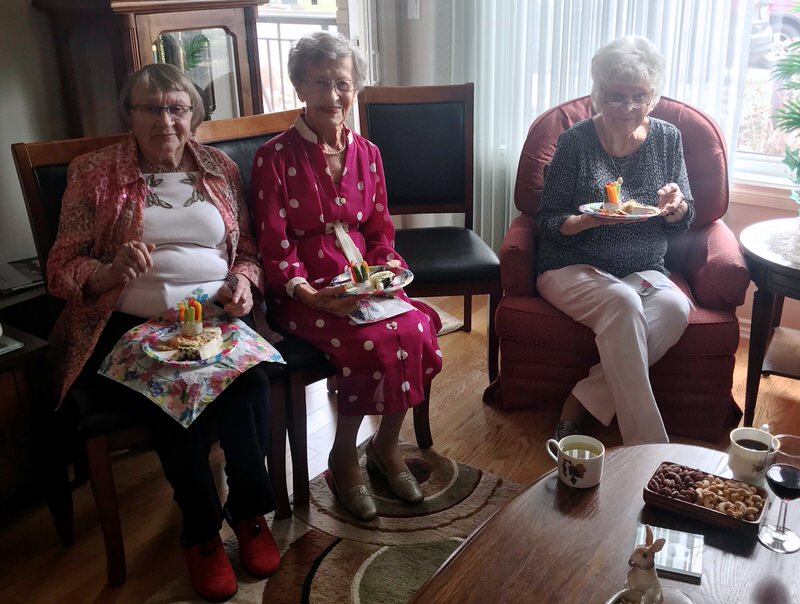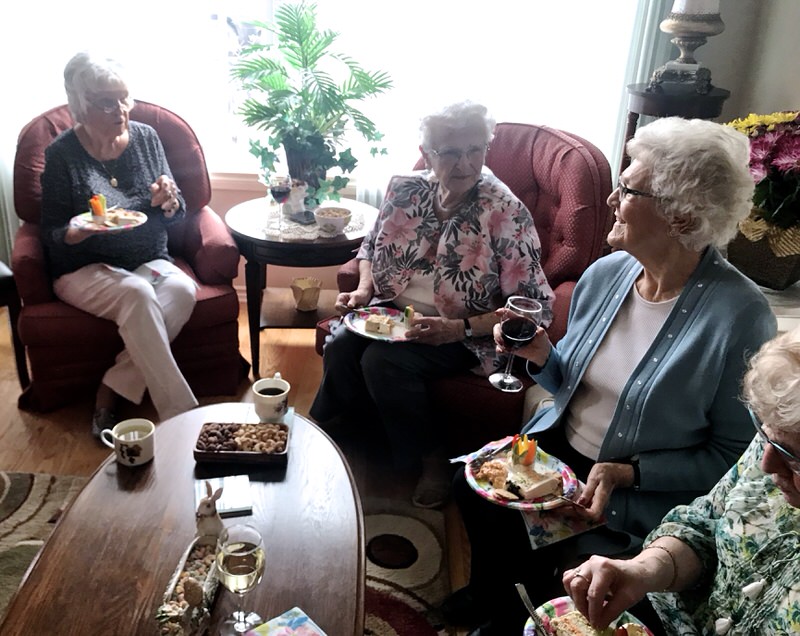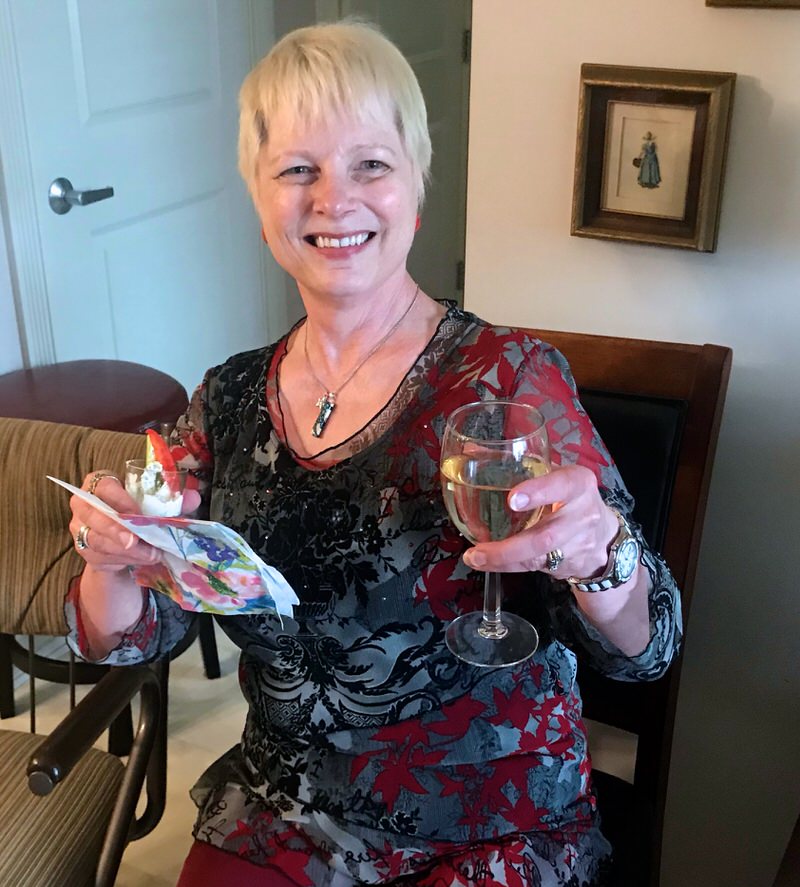 Cheers!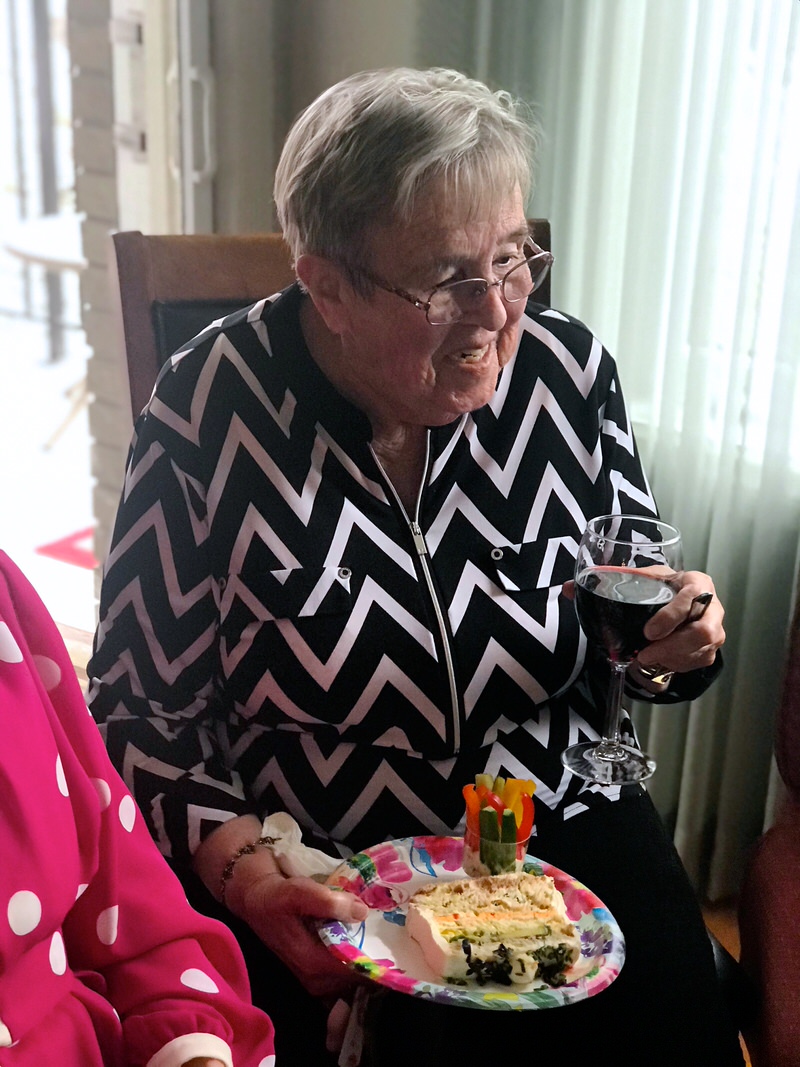 And lots of giggles!
Retro Frosted Tea Sandwich Loaf: Curried Egg Salad Filling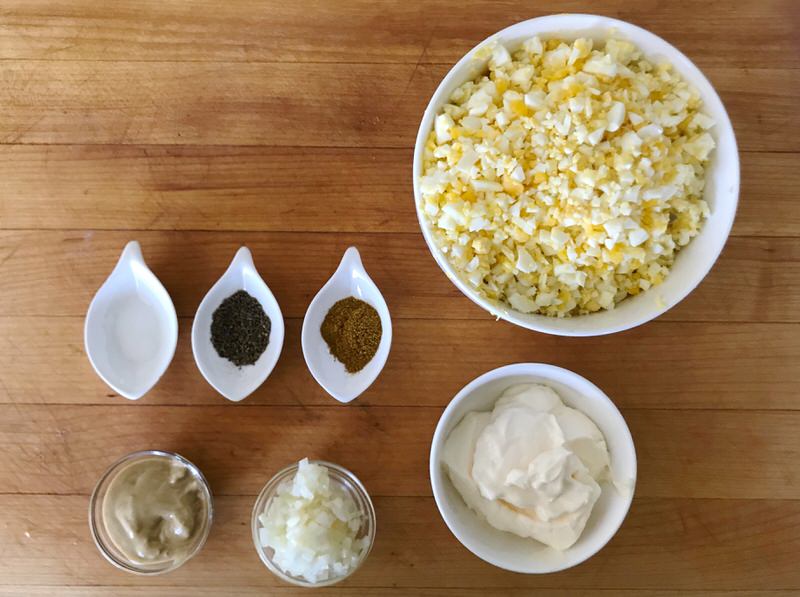 Mis en place, above. Simple to make and just different enough flavour-wise to be special!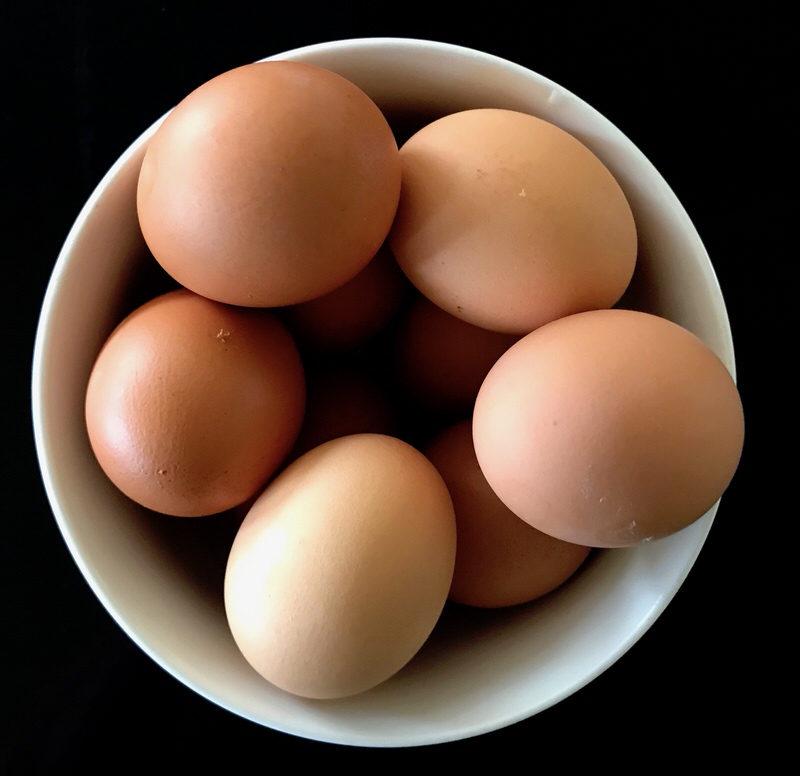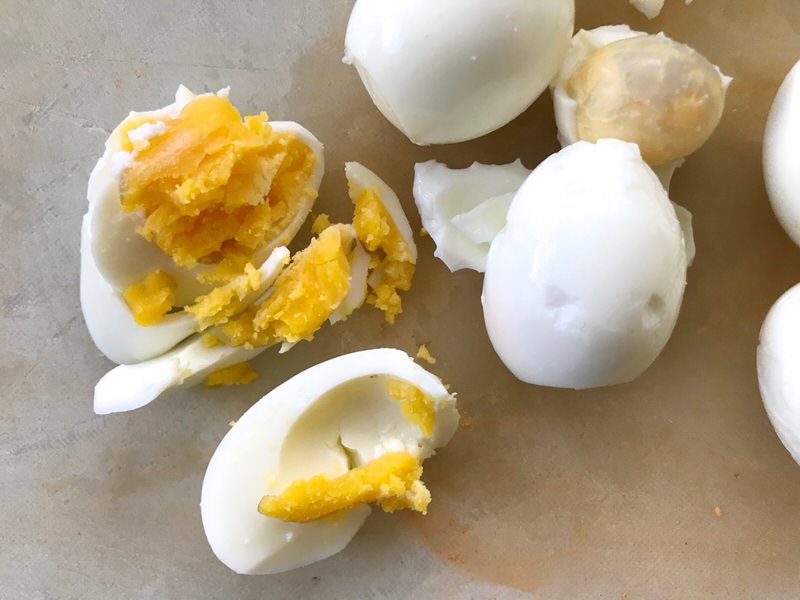 Organic "know-your-farmer" farm fresh eggs are key.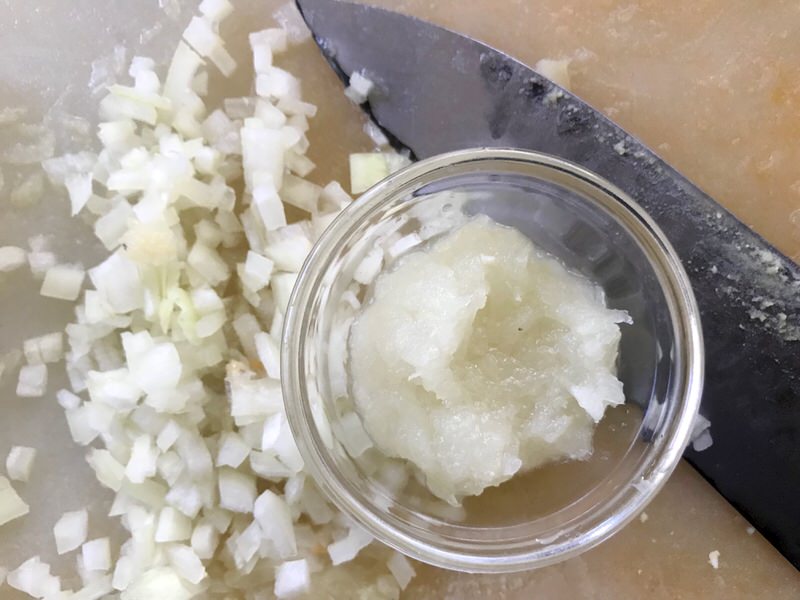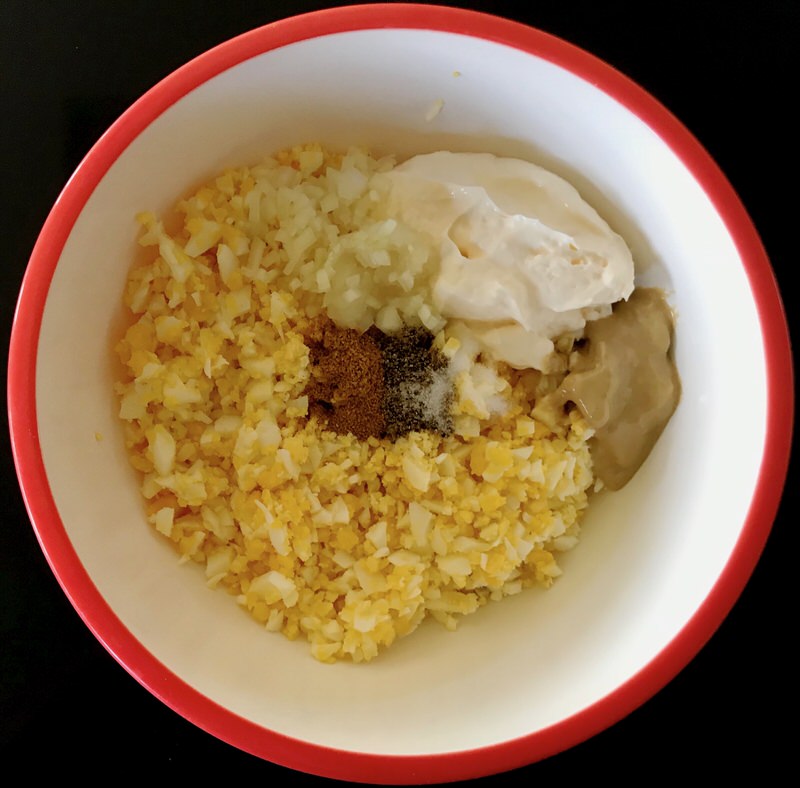 The retro recipe calls for grated onion but the finely minced works far better.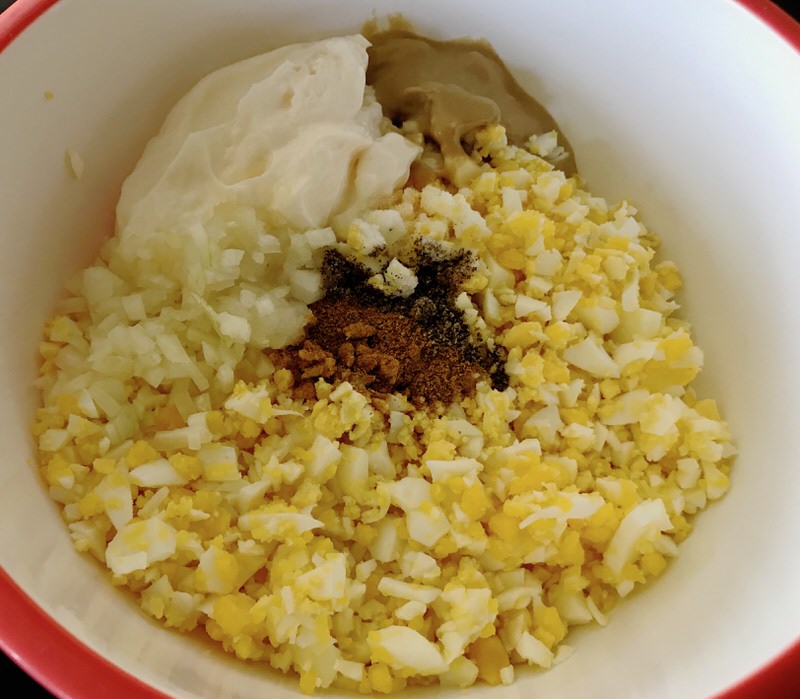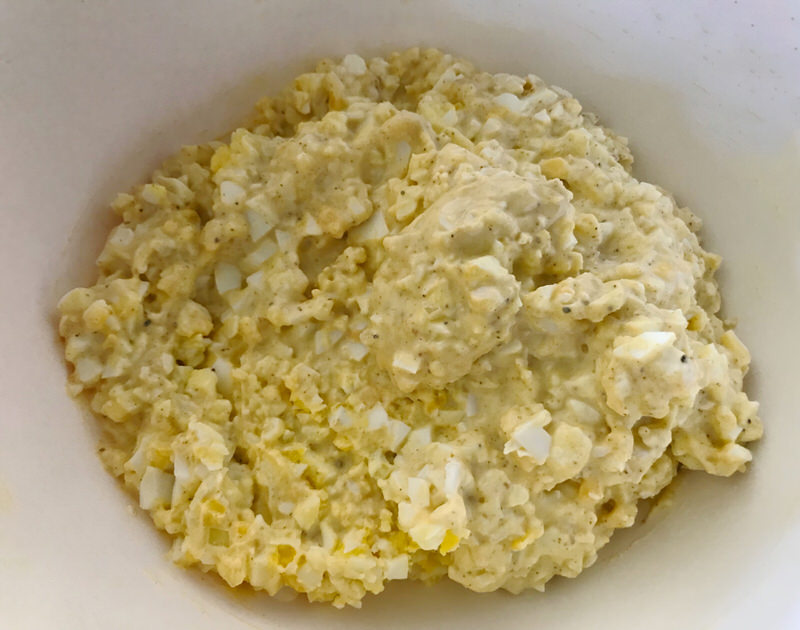 I love curry so this filling is a win-win-win for me and the vibrant yellow of the yolks creates such a lovely contrast in the slice.
Retro Frosted Tea Sandwich Loaf: Chicken Salad Filling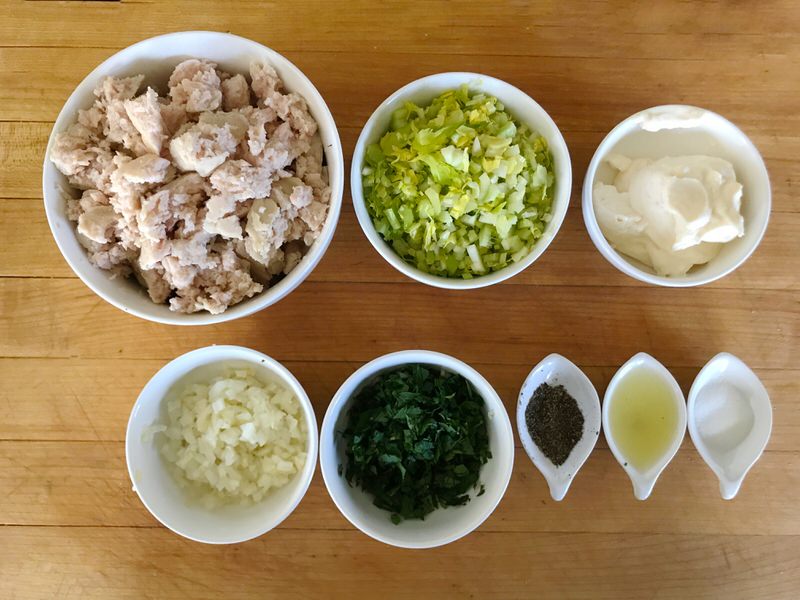 Homemade cooked chicken would clearly be best but is so not necessary with a sandwich loaf; however, a really good quality canned chicken is very important.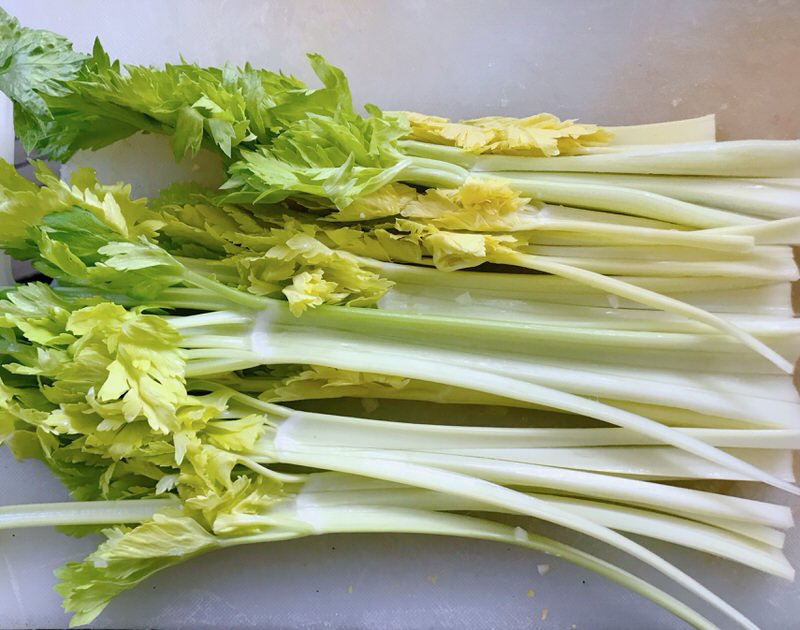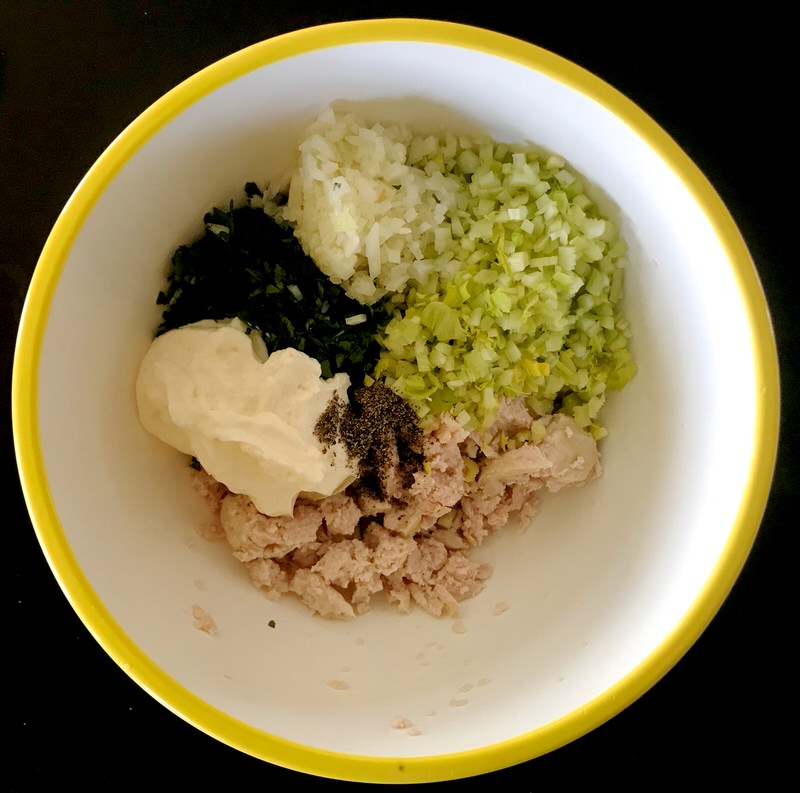 Celery, though seemingly subtle, brightens the texture and the flavour.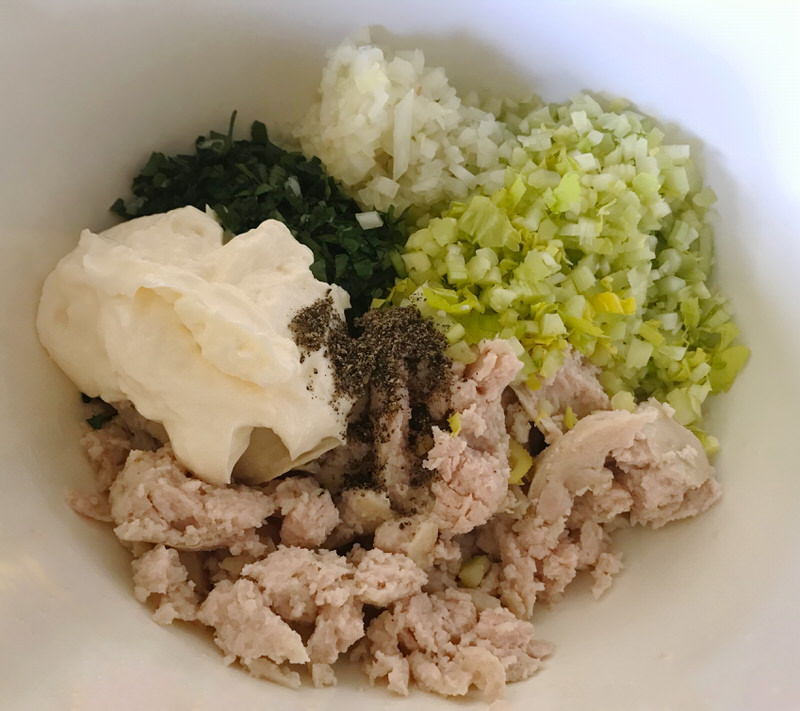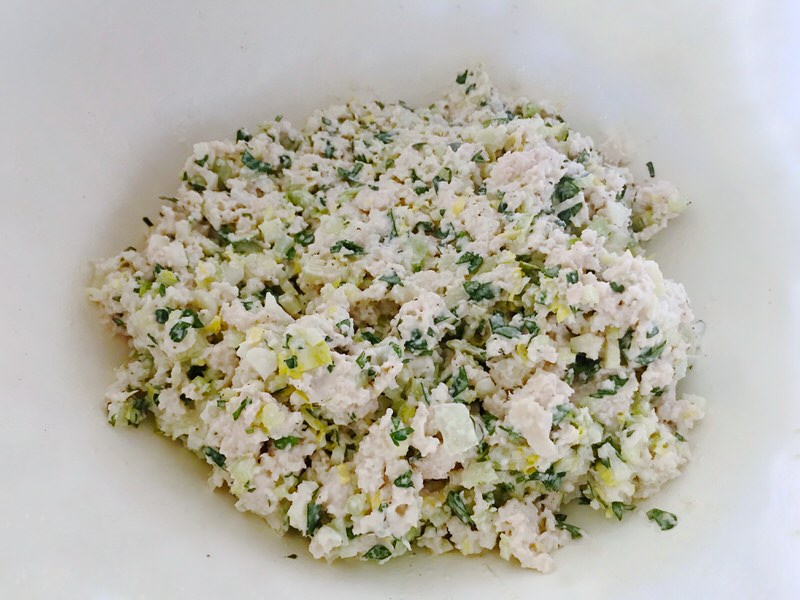 Really delicious on its own, as is the curried egg filling. I could eat either right out of the bowl!
Retro Frosted Tea Sandwich Loaf: Deviled Ham and Pickle Filling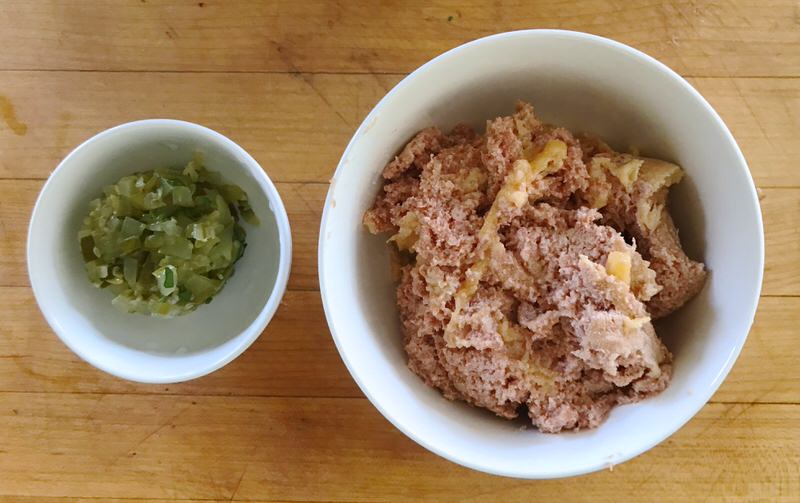 This filling recipe took some consideration. I had no memory or frame of reference for "Deviled Ham" flavour-wise. I could imagine the texture and definitely knew the flavour profile I was going for as when I was a child, never thought I'd like the ham-pickle filling, but loved it.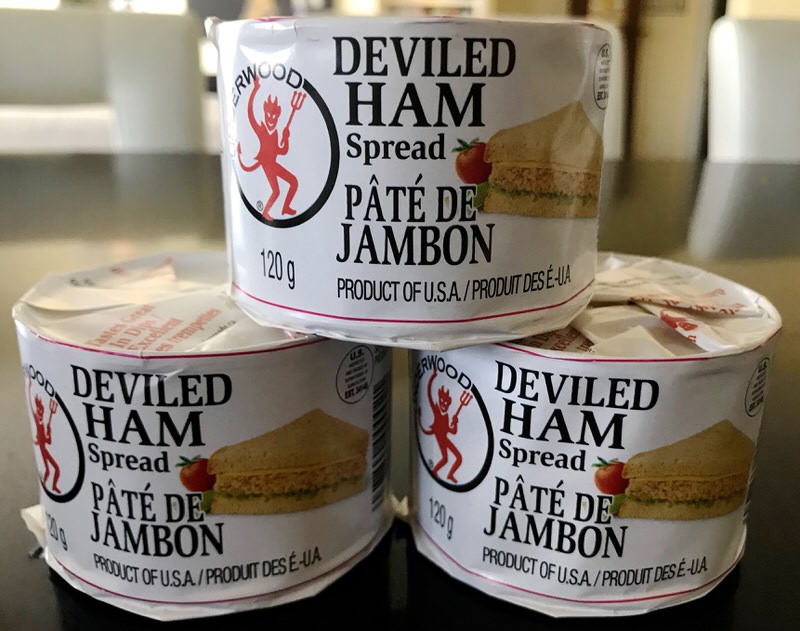 What "ham" was used back then. The canned ham? Spam? I was sure it wasn't a "deviled ham", but for the life of me could not recall. So, after reading a lot of labels and recipes went with this simple combination. It worked. I would need to add extra mayo to eat this one out of the bowl, but it was tasty enough to bring a tasty contrast needed to the loaf to leave it as it is.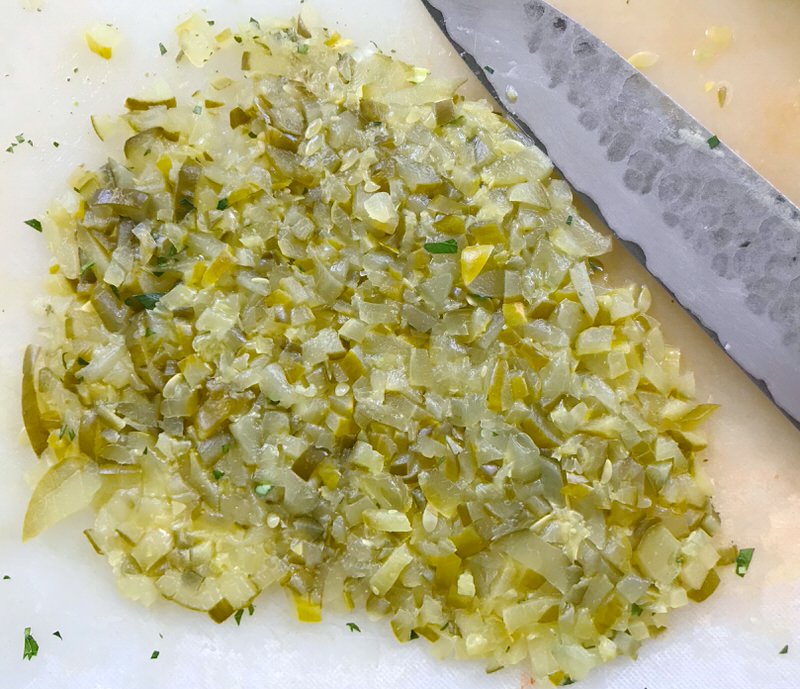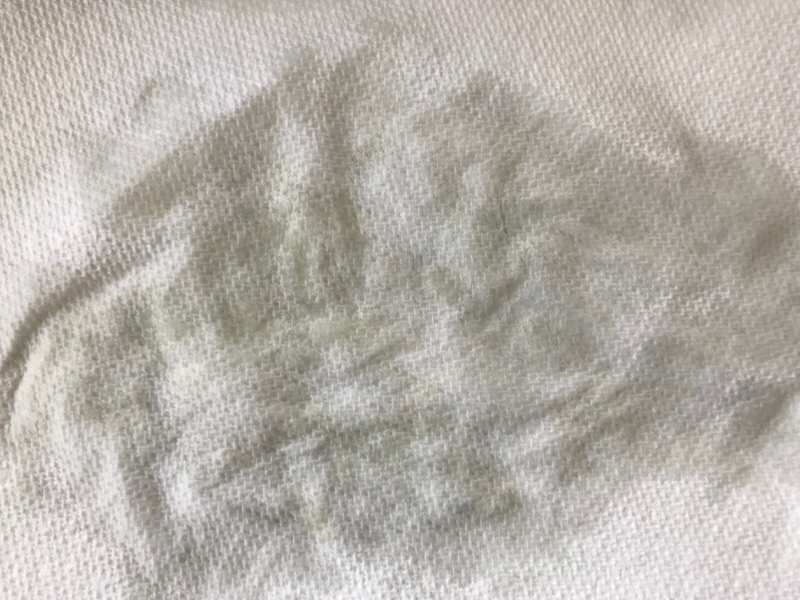 Adding pickles or anything "juicy" is tricky and all juicy chopped ingredients must be blotted when making a sandwich filling to avoid mush. Paper towel works perfectly.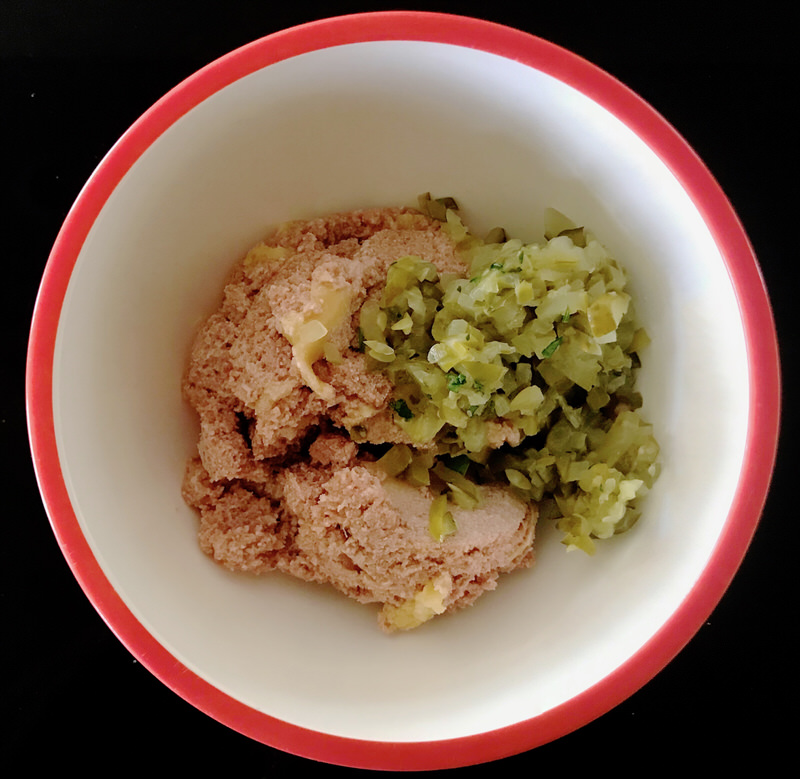 This filling is the easiest. I added considerably more pickles than the original retro recipe. Times have changed. Back in those days, a sliver of garlic had a profound effect upon the palate. No longer. This filling needed a much bolder pickle profile, no doubt about it.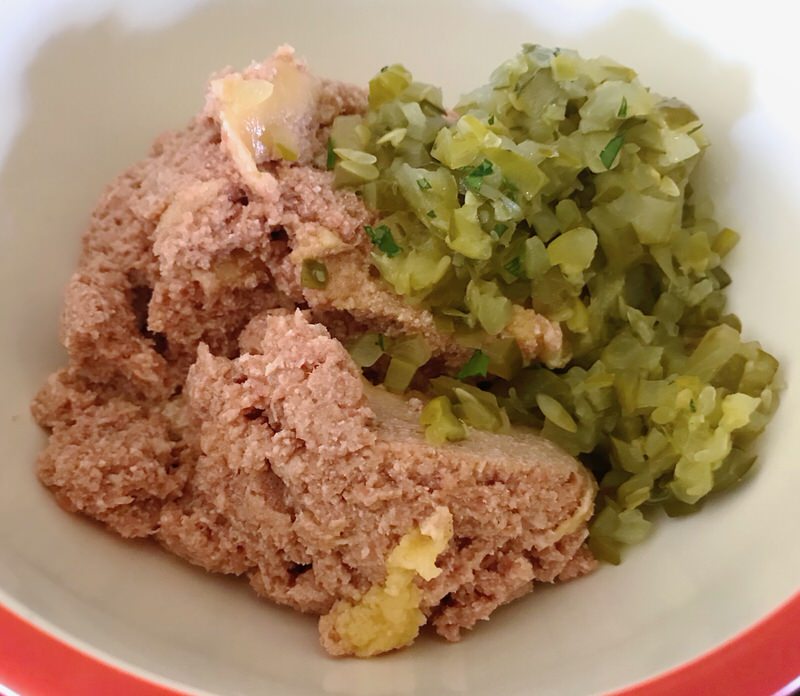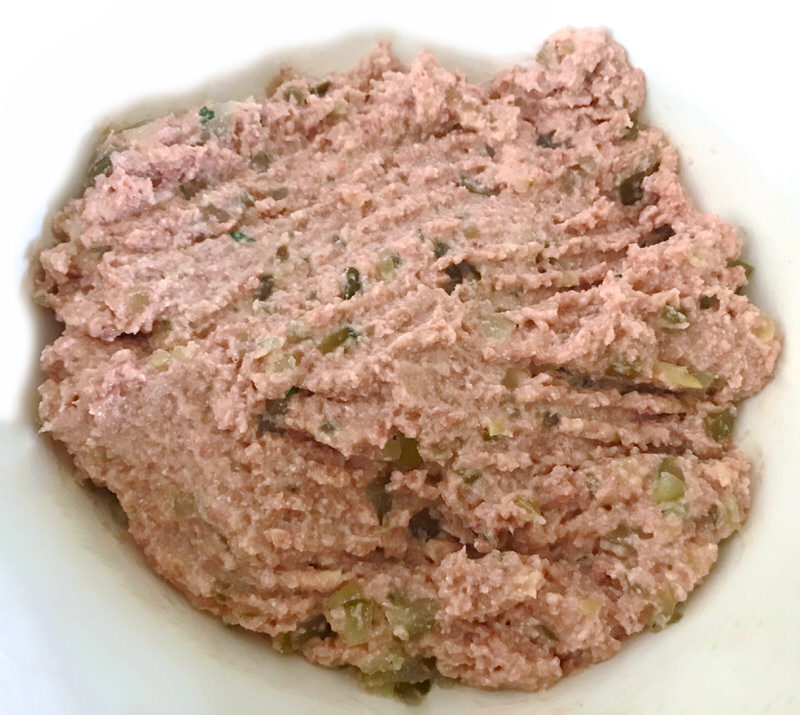 Tastes delish! Much tastier than it looks.
Retro Frosted Tea Sandwich Loaf: Pimiento Cheese Filling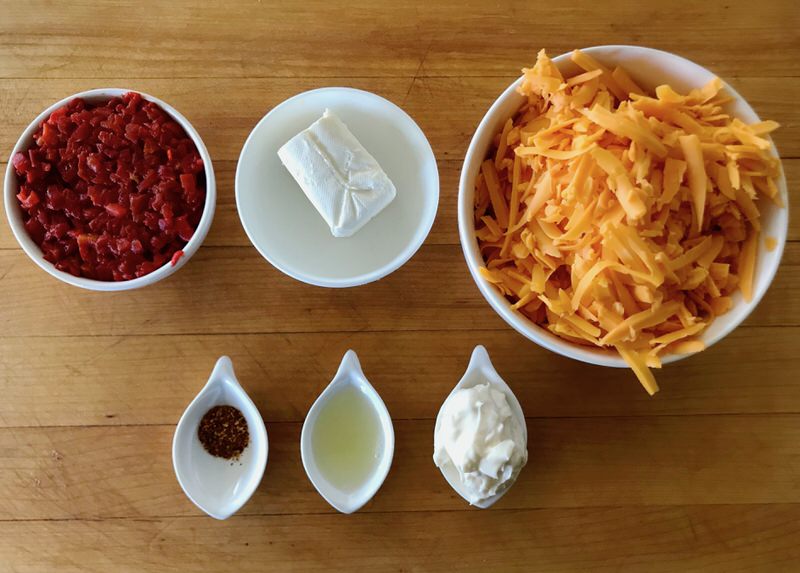 Since visiting Georgia with the Canadian Peanut Commission (touring the entire area and having dinner with Jimmy Carter), I have been a lover of pimiento cheese. I had never heard of it before but did research the foods and history prior to the week there for the festival in Jimmy's hometown, and then had it served to me on three occasions. Only one time was with cheddar cheese.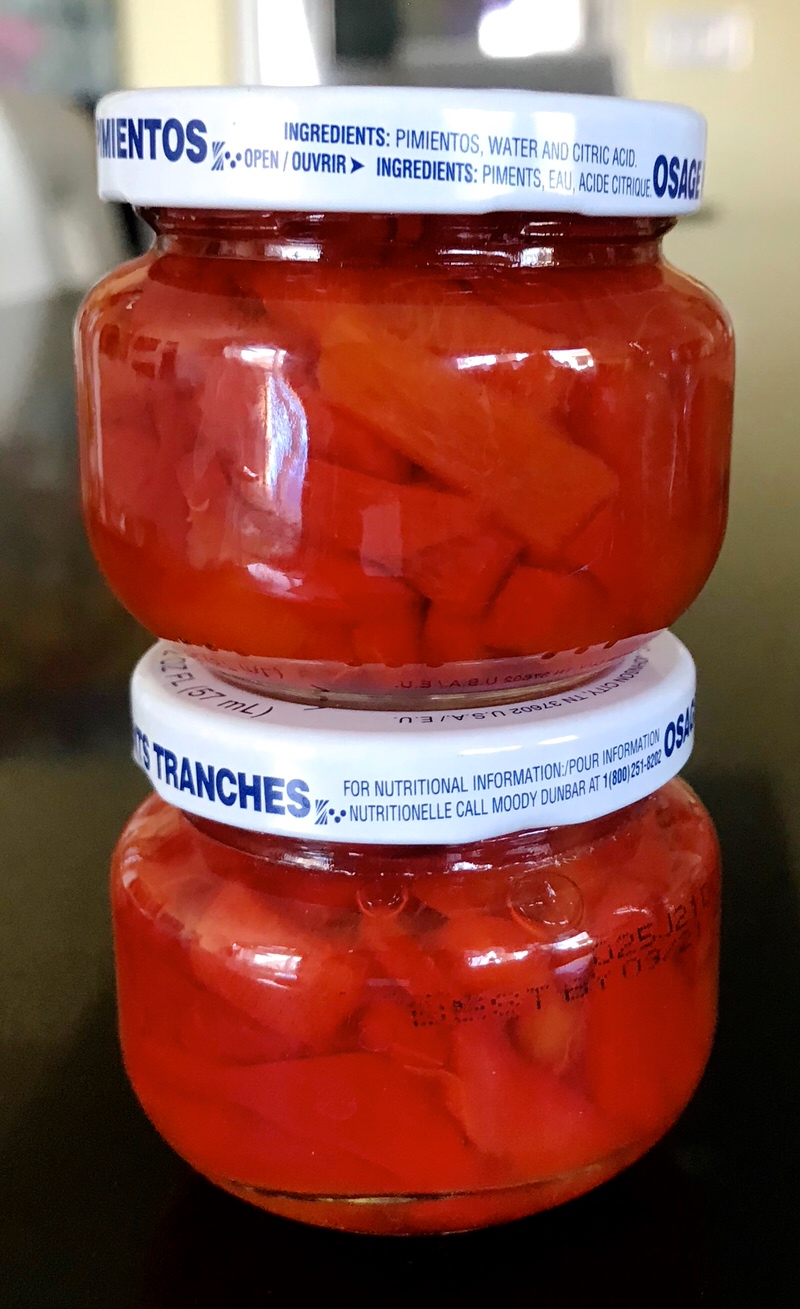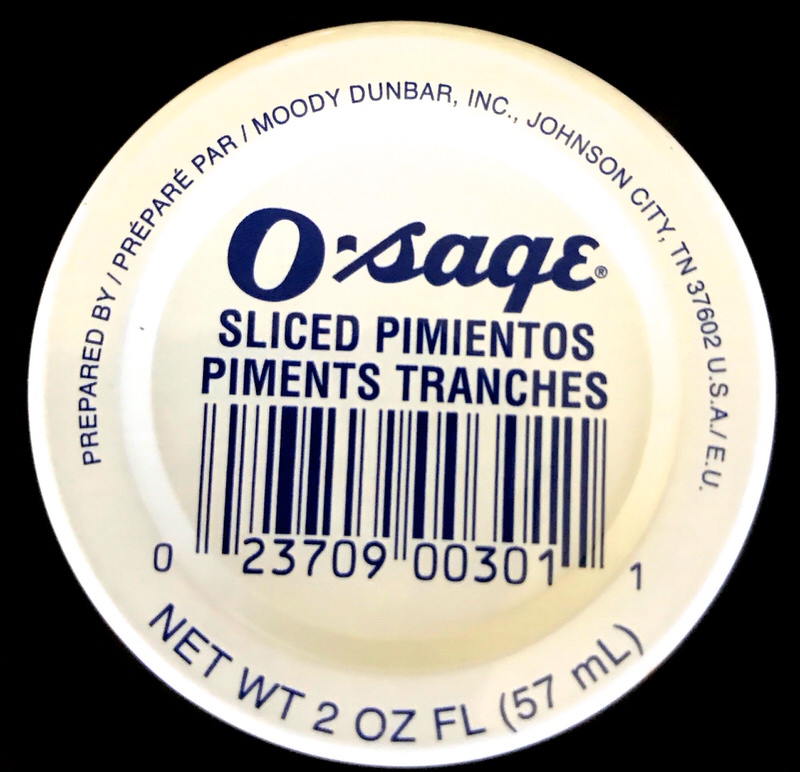 Pimientos are not so easily accessible in my Canadian hometown. I can get them, but they were very expensive. Yummy, though! This was the variety I purchased. There are likely many.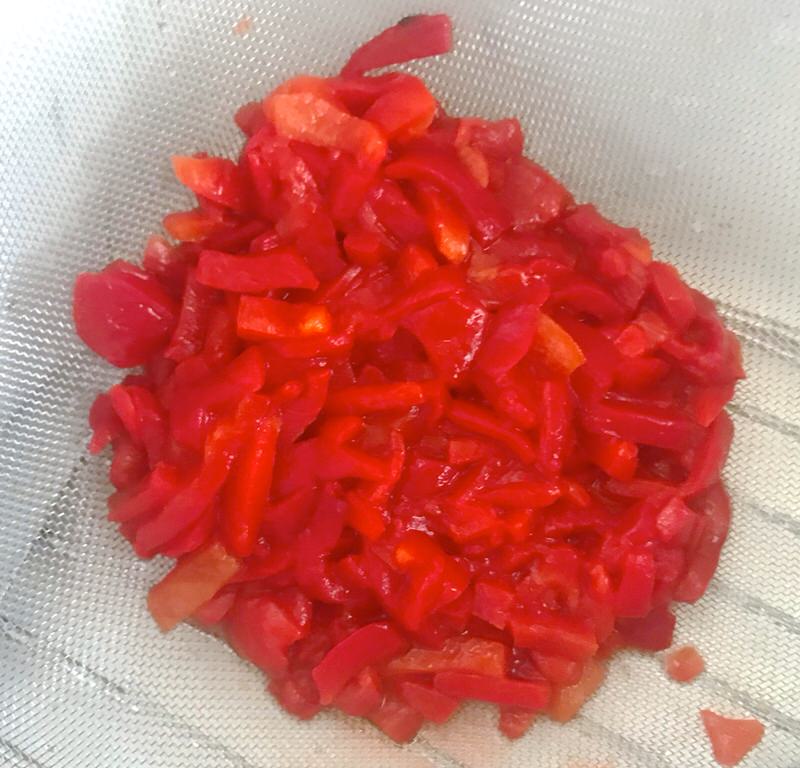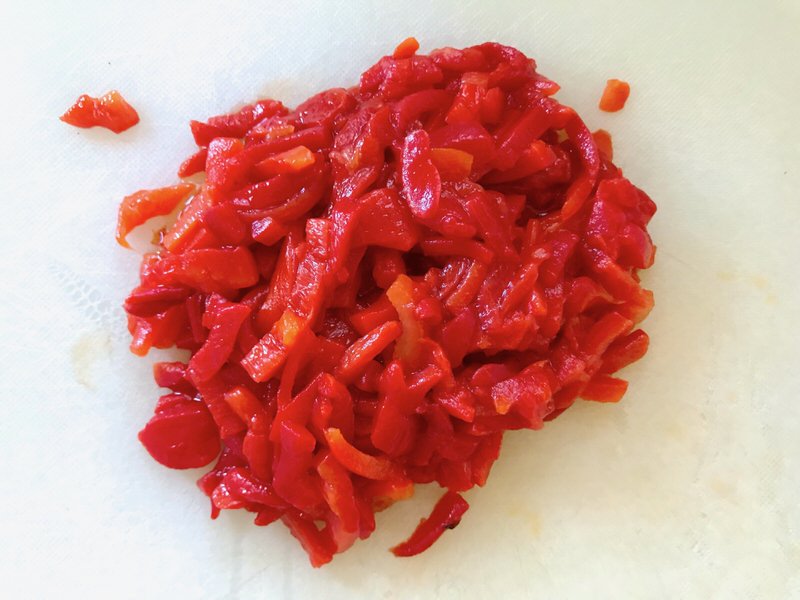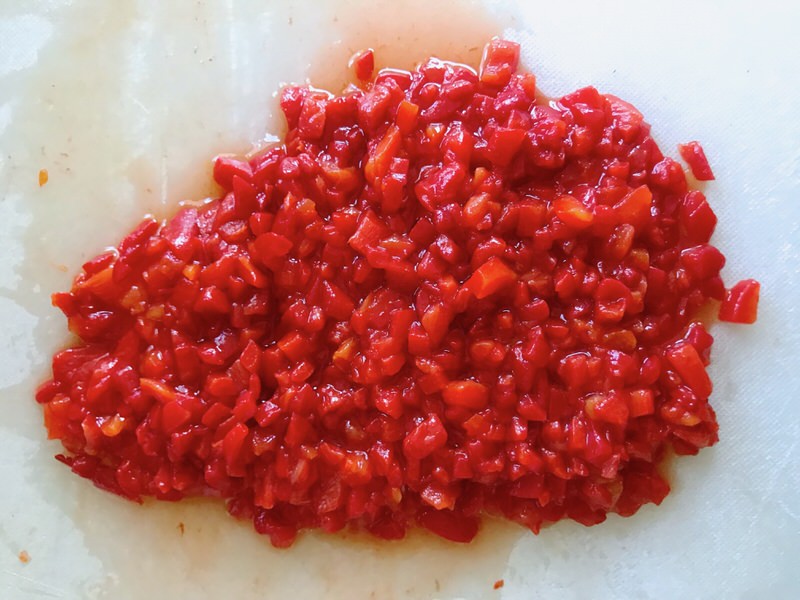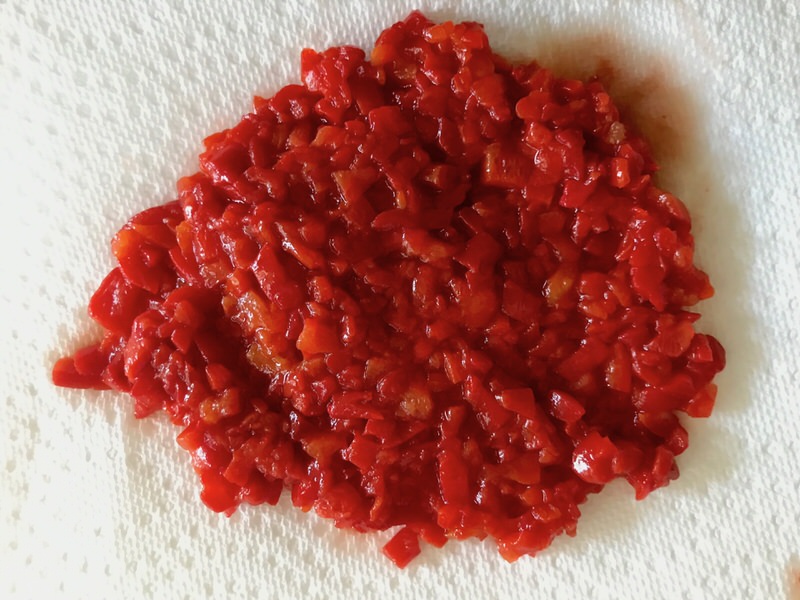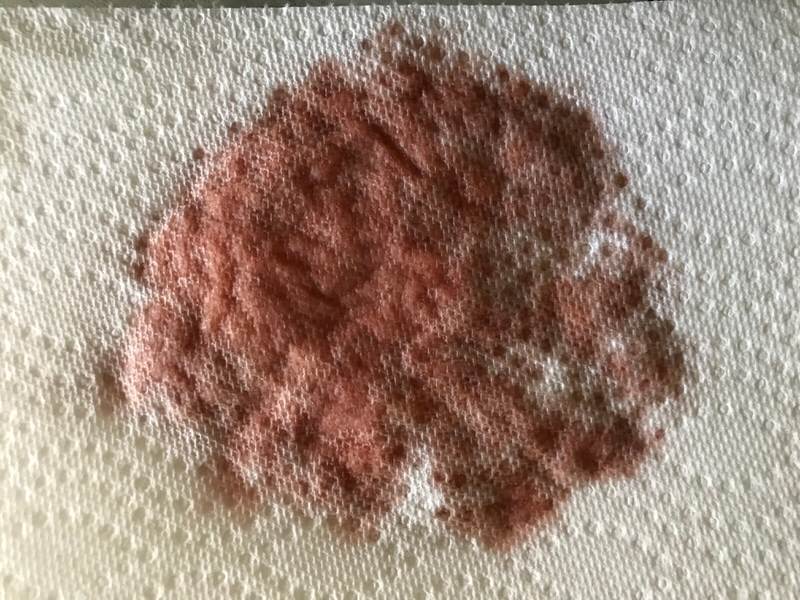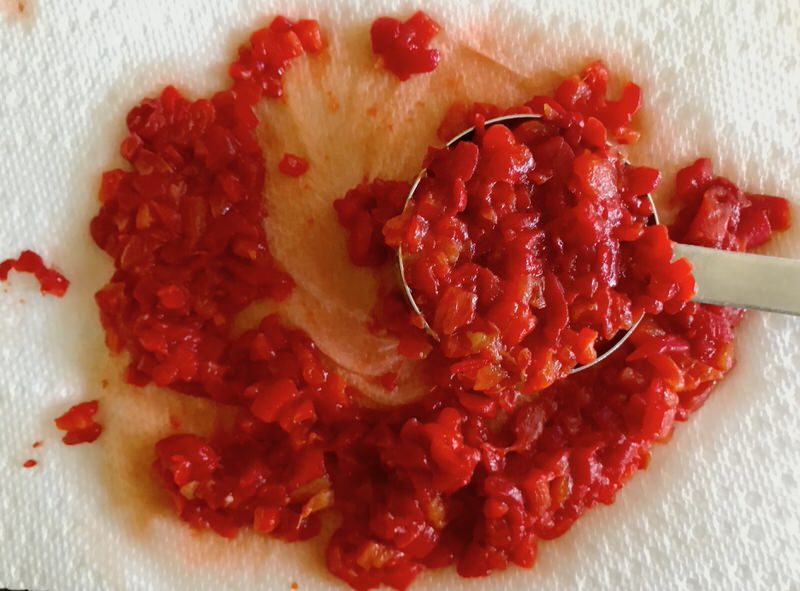 Strain, chop and blot, just like the pickles.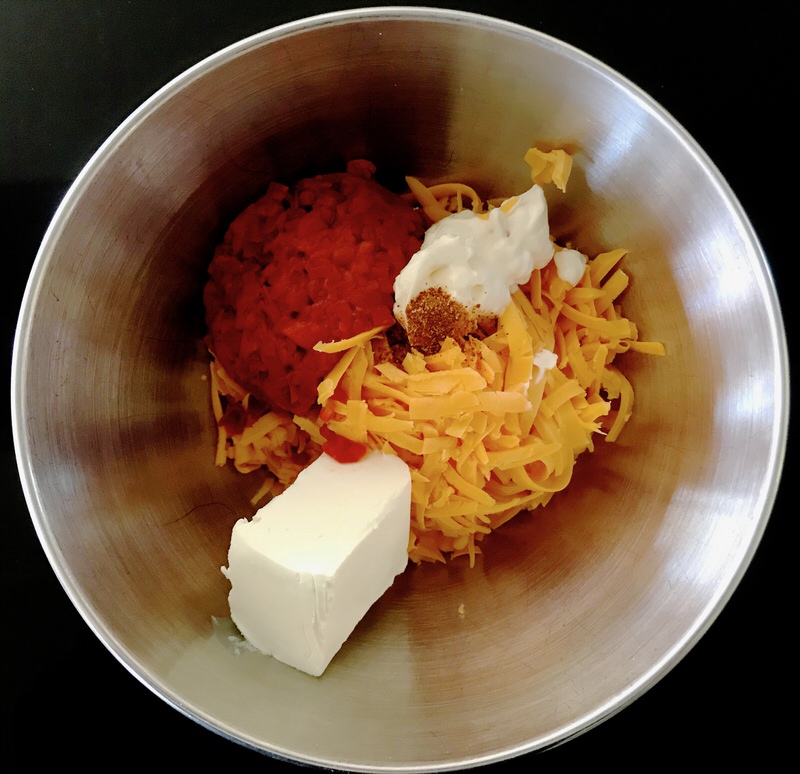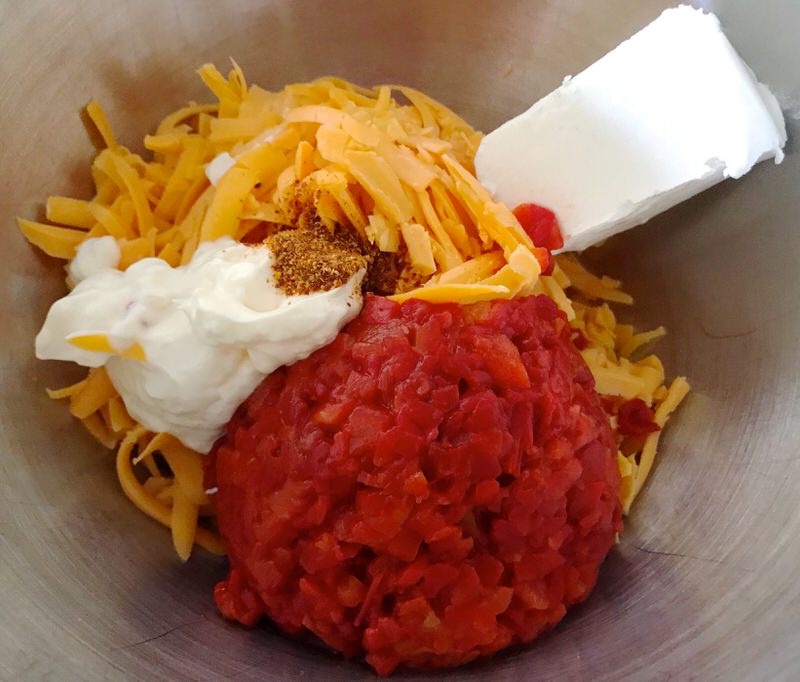 Combine all ingredients and be prepared to have your socks knocked off. Deeee-lishious!!! And another lovely colourful addition to the Frosted Tea Loaf family of flavours.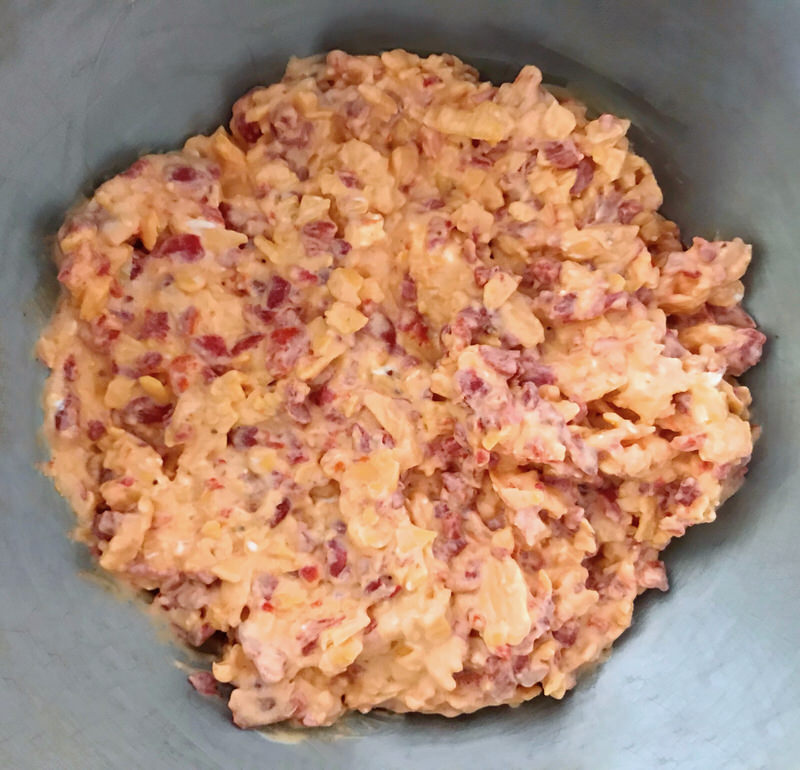 Traditionally, I do believe it is made with cream cheese. However, this loaf needs to taste good and look good. This was a fourth filling addition to the "retro loaf" that wasn't on the original three-filling recipe. I could not resist for both reasons: colour and flavour as it added that warm orange colour as well as such gooey goodness. This is another filling I could eat with a spoon.
Retro Frosted Tea Sandwich Loaf: Cream Cheese Frosting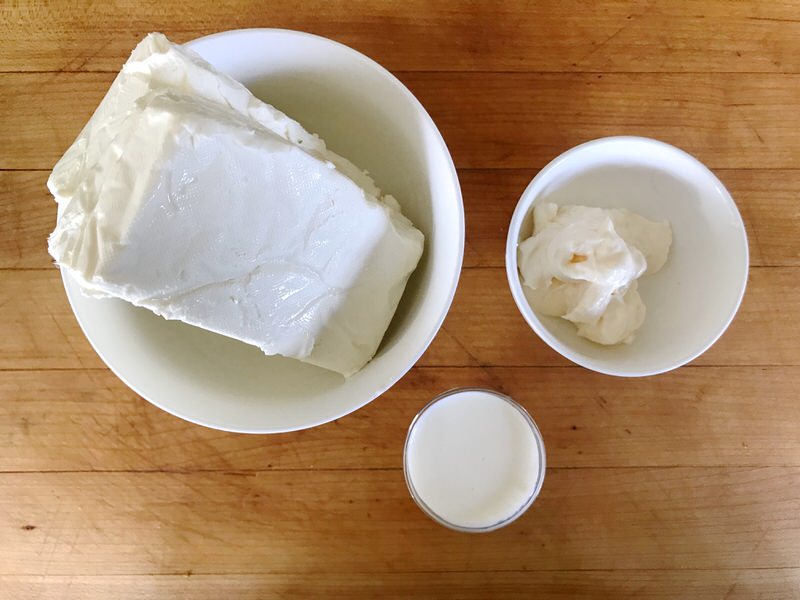 And lastly, the frosting. Frosting? Yes! It is a party, after all. Let's get this sandwich loaf dressed up like the rest of us. Three simple ingredients: Cream cheese, mayonnaise and heavy cream.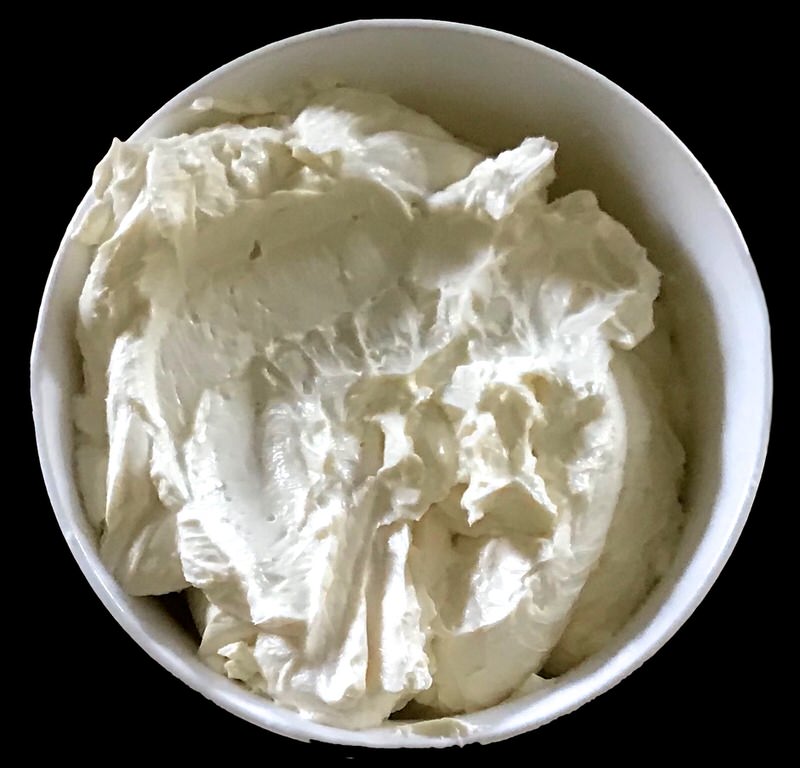 Retro Frosted Tea Sandwich Loaf: Putting it All Together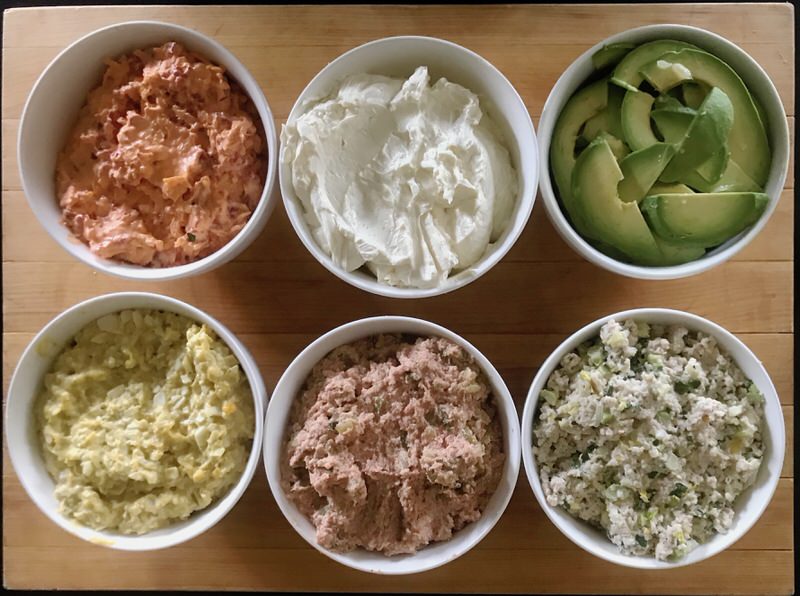 The Four Fillings: Pimiento Cheese, Curried Egg Salad, Deviled Ham with Pickle and Chicken Salad. A bowl of thinly sliced avocado was added by moi for colour, texture and flavour. The avocado was an unknown in the day that this retro recipe was developed and is another perfect addition. And, of course, the cheesy frosting.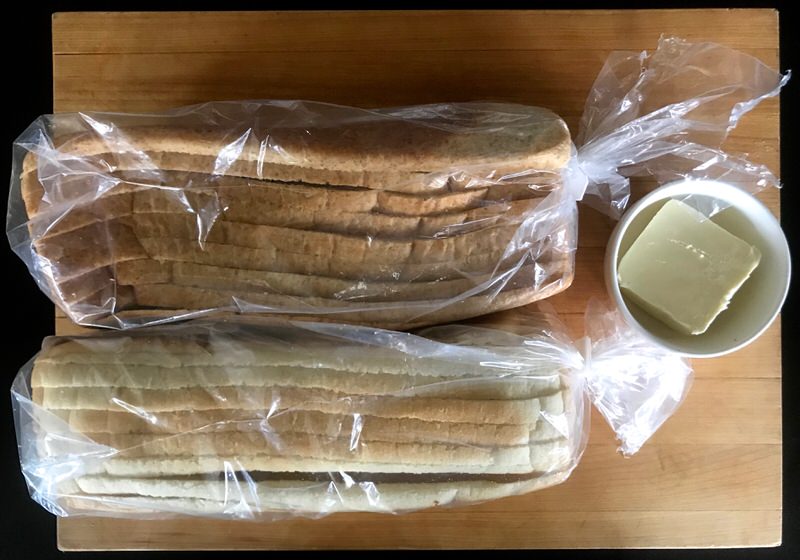 Our local bakery takes orders for bread sliced length-wise. May do. Just call and ask to place your order. I like to vary the colour from brown to white.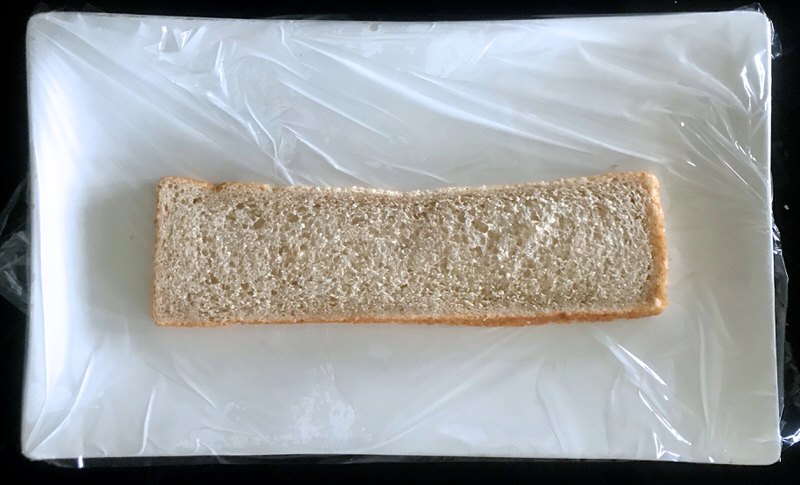 In those retro days, gals would have the bread coloured which really confused the palate: pink and green bread with fillings. Colourful and tasty, but with the eye and the stomach so closely related, completely confusing and so not necessary. At least nowadays.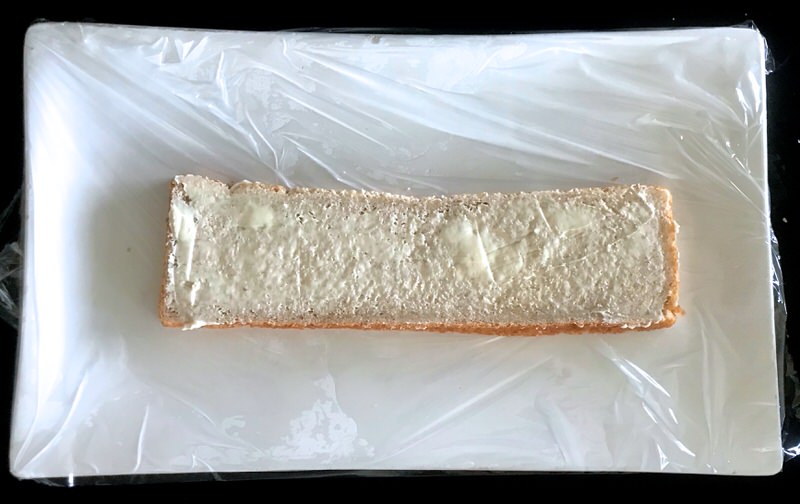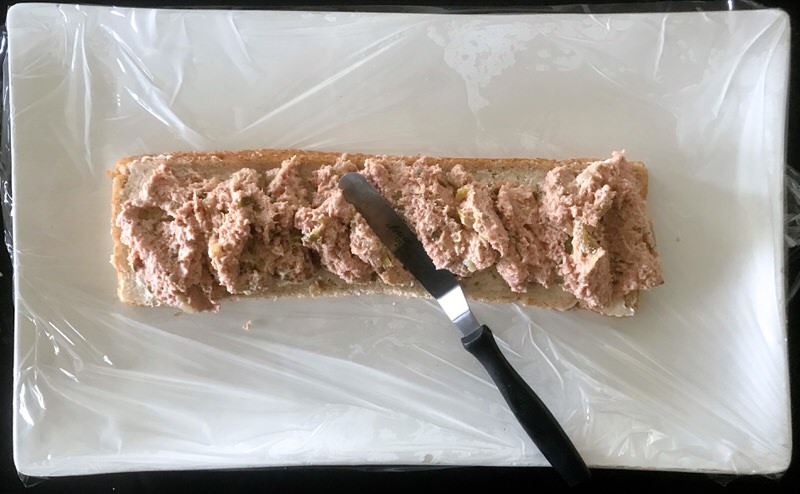 Every layer is the same: bread, butter, filling.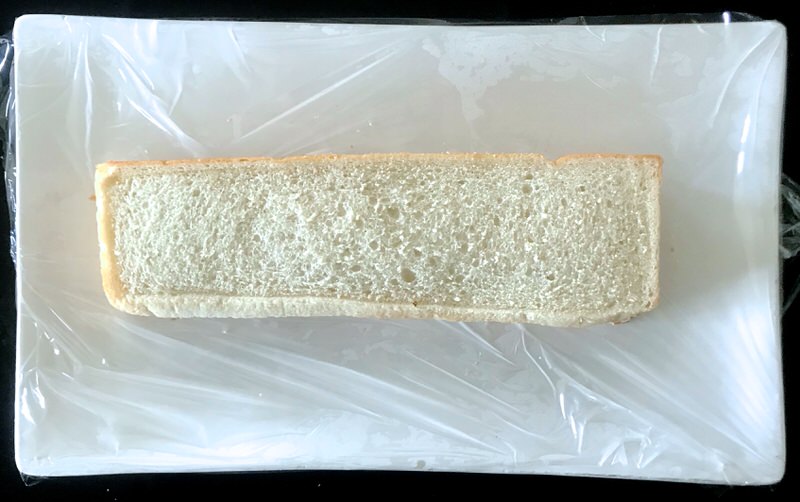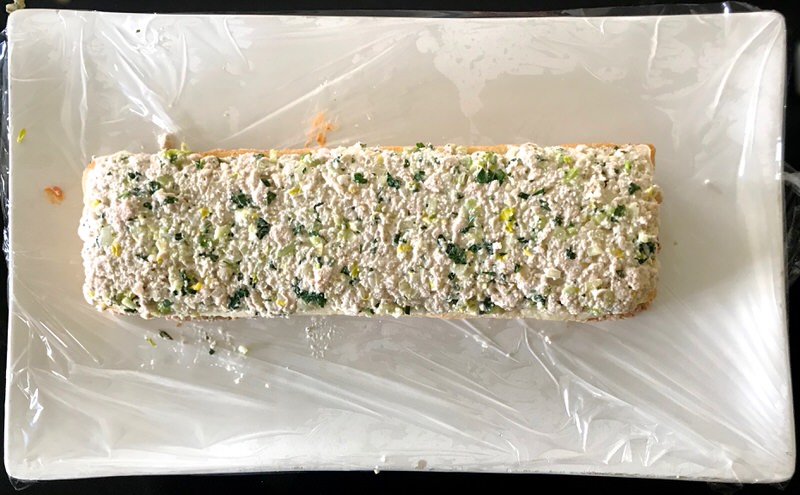 Bread, butter, filling.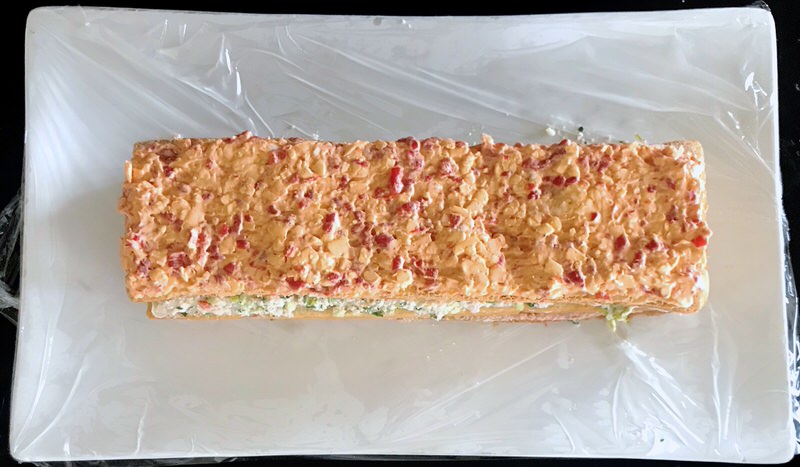 Bread, butter, filling.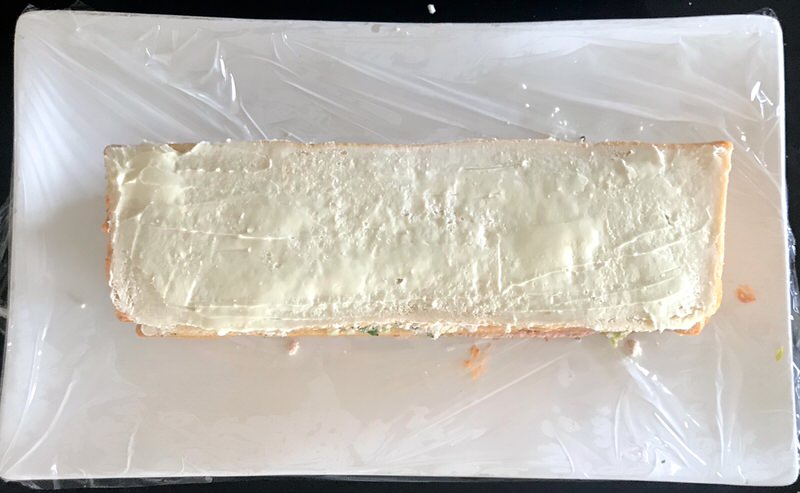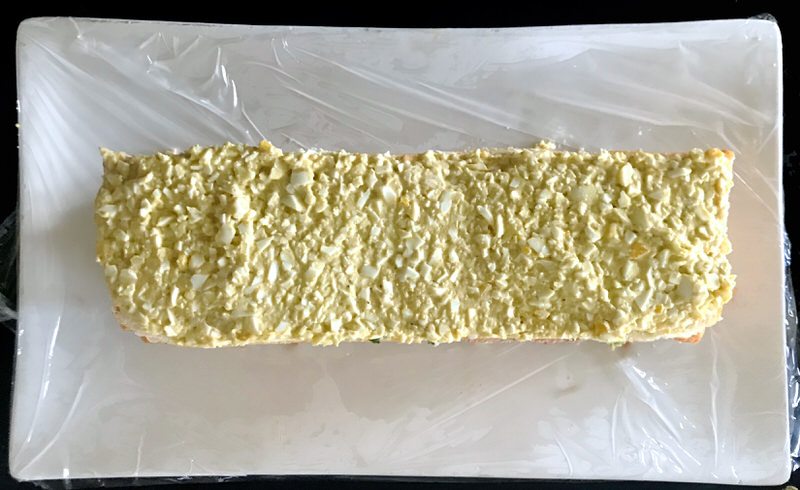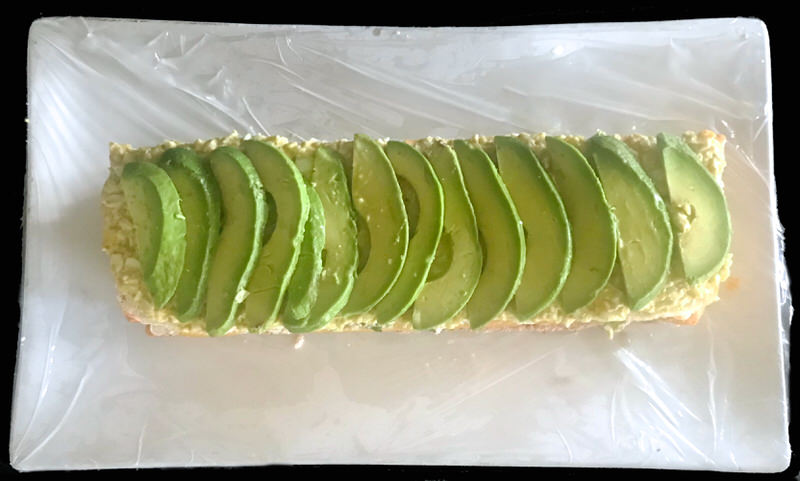 Except for the last layer: Bread, butter, filling then topped with avocado.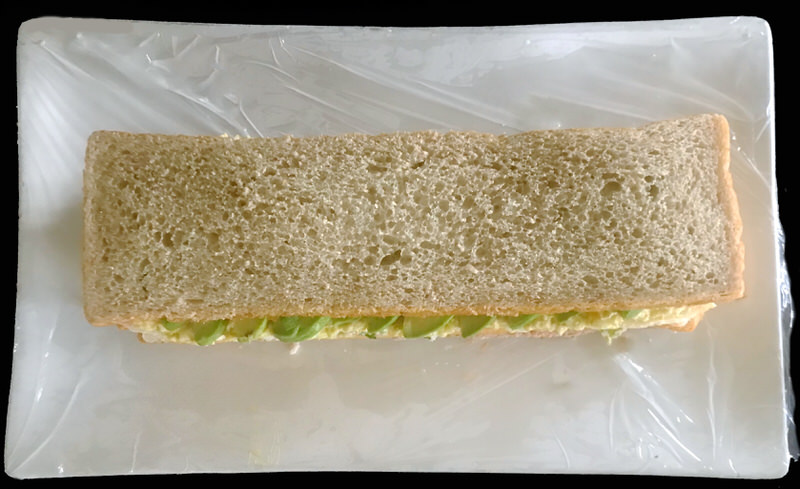 Four fillings sandwiched together with the top loaf and wrapped in plastic to cure overnight which will enable stabilizing the loaf to ice it.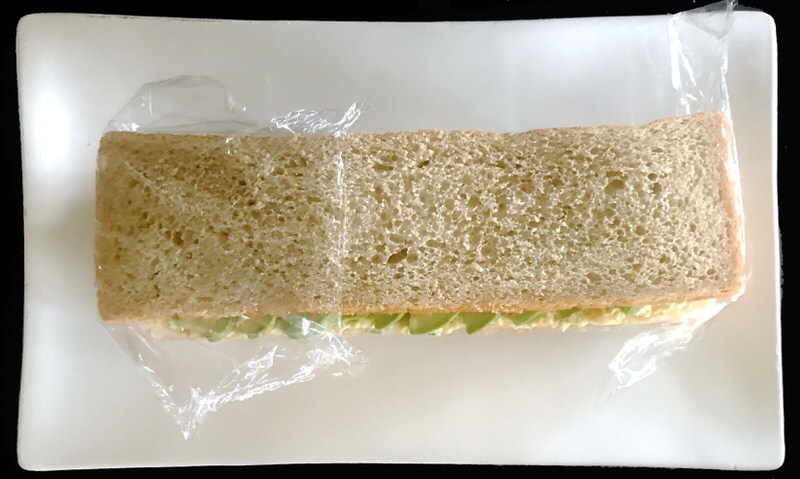 This recipe makes two loaves that have approximately 12 good sized slices of portions in each. Let's repeat the process with the second loaf!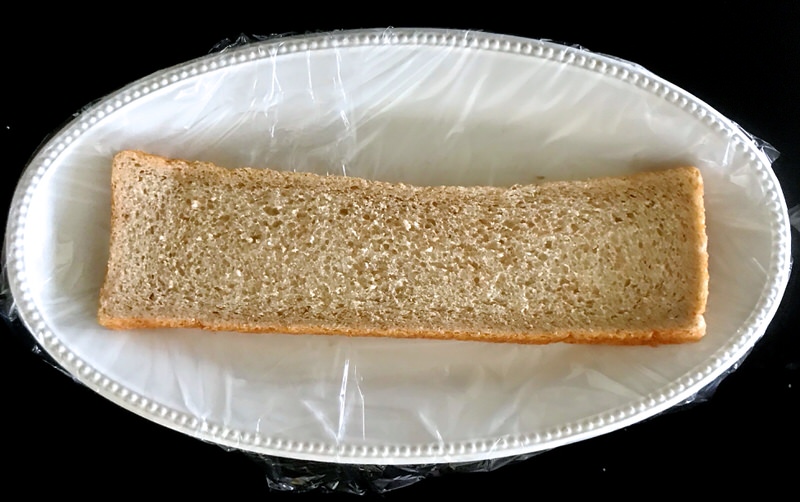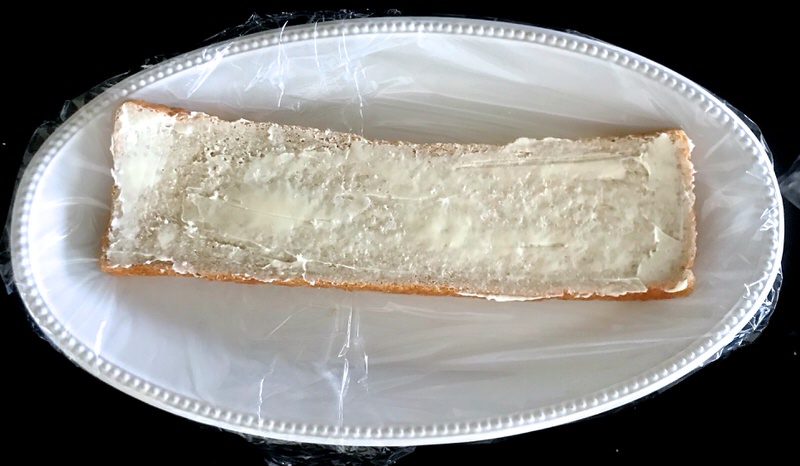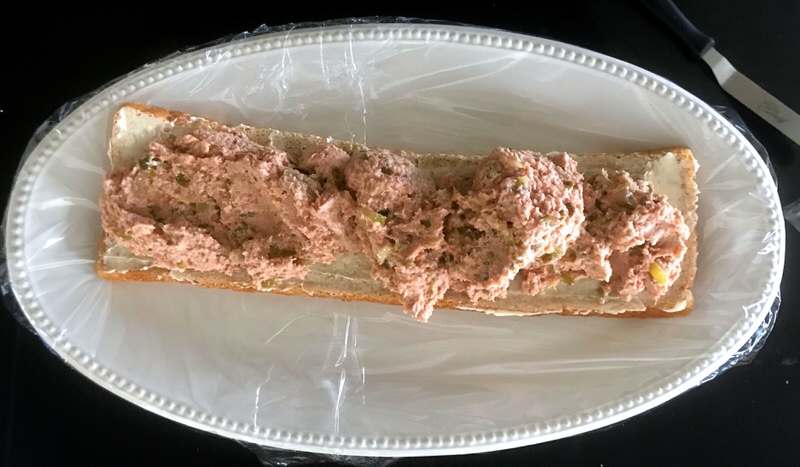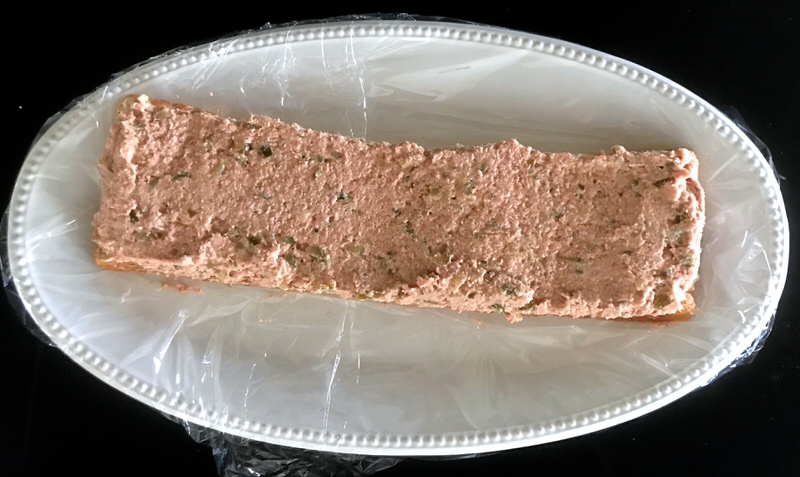 Bread, butter, filling. The small off-set spatula works like a dream for spreading the filling. Nice and thick. Make both loaves at the same time to evenly divide each filling.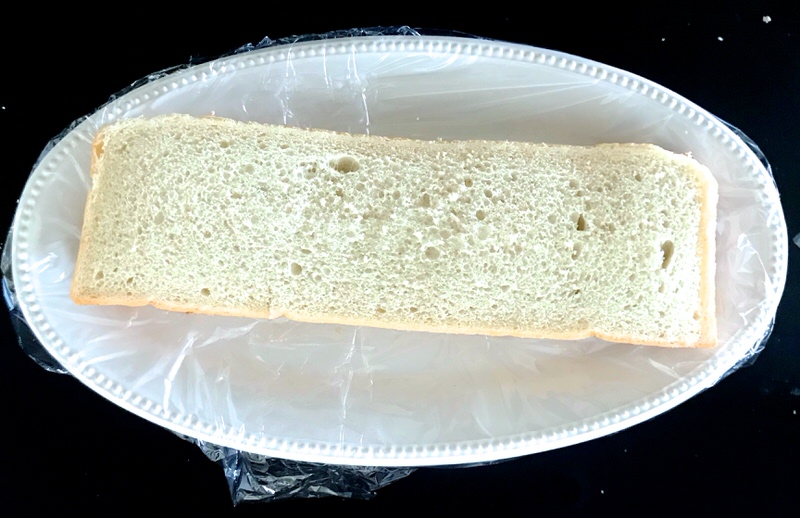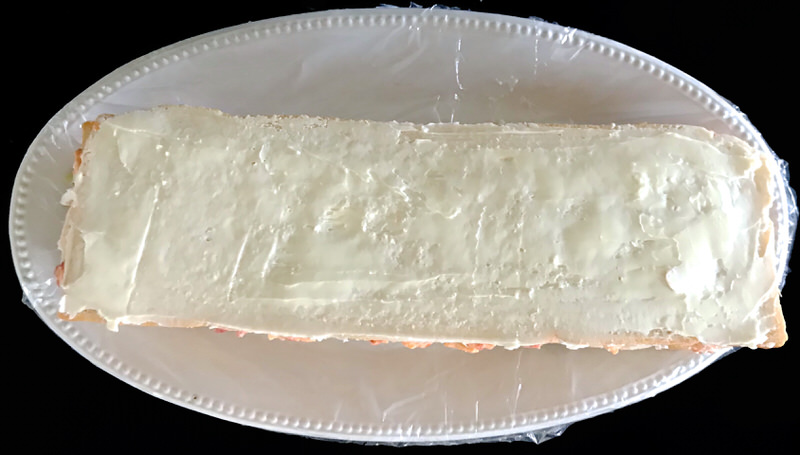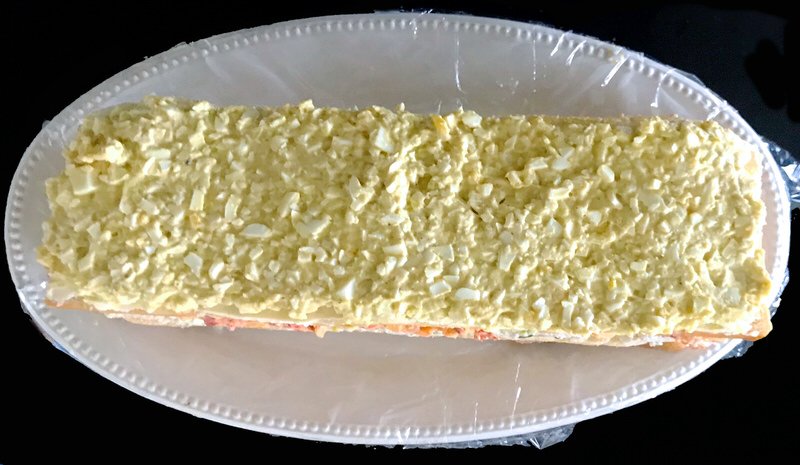 Bread, butter, filling. You get the idea. These eggs were topped with avocado and both loaves finished.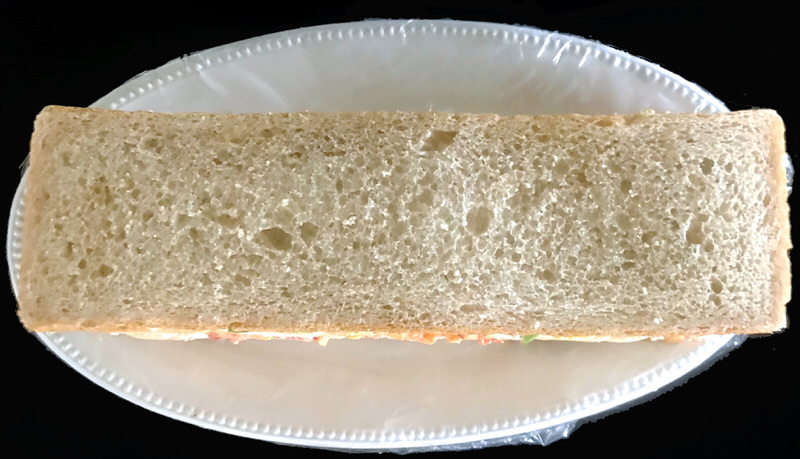 Retro Frosted Tea Sandwich Loaf: Another Perspective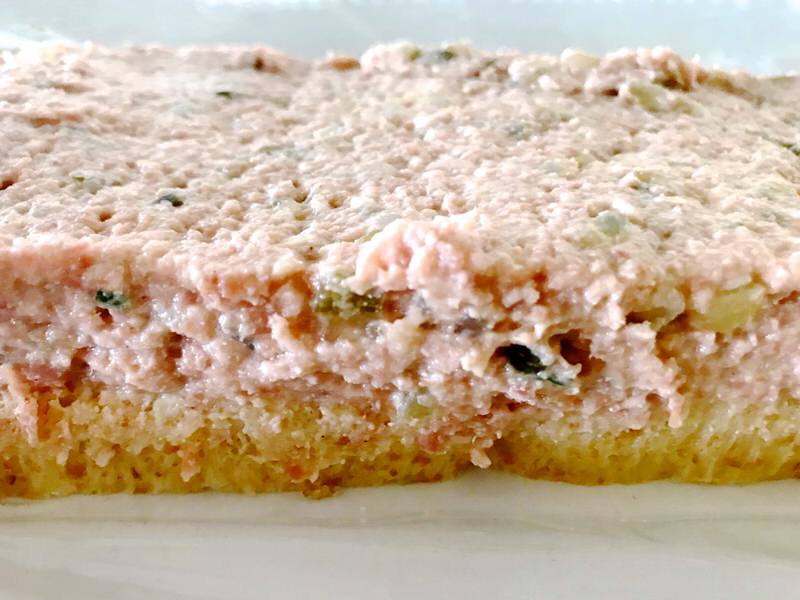 From the side view, let's look at the beauty of the architecture in this loaf! Layer one: deviled ham with pickle filling.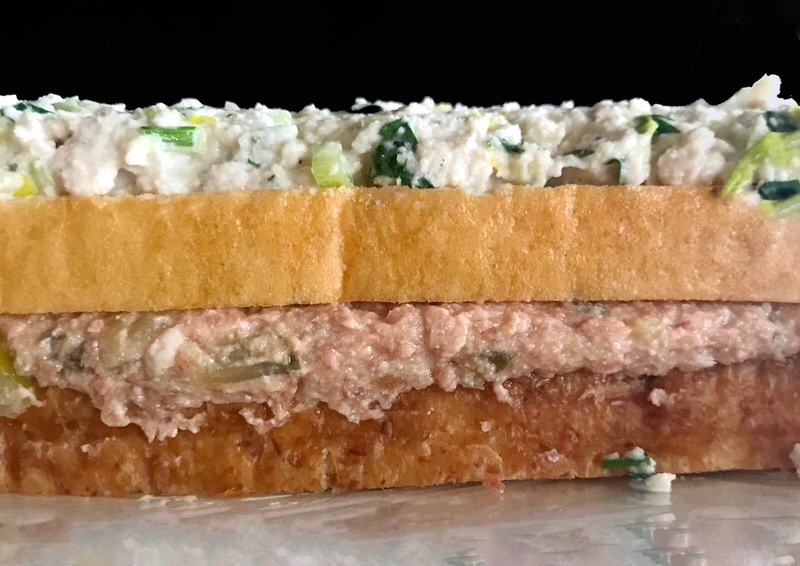 Layer two: deviled ham with pickle filling topped with chicken salad.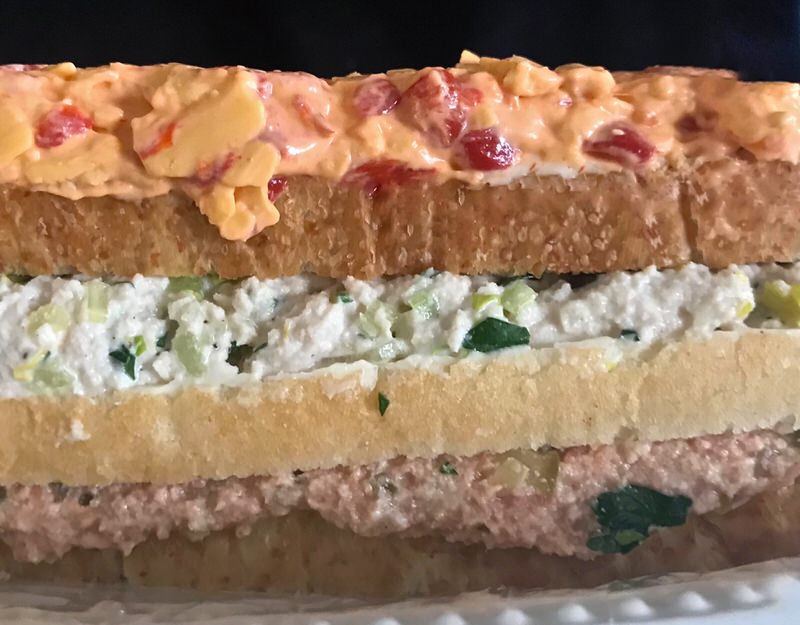 Layer three: deviled ham with pickle filling topped with chicken salad and then vibrant pimiento cheese.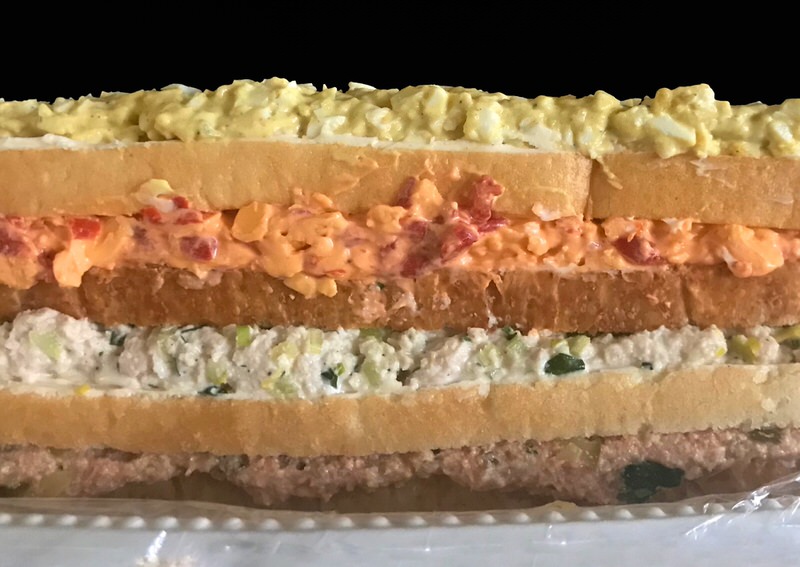 Layer four: deviled ham with pickle filling topped with chicken salad, vibrant pimiento cheese and curried egg salad. How grand?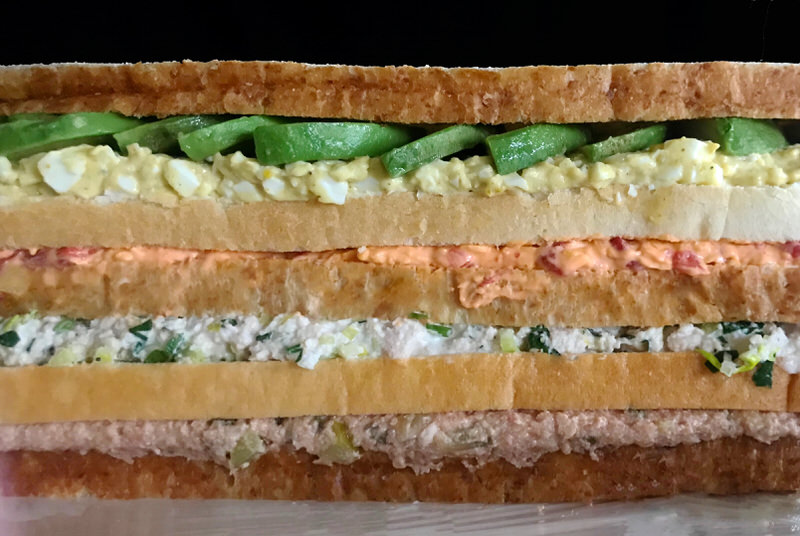 Layer five, but really topping up layer four: deviled ham with pickle filling topped with chicken salad, vibrant pimiento cheese and curried egg salad crowned with a thin layer of sumptuous verdant avocado.
Retro Frosted Tea Sandwich Loaf: Curing the Loaf
Carefully swaddled in plastic wrap, both loaves are chilled overnight to cure.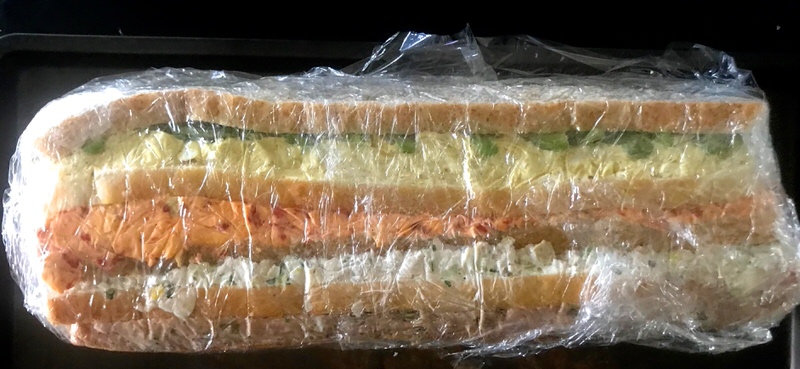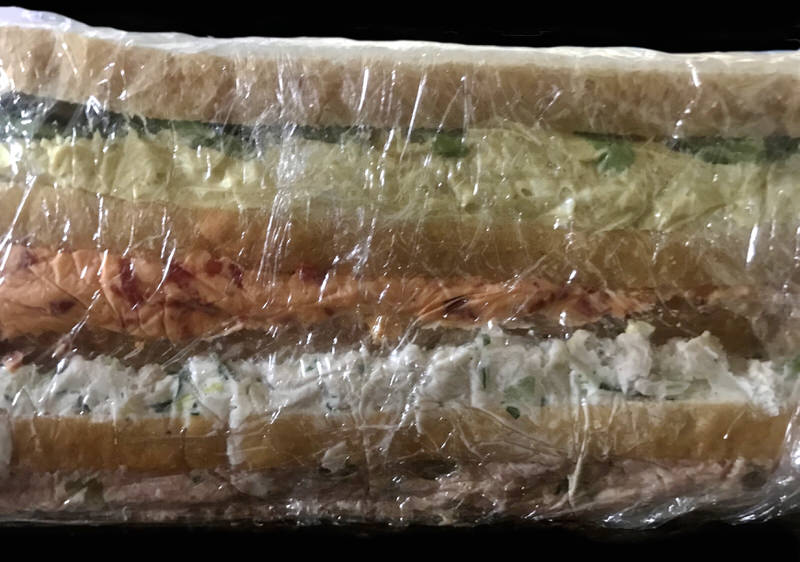 The loaves develop structure through this process that enables icing them with ease.
Retro Frosted Tea Sandwich Loaf: Frosting the Loaves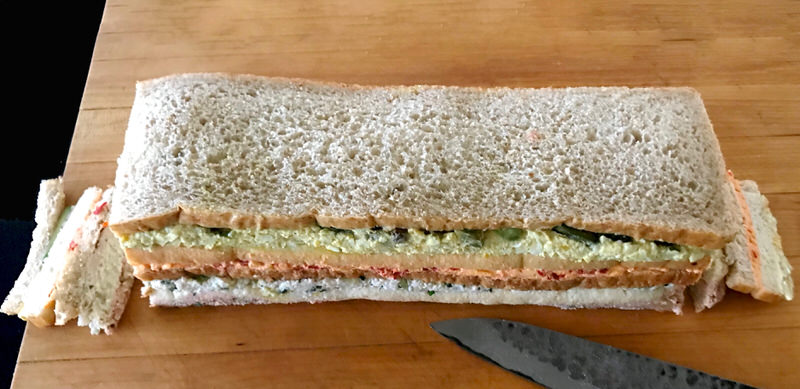 Out of the plastic wrap, thinly trim the ends and sides as necessary to create a flat surface. A sharp knife is essential here.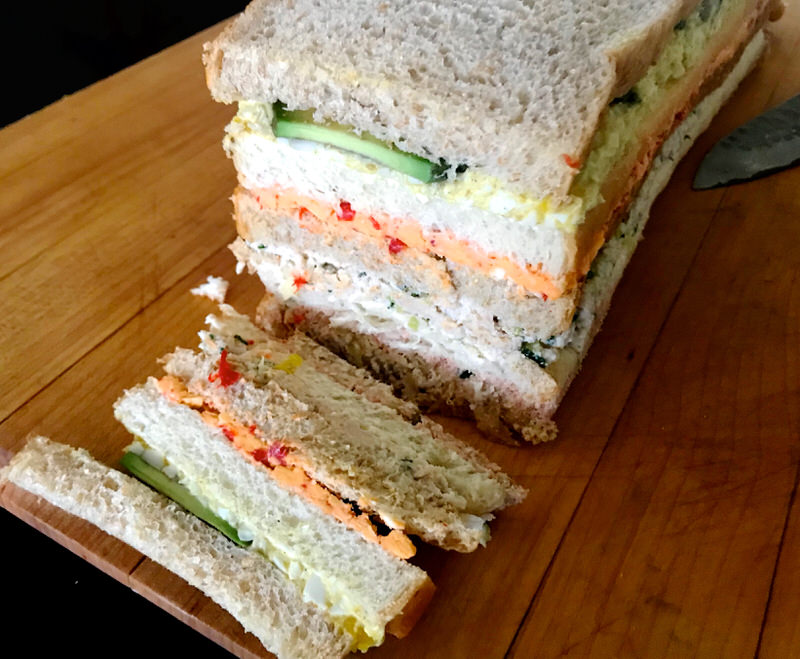 Don't throw out the trimmings. Deee- licious! (I likely don't need to tell you that, though, do I?)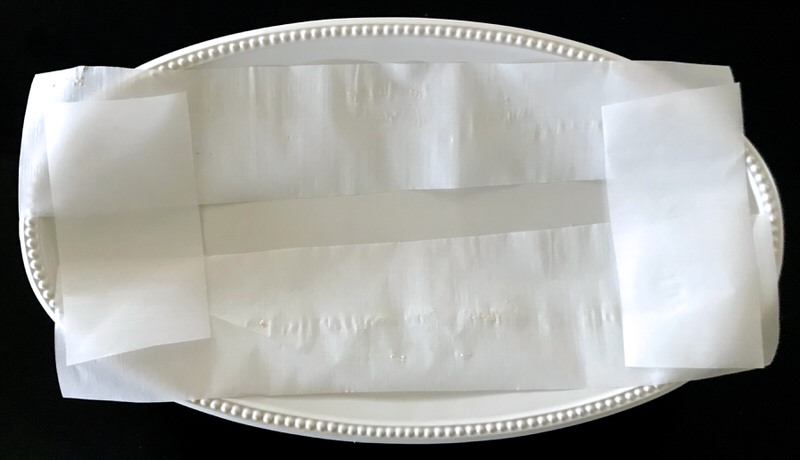 Parchment paper under the bottom that can be easily removed will protect the platter from messy frosting. This is the same process used when icing a cake, right?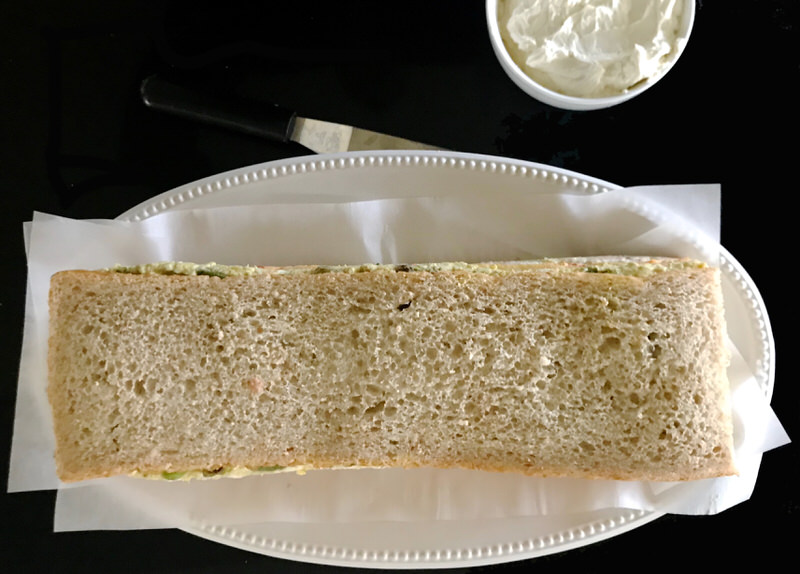 Onto the serving platter, it goes. A large spatula and another set of hands might be helpful at this point. Now, divide the frosting into three equal portions. Weighing helps. One portion for each loaf (that makes two portions) and the last for the garnish. I put it into the pastry bag right now and set it aside.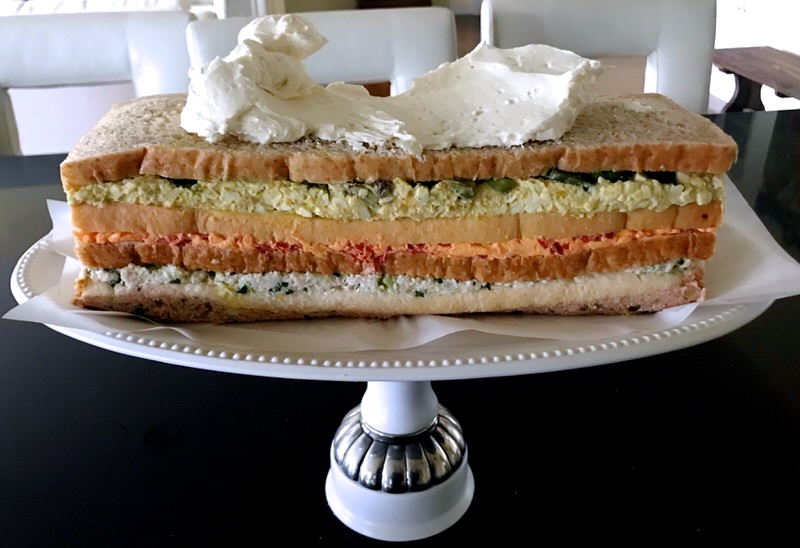 Think about the 6 surfaces that need frosting. A third can go on the top as it will go over the edges and onto the sides.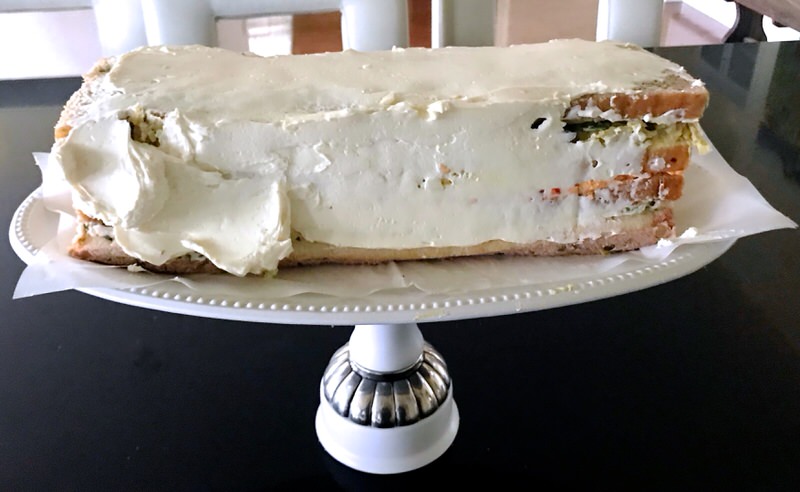 I like what I do to look lovely, but don't worry if it looks somewhat flawed as no one else will notice. When I was younger, I would have been heating the knife or using a blow drier to smooth out the frosting on the sides of the loaf. Really, that's just an exercise in frustration as there is no such thing as perfect so knowing the goal is to cover all surfaces is enough.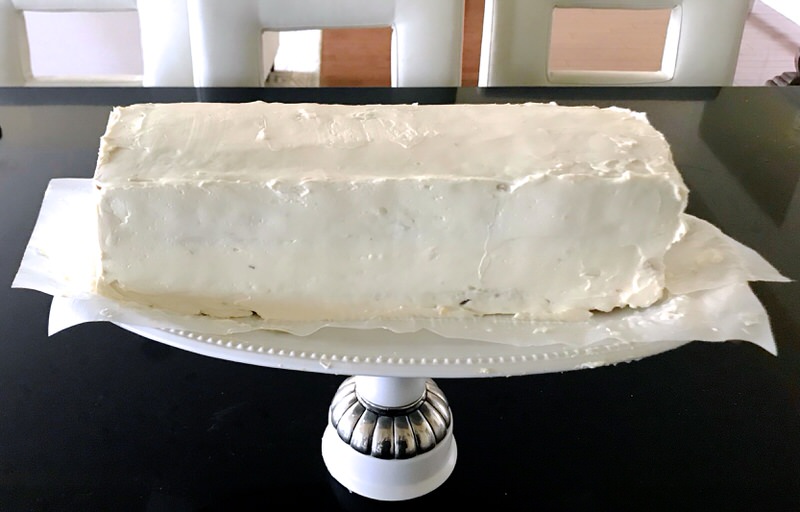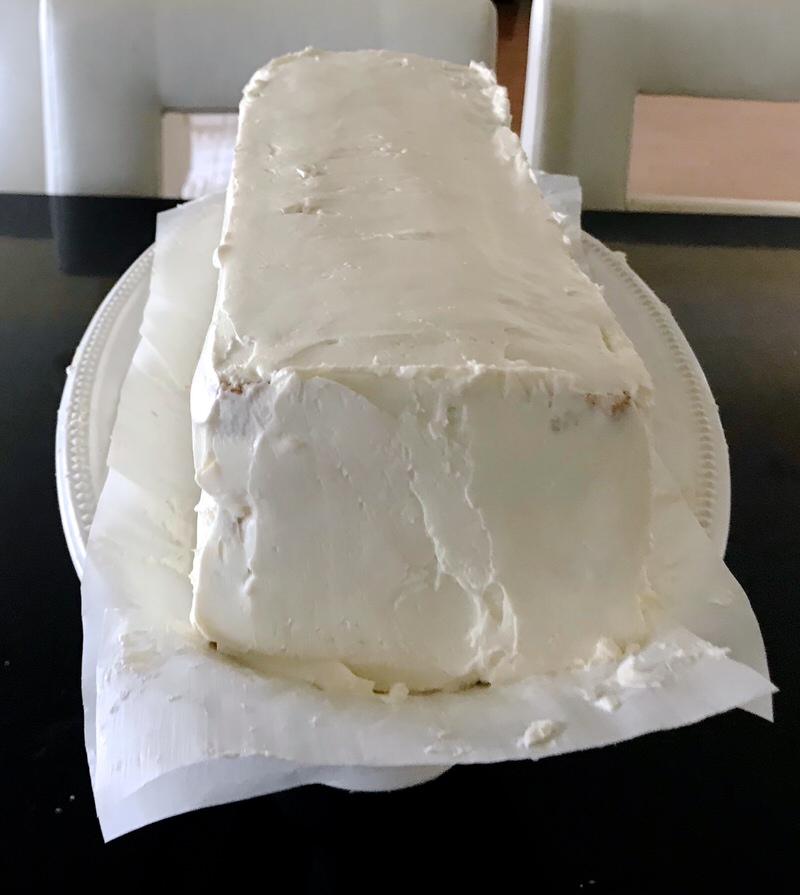 See? Far from perfect, but looks great, no?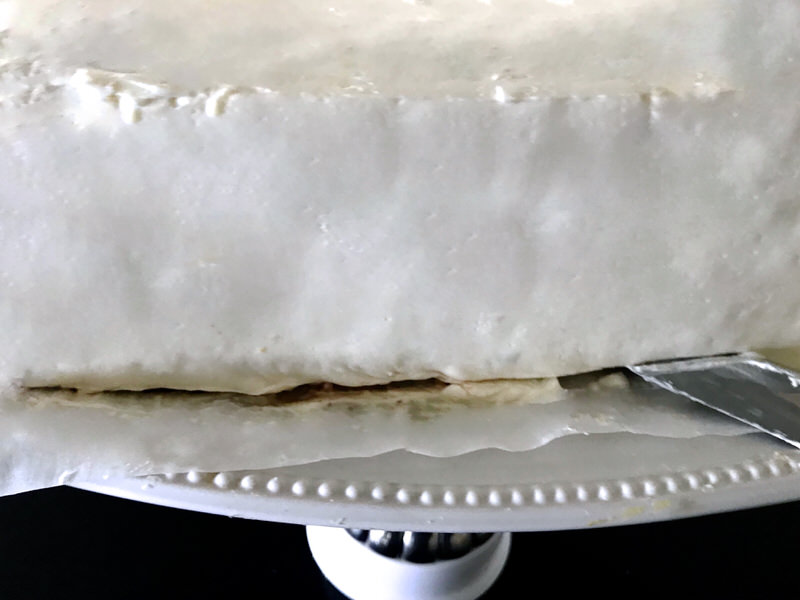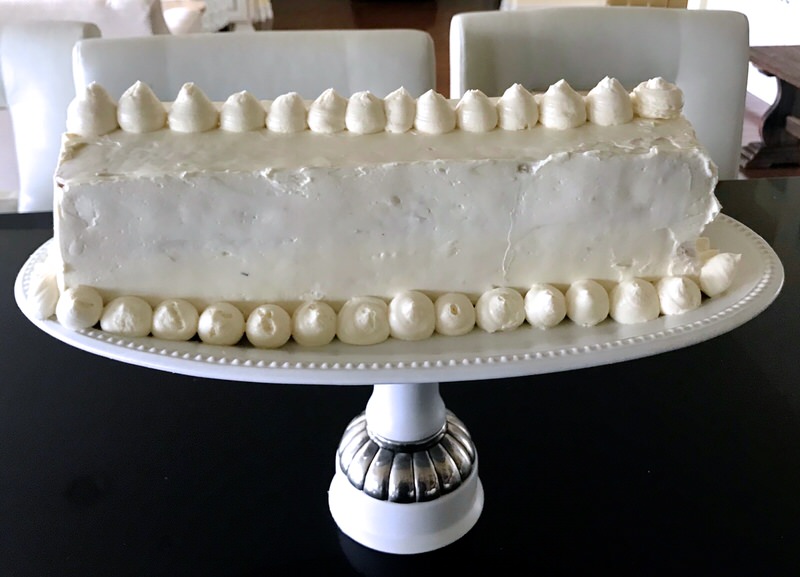 The amount of garnish on this loaf works perfectly with one-third of the batch. You may have a small amount left over and you may not. You will definitely have enough unless you go crazy and decide to do little rosebuds or something all over the entire surface.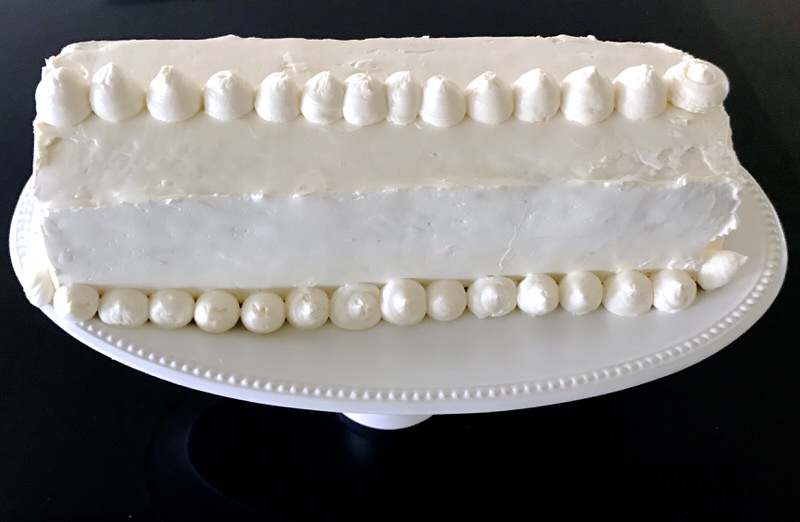 I am so easy to please. Isn't it just lovely? I planned to garnish the top with finely chopped chives and or black olives to "hide" the imperfections and to bring a little life and colour to the plate.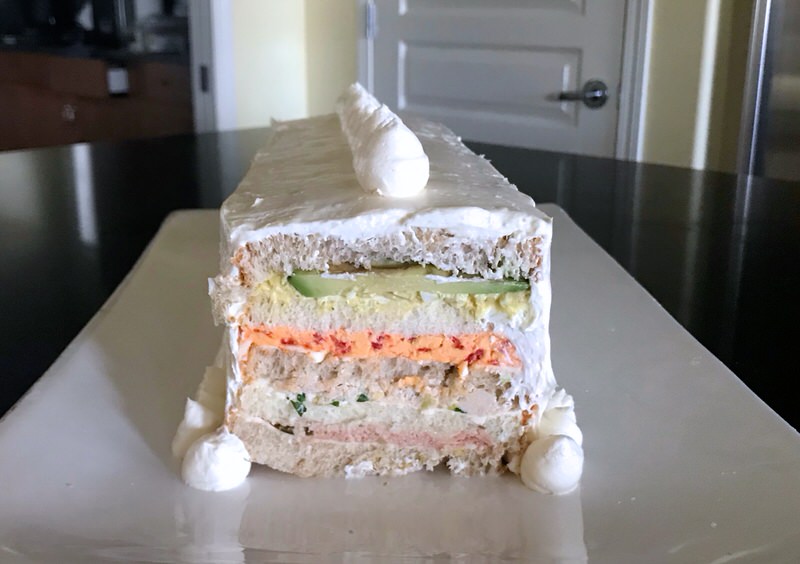 Of course, simply slicing into it will do that.
Retro Frosted Tea Sandwich Loaf: Serving a Slice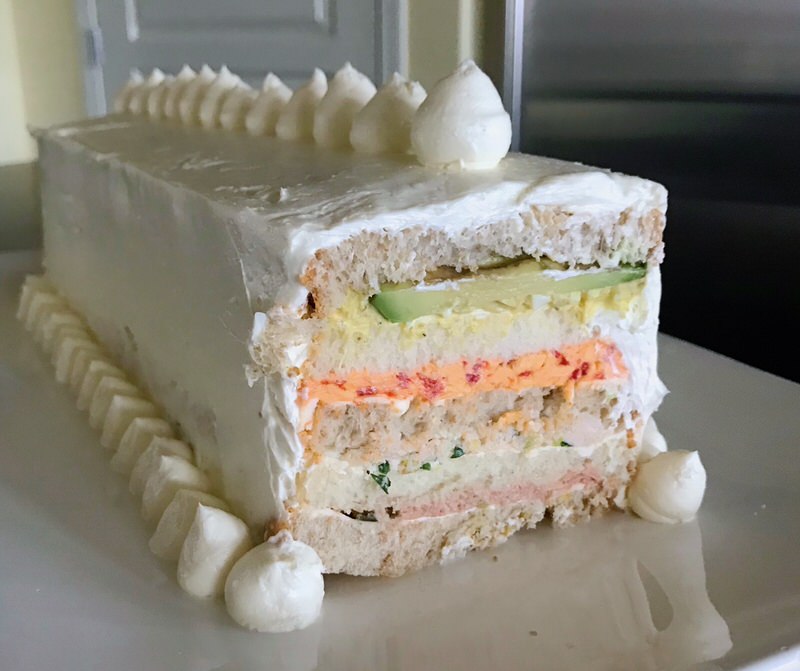 Oh, my. Are you hooked, yet? Will you make the same fillings or do it differently. Do tell. I think the perfect side was the little cup of veggies and dip with an olive or two. The Retro Tomato Soup Shimp dip is not necessary, but neither were two cakes, right? It is just nice sometimes to do a little more. And, well, frankly, it's what we do on the Canadian Prairies. We always make more than we need or than our family or guests will eat and we love doing it. It is our way of showing those in our world that they are loved. Today, Ragan and I did this for my mom and her grandmother, and I know she felt the love. Happy, Happy 89th mom!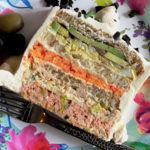 Frosted Sandwich Loaf Recipe
This frosted sandwich loaf holds a surprise in every layer: curried egg salad, tomato, chicken salad, and devilled ham-pickle filling between slices of bread — frosted with a velvety smooth mixture of mayonnaise or salad dressing and cream cheese. Makes 2 loaves and 22-24 servings.
Prep Time
2
hours
30
minutes
Ingredients
Ingredients for Loaf
2

large Avocado

peeled and thinly sliced

1

lemon

1

loaf brown (whole wheat square sandwich bread)

sliced lengthwise

1

loaf white

as above; both about 1 lb. 13 oz.

¼

pound

butter
Ingredients for Ham Filling
4

cans Devilled Ham 2 ¼ ounces each

1

cup

dill pickles

finely chopped, drained and patted dry
Ingredients for Chicken Filling
½

cup

mayonnaise

2

tablespoons

onion

minced

1

tablespoon

fresh lemon juice

1

teaspoon

salt

Freshly ground black pepper

3

cans chicken 5 ½ ounces each

1

cup

celery

diced

¼

cup

flat-leafed parsley leaves

finely chopped
Ingredients for Devilled Egg Filling
4

hard boiled know-your-farmer organic eggs

finely chopped

¼

cup

mayonnaise

1

tablespoon

Dijon mustard

1

tablespoon

onion

minced

½ -1

teaspoon

curry powder

freshly ground black pepper

salt

to taste, if needed
Ingredients for Pimiento Cheese and Olive Filling
½

pound

or 250 grams extra-sharp Cheddar cheese

shredded

3

ounces

or 85 grams cream cheese

softened

2/3

cup

pimientos

drained well and chopped

2

tablespoons

mayonnaise

2

teaspoons

lemon juice

¼

teaspoon

cayenne pepper
Ingredients for Frosting the Loaves
6

packages (8 ounces or 250 gram package cream cheese

1 ½

cup

mayonnaise

½

cup

tablespoons heavy cream
Instructions
Instructions for Ham Filling
Combine deviled ham and chopped pickle; set aside
Instructions for Chicken Filling
Combine all ingredients; set aside
Instructions for Curried Egg Filling
Combine all ingredients; set aside
Instructions for Pimiento Cheese Filling
In medium bowl with handheld mixer on medium speed combine all ingredients; set aside
Instructions for the Frosting
Combine cream cheese, mayonnaise and cream; blend until smooth

Divide into three equal portions; two in bowls covered with plastic and leave on counter at room temperature overnight

Place third portion in pastry bag with large plain tip; place on counter overnight at room temperature
Instructions for Filling the Loaves
Prepare fillings; slice avocado and squeeze lemon juice over and chill

Cover 2 baking pans with plastic wrap; place 2 brown slices on each pan

Spread each with soft butter and spread ham on each at the same time; dividing the filling by 2

Continue by alternating breads, buttering each, in this order, bottom to top: ham filling, chicken filling, pimiento cheese filling and curried egg filling topped with thinly sliced avocado and slice of brown bread

Wrap well in plastic wrap and refrigerate overnight to "cure" or to firm up loaf to enable easier frosting process as loaves stabilize
Instructions for Frosting the Loaf
Unwrap one loaf at a time; keep other in the fridge until the first is complete

Place on cutting board; unwrap completely and carefully slice off ends or sides very thinly, but to ensure even sides for frosting (quickly as cold loaf works best when frosting)

Prepare serving tray with 2 lengths of parchment paper and 2 ends portions

Carefully lift loaf, supporting middle, onto tray over parchment paper, ensuring it is under the sides and ends to avoid icing getting on serving tray

Spread frosting mixture on top and sides of loaf with large off-set spatula; work each side and top first, ensuring ends are also iced

Run end of off-set spatula under loaf along bottom on all sides and ends to enable easy release of parchment paper and a clean edge at bottom of loaf

Remove parchment one side or end at a time and decorate with extra frosting in the piping bag, if desired (don't use more than half per loaf, but there should be plenty)

Chill thoroughly

Garnish with any of the following: black olives (drained and patted dry), parsley, finely minced chives, crumbled or sieved hard-cooked egg yolks
Instructions for Serving
Remove from refrigerator 30 minutes to an hour prior to service to enable a cool room temperature slice as flavour is best when fillings are not cold

Slice with sharp knife and use an ample serving spatula to place each slice on serving plate

Enjoy with tea, wine, or bubbly, followed by a lovely slice of cake!
Recipe Notes
Make sure you make both loaves simultaneously as this will ensure fillings are evenly distributed.