Once a Prairie Tradition, now an Endangered Cookie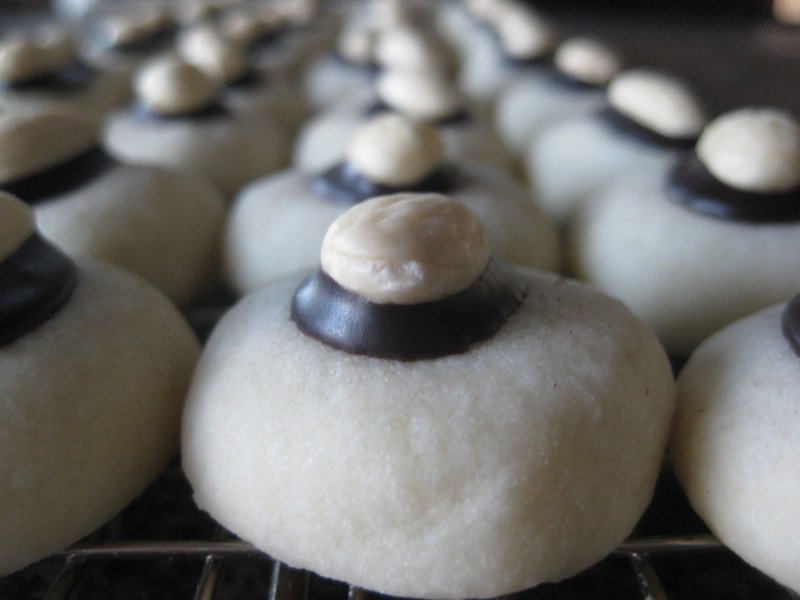 My maternal grandmother. Maude (yes, Maude), would make these Brown Eyed Susan Cookies so big and flat and perfectly round, but for no special occasion whatsoever. That was the first reason I loved her. If I was staying with her, or the whole family was there, she would cook and cook and cook and cook whatever she had in the house that she thought we would enjoy. Her cookie jar was always full. Well, half full, actually. It got a really good daily workout. She had one of those mammoth glass mason jars with the wide metal lid that screwed on it. I am not sure what originally came in those jars, but they were everywhere when I was a child, and now there are replicas everywhere. Maude invented Costco-sized-cookies when it was bad manners to take more than two cookies. I loved her cookies. No one could ever eat two of them. These ones were my favourite because of the chocolate and the almond. Her other specialty – well, she had many others, actually. Her other most common cookie that filled that jar was her Sugar Cookie.
I love you grandma. I miss you, too. You were such a tremendous influence on me and these cookies, once so common in on prairie tables are almost non-existent. Is it possible for a cookie to become extinct? I suppose it is. Eating a family meal at the dinner table is on the endangered list, so I guest it would be fair to say that a cookie could easily have been overlooked, and at risk, as well.
And, I also have brown eyes. Brown Eyed Susan Cookies are my namesake cookie. Grandma would tease me and call them "Brown-eyed Valerie's". Even more reason to raise my wooden spoon in concern.
But, I do wonder what ever happened to the longevity of the Brown Eyed Susan Cookie named after a prairie flower (and me). You can Google it, and find recipes of it, but no one is making it anymore around these parts. I love it. Not as sweet as shortbread, but a tender bite of prairies past. I make them small. I always want to taste everything, and small is the only way to justify that. Besides, Brown Eyed Susan Cookies are the perfect counterpoint to the Turtle Cookie on my assortment plate. I do make an effort to present the positive and negative image of a cookie, or a tart side by side. Contrast is always good; even on a cookie tray.
So, I work to repopulate the endangered Brown Eyed Susan Cookie every Christmas. And, every season I notice there are more and more of them left on the tray. That would be a good thing in the living world of preservation. But this is Cookie World. In Cookie World the cookies have to get eaten, and the recipe has to be asked for and people have to run home to make them at their house.
Is this because they are not so sweet? They are a quiet, unassuming cookie. Pure in composition and strong in stature, but have just not kept up with the times, I suppose. Sugar, baby! Lots and lots of sugar! Maybe there is just not enough sugar?
I support the Preserve the Christmas Cookie Baking Foundation, and will continue to work my memories into this dough year after year. Someone will join the cause, eventually – or, let me know if they are already out there tending to their Brown Eyed Susan Cookies et al, as well.
I form each by hand, shaped as above. I told you they were flaky! I can never wait for the icing.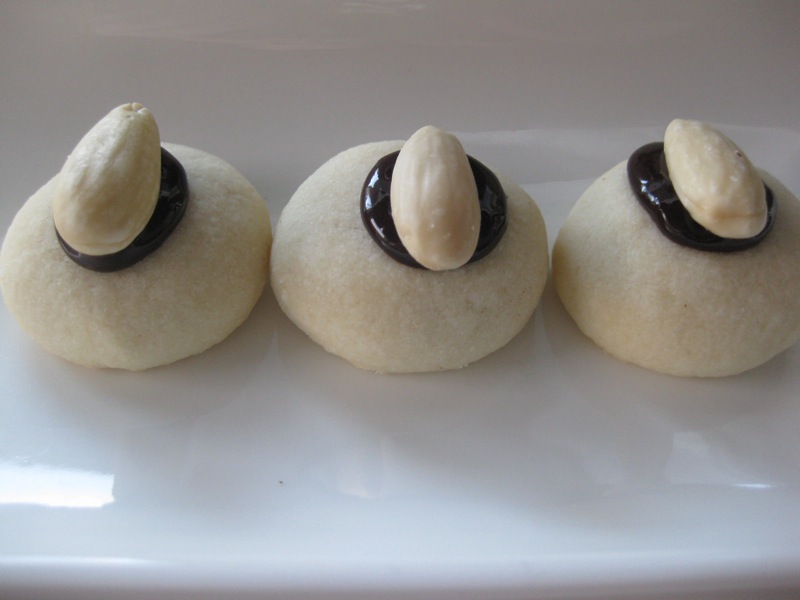 Hot water, cocoa and icing sugar are used instead of chocolate to make the glossy globules of goodness on top. I have thought of melting a great quality chocolate, but that would be so wrong. They are a taste of the paste, and changing that may not get me kicked out of the Preserve the Christmas Cookie Baking Foundation, but it certainly would muddle the genes for those working to preserve this, and other cookies on the endangered list.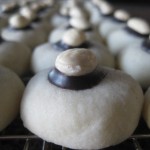 Brown Eyed Susan Cookies
Help me revive this endangered cookie! Grandma Maude used to make large round Brown Eyed Susan Cookies that she told me were named after my beautiful brown eyes and the flowers in her garden. They were often set out on Canadian prairie kitchen tables for coffee or tea time, but I haven't seen them on anyone else's table for years. This is a daintier version of Grandma's farmhouse snack for the holiday season.
Ingredients
Ingredients for the Cookie:
1

cup

butter

3

tablespoons

sugar

1

teaspoon

almond extract

2

cups

flour

1/2

teaspoon

salt
Ingredients for the Icing:
1

cup

icing sugar

2

tablespoons

cocoa

3

tablespoons

hot water

1/2

teaspoon

vanilla
Instructions
Instructions for the Cookie:
Pre-heat oven to 350ºF

Cream all together and roll into balls, flattening slightly on cookie sheet

Bake at 350ºF for 8-10 minutes, until bottom is barely brown
Instructions for the Icing:
Combine sugar and cocoa; add water and vanilla

Dot each cookie very carefully with icing, and top each with one whole blanched almond

Freeze in a well sealed container
Recipe Notes
* Almonds must be really fresh; I don't toast them for this application
* When icing the cookie, use the smallest spoon and tiniest amount of icing; ensure it is glossy
* Hands must be super clean to not mark the cookie; hold it and turn it to avoid the icing from running down the sides (best to have a teardrop shaped dollop to match the shape of the almond you place on top of it)
* The icing can get muddy and loose its gloss; heat it and stir it up to regain its gloss and continue