Corn Tamales with sweet fresh corn!

It is not corn season, but it is Mexican Cooking Season in my Canadian kitchen. No doubt about it. I have come back from my trip Mexican food obsessed. I knew what a tamale was and tasted a bite of one, once. I wasn't that impressed, but more intrigued by the packaging and the possibilities. I love food in wraps.

This is a corny dish. And I mean CORNcentric. Often even wrapped in corn husks, the tamale has a corn flour base that hides a treasure within. This particular recipe is not a mix. It is the authentic, classic, traditional real deal: fresh corn (in this case, beautiful sweet frozen corn) added to corn mesa.

I adore the flavour leaves impart when steamed or baked wrapped around food: grapevine leaves, cabbage leaves, taro or laulau leaves, lotus leaves and banana leaves. Each significantly alters the flavour of the concoction it is wrapped around and with a tamale, then corn mash hides another treasure within.

I used a jar of black mole to cook the turkey tendrils in, then shredded them and placed a generous portion into each tamale. The corn mixture baked into a puffy mass with a light lovely texture and was scrumptious, but very sweet. Interestingly, I do enjoy sweet savory foods like sweet and sour pork, or honey chicken wings. However, I find the sweetness in a savory tamale completely off putting. Yet, this is how they are. They are sweet and savory. I do really enjoy them as an appetizer, snack or dessert with cheese and dried fruit inside: sweet on sweet. I also made a couple of these without any meat in them at all, and gobbled them up. Loved those and they could then be a side dish: sweet, yes, but somehow worked with my personal food sensibility.

Gorgeous sweet corn in my Thermomix bowl was mash in seconds.

After whipping in the milk, butter, oil, salt, flour and baking powder, a teaspoon of the batter had to float in water to be the correct consistency for the steamer.

And she floated! Some people like cookie dough. Not me. Yet, this was mighty tasty batter!

Banana leaves are definitely not local or seasonal. Purchased at the local supermarket, thawed, cut and filled. Super easy and inexpensive. Much easier and more inexpensive in Mexico. Banana trees grow like weeds there. Everything does. Fruit falling and rotting on the ground. Papayas that are 5 dollars a piece in the market here.

The "trick" is to encase the filling with the batter, roll the leaf around it, pull off a strand of the leaf, tie a little bow on it, and place it in the Thermomix Varoma to steam for 50 minutes.

Think of all of the other dishes you could be cooking in the Thermomix while the tamales are steaming on top! Quince paste would work. It takes about an hour to bubble and cook in the TM bowl at full throttle.

And there is is. Done. A delicious addition to the Mexican dinner I made for mom last Sunday when the rest of the community was at an incredible Slow Food dinner at RGE RD. Ah, well. Family meals are important and as mom didn't take the Mexican cooking class, but came with me on the trip and ate a lot of the food there, I enjoyed sharing me newly acquired expertise with her as we both recalled the colours of the Caribbean sea and the heat of the sun only 4 short weeks ago.

The Enchiladas Potosinos are my all time favourite. I salivate looking at the photo. Vanja really enjoyed the Chile Relleno, though for some odd reason, the Poblanos were unusually hot. I used the turkey mole to fill them will, some fried Mexican rice and topped them with my own freezer oven roasted tomatoes and garnished with Mexican Crema. I will add this recipe to the mix in a couple of days. Mexican Chorizo is so scrumptious, but very fatty. It is raw, not dried like the Spanish, and must be cooked. The one at the local Mexican grocer didn't taste anything like the kinds we had while there. Too bad. And, so far, there are 4 of us cooking Mexican this summer as 4 people have actually read to the bottom of my post on my Mexican Cooking Class. Unbelievable, but true. 🙂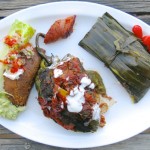 Corn Tamales: Corn Husks and Banana Leaves
Makes 15 medium tamales. These can be appetizers, but are usually served as part of a main course. They can also be sweet and served as a snack or a dessert.
Total Time
1
hour
20
minutes
Ingredients
Ingredients for Tamale dough:
10

ears fresh sweet yellow corn

(8 cups frozen niblets)

½

cup

oil

¼

cup

butter

, room temperature

½

cup

sugar

(amount will vary depending upon the sweetness of the corn)

2

cups

corn flour

(or tortilla mix)

½

cup

half and half of whole milk

½

tsp

salt

1

tablespoon

baking powder

Corn husks

, fresh or dried store bought
Ingredients for Tamale filling:
6

ounces

Oaxaca cheese cut in strips

(mozzarella will substitute)

4

Japapeno peppers

, stemmed, seeded, and cut into strips

OR thick marmalade

, or canned pineapple, or quince paste

OR green salsa

, or mole salsa and shredded chicken with mole sauce
Instructions
If using dry husks, soak in cold water for 5 minutes; set aside

If using banana leaves, thaw and cut into similar rectangle sizes

Remove kernels from cobs; puree in food processor

Combine oil and butter in bowl; using mixer, cream sugar, milk, salt into fat

Add pureed corn, flour and baking powder to mixture in bowl; stir to combine (may take 10 minutes of beating)

Take a teaspoon of paste and drop into glass of water: if it floats, it is ready
Filling husks:
Pat husks dry; overlap 2 husks to fit mixture between them

Spread 2 big tablespoons of mixture down centre of husks, forming a rectangle

Place one cheese strip, or more, depending upon taste, in centre of filling; add two (more or less) chile strips to cheese, also depending upon taste

Cover chile and cheese completely with filling by folding the husk over onto filling; tie with corn husk strip or string

Repeat with remaining husks

Place in steamer rack over boiling water; cover and steam 50 minutes, or until firm

Serve immediately
Filling Banana Leaves:
Pat leaves dry and cut into rectangles to determine large or small portion sizes; they may have linear tears in them that will be fine, when folded

Spread 2 big tablespoons of mixture down centre of leaf, forming a rectangle

Place shredded meat or vegetable filling in lower half of corn mixture; with paddle spatula, fold upper portion of the corn mixture over the filling, to cover completely

Follow by folding banana leaf over corn mixture 1/3 of the way to ensure filling is completely enclosed in corn mixture; fold the bottom 1/3 up over the top

Fold the ends of the banana leaf over the filling, one at a time, to form a package

Repeat with remaining leaves

Place in steamer rack over boiling water; cover and steam 50 minutes, or until firm

Serve immediately
Instructions for the Thermomix:
Remove kernels from cob or measure frozen corn into the TM bowl; puree for 30 seconds, speed 0-10 and then repeat, until desired consistency is reached (should be very fine)

Scale oil, butter, sugar, milk, and salt into TM bowl on top of the corn; mix to combine at speed 0-4 for 10 seconds

Scale flour and baking powder TM bowl; mix to combine at speed 0-4 for 20 to 30 seconds, then puree batter from 0-10 for 30 seconds 2 to three times, scrapping down the bowl and using the spatula to keep the batter near the blades while mixing

Puree the mixture another couple of times for 10 seconds from speed 0-10

Take a teaspoon of paste and drop into glass of water: if it floats, it is ready (wait 5 seconds to give it time to float)

If not, continue to scrape down the bowl, and combine the batter