Sunday Sauce or Sunday Supper: Taking on a Challenge with That Jew Can Cook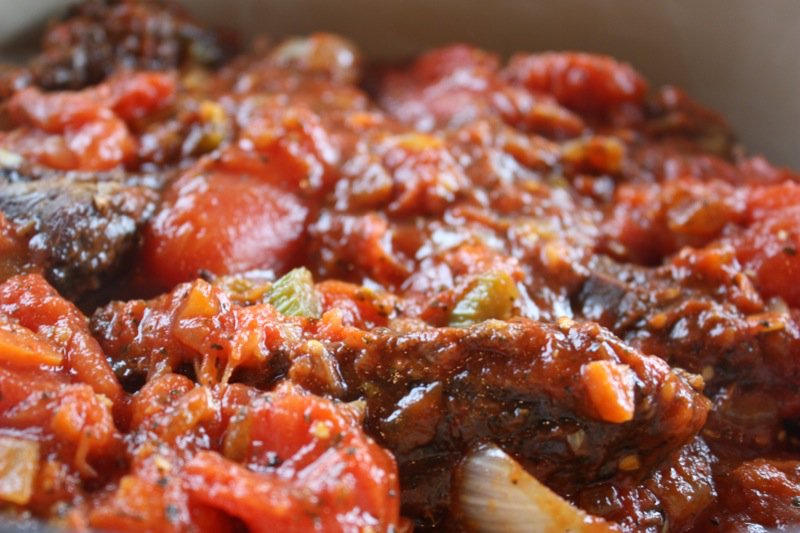 I have heard of Sunday Sauce. I have never eaten it and always wanted to, so I rose to this challenge!
It wasn't as much work as it appears to be. I made the meatballs on an earlier day, and froze half of the batch to save for the Sunday Sauce. They were the best meatballs I have ever made. Maybe I won the meatball challenge. Was there a meatball challenge? I "met" Andy at That Jew Can Cook at egullet. We are both member there, and I had asked if any of the e-gullet members had their own food blogs within a discussion of favourite food blogs. Andy answered with his. I have been a fan of his ever since. He makes very entertaining and informative videos about how to make some of his favourite recipes. He is funny, and he is real.
Then he made Sunday Supper for Superbowl and he and his friend fought it out in a Sunday Supper Challenge. Andy won -Â because of the fennel seed in his sauce, he says. That could be a deal breaker for me. I love fennel in sausage and sauces! And only by a hair, he adds. Then he challenged his readers. I was definitely "in"! But, talk about slow on the up-take. That was MONTHS ago!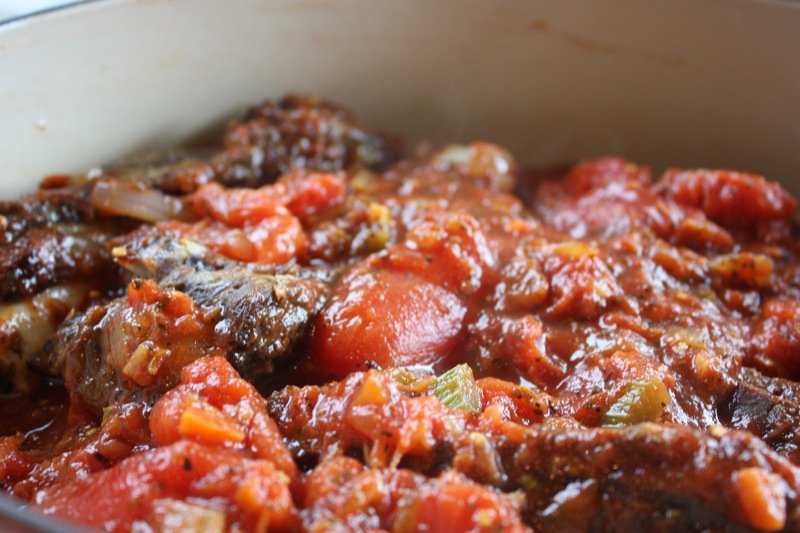 I knew this would be a recipe that Vanja would enjoy. It is a meatlover's dream: ribs, meat balls, sausage and braciole. I loved the idea of these savoury parcels simmering on the back of my stove the entire day filling the house with the homey aromas of Sunday Supper. Andy's recipe is here. I got into the meatballs fairly soon after taking on the challenge. I went to a great effort to order extra fatty pork from Irving's Farm Fresh (Berkshire boar), veal from the butcher that I had to grind myself, and some lovely beef from Jerry Kitt's First Nature Farms at his booth in the Old Strathcona Farmer's Market. I made the Ultimate Meatball. I will make them again, and again. I developed my recipe through reading several. I was really happy with the flavour, texture, and succulence of these juicy little morsels.
Tomato Sauce Recipe:
Ingredients:
2Â tbsp olive oil
1 large onion, chopped
1 large carrot, peeled and chopped
2 large stalks of celery, chopped
6 garlic cloves, chopped
1 tbsp oregano leaves
1 tbsp basil leaves
Kosher salt and freshly ground pepper, to taste
1Â tbsp fennel seeds (this time)
1/2 a 6 oz can of tomato paste
4Â 28-ounce can whole peeled tomatoes
1/2 cup water or broth (this time)
Instructions:
Deglaze the frying pan used to brown the meats with the 1/2 cup of water of beef broth, and reserve liquid
In a large skillet or dutch oven, over medium heat, sautéonions, carrots and celery in oil for about five minutes, or until translucent
Add garlic and stir in for about 30 seconds, then add tomato paste with the herbs and seeds, cooking and stirring until the vegetables are covered with the paste and it has thickened and browned a bit (about 2 minutes
Add reserved beef broth(or water) from deglazing the pan and the canned tomatoes; stir to combine
Bring mix to a low boil, or simmer; you can blend the sauce after the aromatics are soft, or leave it chunky: I prefer a chunky, toothsome sauce
Immerse all of the browned meat portions into the sauce:

ribs
sausage
meatballs
braciole

There should be just enough gravy to barely cover the meat (says Andy, and others); Â if there isn't enough add a few more blended tomatoes, or plain tomato sauce; I actually made an entire other batch of tomato sauce (My meat was barely covered, but I didn't see it simmering; I saw it sticking to the bottom of the pot, and burning)
Simmer on low for several hours until the ribs are falling off the bone; I finished the simering in a roaster in the oven

Today, I was making the sauce and the braciole. I consider myself a master at homemade tomato sauce. I have been making it for years and have learned to build a depth of flavour with the base, the tomatoes, and the herbs on their own. I was not daunted by this.
In go the aromatics for 5 minutes, or so, until translucent.Then the garlic, and about 30 seconds later, the tomato paste and seasonings. I was so surprised to find out that my Italian friends don't usually add tomato paste to their sauces. For me, the paste is an essential ingredient in building a deep flavour.
And, as my sausage did not have fennel in it, I added a handful of fennel this time. I usually add only basil and oregano: equal and generous amounts of each. I would have added more, but I was out.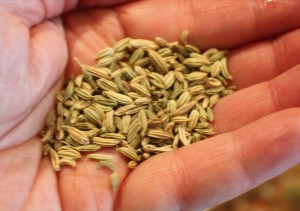 Once all of the vegetables are coated with the herbs and the paste, in with the tomatoes. Really good tomatoes is essential to a really great sauce as they cook down and the distilled essence of the tomato flavour can really make the sauce sing. Or not.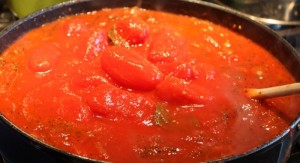 I season to taste. I tend to add quite a bit of freshly ground pepper and I use Kosher salt, or Maldon's Sea Salt. I find the flavour sparkles on my tongue just that much brighter with a good salt.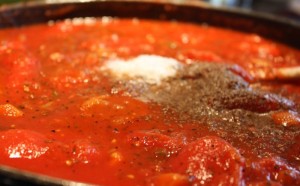 And, the sauce is ready to be filled with the browned meats and simmer on the back of the stove for hours. Did I make enough? I really wasn't sure. I had a lot of meat. I actually ended up making another complete batch of sauce, but with only 2 cans of tomatoes.
Braciole Recipe
Ingredients:
100g of toasted pine nuts

100g of Parmesan, chunked

2 cups of dry toasted Panko crumbs

6 garlic cloces

1 large bunch (a generous cup) of flat leafed parsley

16 very thin slices of beef, or pork (I froze an inside round, and then we sliced it very thinly upon thawing)
16 or 32 slices of Jamon Serrano
kitchen string
Instructions:
Scale first 5 ingredients into the TM bowl and blend to desired consistency (10 seconds, level 0-10)

Pound out the thin slices of meat; cover each with Jamon Serrano and pack on the filling
Fold and tie as per instructions above
I had heard of involtini, but not braciole. I have eaten neither, and I still do not understand the difference between the two after my internet research. In any case, Andy had it in his sauce, and Velva, from Tomatoes on the Vine suggested I use her recipe when I was telling her I was taking on the Sunday Sauce challenge with Andy. I read his recipe, and her recipe and other recipes, and then made up my own recipe influenced by them all, and adapted to the Thermomix. The filling I came up with was so good I could have sat and eaten it with a spoon. I have been constantly thinking about how else I can use it. I am thinking about stuffing it in sugar pea shells and topping it with fresh sweet raw peas… YUM.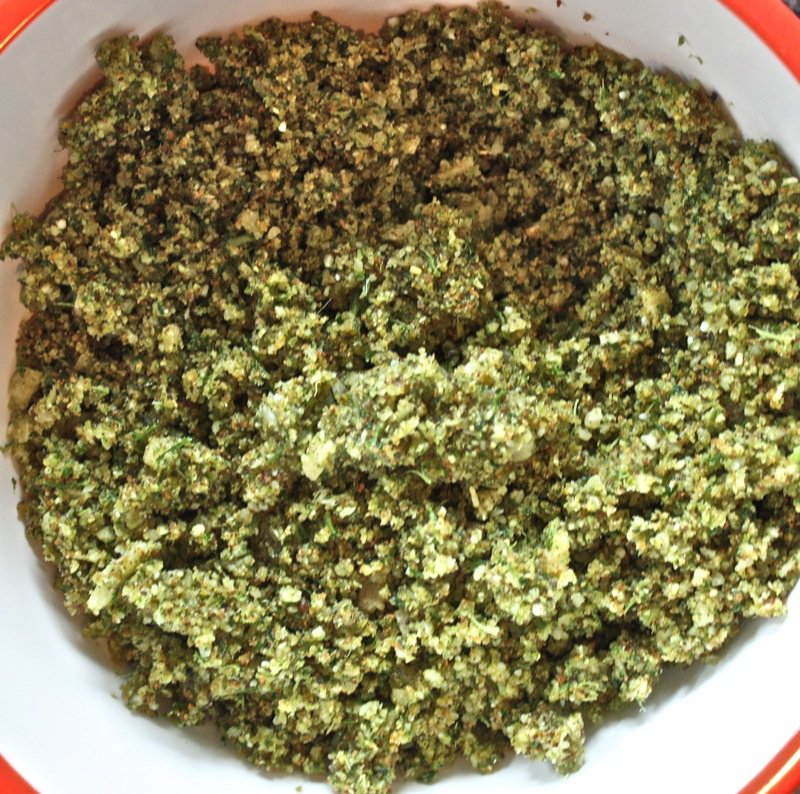 I bought an inside round roast, and froze it. We often do this when we need thinly sliced meat. Vanja is the best meat slicer I know… but this time really cut his finger! Chef Sous was out of commission with 6 stitches n his index finger! I layered the pieces on parchment and pounded them even flatter; covered each with our favourite Jamon Serrano from the Italian Centre Shop, and then a generous layer of the filling. I did not add aolive oil to my filling as I found that it was moist enough. I might add it if I was using it in a Bracili appetizer recipe. I still need to test the waters with this recipe further.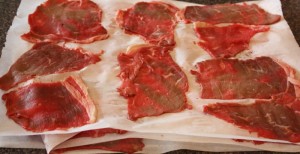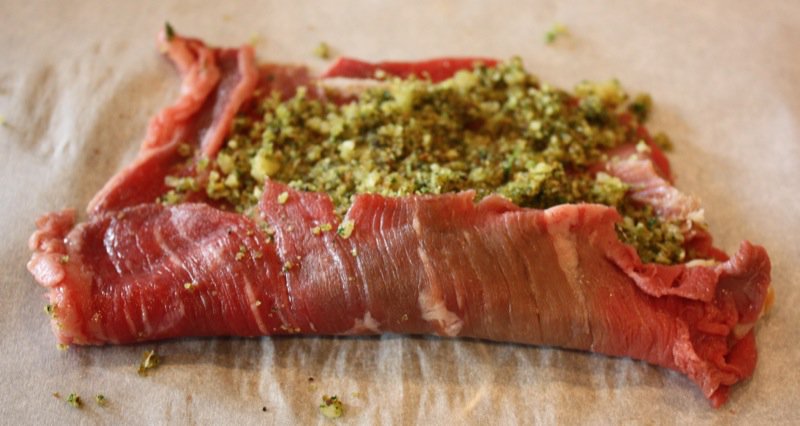 I found the meat very easy to roll and tuck. After turning the length up, and both sides in, it rolled perfectly onto itself, ready to be tied with butcher's string.
Tie one loop around one end, and then wrap it around again, slipping the end under the loose end, pulling forward to tighten the new loop.
Be careful to not pull too tightly, or the string can cut through the meat and slice the roll. Keep looping the string around and through the roll, pulling to tighten down the length of the roll.
Finish with a knot at the other end. It may be open a little at the back, but this will be the side placed into the frying pan to seal, first, so should not be problematic.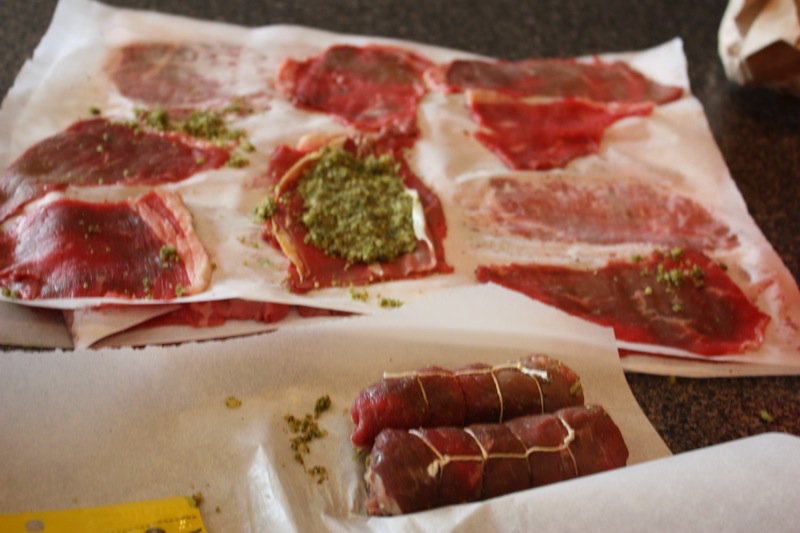 In no time I had sixteen made. I had more meat, but no more filling. Enough. I was so excited to see my pretty little meat parcels neatly tied.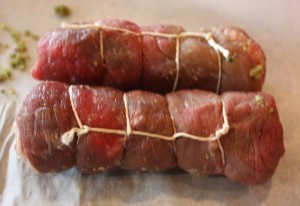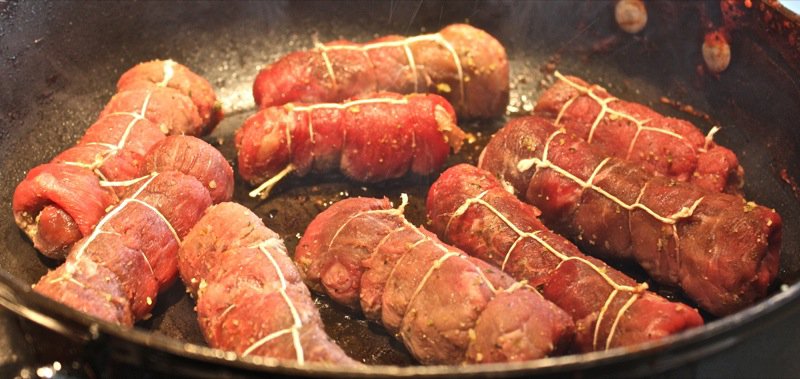 In the frying pan to brown. Some people were adamant about using pork for this recipe stating that pork bracioli was so much more moist than beef. This surprised me. I used beef because I thought it would add more depth to the gravy with th epok ribs, the beef meatballs, and the variety or sausages I used.
Browning the Ribs in the Oven
Instructions:
Season ribs, and place on lined cookie sheet

Brown at 400ºF in a roasting convection oven, if possible, for 30 to 40 minutes, turning every 10 minutes
The sausages and meatballs were browning in the frying pan while I was making the braciole. I used three different kinds of sausage, but the ones from TK Ranch were the definite crowd favourite.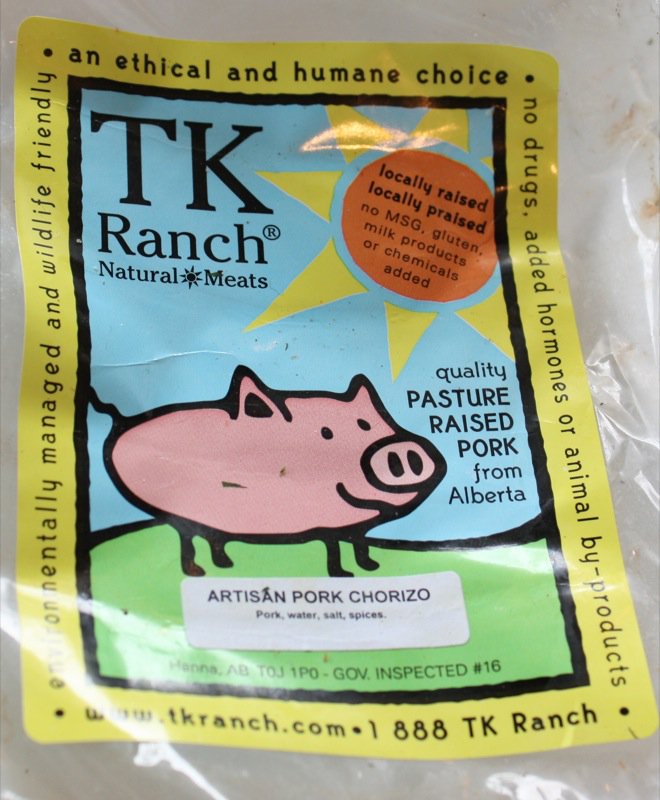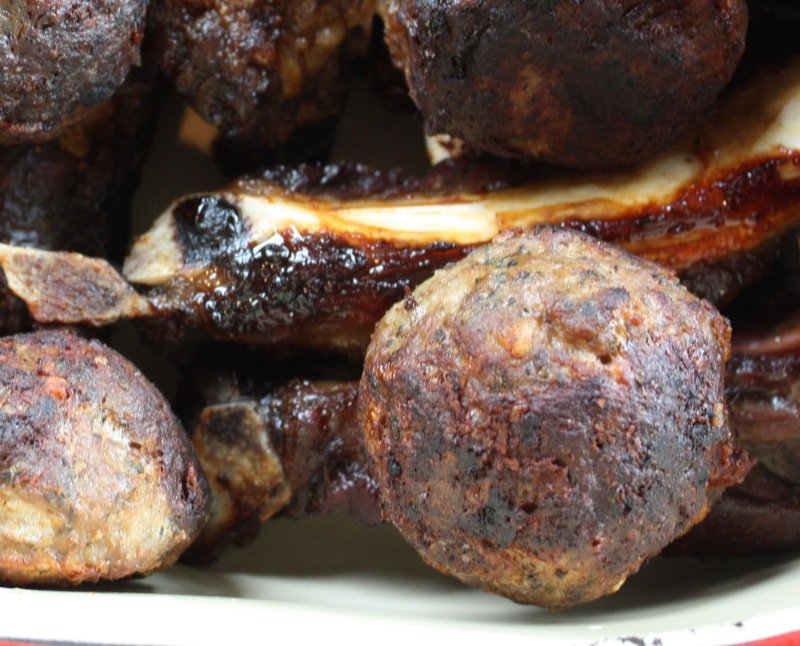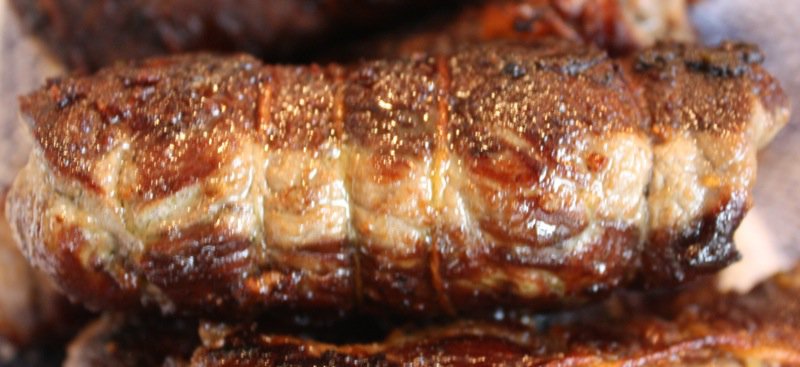 With everything browned, and out of the pan, I deglazed the pan with water, reserving the tasty bits with all of the flavour in it.
The meat went into the sauce piece by piece. That is when I knew I was in trouble. I would say that this sauce does not quite cover my meat. I made another batch of sauce. I got out another huge pot. I had two pots of Sunday Sauce simmering on the back of my stove for several hours.
Why? I paid no attention to the amount of meat required for this amount of tomato sauce. I used a LOT of meat. Andy's recipe would be a sensible guide.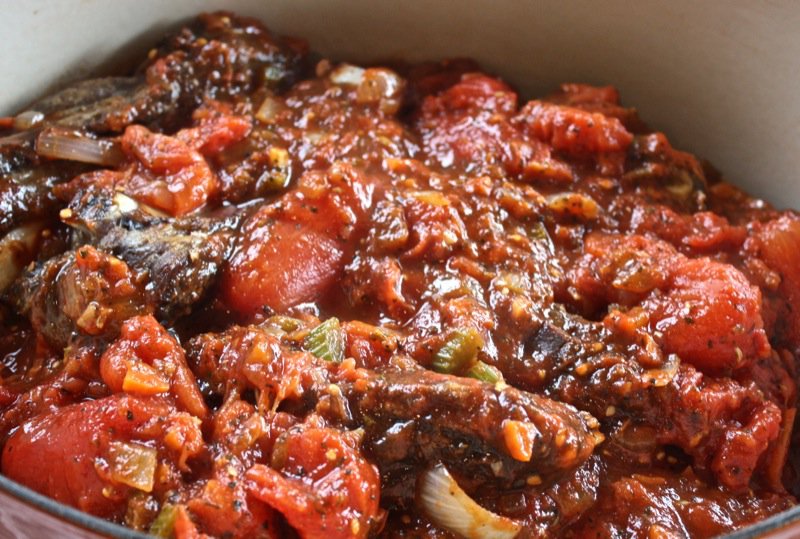 When I wanted to clean the kitchen and ready myself for the evening meal, I transferred the pots of sauce into my massive old roaster, placed it into the oven at 250ºF and it continued to bubble at a low simmer until we ate. I cleaned the stove and pans and cupboards. Yes, there had been a fair amount of spurting.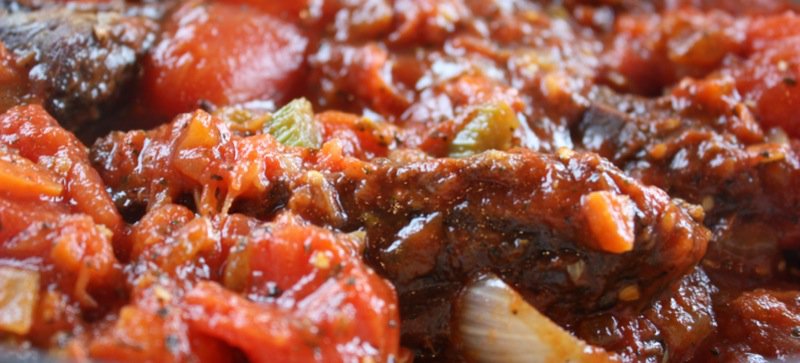 The best part of any Sunday Supper? Sharing the food with people you love. The bread was ready for the oven.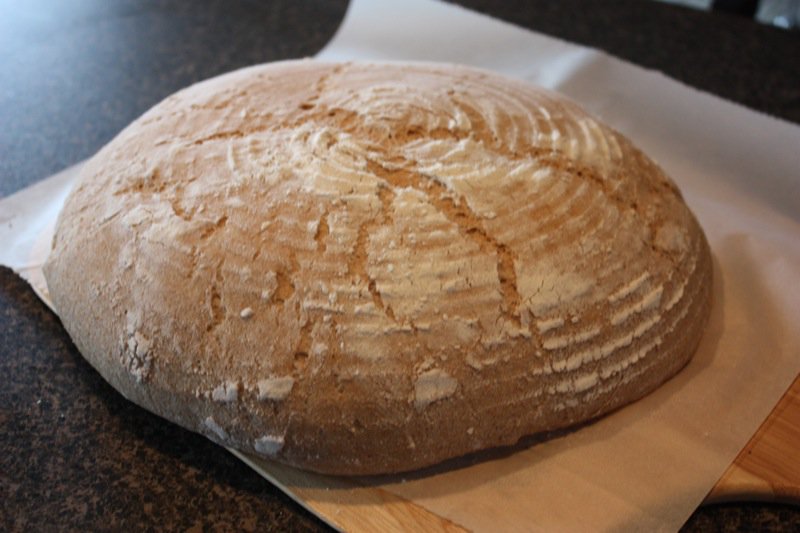 The asparagus tart cut into bite sized pieces for a little bite before the meal.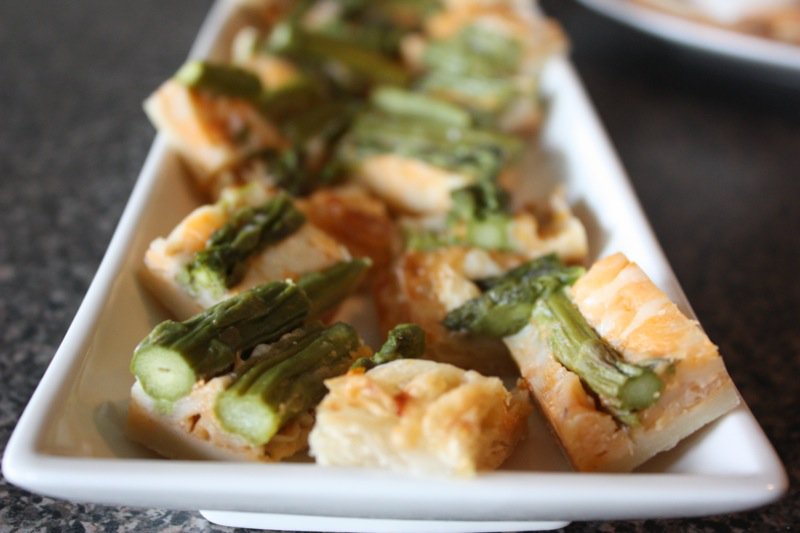 And. as soon as the guests arrived, the pasta was bubbling in the water, the bread was whisked into the oven and the tart was served as they sat at the table. (I know bread is theoretically supposed to sit for a couple of hours to be at its optimum flavour profile. Vince and Colleen taught me that. I had already baked some epis that were out of the oven a couple of hours. And. I love mine warm.)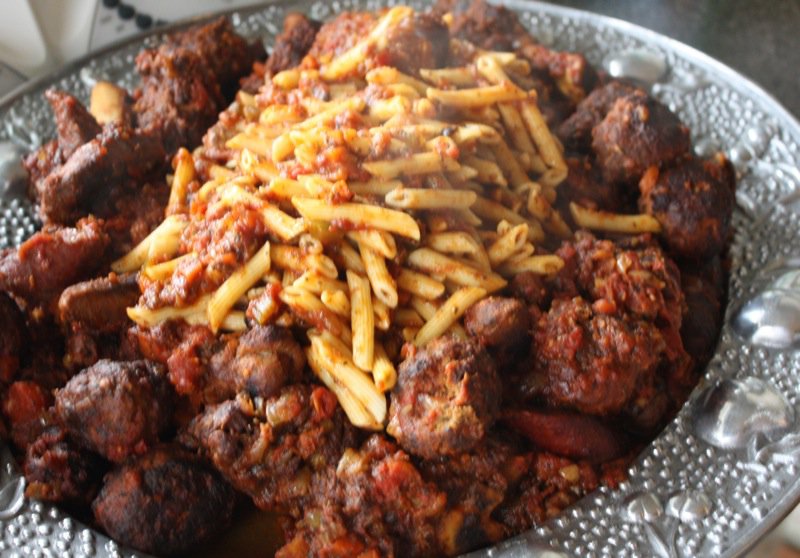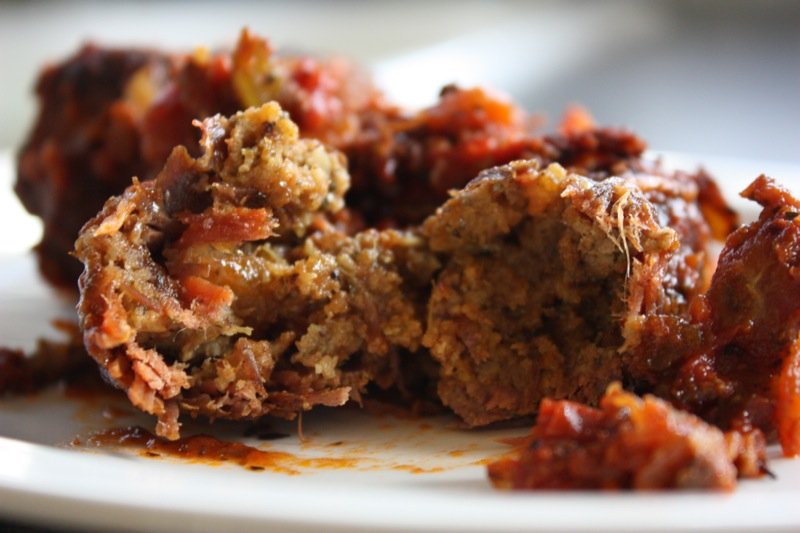 The guests? A lovely little family I do not see often enough. My girlfriend, Petra's, eldest son and his wife and family. Here is sweet Eva,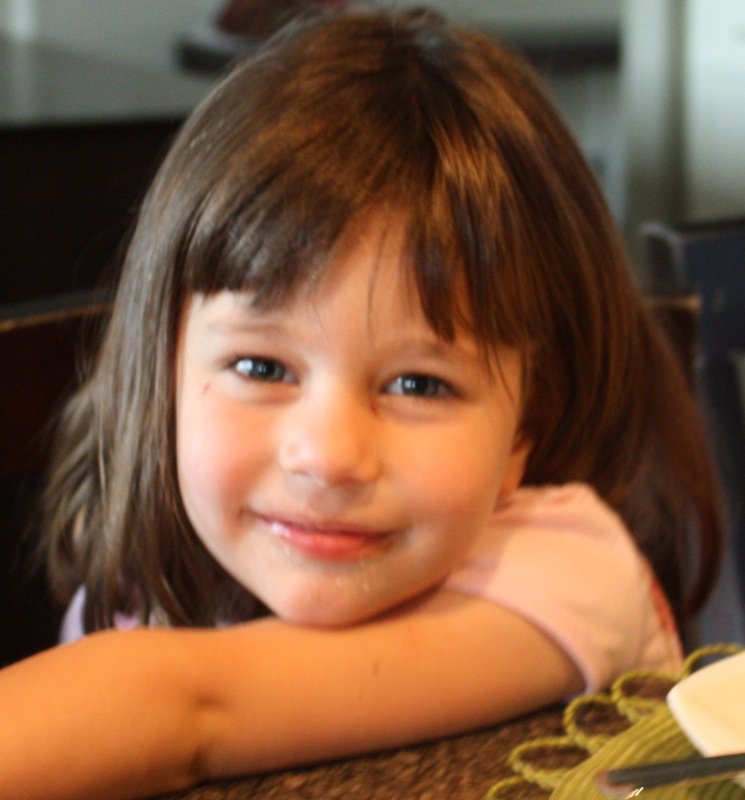 She was very happy with the freshly baked bread and ate nothing else.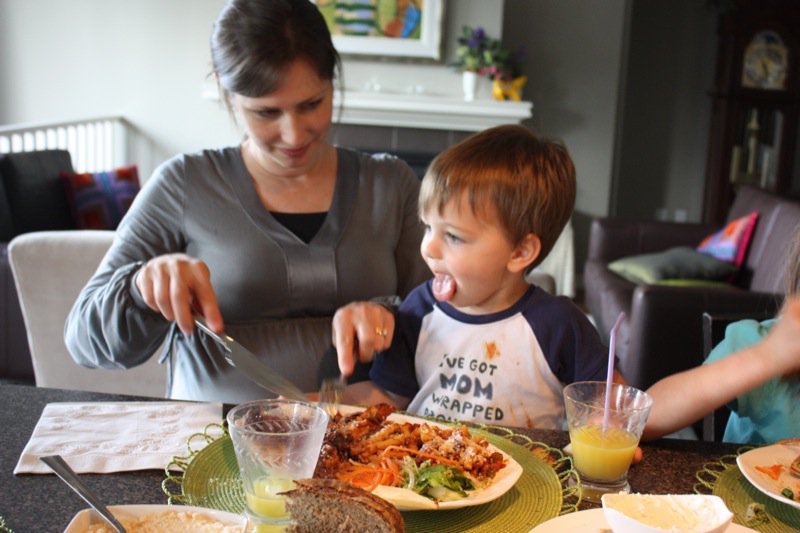 And Cade sat on mommy Heather's very full, due-in-two-weeks-lap, and ate a little bit of everything. Somehow he ended up wearing a lot of what he ate, and I don't know how that really happened as he had incredible little manners.
See!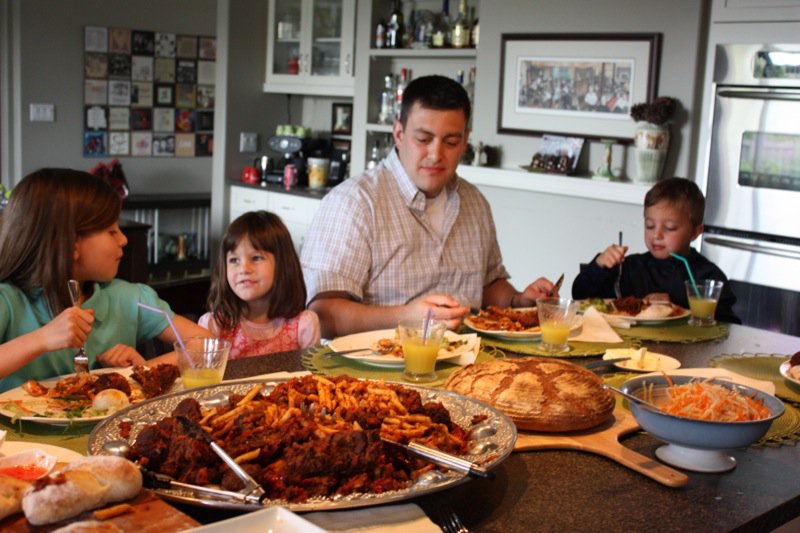 Big sister, Ella, had a hearty appetite and made me feel really happy as she tasted and ate a little of all of the meats in the Sunday Supper. Reece sat beside his dad and also tried everything with a smile. Oh, how that warms the heart of the home cook! It was so wonderful to have the kitchen bubbling with activity and so many little bodies enjoying a meal together. My daughter, Ragan, and her fiance were with us, too.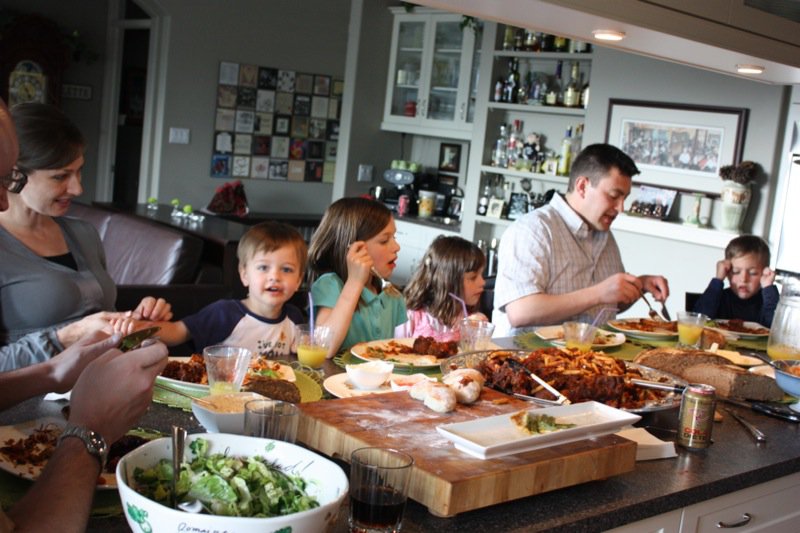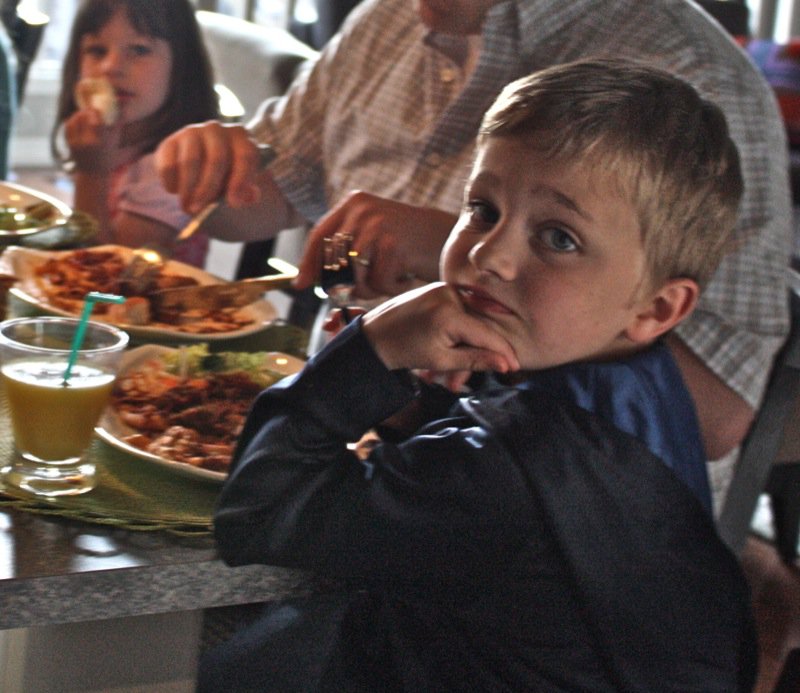 Daddy Drew said all of the right things and made me feel like a million bucks. I thought I had struck a home run and was feeling very satisfied and happy with my labours of love this day.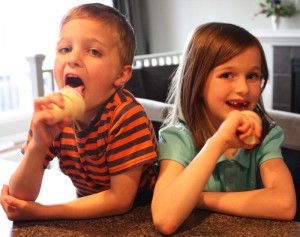 We visited, and played, and had ice cream. Then, everyone went home… but Ella had brought a surprise to show me. She is just finishing grade one, and has sewn her own pajamas! She has taken sewing lessons and brought them into the house to show me. I was in shock. I am teaching sewing at school and my grade 9 girls moan and complain profusely as they are making their aerobic pants. Little Ella has accomlished a top and a bottom of exceptional quality at six years old!
And she had a skirt she had made! She will finish the outfit in her next course. Isn't this amazing? Look at that proud and accomplished little smile. I sure hope it won't be as long until we see this young family again.
We stood at the door, waving good bye, and turned to come back into the house. "So, that was a lovely evening." I sighed. "It certainly was." Chef Sous agreed. "And the meal?" I asked as I always do after I make something new. "The meal?" he asked. "Yes." and I looked at him. "Well, it was OK. I don't want to hurt you, Valerie. It was good. It was Ok. It was fine. Everything basically tasted the same. The meatballs were a bit dry and I don't think the effort that you invested was worth it this time."
And, that's what I love about Vanja.
So, you win, Andy! Don't puff up your chest too much. Not only did you inspire me and motivate me to do this, you did it better without a taste test comparison! Bravo!
My saving grace? My daughter called the next day and said it was the best pasta she had ever eaten in her life. I loved how the bracioli turned out, and learned a heck of a lot!