On Thea's Birthday, she and Chad gave ME a gift: this incredible bread!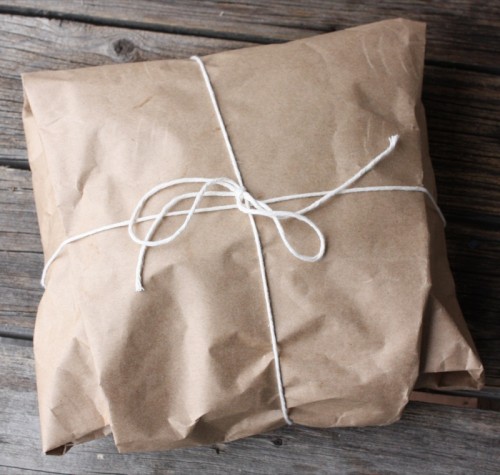 Even the wrapping is perfect. Where did you get the lovely thick brown paper, Chad? I have brown craft paper that is also great for wrapping, but this is special.
I was shocked into silence (and you all know that is rare!) when Chad included this package in a bag of goodies I was picking up from him when I delivered his brand new Thermomix to him!
"It is a currant bread. It is not sweet. You might want to eat it with some bleu cheese." was Chad's advice, and Thea's: "A roasted lamb sandwich sounds like the perfect compliment with it to me." I love currants. I love homemade breads. I was thinking toasted with butter. I was also thinking I should give you a hug! … and thank you so very much!
Then I got home and unwrapped it and was in AWE! I should not have expected less from Chad. He is a well known very talented barista and Chef in our city. I just did not expect such an incredible loaf of artisan bread. I didn't want to eat it.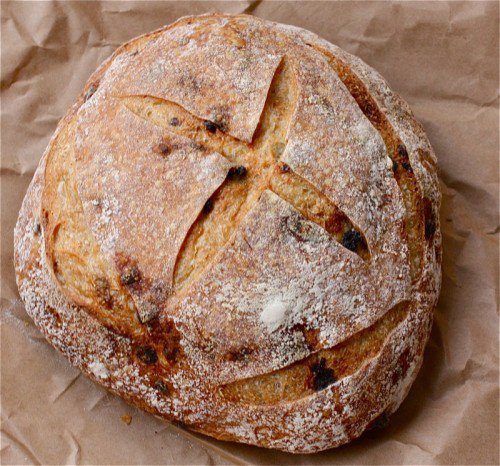 OK. That is stretching it a bit far… but, you can see I was at least respectful of the gorgeous hand formed loaf. Take a tour around it. It is beautiful: not heavy, but substantial.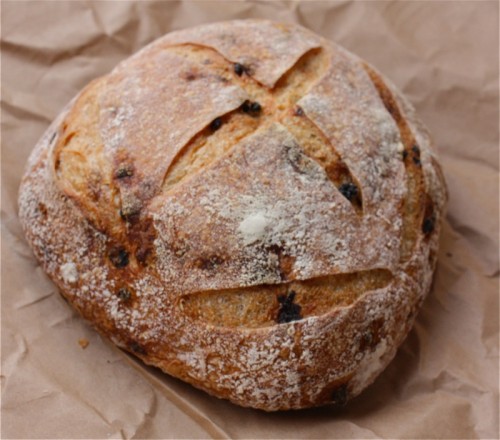 I should have taken a photo of my floury nose after pressing it against the crust to breath in the yeasty goodness. The crust was gorgeously "crusty" and the aroma within was so unexpected and intoxicating.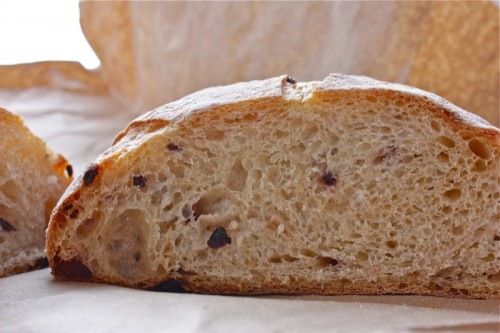 Vanja and I both looked at one another and said, "Beer!" at the same time. The depth of the yeast had clearly brewed up some complex dark lager notes and with the currants nestled in here and there, I couldn't slice it fast enough.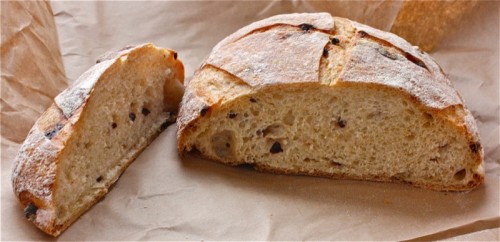 How the heel looks, lying there, does not do it justice: let me try. No. I can't. Just take your taste memory to the best artisan bread you have ever eaten and recall the aroma, the crunch of the crust, the depth of complex yeasty flavours… the mouth feel, the chew … smack your lips once or twice! You've got it!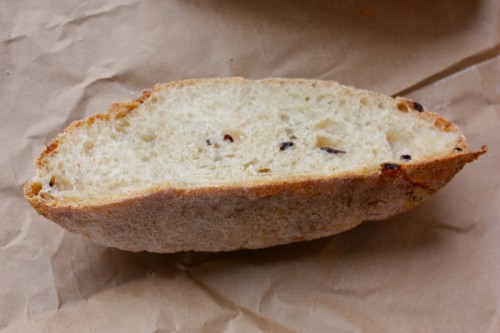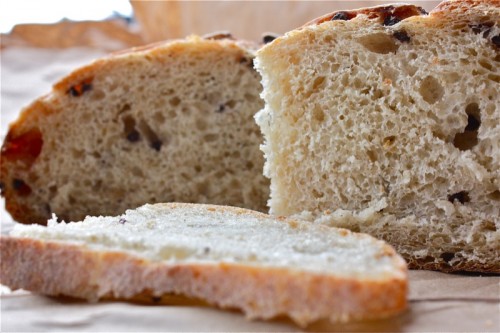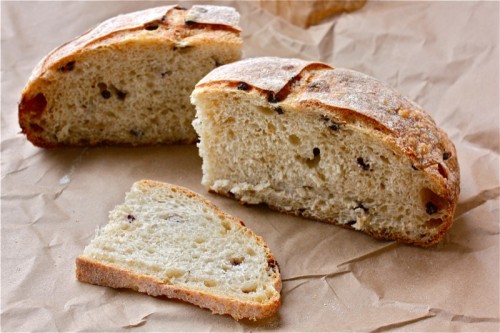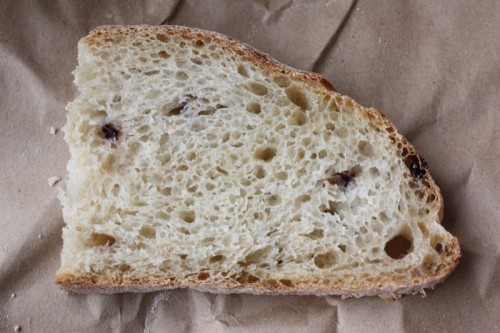 Thank you, Chad. Thank you, Thea. I await the recipe to share with all of my food loving friends so that they can make it, but more importantly, so that I can. This is one unforgettable loaf!
That was going to be the end of the post… but, when I stopped by Chad's place of work, guess what I got? The recipe! And not just any old recipe, hand written, detailed and illustrated! But, that is not all! It came with a container of Adam's mom's sourdough starter! Can you feel the emotion? It swept through me and was ultimate gratification. I ask for the recipe, and I get so much more. I just finished a slice of this bread again today for lunch. The complexity of flavour had me grinning and humming all alone at the table, kicking my feet back and forth under my chair, and truly savouring the goodness in this bread and in my day.