Day One: You'd better watch out… better not pout, better not cry, I'm telling you why….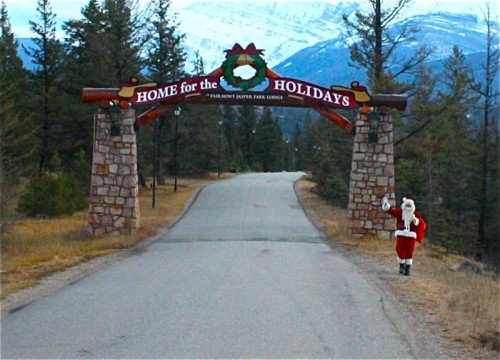 Monday morning at 10:30 and here I am. Right on time. Woops! Look at all those bags already!
The Monday after mom and dad's 60th wedding anniversary (yet to be posted) I am up, packed and wagging my tail. Christmas in November at Fairmont Jasper Park Lodge: here I come!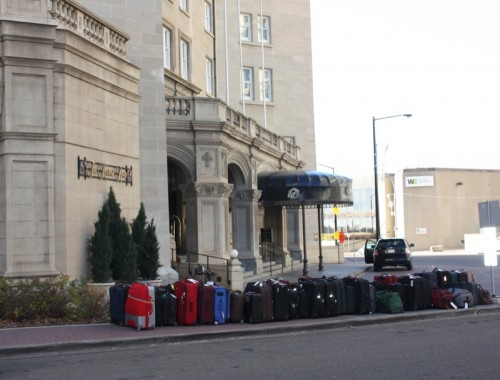 Vanja is my champion. I could hardly move after the activities of the weekend. He practically packed for me, and here he is, getting ready to check me in.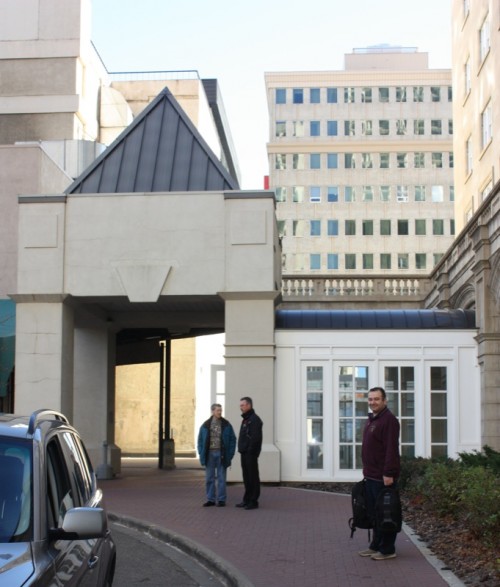 I decided to take one of the three buses arranged through CIN (Christmas in November) from the Fairmont Hotel Macdonald downtown. Too tired to drive and at this time of year there could be a massive snowstorm on the day I need to drive home. Luggage added to the line. Friendly check in faces! These people all came down from JPL to check us in today!
Coffee! I needed some! One of my favourite room in the hotel is this one. It was set up with muffins and coffee for the waiting crowd.
I found a table with an empty chair and joined them. An older group than I expected, but quite a mix, really. One man. I was feeling really sad that mom wasn't with me. What a perfect opportunity for some time together. And dad, too. He could enjoy the meals and bring the dog and go for walks. There were many sisters and mother daughter combinations here.
Bag lunches were passes out for the bus ride to Jasper. Hmmm. What do we have here? Breakfast first, then lunch!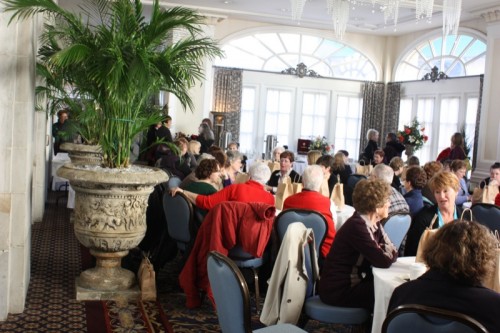 The first bus had left and I lined up for the second. Front seat would be nice. Diane, my new best friend, saw me standing all alone and asked to take my photo. I was delighted! Then I met Tracy and Natalie, standing with me, below.
Here is Diane's group! There are actually 8 of the "Ladies in Red" all wearing the same scarves attending together. Was that a flask rattling in a bag? Oh, no! Not a flask. Bottles of booze. Bottles. These gals were ready to party!
Through the kindness of Diane, again, I was able to sit beside her in the front of the bus. Lucky me! Motion sickness avoided and camera propped ready for the road trip! Mr. Robin, our bus driver was warm, welcoming and very funny!
I love our Alberta prairies and parkland. What a beautiful country we live in.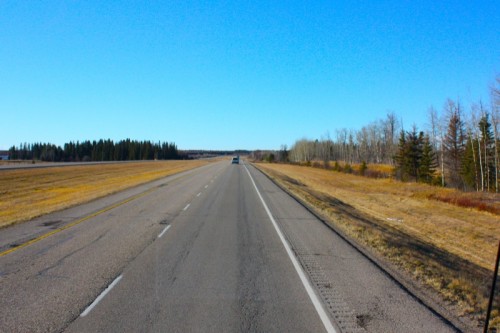 Look at the train! Look at the train!! I could not resist taking a photo of the Canadian National Railway. Yesterday was "Spike Day": the anniversary of the day the last spike was driven into the building of the railroad 125 years ago that brought this country together East to West. And this is the first time I have ever seen graffiti on a Canadian train! OUCH!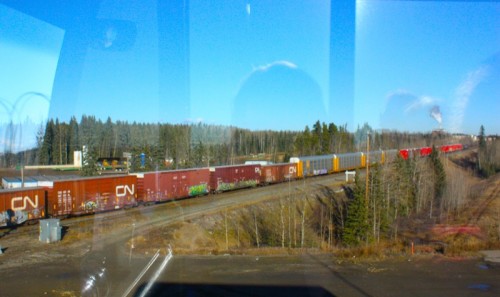 The well known half way point between Edmonton and Jasper. We will be stopping to stretch our legs and give our driver a bit of a rest.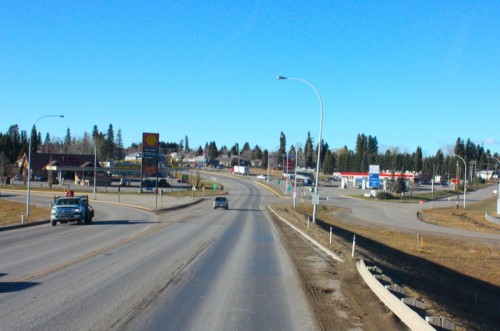 Tim Horton's is our famous Canadian coffee shop and lunch bar. Many came out with this highly acclaimed coffee.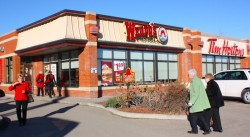 And, on the road again, but this time joined by Eric, a JPL representative. This is pampering at its nth degree!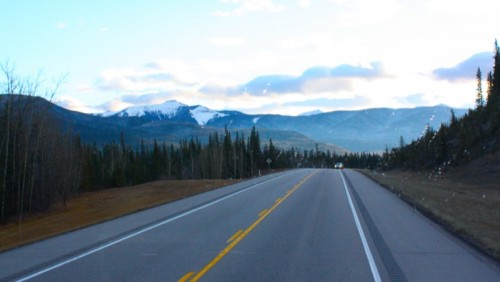 Eric welcomed us, then started us off with a scavenger hunt and a questionnaire. The highest scores got a VIP ribbon and executive service: first off the bus! Then, he passed out our room assignments and keys. This entire process has been exceptionally well thought out. Imagine having your key in your hand before you arrive at your hotel!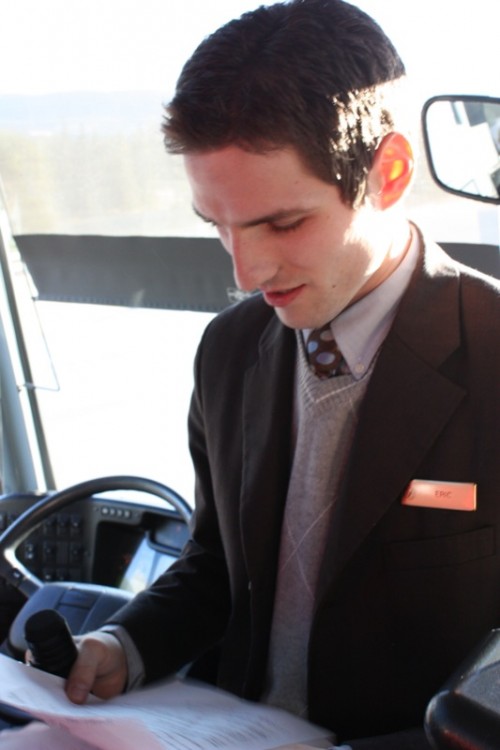 I'm the first one to see the mountains! The excitement never leaves me. The miracle of these mountains and their beauty is always fresh and new and energizing.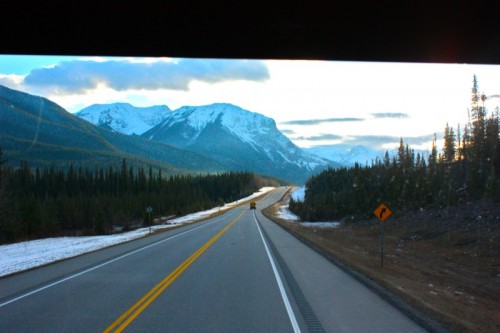 Look ahead. Traffic jam! When this happens in the National Park, you know there is wildlife! No one is in a rush. This is why we have come to the mountains. What is it?
Mountain sheep: big horns. I have never seen so many animals on the highway at once in my life. Ever. This was very unexpected and incredible. They meandered in and around and through the cars from once side to the other then down the road and back.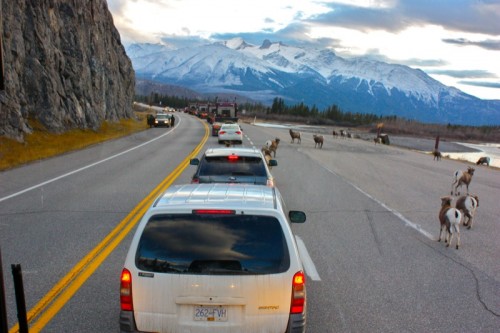 We all thanked Mr. Robin and Eric for such outstanding entertainment enroute.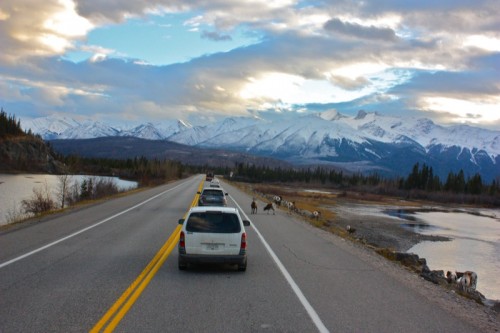 I love our National Parks: we just passed a sign earlier with a moose head on it. This one has a wolf. Protect our animals.
My new best friend, Natalie, won a VIP pass! And so did another pair in her group. These "Ladies in Red" had it goin' on!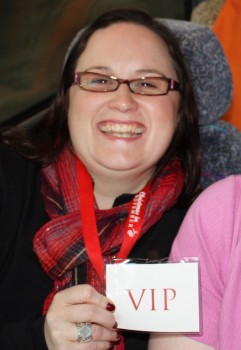 Here already? Yes we are! Diane was a very interesting travel companion and I enjoyed our conversation so much. Time flew.
The familiar little bridge, and then 2 minutes down the road.
No one could believe it: Santa at the gate!!!!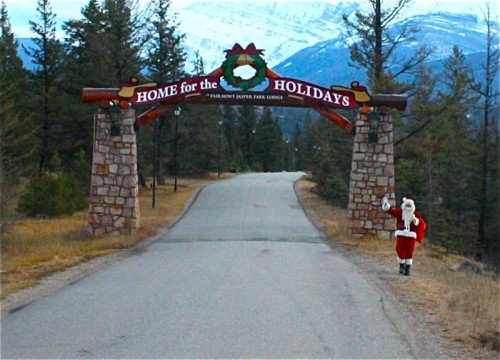 He certainly set the tone of the trip and had us singing along as we entered the hotel grounds. I was in THE mood!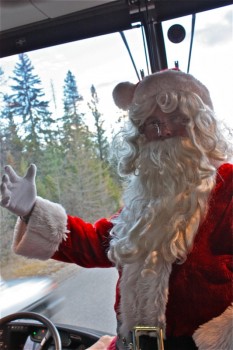 Look at this beautiful location. Jasper Park Lodge is gorgeous all year round. You can begin to see why, here.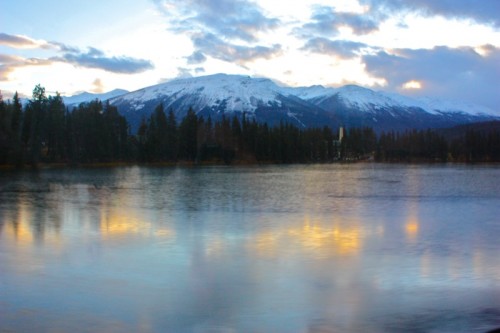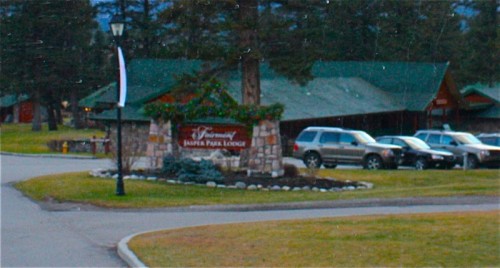 Off the bus, the VIP's just flipped by two familiar faces standing and smiling at us all. "Hello! How are you!" "Wonderful, did you have a good trip?" "I certainly did! Thank you for your warm welcome! May I take your picture?" "Absolutely!"
And no one else stopped. All trekking in too eager to check in. I almost felt badly for my favourite Canadian Sweetheart: Anna Olsen and her husband, Michael. She is more beautiful in person. Flawless. Gorgeous.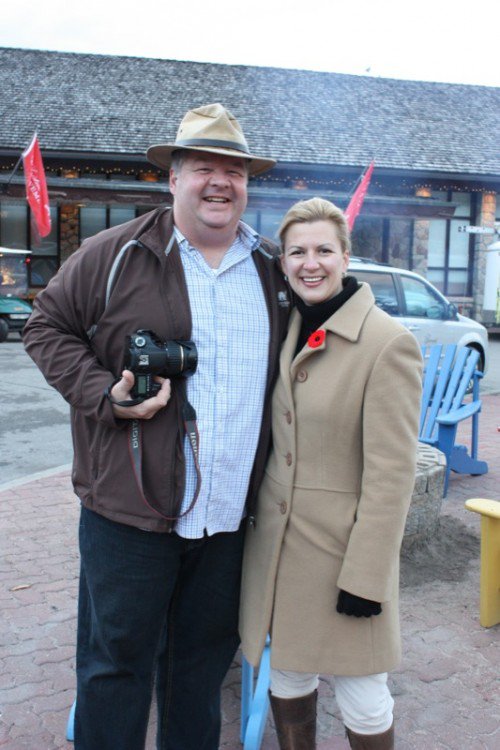 With the same warmth and complete lack of pretense, Michael Smith was holding the door for every one of us with a cheery Christmas greeting. Much taller than I imagined.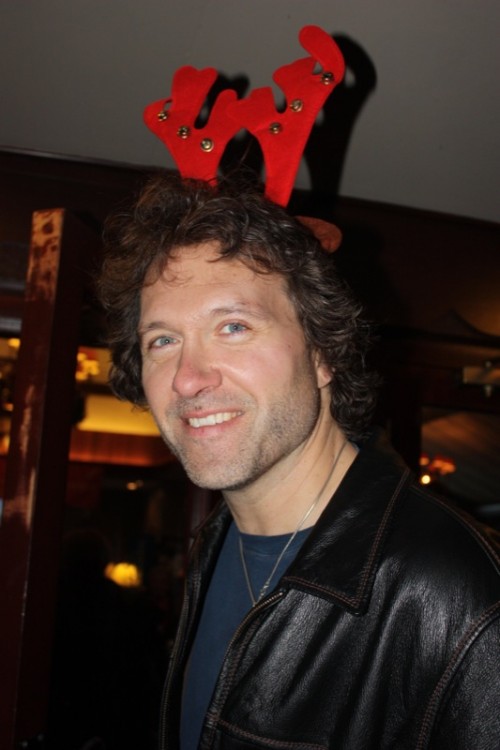 The welcoming whirl wind was not over. Upon entering, to the left there were baskets upon baskets of cookies. You could decorate your own! To the right, Santa's little elf was offering hot chocolate with all the fixin's. There was a warm flurry of activity as so many little elves greeted each of us with a cookie and a smile.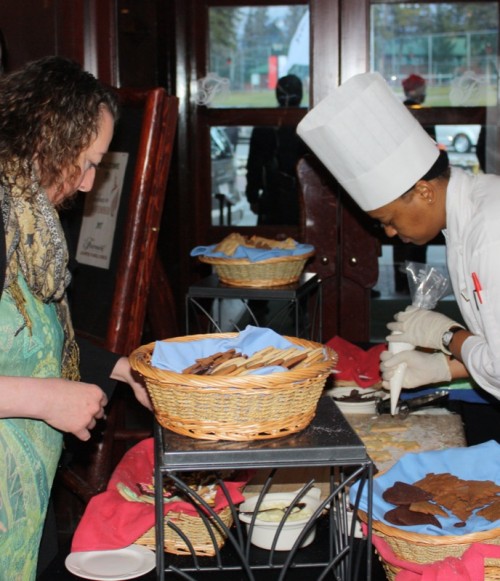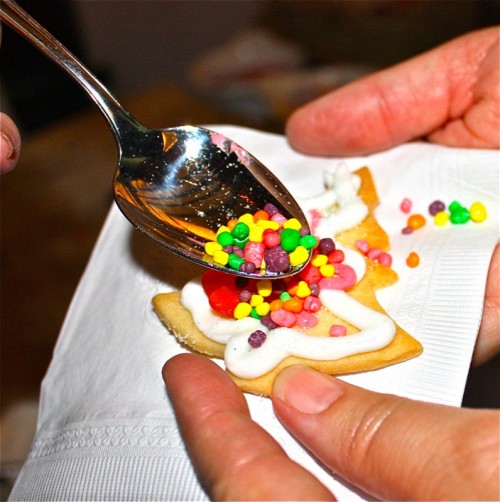 And then the Olsen's happened by again, and asked me if they could have their picture with me. Of course, I said yes! How kind they were! I cannot wait for my session with them tomorrow!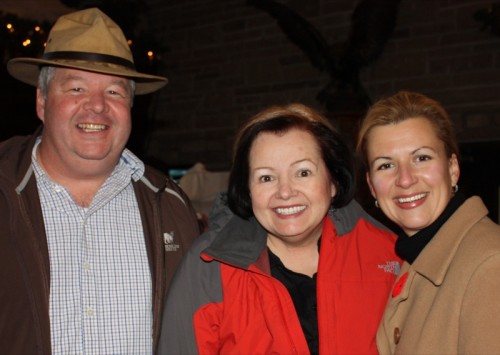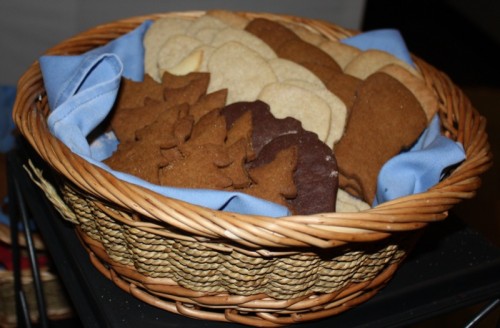 As I was leaving, it was just me, Michael Smith and a JPL representative who kindly took my photo while I assisted in the door opening!
Here is my room: one of the apartments in this cottage right next door to the main lodge.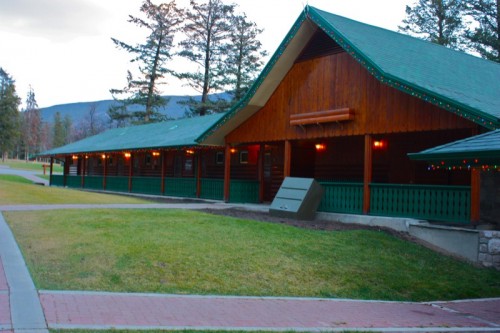 There it is from my doorstep. Gorgeous bed. Perfect room.
A bottle of Cedar Creek wine waiting, with a gift of Rocky Mountain Candy Cane Soap.
I freshened up, turned around, and was back out again to pick up my registration package.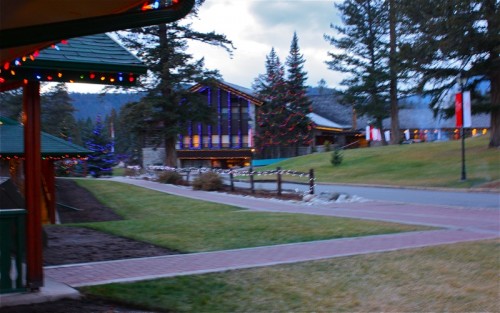 And take a sip of that hot chocolate. Crowds were gone. I was almost the only one there. Santa's elf, and me.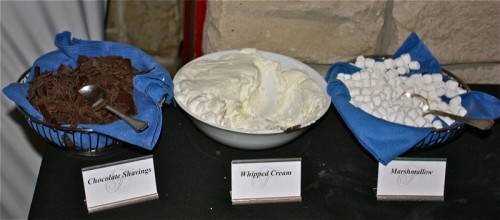 The grand hall and restaurant were ready for the "casual" stationed dinner set up with five menus featuring each new tea created in celebration of the new Fairmont Jasper Park Lodge Spa that opened only days ago at the beginning of the month.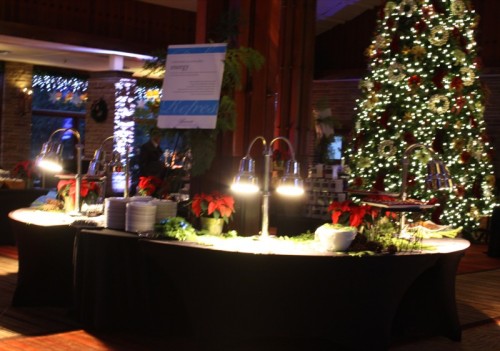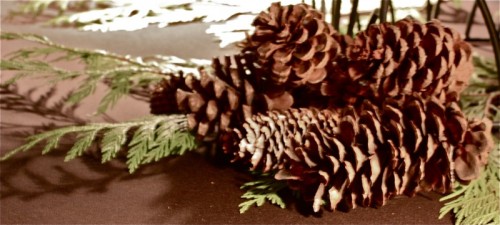 Back home. My registration package: magazines, remembers and reminders.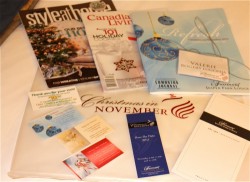 A half hour to rest before the Christmas in November 2010 Spa Welcome Reception: "œHealth & Wellness" at 6:30. Rest time!
Beavie is still in my suitcase! I am such an irresponsible pet owner!