What makes this lasagna Traditional Canadian Lasagna?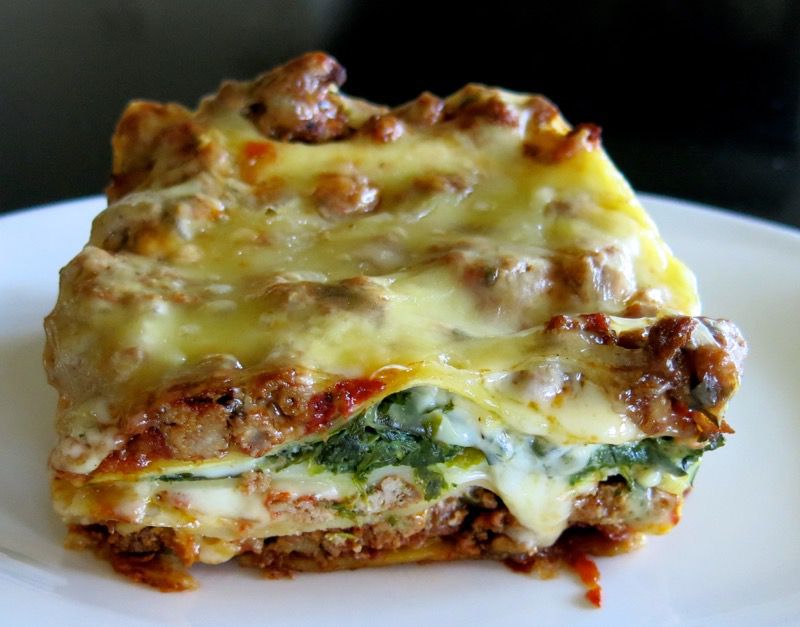 I haven't made this recipe for so long, but I will be doing so much more often as it is a throwback to my childhood and the lasagna recipe all mothers made when they made homemade lasagna on the Canadian prairies. Now, I tried to research which box this recipe first came out on, and could not find any definitive answer, but I recall seeing it on the box, myself, as a child, on the blue Catelli box. It was the only pasta mom would buy, and a Canadian company since 1867. However, I could find no information about when the recipe first appeared on the side of the lasagna noodle box. So, What makes this lasagna Traditional Canadian Lasagna? 1. You would never find lasagna like this anywhere in Italy. 2. Whoever developed the recipe, did so for the Catelli company, and used ingredients that were easily accessible to most Canadians at the time. 3. The pasta is from a Canadian company and made in Canada. The "Italian Recipe" was a game changer. Suddenly, everyone was making homemade lasagna with a spinach and cottage cheese layer. No one knew of any other kind of lasagna at that time, anyway. This was all we knew. It was very expensive to make, due to the high cost of the cheese, and the fact that at that time, a Canadian woman had to put almost a one inch layer of the meat sauce between the pasta layers. This was a dish people made for a crowd and on special occasions.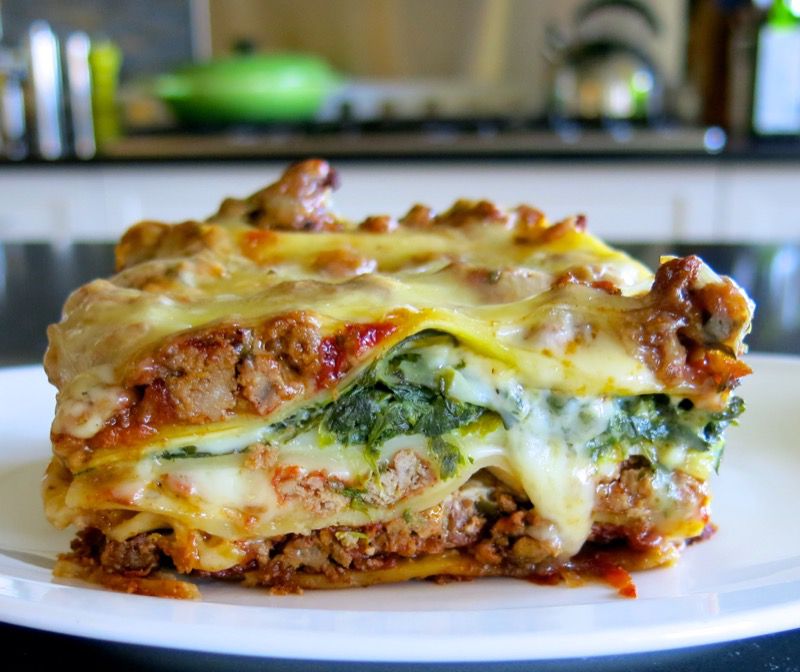 Anyone else share my Traditional Canadian Lasagna memory? My daughter was just at a friend's the other night, and she was making this very recipe for her family. That is what motivated me to revisit the retro recipe, and the only lasagna recipe any of us knew for so long.
History of the Catelli Company
Catelli was founded the same year as Canadian Confederation: 1867. C. H. Catelli established his first plant in Old Montreal initially selling food sauces to local Italian immigrants. In 1908 the Catelli Company became a limited company under the name C. H. Catelli Limitee and moved into a three-storey plant on the north end of Bellechasse street three years later. C. H. Catelli retired in 1918 and the company was reorganized in 1928 under the name Corporation de Produits Macaroni Catelli Limitee, changed again, years later to Produits Alimentaires Catelli Limitee-Catelli Food Products Limited: the name we are familiar with today. The present day plant at 6890 Notre, Dame Street East was purchased in 1939. And, there are now also plants in Ontario, Transcona, Manitoba and in Lethbridge, Alberta. Catelli has grown to one of the most important pasta products manufacturers in the world. No wonder a recipe on the side of the lasagna noodle box changed the Canadian food culture in my neighbourhood, oh, so many years ago.
Preparing the Fillings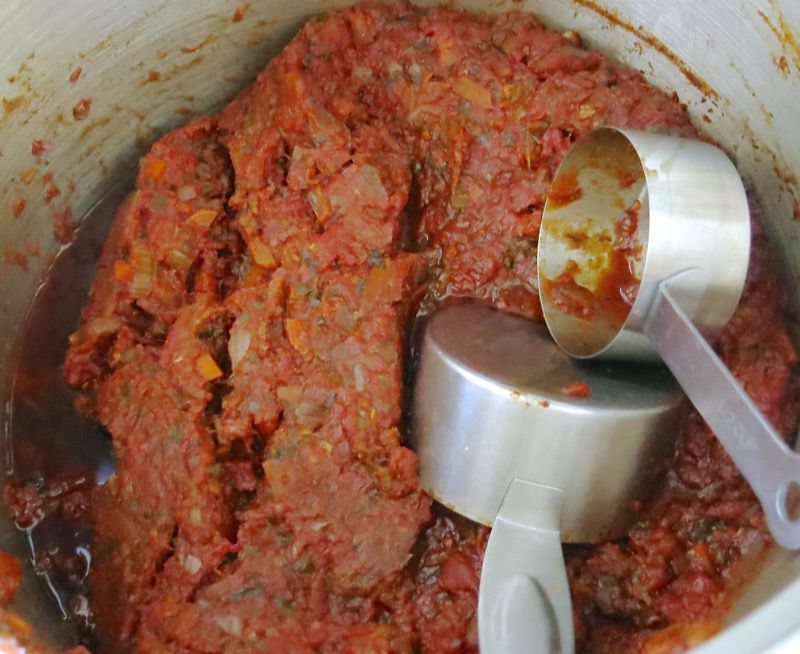 A highly flavoured homemade tomato sauce is key to any great pasta dish with tomato sauce. I learned how to make this years ago and always have a batch on hand.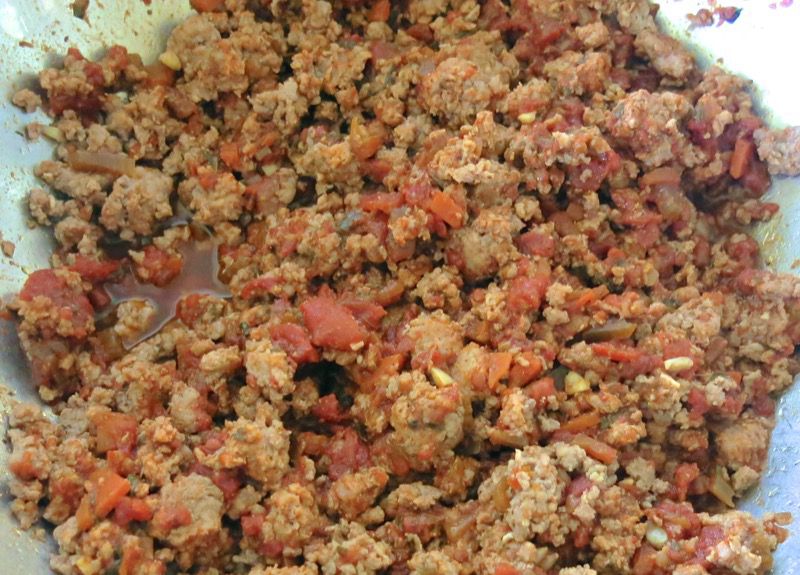 When I want meat sauce, I season and brown the meat, adding the sauce.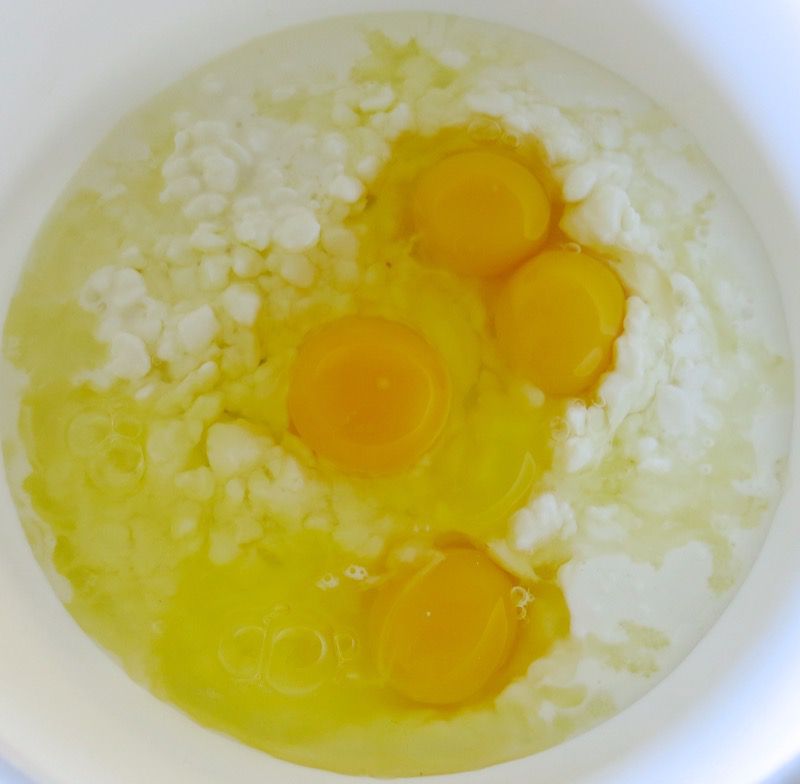 Ricotta Cheese didn't exist in grocery stores at the time this recipe appeared on our family table. However, cottage cheese was common and a perfect substitute. I still prefer it in my lasagna.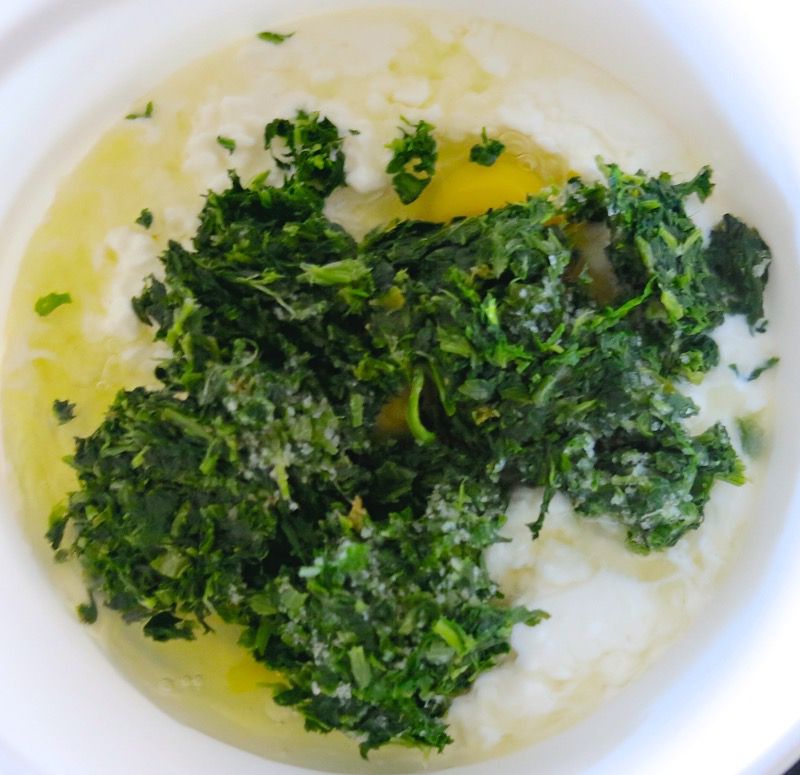 Not sure how the spinach found its way to the recipe, but it is so flavourful and offers such contrast to the meat filling, that I cannot imagine any Canadian lasagna without it.
Putting it all Together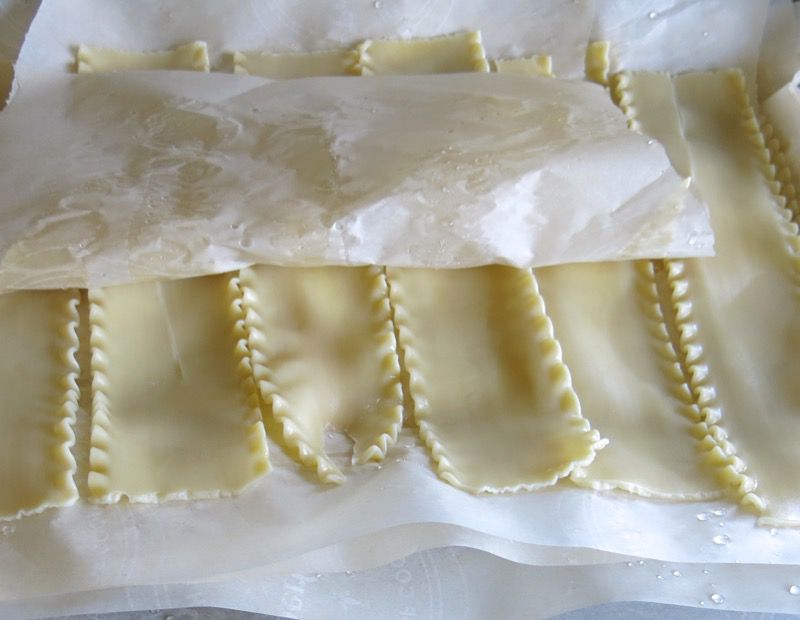 After the fillings are ready, the pasta is cooked and I find parchment paper works well to keep the pieces from sticking to one another.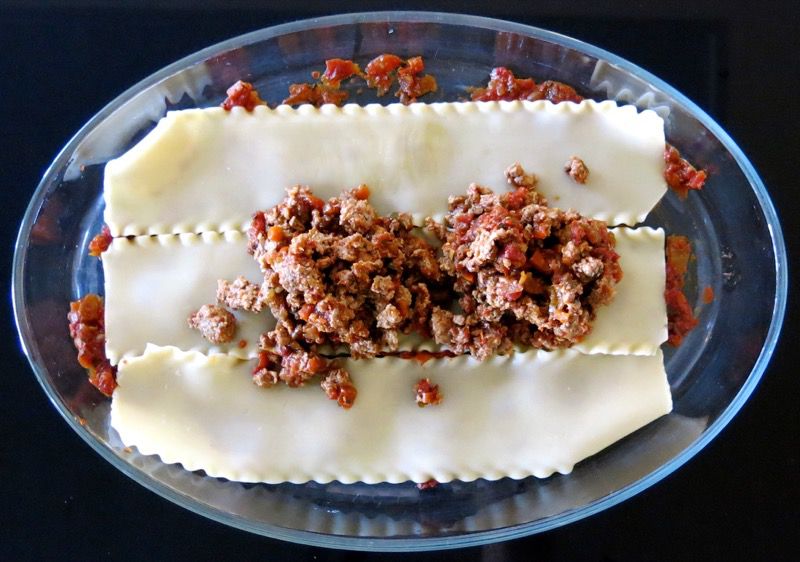 If you look carefully, you will see a scant layer of tomato sauce under the pasta, above.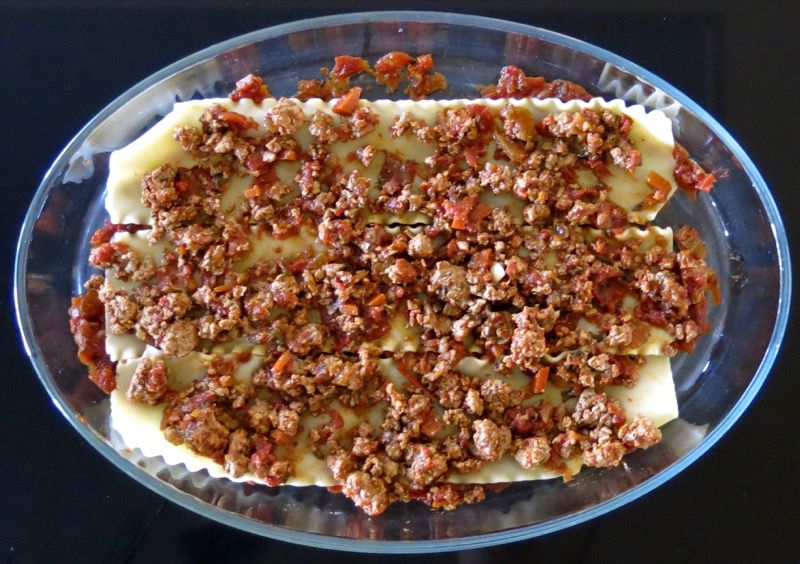 The pasta is then topped with a scant layer of meat sacue. I found a cup to a cup and a half was perfect for each layer. The dish opened wider to the top, so each layer needed a little more sauce. I started with a cup.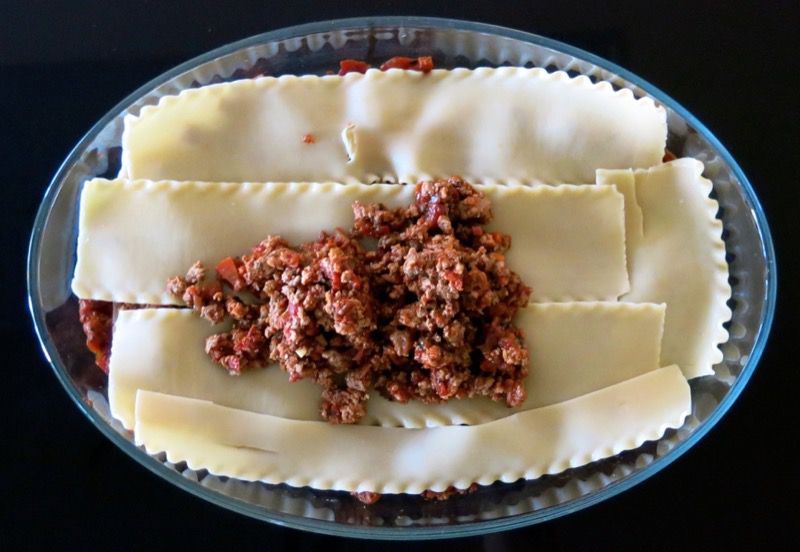 Layer 2, above was about a cup and a quarter of meat sauce.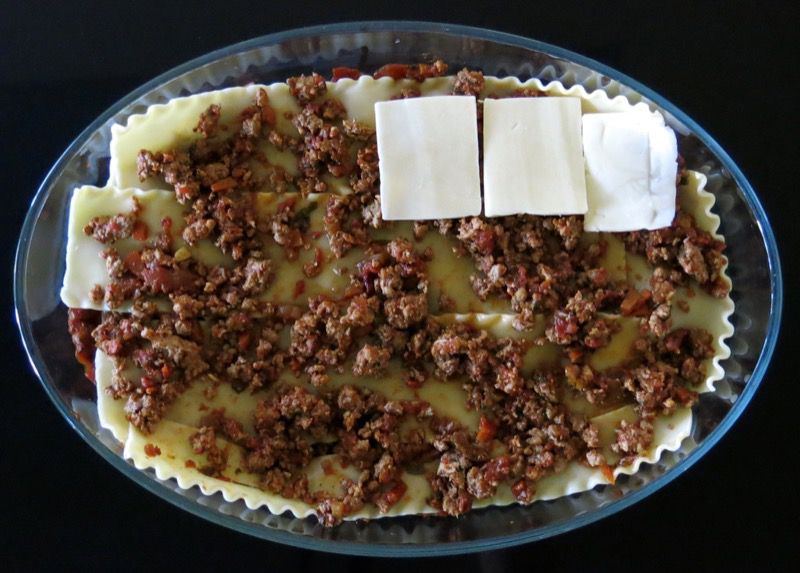 This layer was covered with generous slices of cheese. There are two cheese layers. One here, just below the spinach filling layer, and one topping the lasagna.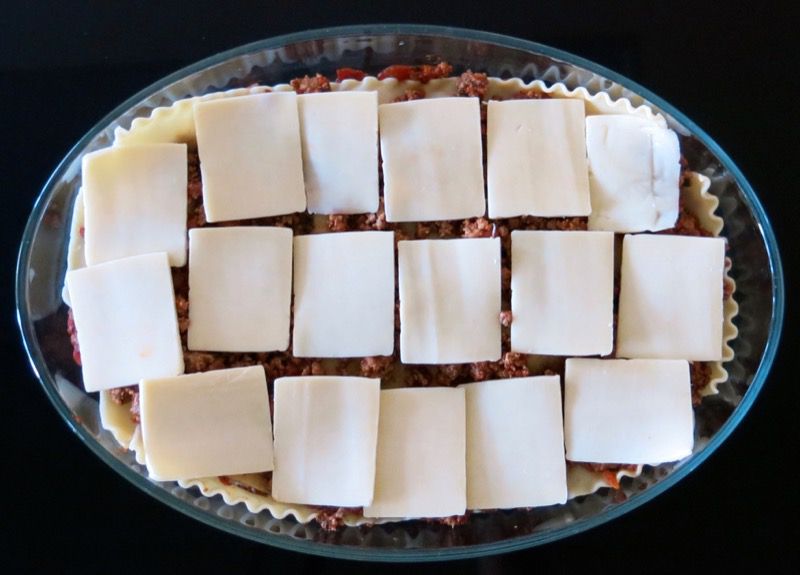 Pasta covers the cheese.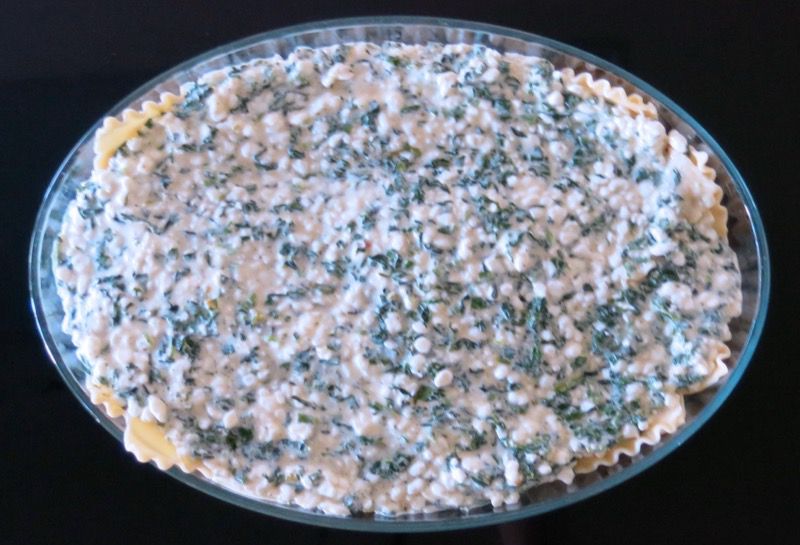 The spinach layer is next. Don't scrimp. Some recipes will call for half this amount of filling. You need it all.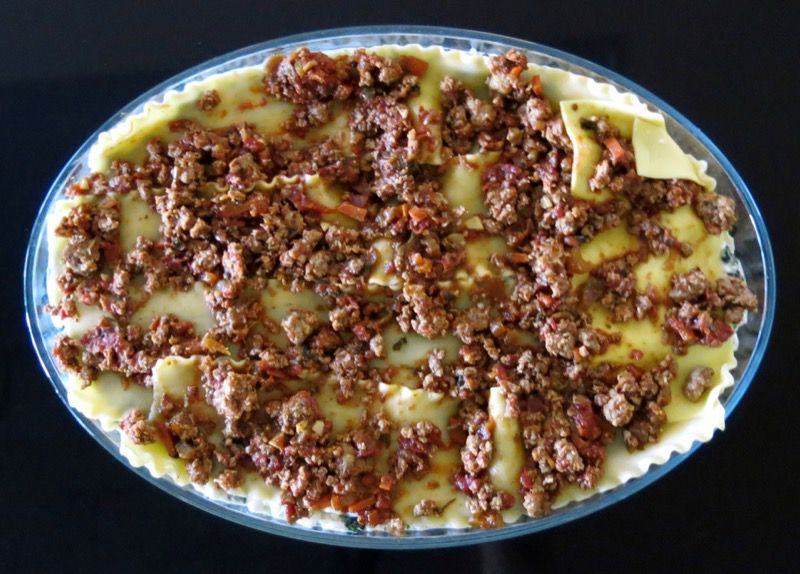 Spinach layer is covered with pasta and the third meat layer. This is the top, depending upon the height of your casserole dish.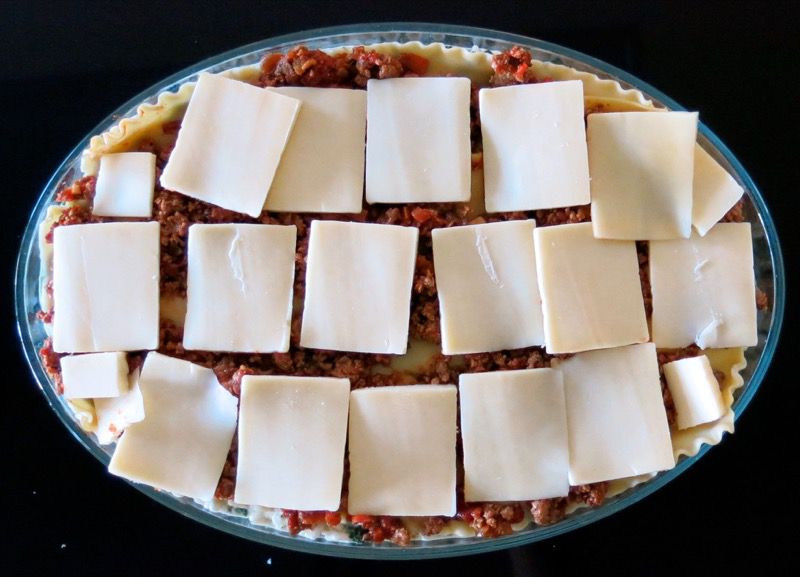 If you have a deeper dish, cover the third layer of meat with pasta and do a fourth layer on top, covered with cheese. At this point, you can freeze it, or bake it. I do both, because I always make two. One to bake and one to freeze.
It slices so beautifully if you let it sit for 30 minutes after coming out of the oven. That may seem like a long time, but that is how long it takes to set. It will still be plenty warm.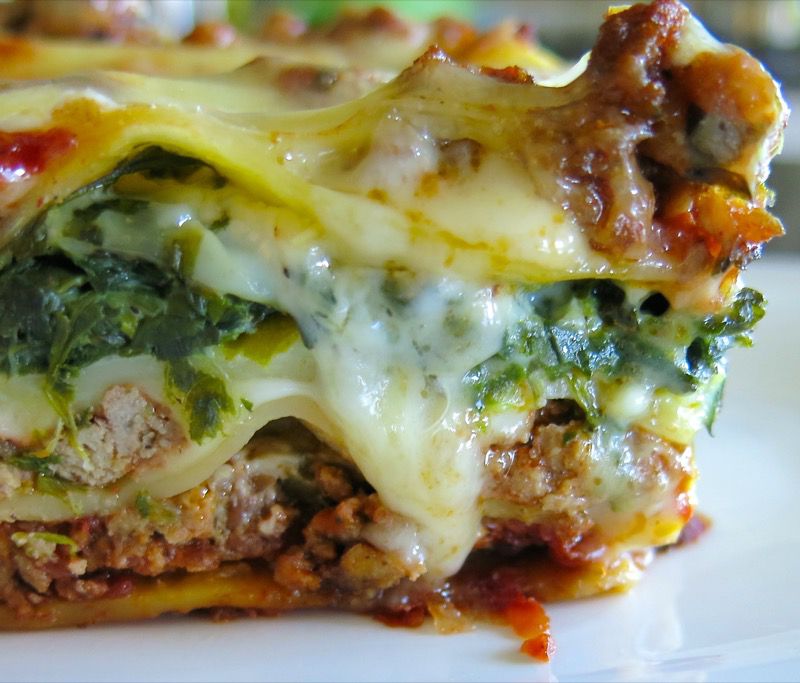 And oozing with cheesy meaty tomatoey goodness. I don't think I've met a lasagna I didn't go gagga over, but this one spells H-O-M-E. No other lasagna does that.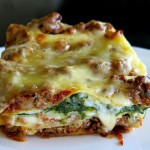 Traditional Canadian Lasagna


This is definitely a Canadian recipe as I Personally recall seeing it on the side of the blue Catelli box, myself, as a child, on . It was the only pasta mom would buy, and a Canadian company since 1867. However, I could find no information about when the recipe first appeared on the side of the lasagna noodle box. The meat sauce and tomato sauce in this recipe are not the recipes on the side of the box. The idea and process is the same. The cottage cheese and spinach layer is key to the Traditional Canadian Lasagna, as is the mozzarella and the meat filling layers.
Cook Time
1
hour
15
minutes
Ingredients
Ingredients for the Meat Filling:
2

cups

or 500mL homemade tomato sauce

2

pounds

or 1 kg ground beef

2

cloves

garlic

, minced

freshly ground pepper and salt to taste
Ingredients for the Spinach Filling:
1

litre cottage cheese

1

box frozen chopped spinach

, thawed and strained well

4

eggs

freshly ground pepper
Ingredients for Putting it all Together:
1/2

cup

Homemade Tomato Sauce

Meat Filling

Cheese Filling

650

g

mozzarella cheese

, sliced

16

lasagna noodles

, cooked
Instructions
For Meat Filling:
Brown the beef with the garlic; stir to break into small pieces of meat

Season with salt and freshly ground black pepper

Add 4 cups cooked beef to 2 cups homemade tomato sauce; combine well

Check again for seasoning
For Spinach Filling:
Wring frozen spinach inside a thick tea towel until all liquid is dispelled

Combine all ingredients
Putting the Traditional Canadian Lasagna Together:
Spread 1/2 cup Homemade Tomato Sauce onto the bottom of the pan; it will be sparse

Place 4 lasagna noodles on top of the sauce (these will fit perfectly in the 11 x 13 inch casserole pan)

Spread 1 cup of meat sauce very sparsely over the noodles; cover with 4 lasagna noodles

Spread 1 1/4 cups of meat sauce very sparsely over the second layer of noodles; cover this layer of meat sauce with mozzarella cheese slices

Cover the cheese slices with 4 lasagna noodles (at this point, you will need a couple of half pieces of noodles and ends if your casserole dish fans outwards as the surface area grows with each layer)

Spread the entire cottage cheese and spinach mixture over the third layer of lasagna noodles; top this with another layer of lasagna noodles

Cover the last layer of lasagna noodles with 1 1/2 cup of meat sauce, sparsely distributed over the noodles (if you have enough room, make one more layer of noodles and a final layer of meat sauce)

The meat sauce will be the top of the lasagna; cover that with generous slices of mozzarella cheese
Ready to Freeze:
Wrap tightly in plastic wrap; date and label; freeze for future use

Bake frozen in 350 degree oven for 2 to 2 1/2 hours until bubbly and cheese on top just starts to brown (cover with tented foil while still baking, to avoid over browning, if necessary)
Ready to Bake:
Preheat oven to 350F

Bake for 1 hour and 15 minutes until bubbly and cheese on top just starts to brown (cover with tented foil while still baking, to avoid over browning, if necessary)
Leftovers Freeze:
If you have a lot left over, portion into individual pieces, wrap well, label, date and freeze and these make great individual lunches
Recipe Notes
I usually make 2 at once; one to eat and one to freeze
A large box of lasagna noodles usually has enough noodles for a double batch
If you have lots leftover and don't want to serve it again, slice pieces, wrap and label well. They will freeze individually beautifully and reheat as if made fresh. Another miracle.