It doesn't matter how old we are, our mothers continue to serve!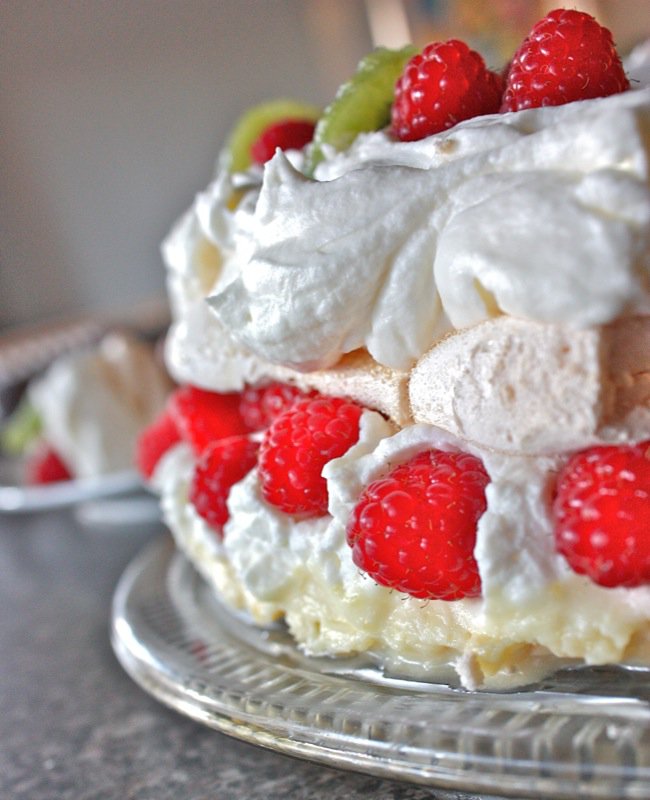 I made a couple of these for the Taste Tripping Party I held in June to unite all local food lovers and bloggers and promised to post it, but did not as I hadn't taken photos of me making the meringue. Now, I have.
Pavlova is made by beating (six) egg whites (and sometimes salt) to a very stiff consistency before folding in (1 cup) caster sugar,(one tablespoon) white vinegar, (1 tablespoon) cornstarch, and sometimes (1 teaspoon) vanilla essence; slow-baking the mixture, similarly to meringue. This makes the outside of the pavlova a crisp crunchy shell, while the interior remains soft and moist. The pavlova's internal consistency is completely different from that normally associated with meringue, having a soft marshmallow texture. This difference is due to the addition of cornstarch, the use of which is the defining feature of a pavlova recipe.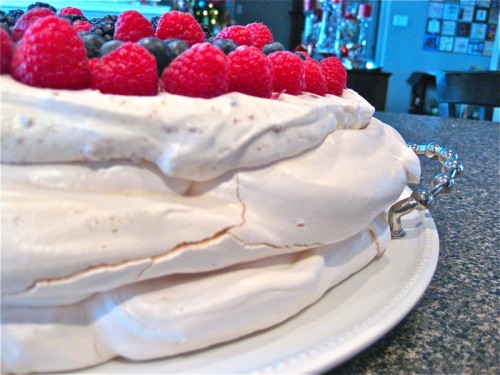 Keith Money, a biographer of Anna Pavlova, wrote that a hotel chef in Wellington, New Zealand, created the dish when Pavlova visited there in 1926 on her world tour. She also toured Australia at the same time, so there is a not completely reconciled debate about which country created this dessert in her honor. It is a very common celebratory cake in both countries, but, of course, is loved in our house, as well!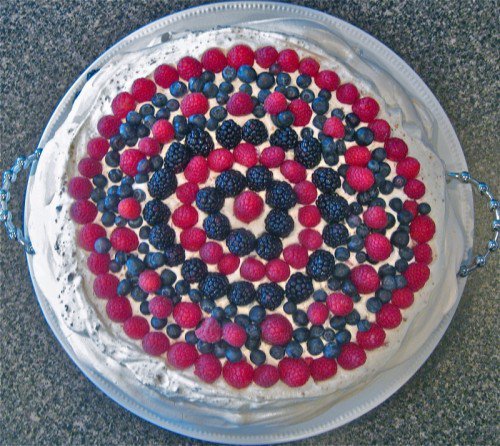 Most of you know that LeQuan and I live in the same city and that I recently had her family over to decorate my Grandmother Maude's Big Fat Gingerbread cookies with Kevin's daughter. It was a really fun day for me. (Have I mentioned I want to be a grandmother? Oh, boy! Do I! But, we need to have a couple of weddings, first, me thinks!) Anyway, I met both LeQuan and Kevin through blogging and both are very gratifying relationships. I have come to know LeQuan as one of the most loving, generous and sweet person's I have met. She used to be a student at the school I teach at, got her B. Ed. and is the same age as my eldest daughter, I think. The first time I read one of her posts, I killed myself laughing. I thought, "This needs to be a sitcom on TV!". She had stopped by her parent's house for lunch and showed that her mom does hair in the front of the house and then, through the door there was a multi-course Asian meal ready for a "little" lunch. It blew me away. I was hooked.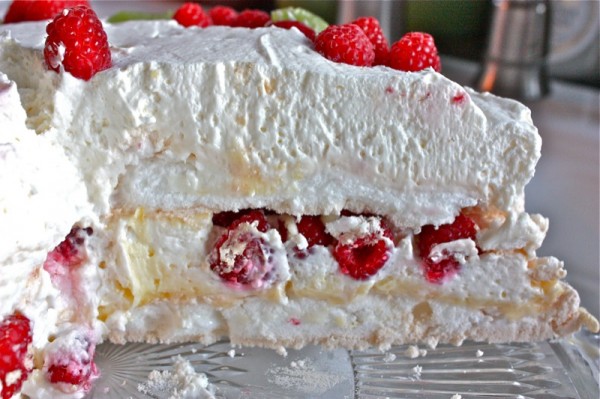 Twyla posted XO Sauce, and her recipe for it, and how crazy she was over it. LeQuan is always mentioning it, too, so I asked her if she makes her own. No. But, her mom does. We must come for dinner and an XO Sauce lesson. Whenever I can get a lesson from a mother or grandmother, I am IN! The dinner wasn't necessary, at all… but it ended up being an incredible feast, that I will post later. As LeQuan had her mother help her teach me, I had my mother help me prepare my dessert for her. Mothers and always mothers. I love being one and having one.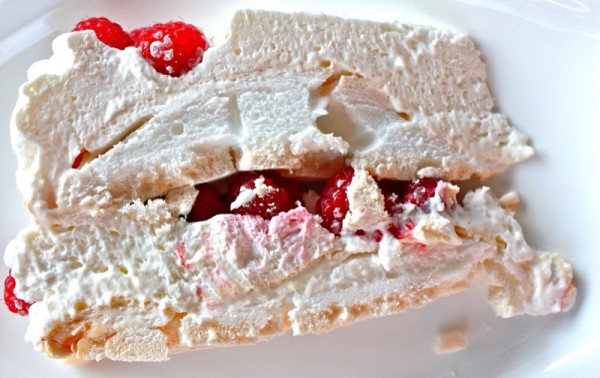 You have met Helen before, many times! She is famous for her Angel Food Cakes, and her pie pastry making as well as numerous other things. I can actually make my own Pavlova meringues… but, guess what? Mom does them better. So, off I go to mom's to make the perfect Pavlova for the dinner at LeQuan's parent's house. (Yes, she said "bring nothing", but that is definitely not the Canadian way!)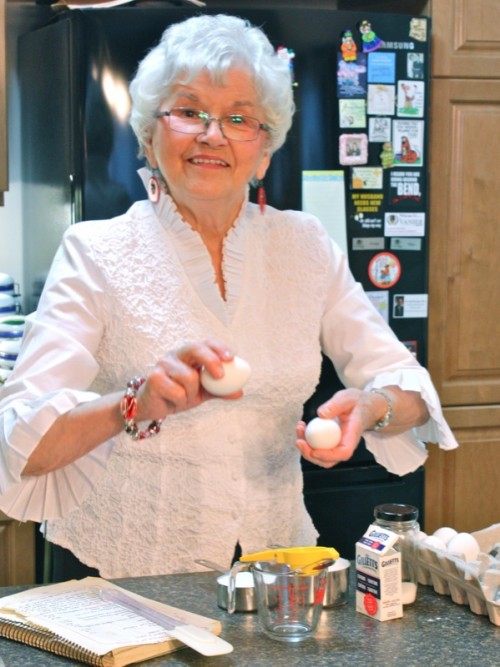 Mom and dad just celebrated their 60th Wedding Anniversary, and mom, her 80th Birthday… but, she still does not sit still for a minute. Pavlova is SUPER easy to make. There are very few ingredients, and it is absolutely delicious. The crunch of the sugary meringue with the creamy filling and tart juicy berries make this one of my very favourite celebration desserts. (The complete recipe follows the photo essay.)
Separate the eggs and use one cup of whites (approximately 6 large egg whites) and 1/2 a teaspoon of salt. Mom beats the whites for 3-5 minutes until they are almost stiff. Then, she adds the sugar. I add once cup. That is enough. She adds one and a half cups. I find that a little too sweet. Then, beat the whites for 15 to 20 minutes until the sugar is completely dissolved and the whites are luminous and glossy.
Here is a photo essay that will demonstrate how easy it is to make Pavlova. Only LeQuan can tell you how good it is. Well, everyone usually likes it – a LOT!
I had to play with my baby sister when the whites were beating and beating and beating…. I love my little Penny. She is our furry little ball of family therapy.
You can click on any image to enlarge it and take a closer look at the differences and the ultimate end texture we are looking for. The vanilla was added just before the beaters were removed.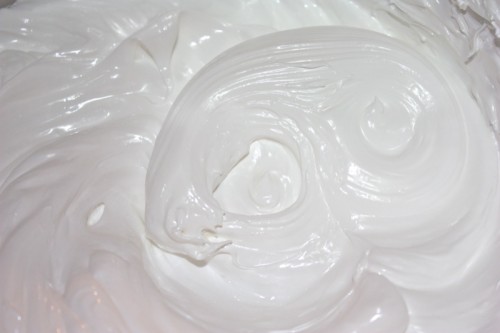 Waste not, want not.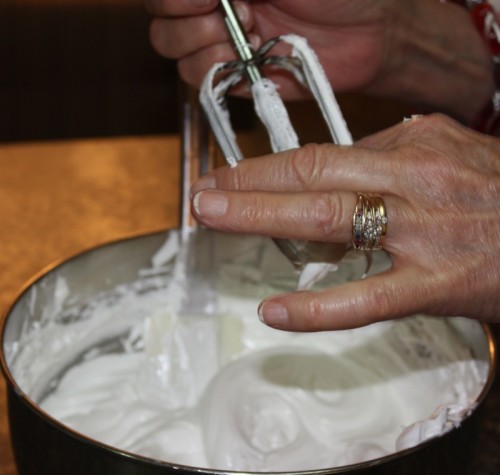 Whoops! Missed the photo where she added the vinegar and cornstarch and folded them it. Mom has drawn two huge identical circles on parchment sheets and placed each on top of a cookie sheet. Out comes the meringue onto the paper.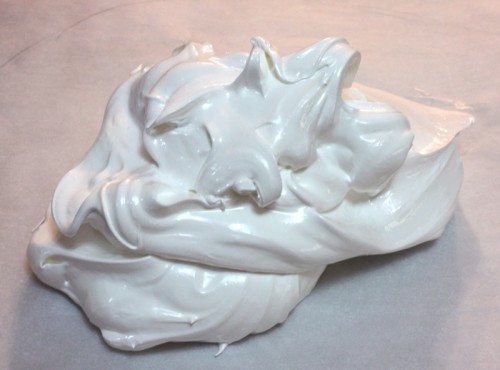 She starts in the middle and then pushes the meringue out to the edge of the circle, slowly.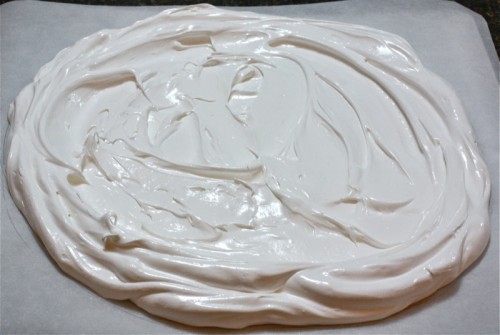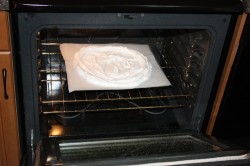 Into the oven it goes for an hour. She leaves it in the oven overnight with the temperature off to dry out. I don't. It depends upon how you like your meringue in the Pavlova. Experiment to discover which way you like it. I leave the door ajar until it reaches room temperature, then remove it from the oven.
So, we have two. This will feed a small army.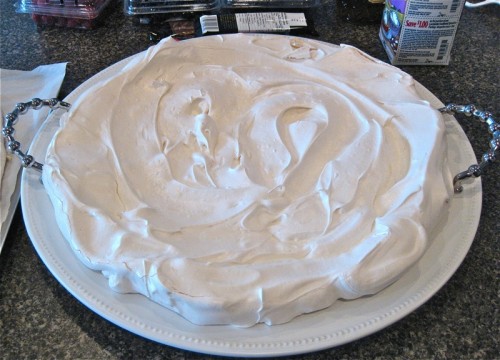 The size is determined by the size of my largest platter. The bottom one (the least nice one) goes on the platter. Then, I whip a litre of cream with 1/2 cup of powdered sugar. This time, I crushed 5 skor bars and folded them in for flavour and sweetness. Mom likes to fold lemon curd into her cream. Sometimes, I just sweeten the cream and use a lot of fruit on each layer.
Using an off set spatula, I "ice the meringue".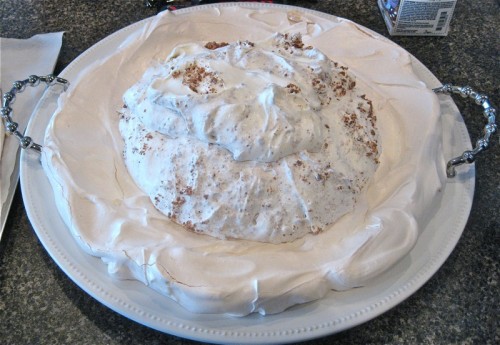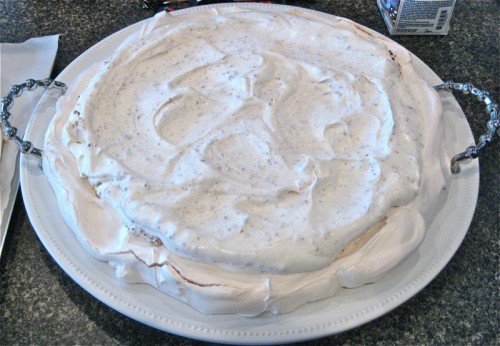 On goes the second shell and I repeat the same thing.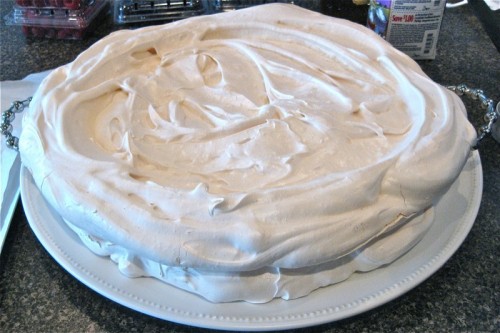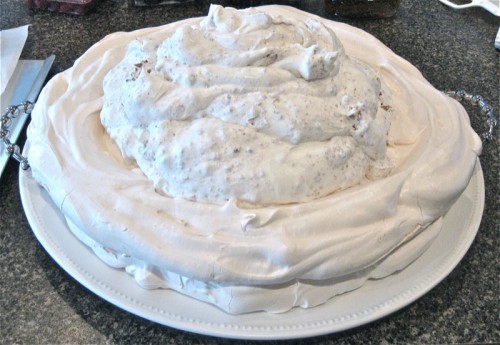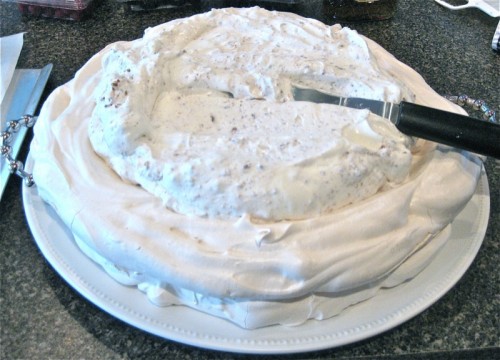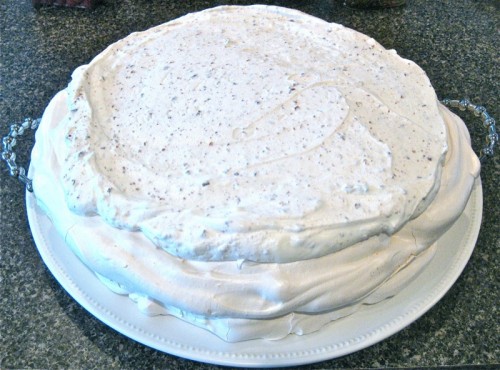 Sometimes I place berries in the middle. A lime curd is also good under the cream in the middle. I have also spread a homemade jam (black or red currant, raspberry) on the bottom of the top layer before placing it on the cream for extra flavour. There are as many options as there is imagination. This time, the berries went on top.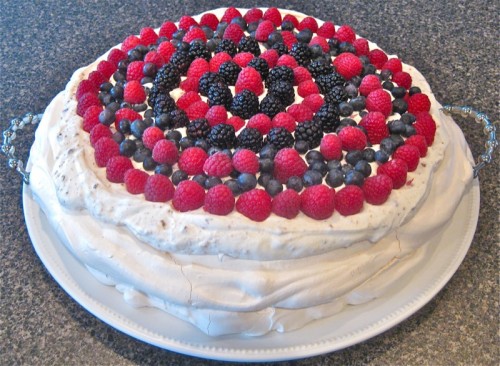 Last time, they went under the cream on the first layer.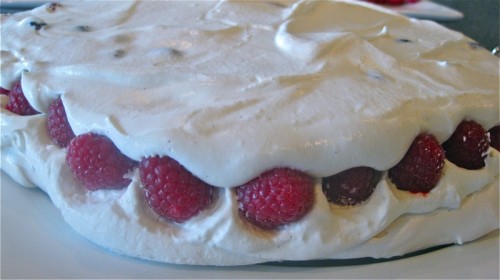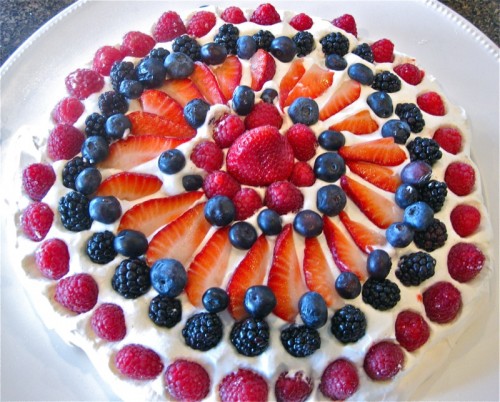 Somehow, they always look a little rustic and homemade, but appealing and fresh and lush.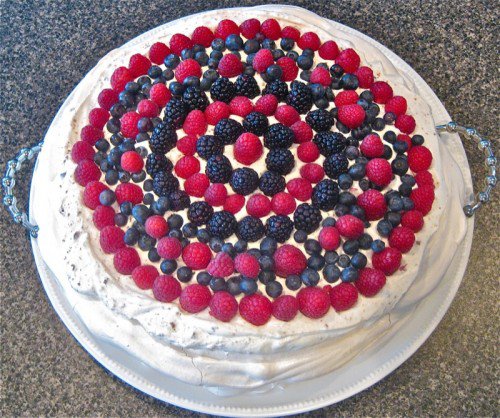 Thank you, mom, for your help. Thank you LeQuan's mom, for your XO Sauce Lesson and the lovely meal we shared together.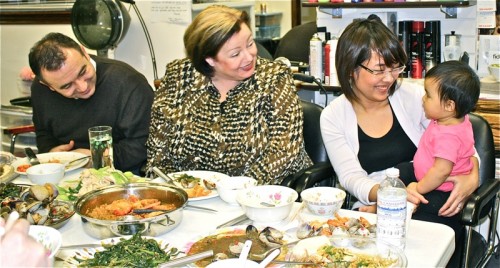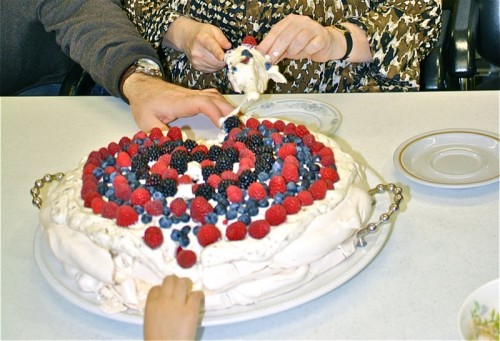 Pavlova Recipe
Ingredients for one Meringue:
1/4 teaspoon salt
1 cup egg whites (about 6 large eggs)
1 cup berry sugar or fine sugar
2 teaspoon white vinegar
1 tablespoon corn starch
1 teaspoon vanilla
Instructions:
Pre-heat the oven to 250°F; draw a 12 inch circle on parchment paper (or whatever size will fit your largest platter, but this recipe is for a 12 inch platter)
Separate the whites from the yolks, add the salt, and beat in an electric mixer until soft peaks form; add sugar
Beat until stiff and glossy (15 to 20 minutes, depending upon your mixer)
Test to see if the sugar is fully dissolved by rubbing a little of the meringue between your thumb and index finger; the meringue should feel smooth, not gritty (If it feels gritty the sugar has not fully dissolved so keep beating until it feels smooth between your fingers)
Add the vanilla and beat it in
Sprinkle the vinegar and cornstarch over the meringue and fold it in with a spatula
Gently spread the meringue inside the circle drawn on the parchment paper, smoothing the edges, making sure the edges of the meringue are slightly higher than the center (a slight well in the center of the meringue will hold the whipped cream and fruit as in the above photos)
Bake for 1 hour 15 minutes or until the outside is dry and takes on a very pale cream color; turn the oven off, leave the door slightly ajar, and let the meringue cool completely in the oven (The outside of the meringue will feel firm to the touch, if gently pressed, but as it cools you will get a little cracking and you will see that the inside is soft and marshmallowy)
NOTE: A Pavlova is a meringue, and it is important when making any meringue that the egg whites reach maximum volume, so make sure your mixing bowl and whisk are clean and free of grease. It is easier to separate whites while the eggs are still cold. Once separated, cover the whites until at room temperature (about 30 minutes). Once the egg whites and sugar form stiff peaks it is time to gently fold in the cornstarch and vinegar. Adding these two ingredients will give the Pavlova a crust that is dry and crisp, with a soft marshmallow-like interior. The cooled meringue can be made and stored in a cool dry place, in an airtight container, for days.
Ingredients for one Layer of Filling:
i litre of heavy cream
1/2 cup of powdered sugar
fruit for filling and topping (about 4 baskets of fresh fruit per layer)
Instructions:
Beat the cream until frothy, add the sugar and beat until soft peaks form
Spread over Pavlova meringues, as demonstrated above, two to four hours (maximum) before service as this dessert does not hold well once plated (the meringue will soften)
Decorate with fruit; it is nice to have fruit in the centre, too, to cut the richness of the cream