Edmonton's own Culinary Students at NAIT, under the tutelage of NAIT's Hokanson Chef in Residence, Susur Lee, prepared an unexpected combination of flavours that constructed a powerful and new taste experience.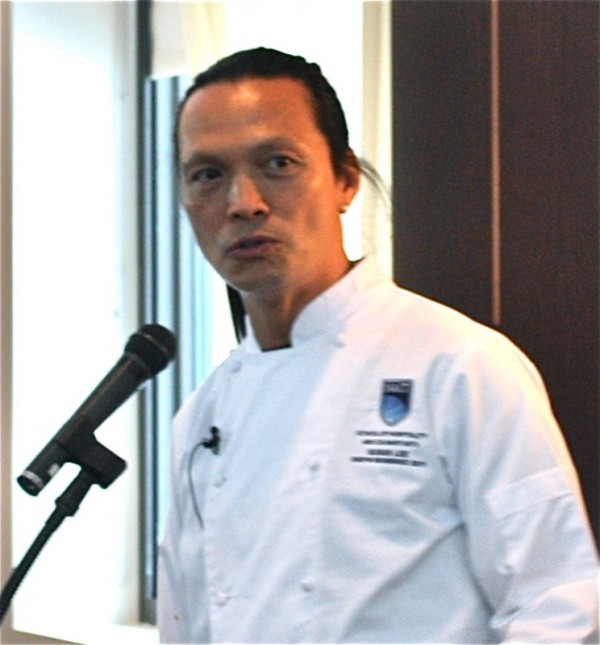 Thank you, Chef Stanley Townsend! The invitation was so unexpected and so appreciated. Your students did you proud. I have been very proud of the World Class Culinary program we have at NAIT, in Edmonton, for years. This meal would have made Julia Child drop to her knees and, in her endearing Julia-manner, exclaim: "Mon Dieu ! Et moi qui croyais que la cuisine à Paris était extraordinaire ! J'aurais du venir au Canada !" (My God! And I thought the food of Paris was extraordinary! I should have come to Canada!)

Chef Susur Lee, you have truly inspired these students. As a teacher, I understand the importance of inspirational motivation.The sparkle in the eyes of those young chefs parading through the room at the end of the meal was electric. I bow to you.
NAIT students. Your labour was appreciated. It was understood. Your performance was extraordinary. You have done your school, teachers, and your city proud.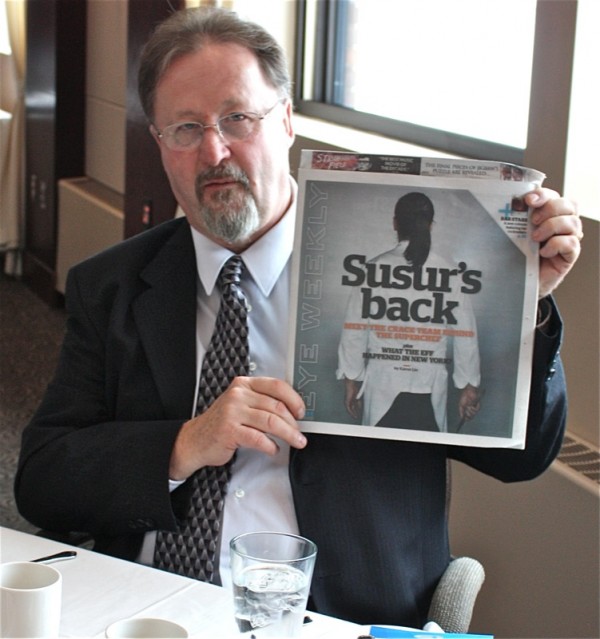 Chef Lee was at NAIT because John and Susan Hokanson created an endowment fund in 2007 that established the Hokanson Chef in Residence Program. That was after 2003 when they had raised money for the Hoskanson Centre for the Culinary Arts. The Hoskanson's have played a very important role in the culinary education and opportunities of these students. What a ride! This contribution has clearly been honoured and used well.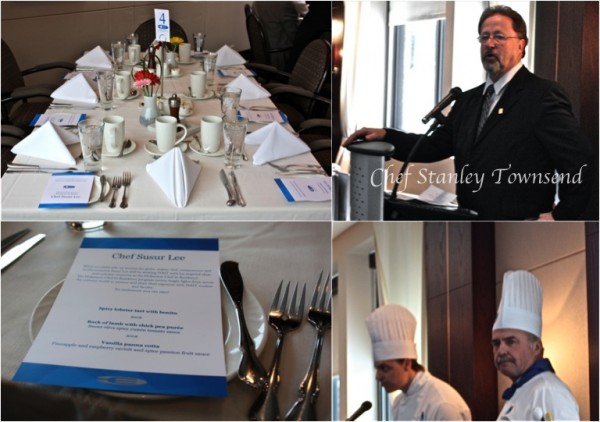 There were three courses, each done by a different class (year) of students. Each course was introduced and explained by a student in the class that prepared it. That was a lovely personal touch.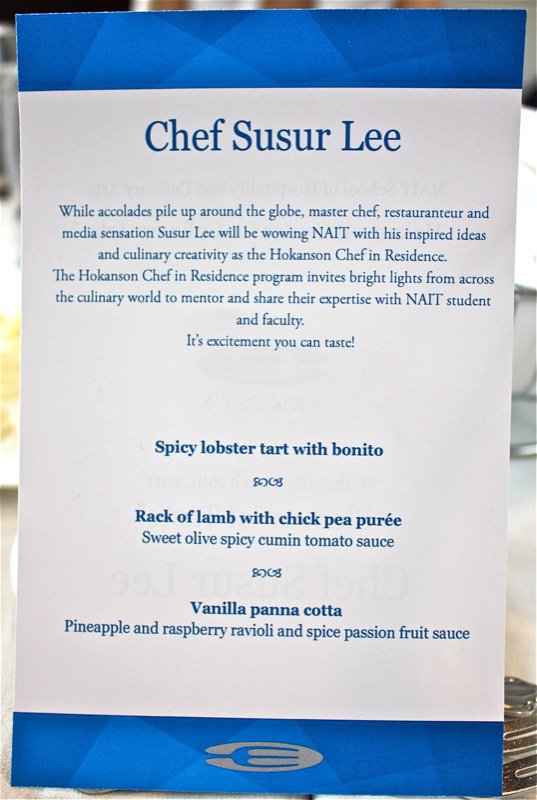 Chef Townsend introduced each course to us as it was presented, explaining Susur's thinking behind the creation of each dish. I really appreciated that as it connected Chef Lee to the food I was eating and was gratifying to hear how this creative genius thinks. My table mate were great fun! (Chef Townsend loves our Kevin Kossowan!)
Liane Faulder would occasionally take a bite in between tweeting and photographing her plates: food writer for The Edmonton Journal is not as "fun" as one might think! She really works during her meals! Mary Bailey of The Tomato Food and Drink had the only coveted Susur Lee cookbook at the table. (Yvonne and I were trying to scoop the 2005 cookbook to get Chef Lee's signature, and all local bookstores were out!)
Tablemates across were Miles Quan from the Lingnan and the famed The Quon's family restaurant TV program on Food TV Canada, Sharon Yeo (recently voted one of the top 40 under 40 Canadian Foodies in Western Living Magazine 2011) from Only Here for the Food, and Yvonne Li from Undercover Gourmet.
Spicy Lobster tart with bonito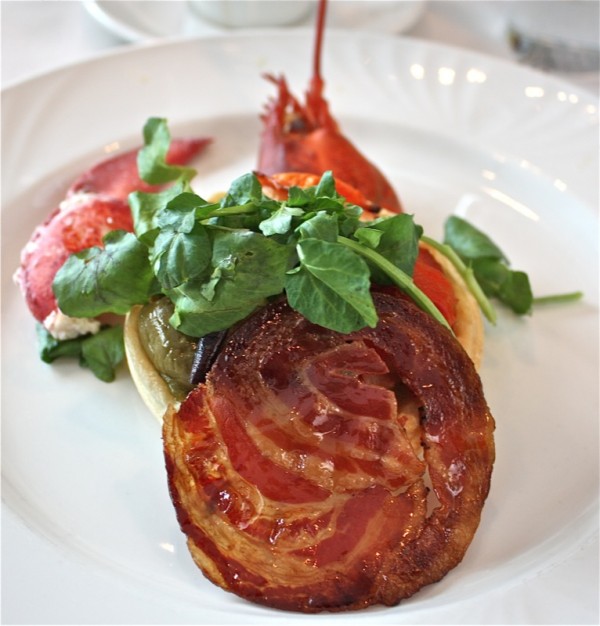 This dish was a fusion of Mexican, French, Italian and Canadian cuisine orchestrated in perfect harmony. Chef Townsend explained that Chef Lee was deeply influenced by a recent trip to Mexico and that this dish was inspired by his time there. The wisp of French puff pastry was integrated to reflect the light, crisp Mexican flat breads with the buttery addition of the French kitchen. The chêvre is classic French fare and its salty tang wrapped a velvety layer around the green Mexican salsa underneath. That offered a perky little kick! The meaty, salty Italian olive and the savoury crisp pancetta chip waved the Italian flag over the dish. The maple syrup glaze on the pancetta coupled with the delicate Atlantic lobster brought this dish home.
The mighty crescendo of this dish was the moment the chêvre combined with the Mexican salsa. I could have left the lobster (and I adore lobster). I remember there was bonito on the dish, but it was insignificant to the impact of the other flavours playing upon my palate. This was a memorable dish. An unforgettable moment. A taste memory engraved.
And then I looked up from my plate and smiled. I had not been the only person at our table communing with my lobster tart. It had been a very luscious silence.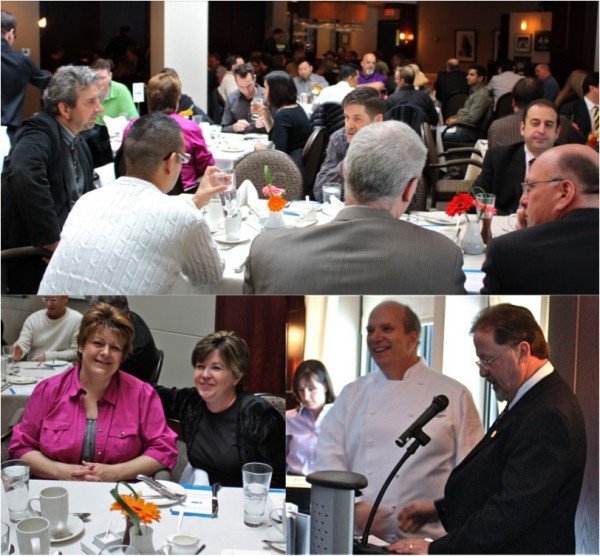 It was nice to have some time to visit between course. Sorry, Maki! I don't see you in the top photo, do you? And who else is that beside the gal in the pink? An Edmonton Foodie Tweep. Can you guess?
Our host, Chef Townsend, kept the lunch moving along by introducing NAIT dignitaries, prize winners, and eventually, Susur Lee. But, first: the main course.
Rack of lamb with chick pea purée
First, the bouquet. So simple, yet so perfectly finished the dish: mint and chive wrapped in corn husk ribbon. How unexpected to find hummus served in this fashion. And the hummus was… nuttier than usual? The kalamata olives has that little je ne sais quois begging the question: what is it? What is it? The cumin in the tomato sauce was delicate which I did appreciate (as I find everyone is putting cumin in everything these days, and often too much for my palate). Chef Townsend explained that Chef Lee created the sauce in the typical Indian way by roasting the spices and then making an aromatic mash fried with them, later adding the tomatoes. This had clearly gone through the chinouis; it's clarity was brilliant. The unexpected star on this plate was the mint chutney. That small green puddle created fireworks when it sparkled through the hummus and the tomato sauce. Yum, yum, mm-mm-mm! The zucchini coin and the braised onion were lovely additions to the plate. And the lamb? Cooked to perfection, tender and juicy, it begged to swirl and twirl through the colours on the plate lapping up the vibrant goodness. This dish was spectacular! (Yes, I gave away a chop. I don't eat meat, but love tasting it!)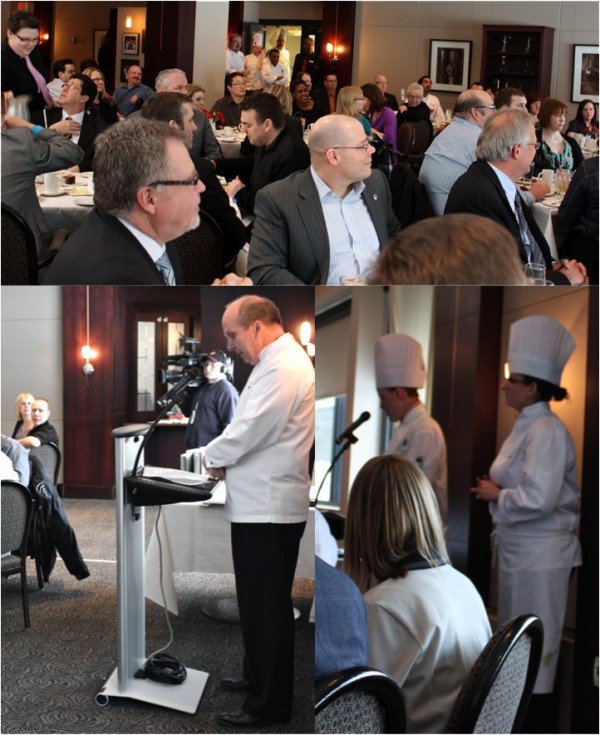 More introductions and thanks and important moments. Then, the dessert.
Whoa, baby! Did I just fly away and land on a tropical island? This was unexpected for a wintertime dessert on the Canadian prairies. "Are you going to the hook-ee-la?" You know the song. (If you're my age!) "The hook-ee-hook-ee-hook-ee-hook-ee-hook-ee-la!"But, it was deadly delicious. The coconut macaroon was anchored to the side of the bowl with a dab of chocolate. The pana cotta was all decked out in a pineapple raspberry ravioli and the sauce… passion fruit, and I am not sure what else… but, the sauce was the kind of dessert soup that I just wanted to bury my face into and blow bubbles with. Well, that may be going a little far. It was dreamy. The prefect culinary sunset to end a lovely meal.
The only element missing was one that is critical to where I find my core in my food community: Where did the food come from? There was no focus placed on the source of the food and when asked, the questions were deflected. I understand that this is an economic issue coming from 30 years of teaching with Edmonton Public Schools. I understand the difficulty in educational funding. I also understand that where one's food comes from, food sovereignty and the effect of where food is sourced not only effects one's local economy, but effects the global economy and the local food supply for generations to come. This is an issue that the NAIT culinary program needs to address. The time is now. Their program is so special and the students are so clever. We need them to leave their hallowed kitchens armed with not only knowledge of this, but the fundamental practice of it in place where they work and learn each day.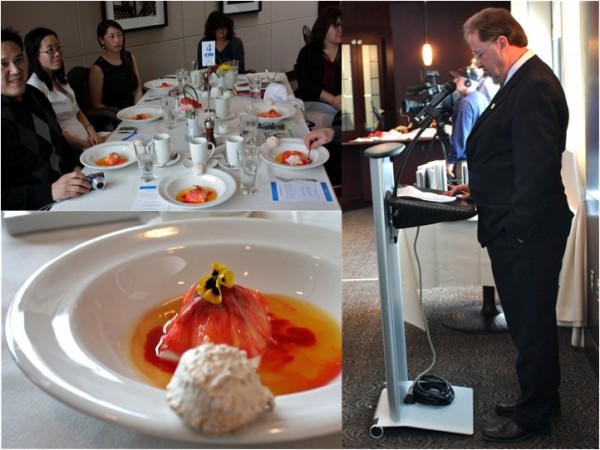 As Chef Townsend said, Susur Lee has the one critical ingredient that most chefs in his position lack: humility. There was no personal conversation with Chef Susur Lee, per se, and certainly, he was less than 5 minutes at the mike, but his demeanour was open, warm, kind and humble. That was completely unexpected after meeting my small share of Superstar Chefs.
The students paraded through the dining room to an enthusiastic standing ovation. I only wish each of them could have experienced their own food! Allan Suddaby was parading through the crowd with his class, below right, and came over for a brief visit. This is one young Edmonton Chef that is definitely going places! (He will share these recipes with me this weekend, so if you are interested in any specifically, let me know, and I will mail them to you. I will also revise the post after I get the recipes to include a couple key ones.)
My moment shared with our table, and Maki (wish we were all sitting together!). Mary is missing, but she was there! Thank you, Chef Lee, Chef Townsend and NAIT culinary students. Can you still hear me clapping?
(Big thanks to Maki from In My Element for this final photo.)