A gift from our Alberta terrior for my new friends at the Slow Food Canadian National Conference at
Vallée-de-la-Batiscan

, April 2011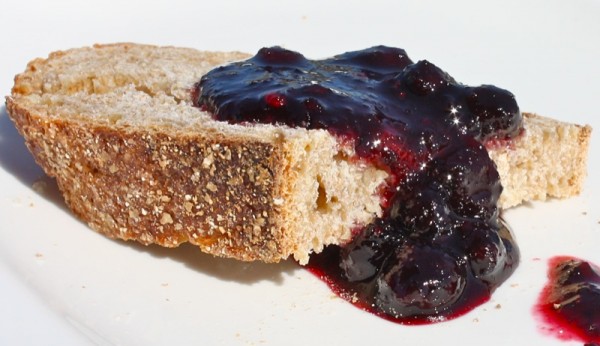 When I decided to go, I knew immediately that I was taking Saskatoon Jam. I have never made it in my life, but have always wanted to, and now was the time. Saskatoons are too precious. Even here. What do we do with them? Pies! We make the most flaky flavourful prairie Saskatoon Berry Pies you have ever puckered up to in any kitchen. This is a berry with some personality. This is a berry with a mind of its own. This is a berry that knows how to rise above the crowd and be noticed. This is our Saskatoon berry.And these are from my own garden. Not foraged. No longer.
My friend, Maria, tasted her first Saskatoon last week. "They are waaayyy better than blueberries!" Awe and wonderment expressed across her sweet little face. I forgave her. But, it was hard. Why do people compare Saskatoons to blueberries? It is like comparing a raspberry to a strawberry. The only thing they have in common is their colour, almost. OK. And their shape. Kind of. They are nothing like Blueberries.
Saskatoons sing. They are clear and concise and loud and strong and free.
Mom and I searched for the right recipe. The oldest one we could find, with the least amount of sugar and no pectin. This is it. We made our first Saskatoon Jam together and it was so easy and so much fun. I will do this again now that I am growing my own berries. I will have enough for pies, and enough to make some lovely jam unique to my place to give to my friends. I hope my new Canadian Slow Food friends will enjoy this little labour of love.
When I taste this beautiful berry, I always think of my grandma, Maude. Oh, how she loved her berries. She would know where the best spots were around her home in the Clive-Lacombe area of our province. She would know the best days to go there. We would go: my mom, my grandmother, my sister and I. The picnic lunch was packed. Ice cream buckets tied around our waists and strict instructions to "pick and don't eat!" Of course, that was not what we did. And, at the end of the day, thick fresh cream would wash over these berries and there was no better place on earth at that moment than my grandma's kitchen table in the last rays of the evening sun. Cleanly scrubbed pink bare feet bobbing back and forth under my chair. Ultimate satisfaction for a day's work well done.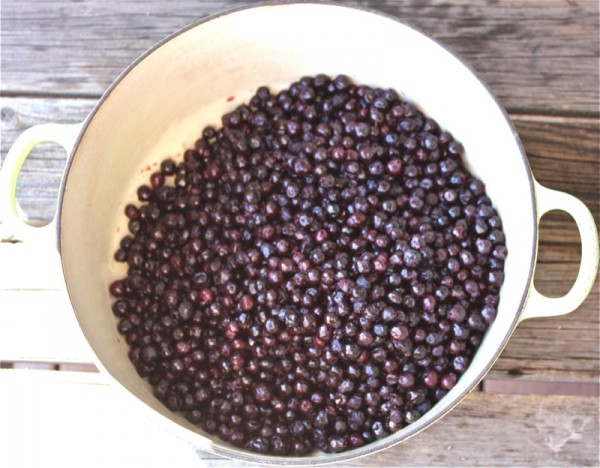 The beauty of preserving is that it all doesn't have to be done in the fall if you have a freezer. These berries were washed. The "bad" once rise to the top of the water and are scooped out. Then they are dried and frozen on a parchment lined cookie sheet in a single layer over night. Once frozen, I bag them in 4 cup bags. Generous 4 cup bags for pie making. And, this recipe is also a 4 cup recipe. They are a dense berry, so even beautiful for sauces after being thawed.
I made two double batches of the recipe. I have never used my Thermomix for jams, but know it works like a charm for jams, so this was the time to compare.
I could have puréed the pulp to a velvet paste. I have definitely gone too far, in the photo below, but I was seriously thinking of making a paste. However, I just decided to combine both batches for the canning process and it worked perfectly.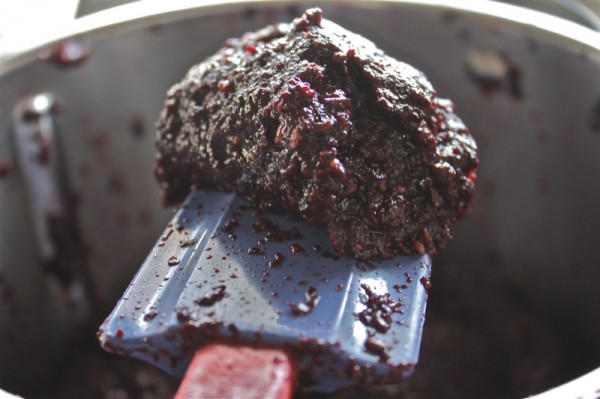 I decided to not mash the other batch very much so that the jam could have a good structure with a nice combination of shape and texture in it.
Whenever you boil anything in the Thermomix, you are wise to cover it with a teatowel to prevent spatters. Both jams were lovely. I used grandma's wooden spoon method to test their readiness: watch while the two drips finally join and become one thick drip. Mom used her method which was to set a bit in the fridge to see how it was. I didn't wait, as I knew it was the consistency I wanted: a loose, fruity consistency.
I rarely process my jams, either. I usually just hot pack them and then keep them in the fridge, but these ones I did process.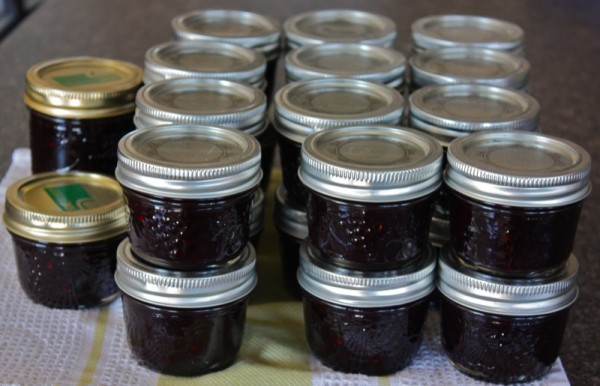 One for everyone. That is what we do. It is a part of the prairie farm culture. We feed people.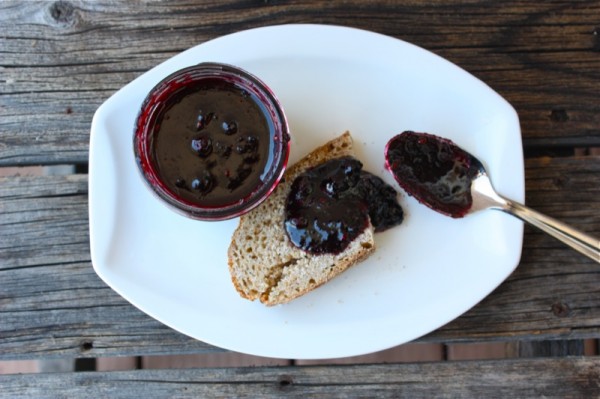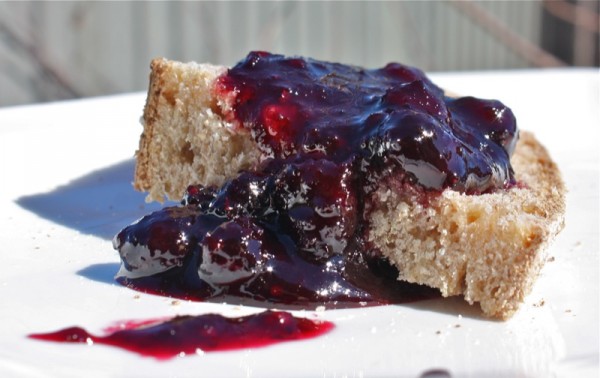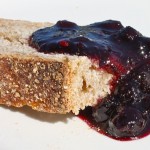 Saskatoon Berry Jam: The Traditional Recipe
This is my great grandmother's recipe from the late 1800's in Alberta.
Ingredients
4

cups

(480g) Saskatoons

3

cups

(540g) sugar

1/4

cup

(50g ) water

Juice and grated peel of 1/2 lemon
Instructions
Crush Saskatoon berries in a Dutch oven; heat gently until juice starts to flow

Add sugar and water and bring to a boil, stirring constantly

Add lemon juice and peel; bring to a boil and cook, stirring frequently until thick, about 15 minutes

Pour into hot sterilized jars, leaving 1/4 inch (6 mm) head space; wipe jar rims thoroughly

Seal and process in a boiling water bath for 10 minutes
Instructions for Thermomix:
Scale Saskatoons in TM bowl; purée until desired consistency (i like to leave mine whole)

Cook for 15 minutes at V, Reverse Speed 3

Add water and sugar through hole in the lid when berries start to boil (after about 10 minutes)

Bring back to a boil (about 5 more minutes at V, speed 3

Add lemon juice and peel; bring to a boil and cook until thick at V, speed 3 for 15 minutes

Pour into hot sterilized jars, leaving 1/4 inch (6 mm) head space; wipe jar rims thoroughly

Seal and process in a boiling water bath for 10 minutes
Recipe Notes
I tripped this batch which is topping out the capacity of the TM bowl:
1440g berries
1500g sugar (with a bigger batch, it is fine to add a little less sugar)
100g water (with a bigger batch, this is enough water)
The times changed, too:
It took 20 minutes to get hot enough to add the sugar
Then 20 minutes after the sugar and water was added to cook and thicken