Saskatoon Berry Jam: A gift from our Alberta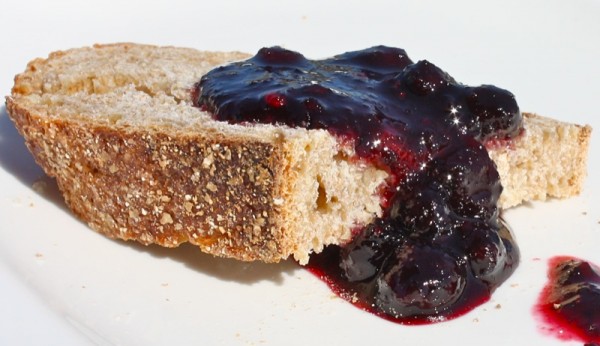 I made Saskatoon berry jam for my new friends at the Slow Food Canadian National Conference at Vallée-de-la-Batiscan, April 2011!
When I decided to go, I knew immediately that I was taking Saskatoon Jam. Originally named misâskwatômin by the Cree, and spoken in English as Saskatoon, I had never made it before, always wanted to and now was the time! Saskatoons are too precious. Even here. What do we do with them? Pies! We make the flakiest flavourful prairie Saskatoon Berry Pies you have ever puckered up to in any kitchen. This is a berry with some personality. This is a berry with a mind of its own. This is a berry that knows how to rise above the crowd and be noticed. This is our Saskatoon berry. And these are from my own garden. Foraging for them is almost not possible, so I planted some bushes and they are bearing berries this year!
Saskatoon Berry Jam: Saskatoon vs Blueberries
My friend, Maria, tasted her first Saskatoon last week. "They are waaayyy better than blueberries!" Awe and wonderment in her eyes. Why do people compare Saskatoons to blueberries? It is like comparing a raspberry to a strawberry. Yet, they do look very much alike:
Shape: round and Saskatoon berry has an "unofficial crown" (can you see it, below?)
Size: similar
Colour: Blueberry is "bluer" and Saskatoon berry is more purple
Taste: Saskatoons sing. They are clear and concise and loud and strong and free.
Can you tell which is which, below? The Saskatoon berry (right) is more purple and the blueberry (left) is bluer.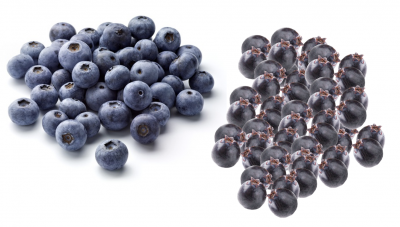 Texture: The Saskatoon berry is denser and have twice the fibre as a blueberry
Nutrition: Saskatoon berries WIN! They have more calcium, three x the protein, potassium and antioxidants and 5 x the iron than their blueberry counterpart.
Saskatoon Berry Jam: The Traditional Recipe
Mom and I searched for the right recipe. The oldest one we could find, with the least amount of sugar and no pectin. We found grandma's recipe and learned it is the traditional one used by all in the prairies: 4 cups berries to 3 cups sugar with about 1/4 cup of water and juice and zest of 1/2 a lemon. We made our first Saskatoon Jam together and it was so easy and so much fun. As I am growing my own Saskatoon berries. I will have enough for pies, and jam every year. I hope my new Canadian Slow Food friends will enjoy this little labour of love.
Saskatoon Berry Jam: My Berry Picking Memories
When I taste this beautiful berry, I always think of my grandma, Maude. Oh, how she loved her berries. She would know where the best spots were around her home in the Clive-Lacombe area of our province. She would know the best days to go berry-pickin'. We would all go: my mom, my grandmother, my sister and I. The picnic lunch was packed. Ice cream buckets tied around our waists and strict instructions to "pick and don't eat!" Of course, that was not what we did. And, at the end of the day, thick fresh cream from Bell's farm would wash over these berries and there was no better place on earth at that moment than my grandma's kitchen table in the last rays of the evening sun.
Cleanly scrubbed pink bare feet fresh from the bath bobbing back and forth under my chair as I spooned fresh Saskatoon berries ripe from the heat of the day with the lush cool heavy cream. The ultimate satisfaction for a day's work well done. Unforgettable were times like these as a child. Foraging for berries, or berry picking was something everyone did when I was a child. We all understood intimately the value of the Saskatoon berry. We were there. We knew.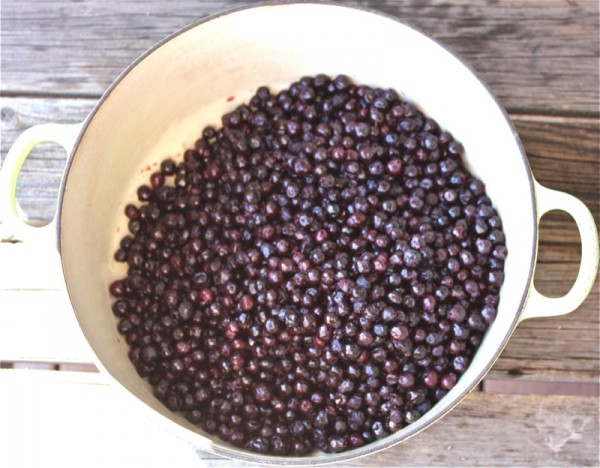 Not any more.
Saskatoon Berry Jam: Preserving the berries
The beauty of preserving is that it all doesn't have to be done in the fall if you have a freezer. These berries were washed. The "bad" ones rise to the top of the water and are scooped out. Then they are dried and frozen on a parchment-lined cookie sheet in a single layer overnight. Once frozen, I bag them in 4 cup bags. Generous 4 cup bags for pie-making. And, this recipe is also a 4 cup recipe. They are a dense berry, so even beautiful for sauces after being thawed.
Saskatoon Berry Jam: Making the Jam
I made two double batches of the recipe. Now was the time to translate the recipe from the stovetop to my Thermomix. We had 2 batches going on the stove and two in my Thermomix.
I puréed the pulp below, as some like a puréed jam. After seeing the texture, and knowing what I like, I decided to leave the second batch whole and combine the two and it worked perfectly. Since then, I just leave them whole, as indicated in the recipe.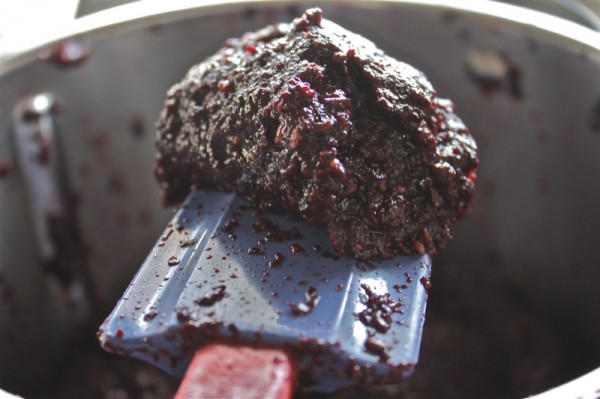 I don't care to mash my berries very much as I prefer my jam to have berries as part of the structure and texture.
Whenever you boil anything in the Thermomix, you are wise to cover it with a simmering basket or a Splash Guard to avoid splatter! It will happen if you don't tend to that. Both jams were lovely. I used grandma's wooden spoon method to test their readiness: watch while the two drips finally join and become one thick drip. Mom used her method which was to set a bit in the fridge to see how it was. I didn't wait, as I knew it was the consistency I wanted: it is a loose, fruity consistency.
Saskatoon Berry Jam: To Process or Not
I rarely process my jams, either. I usually just hot-pack them and then keep them in the fridge, but these ones I did process as I was travelling with them.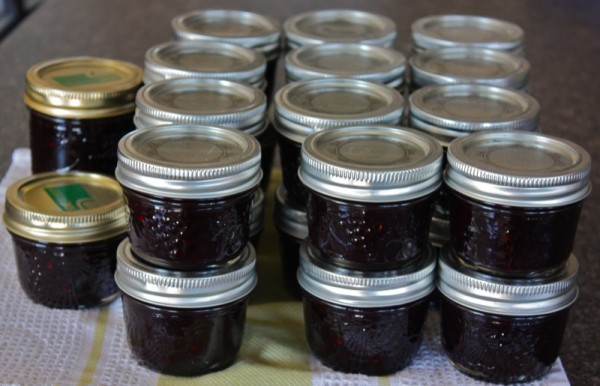 One for everyone. That is what we do. It is a part of the prairie farm culture. We feed people.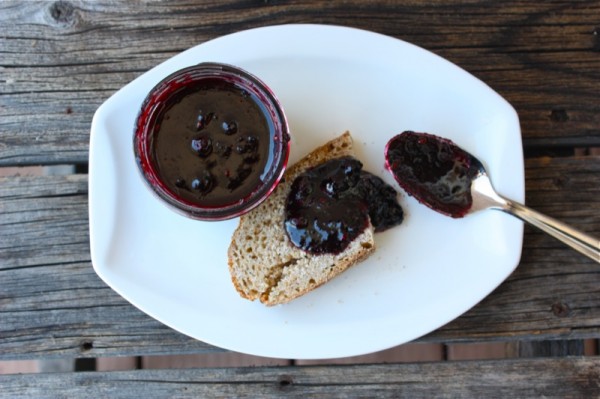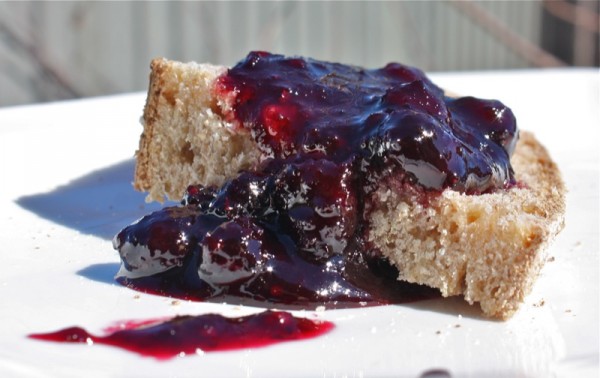 Saskatoon Berry Jam: Are You Going to Make Some?
Please DO comment below if you try this recipe. I love it with EXTRA lemon zest added to the serving jar or pot just prior to serving. Mix to fully incorporate and you will find that this enhances the berry flavour and adds a delightful sparkle to the preserve and your morning or afternoon tea. This is most definitely a taste of Canada! Now, be sure to also make the Saskatoon Berry Pie!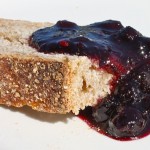 Saskatoon Berry Jam: The Traditional Recipe
This is my great grandmother's recipe from the late 1800's in Alberta.
Ingredients
750

g

Saskatoons, washed (see Tips)

50

g

water

575

g

granulated sugar

30

g

fresh lemon juice

1

tsp

zest of fresh lemon (approx 1/2 lemon)
Instructions
Crush Saskatoon berries in a Dutch oven; heat gently until juice starts to flow

Add sugar and water and bring to a boil, stirring constantly

Add lemon juice and peel; bring to a boil and cook, stirring frequently until thick, about 15 minutes

Pour into hot sterilized jars, leaving 1/4 inch (6 mm) headspace; wipe jar rims thoroughly

Seal and process in a boiling water bath for 10 minutes
Instructions for Thermomix:
Place small bowl on mixing bowl lid, weigh water and set aside

Place medium bowl on mixing bowl lid, weigh sugar and set aside

Place a small bowl on mixing bowl lid, weigh lemon juice and set aside

Place Saskatoons in mixing bowl, cover with lid and splash guard and cook for 30 min/V/R-speed 1

Meanwhile, add water and sugar through hole in mixing bowl lid when berries start to boil approximately at the 10 min point (see Tips)

Add lemon juice and peel through hole in mixing bowl lid 10 min later at 20 min point

Pour into hot sterilized jars with wide-mouthed canning funnel, leaving 6 mm or ½ inch headspace and wipe jar rims thoroughly

Store in fridge for up to 3 months
Recipe Notes
Frozen berries are fine to use but check thickness at the 30 min point and increase time by 5 min, if needed. When ready, ingredients will be thick, but still loose. As the jam cools, it will thicken considerably yet this will remain a loose jam.
Blueberries may replace Saskatoon berries in this recipe. The yield will be 750ml with blueberries simply due to the difference in the density of the berries.
Setting a timer for the two 10 min points to add ingredients is helpful.
Prior to serving, adding fresh lemon zest to the jam pot (fully incorporate) enhances the berry flavour and adds a delightful sparkle to the preserve.
Yield: there will be a scant 700 mL so two 250 mL containers and then one to use right away that will not be full
A wide-mouthed canning funnel is very handy for pouring sugar through the hole in the mixing bowl lid as it avoids spillage when the berries start to boil.
Saskatoon is a Cree word for the sweet, fleshy berries that were a primary food source for Aboriginal people and early settlers on the Canadian prairies. These delicious berries grow from western Ontario to British Columbia and the Yukon and are beloved by Canadians where family foraging stories are abundant during Saskatoon berry season. These have become available commercially only in the past 20 years due to their diminishing availability in the wild. Saskatoon berry pies and Saskatoon berry jam have been farmhouse favourites for generations. A jar of Saskatoon berry jam is a coveted tourist purchase, and a homemade jar is gold!
Saskatoon berries do resemble blueberries in size as well as colour but they are discernably different in flavour from one another. The Saskatoon berry has a much more intense flavour and when baked or in a jam may present an almond note. Both are complemented beautifully by lemon. Wild blueberries are accessible commercially coast to coast and Saskatoon berries are much less accessible