Traditional Piemontese Cabbage Roll: Sweet Steamed Cabbage leaves with leftovers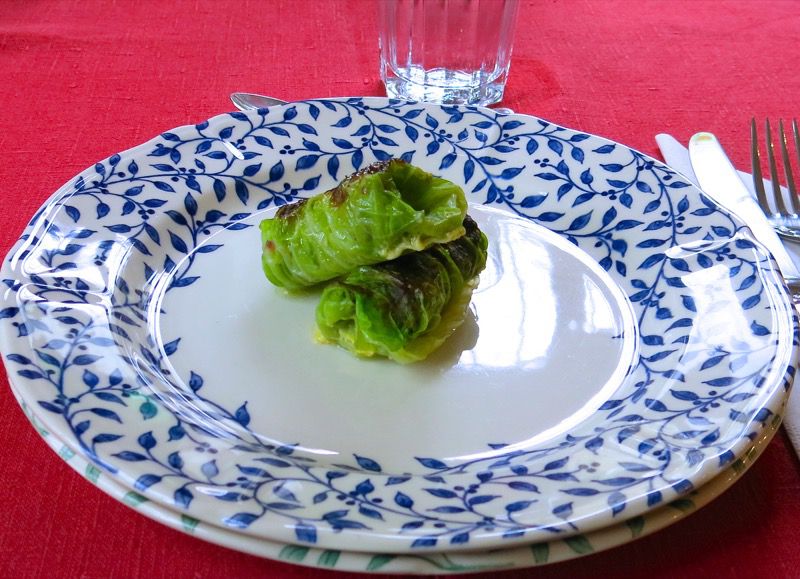 Coming from Edmonton, Alberta, cabbage rolls are a part of our cultural heritage via the settlement of Ukrainians in the mid 1800's. When they introduced these succulent and economical morsels to their prairie counterparts at the time, they were a hit. Delicious, nutritious and economical: win, win, win. My mother, as all mothers in this area, though we come from completely different ethnic backgrounds, sharing this common bond through our Canadian prairie culture, has honed "the family recipe". Each is similar, yet different.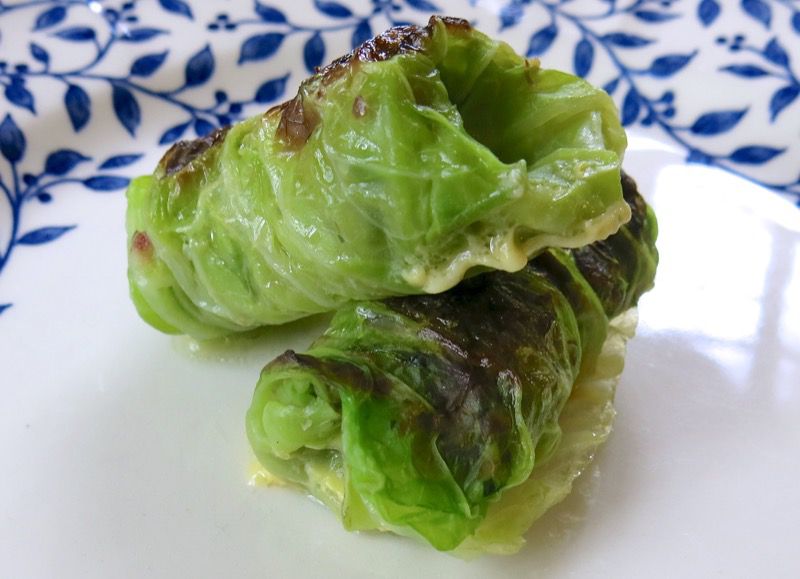 Marrying Vanja introduced me to a completely different kind of cabbage roll: the sour cabbage roll, or sarma. Made in the same fashion, the flavour and texture experience is completely different. These have become a part of our family tradition and are served at every festive meal. Never underestimate the versatility of cabbage and the genius of the poor wife working to feed her family. The sweet Ukrainian cabbage rolls, the sour rolls of my husband's homeland, and the Caponet of Piedmont, in Northern Italy, share that same tale: the humble housewife creating something from nothing for the family evening meal. The origin of the dish is unknown, but the cabbage leaves are often exchanged for kale, or any other larger seasonal green leaf. This filling is most traditional; however, the purpose of this dish is to use leftovers in the pantry, so the opportunity for variation is endless.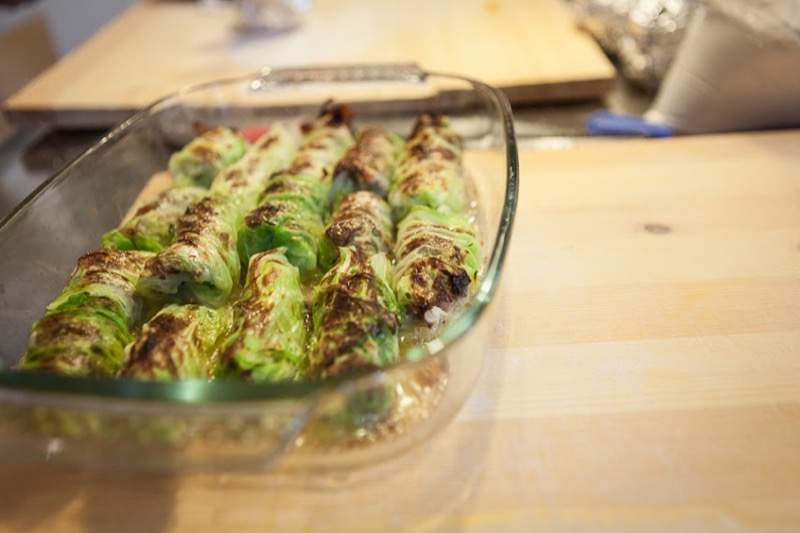 Cook in Italy with Federico Crova
Jens, Dennis and myself embarked in a cooking frenzy with Federico Crova, owner of Cook in Italy, from Torino when in Italy for Terra Madre. He guided us through a traditional Piemontese three course meal that we enjoyed together at the end of the class. Federico Crova owns and operates Cook in Italy from his home and studio kitchen in Torino, Italy. We were able to take advantage of a class in his home with our small group. Love getting into Italian homes. He and his wife have refurbished this 200 year old home, but sadly, are moving to Geneva in the Spring. I will include his email at the bottom or this post for those of you interested in Italian cooking classes in Geneva. I would most definitely take another from him, where ever I was – keeping in mind, it would be traditional Piemontese food.
Our three course meal included this appetizer called caponet: a traditional sweet cabbage roll filled with left over beef, traditional Piemontese Salami, herbs, a little garlic and vegetables typical of the region. It is significantly different than any sweet or sour Eastern European Cabbage roll. Absolutely delicious and I look forward to making them at home. Agnolotti del Plin which is the Piemonte version of ravioli made with spinach and ricotta in this case, and the Bunet Piemontese for the grand finale which is similar to a Crème Caramel, but the Traditional Piemontese Chocolate Amaretti version.
Preparing for our class, Federico had company over on the weekend and served a hearty traditional platter of Bollito Misto which is a classic stew consisting of various tougher cuts of beef and veal, sometimes including cotechino (a salami that requires cooking) and a whole capon simmered in a vegetable broth. Bollito is particularly popular in Emilia-Romagna, Piedmont, and Lombardy. This explains the leftover neck and cartilage visible in the bowl above. Bollito Misto is now on my list for Sunday Suppers.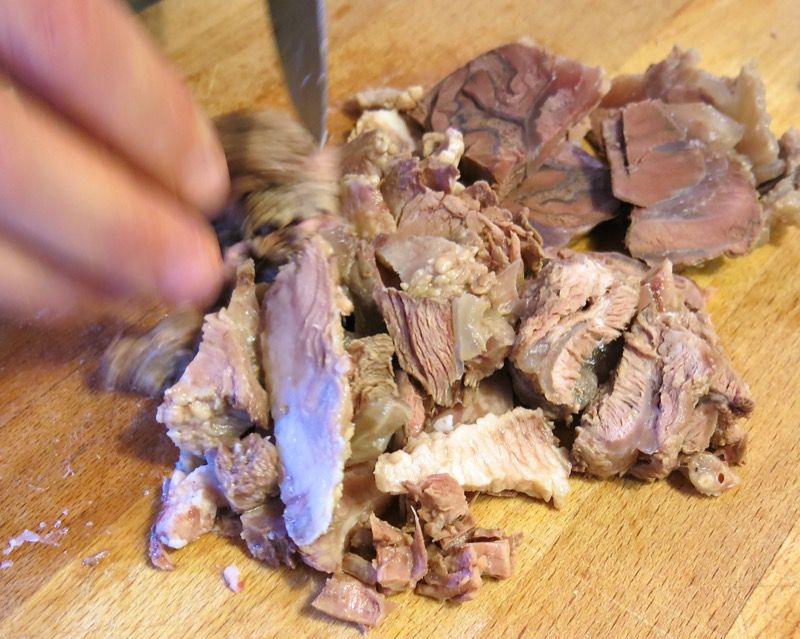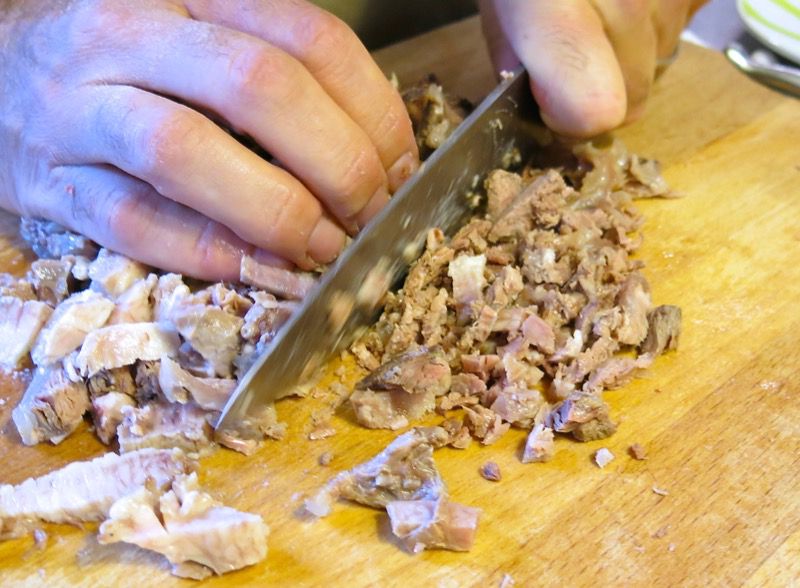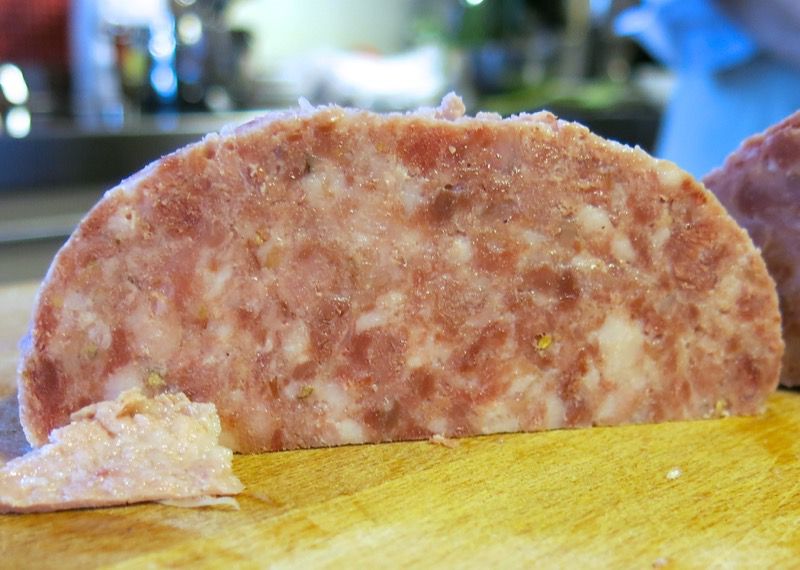 Federico was passionate about his regional salame. One whiff and he was wagging his tail, grin wrapped around his ears. Not my reaction. This was similar to headcheese. Certainly not as gelatinous, but in scent and flavour. I did not care for it at all…. until I tasted the caponet. Oh, my!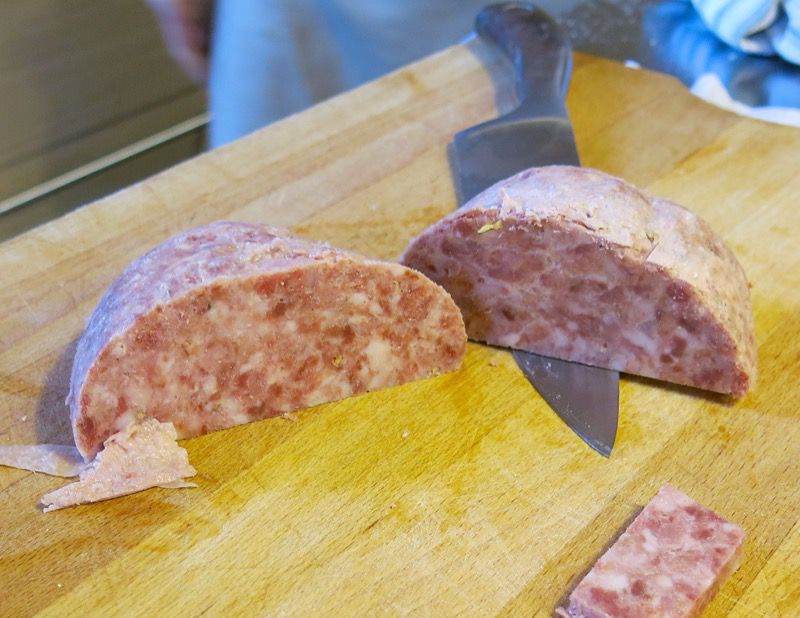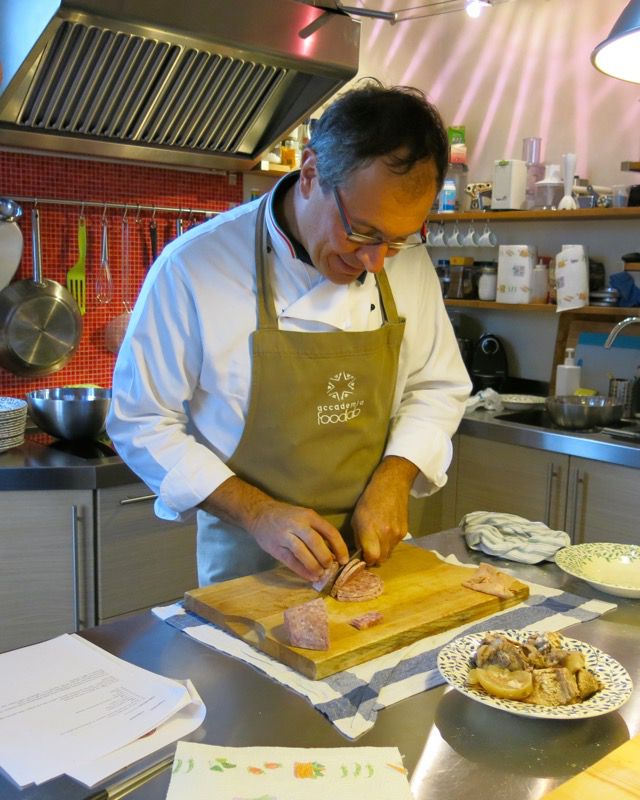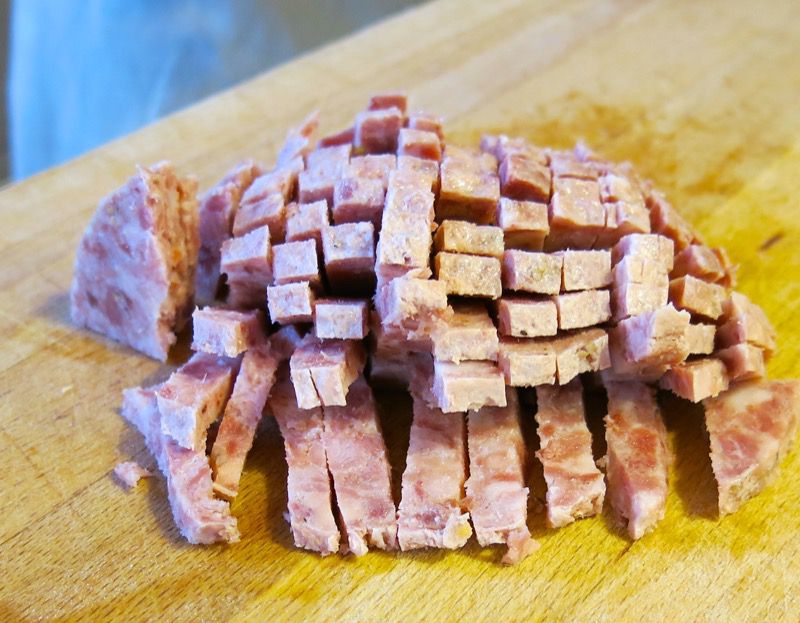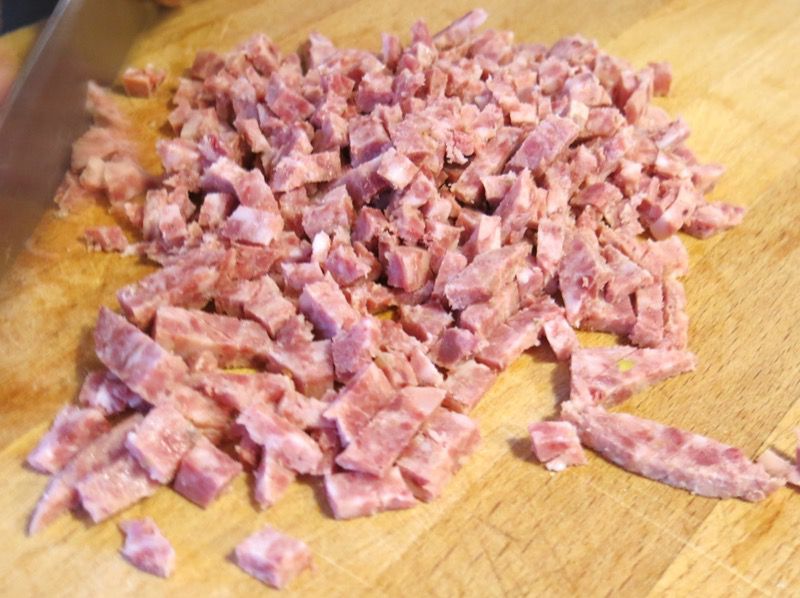 The leftovers and salame are minced finely.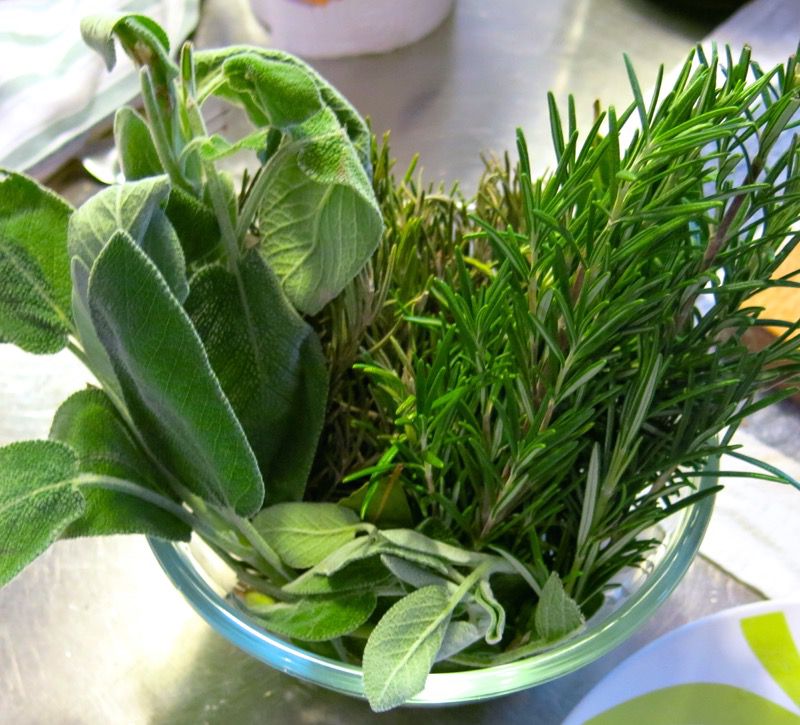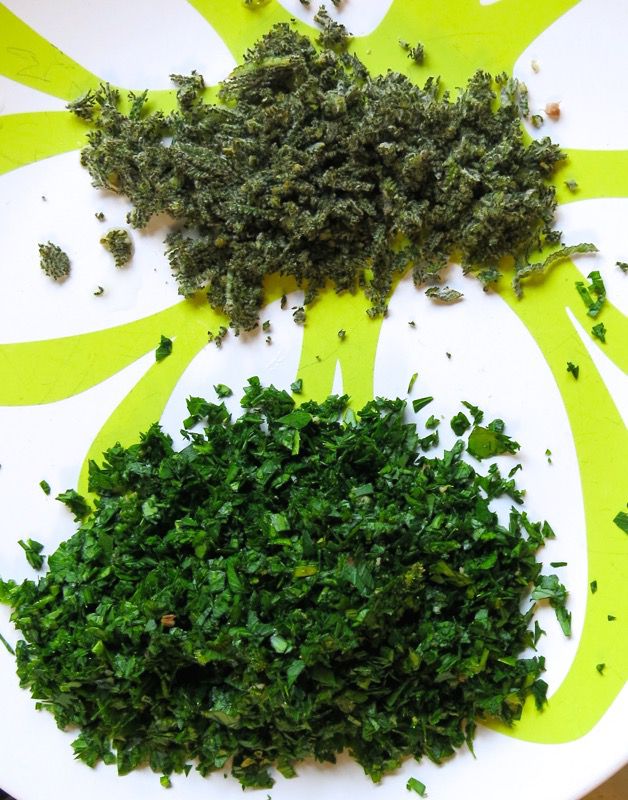 The flat leafed parsley and sage leaves are minced, finely.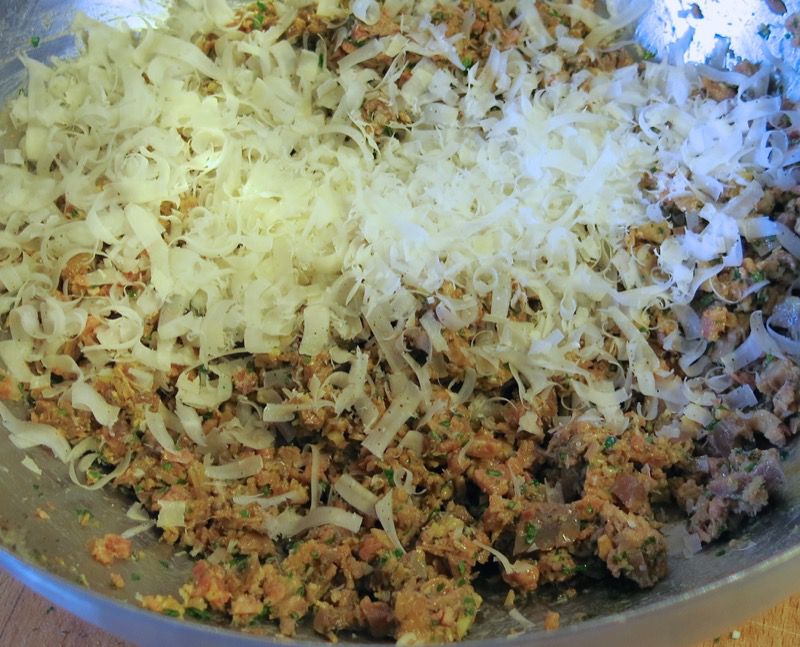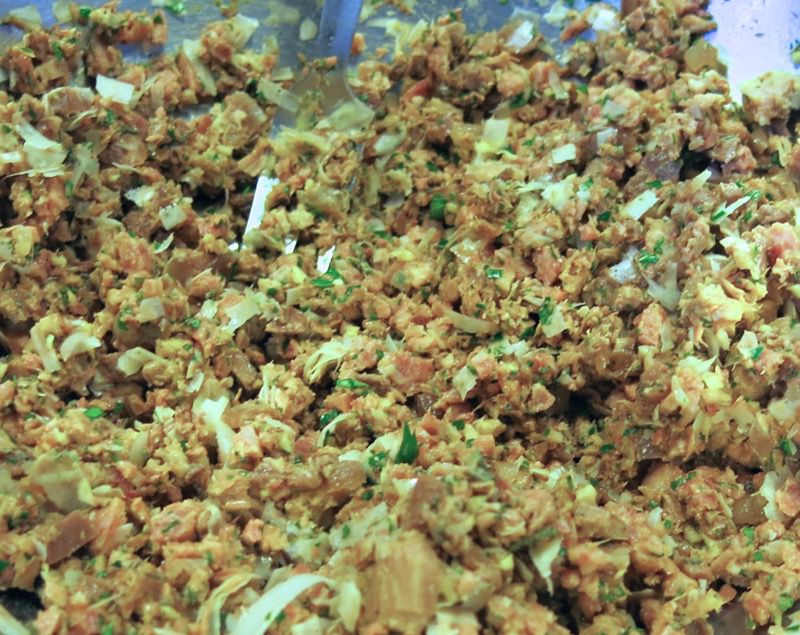 Cheese and garlic are added, then the concoction is seasoned to taste. Everything is cooked, so tasting is fine before the raw egg is added to combine.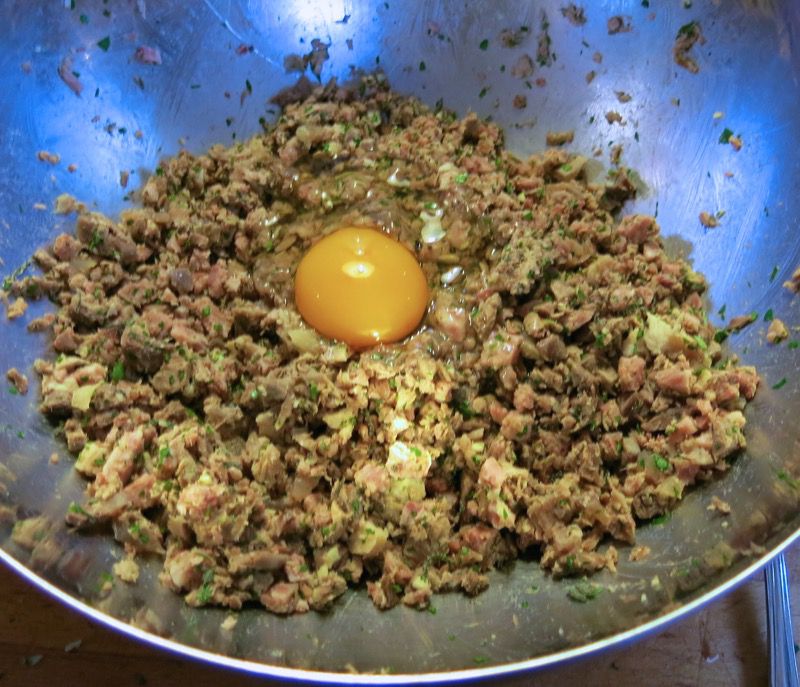 While the gentlemen made the filling, I blanched the cabbage leaves, placing each on a paper towel lined cookie sheet: two to three minutes in simmering water is enough.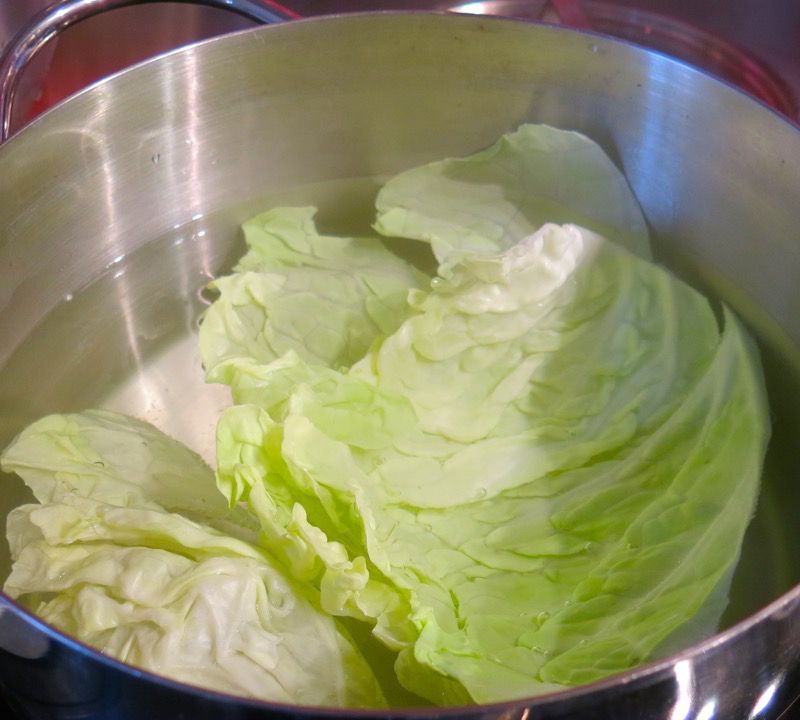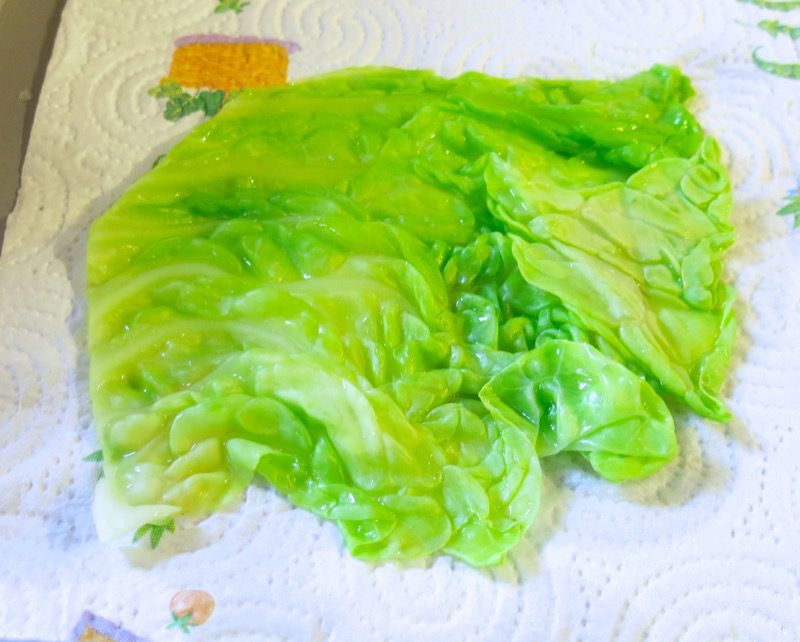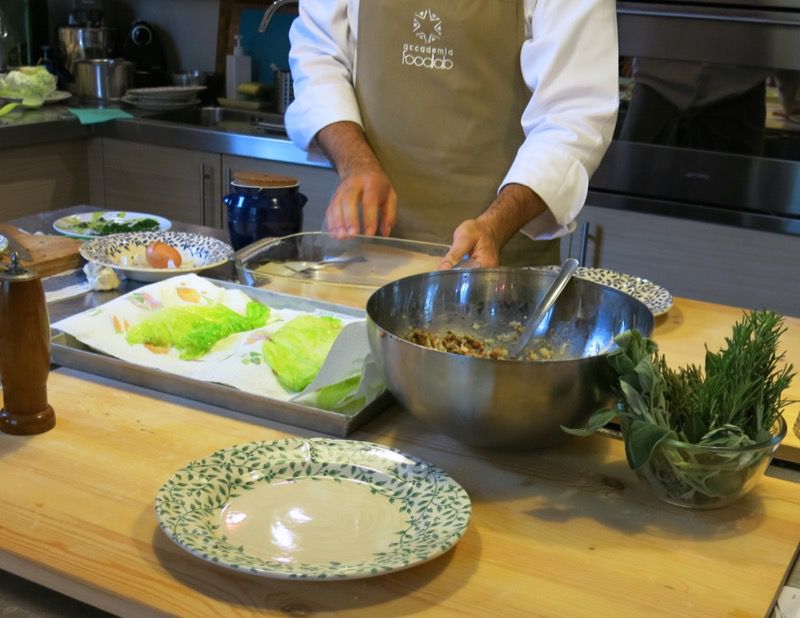 Filling ready. Leaves ready. Time to rock and roll!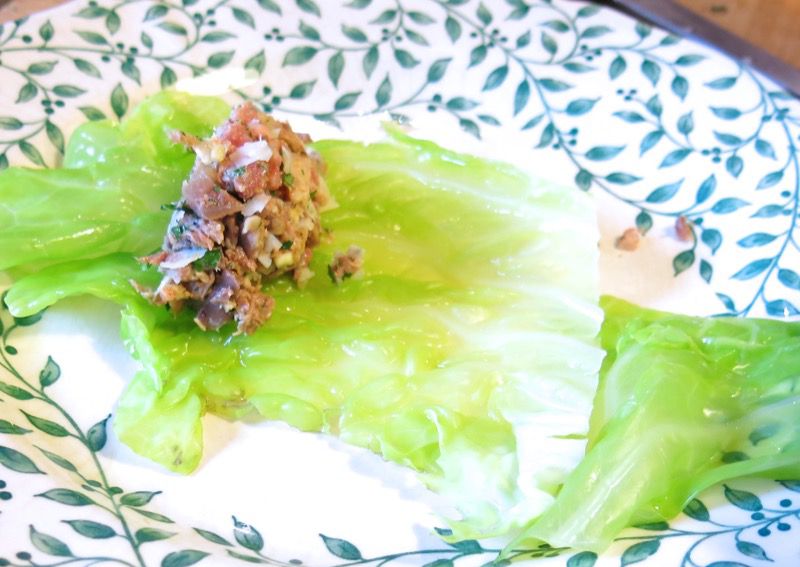 I give a good pictorial "how to roll leaves" in my my dalmates post.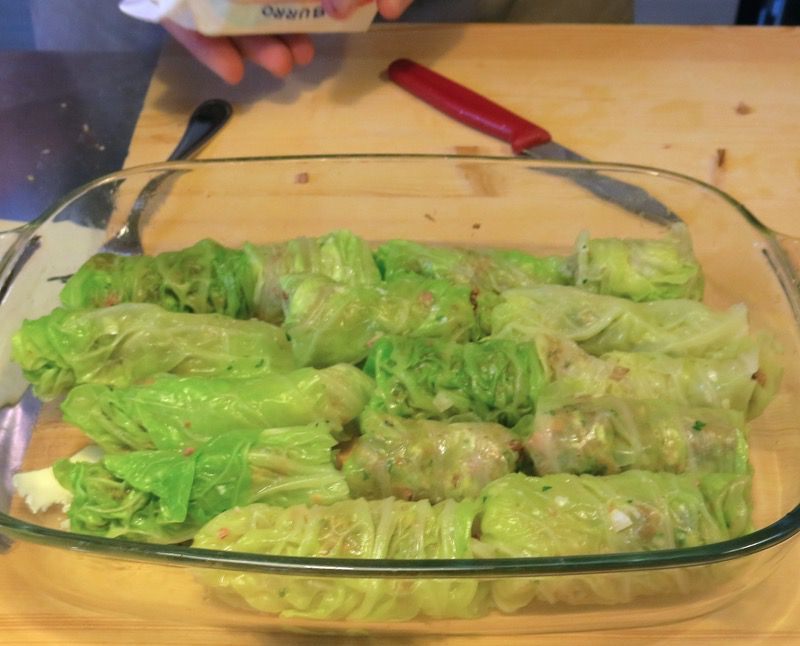 The rolls were placed on top of a generous layering of thinly sliced butter on the bottom of the casserole dish, the covered with another layer.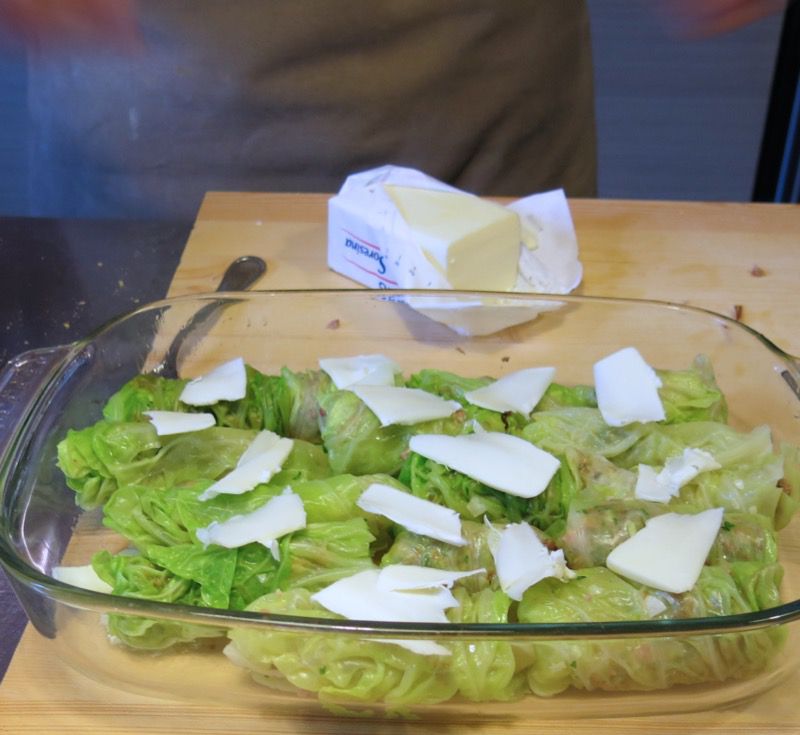 Foil gently covering the dish, baked for 40 minutes until a dark golden.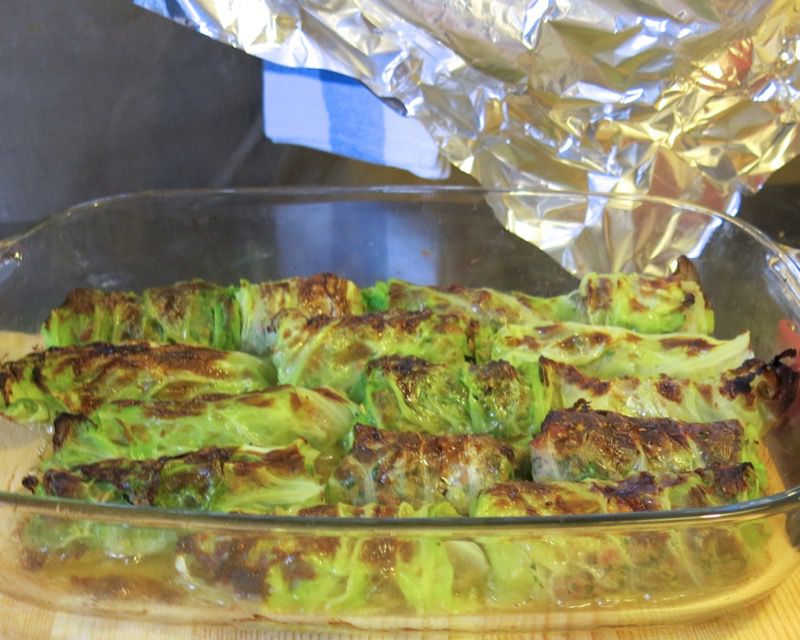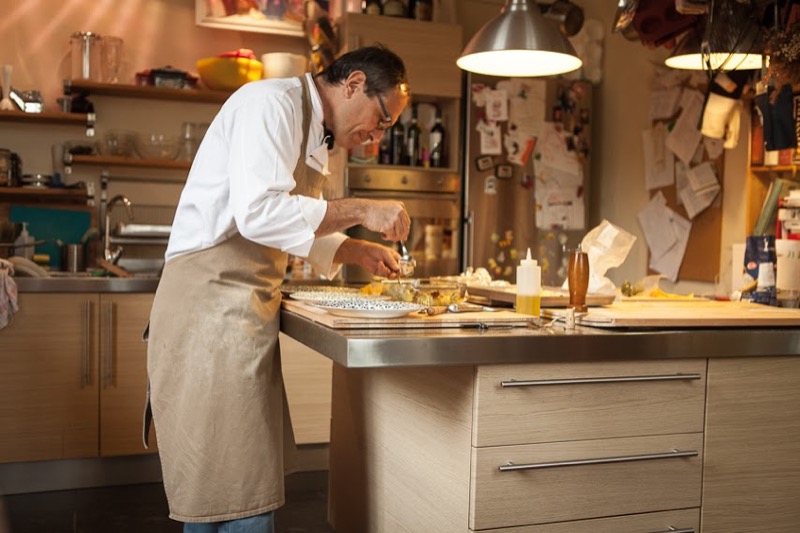 The master plating each dish with apparent appreciation and reverence for the ingredients and the heritage recipe.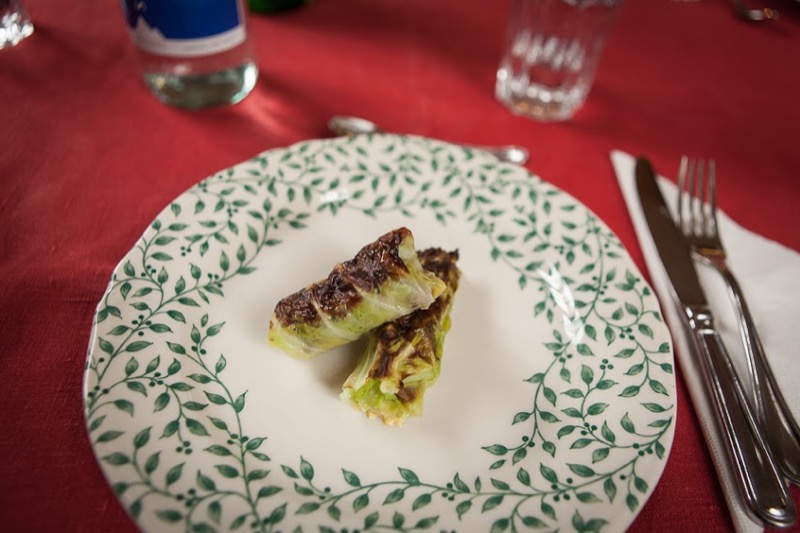 The texture was similar to that of the cabbage rolls I have grown familiar to, yet the flavour was completely new. Truly comforting, home food at its very best. I am certain the bollito and the regional salame played an important roll is the flavour experience, yet am equally confident I can recreate the idea at home, in my Canadian prairie kitchen and bring the Caponet to life, albeit a within a new frame of reference. I cannot wait to try.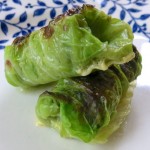 Caponet
This dish can be served as a main or an appetizer, completely dependent upon the amount of leftovers one has when making it.
Total Time
1
hour
15
minutes
Ingredients
12

Savoy cabbage leaves

, blanched

100

g

salami

(we used about 2/3 salame in our recipe), finely chopped

300

g

cooked meat

(preferably roasted or boiled beef leftovers), finely chopped

3-4

tablespoons

flat leafed parsley

, minced

2

good tablespoons fresh sage leaves

, minced

1-2

cloves

garlic

, minced

1

egg

60-100

g

Parmesan cheese

, grated, to taste

60

g

butter

20

or 4 teaspoons olive oil

salt and pepper

, to taste (dependent upon the salt in the cooked meat and the salami
Instructions
Combine all ingredients, but the egg: adjust the seasoning to taste

Add the egg, thoroughly combine

Preheat oven to 350F

Fill each leaf with a small amount (about 2 tablespoons or 60g) of the filling

Roll leaf around filling; close ends

Thinly slice butter into pats; line bottom of casserole dish

Place rolls into casserole dish on top of butter; thinly slice butter into pats and place on top of rolls in casserole dish

Cover with foil and bake 20-30 minutes until top of rolls are golden brown; serve immediately
Recipe Notes
Alternatively, rolls can be fried with olive oil and butter until golden
You can reach Federico at info@cookinitaly.org
A few of the photos in this post were contributed by Jens Gerbitz, a much better photographer than I. I am ever so grateful for his lending them to me. You can browse his entire set here, but please note that he is the owner of these photos and they are not to be copied or used in any way without his express permission.