Who knew? Have you heard of The Schmoo?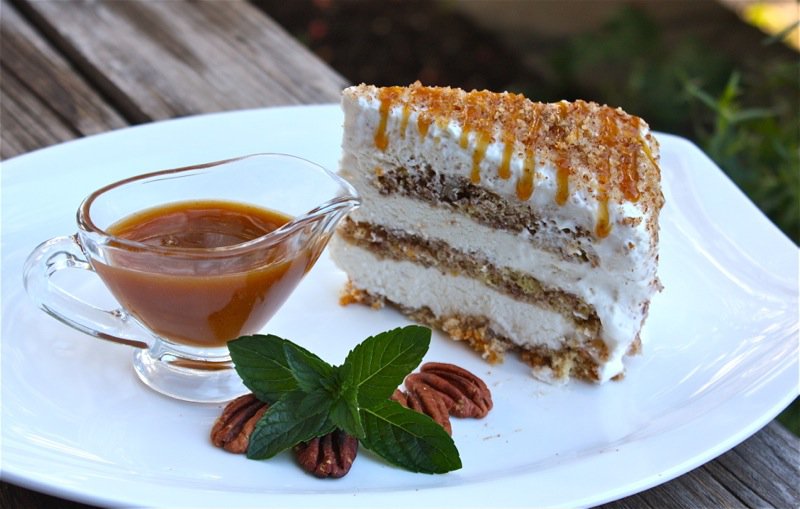 The Canadian Winnipeg Schmoo Cake is regionally famous in Winnipeg Manitoba where Jewish mothers bake this ooey-gooey wonder for their sons when they become "of age" and other Winnipegers have caught on. Sadly, some just travel in the wrong circles, and don't even know this is a local specialty… though it is sold in several local bakeries. It could be missed if you don't know what you are looking for, but ask, and you will find it, if visiting that Pretty Windy City. It certainly tastes far better than it looks.
Introduced to this "Winnipeg Specialty" in last month's The Canadian Food Experience Project Round Up via Tummy Grumbles, I knew instantly that I had to make it. No one knows who was the first mom to name this "The Schmoo", but interestingly, "…the actual origin of Al Capp's word "shmoo" has been the subject of debate by linguists for decades, leading to the misconception that the term was derived from "schmo" or "schmooze." However, "shmue" was a taboo Yiddish term for the uterus. It's one of many Yiddish slang variations that would find their way into Li'l Abner. Revealing an important key to the story, Al Capp himself wrote that the Shmoo metaphorically represented the limitless bounty of the earth in all its richness…" Knowing this and understanding how popular the animated Schmoo character was in the early to mid 1900's, one can see how a yummy cake made for a coming of age event of a young Jewish boy could be titled "The Schmoo" in the early to mid 1900's as every mother wished to present her son with "the limitless bounty of the earth in all its richness…" and likely understood the etimology of the word from their yiddish repertoire.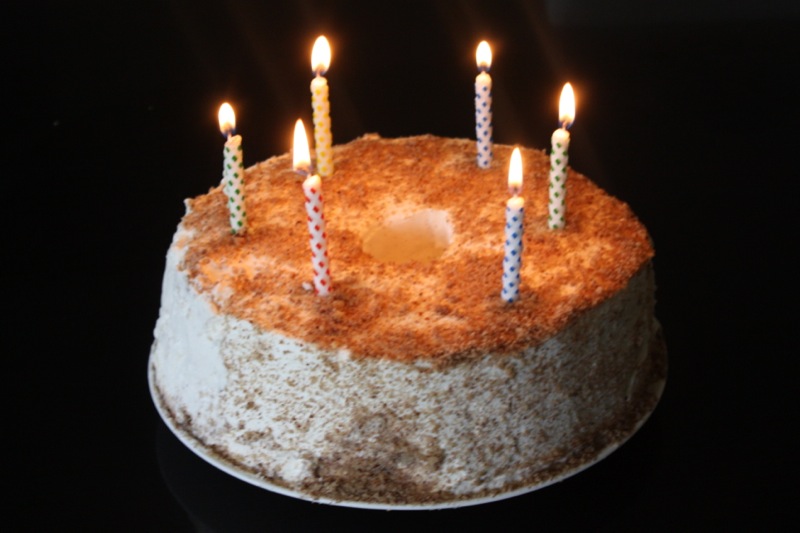 I was going to make the Canadian Winnipeg Schmoo Cake last week, then didn't get to it, and it was Vanja's birthday Tuesday. Perfect. Though I had planned to make the traditional Serbian Birthday Bombe Torte, my daughter delved into The Schmoo. One can never have enough birthday cakes and it seemed perfect to present Vanja with "the limitless bounty of the earth in all its richness…" for his birthday, too.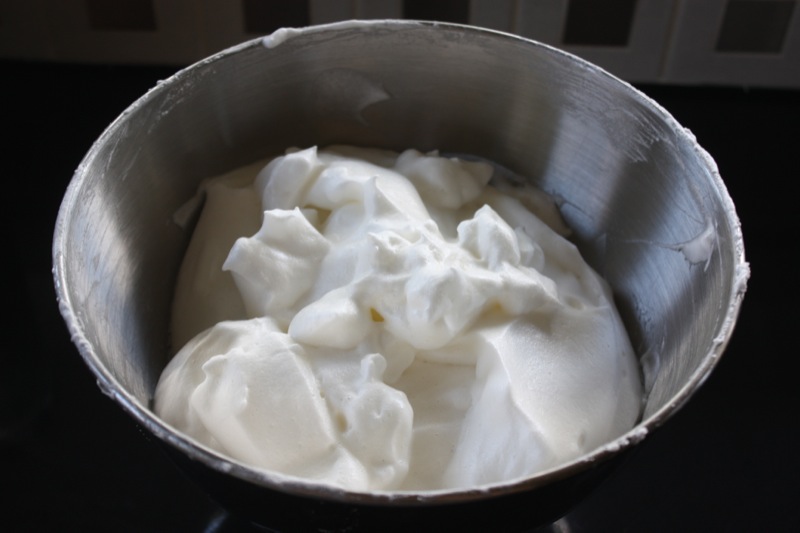 It is made in an Angel Food Cake tube pan: whites beaten sweet and to stiff peaks, yolks beaten to golden thick voluptuousness. The recipe photo essay follows and the written recipe follows at the end.
It became apparent to me when filling the tube pan that I needed twice the amount of batter if this was going to rise like an angel food cake, and I assumed it would not rise as much due to the nuts folded into it. Once out of the oven, I could see I was right. I have, therefore, doubled the recipe to accommodate for making Canadian Winnipeg Schmoo Cake in a tube pan. I did not double the cream as it is evident that there is far too much cream between the layers and around the cake.
Ground pecans were also sprinkled around the sides… and then the cake was placed in the freezer to firm up before dinner. Mom and dad came to celebrate with us.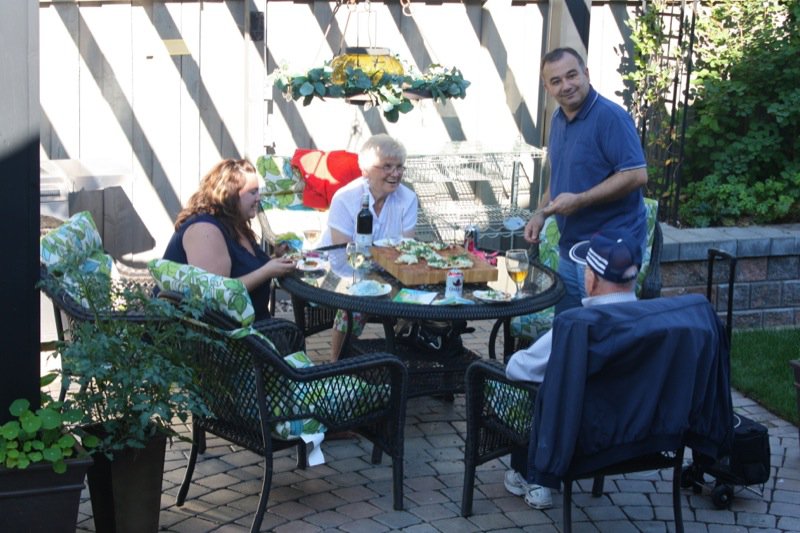 Dinner was simple and delicious. Grilled pizzas. (Which I will add, humbly, is one of my specialties and there are detailed instructions with recipes, here.)
My Oven Roasted Tomatoes on the Caprese Pizza…my favourite; the Meat Lovers, fully loaded: Vanja and Dad's fav!
Poached Chicken with my Roasted Red Peppers and lovely garden arugula: mom and Ragan's fav.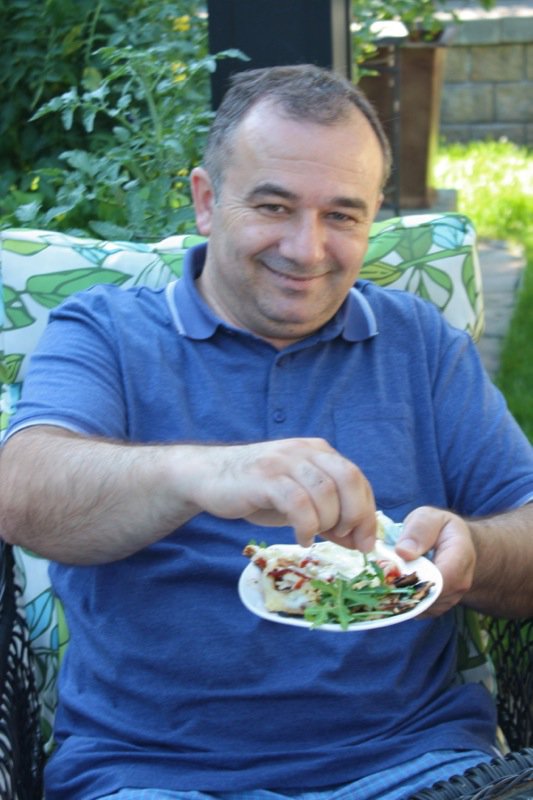 Yes, Vanja is picking off the fresh, green, good-for-you bits.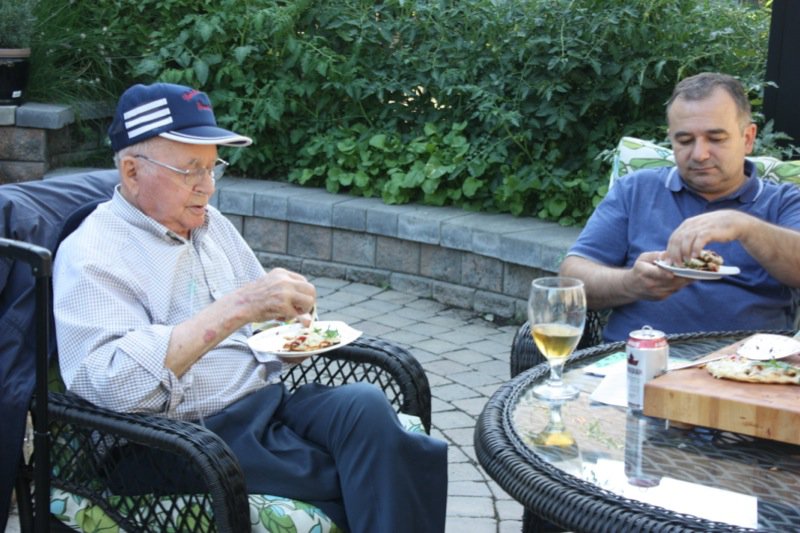 My dad likes nothing better than to shoot the breeze with Vanja. Last fall, dad was fighting for his life and had such a difficult 4-6 months, but look at him now! What a miracle. He is one determined man. Oh, and there is his aging buddy, below… getting ready to blooowwww out his candles.
Vanja was that miracle that happened when we least expected it to. I was a single parent for over 17 years, thriving and had gone through all of the woe-is-me and loneliness stuff. Then we met. That was over 15 years ago. We have been married for almost 11 and he has brought a depth and breadth into the lives of myself and the girls as well as my extended family that has enriched us all. Yup. His story is also an amazing one. He most definitely deserves "the limitless bounty of the earth in all its richness…".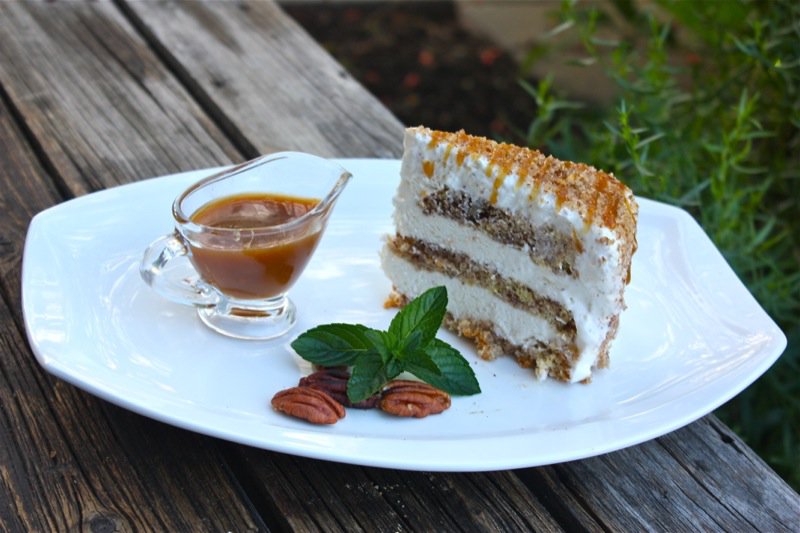 Ta-da! Clearly there should be more Canadian Winnipeg Schmoo Cake than whipping cream. Woops.
So, this is The Schnoo. The sauce is what brings this cake to life. It is deadly delicious with the sauce and quite bland without it. Think sticky toffee pudding without the sauce. It just wouldn't work. Neither would Canadian Schmoo Cake without this sauce.
The relationship between food and pop culture is a very intimate one. Think Popeye. Think Beaver Tails, and now, think the "Canadian Schmoo Cake."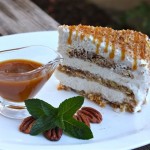 The Famous Canadian Winnipeg Schmoo Cake


Shmoo Torte Summary : This cake is a Manitoba favourite but there's no reason the rest of us can't enjoy it, too! The Famous Canadian Winnepeg Schmoo Cake
Total Time
1
hour
30
minutes
Ingredients
Ingredients for the Cake
12

egg whites

12

egg yolks

1/2

teaspoon

cream of tartar

2

cup

granulated sugar

, divided

2

teaspoon

vanilla

1

cup

all-purpose flour

2

teaspoon

baking powder

2

cup

pecans

, toasted and chopped fine
Ingredients for the Filling:
3

cups

whipping cream

2

tablespoons

icing sugar
Ingredients for the Caramel Sauce (my own version):
1 3/4

sticks

(3/4 cup plus 2 tablespoons) unsalted butter (room temperature)

1 1/2

cups

packed light brown sugar

1

cup

heavy cream

1/2

teaspoon

vanilla
Instructions
Instructions for the Cake:
Preheat oven to 325°F/160°C

In a large bowl, beat egg whites with the cream of tartar adding 1/2 cup of the granulated sugar very gradually until stiff peaks form

In another bowl, beat egg yolks until light (about 4 minutes); add remaining 1 and 1/2 cup granulated sugar and vanilla

Combine flour and baking powder; stir into yolk mixture

Fold in one-quarter of the egg whites until combined; fold in remaining egg whites

Carefully fold in the pecans

Pour batter into prepared pan; gently shake to level top of batter

Bake 50-60 min.; remove from oven, invert to cool

Remove from pan; slice cake into 3 layers
Instructions for the Filling:
Whip 2 1/2 cups of whipping cream with the icing sugar

Fill each layers with 1 cup of the cream; cover top and sides with remaining filling

Chill in the refrigerator 2 hours, or up to 24 hours
Instructions for the Sauce:
In a 1 1/2- to 2-quart heavy saucepan melt butter over moderate heat and add brown sugar

Bring mixture to a boil, stirring occasionally, and stir in cream and vanilla

Simmer sauce, stirring occasionally, until thickened slightly, about 15-20 minutes

Cool sauce to warm and store in a tightly sealed container until ready to serve

Just before serving, re-heat sauce and drizzle over torte; add extra sauce when plating or serve in little boats on the side

Whole toasted pecans are pretty on the top of the cake, or sprinkled on the serving plate