This retro dish from the 70's is a meal in a bowl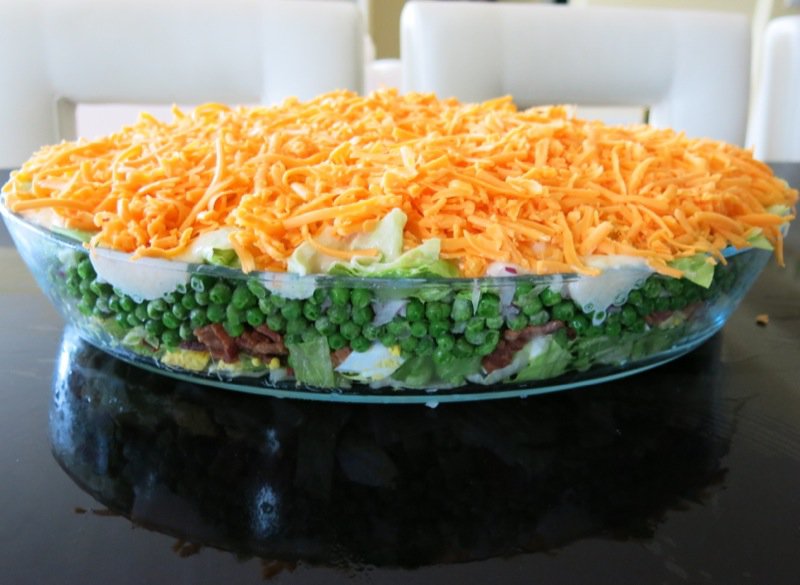 Remember the 7 Layer Salad? You will if you are "older" and a prairie child. Anyone else recall it? This is a salad that has been around the block and back, yet has held its own through time.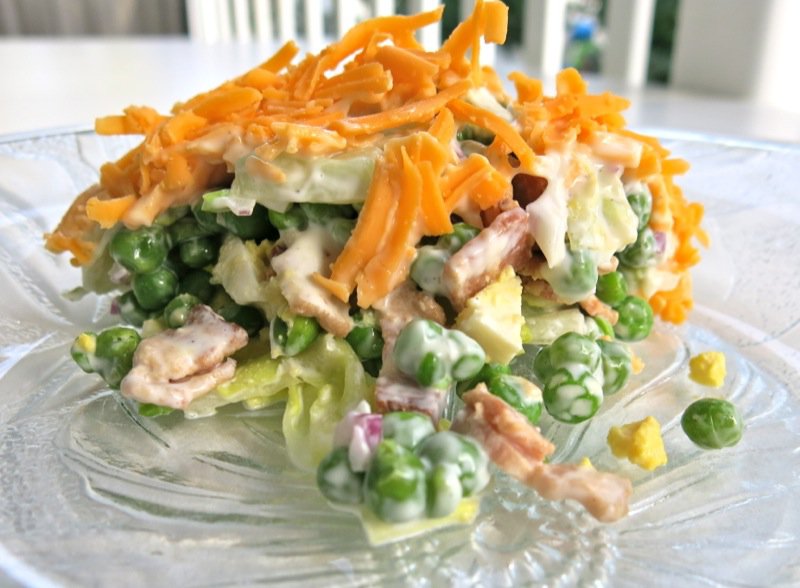 She's certainly not that gorgeous to look at, unless made in a large pedestal bowl. Now, that is a stunning presentation. But, to serve, the salad needs to be tossed and returned to the cleaned pedestal bowl: it is just too deep to access all layers in one fell swoop.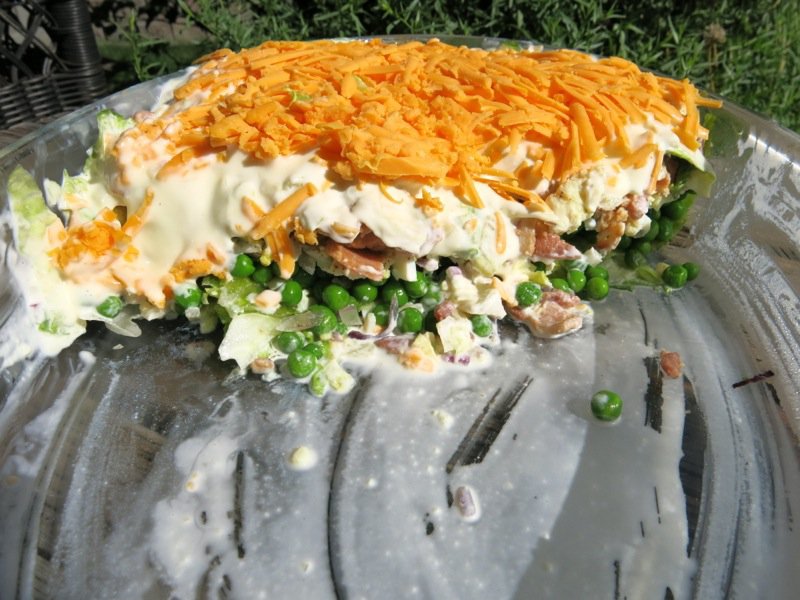 And accessing all layers is key to this baby. But, that is not all. She gets all dressed up and ready to go out 24 hours ahead of time and is best served 24 hours later: no earlier and no later. Her greatest asset is also her downfall. She isn't that great left over the next day. Presentable, but barely. And the day after, not at all.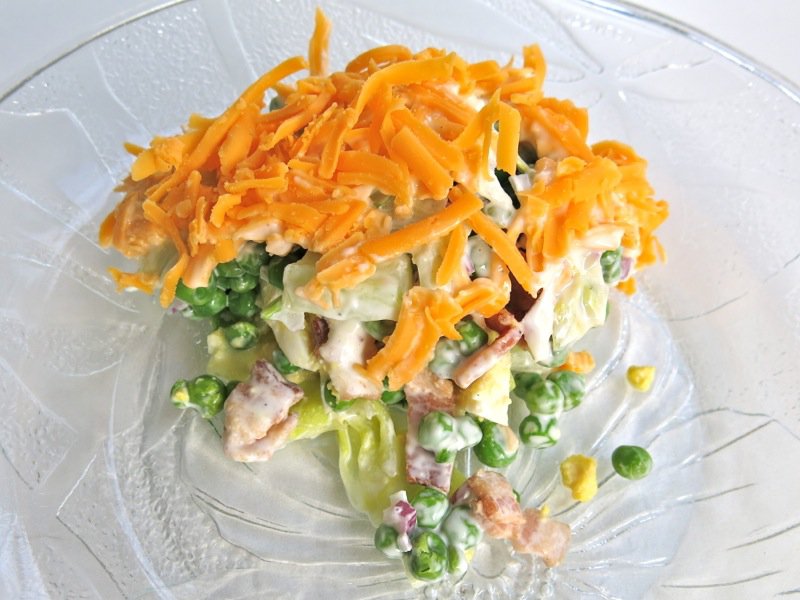 But, that is why she has the staying power she has. The perfect dish for a crowd. Make ahead. Extremely substantial. Served, she is as fresh and crunchy as if made only moments ago. And this salad has breadth and flavour. Lots of both. The serving above is a hearty lunch. Calories? Oh, don't go there. This is not a "diet" salad, but it is certainly healthy enough. Every item in it is a real food: Lettuce, peas, onions, hard boiled eggs, bacon, mayo and cheese. The last three ingredients raise the eyebrow, but keep calm. There is only a small amount of each, per serving.
The fozen peas are the secret as they melt, the liquid is taken in by the lettuce and the onions. The crisp, cold lettuce and onions coupled by the plump juicy peas serve as the perfect counterpoint for the bacon, eggs and cheese. Those three unctuous little ditties with their varying textures really make this a bite that commands a good amount of healthy chewing. And when you are chewing your food, you know you are eating real food. The amount of mayonnaise in this salad is generous as it does take a considerable amount to "ice" the lettuce…. but, as this is a layered salad, push it off if you don't want to eat that much of it. And, if you do, mix it in to each hearty bite.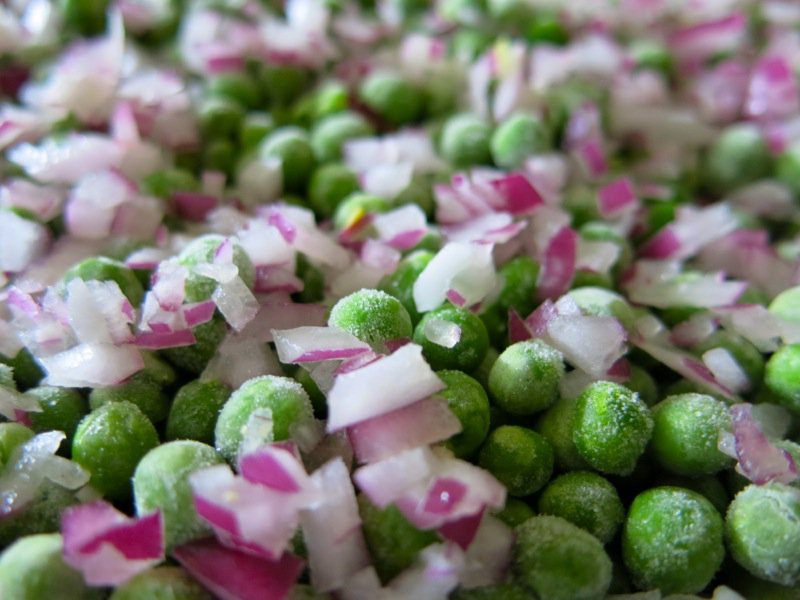 Hard boiling the eggs softly is really key, as is the acquisition beautiful farm fresh, free range chicken eggs. Look at those gorgeous yolks.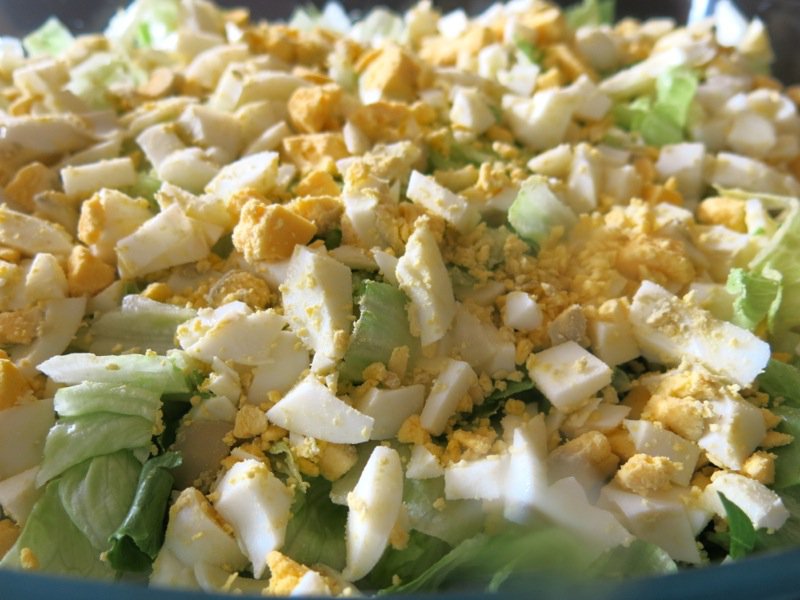 With anything I make, the quality of each ingredient is key. I don't buy cheap streaky, thin limp bacon. I buy mine from my farmer, thick and substantial, cut it into lardons and fry it they way I like it.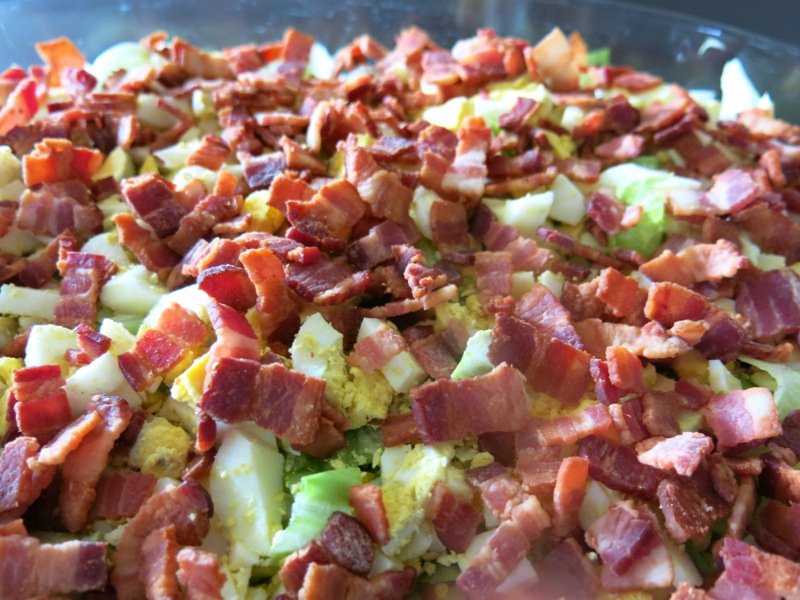 Confession: the peas should really go on top of the lettuce, and then the onions, followed by the rest… as you don't want them to "melt into the eggs".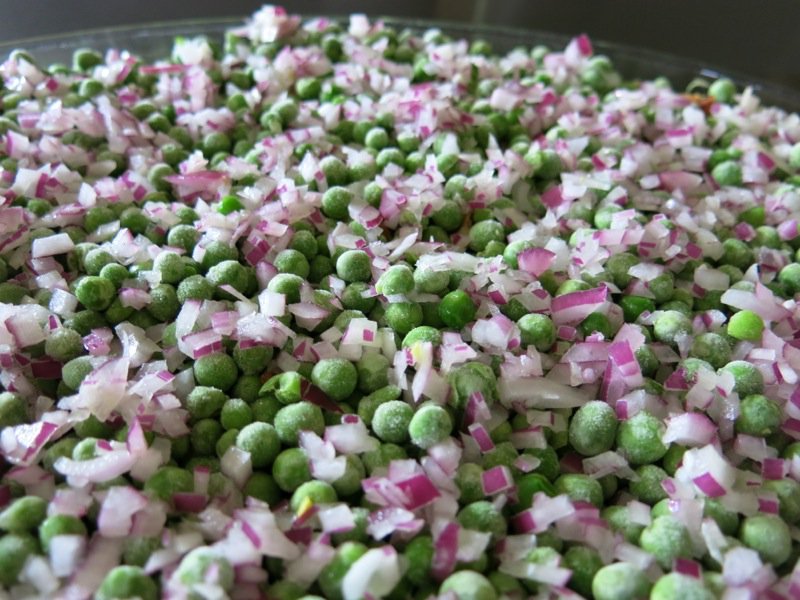 I just add enough sugar to the mayo to my taste preference, and slather it on. I dollop it first, or the lettuce tends to lift and stick to it. Dolloping avoids a mess.
I know. I know. This is not looking very smanshy-fancy. It just isn't that kind of a dish. No airs. No special graces. What you see is what you get. But it is really good. Why else do you think this recipe is still making her rounds? In the end, the only kinds of recipes that live a long and healthy life have to taste really, really good. And, she does.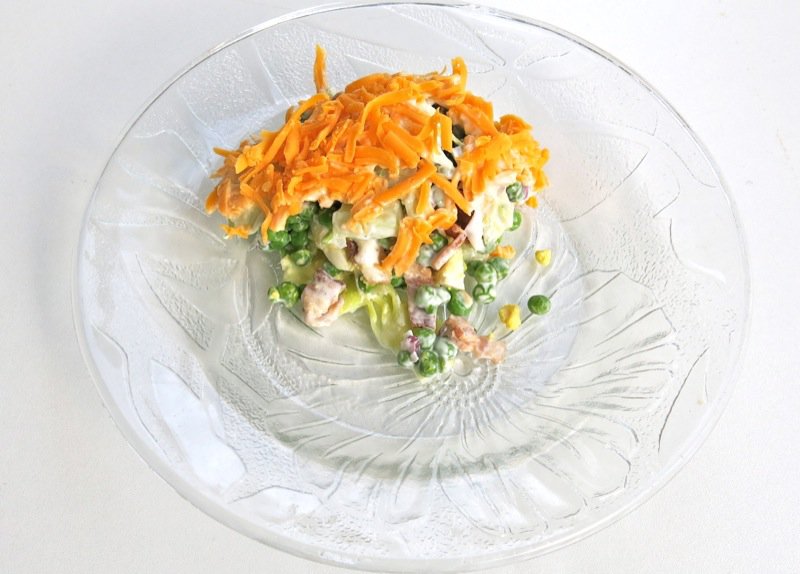 And just before the recipe, here is the version in a pedestal bowl and you will see the layers were placed in the correct order.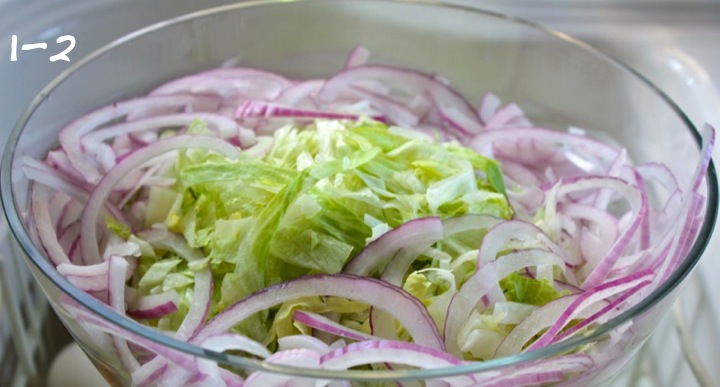 To get the biggest visual bang for your buck (never use clichés in writing), line the ingredients around the edge of the bowl for visual appeal.
You will see I didn't top this version with the remaining half of the lettuce, and that is because this gorgeous little number will need to be tossed in another bowl and served back in the clean pedestal bowl for service. There is no other way that each of the layers can be accessed in a pedestal presentation.
And it can be an 8 layer salad! Yes, it can! It can be whatever you want it to be!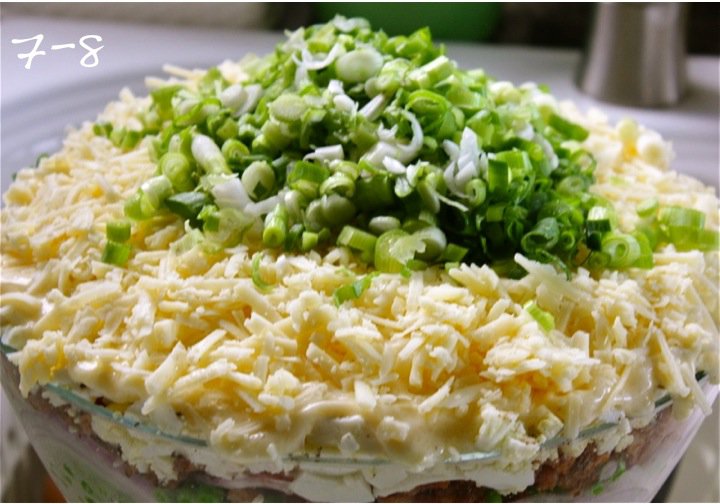 But, don't make enough for leftovers.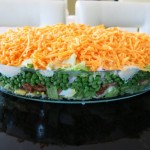 Seven Layer Salad


A 24 hour make ahead salad that is a full meal in a bowl.
Total Time
1
day
30
minutes
Ingredients
one head of iceburg lettuce

, shredded or sliced

12

to 16 ounce bag of small sweet peas

, frozen

1/2

purple onion

, diced

6

hard boiled eggs

, chopped

1

pound

of bacon

, cut into lardons, and fried

1-1.5

cups

mayonnaise

1/4

cup

to 1/3 cup sugar

(mix with mayo to make salad topping/dressing)

1

cup

shredded cheddar cheese
Instructions
Using a see through serving dish, layer each of the following into it in the following order:
/2 of the lettuce

peas

onion

egg

bacon

remaining lettuce

ice with mayonnaise dressing

top with cheddar cheese

Wrap really well with plastic wrap; refrigerate for 24 hours

Unwrap and serve
Recipe Notes
I almost always make a double batch for parties as this is a salad everyone loves. The ones in the photos are doubled.