Fragrant, flavourful and fabulous!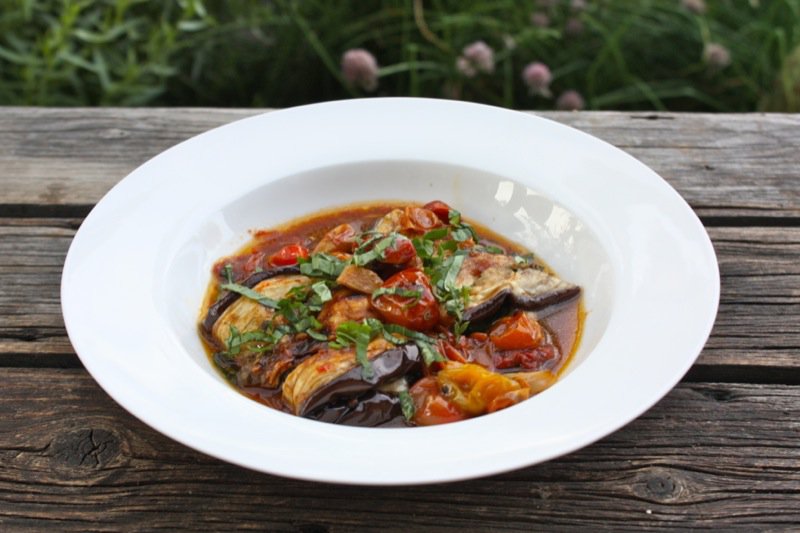 This is what I refer to as Nouveau Canadiana Cuisine. This is what I call Canadian-Italian food influenced by many trips to Italy. This is the kind of meal I am delighted to serve my family at the end of a busy day where I use preserves from my kitchen pantry. Fragrant. Fresh. Flavourful. Nutritious, delicious and economical. And the broth? Oh, my. Crusty bread soppin' golden goodness. Take a closer look.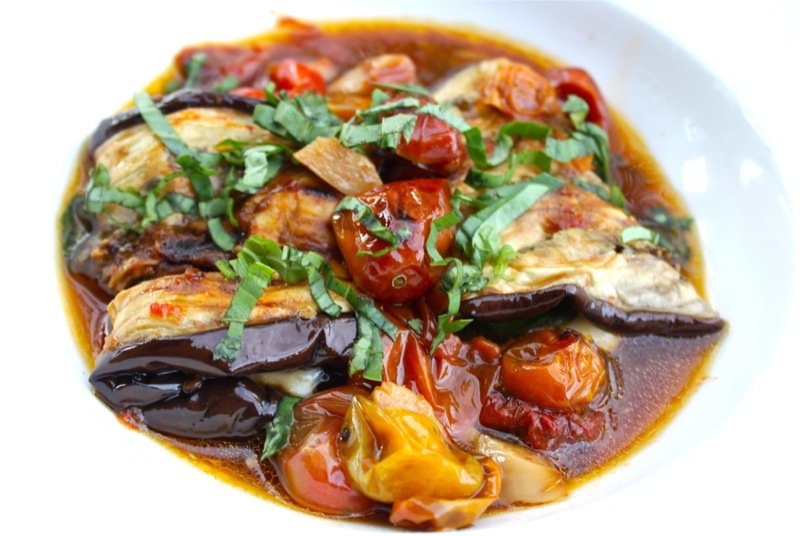 Roasting vegetables low and slow intensifies flavour, translates texture into flesh that is meaty and substantial, and results in an offering that is richly umami in taste and deeply satisfying. My uber carnivore husband enjoyed this dish as a main. Very rare for him. And I was tickled to use two of my standard pantry preserves in the meal preparation. Preserving is fundamental to Canadian cuisine, yet menu planning to ensure use of what is preserved is not so easy as it is no longer the necessity it once was.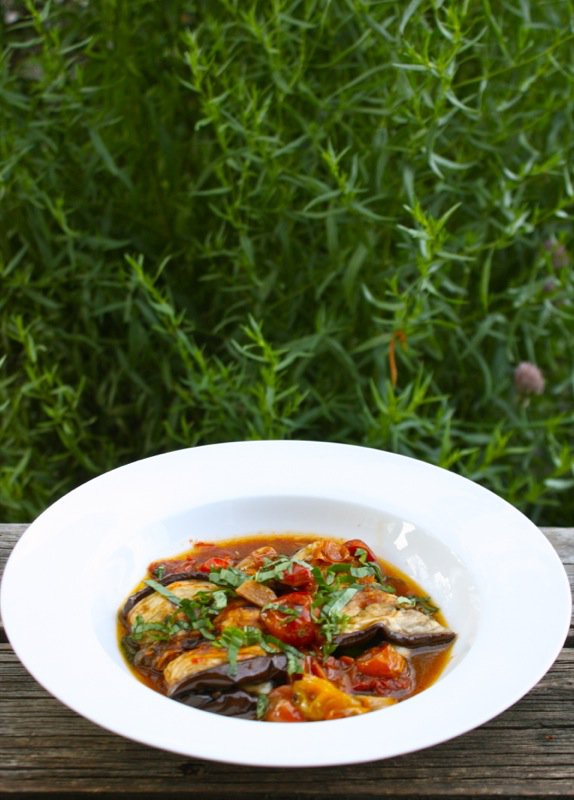 In 1993, teaching middle school, a single mom of two young middle school daughters, I was approached to manage and co-own a new local restaurant in town. I researched the business. Developed a plan with a niche target. Had the space painted and designed. Worked on the budget. Hired a chef. Worked on the menu. One of the dishes was inspired by a gift from one of my students: a recipe book from her recent travels to the Mediterranean where the eggplant rollatini stuffed with smoky mozzarella spilling over the page. I knew the beauty of a grilled eggplant, but had never heard of smoked mozzarella.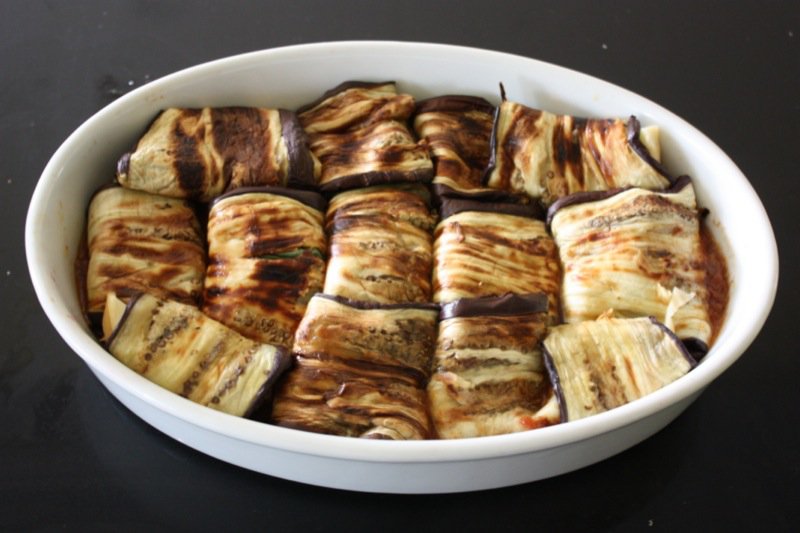 The business deal didn't reach fruition. I refused to be co-owner. The learning experience was invaluable. Twenty years later, I have smoked mozzarella and eggplant in my fridge, and it is time to think about making dinner. Ah-ha!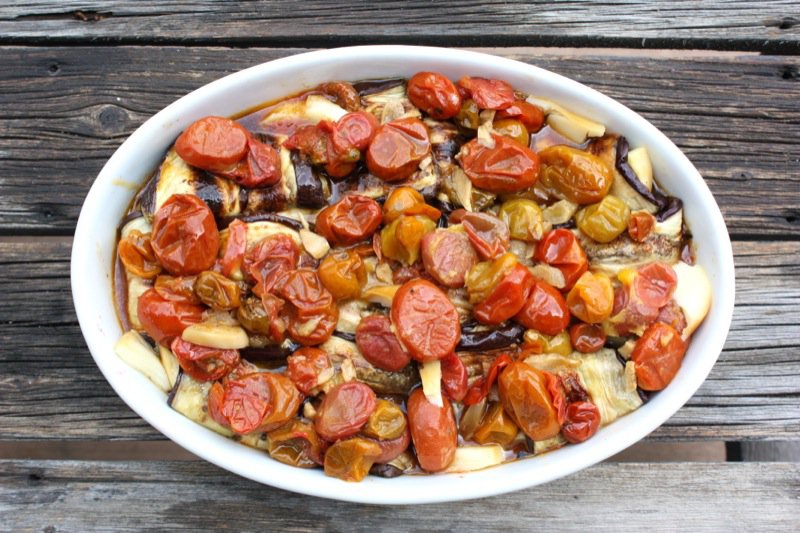 Preserved food is a staple in my kitchen pantry. I have a very small urban garden that produces enough tomatoes for our family for the entire year. I make the best homemade tomato sauce and freeze enough for six months in ziplock bags, and in 1/2 cup containers. I oven roast tomatoes low and slow and freeze them for various uses throughout the year. A small container of the tomato sauce was brushed over the bottom of the dish and drizzled with olive oil. The eggplant was prepared and then oven roasted and rolled around the cheese. Oven roasted tomatoes were layered over the rolls and all was heated in the oven until bubbly. That simple and that complex.
I found the old recipe I had saved from the restaurant menu. It was similar: grilled eggplant slices rolled around cheese swaddled in tomato sauce topped with shredded cheese.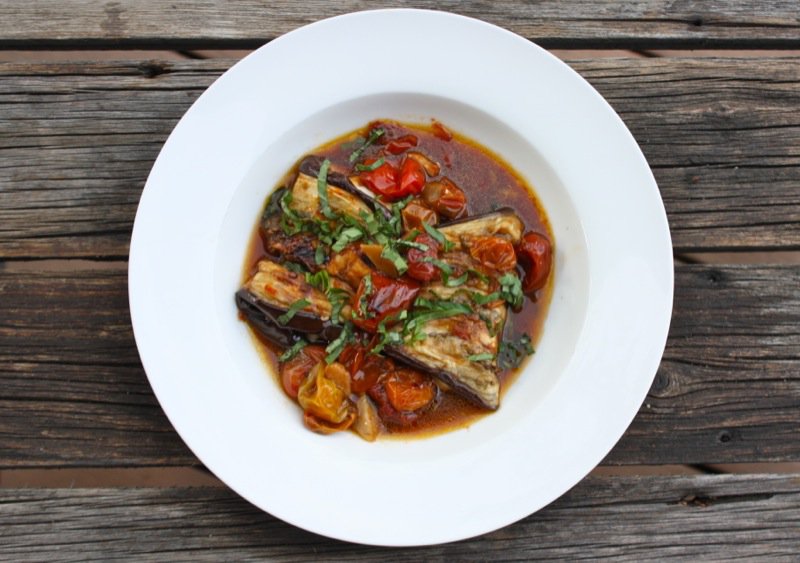 Simple because I had my preserves at-the-ready: delicious, nutritious, flavour-packed and economical. Complicated? If you don't.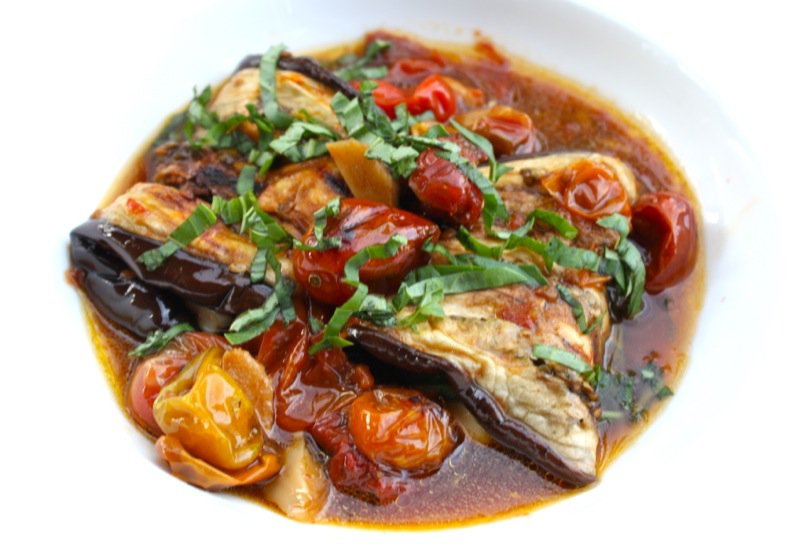 The fresh basil from my garden is a luxury I appreciate. I have not mastered growing it indoors over the winter.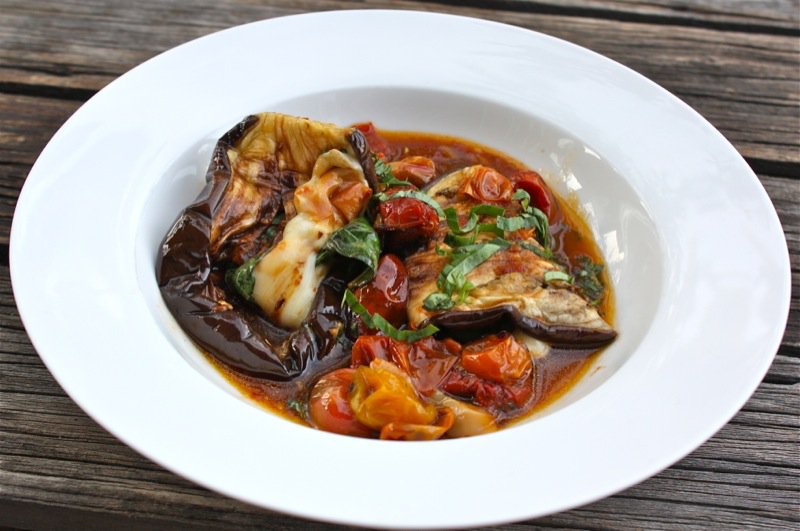 The small amount of homemade tomato sauce coupled with the depth of flavour in the roasted tomatoes nestled into the smokiness of the eggplant and cheese, and elicited that "wow" I was hoping for at first bite.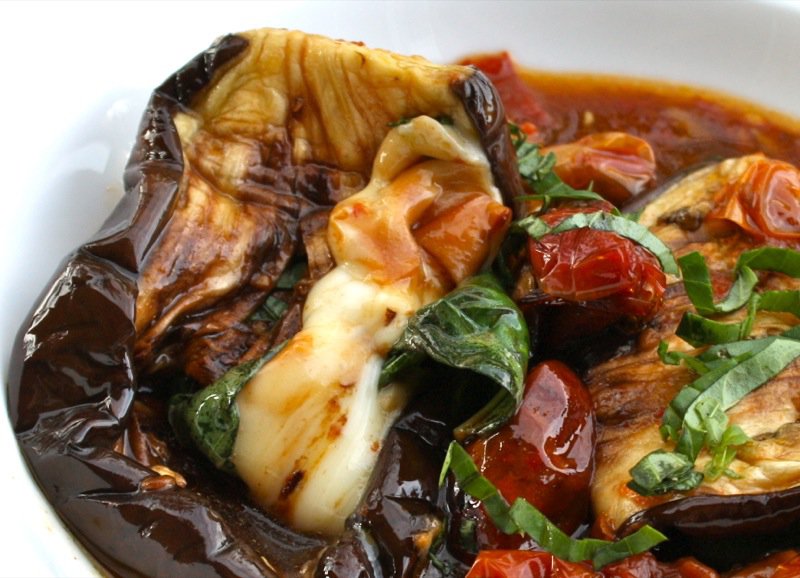 Putting this dish together affirmed the importance of preserving my own food. It made planning this meal effortless, yet the impact was impressive. This is why Canadians with experience preserving continue to preserve. It makes sense in every way.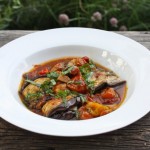 Eggplant Rollatini with Smoky Mozzarella and Oven Roasted Tomatoes
Prep Time
2
hours
30
minutes
Ingredients
3-4

large eggplant

, or 12 slices 1/4 inch thick

1/4

cup

The Best Ever Homemade Tomato Sauce

1.5

pounds

or 700g smoked mozzarella cheese

350

g

Homemade Oven Roasted Tomatoes

Olive Oil

Salt

Basil for garnish
Instructions
Prepare Tomato Sauce

Prepare Oven Roasted Tomatoes

Slice eggplant; salt one side of each slice and sit at an angle for an hour to "sweat"

Dry slices with paper towel, turn over and salt the other side of each slice; sit at an angle for an hour to "sweat"

Dry slices with paper towel

Grill or oven roast eggplant slices

Pre-heat oven to 350F

Slice cheese into 12 rectangular portions

Brush a 1/4 cup portion of homemade tomato sauce to sparsely cover bottom of casserole dish; drizzle with a tablespoon or two of olive oil

Roll each portion of cheese into one slice of prepared eggplant and place in casserole dish, single layer, seam side down

Cover egg plant rolls with a layer of oven roasted tomatoes

Bake for 30 to 40 minutes in the oven, until bubbly

Prepare basil for garnish

Ladle into individual portions, with juices, in bowls; garnish with basil

Serve immediately with crusty bread for dipping
To Grill Eggplant
Brush both sides of every slice generously with olive oil; grill on high for 1-2 minutes, until the slice releases easily from the grill

Repeat on the other side

Cool on tray, in single layer
To Oven Roast Eggplant
Pre-heat oven to 400F

Brush both sides of every slice generously with olive oil; place on parchment covered cookie sheet in top third of the oven and roast until brown (about 15 minutes)

Turn sides over, and repeat (takes less time:5-10 minutes)

Cool on tray, in single layer
Recipe Notes
The amount of salt and oil in this recipe is arbitrary:
Salt on eggplant slices: generous sprinkling will use a good couple of tablespoons for each side
Oil in bottom of pan: one to two tablespoons
Freshly ground pepper is a nice addition to the dish when plated
No further salt is needed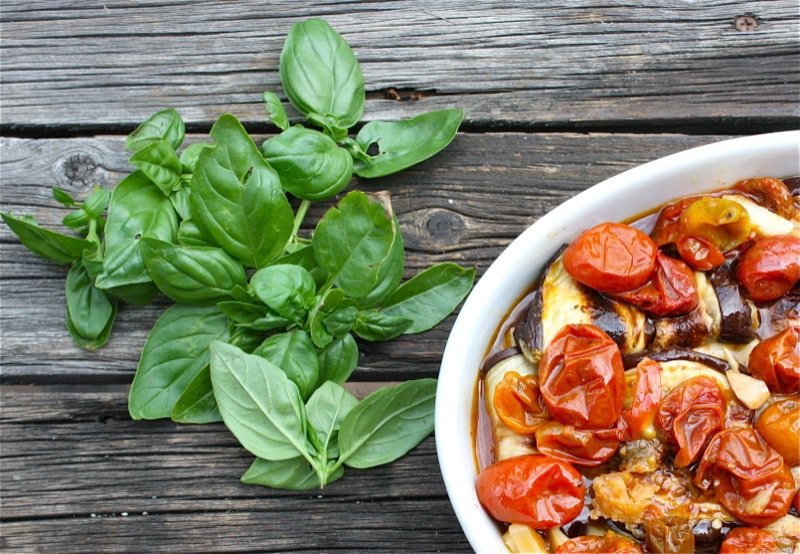 I had not thought of that "almost manager-owner" restaurant situation in twenty years. There are such revealing stories behind many of the plates we place on our tables each evening.