With Shredded Cabbage and Tropical Salsa!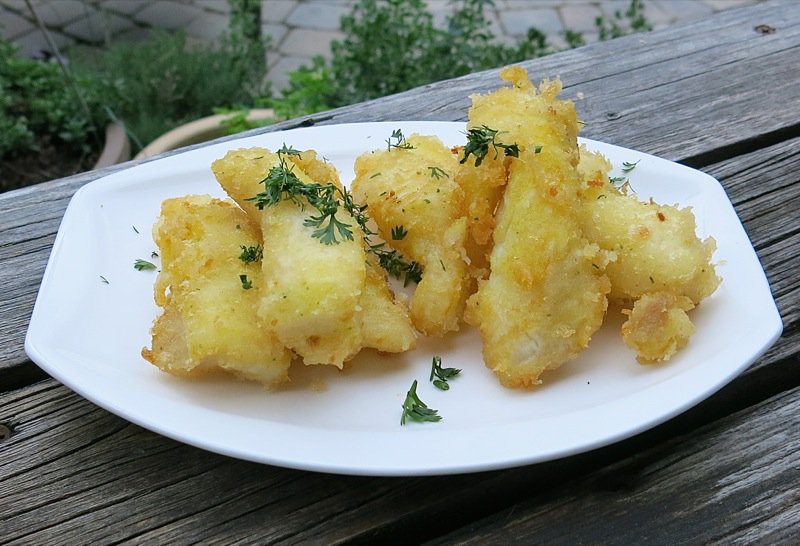 What do you do when gifted with a gorgeous fillet of Ling Cod? My first choice: Fry it. A gorgeous summery option: make these Tropical Tempura Fish Tacos! Battered Ling Cod isn't something that I would usually aspire to as Canadian Ling Cod is such a delicacy and outrageously delicious in the simplest of preparations, yet the sunshine, chirping birds, Summer garden and recent Mexican food cooking experience on-my-mind-mode have prompted the inspiration for this scrumptious weeknight recipe.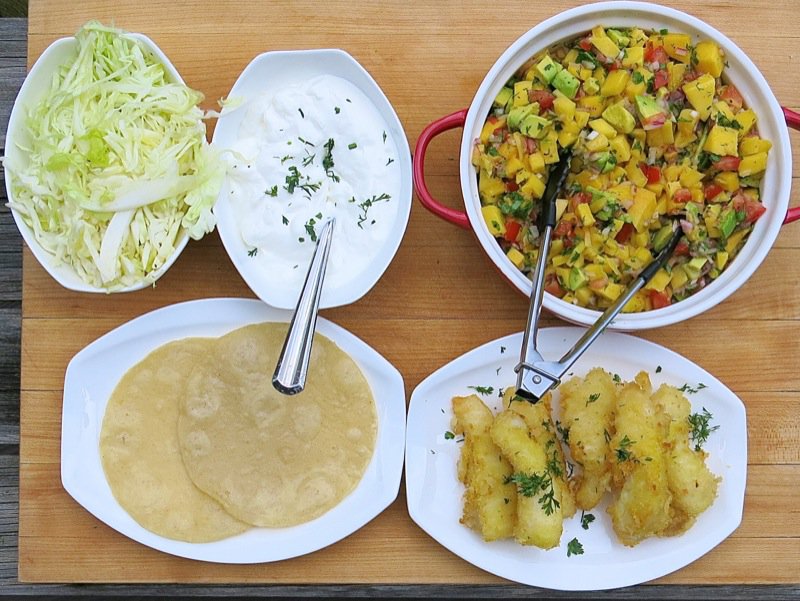 I have never had a fish taco. I have dreamed of eating one in an authentic Mexican locale; instead, I now have another "can't wait for company to come" casual meal to serve guests this summer that is absolutely succulent! The dish would be as delicious with the Ling Cod grilled, or fried. This evening, we prepared this generous gift in a light and crispy rice flour tempura batter and served it up with a Tropical Salsa, dressed shredded cabbage, sour cream, and a little Siracha, for those who like to punish their palate with heat.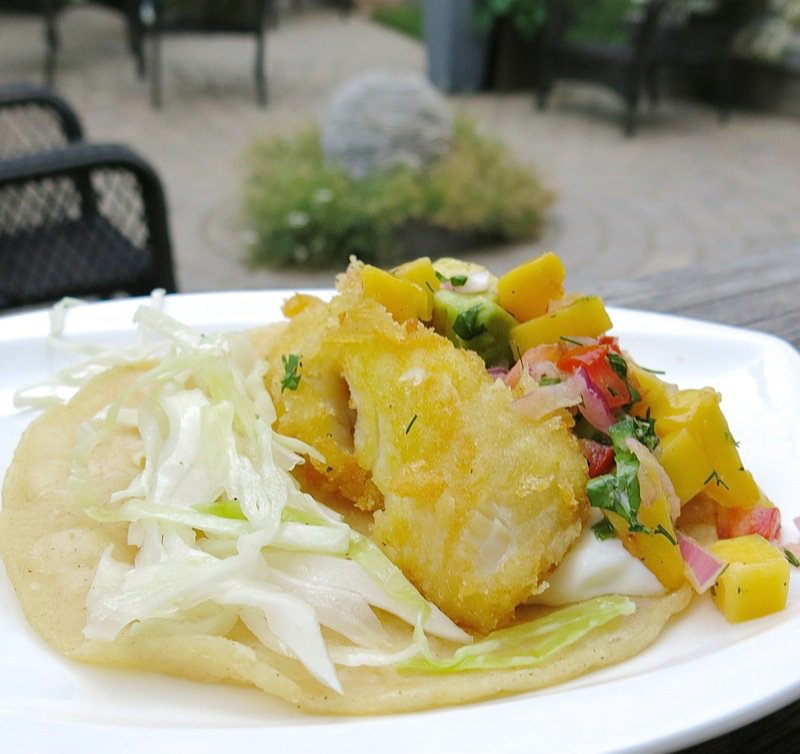 Canadian Ling Cod is a flaky, dense and succulent white fish with a mild cod-like flavour; though, it is not really a cod fish. It is a Hexagrammid bottom feeder that has few predators if it reaches the adult phase in the life cycle and as it puts up quite a fight when caught, is a very popular fish for sport fishermen. Thus, my gift. Ling cod is an important Canadian West Coast heritage food that provided a readily accessible food source for First Nation Canadian people and early settlers. They are vulnerable to over-fishing in some areas and must be closely monitored, as all fish, to maintain sustainability. This detailed report completed in 1990 about the history of the importance of this fish on the West Coast was a fascinating read.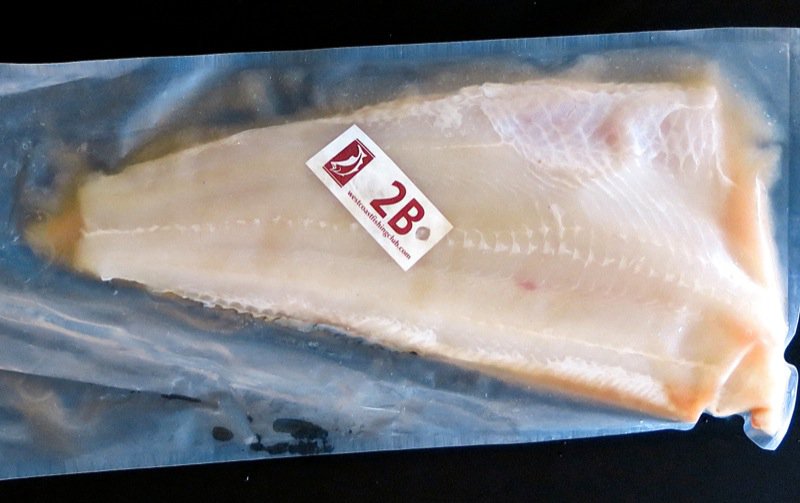 What a gorgeous fillet! Thank you so much, Marie and Gregg!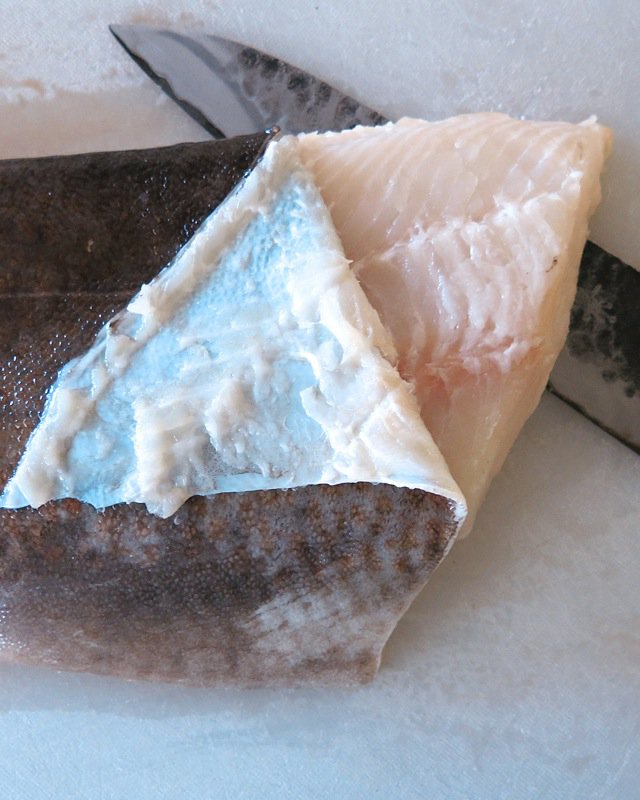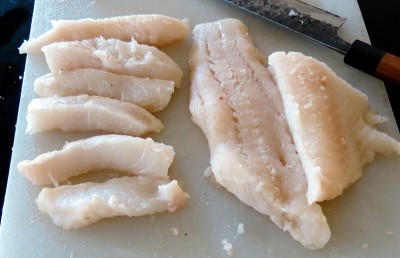 I have zero experience removing the skin from a fish, but have a wonderful Japanese knife from Kevin at Knifewear and just went for it.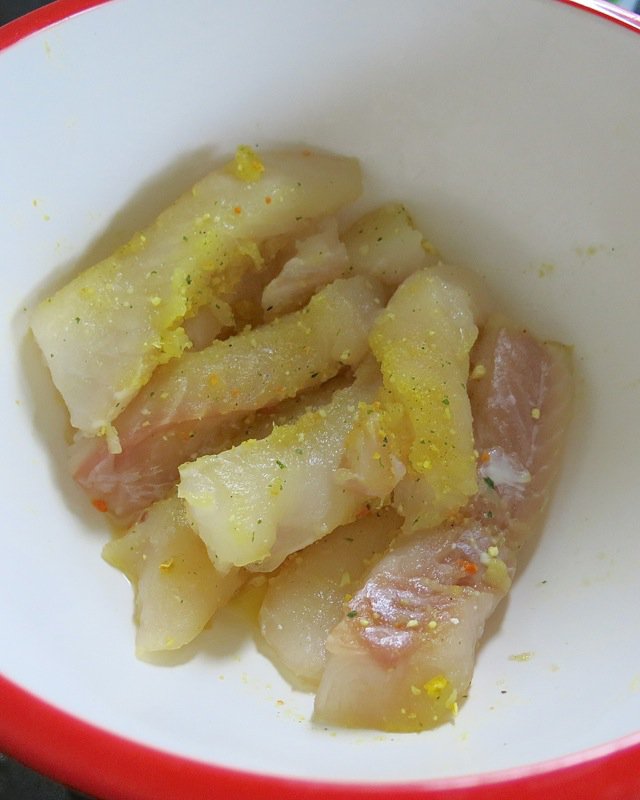 There was a row of some pretty substantial bones in one portion of the fillet. I need to learn how to remove that. I save it for the larger piece for Vanja. "Fish Taco? Come on, Valerie. Can you please just make me a great plate of fish and chips instead of some fancy-schmancy concoction?" Yes, dear. (sigh)
This is the same tempura batter recipe that I use when I do shrimps on a skewer. It is so delicious and simple. A 1:1 ratio of rice flour to soda water. That is it. This time I did add 2 teaspoons of baking powder to see if that would make a difference. I didn't really notice any.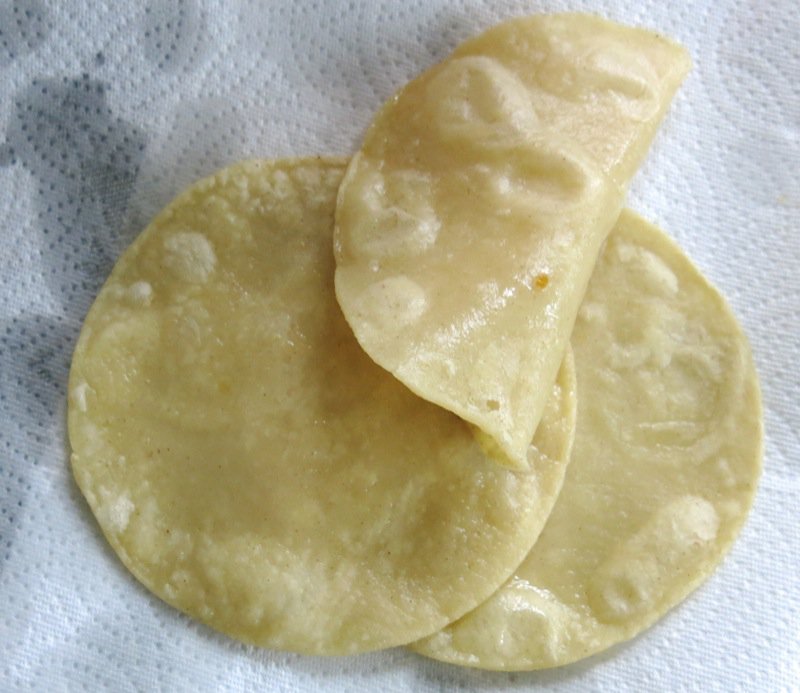 Taking a lesson from the page of Chef Hugo Raya, I lightly fried the corn tortillas, keeping them soft and flexible, yet piping warm to wrap around these delicious flavours.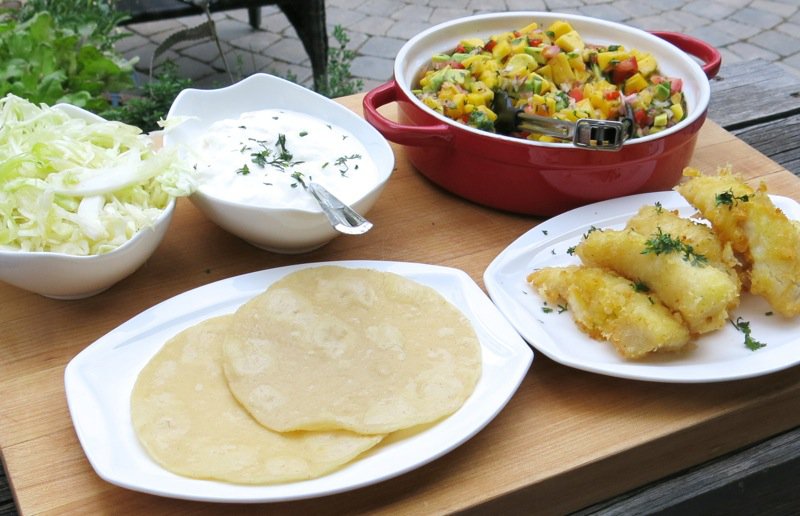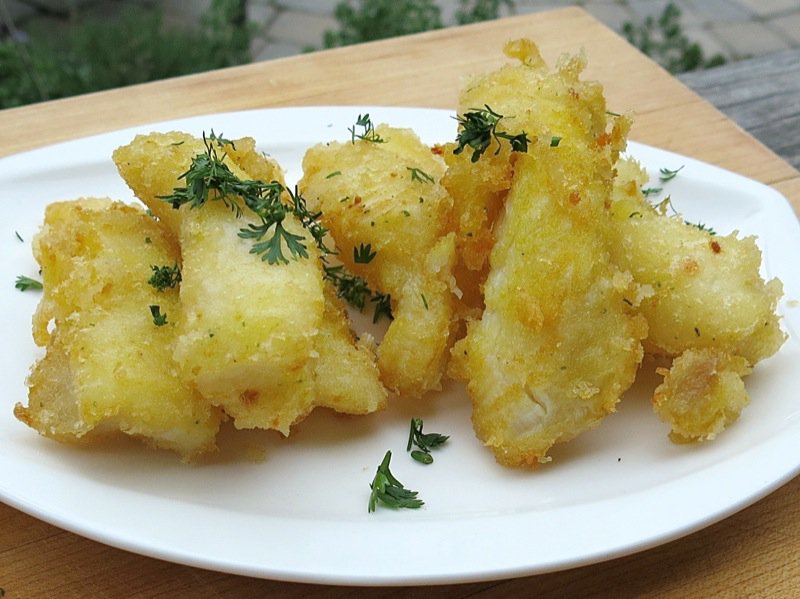 The crispy Tempura Battered Ling Cod fingers were piping hot, fragrant and steamy with luscious succulent delicate, yet dense, white flakes of fish offering a deeply satisfying home food experience.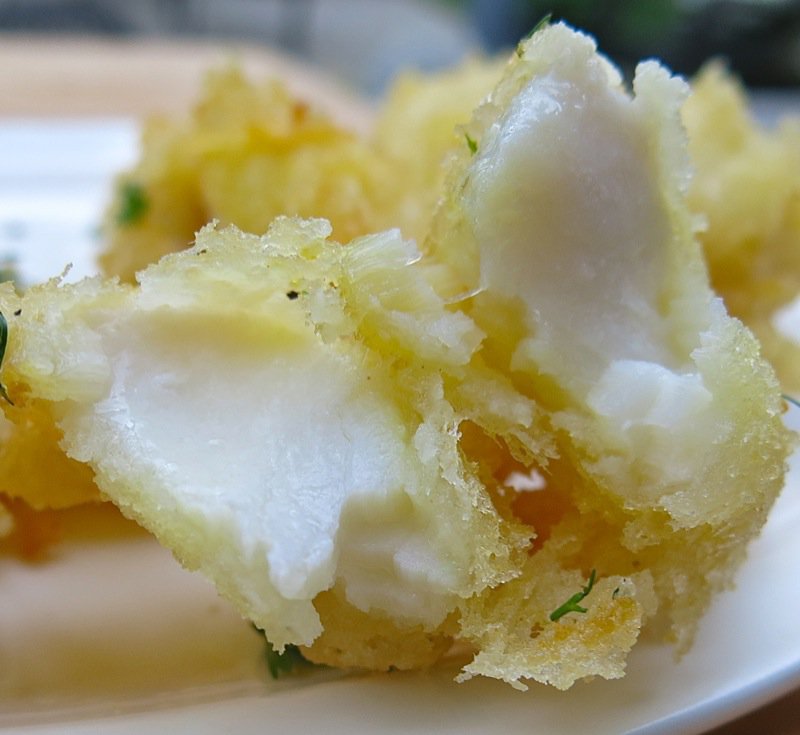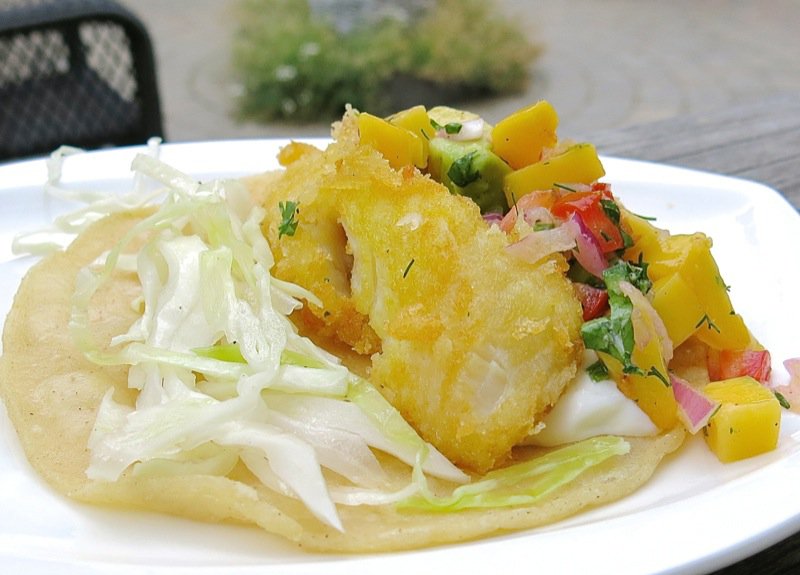 The small corn tortilla does not make a wrap, yet encloses the combination of vivid flavours and diverse textures to fit perfectly into a nice bite-sized bundle.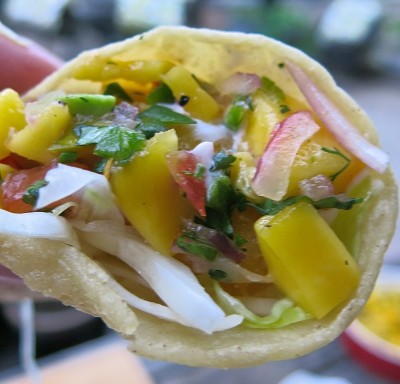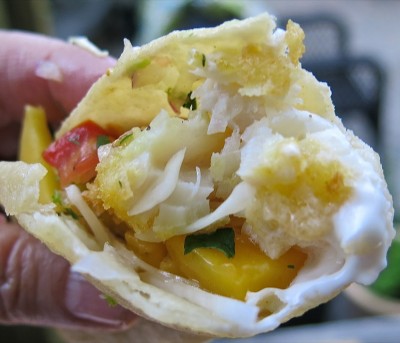 Eyes rolled back in my head, once I recovered. I did not expect the scintillating fireworks of flavour that exploded on my palate. Interested in a casual summer meal? Let me know. I will invite you over and Tempura Battered Ling Cod Fish Tacos with Tropical Salsa will be on the menu. This definitely qualifies as "good enough for company" food!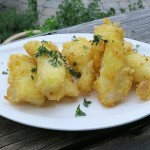 Tempura Fish Tacos: Battered Ling Cod
This light batter inspired by Japanese cuisine is perfect for fish fingers, shrimp, or vegetables. With
Tropical Salsa
, makes the perfect filling for a gorgeous fish taco!
Ingredients
1

cup

all-purpose flour or rice flour

2

teaspoons

baking powder

1

cup

soda water

, ice cold

Vegetable oil for deep-fryer

1

pound

firm white fish fillets

, such as grouper, striped bass, or cod, cut into 1-2 ounce strips

Salt and freshly ground black pepper
Instructions
Place oil in fryer and preheat to 350 F

Sift flour and baking powder; whisk in 1 cup soda water until smooth

Let batter stand for 10 minutes; season fish lightly with salt and pepper

Working in batches of 4 to 6 pieces at one time, dip each fish finger into batter, transfer quickly to fryer; fry until a light golden brown (about 2 minutes, no more!)

Drain briefly on paper lined plate; season lightly with salt, pepper on both sides (again)
Recipe Notes
Deep Frying the Fish:
The temperature will drop dramatically as the fish goes into the frier, so keep the heat up, and steady; watching it closely
Using a digital thermometer or a temperature constant deep frier will help a great deal to get consistent results
This fish will be a light golden brown, never dark.
To Make Fish Tacos:
Assemble by placing 1/4 cup of shredded cabbage lightly dressed with rice wine vinegar, olive oil and salt and pepper with 2 fingers of tempura battered fish in a warm corn tortilla shell.
Top with 2 tablespoons of Tropical Salsa and serve with sour cream (Mexican Crema) or hot sauce, if desired.