Spectacular Local Artisan Cheese at the City Market: Put Your Money Where the Farm is!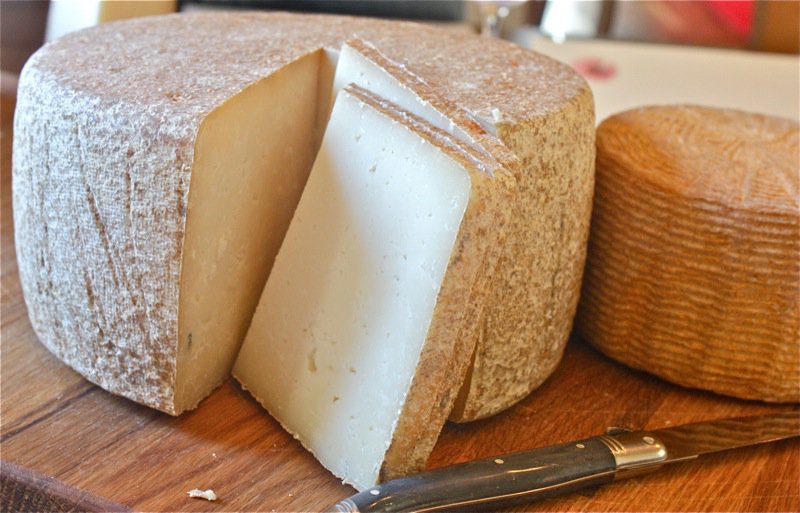 I met Larry and Holly Gale early in the Market season this summer. It was either the first, or the second Saturday that City Market was open for the season when I spied a very rustic looking sign advertising cheese: Smoky Valley Goat Cheese. Travelling through many markets throughout the world, one of my biggest complaints about my own local market is that there has been no artisan cheese. That was until Sylvan Star reared their head a couple of years ago. And I am so thankful for them. They produce award winning Gouda and Guyere that I make sure I have at home at all times. But, that is not enough.
Every market I have been to has a plethora of artisan cheeses: The Rue de Cler Market in Paris, Borough Market in London, The Ferry Building Market in San Francisco (part two and part three), the Bijeljina Market in Bosnia, the Kikinda Market in Serbia, Mount Zladabor Market in Serbia, the Old Town Market in Kotor, Montenegro, the Old Town Market in Dubrovnik, Croatia, and the Quincey Market in Boston. Why don't we have local artisan cheese makers? Why? So, when I saw the sign, I was very excited. I bought the chevre the first time "just to try", as that is the French cheese that I adore. It was spectacular. Since then, I have been back every week buying the chevre, and everything else they carry. Holly and Larry make incredible cheese.
And, tonight, Kevin Kossowan has invited a few of his friends and family members for a serious tasting of this cheese. I love tastings. I learn so much about my own palate and listening to the impression of others really has me thinking and tasting at a whole other level. Unfortunately, this evening, I had to leave early. But, I was there long enough to still be buzzing about the experience several hours later!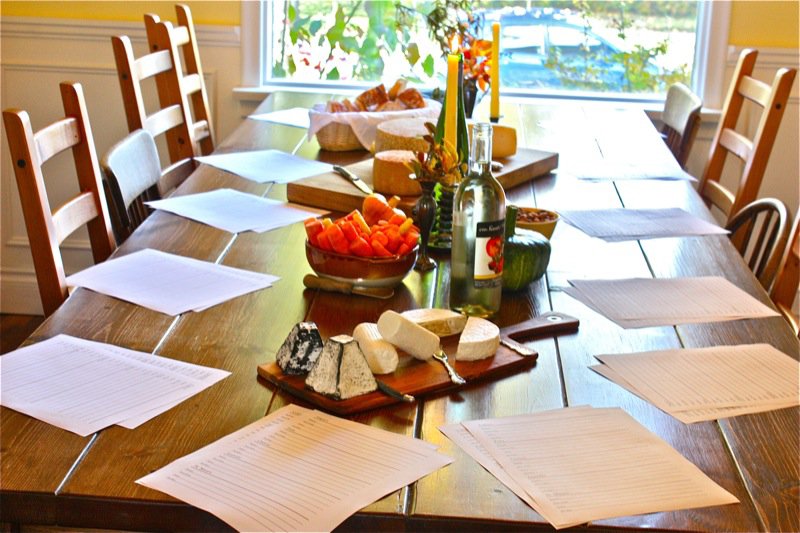 Kevin was prepared. The cheeses were out. Garden carrots and celery were out. Wines were breathing it all in. The candles were lit. Oh, how I love a good party!
I noticed there were wines from Alsace. Kevin said that he and his family are Alsace wine seekers and lovers. Noted. This one was light and sweet and lovely. Mel has written all about it. She was taking detailed notes a little later. I loved watching her write in her journal as she whiffed and sniffed and swirled and sipped. I really missed talking to her about her tasting experience. She was at the far end of the table, and I am sure she had a lot to offer on her note page.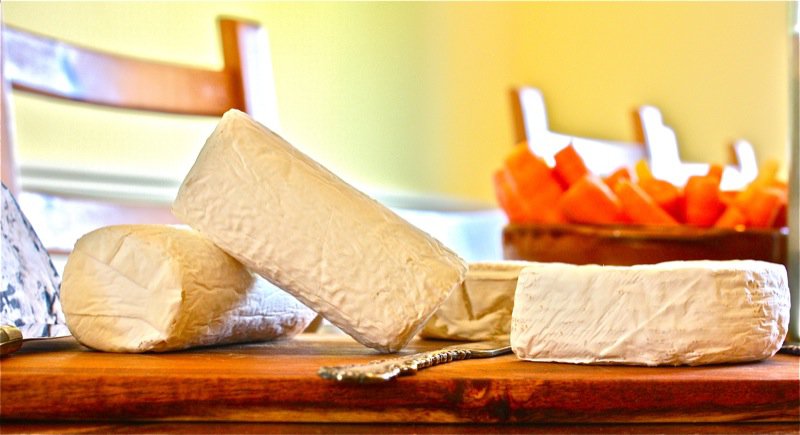 I buy Smoky Valley Goat Cheese every Saturday: the chèvre and another, always. Love it. But, tonight there were some I have not tasted. YUM!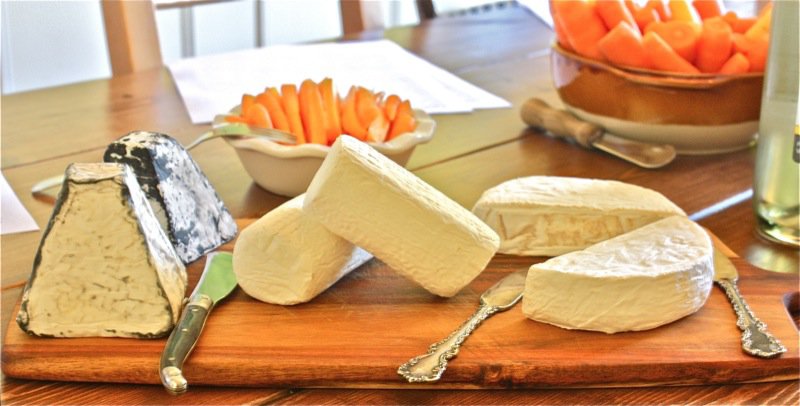 The best bread from the Italian Centre Shop was propped ready for take off: so gorgeous. Kevin also had thin croutes from the gorgeous loaf he had resting on his counter the night I was there for dinner. He toasted them in the oven and served them with cheese. Yes, they did overpower the cheese. I forgot that for a moment of two as I was lost in my head enjoying the depth of the yeasty wheat filled goodness. Kevin can bake a mean loaf of bread. There is no doubt about that.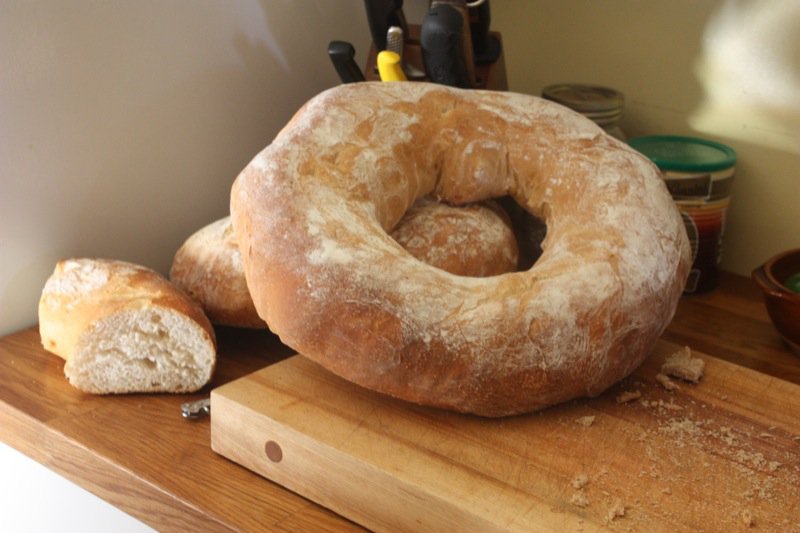 I loved the use of the teacup for the tzitziki: Smoky Valley goat yogurt and Kossowan garden cucumers. Do you see the white bowl of baby carrots? They are the pickled carrots that are actually Kevin's mother's mom's recipe. I made some, too, that I haven't tasted yet, so I was thrilled to sample these. I couldn't stop sampling them, either: double yum.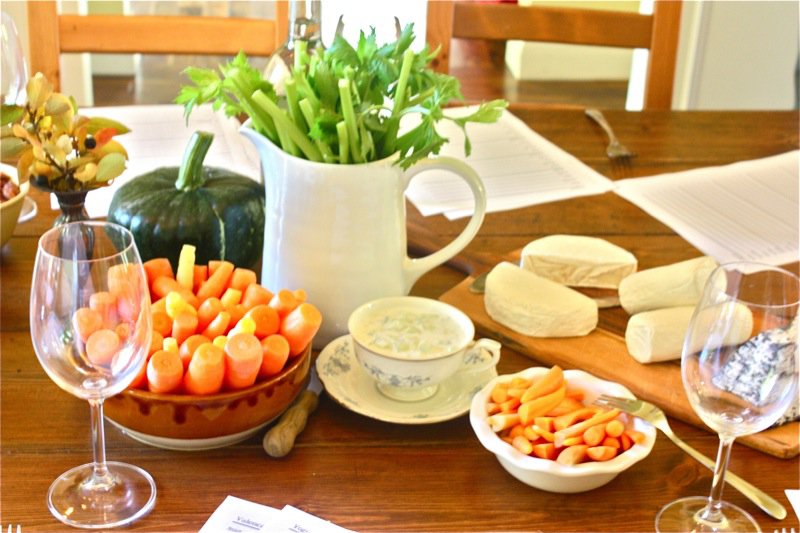 People were arriving and final preparations were happening. The tasting table was eventually filled with a group of people that I could sit around a tasting table with every week: Kevin's mother and her husband, his brother, and his good friend Yan. This was my first time meeting this group. I could tell I can learn a lot from each of them.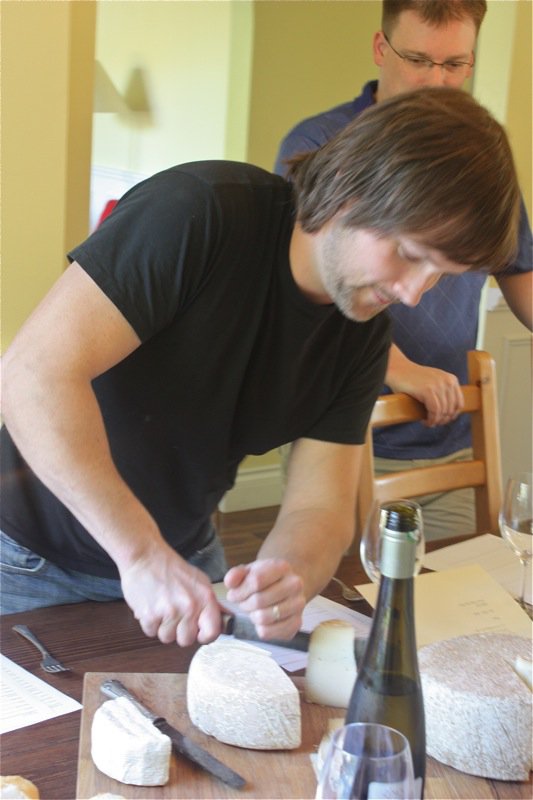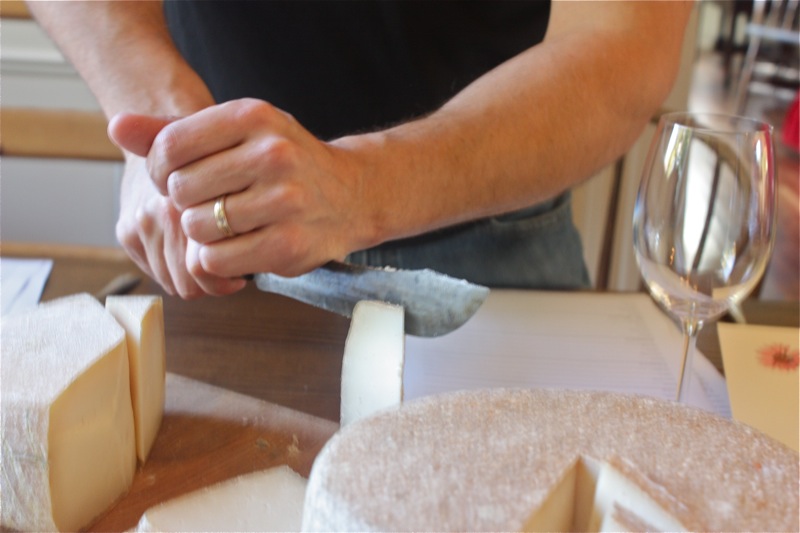 I had not seen the Smoky Valley Gruyere before. It was incredible to see it: gorgeous, and I thought nutty and delicious. Very different than Sylvan Star's as this was much drier than theirs, and though clearly from the same family of cheese, a very different experience. I liked it a lot, but love Sylvan Star's. Love it. (Their medium Gruyere is an award winning cheese and I will not allow myself to be out of it.) I admire Holly for making such a variety of cheeses, but I think it is just too much. Apparently, I wasn't alone in this way of thinking. After the tasting was completed, much later in the evening, as the group conferred, apparently the stars of the Smoky Lake Cheeses are their soft cheeses. Certainly, they are precious to me. I truly value the ability that Holly has to make such incredible soft artisan cheeses.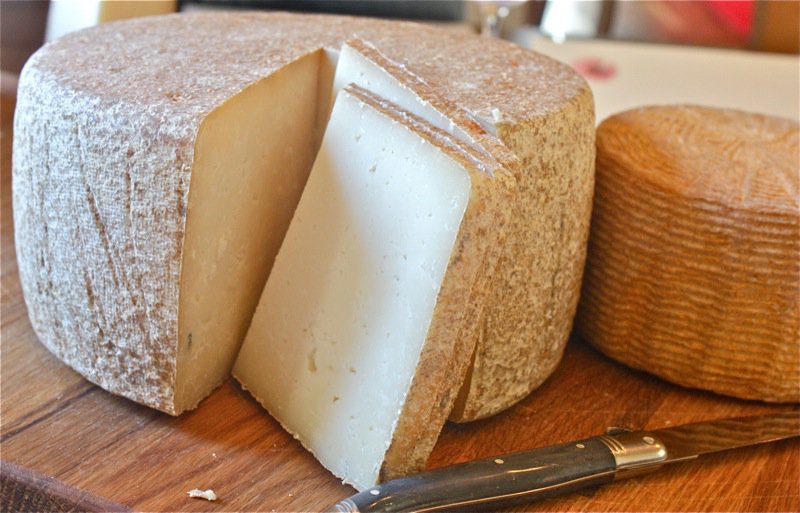 But, don't get me wrong. Her hard cheeses are really good, too. Really good.
And here we are. Kevin had just started speaking and I jumped to take the photo at the most awkward moment. Woops. When is a moment right for a group photo during a tasting when everyone is focused on the food?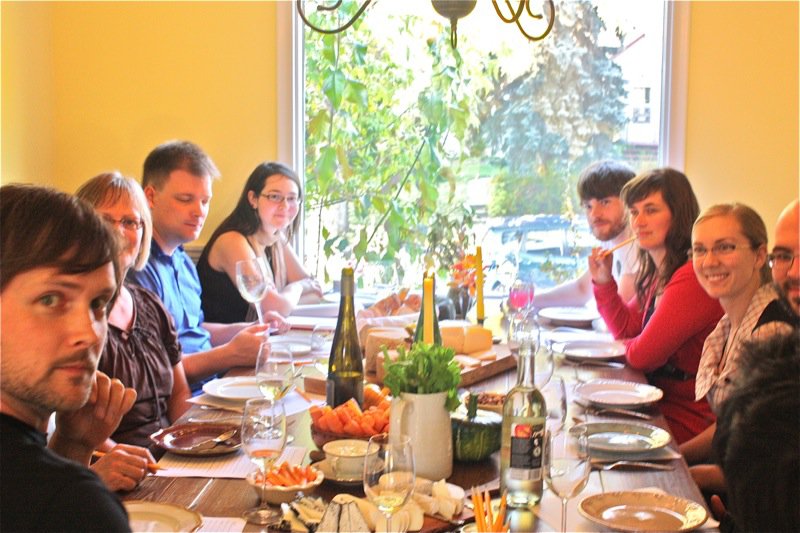 Other participants were Mel, Alan, Thea (Edmonton Slow Food Convivium Chair) as well as Chris and Sarah. Kevin had the Tasting well thought out: soft to hard, starting with the yogurt.
I make my own, always, and use Bles-Wold plain as my culture when I need one, so this was my first tasting of Smoky Valley's Goat Yogurt. I have bought goat yogurt before to make goat yogurt cheese… and that was incredible: very much like chèvre. Holly's yogurt (above) was creamy, but thin and light; it had no aroma that I could detect and the flavour was very, very subtly goat yogurt. I like a thicker yogurt. Her feta (below, left) was a lovely product, but not what I have become accustomed to as feta. It had the consistency of Mladi Sir which is a very young gelatinous cheese from the Balkins that I adore. The feta was creamy, but not the drier creaminess one associates with most fetas; this was a wet creamy, As a matter of fact, it was excellent when spread on bread. Most fetas cannot be spread on bread very easily. This one was easily mixed into a creamy dip. Many tasters found it too salty, initially. After considerable discussion, it was agreed that feta is a salty cheese and that the problem with the salt in this cheese was the unexpected combination of the soft texture of the curds. This texture didn't seem to fit with the saltiness, yet the saltiness was not over the top for a typical feta.
Smoky Valley Chèvre (above, right) is an incredible product. Everyone who loves chèvre must get to City Market Saturday and take the time to find this booth and buy this cheese (and the other soft cheeses). The Tasting group was unanimous regarding this product. The moans and groans around the table while many tasted it for the first time was such a pleasure to witness. I was happy for the producers of this product. As a lover of chèvre, this is the first product I bought from Smoky Valley Goat Cheese a couple of months ago at the Saturday morning market. After that, I bought it every week. I will not allow myself to not have this wonderful local artisan product in our home. It is not expensive. The nose on this is still very subtle. It has a fresh light aroma. The texture is creamy luxury: luscious velvety richness at its ultimate without any cloying fattiness detectable. The flavour is definitely goaty, but the goatiness is not overpowering; it is perfectly balanced within the light milky cheese. I love to eat it with a hot pepper jelly, or melted into garden fresh mashed potatoes, but then the incredible texture of this product is lost to the heat of the dish. I cannot sing its praises enough. But, on to the next tasting: the Annette.
It is pictured in the second and fifth photos (in this post) as the round on the right on the cheese board. It is a small round disc of goat Brie, but it is not a "goaty" brie. It is a complex buttery to-die-for Brie. I had never purchased this product before as Holly had told me it was a goat Brie. I have had goat Brie cheeses before that were heavy and dense and so goaty that there was nothing soft and goey and "Brie-like" about them. So, I never bought hers. I should have known better. Everything else I have had of hers, I have loved. There was another few moments of ecstasy and impatience as those of us not experiencing the cheese had to wait for the platter to come around. By the time it did, I was clearly too engaged to think about a photograph, as there was none on my disc. I do recall every moment with that Tasting, however. The briny fragrance hit my nose and my palate salivated in preparation for it. The nutty buttery goey goodness awakened all receptors on my tongue and my little umami centre was wagging its tail. This cheese has it all. The rind was incredible: melt in your mouth yummy. The rind was found to be unusual in a discussion at our end of the table: inconsistent. Not all agreed, but all did agree that this cheese was a winner. There was a wisp of ammonia which I found appealing mixed with the delicate goat-butter nuttiness. Jay (the Super Critic) said that it had so much ammonia that he felt like he was in a barnyard. He actually did not say that. That is what I heard when he commented on his intense dislike for the overpowering ammonia in this cheese. Maybe he has the ability to "super smell" like a hound dog? I know I have a good palate, and I had to actually block his comment from my mind to continue to receive the tasting and respond to the experience of this sample on my palate. The power of suggestion is huge during a tasting, and there were more than a couple of times that his critiques had me tasting or smelling things that weren't there. Of course, comments enable sensitivity to what is there, yet they can also explode inside of the head if they are completely unexpected. I have a very good taste memory, so it is not a huge leap for me to be tasting and smelling something one suggests. However, I would have had it no other way. I really gained a strong sense of what I was experiencing when I had to place it in question.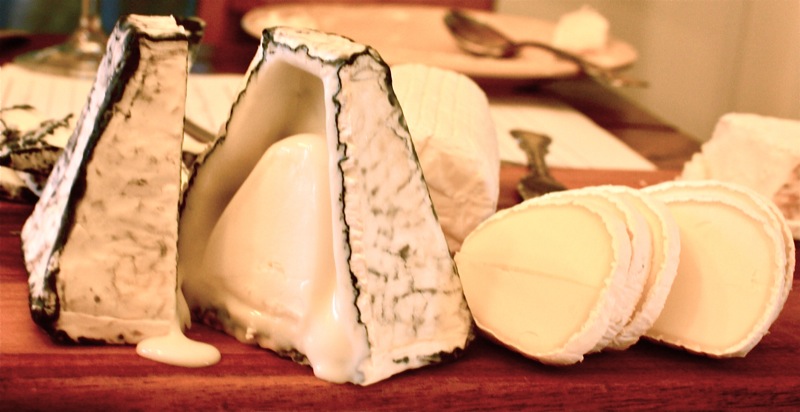 The St. Maure rounds (above, right) initiated a chorus of individual celebrations around the table as each person savoured this cheese not so silently. There is nothing so personal as a tasting. The sharing is important, but the experience is so uniquely personal that one has to spend that time inside oneself to really put words to the experience: particularly if it is as joyous as this one was for each of us. I had actually purchased this cheese, but not sampled it the night I had dinner at Kevin's home and he first introduced me to it. I ate my purchase alone the following day. Not all in one sitting. But, it wasn't hard to do. It was hard not to do! This cheese has a musky, earthy aroma and the rind, though soft and papery does give up to a good little tart and mildly pungent chew. There is the hint of strength there, but this is not a strong cheese It is a mild soft cheese with the complexity of a great read. One keeps coming back for more. I heard: "I can smell fish… grass… mushrooms…plastic…but, in a good way!" with a lot of "Me. too!'s" in unison after each declaration. I did not experience all of those notes, but I have known since I have been eating this cheese, that it is definitely a cheese that holds my attention…. and, it grows on you. Jay, Kevin's brother (known as the Super Critic) said he felt like he had a glob of peanut butter stuck in the roof of his mouth. No one else related to his "personal" experience. But, it is a cheese that coats the inside of your mouth. And it is creamy with the rind that provides the perfect backdrop to that creaminess. Everyone did agree that this was a delicious cheese. It was not buttery, but it was creamy. Buy it. Try it.
Above, left, the pyramid shaped cheese is the Valency. This one has aged past what some would consider enjoyable. For me, it was sensational. This was a stronger, more tangy cheese with the luxury of the runny cream coupled with the powerful zing that occurs in an over-ripened soft cheese. This is a tongue tingle worth waiting for. Buy it. Age it. Wait. The savour. At this phase, I wouldn't eat the rind. Many would. But, it is too pungent for my palate. However, the multi-tiered complexity of the soft cheese within has a "wow" appeal. Cheese is not cheese. It is amazing to me that the culture used will create such vast differences with cheese, and that the ageing of cheese affects the nuances of flavour and texture to the degree it does. I had participated in five tastings. This was the sixth, and I found myself still reacting with irresistible pleasure from the experience of tasting the over aged Valency. There was also a young Valency there to taste. I never got to it that evening I had to leave. But, I buy it regularly because I enjoy the contrast that it brings to the cheese board. The pleasure is enhanced through variety and this cheese is a perfect partner to the Annette and the St. Maure on a cheese board.
Now, I have to leave. Do you know what I missed? I missed the three hard cheeses and the end of the conversation about the Valency. I brought them home to taste. I have bought the Farmer's Cheese and the Tomme before a few times. The Gruyere was completely new to me. Holly thought it was too old to sell, but knew if would be beautiful in sauces. However, she hasn't been selling it at the market, either. At least, I haven't seen it. But, that is the way it is with farmers. She is busy. Maybe she forgot it.
Farmers work long hours. The work really hard. They get tired. They wake up the next day and there is a farm waiting for them. If they are sick, there is no "farm temp agency" to call. They just carry on.
Holly is a Master Artisan Cheese Maker, to me. She has been doing this since she was a young teen. Yet, that doesn't mean she has the time to market her product. Kevin is having this tasting to gather information about Holly's cheese and provide her with the feedback to help guide her practice. Most businesses do this. This will not be the only tasting done for Holly. But Kevin has take on another project. This time, his project is to help Smoky Valley Goat Cheese thrive. He has committed to work to support them in their endeavours so we can continue, as a region, to enjoy these amazing products. Holly deserves it, but who would do this? Kevin is doing it.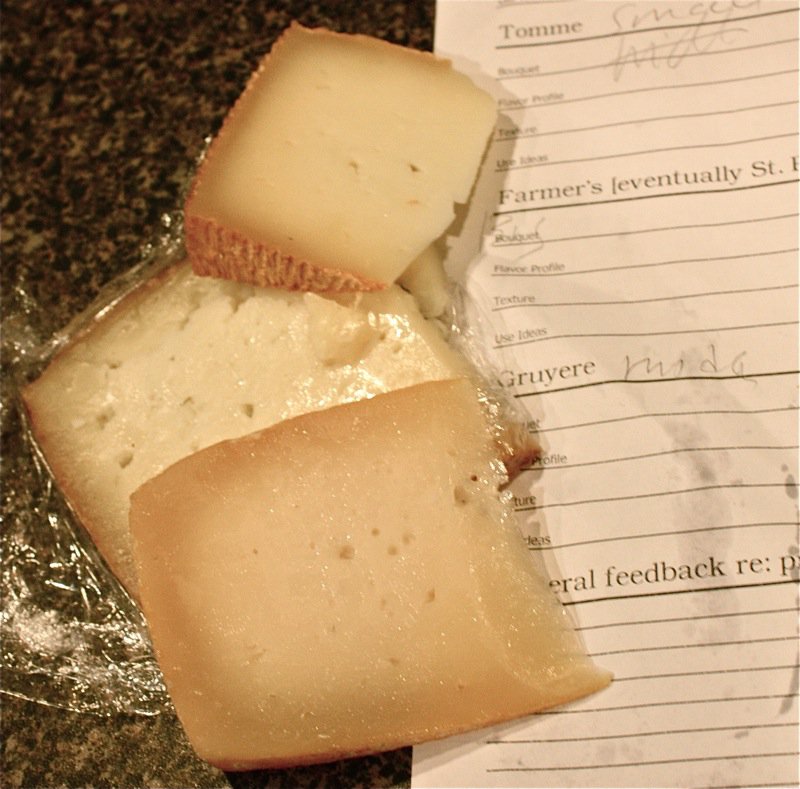 And the rest of us? We have bought in. I was there, already. But now, in a different way. We will work to inform, educate, and share our enthusiasm for this incredible cheese. Try it. Buy it. Buy it. Try it. These are the three I missed tasting. I brought some home. Love them. But, am not going to do the Tasting by myself! You do it!
The Mountain Tomme
The Farmer's Cheese
The Gruyere
We are a baby, in Alberta, regarding our understanding of cheese making. Quebec has it figured out. We have room for many more artisan cheese makers here. Bring it on! But, let's support Smoky Lake Goat Cheese as they find their way in our massive marketplace. Buy local. Put your money where our farms are.
The Night We Ate Cheese from Sarah Taylor on Vimeo.