Pava Sredic Lugonja: February 15 1939 – February 4, 2014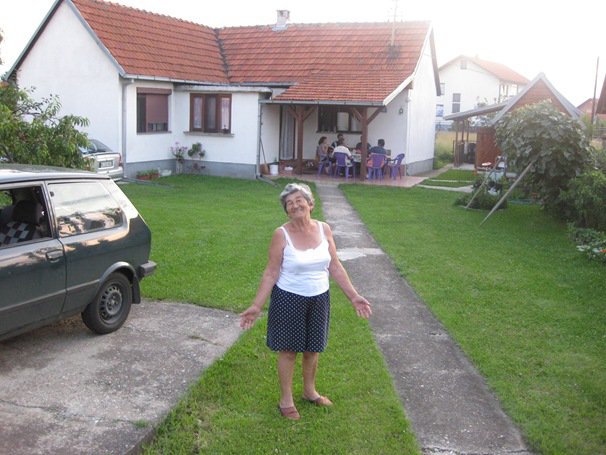 Pava and Petar Lugonja's home in Bijeljina Bosna where they relocated after the Bosnian War (1991-1995).
Always waiting at the gate for us to arrive, was Pava. Arms wide open with a huge smile swallowing her face. "Kako si, moj Vanja i moja Valerie. Dosli meni moji Kanadjani!" (How are you my Vanja and my Valerie? My Canadians have come to me!)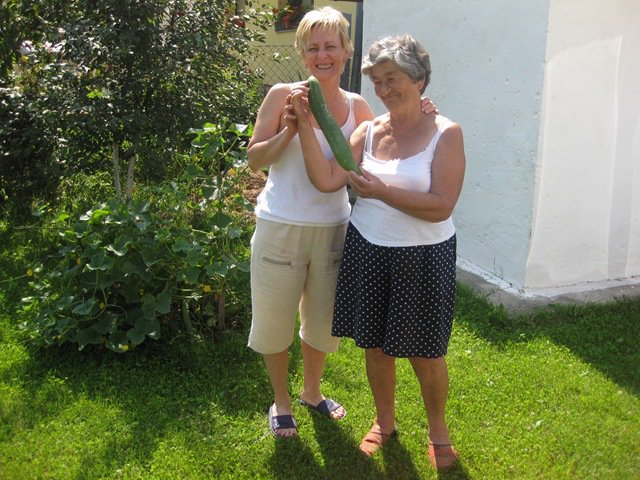 Lori (my sister-in-law) and Pava with one of Pava's cucumbers: you can see she loved a naughty joke as much as the rest of us!
And before we even got into the house we would tour her garden to see what she had planted, what was growing, what she had saved for us, or if we were later in the year, what she had preserved and stored in the shed. What pride. What joy. This was a love we both truly shared and she knew I was absolutely focused and interested in every little detail. How I loved to learn from her.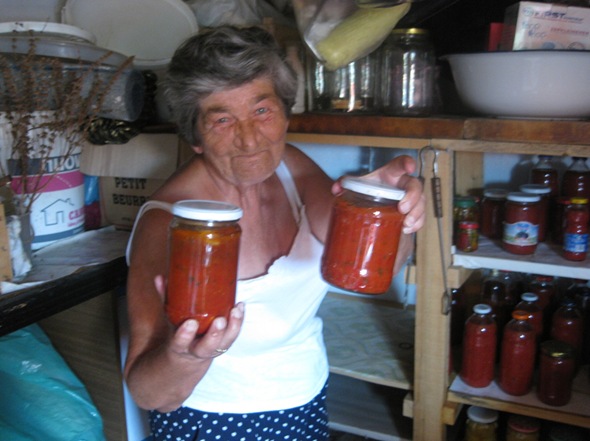 She knew that my favourite of all of her concoctions was her ajvar. You can see the love in her eyes as she hold it out for me, showing me what she has saved for my visit, and below, after Vanja returned home earlier this week, when I opened the fridge and saw three jars of her ajvar there, I just cried.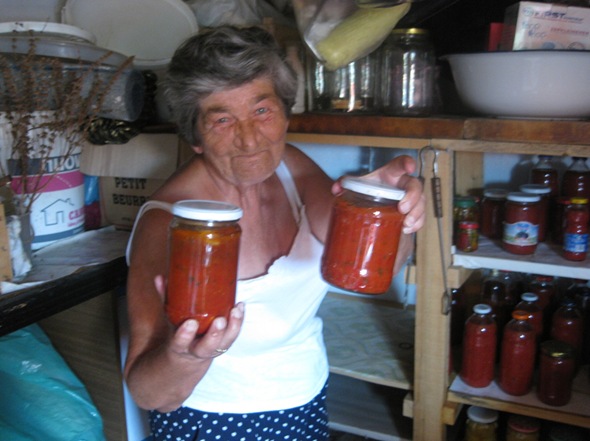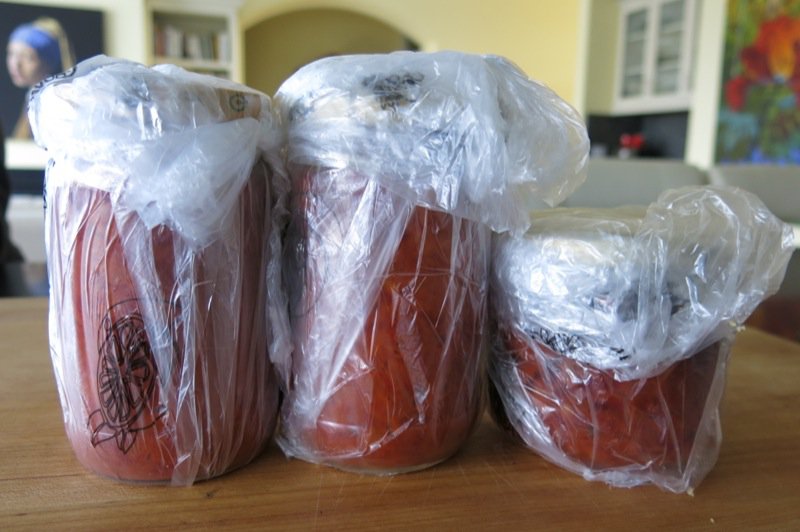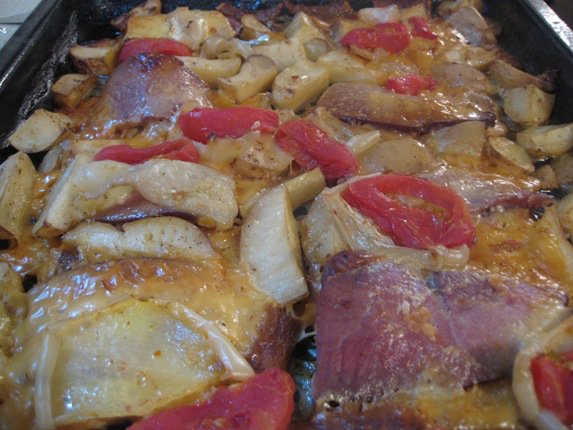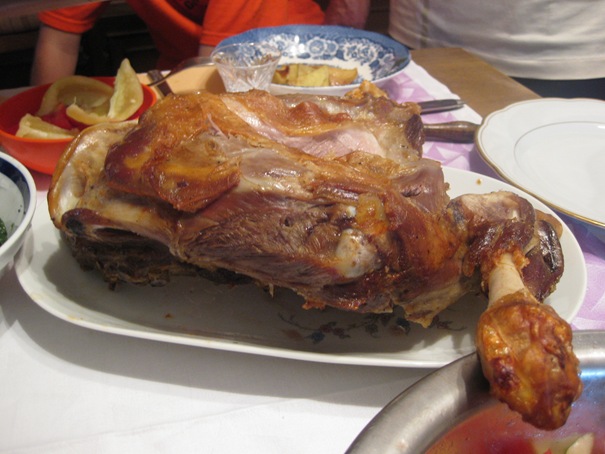 Pava's Special Dinner was my husband's favourite meal. And there would always be pig and Petar's šunka (homemade smoked pork).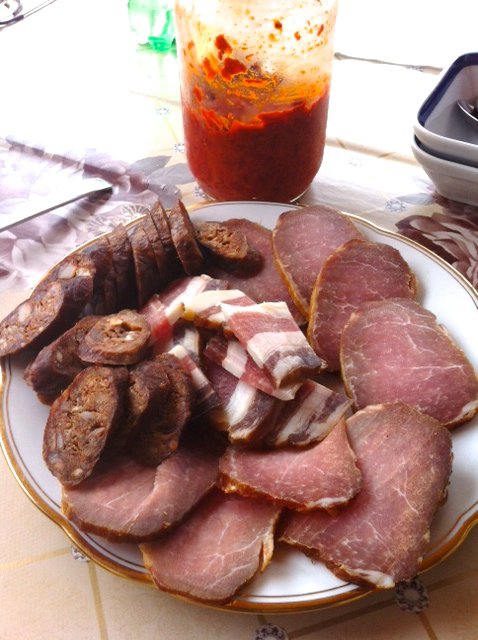 Petar raises the pigs and makes all of his own charcuterie.
Then, inside we would be ushered to dinner – no matter what time of day or night… and one night we arrived in the wee hours of the morning and I could not believe that the meal was still warm and waiting for us as were as two dozy-eyed short people. Vanja's last two trips "home" were without me. My own dad was seriously ill during both our planned fall trips these past two years.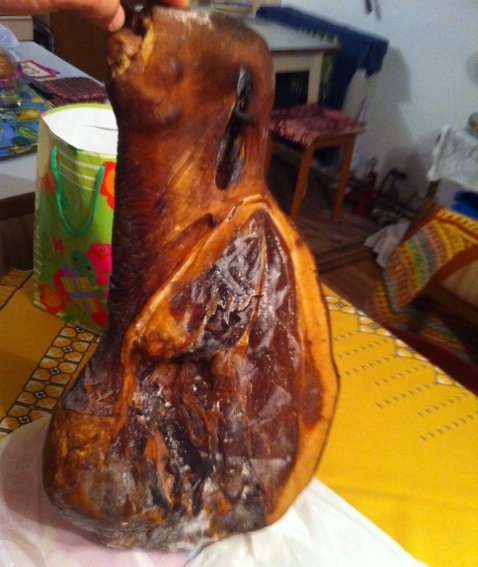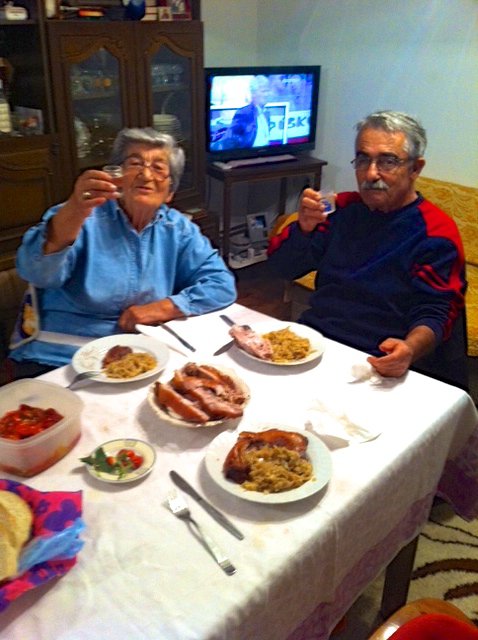 However, I am never forgotten, and at his special welcome home dinner, there was a toast for me: "Ziveli, Valerika!" Oh, how I missed those last two trips – and now, more than I can ever imagine as there will never be another with Pava, my mentor and sweet mother-in-law, in the house.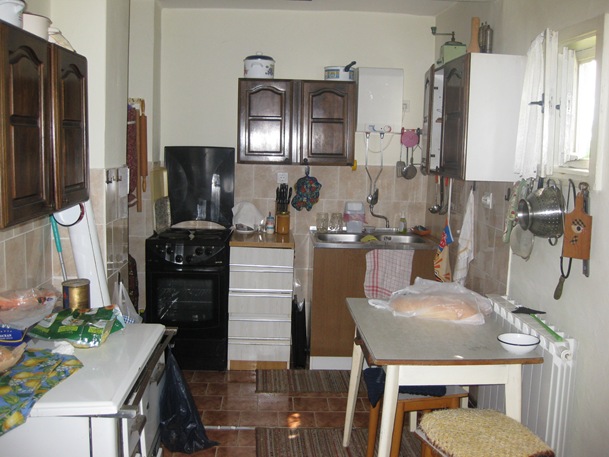 Her kitchens are where I learned almost everything. Above is the small kitchen in her house and below is the Smokehouse. This is turned into a summer kitchen every year where she cooks that entire season long to keep her house cool during the blistering Bosnian summers. The photo below is blurred because it was 52 degrees Celsius (in the shade) on this day and we were making homemade sausage. The sweat was running down her nose, but nothing stopped Pava. If she had a job to do, nothing would stand in her way. This was one very small and very determined woman.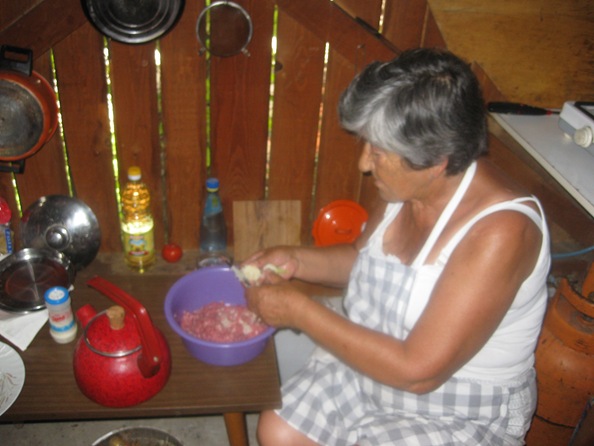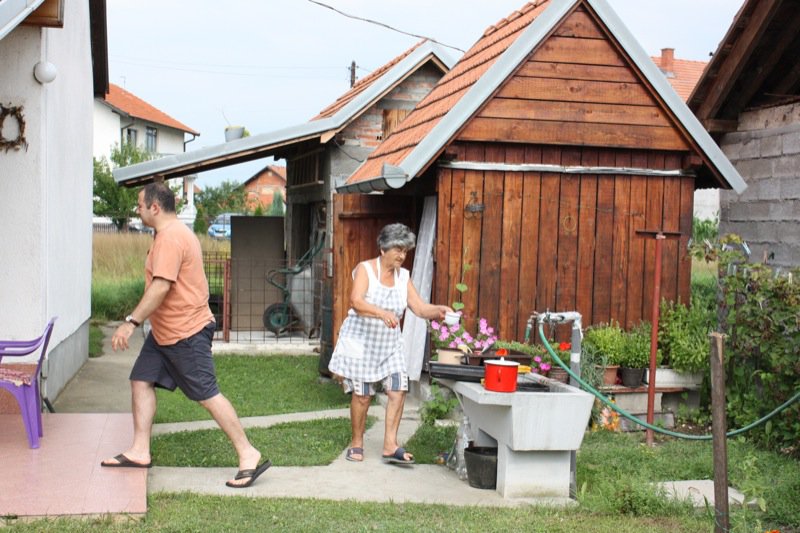 Above is a good view of her outdoor sink which everyone in every village and rural home across the Balkans has. Directly behind her is her smokehouse summer kitchen. Do you see the lovely lace curtains she has hung in the door to keep the bugs out? All doors have lace curtains billowing in the breeze during the summer months. Behind the smokehouse is the pig house where 2-3 pigs are raised for the family and a neighbour every fall and where the chickens are raised in the spring.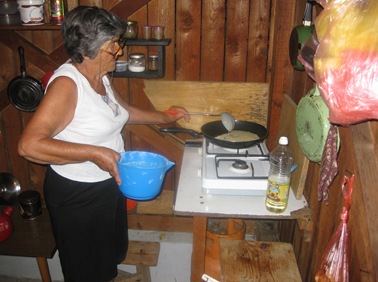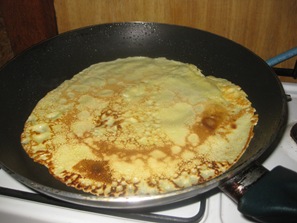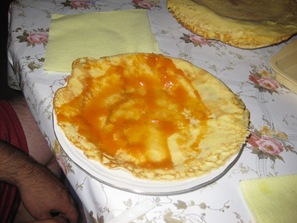 When the sky was black and the heat of the day melted into the sidewalk cement, there would be a light on in the summer kitchen. Pava was making Palacinka! Similar to crepes, this is a traditional Yugoslav treat and the best you will ever find was made on this very spot and served with homemade apricot jam from Pava's apricot tree.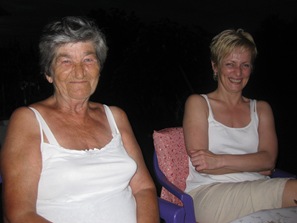 Then, she would rest. And talk and laugh. The last few years she was also napping every afternoon so she wouldn't miss any of the late night fun. Pava has always been a night owl. It was rare for her to sleep until well after midnight.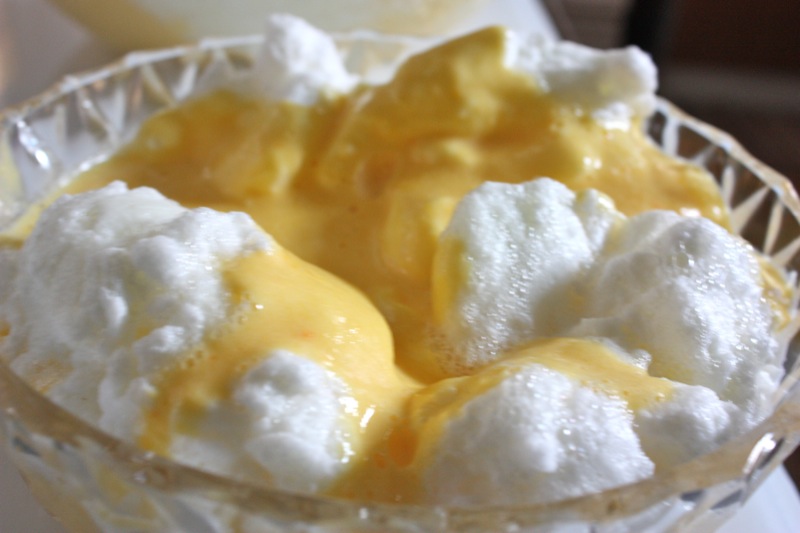 Oh, the food that was waiting for family feasting and fun. Snenokle (Floating Islands) was Igor's favourite and a huge bowl awaited his arrival. Every single visit. I didn't tell her how much I liked it, but when she found out, there were always two bowls in the fridge. And, she taught me how to make my own.
She always said she wasn't very good at making burek, yet it was delicious and there wasn't a person not wagging their tail all the way to the table whenever she made a batch. Traditionally served, and always at her house, with yogurt, it was a feast. And the yogurt is bought like milk and drank from a glass. It is thick and delicious with this meat pie.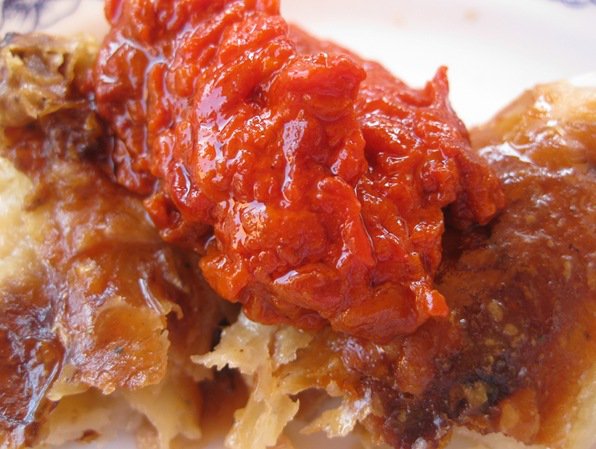 Of course, for me, her ajvar made the bukek divine. She refused to teach me how to make burek, again proclaiming she doesn't make the pastry well. I was so proud to bring her some that I made myself under the watchful eye of Vanja's best friend's wife, Elsada, one day. What a triumph that was. She was so proud.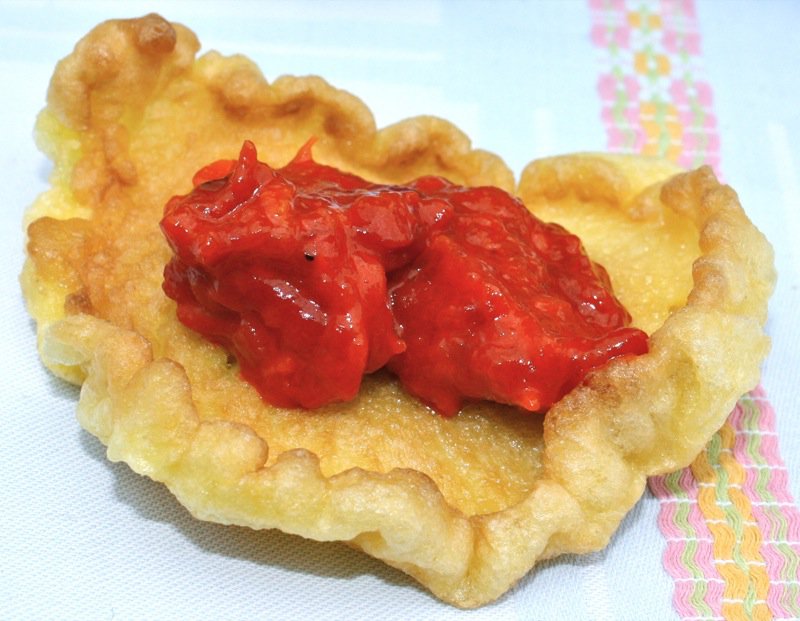 Vesna made kolacici for us one morning when we were up in the village of Kozarci where she and Vanja's cousin Cici live. It is made with palacinka batter, but deep fried in smaller portions. What is not to like? And with some of Pava's Ajvar on top, divine. Pava knew how I loved her ajvar. I called it red pepper caviar.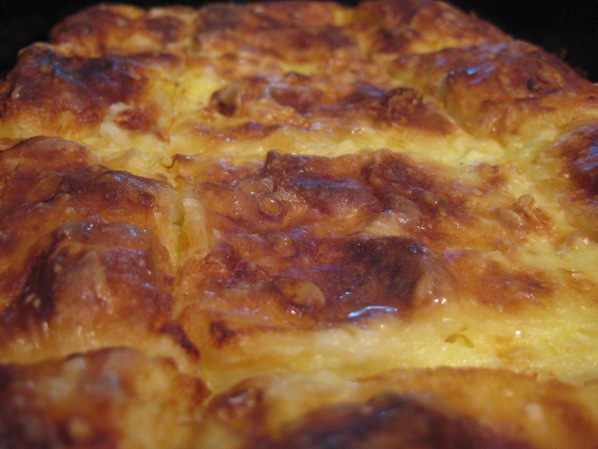 Above is Pava's cheese pie, or sir pita, as she would call it. Gibanica is the name most others call it. She never made the more traditional sir pita in the same shape as burek. My consistent complaint about her cooking: too much oil. The flavour was second to none, but the oil was always just too much. It was her way of being lavish and generous.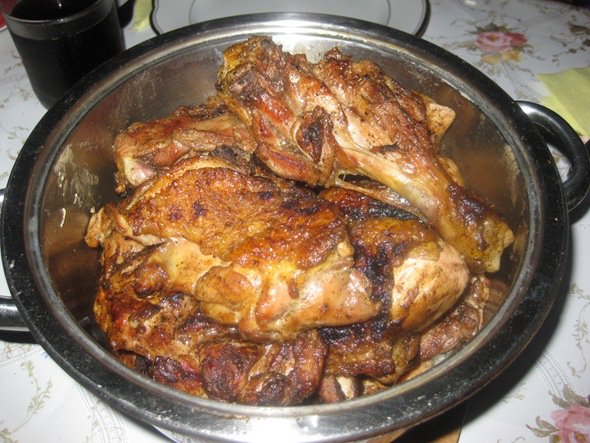 Before we would leave, our farewell dinner was always the same. Pava made the welcome dinner, Petar made the farewell dinner. He was famous for it. His chicken rostilje. Of course, Pava only let Petar think he was in charge of the meal. 🙂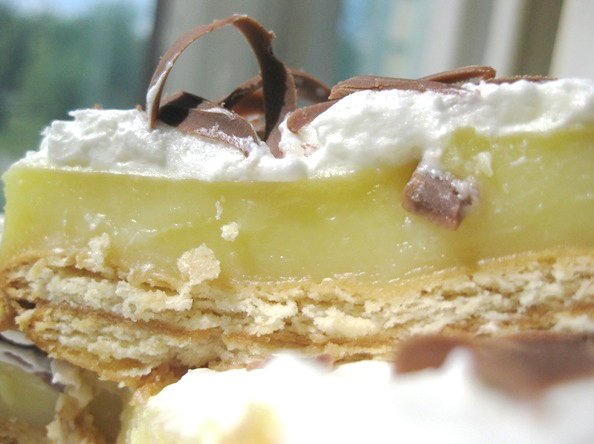 Pava and I shared the importance of food tradition within family life and she loved to share their family food traditions with me and understood how passionate I was to learn them all! Her sister Dragica makes a cake the family goes crazy over and it is now a family institution known simply as "Teta Dragica's Kolac", (auntie Dragica's cake) pictured above. A rather simple, yet deliciously satisfying concoction made with tea biscuit cookies and a homemade cooked pudding. I had heard about it for so many years and she had her sister make it for me when we visited the northern village of Kozarci one summer. I never did get the recipe, and still want it.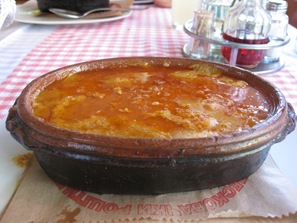 We are blessed enough to visit them each year and we have taken them on a couple of holidays, as well. One was a revisiting of many of the childhood vacations Petar and Pava took Igor and Vanja on. One was a revisiting of Petar's birthplace. One was just a fun trip around the countryside. Each time, both Vanja and Pava were careful to point our local specialties to me. Pava was usually more knowledgeable than Vanja about some of the ancient traditions. We stayed at Mount Zlatibor in Serbia a couple of days and Pava made sure I got to eat Prebranac, Serbia's Traditional Baked Beans from the area, served the traditional way, above. It wasn't so good that I wanted the recipe, yet the experience was unforgettable. Little Vanja, Pava and I out for bean soup in an open air restaurant around the corner from our motel at Mount Zlatibor. (I would have loved to get one of the ceramic bowls to bring home: gorgeous!)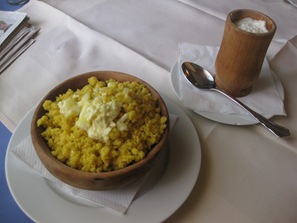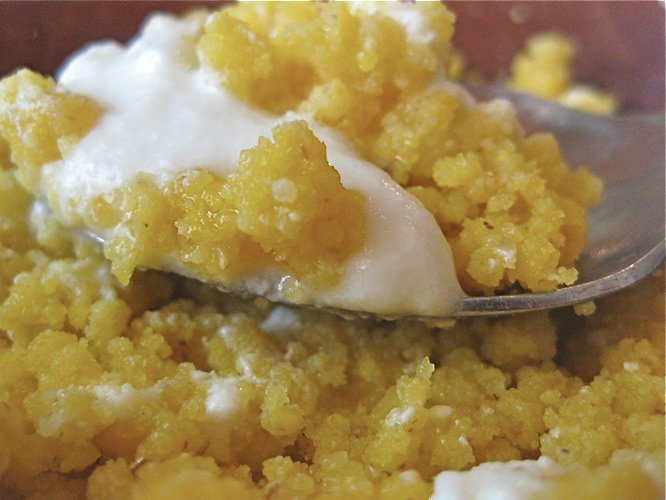 Another similar experience, thought this time, Vanja made it happen, was when we were on our way to Kupres, Petar's birthplace. We stopped for the ancient tradition of Pura (cornmeal mash) served in the traditional handmade wooden bowl with all of the age old handmade accompaniments. What a joy that was as Little Vanja had not experienced this before, either. Pava did have her fetishes. She would rarely eat in restaurants. She had to know the person who cooked, visit the kitchen or be really hungry. She didn't eat with us this day, but did join us. Pava would always have a story to tell with each food dish she would introduce me to.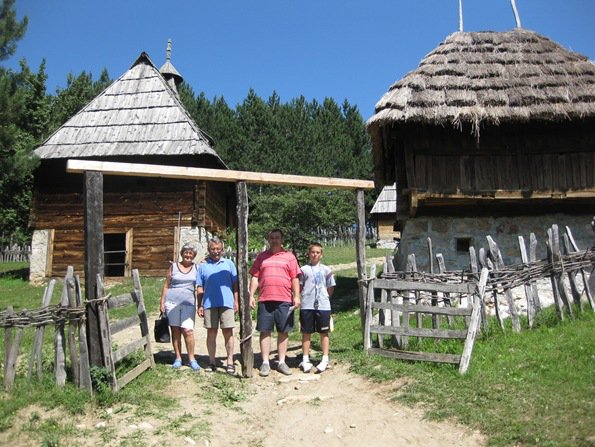 When we visited Sirogojno's Open Air Museum together, I got an up close and personal accounting of Pava and Petar's early childhood and life. They have each personally experienced a morphing from an exceptionally rustic life to their almost modern one, now. They were born into a wooden hut type of home with a dirt floor and fire in the centre, hole in the roof and three legged stools to sit on. Clean sweet hay was what they slept on. These stories and many more were shared as we meandered through the Ethnic Village – a replica of a much earlier life and time… and one each of them remembered all too well.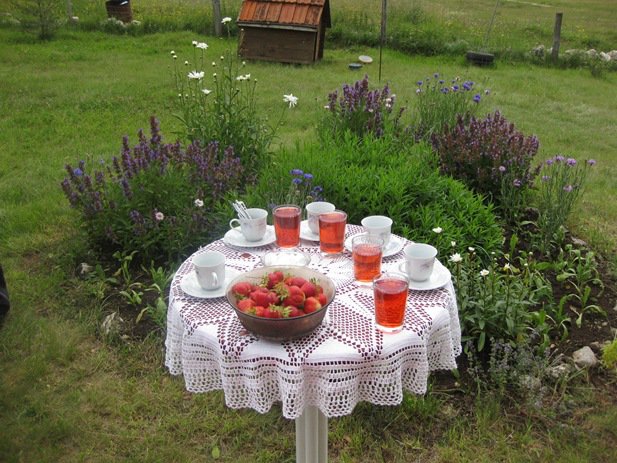 Revisiting Petar's original home in Kupres was a trip Vanja was proud to share with his father. Pava so enjoyed the experience as it was so similar to her own before WWII. The barren hillside the was once covered with the Lugonja clan had three families living on it, and one was a cousin of Petar's that he remembered from his early childhood. Oh, what a wonderful visit that was. And the very best was spread on the table for us. The most gorgeous strawberries, homemade strawberry juice or "suc" and the quintessential white lace tablecloth saved for honored guests. Pava was one that could put anyone at ease and make everyone feel at home all at once. Even in their own home.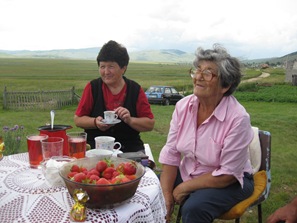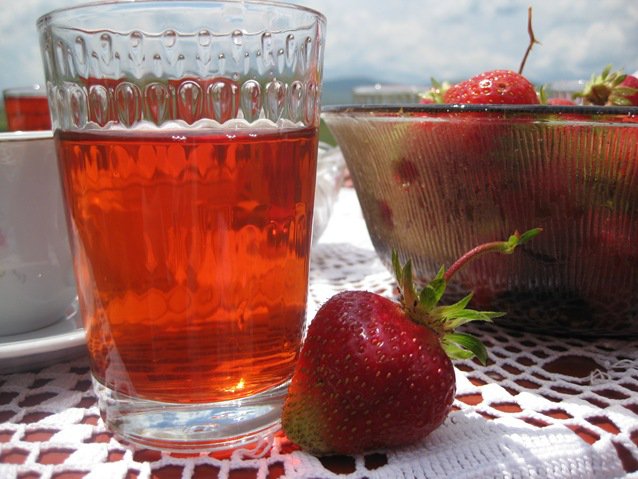 Pava and Petar also made all of their own juices from fruit and flowers on the trees. There was nothing. Nothing. Nothing that was wasted and nothing that she did not know how to turn into something useful, or beautiful, or tasty.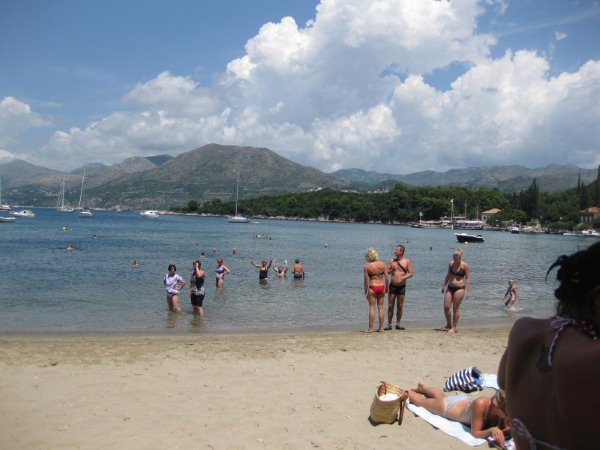 When the family was young, they used to go to Herceg Novi, Montenegro to spend a couple of weeks on the beach each year. Some of their happiest family memories are from their times there. Pava never lost her sense of play. We did take her and Petar back to Herceg Novi and to other beaches during our trips together. Can you guess where she is in the photo above?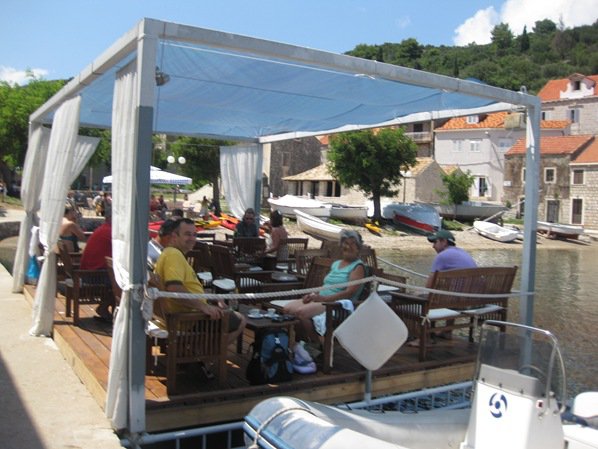 Pava was a women who loved her coffee. First thing in the morning, she couldn't or wouldn't speak until Petar called her for coffee. She liked it any time and many times a day. She always had time for a coffee and loved going out for one even more. Above, we were at one of the islands off Dubrovnik for a day of frolicking in the sun. I had believed, as had Vanja, that there were many more travels like this that we would experience together. This past fall, Vanja took Pava to visit her sister, but it was a very short trip. Petar didn't want to go. I know if I was there, we would have made an extended trip of it and gone on to Zagreb, as I haven't been there yet. We would always veer off the path to go someplace interesting that I really "must see". I am so happy that she was able to see her dear sister that one last time.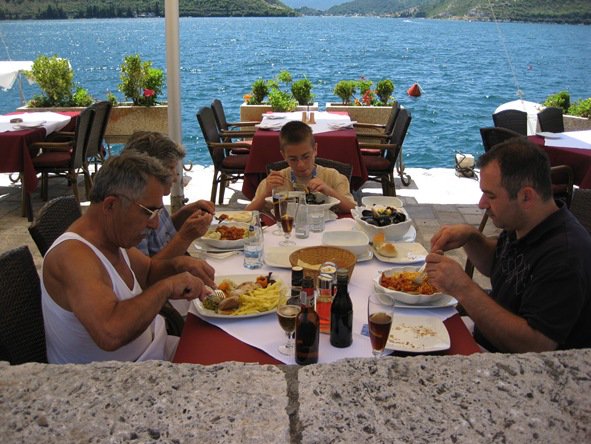 Above, we are at a seaside restaurant, mussels just off the boat and into our bowl, in Perast, Montenegro. What a gorgeous trip that was.
Pava was three when both of her parents died. She was the baby in the family and raised from that time forward by the eldest, her brother, Nikola, and her two sisters. Her childhood is a long and sad story, but the triumph of that story is the love those siblings shared. I would think she was so over the top with her dramatic antics, at times. The first time I was with her when she saw her brother, they both cried for about a half an hour, and held each other for the first 5 minutes. But, I came to learn the story, and to understand this love. She taught it to my own husband.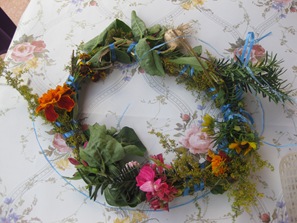 I have so much more to learn from my dear Pava. I will not cook with her again. The house will never be the same as Petar is too old and tired to make it the bright and lively place it was with her in it. It is all so sad. To lose her and to have him so far away and so alone. She died, unexpectedly and tragically, one week exactly after my dad passed. It was after midnight and she was getting ready for bed in the bathroom and experienced a massive stroke. It took Vanja 24 hours to get a flight out of town. The flight was 18 hours and the drive was 4 hours. And he was alone.
I asked Vanja to hire a photographer so that I could, in some small way, be there – eventually. And through the following photographs and a video I haven't included, I feel I was.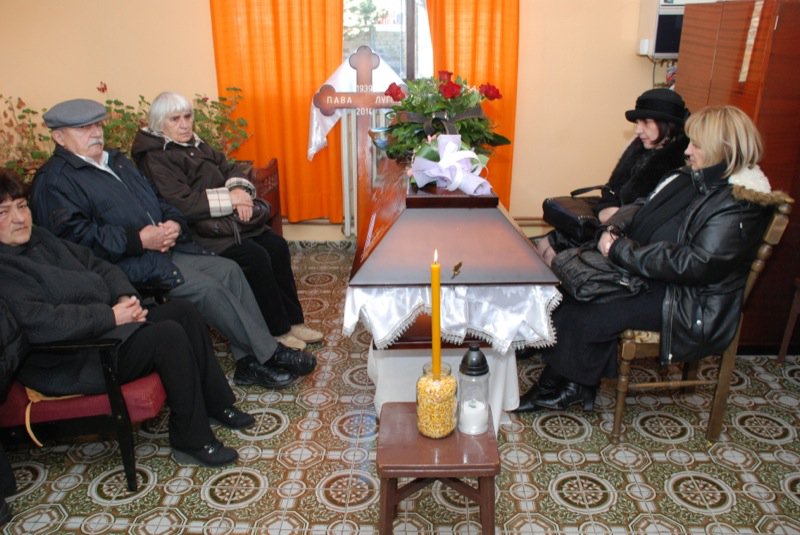 Leaving Bijelinja in the very early morning hours, the first procession arrived at Cici and Vesna's around noon on Monday, February 10th. Cici had set the lower summer room up for a gathering place. Petar, Igor, and Vanja each bought identical flowers. Pava loved to grow her own, but always loved any kind of flower, though red roses were her favourite. Every florist will get a message printed on the ribbon and each one was different and very personal.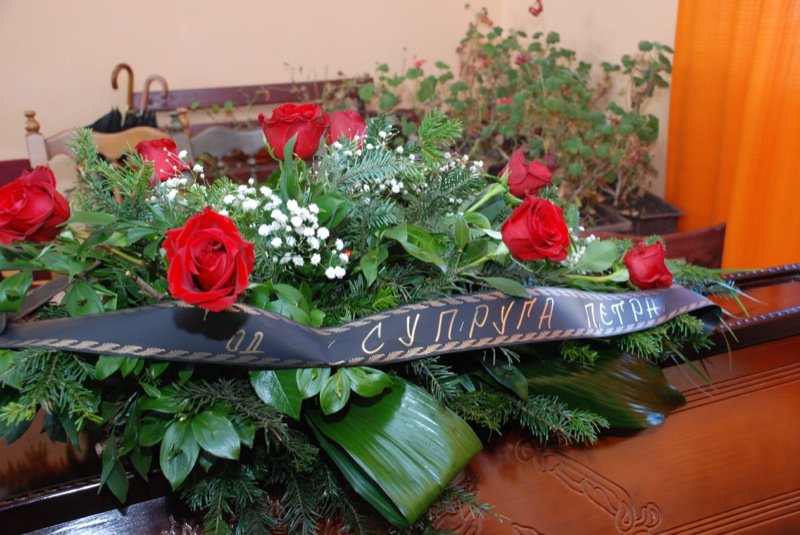 Many gathered below I have met. Some family members I haven't yet met, and then there are the others I will never know. This home is the home her eldest brother, Nikoli built with is own hand. Brick by brick. He built the mould for the bricks. It is in the same spot that the 5 children were relocated to by the Germans in Kozarci during the second world war, and grew up at. It is now Cici's family home.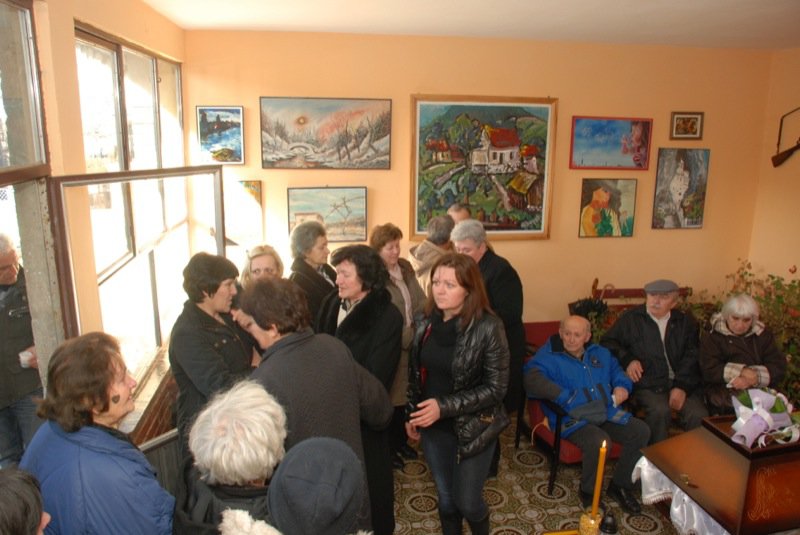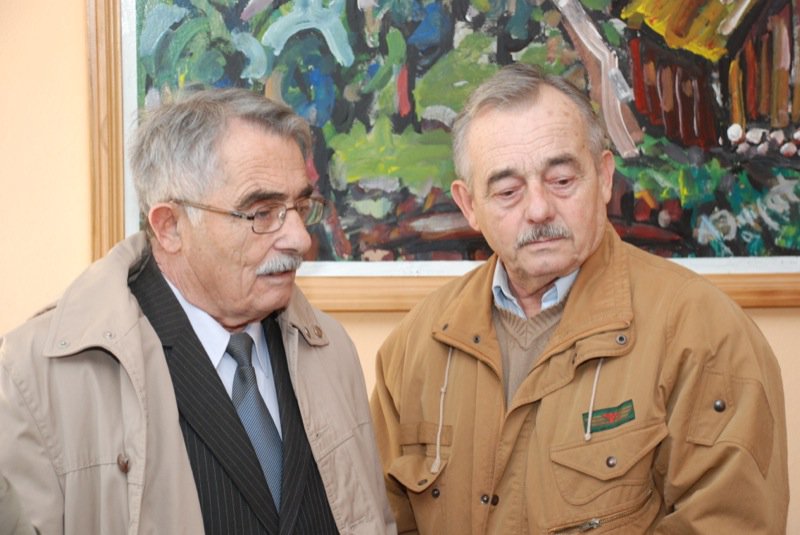 Petar with his brother. He had 3 brothers and one sister. Pava had two sisters and two brothers. Petar is very close to his brothers, too.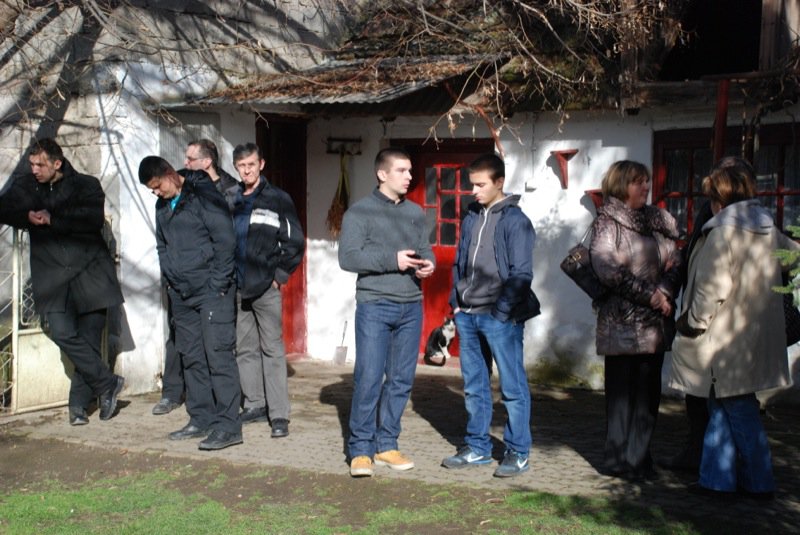 Above are my two nephews, Mario and Vanja (Little Vanja, to us). Funerals are very different here. There is a procession to the grave site. Everyone gathers at the home of the family and then proceeds to the grave by foot. This tradition is hundreds of years old.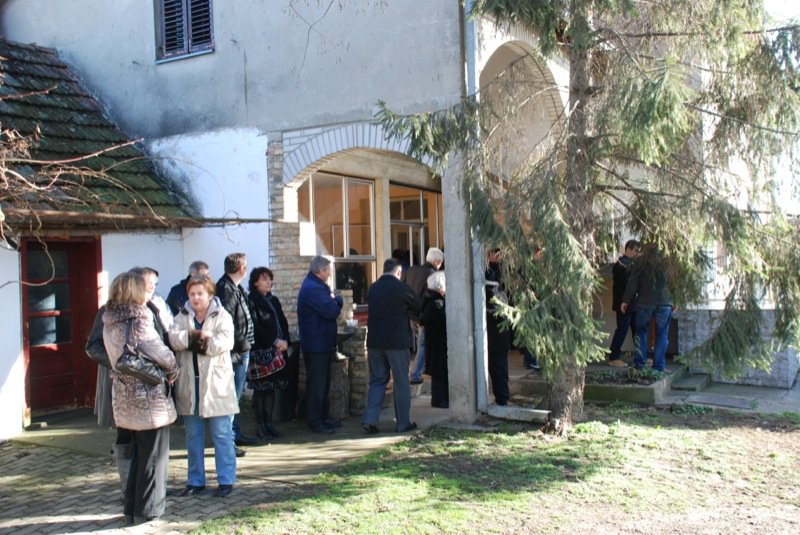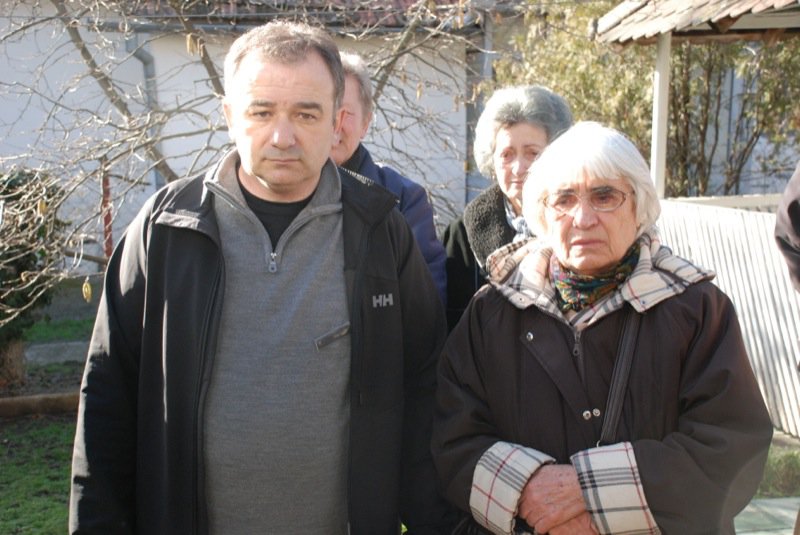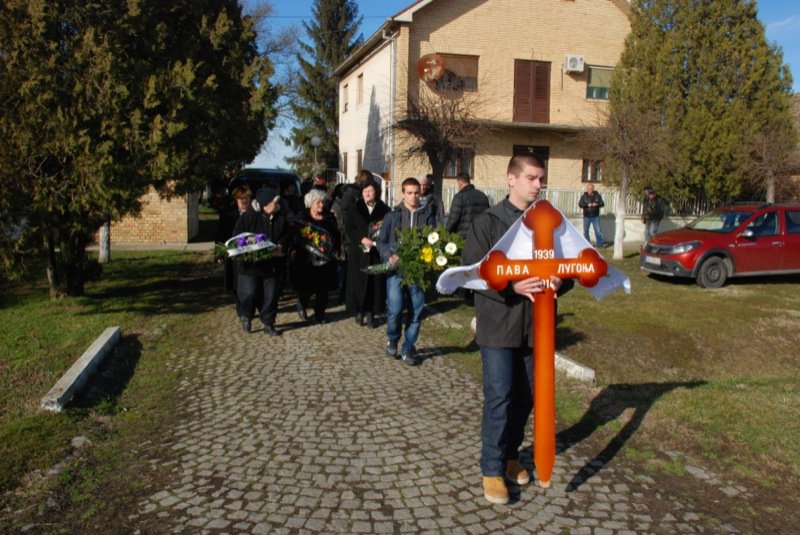 Today, Pava will be driven, Marioleads the procession with her cross. Her name is written in Cyrillic. Do you see Little Vanja following behind his brother?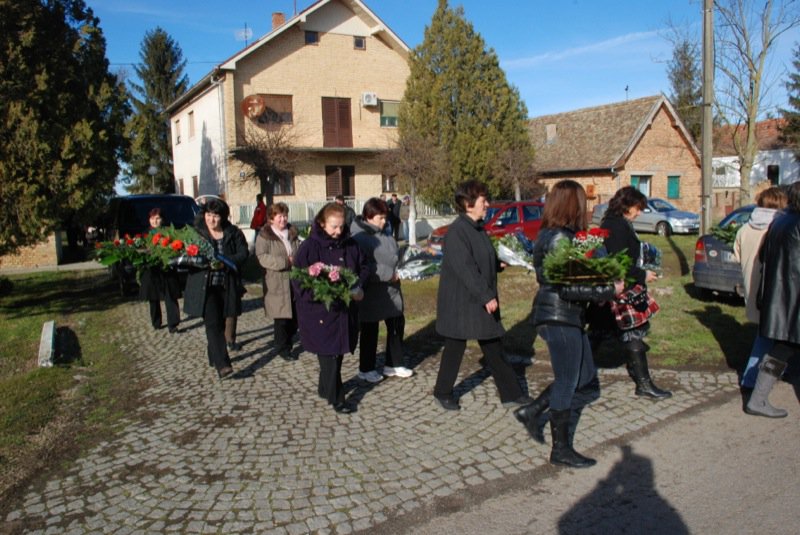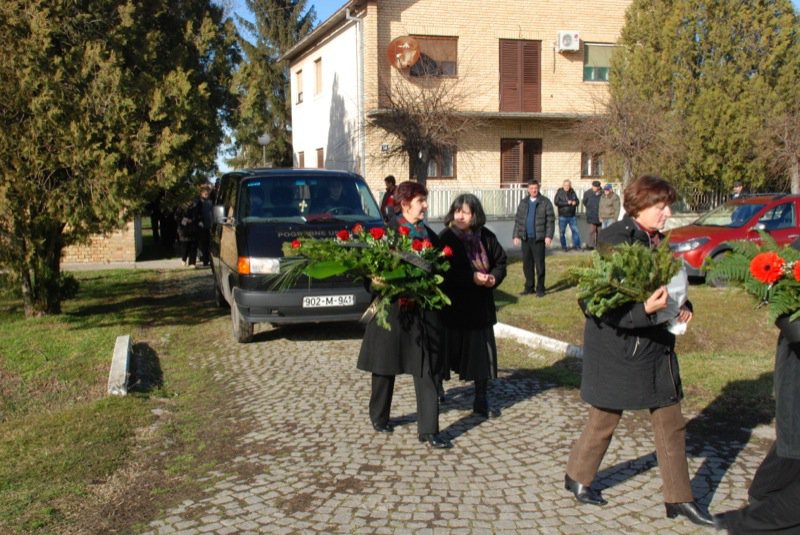 And Pava follows in the hearse, yet it is more like a limousine as there are not hearses there, per se. The family follows, arm in arm, below.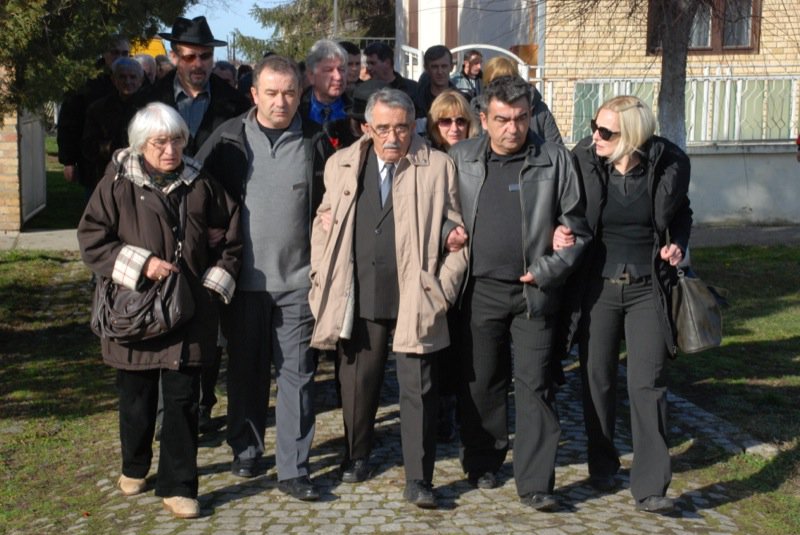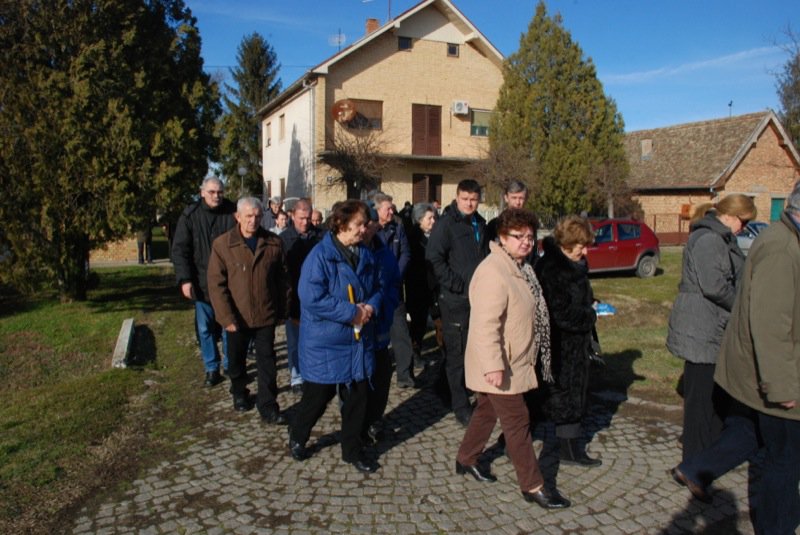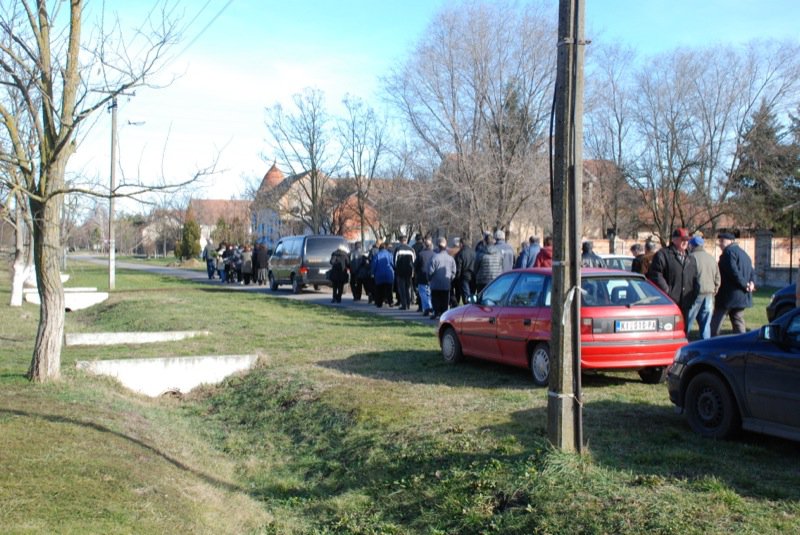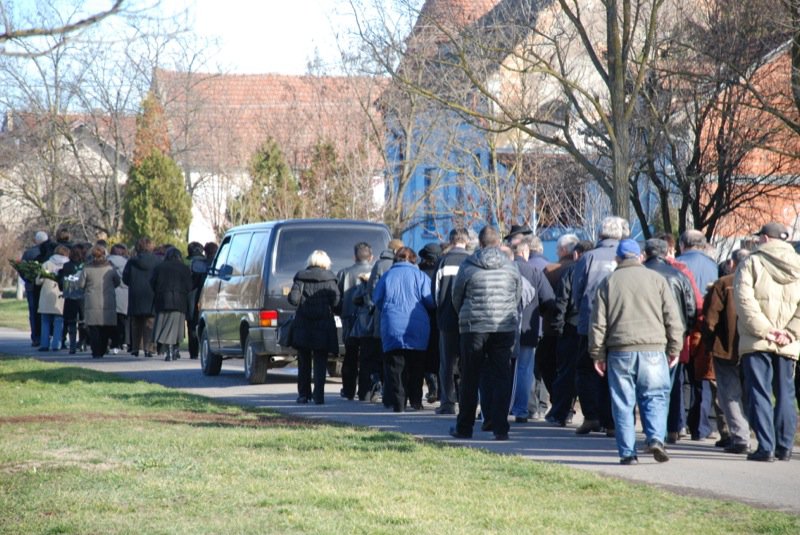 It was a beautiful day. The sky was blue. The sun was warm. Pava would have been so happy to see so many of her old friends and her family. The walk was not too long. She was carried to her special spot beside her dear sister, Zora, and near her brother, Nikola.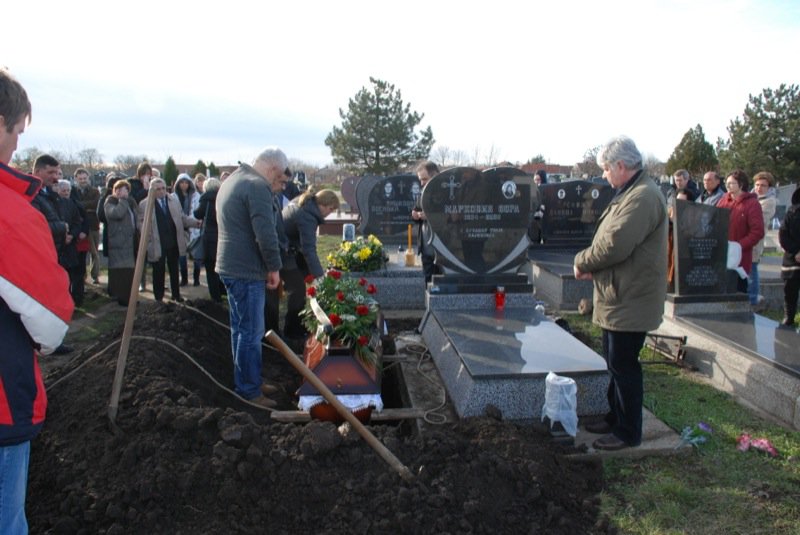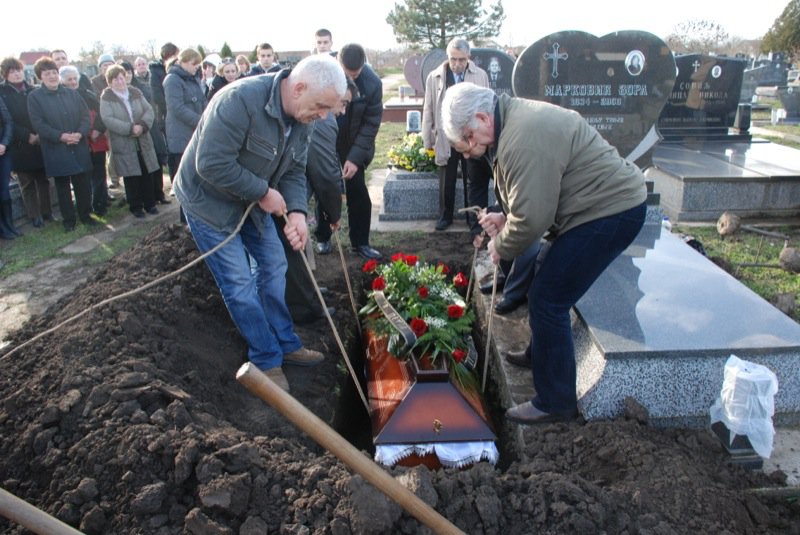 After a brief an poignant ceremony, she was lifted into her last resting place with her beautiful flowers.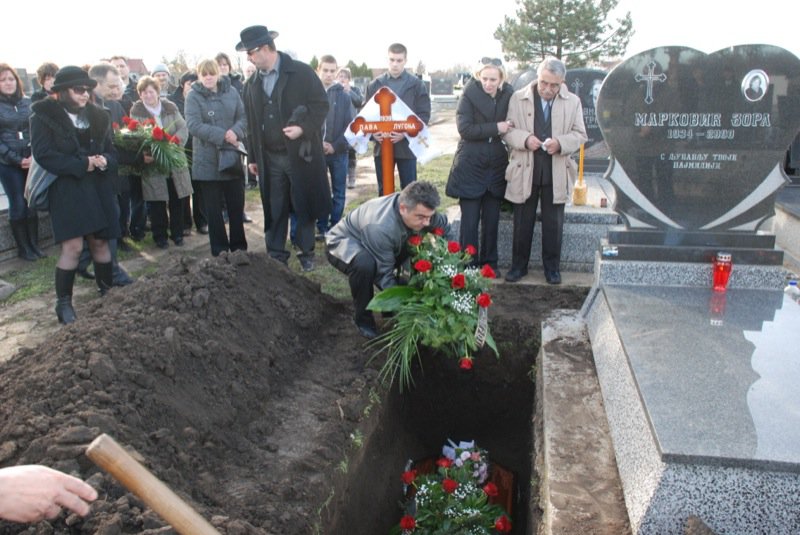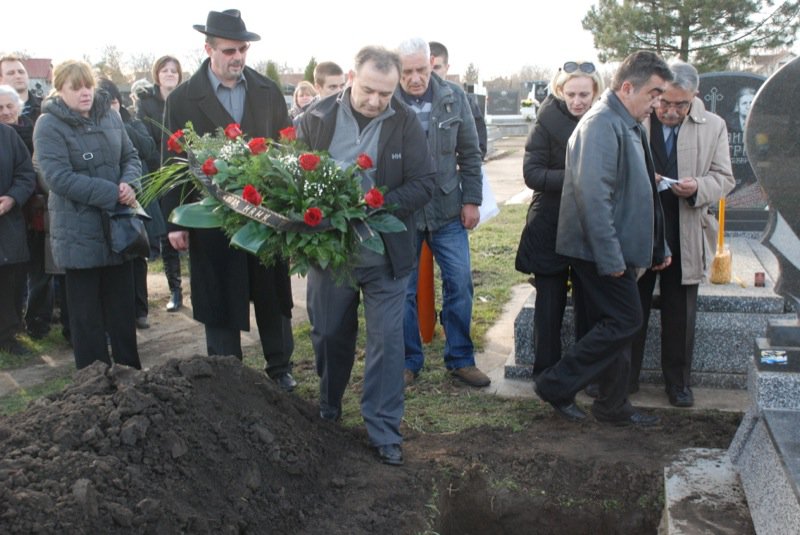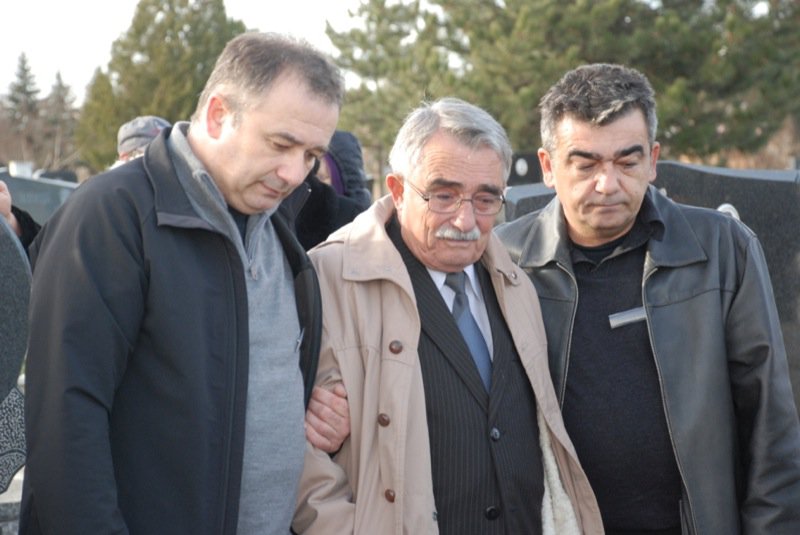 Vanja, Petar and Igor. The tradition of honouring Pava by tossing dirt on her grave ended the ceremony and all found their way back to the luncheon that was offered at the very same place we celebrated their 50th Anniversary not so long ago.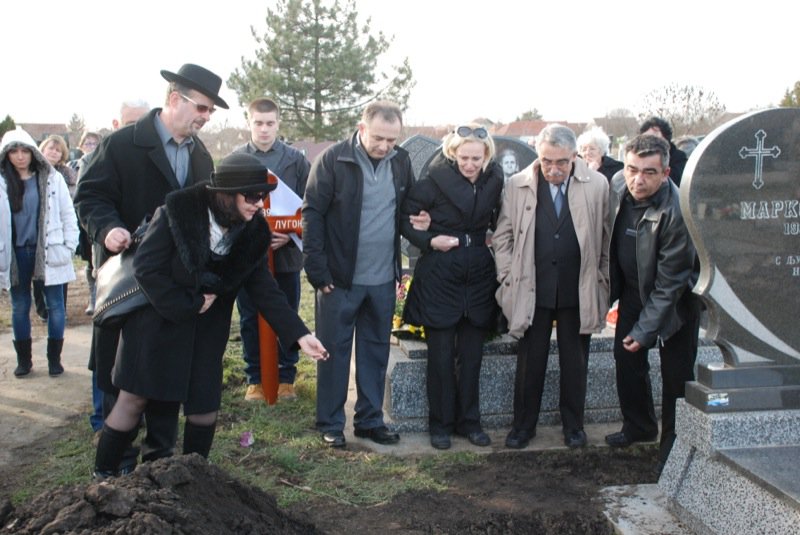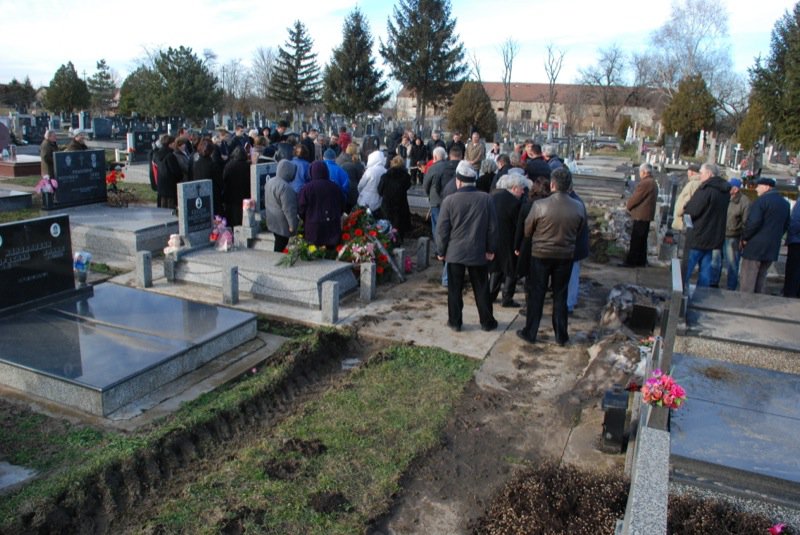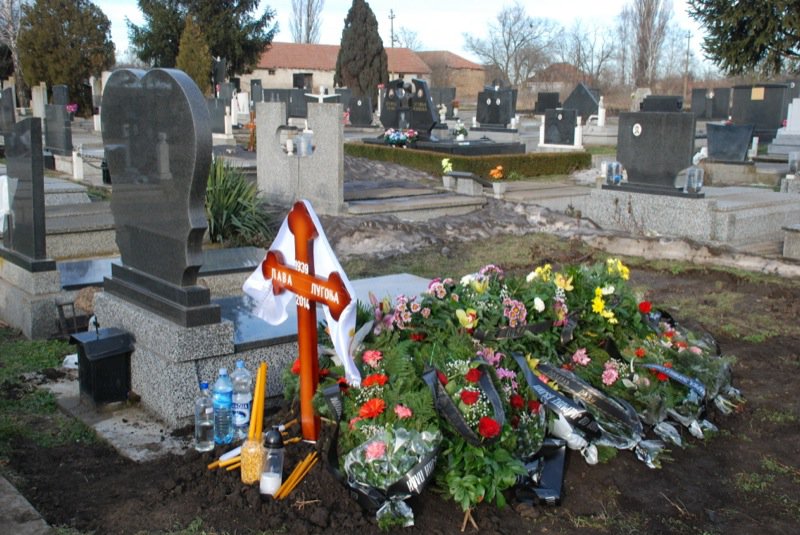 Love ya, Pava. Miss you forever. XOXOXO
(The sljiva, or homemade distilled plum brandy, in bottles left at the grave must be left there, as they were served during the ceremony and cannot be taken back. Pava preferred cherries soaked in hers, but she would not refuse a glass when amongst family and friends celebrating. She taught me how to make that, too.)