Serendipity at The Slow Food in Canada National Pre-Conference Tour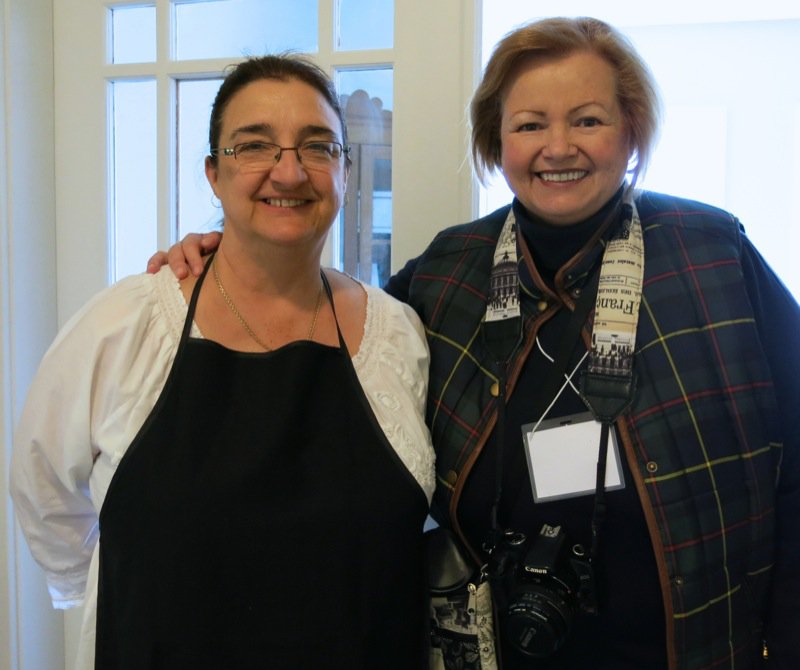 After a morning of fun and frivolity at The Train Station Inn for a delicious, local, homemade breakfast and then to Lismore Sheep Farm, and Waldegrave Organic Cooperative Farm in Tatamagouche, our host, Angus Bonnyman of Bonnyman's Wild Blueberries directed the bus back into town to The Fraser Cultural Centre as he had done a call out to all local artisans and folk artists to share and show their wears during the Slow Food National Conference. I was looking forward to this stop a great deal as folk art is huge in the Atlantic provinces, but particularly in Nova Scotia. Hooked woolen wall hangings and rugs, wood carvings, paintings, ceramics and pottery and just about every kind of art you can think of happens in this area. But this day, there was something extra special. Something serendipitous awaiting at The Fraser Cultural Centre.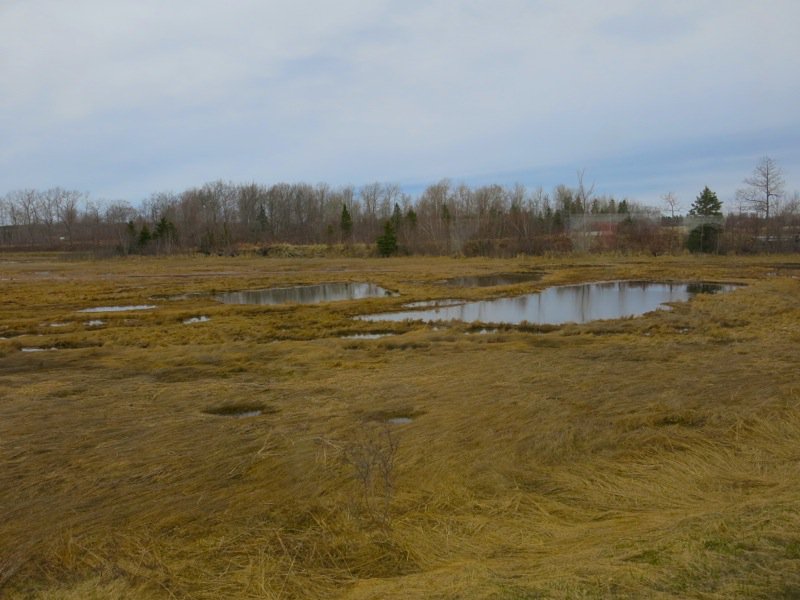 Each aspect of the tour had been edifying and eye-opening. The Waldegrave Farm is a fascinating project and I was kind of wishing we were having lunch there, as I had so many questions and wanted so much more information from Cammie Harbottle wh0 toured us around her market garden. But, on to the art! Yes!
There's our black and white limo and our group unloading and coming into The Fraser Cultural Centre. You will actually see The Train Station Inn in the background straight down the street and Big Al's is just behind the bus where we all had dinner Wednesday evening after arriving. Funny thing… I posted my itinerary on my website April 29 and when I got up in the wee hours of April 30th to catch the plane to the conference, there was an e-mail message from a gal that said, "Welcome to Tatamagouche, Valerie! I hope you have a great time in our town!" What? I have a reader in Tatamagouche. Who would have imagined that? Even more odd, when Angus picked me up to take me to my room the night prior, he said, "You have a reader in Tatamagouche! She's a lovely lady and told me she reads your blog and that you are headed here for our conference." Well, I suppose the town isn't so big, but to have Angus mention this to me was quite remarkable in my little corner of the world.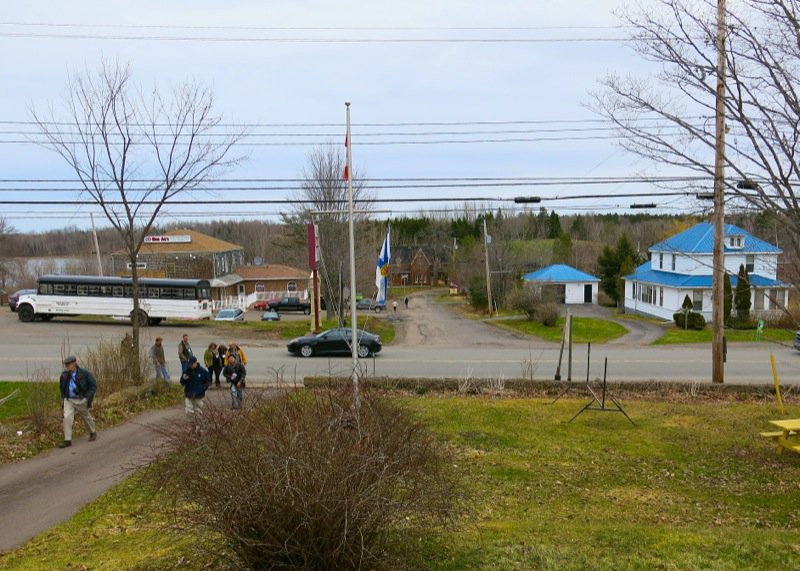 Anyway…. I stepped inside The Fraser Cultural Centre and immediately my eyes fell upon two quirkly clay characters that I was instantly drawn to. Folk Art! And I like it! That was easy! I always bring home art and food. Oh, and special baking pans or the like. And here were two adorable characters with quite a sense of humor. The mouse was serving up cat for dinner!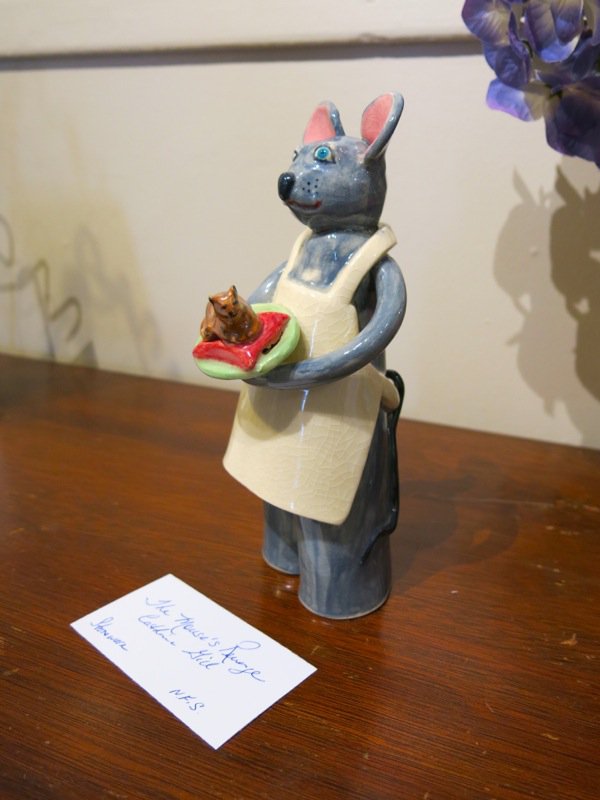 Can you see the N.F.S. on the card above? Yup. Not. For. Sale. Geesh! Ah, well – there was an entire centre to investigate!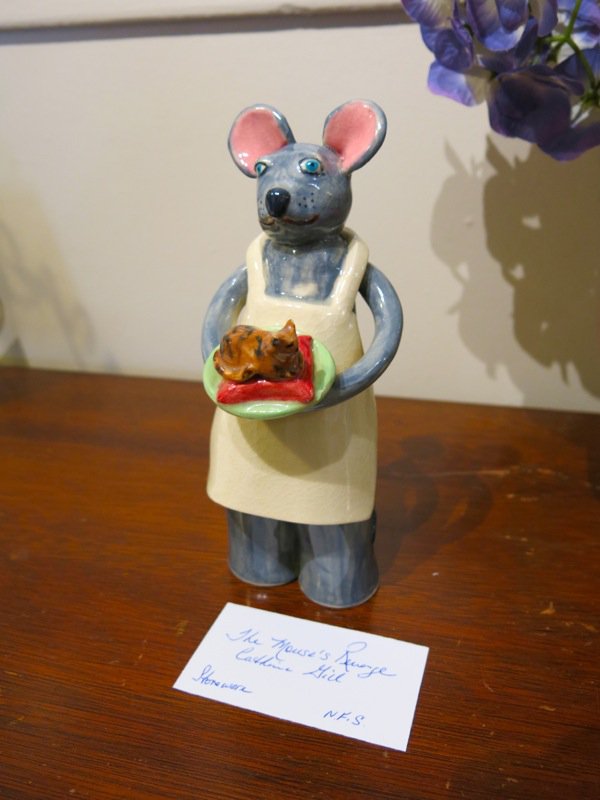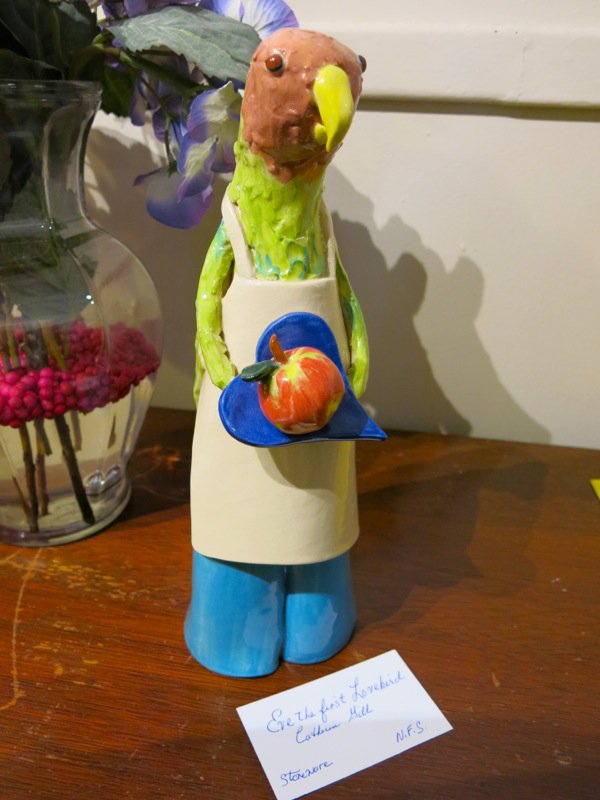 "Valerie! Valerie!" I turned and saw the welcoming smile and she said, "I'm Catherine Gill!" Now, is that not a story? Yes? This is the gal that had sent me the e-mail that reads my blog from Tatamagouche, and here she was volunteering at the lunch event! Unbelievable! She found me when she was looking for some rhubarb recipes and I am happy to report has stuck around, since!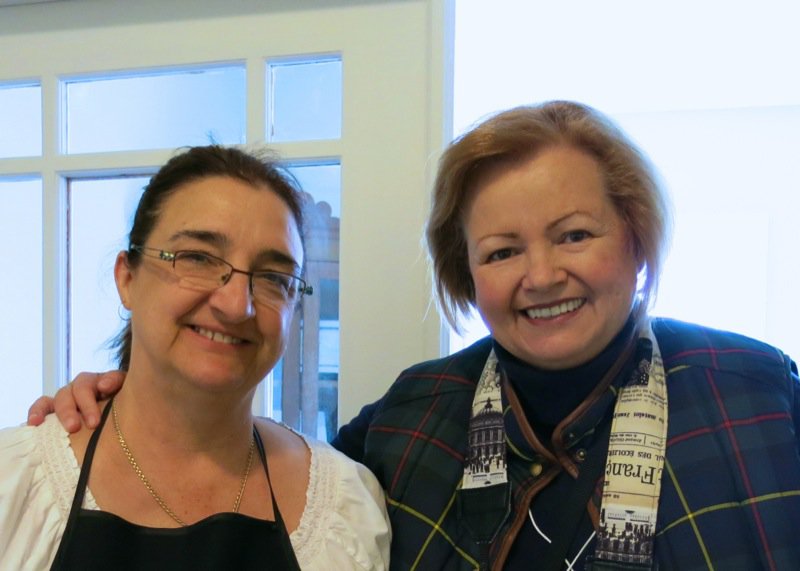 We hugged, chatted, and then parted ways for a bit. I needed to find who made the clay characters and talk them into being for sale.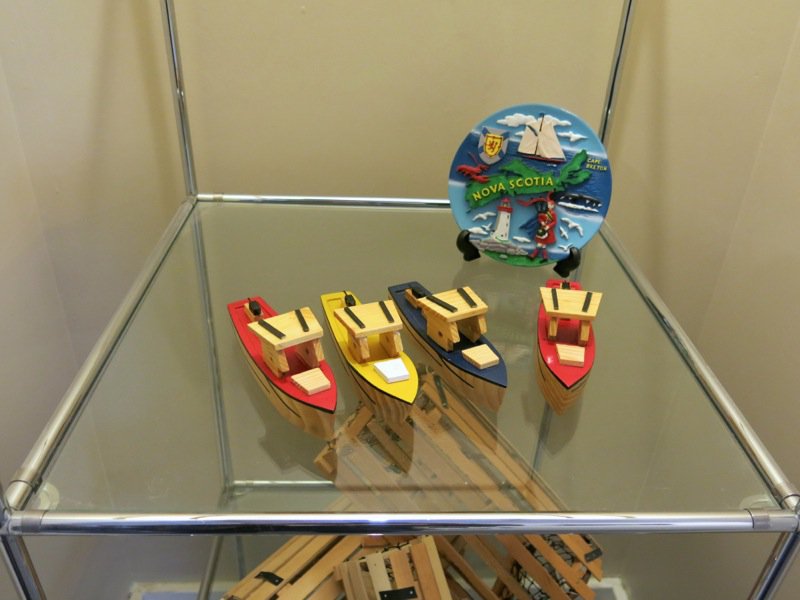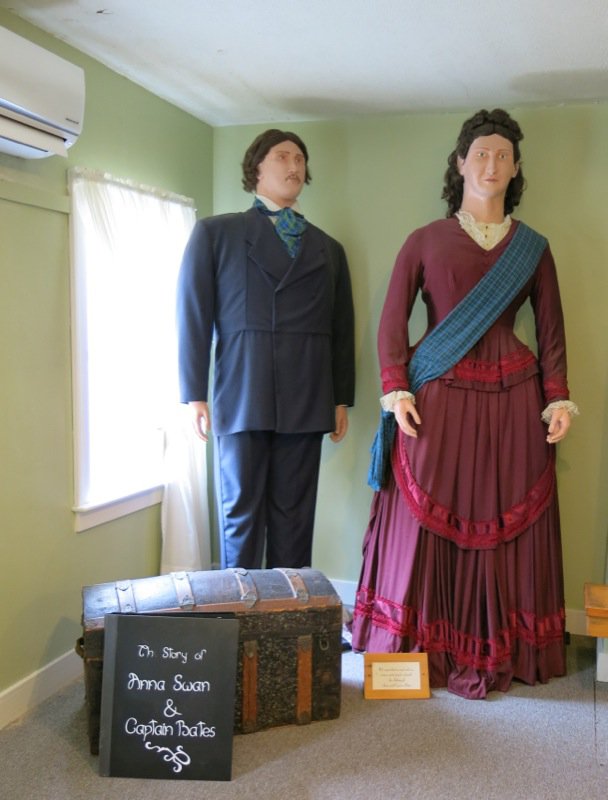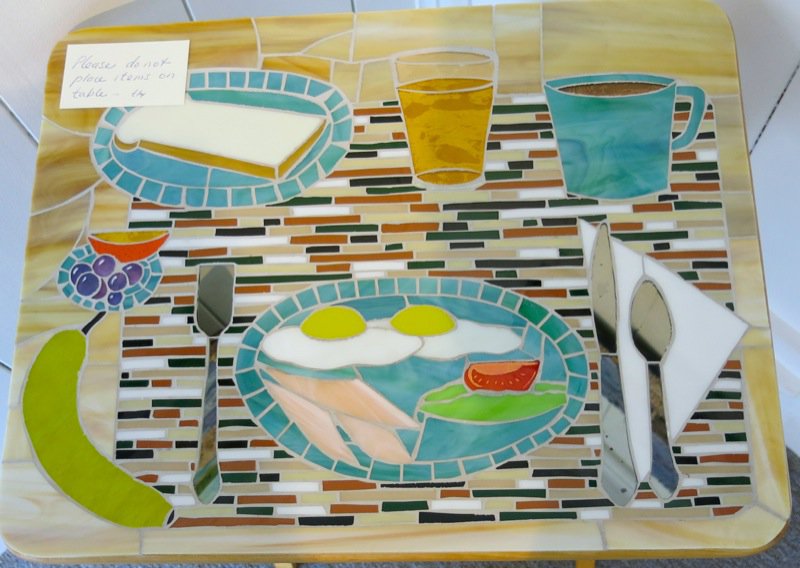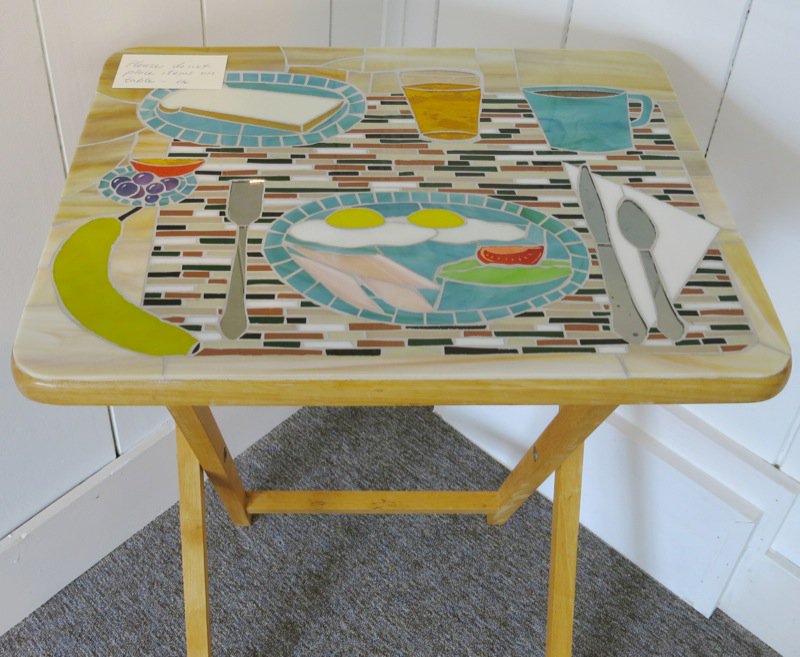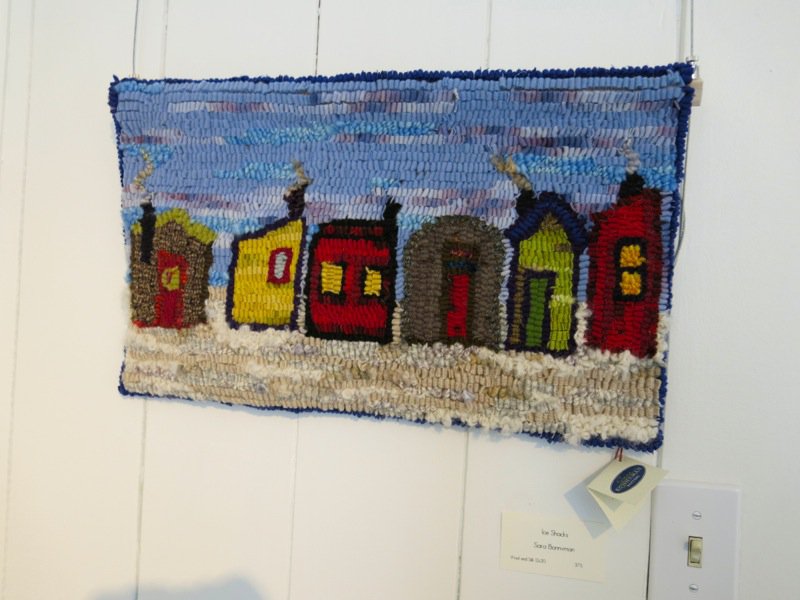 This was another surprise for me. Angus's mother, Sarah Bonnyman is famous throughout Nova Scotia for her pottery and artwork. This is one of her pieces as is the bean pot, below. I became completely enamoured with rug hooking after visiting Deanne Fitzpatrick's store in Amherst. Believe me, I am hooked.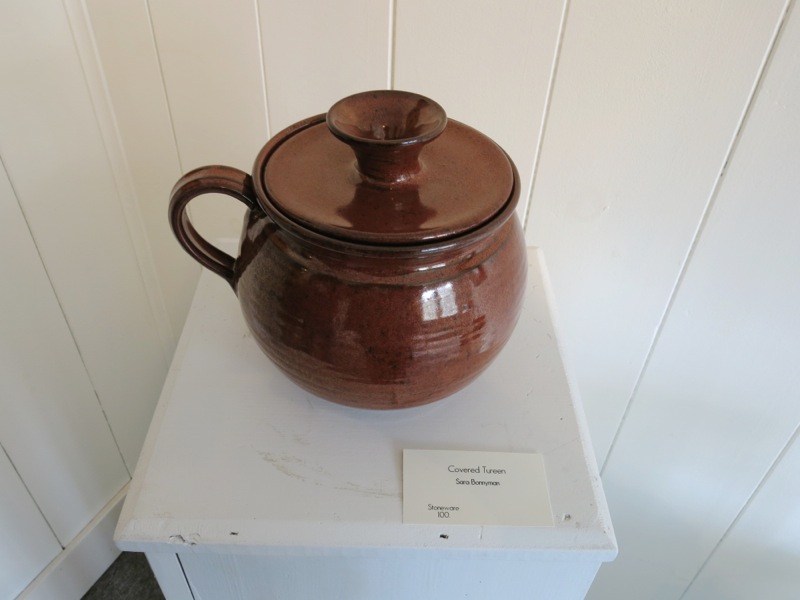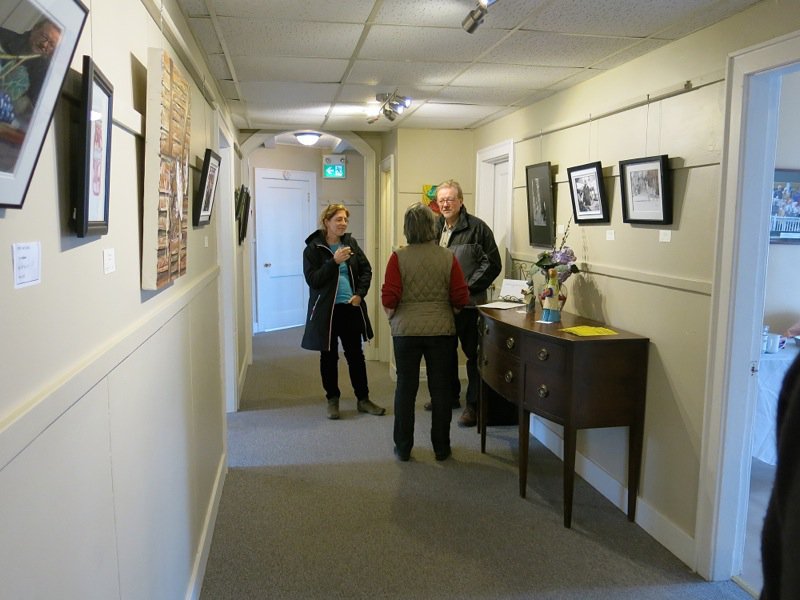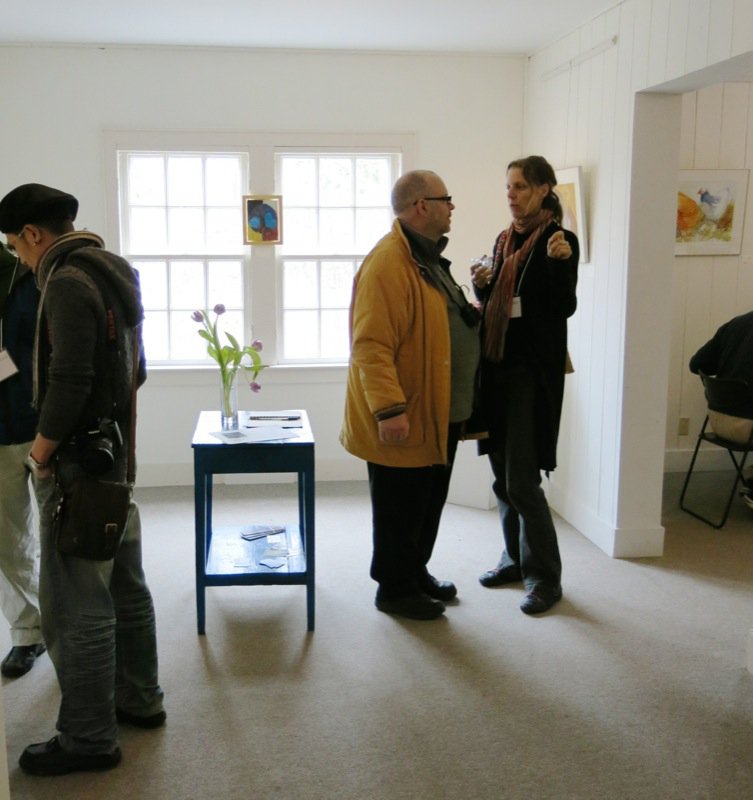 While we were all meandering and visiting and sipping the most delicious punch, one of the gals came back to me and told me who the artist was who did the clay characters. Yup. None other than Catherine Gill. Seriously.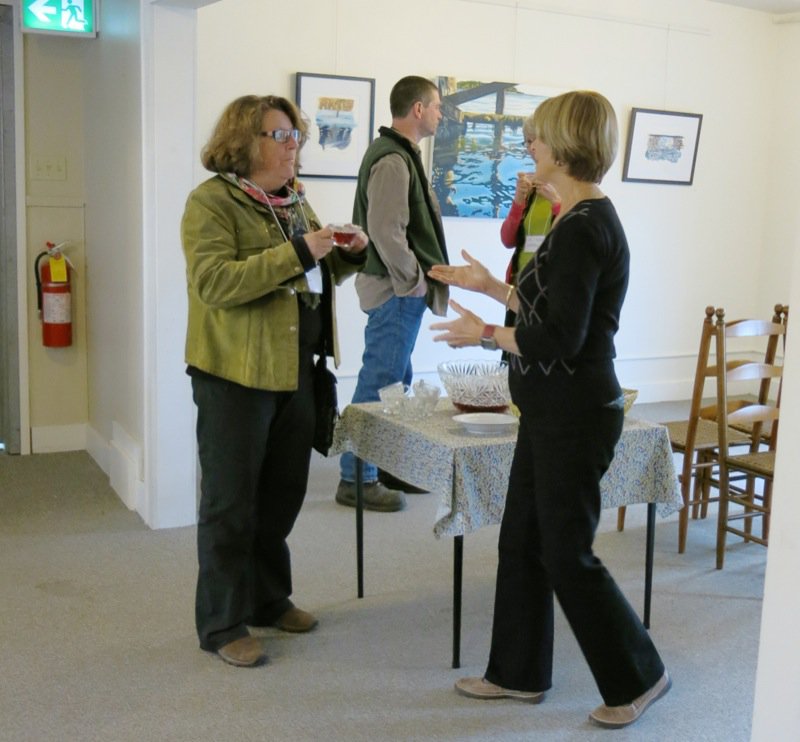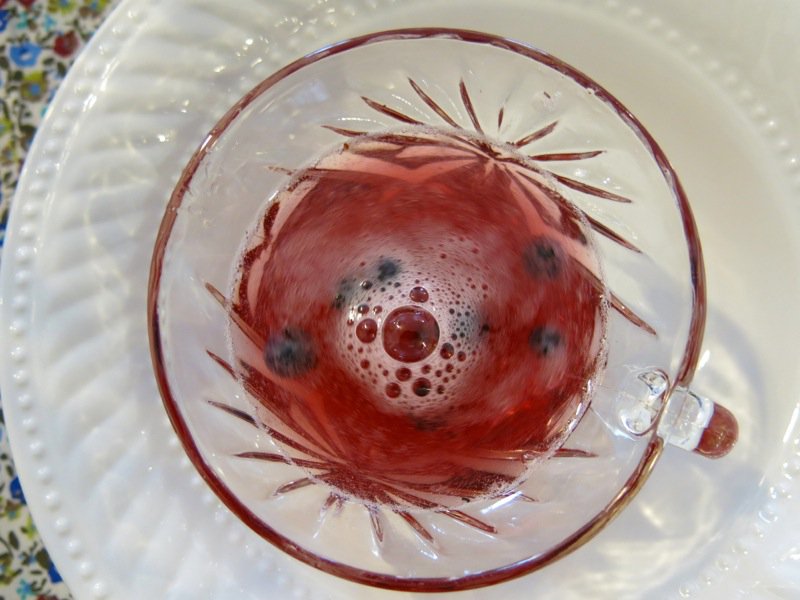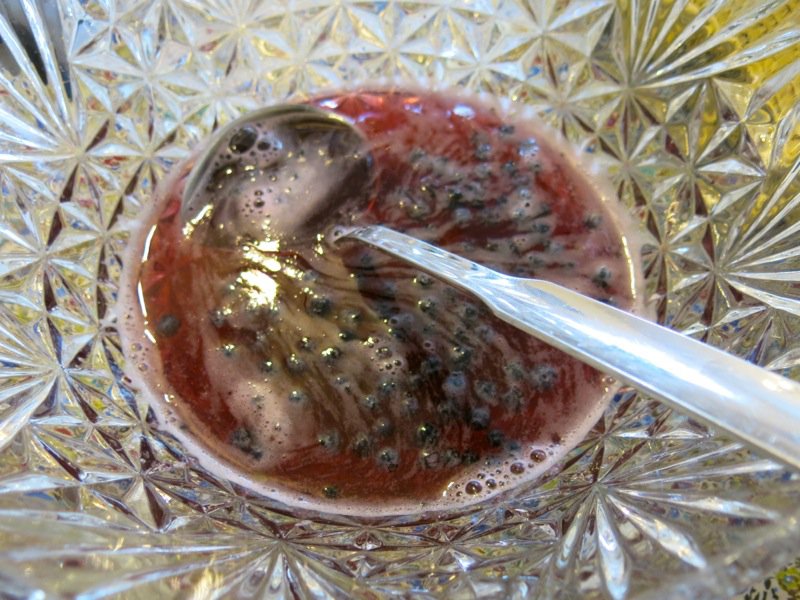 Below, right, she is serving a Fish Chowder lunch made for us by The Train Station Inn. And I didn't even have to ask… but I may have, but she did sell me the little mouse. I was so tickled. I am still traveling. Today is Day 13 and we are in the Halifax airport waiting for our flight to St. John's, Newfoundland: little mouse in carry on bag.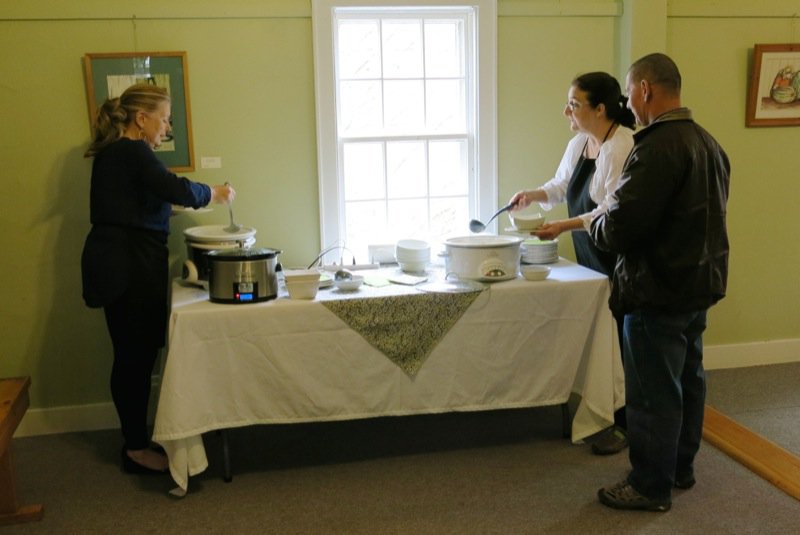 This was my first fish chowder. Clam chowder was a staple when growing up and I still love it. But fish chowder? What is that? I did learn that it is different than Seafood Chowder, as that includes shellfish. Both are delicious and made like clam chowder… but everywhere you have it, each is as vastly different as they are similar.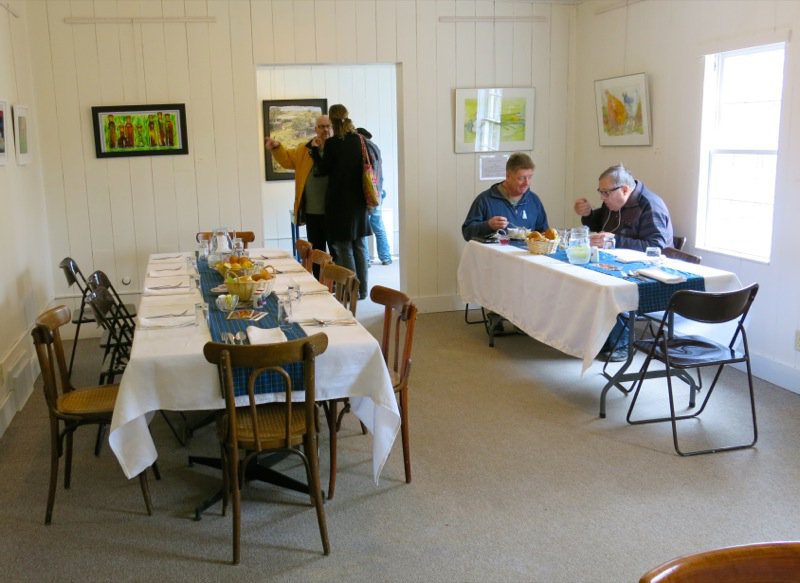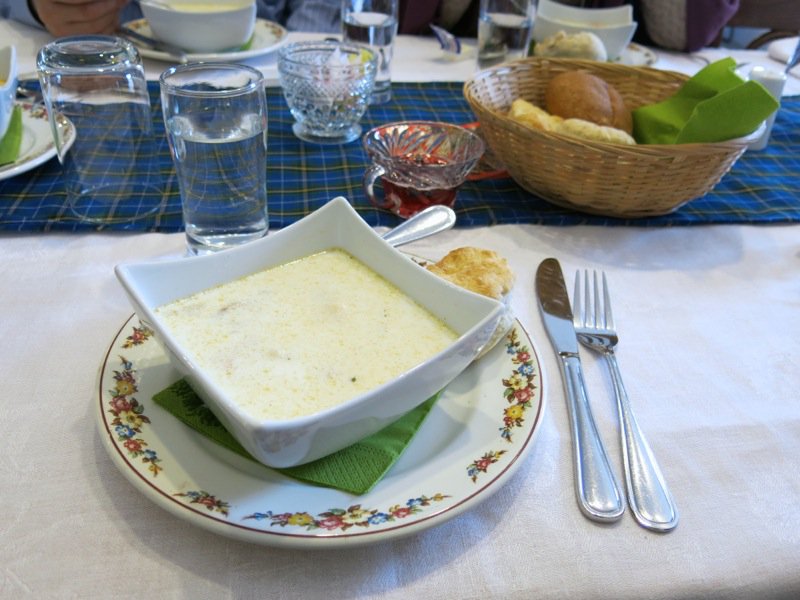 Biscuits are big. At this meal, I just thought they were a lovely accompaniment to the chowder. But, no. They are served everywhere with everything. Buns are not served as they are in Alberta. It is biscuits. And, I love them, so no complaints from me – just surprise. I didn't expect them to be such an integral part of the food culture.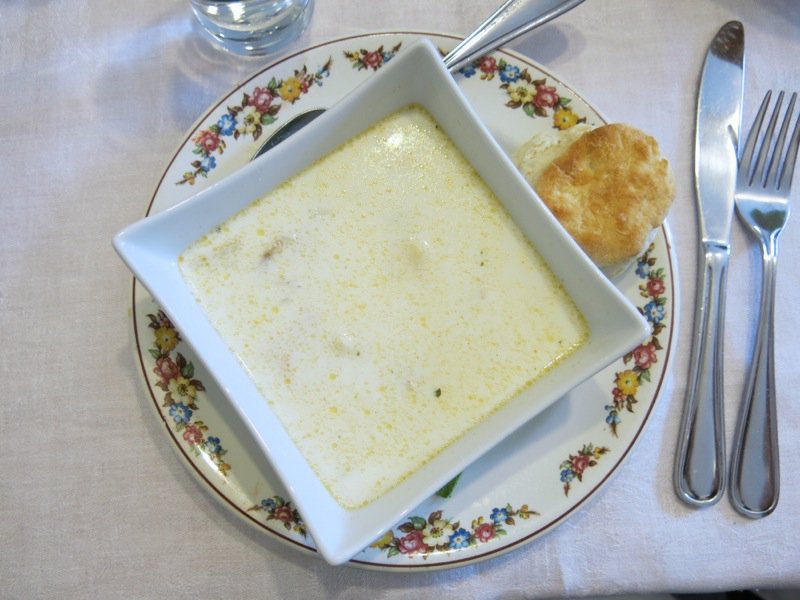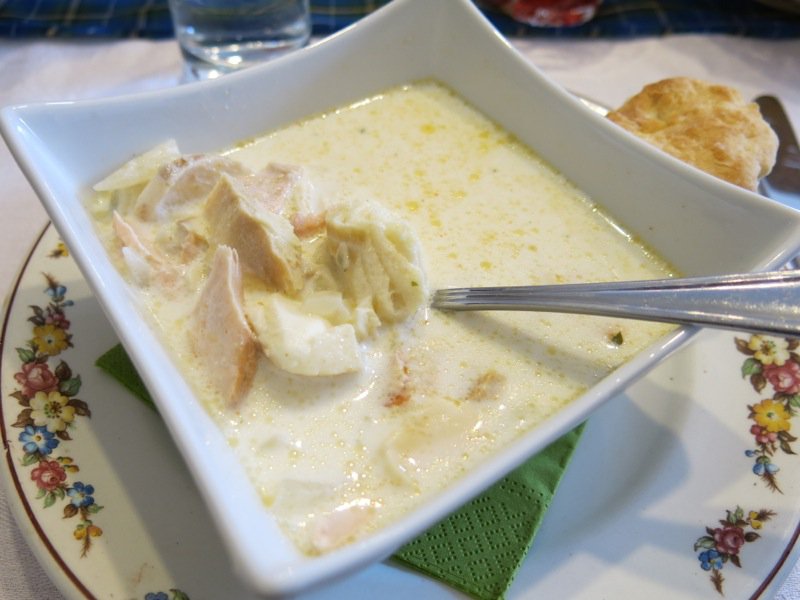 There was no skimping on fish in this chowder. It was a very delicious, satisfying and filling lunch!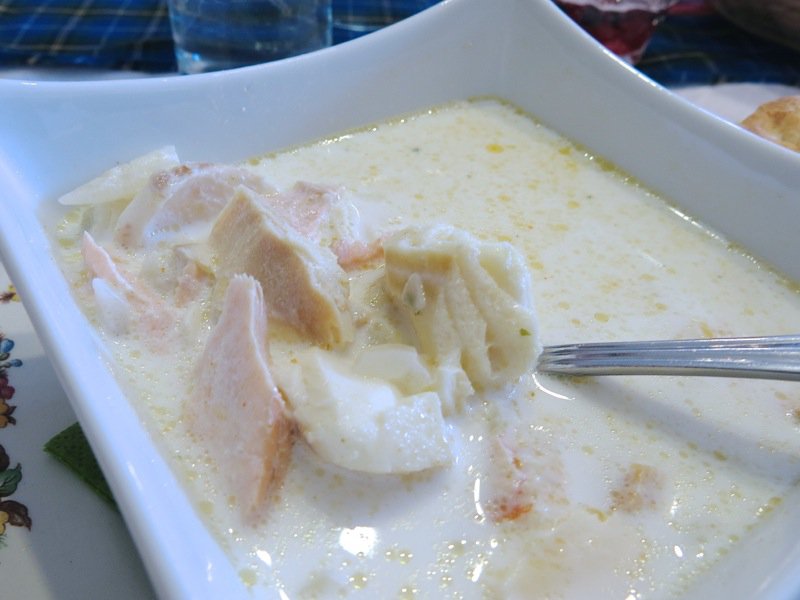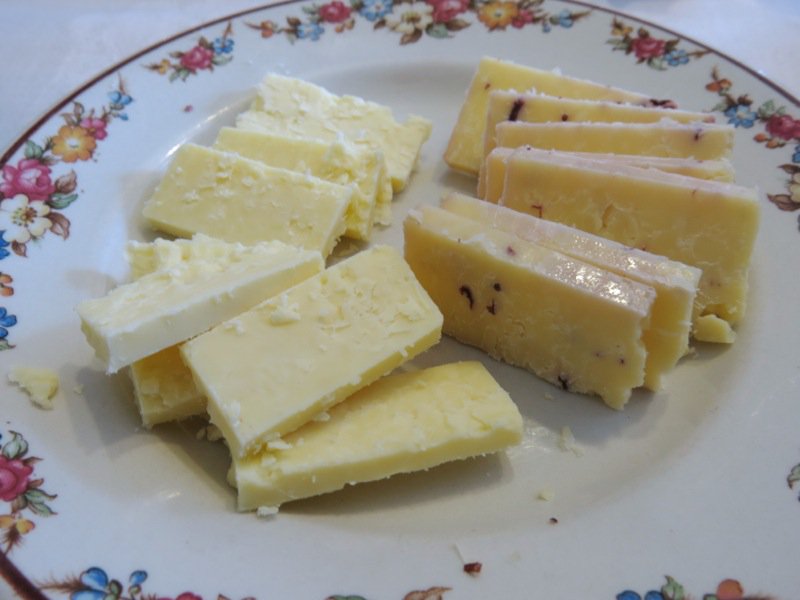 And then the cheese was passed. Well, you know me and cheese. Mmmm, Mmmm, They were both delicious, but my palate had me convinced the one on the right contained blueberries. They were cranberries, I learned later. Local cranberries. I had never tasted such flavourful cranberries. And, lucky me, I was gifted some by the cheese maker I met later this evening at dinner. Oh, yes. There was dinner, too. At the Jost Winery. More about that, later…. but take note of this cheese!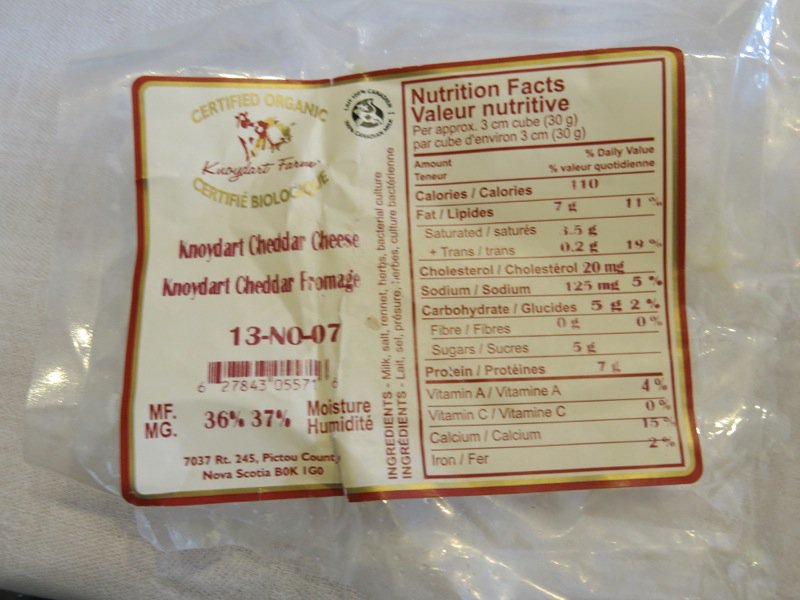 And for dessert? Blueberries was expected, and Blueberry Crumble was perfect. Perfect. Bonnyman berries and an absolutely delicious dessert. Not too sweet. Simply luscious. At this time, I didn't know this would be the first of about 6 more Blueberry Crumbles. I will say, I never tired of them. Not one bit!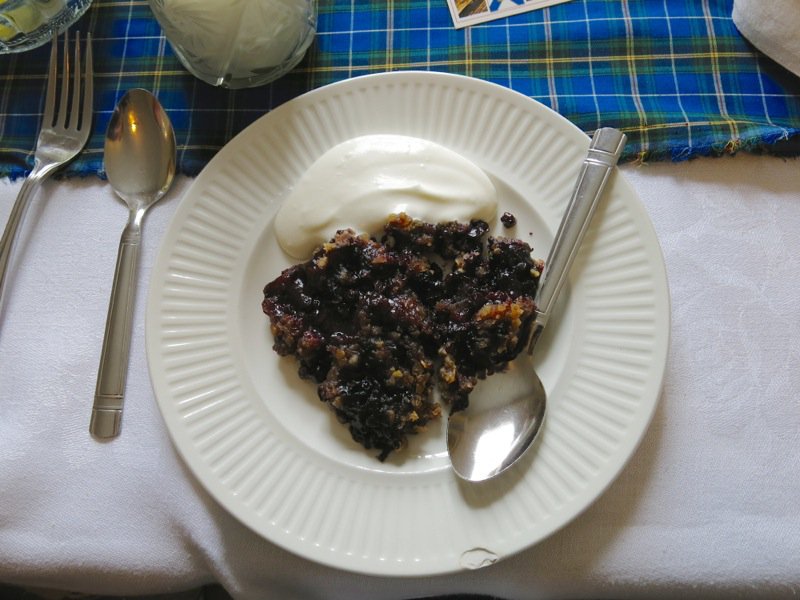 I did so want to dig into one blueberry pie while in Wild Blueberry Country – but even in Amhurst, they told me, "No one will make a pie with frozen blueberries to sell in a restaurant! Only the freshest of berries! Come in August!" Ah, well. I would make a pie with frozen blueberries and it would be delicious. We still have two days back in Halifax, and you know I will have my wild blueberry nose out for a slice of pie!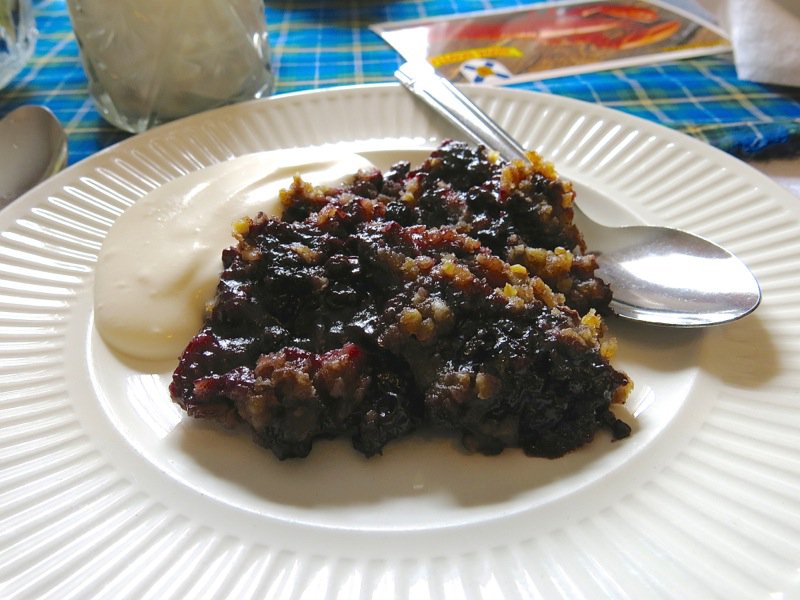 Can't you just taste it? Believe me when I tell you, we were well taken care of this conference!