A perfect solution for the imperfect berries you don't want to pit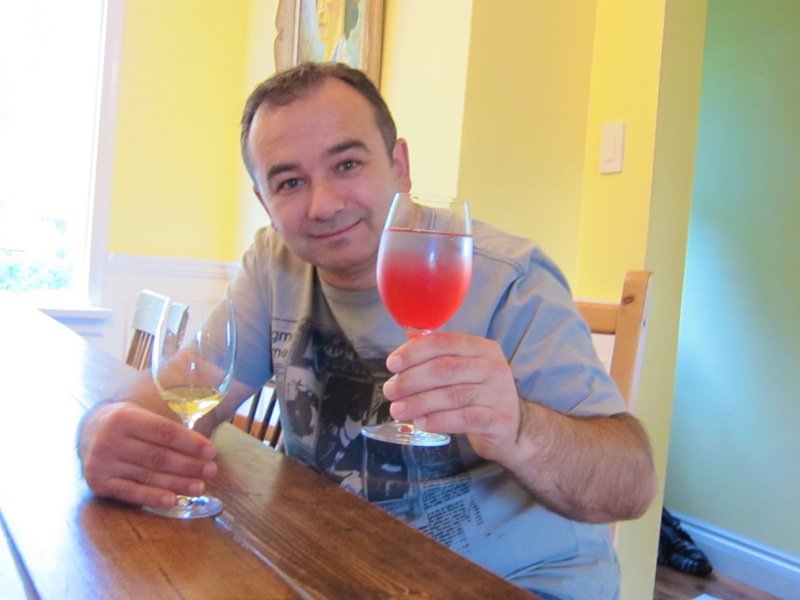 Of course, I have an even tastier solution for berries you don't want to pit: Sour Cherry Liqueur (made exactly the same way as my pommette)! Oh my! With my abundant crop last year, we made enough for a few centuries and still had cherries to last the winter and give away. Making juice or syrup is another option that makes such wonderful treats.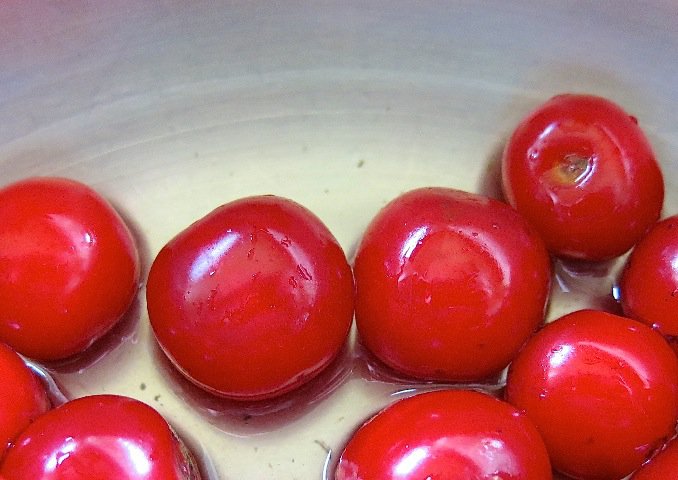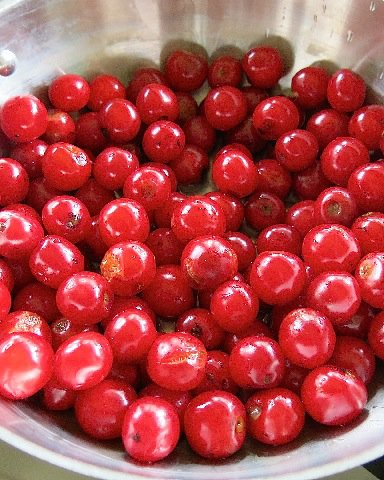 Making a small batch is so simple, it is almost embarrassing. Simply wash and clean the cherries, put a skiff of water in the bottom of the pan, and heat until the skins burst.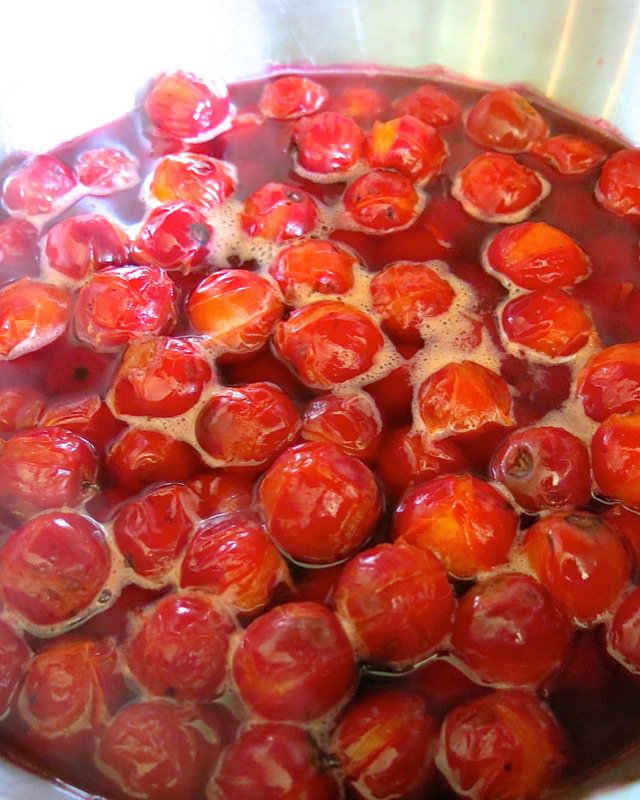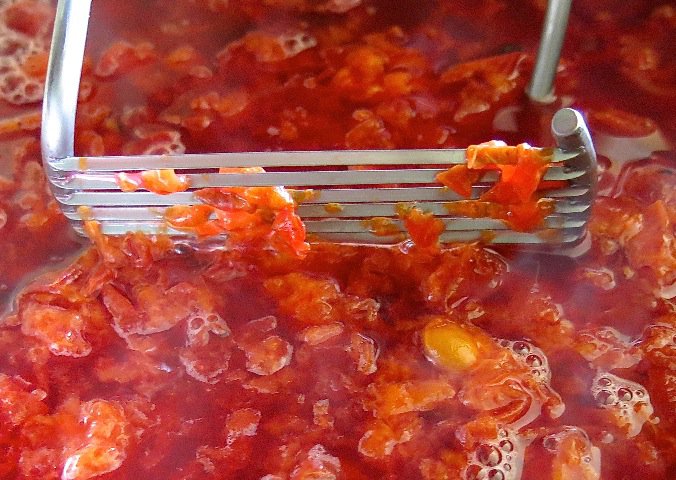 Help the concoction along by mashing the fruit, then simply strain.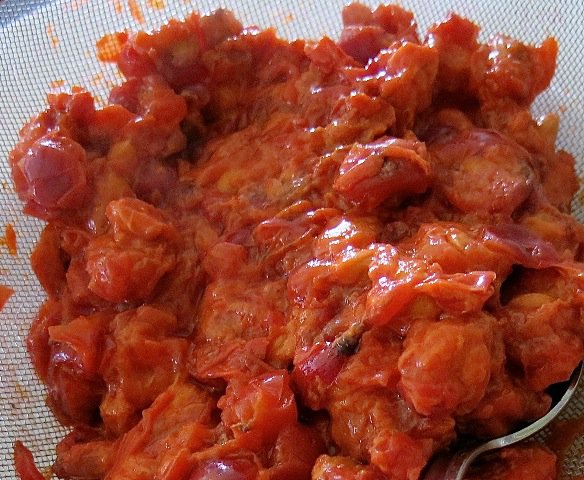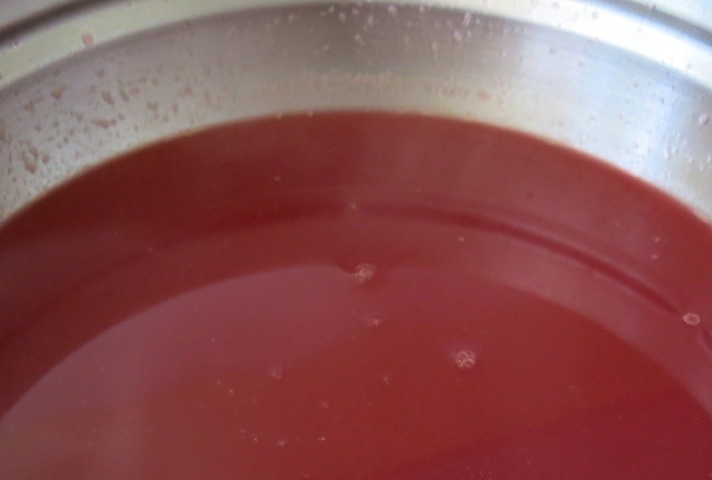 Voila! Cherry Juice. That simple. If you want is exceptionally clear, strain again with cheese cloth. Freeze in ziplock bags, or preserve in jars according to proper preserving instructions. I freeze mine flat, on cookie sheets. They are easy to stack and use and about 2 cups fits into each bag. YUM!. No specialized equipment necessary for a small batch. Can be made with fresh or frozen berries, but the whole idea is to not pit the cherries, right!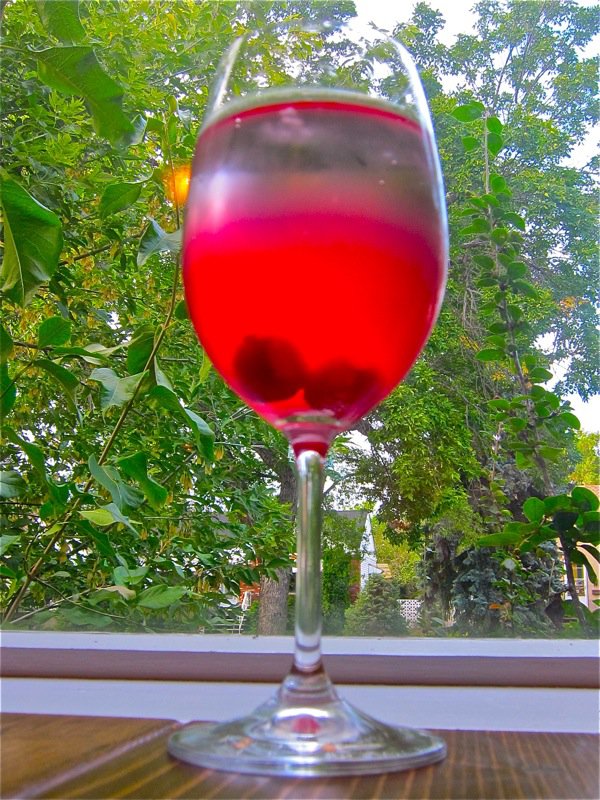 Above is a cherry juice mixed with soda for a refreshing pucker up spritzer.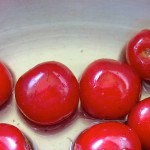 Sour Cherry Juice
2014 is the time to make Sour Cherry Juice is you have not done so before: easy, delicious, nutritious, economical and brilliant versatility in the pantry.
Ingredients
Fresh sour cherries

, washed but not pitted

Water to cover bottom of pan
Instructions
In a heavy pan that will hold your cherries, place enough water to cover the bottom of the pan, and up to one inch high if the pot will be full

Place washed freshly plucked cherries in the heavy pot with the water in it

Heat to medium high, until the water steams, the cherry skins split and emit their juices; turn heat down immediately

Mash berries into their juice

Strain into a sieve immediately, and cool

Once juice is cooled, if you want a clean liquid, strain again through a cheesecloth

Freeze, or preserve in sterilized jars
Recipe Notes
The preparation time would be about 10 minutes for a litre of cherries and the cooking time would be about 5 minutes for that amount of cherries; their will be about a 2 cup yield of juice