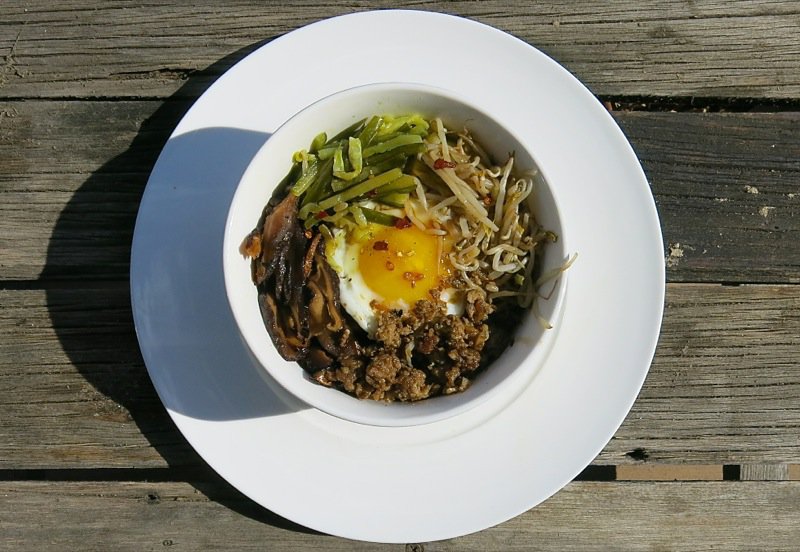 Hands up. Who has eaten Bibimbap? Not I (until now). I had heard the word, but never laid eyes on the dish. Knew I really enjoyed the Korean flavours I have eaten, and was certainly looking forward to cooking a three course Korean meal from Chef Butler. The Bibimbap was the main dish. Reading the recipe and seeing images on my google search did not build confidence within that this was going to taste like anything close to Bulgogi or Dak galbi. I could not wrap my head around it. I was intrigued as I received a box from The Chef Butler which I have explained and highly recommend.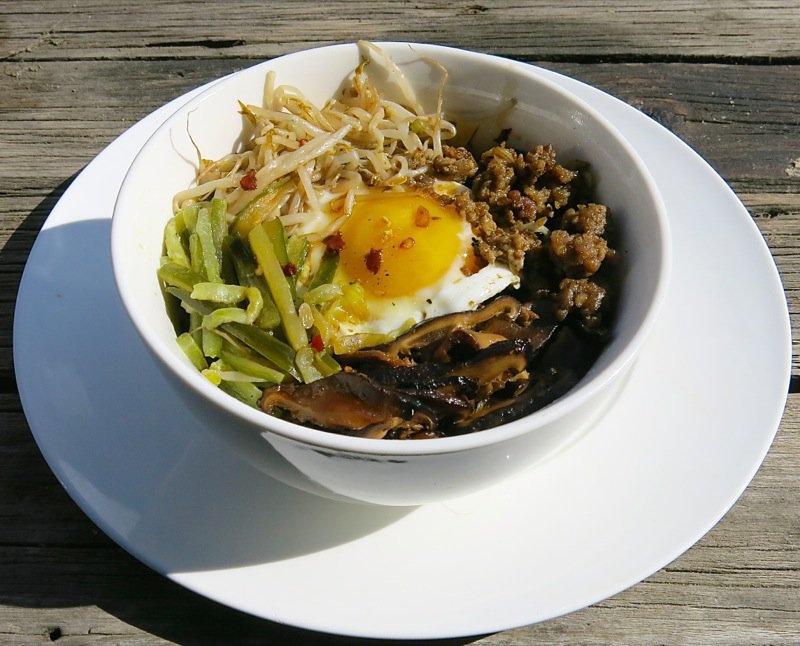 The Chef Butler box includes carefully curated, highest quality non-perishable ingredients for three recipes: a main, an appetizer and usually a small dessert. (This time it was a drink.) Bibimbap is the main course from this month's Korean box. I so appreciate that I contribute the fresh, local ingredients. And not too many of those: one pound of ground beef (from Nature's Green Acres Farms), one cucumber, a pound of Mung Bean Sprouts, Garlic and 4 eggs. How easy is that? Thank you, Chef Butler, for providing me with this new learning experience. Bibimbap iss a gelatinous bowl of sensual textural glory.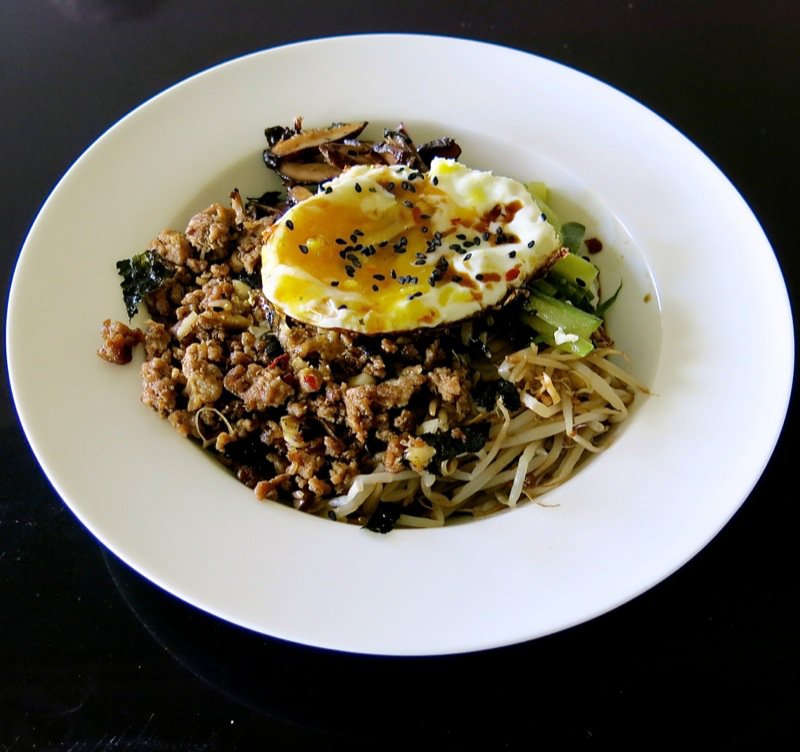 Above was the first dish I plated. You can see I learned to do better! Both tasted just as yummy. Now, Bibimbap is a signature Korean dish. The word literally means "mixed rice". It is served in a bowl with warm white rice topped with a variety of individually sautéed and seasoned vegetables. And egg and beef are the protein additions. It is served hot with toppings decoratively placed over the rice and left to each individual to mix all together just prior to eating. Gochujang, the classic Korean chili pepper paste, is mixed in with it. In Edmonton, the Korean booth at the Old Strathcona Farmer's Market usually has Gochujang, or you can order it from them. They do make it. It will last literally for years.
Vanja and I had the good fortune to have two sets of Korean school teachers staying with us for 6 weeks at a time two years in a row a few years ago via Edmonton Public Schools. These gals taught me so much about cooking Korean food. How I enjoyed cooking from them. I have the most amazing Bulgogi recipe that we all made from scratch – and as I say, we all, I mean me and 6 Korean teachers. Yup. Each one knew "the right way" to make the Bulgogi, so I can only imagine how colourful making Bibimbap would be with that group.
According to Wikipedia, "In Korea, Jeonju, Jinju, and Tongyeong are especially famous for their versions of bibimbap. In 2011, it was listed at number 40 on the World's 50 most delicious foods readers' poll compiled by CNN Travel." That should provide some confidence that this dish is truly sumptuous.
Above, mis en place for the Shitake mushrooms.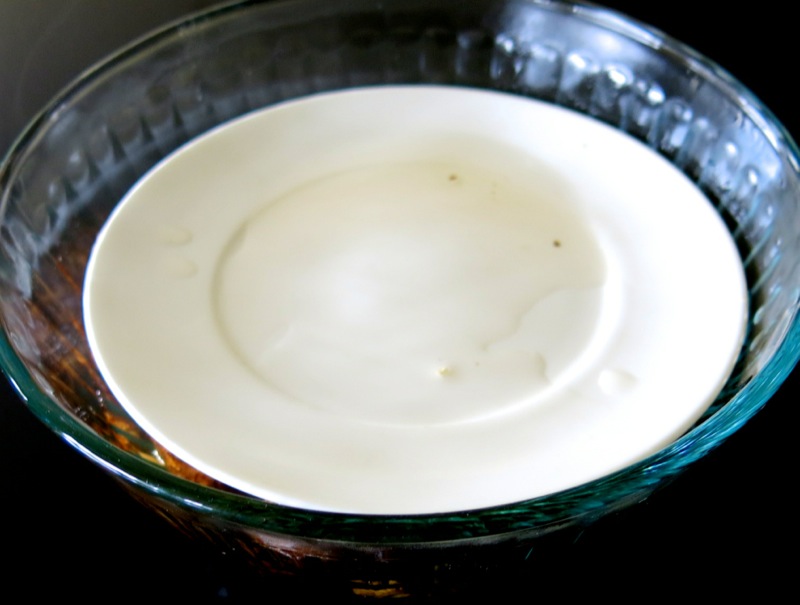 Reconstituted, sliced and sautéed with sugar and soya added at the end.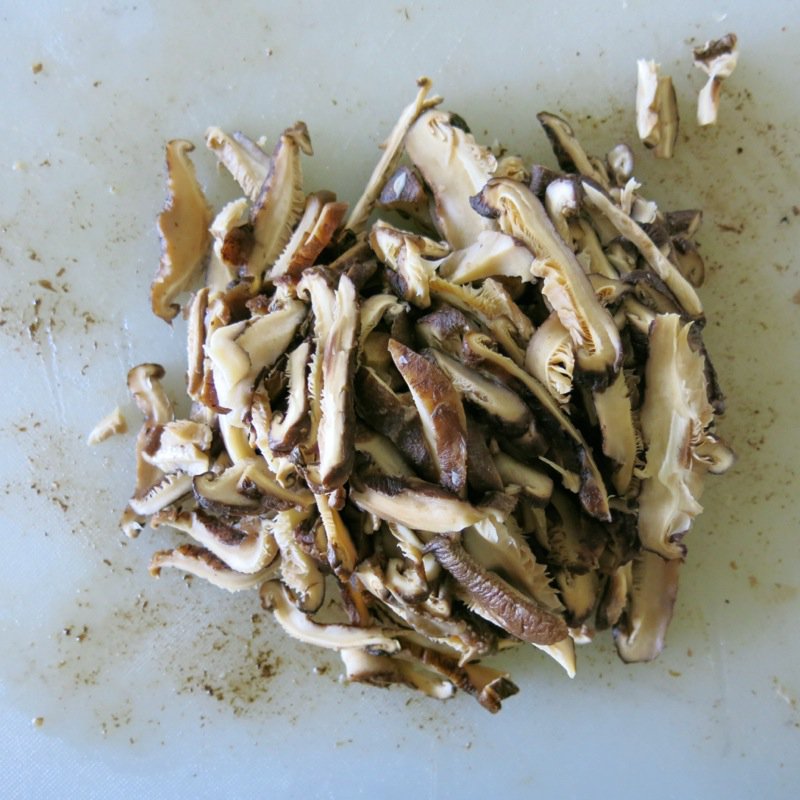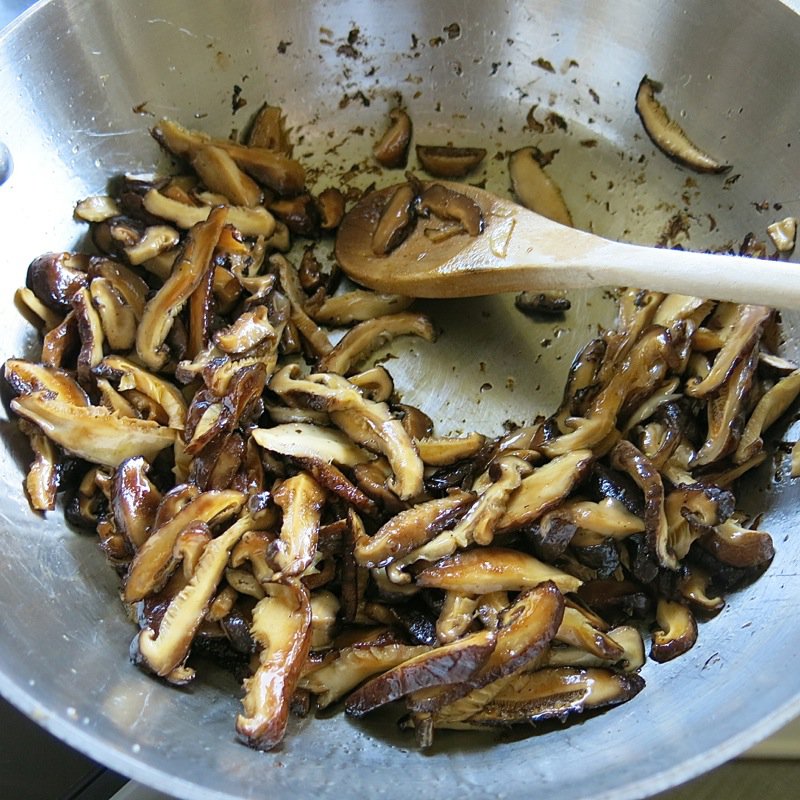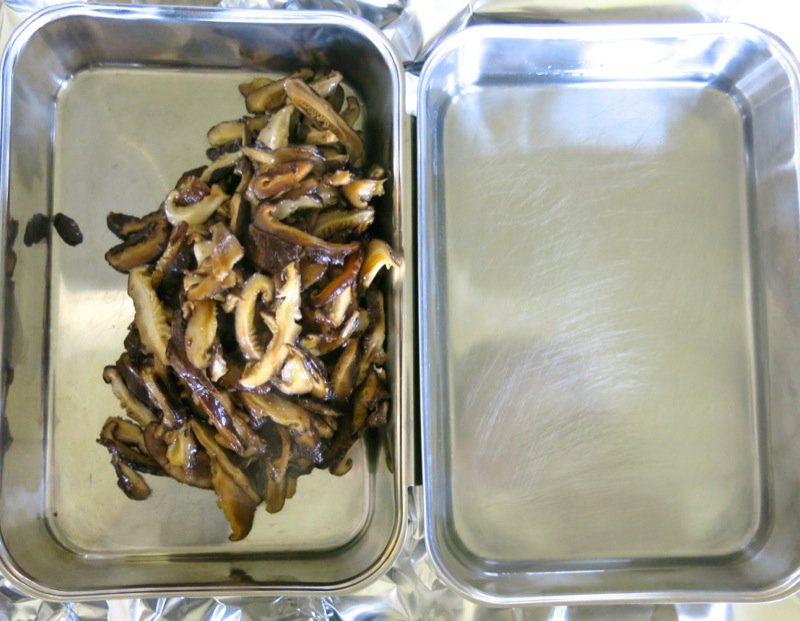 On a tray into a low 300°F oven with some water for moisture, and onto the next vegetable.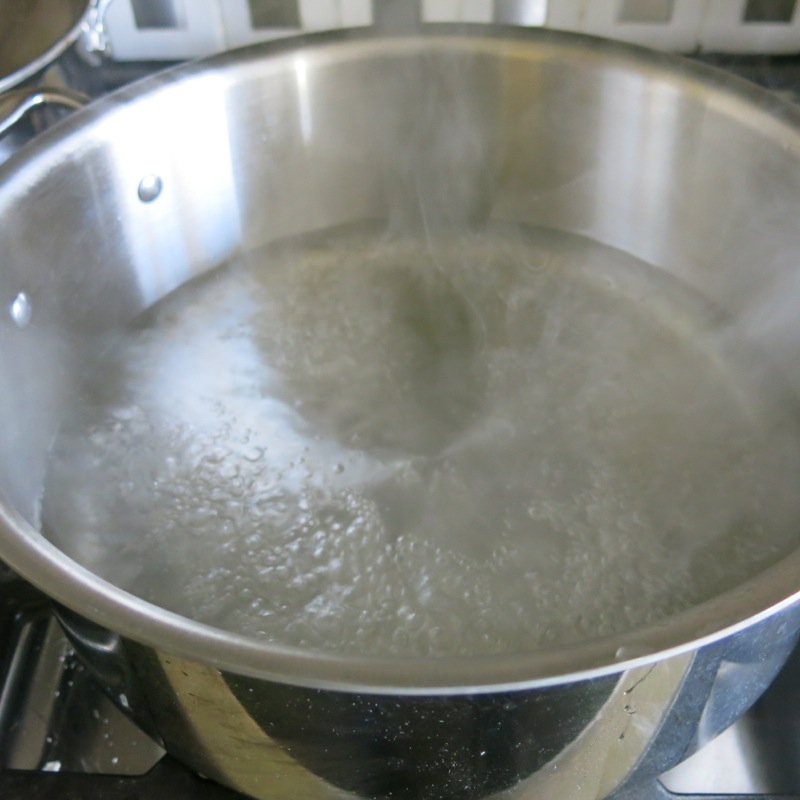 Water salted, boiling and ready for the mung bean sprouts. And yes, you actually do boil them for 20 minutes and they remain toothsome.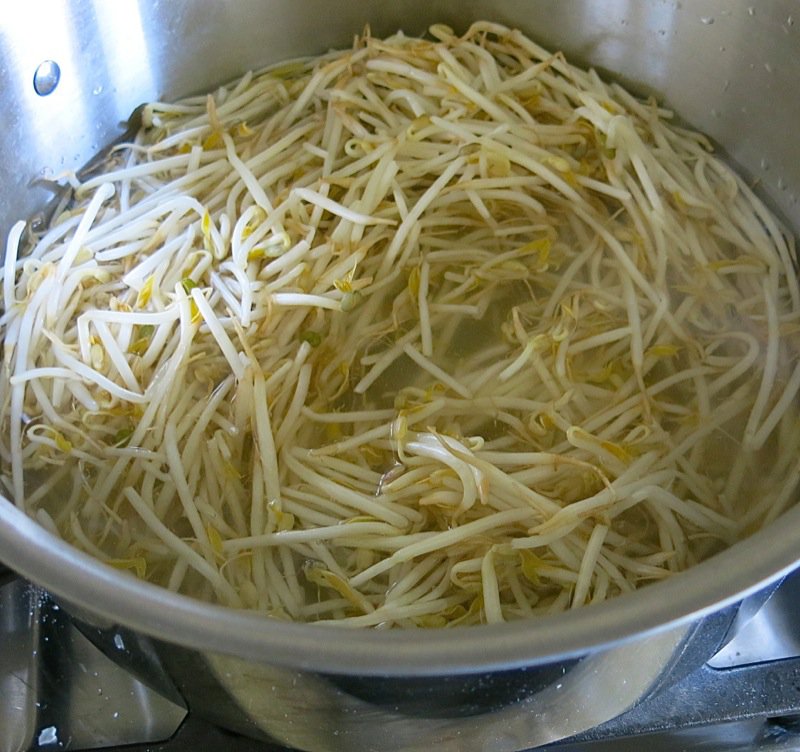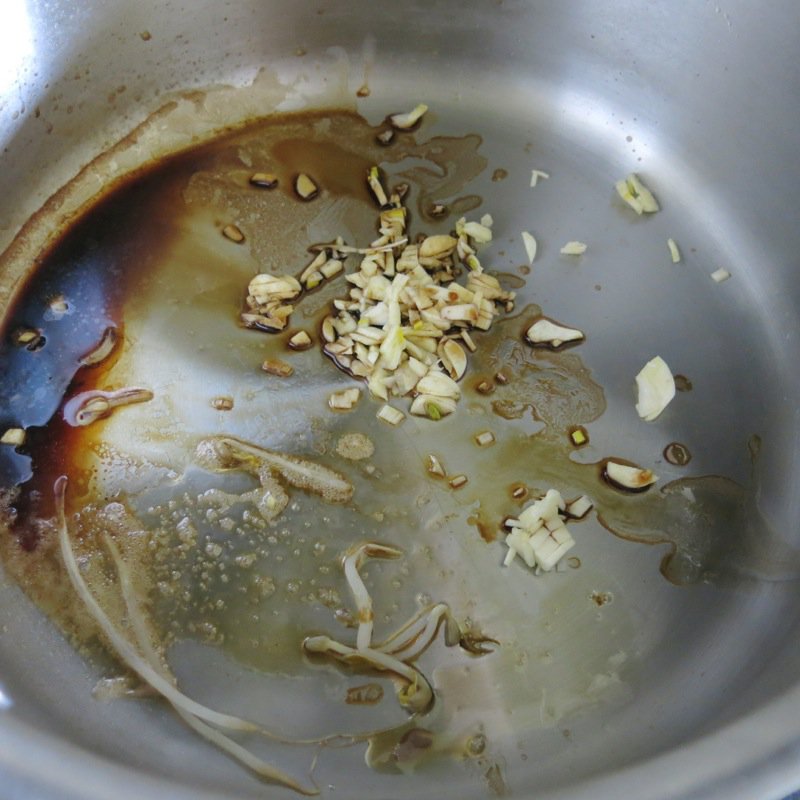 Dressed with fresh minced garlic, soya and Rice Wine Vinegar, they were also added to the oven to keep warm.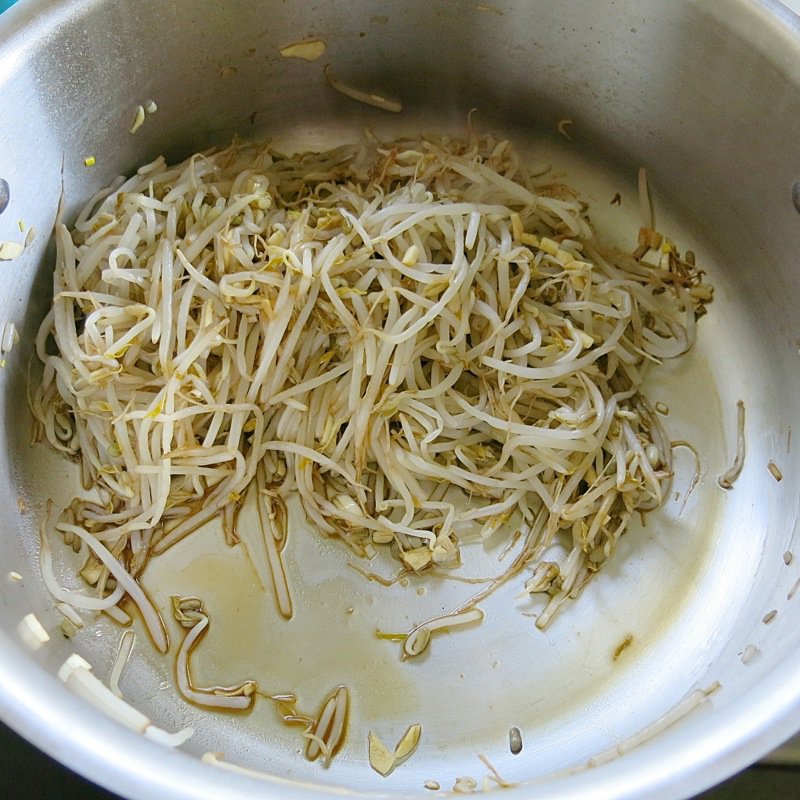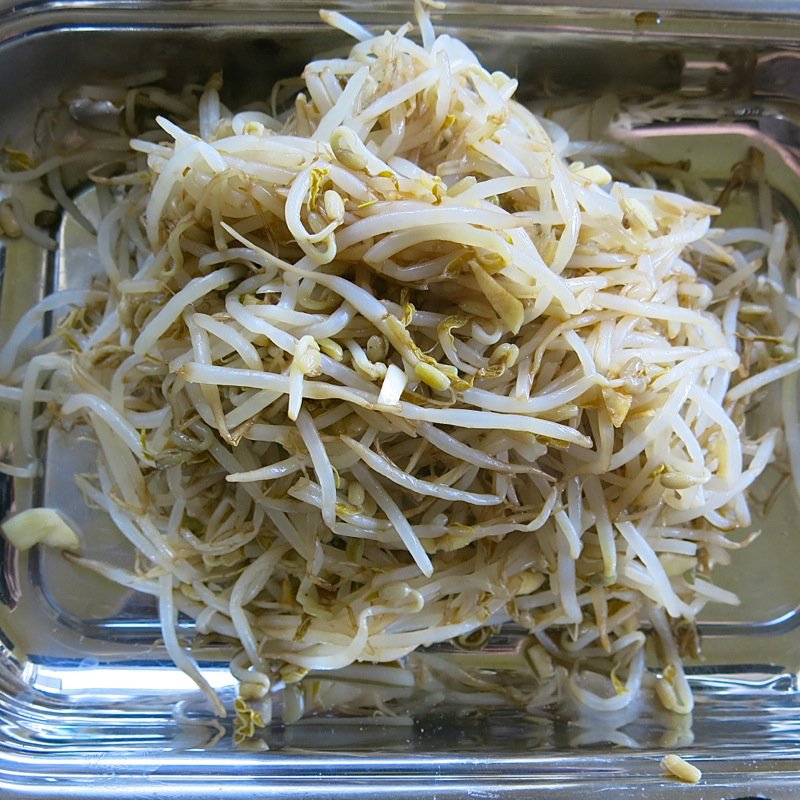 Cucumber up next. Julienned and stir fried for 10 minutes with salt. I did take these off at 6 minutes as they were going to be kept warm in the oven, but it was clear that 10 minutes would have also left these snippets with a bite and that vivid spring of colour.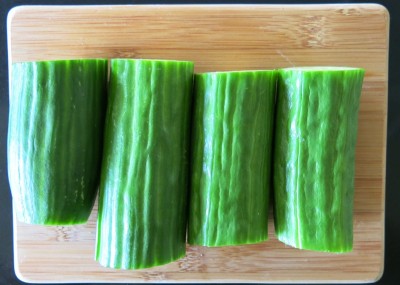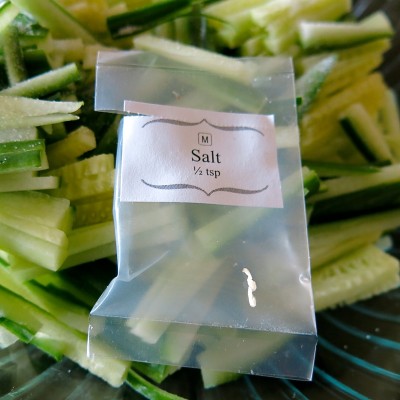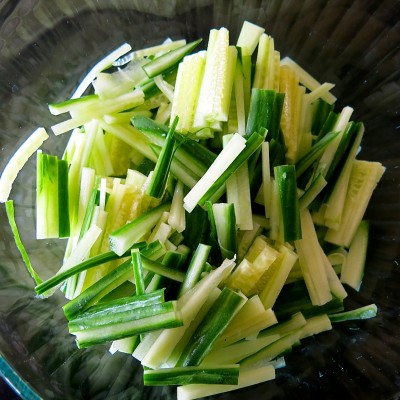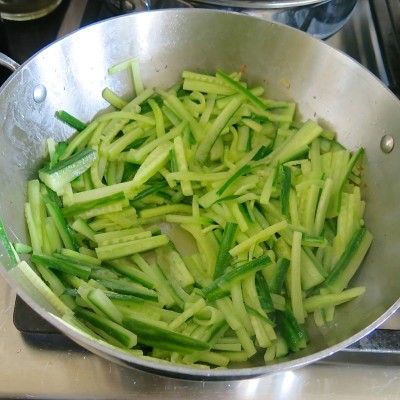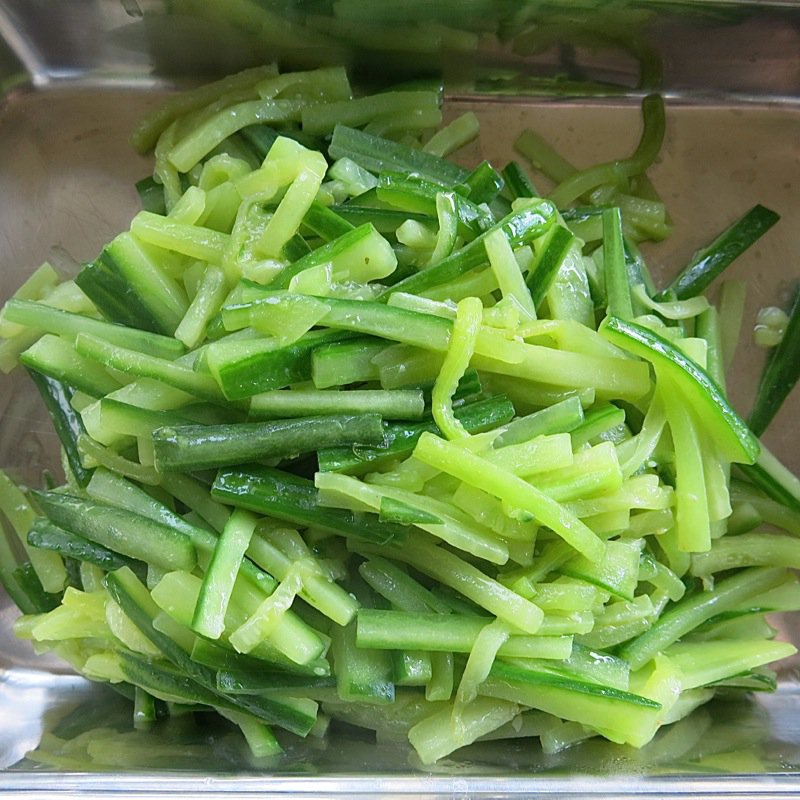 Cucumber placed in the oven with the mushrooms and beans; Rice is up next.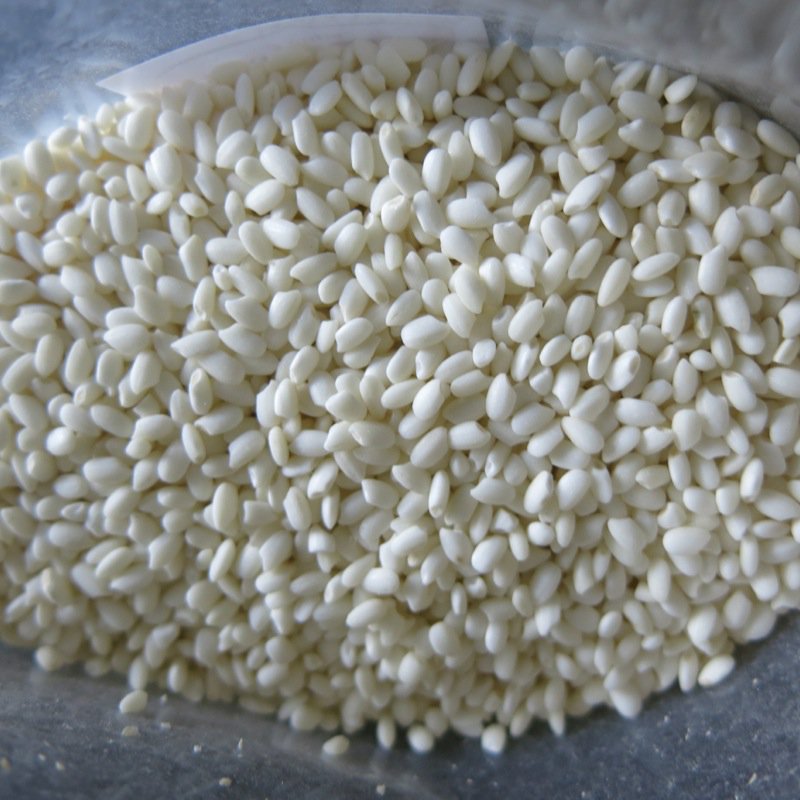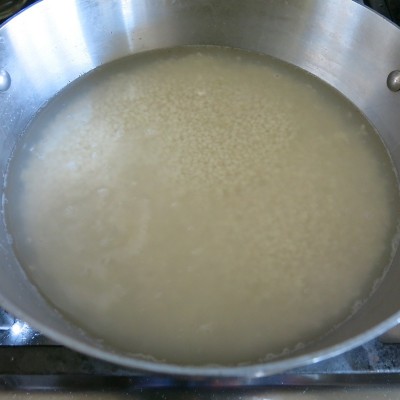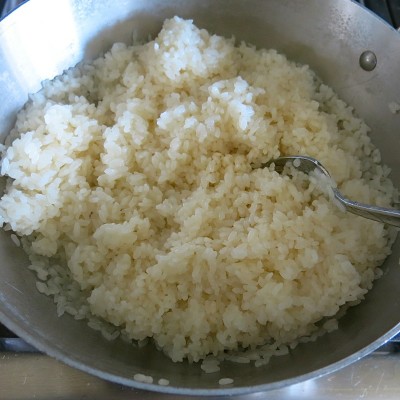 Gorgeous rice. I timed the 20 minute cooking of this to coincide with the preparation of the beef, below.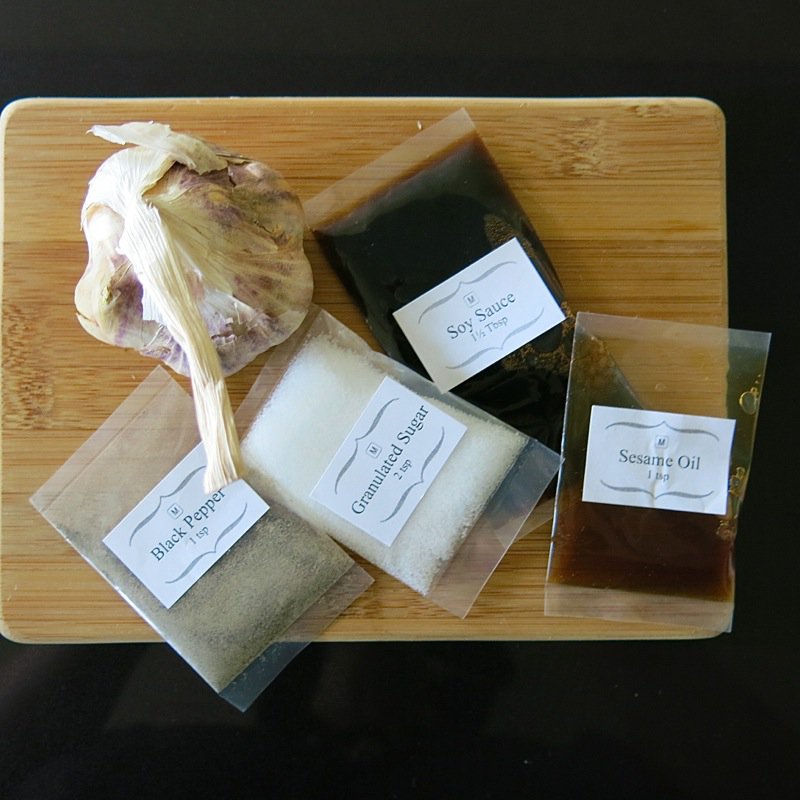 This is where I grew concerned. The mis en place appeared simply too simple. Where was the flavour going to come from to bring this dish together? The 6 cloves of garlic certainly help.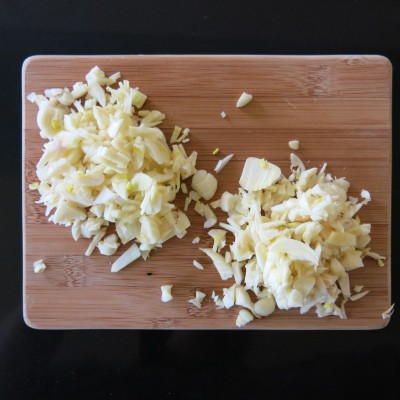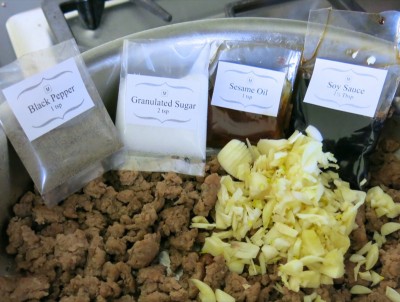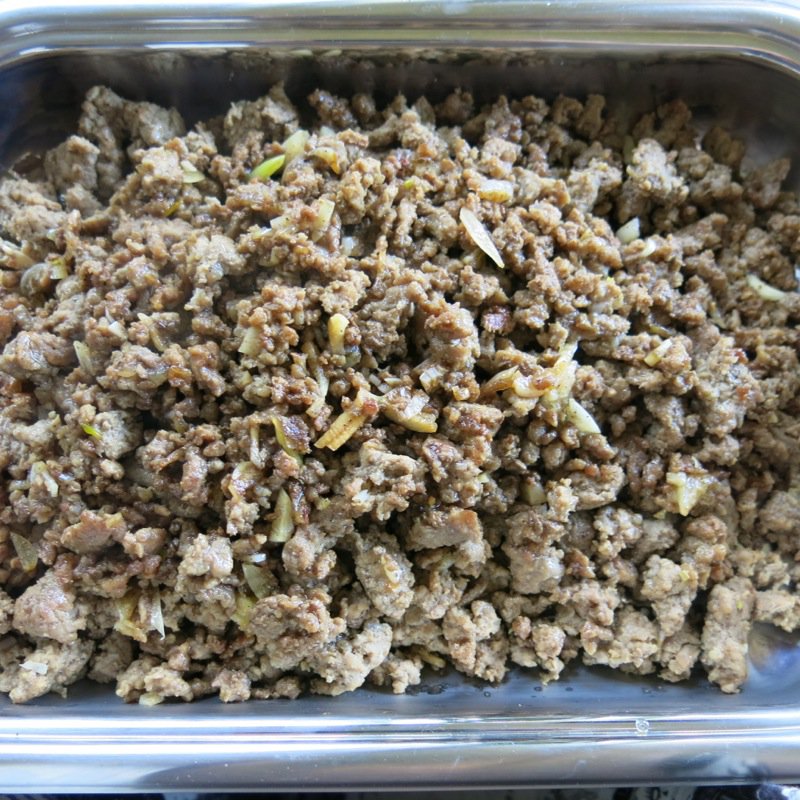 Meat into the oven with the vegetables. Table set. The Sujeonggwa or Korean Cinnamon and Ginger Punch has been sipped and savoured. The Pajeon or Korean Scallion Pancakes have been devoured completely. Time to plate the Bibimbap! At this point, I could really see both mom and Vanja were happy they were "almost full from the Scallion Pancakes." The fixin's are not too pretty.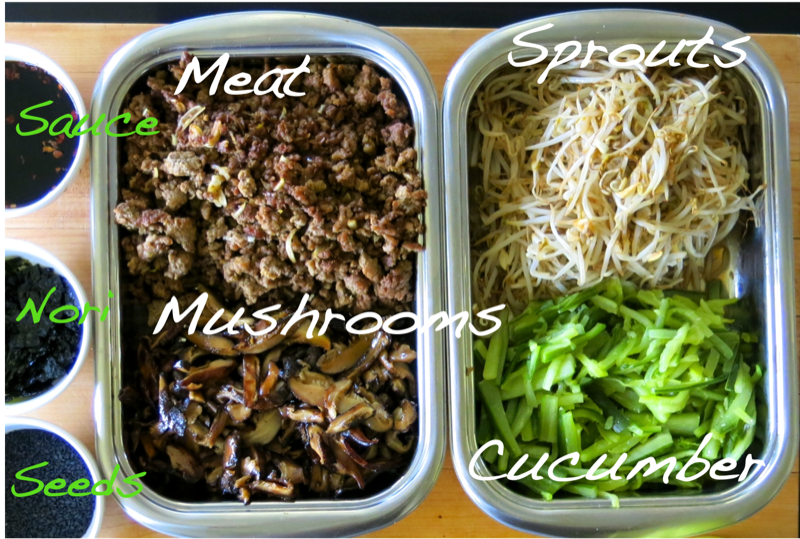 I demonstrated the "how to".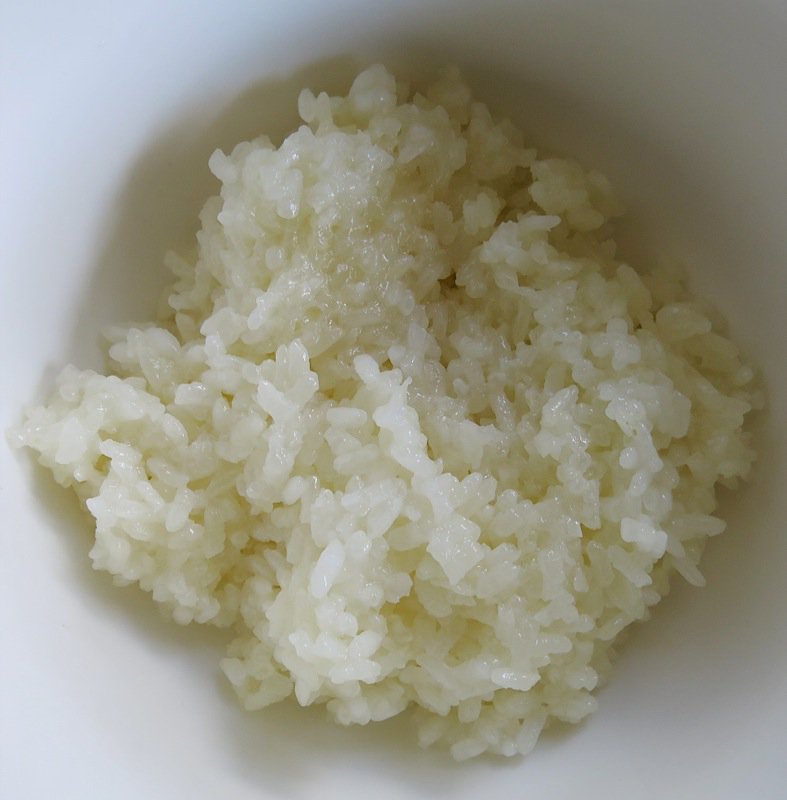 The gorgeous gelatinous rice plated in the bottom of an ample bowl. An ample bowl is key. Recall, the first plating was in a wide Italian soup bowl. Nope. A deep round generous bowl is needed for this meal.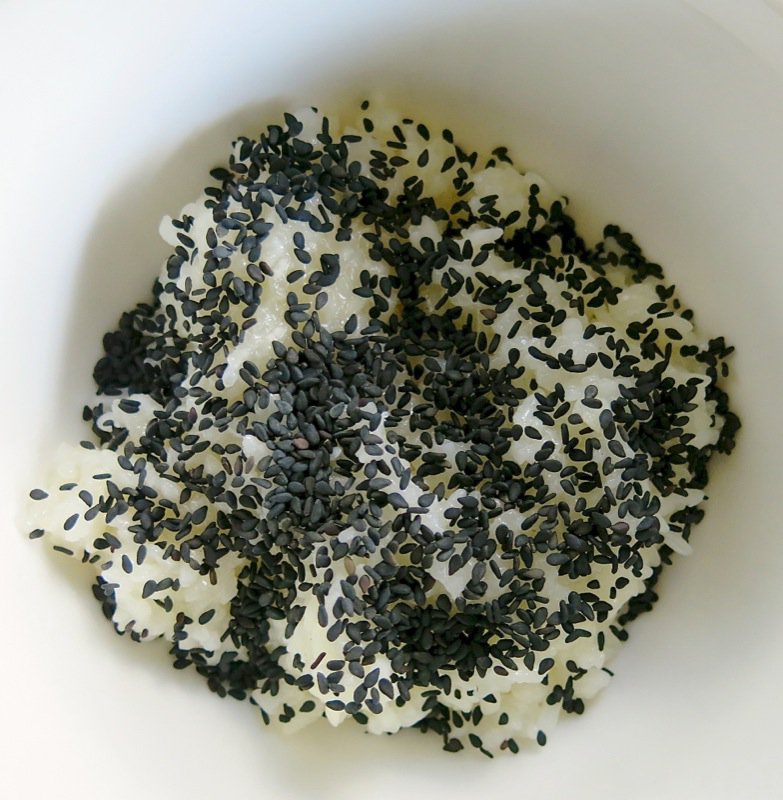 Four tablespoons of sesame seeds were provided, and they are to be sprinkled over the rice next, so I added an entire tablespoon. This much may not be necessary, but I would add as much again. It is suggested that the nori is added here, but I wasn't sure how such a defined flavour would affect the harmony of the dish. Now, I am sure. Add it. Add a considerable amount of it. Even if you do not like it. This is a dish where the flavours come together as one and create a new experience.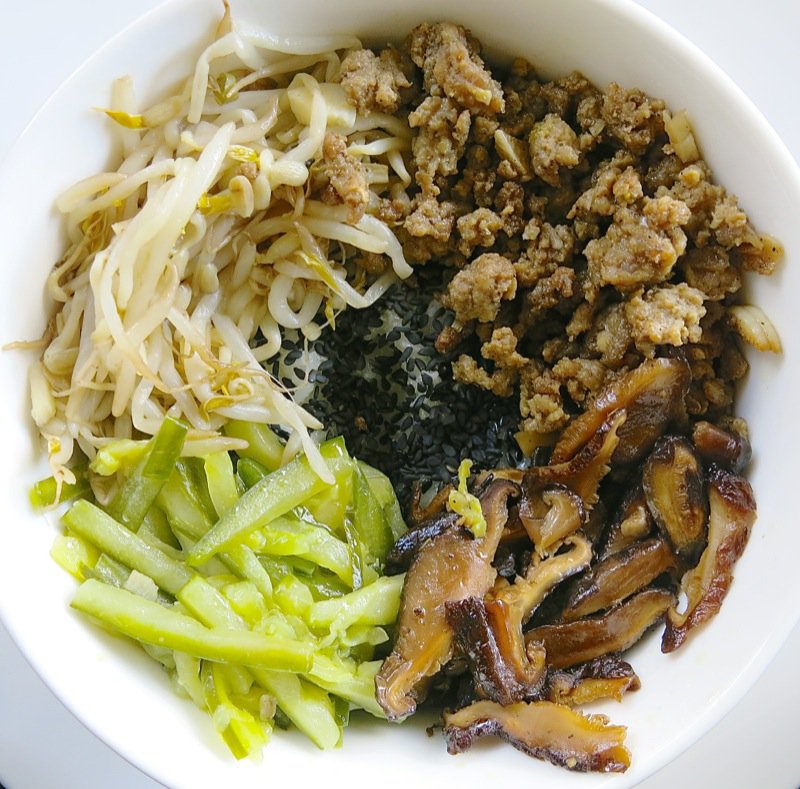 Leaving a hole in the middle for the egg, or adding the egg first, arrange each of the other ingredients around the edge of the bowl. In this case, the meat, the mushrooms, the cucumber and the sprouts.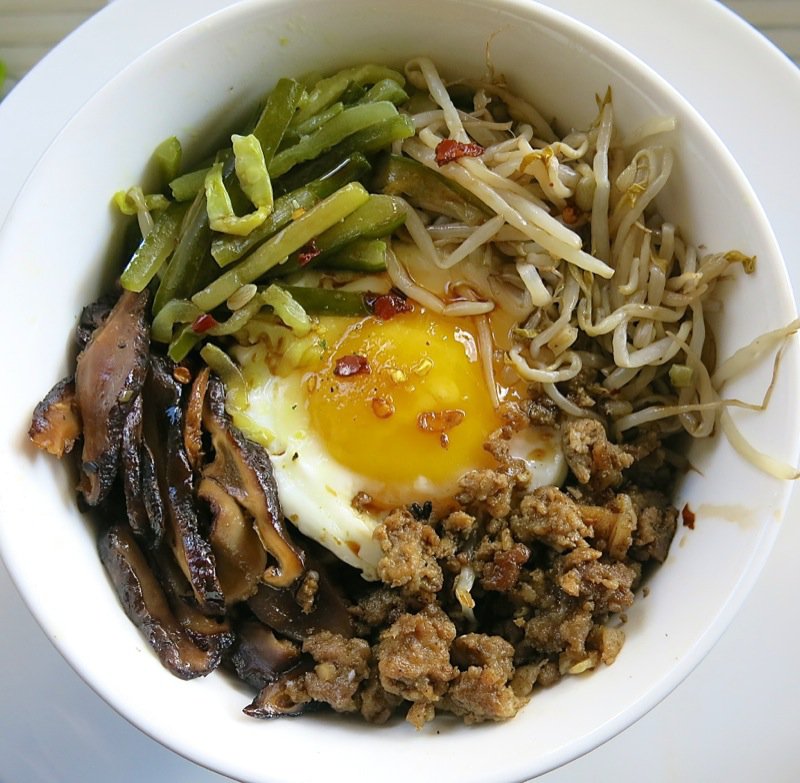 I nestled the egg in the middle. Next time, I will do a 62°F SousVide egg. This is a dish that would appreciate that effort.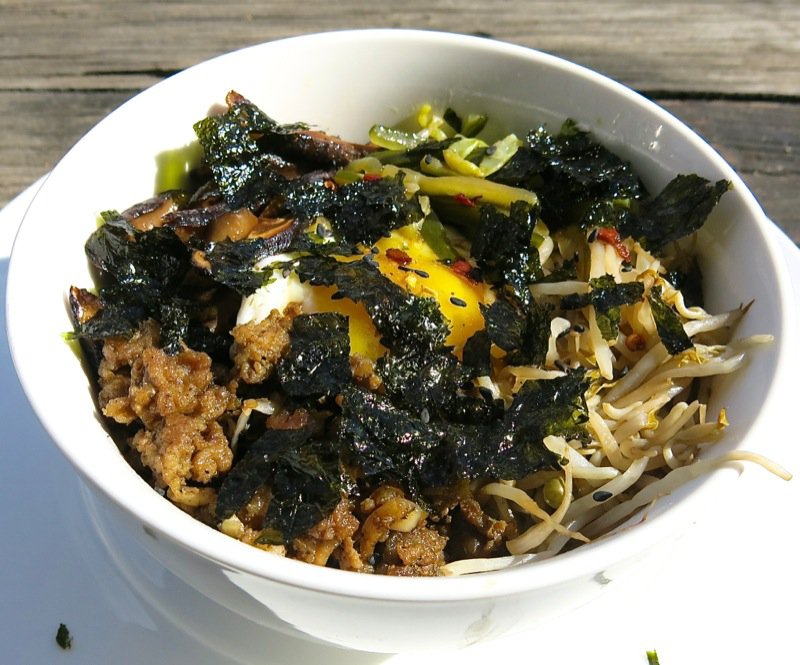 Crumbled bits of nori were added at this point, along with the sauce. The Gochujang, or red bean paste, would be mixed in at this point, and added decoratively on the top, when plating. Yet, as Kate explained, that cannot be transported and it is not easily found in markets, so her creative team developed a sauce for this recipe that most closely duplicates the Gochujang experience. I would say this. The sauce added that je ne sais quoi to the dish. The gelatinous texture was a completely new experience and combined with the spicy, sweet, salty flavour combination, it was almost impossible to stop thinking about the dish. I had it the next morning for breakfast, and for lunch.
Then I had it with the Gochujang, and vowed to make it again very soon. This may be one of the top 40 dishes in the world, but it is one of my top 10 of all time favourites. I cannot wait to add different vegetable combinations and have guests over to enjoy the experience. Eating Bibimbap is an experience. It is not just a meal.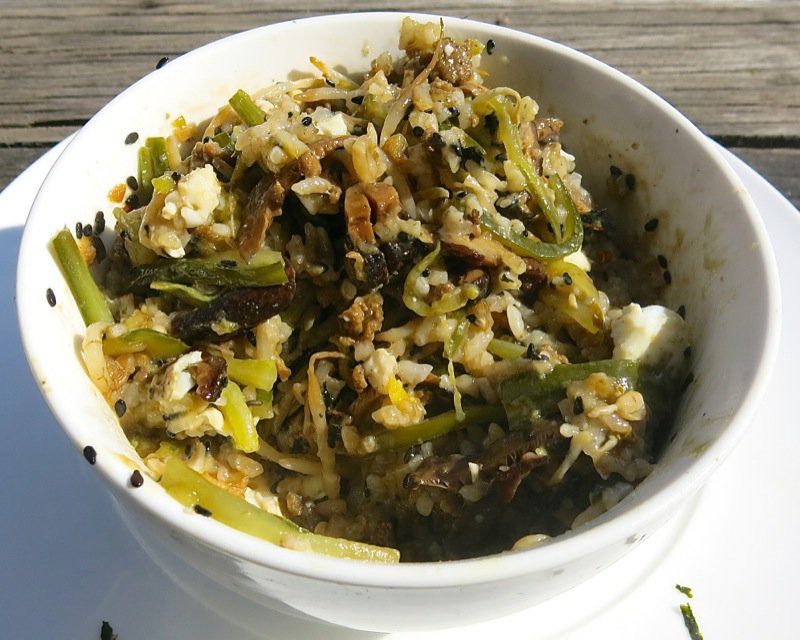 Not a pretty sight when mixed together, is it?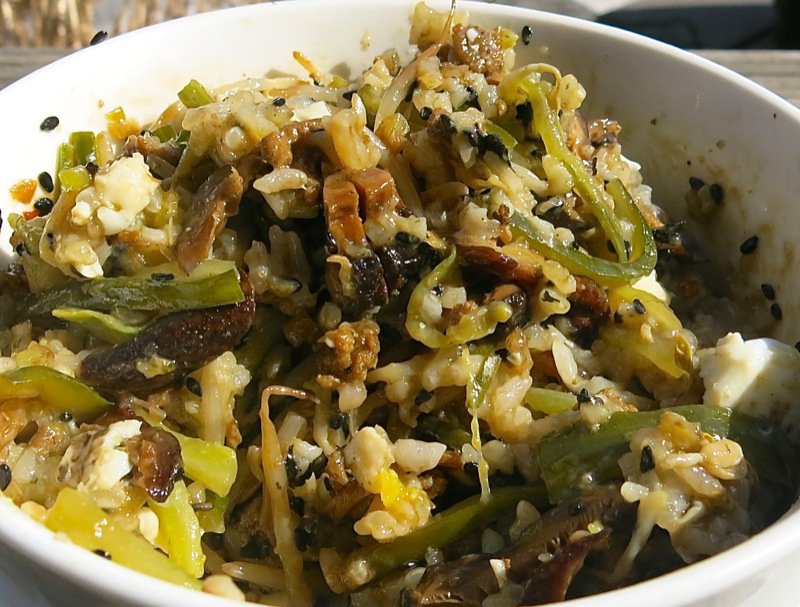 I will get my memory fix with the close up photo. I can taste it. I can feel it. "See me…. feel meee…. touch me… heal meee…" (guess you have to be a child of the '70's.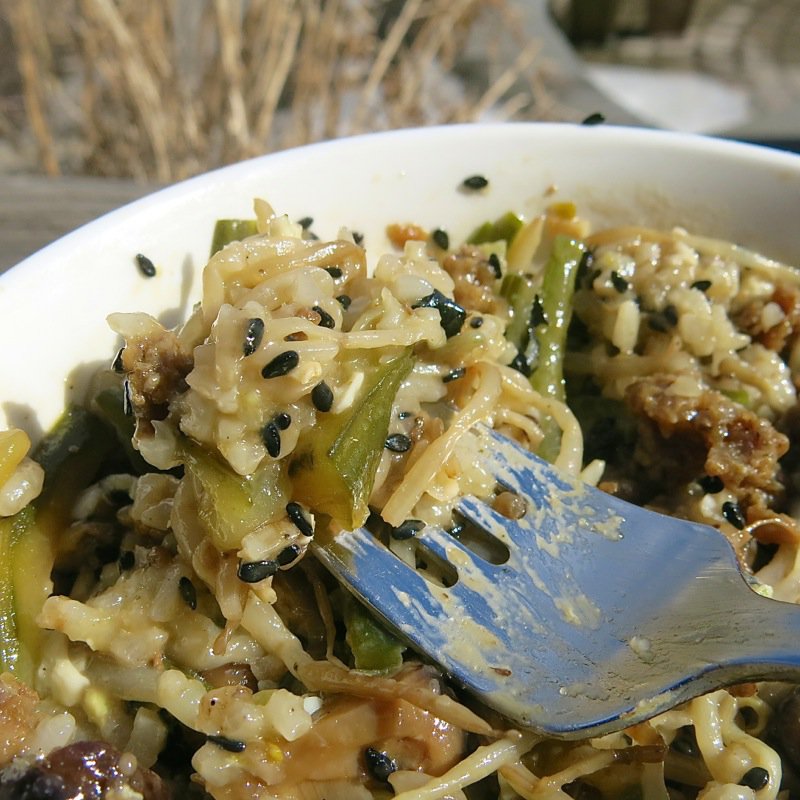 The forkful above gives you a visual sense of the gelatinous texture.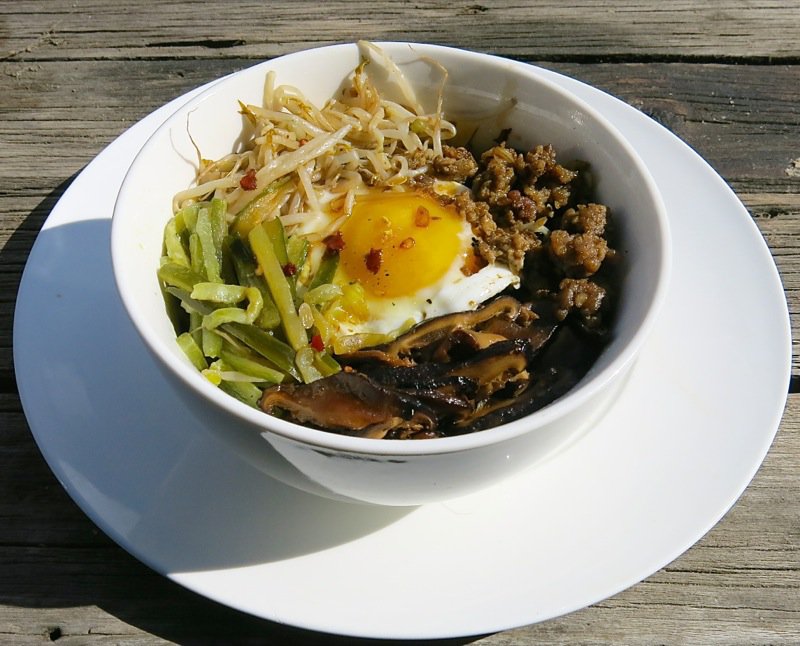 Though the fixin's were not too pretty, the plated bowl is very appealing. Subscribe to Chef Butler for 35 dollars a month and receive a carefully curated box shipped on the 10th each month, delivered to you door, filled with the highest quality of non-perishable ingredients for two to three unique recipes. This was a Korean box with a recipe for each of the following.
Sujeonggwa: Korean Cinnamon and Ginger Punch
Pajeon: Korean Scallion Pancakes and Dipping Sauce
Bibimbap
All prices include shipping and taxes, so there aren't any surprise charges. For me, the big sell is that I can get a box monthly to make a global meal that will widen my culinary horizon and still use my own fresh local ingredients! And, let's not forget the mis en place. It is all done for you!
Let me know if you subscribe! (inquiring minds want to know).
Use the coupon code "canadianfoodie" for 50% off your first box if you subscribe. NOTE: this cannot be applied to gifts.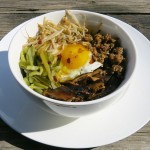 Chef Butler: Bimimbap
The main recipe of three provided in the Chef Butler Box for April 2014.
Ingredients
6

sheets nori

(dried seaweed)

2½

tablespoons

rice vinegar

2

teaspoons

chili flakes

½

cup

soy sauce

300

g

lean ground beef

2

cups

glutinous rice

2 ½

cups

water

1

pound

bean sprouts

1

cucumber

, cut into match stick pieces

15

dried Shiitake mushrooms

4

large eggs

7

cloves

garlic

, minced

2¼

tsp

sesame oil

1 ½

teaspoons

salt

1

teaspoon

black pepper

4

teaspoons

sugar

4

tablespoons

sesame seeds
Instructions
Instructions for the chili sauce:
Combine the following in a small bowl: ¼ cup soy sauce, 2 tablespoons rice vinegar, and 2 teaspoons chili flakes (to taste)
Instructions for the nori:
Crumble nori into a small bowl
Instructions for the mushrooms:
Soak the dried shiitake mushroom in a large bowl with warm water for 20 minutes, or until softened (place stems down in the water, and ensure mushrooms are submerged)

Remove tough stem; slice thinly

Sauté in medium skillet medium-high adding 1 tablespoon of soy sauce and 2 teaspoons of sugar; stir for 2 minutes
Instructions for the bean sprouts:
Rinse sprouts under water several times; add to a large pot with 1 teaspoon salt and cover with water

Place lid on pot and bring to a boil; cook for 20 minutes

Drain water and mix sprouts with 1 clove of minced garlic, ½ tablespoon sesame oil, 1 tablespoon soy sauce, and ½ tablespoon rice vinegar
Instructions for the cucumber:
Sprinkle cucumber pieces with ½ tsp salt; sauté in pan over medium-high heat approximately 10 minutes or until translucent
Instructions for the rice:
Rinse rice in warm water several times

Combine 2 cups rice and 2½ cups of water in medium-sized pot, and cover

Bring to a boil, reduce heat to low, and simmer until liquid has been absorbed, and rice is tender (exactly 20 minutes)
Instructions for the ground beef:
Heat medium pan on medium-high; once hot, add ground beef and stir constantly

When fully cooked, drain excess liquid from pan and add 1½ tablespoon soy sauce, 2 teaspoons sugar, 1 teaspoon black pepper, 1 teaspoon sesame oil, and 6 cloves of minced garlic; mix well to combine
Instructions for the eggs:
Fry 4 eggs sunny-side-up, or over-easy, until whites have been cooked, but yolk is still runny
Serve in 4 large individual bowls:
Add rice first, sprinkled with sesame seeds; add all other ingredients (to taste), in quadrants, inside of the bowl, including the crumbled nori over the mushrooms, sprouts, cucumber and beef

Top each dish off with the fried egg

Place chili sauce on the table for guests to add to taste

Each person is to then mix ingredients together inside of the bowl, and enjoy!
Recipe Notes
Bibimbap is a combination of ingredients prepared separately, and served together over rice. Keep prepared ingredients warm in the oven until ready to serve. Place a dish of water in the oven to keep the ingredients from drying out while you keep them warm.
Ingredients in bold were the only ones not in the box.
DISCLAIMER: This is a paid post, but all opinions and views are my own. I never receive payment for anything I cannot philosophically align with. I don't write negative reviews and I do not write about products I don't like.