Korean Scallion Pancakes: 50% off your first Order to Chef Butler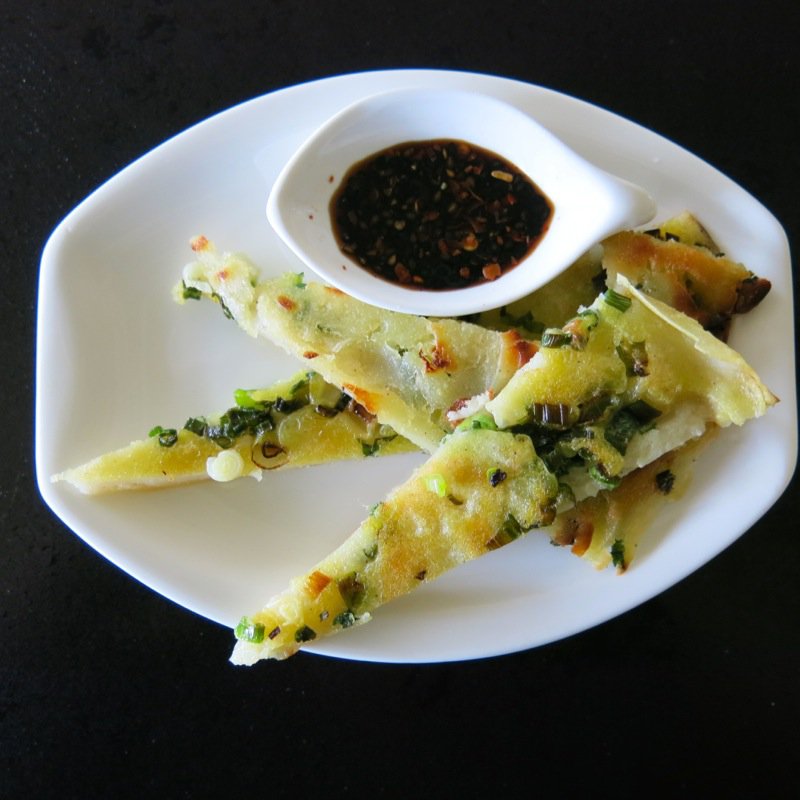 Korean Scallion Pancakes: what are they? Well…who doesn't like a Chinese Onion Cake? I could be addicted except that I know they are layered with lard like puff pastry is layered with butter… so, they are only eaten as a treat. However, this little ditty: the Korean Scallion Pancake, or Pajeon, is actually nutritious, delicious and economical! It is fried in fat, but there is no fat in the batter and scrumptious just doesn't cut it where these redolent morsels are concerned.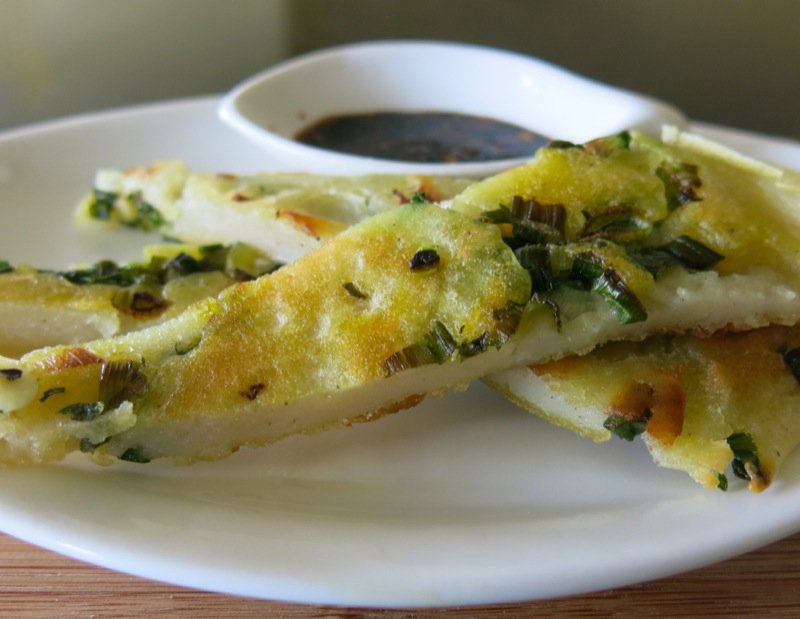 No dipping sauce required, though the Chef Butler box includes the ingredients and recipe for one. I received a box from The Chef Butler which I have explained and highly recommend. Usually, the Chef Butler box will include a main, an appetizer and a small dessert. This was the appetizer of this month's Korean box. All I contributed were the fresh green onions. I have been obsessed with learning how to make onion cakes for a couple of years, now. However, the opportunity hasn't yet presented itself, though I do know the master teacher! I did not expect these pancakes to be so reminiscent of the onion cake, yet they absolutely are. My hard to please, picky eating husband's eyes lit up after his first bite. He uttered a gutteral. "mmmmmm" and reached for more. "These are excellent. I hope you plan to make them more than just this once! I could eat them every weekend." And so, it shall be. Thank you, Chef Butler, for introducing a new family favourite recipe to our home!
Korean Scallion Pancakes: Making the Dipping Sauce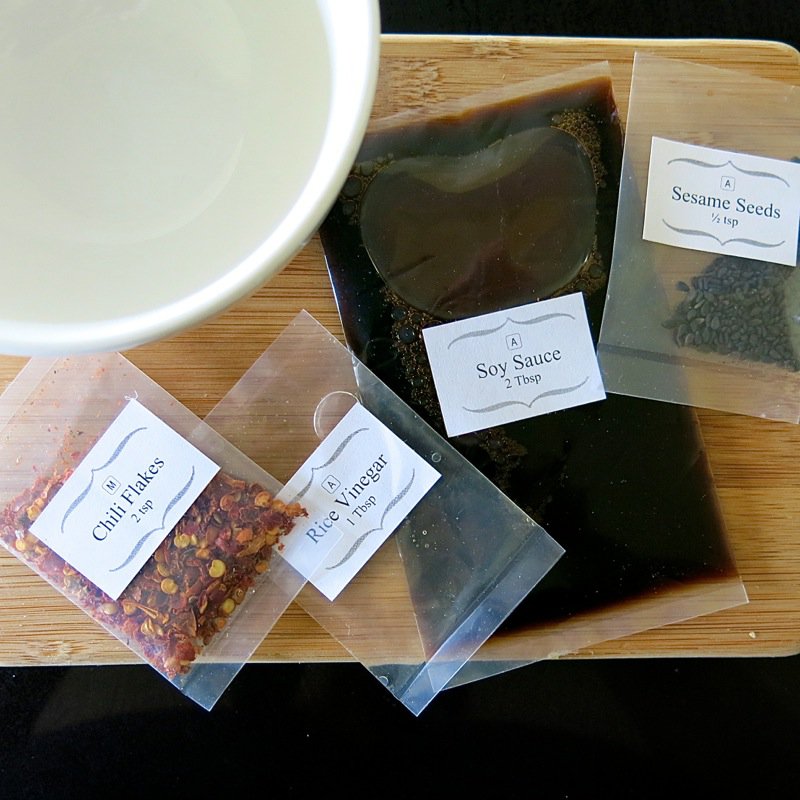 Above, the mis en place for the dipping sauce. Holy Moly. I only used 1/4 of the chili flakes and it still set our palates on fire. The recipes do say, "to taste". The sauce wasn't a hit, but that wasn't the point. It offered a base to whatever you wanted to add – which I had fully intended to do, but after tasting the pancakes, there was no need to bother. None. At all.
Korean Scallion Pancakes: Making the Batter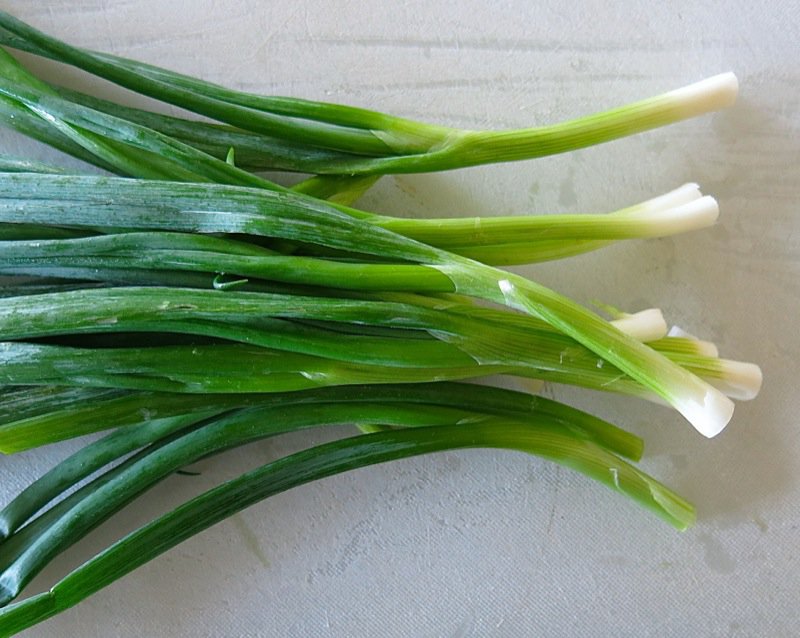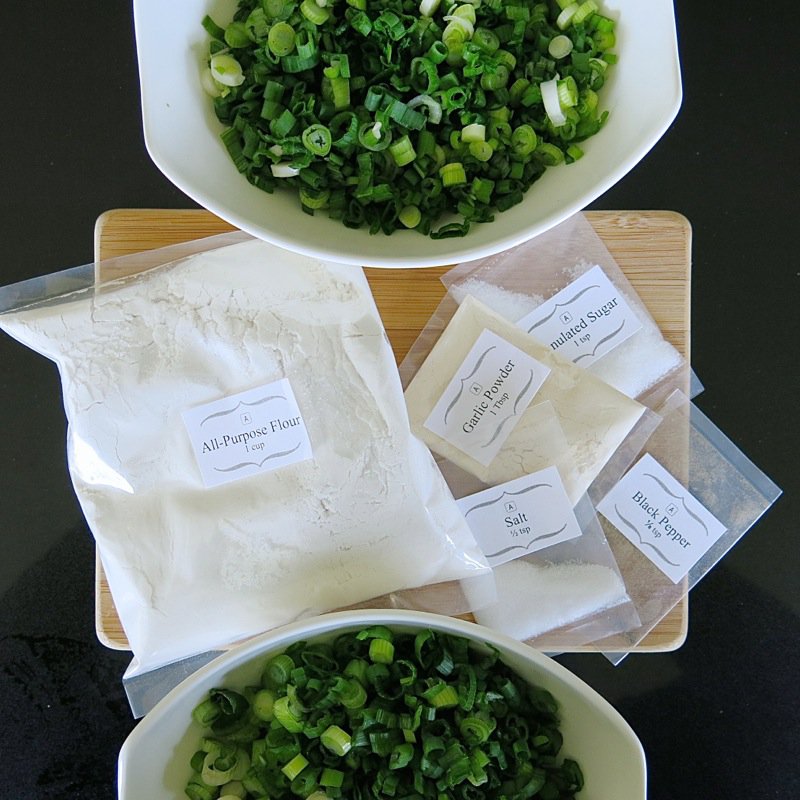 Above, the mis en place for the batter and the pancakes. So simple. Seriously? Flour, garlic powder, salt, pepper and sugar is all she wrote. Add water. That is where consistency is important. These need to pour over top of the scallions distributed evenly in the skillet. Therefore, the batter needs to be runny. Not too runny, but runny. You will figure it out. I did.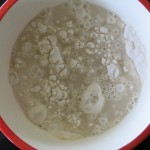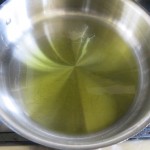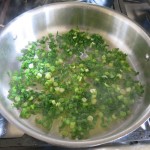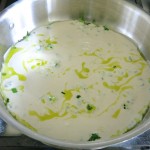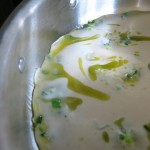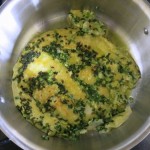 It didn't even dawn on my over confident self that I could be in a little trouble in a minute or two. I can flip palachinka, after all! (Serbian Crepes). However, these are heavier, and some of the onions did stick to the bottom of the pan. I did not expect that. I loosened the pancake and tried to turn it, yet it was too heavy. Fortunately for me, I had another pot exactly the same size, so I heated it up and flipped the pancake over into it to fry the other side. You can see, it broke. That did not impede any on the flavour, let me tell you.
Korean Scallion Pancakes or Pajeon: Serving this Treat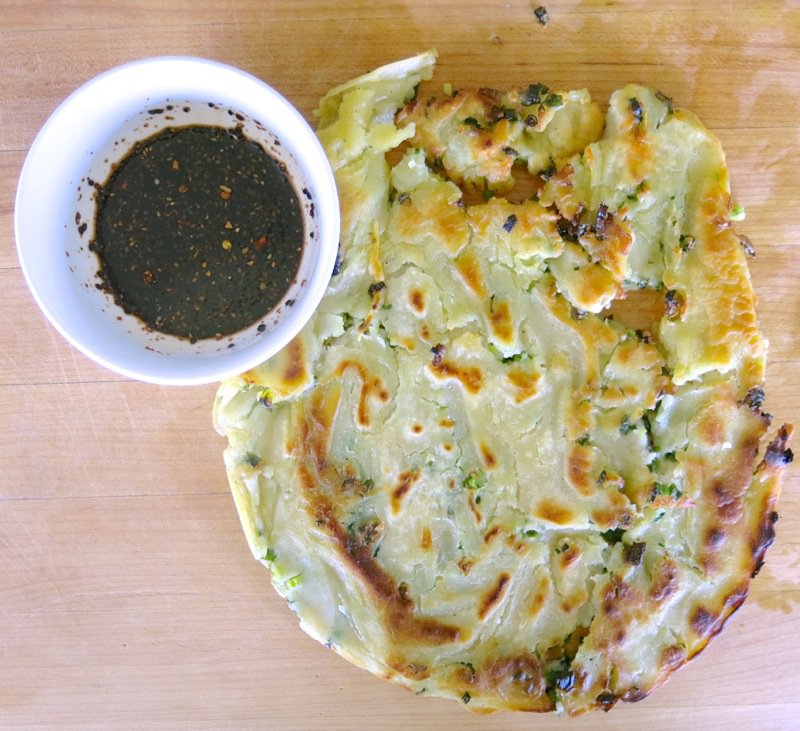 I will confess, though you may have already guessed, that the second pancake didn't even look this good. It didn't. For two reasons. One: there wasn't enough batter left to make a full second one. My skilled was probably too huge. Two: I added more water to make it work. It did actually work, in that the product was delicious and edible. But the structure of the pancake was compromised and it came out of the pan in pieces and had to be turned over in pieces. Again, that is part of the point of the Chef Butler. You learn new skills and solve problems in the kitchen. You figure it out if you are motivated enough. And I certainly am!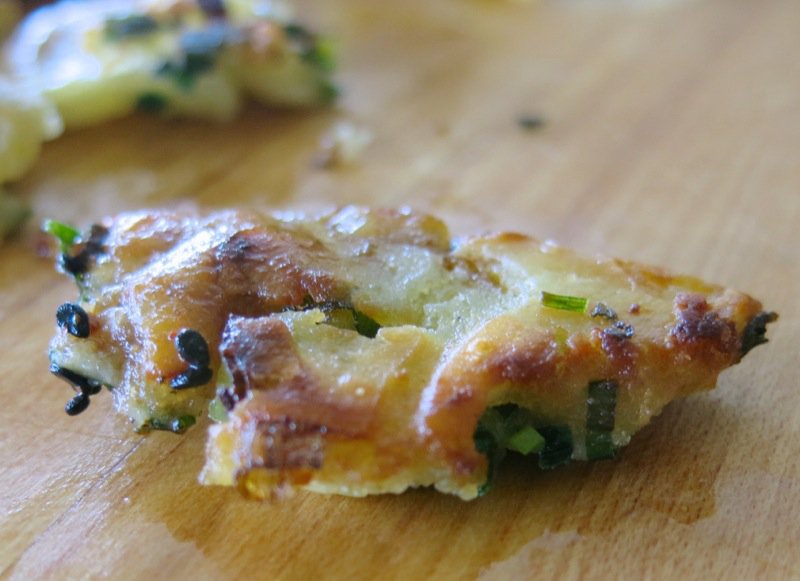 Above is a piece from the second pancake. Next time, I will use a much smaller skillet and make three. Or, I could use my individual skillet and make individual ones. The sky is the limit! Chef Butler does recognize, however, that most kitchens do not have the equipment an old gal like me has and writes the instructions for one pot and one pan which I sincerely appreciate, as a mom.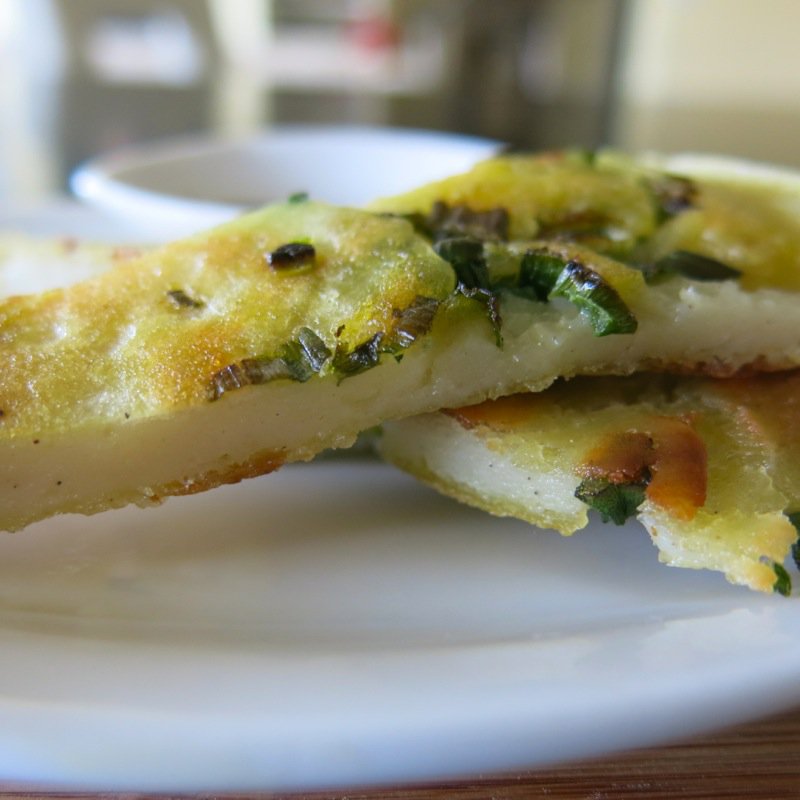 I did not expect the olive oil to permeate the batter as it did. There were only 2 tablespoons carefully measured, yet there was still oil left in the pan and enough to flavour and colour these scallion pancakes beautifully.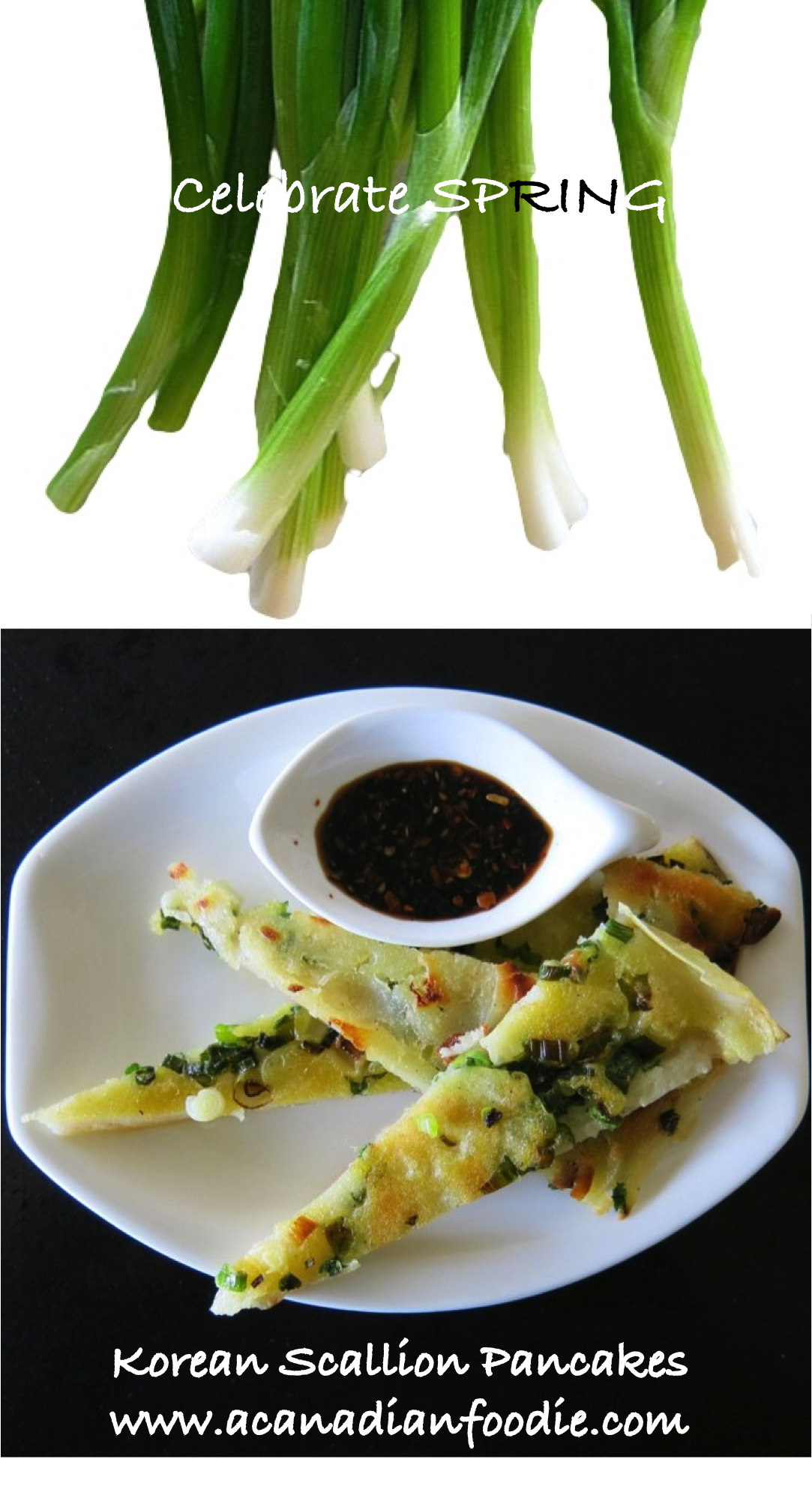 Korean Scallion Pancakes or Pajeon: My Pitch to you….
That is the beauty of the Chef Butler subscription. Subscribe to Chef Butler for 35 dollars a month and receive a carefully curated box shipped on the 10th each month, delivered to you door, filled with the highest quality of non-perishable ingredients for two to three unique recipes. This was a Korean box with a recipe for each of the following.
Sujeonggwa: Korean Cinnamon and Ginger Punch
Pajeon: Korean Scallion Pancakes and Dipping Sauce
Bibimbap
All prices include shipping and taxes, so there aren't any surprise charges. For me, the big sell is that I can get a box monthly to make a global meal that will widen my culinary horizon and still use my own fresh local ingredients! And, let's not forget the mis en place. It is all done for you!
Use the coupon code "canadianfoodie" for 50% off your first box if you subscribe. NOTE: this cannot be applied to gifts.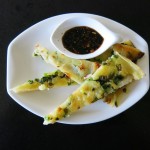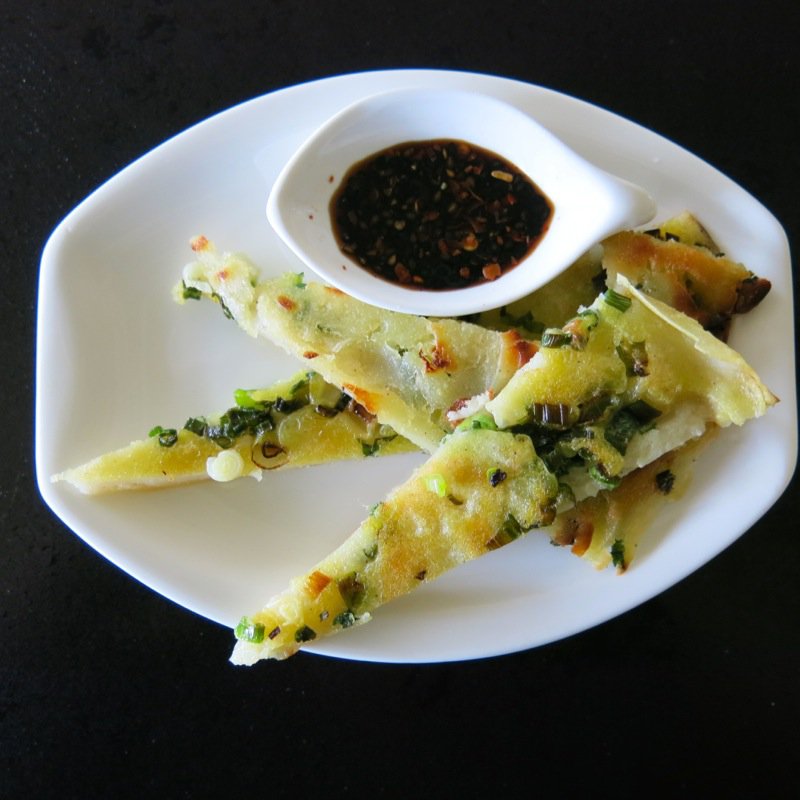 Korean Scallion Pancakes (Pajeon) and Dipping Sauce
Katie Sokalsky's brilliant new Canadian business, "Chef Butler" sends participants a box a month to cook: Korean Scallion Pancakes (Pajeon) and Dipping Sauce as well as Bibimbap and Sujeonggwa (Cinnamon & Ginger Punch) are featured in this meal.
Ingredients
Ingredients for dipping sauce:
2

tablespoons

soy sauce

1

tablespoon

rice vinegar

1

teaspoon

chili flakes

1

teaspoon

sesame seeds
Ingredients for scallion pancakes:
8

green onions

, thinly chopped

1

cup

flour

1

tablespoon

garlic powder

½

teaspoon

salt

⅛

teaspoon

black pepper

1

teaspoon

sugar

1

cup

water

¼

cup

cooking oil
Instructions
Instructions for dipping sauce:
Combine all ingredients in a small dish; stir until well-combined, and serve with scallion pancakes (vary chili flakes based on desired level of spice)
Instructions for scallion pancakes:
In a large bowl, mix together: flour, garlic powder, salt, pepper, and sugar

Add water; stir until combined

Heat 2 tablespoons (or half) of cooking oil in large skillet over medium-high heat; when oil is hot, add half of green onions to the pan, spreading evenly throughout the pan

Immediately cover with half of batter to forming a pancake

Cook approximately 4 minutes, until edges are browned and crispy; flip and cook approximately 3 minutes until browned

Remove from the pan; set aside and cook second pancake

Cut both pancakes into bite-size pieces and serve with the dipping sauce
Recipe Notes
The pancakes can be made in advance and kept warm in the oven. Cover with a damp towel to keep from drying out.