Oh, Canada, my home and Native land….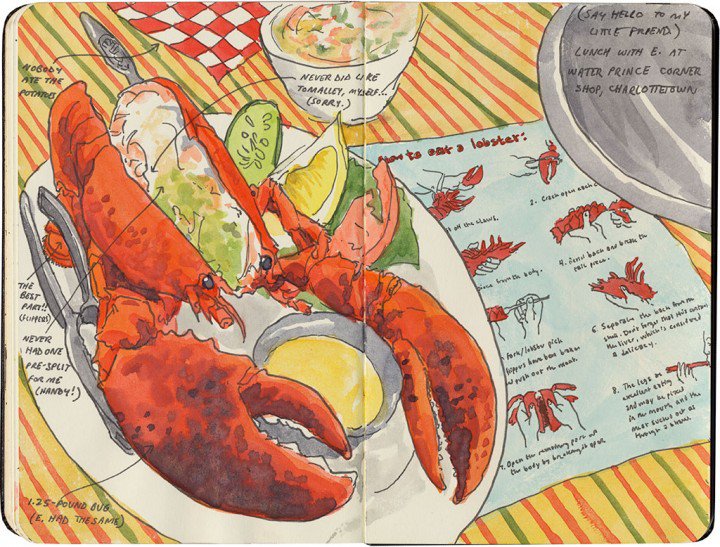 I have never been to The Maritimes. The Canadian Slow Food National Conference is in Tatamagouche, Nova Scotia this year, so I am going! And, as it usually costs more to fly there, than to Europe, we decided to both go, and make a holiday of it! I leave Wednesday for the conference. Vanja joins me Sunday when the conference is over, and we are then off for our first stress free holiday together in a very long while. Both changed due to the recent losses we have each endured this past year, but ready for a new adventure together. And I am particularly ready to get my feet settled into that Eastern Soil. It is still mine. Though a 7 generation Canadian gal from the prairies, I feel a very strong and loyal affinity to every part of this vast country.
Having taught Canadian history for several years to middle school students, I am over the moon that I am actually visiting many of those faraway places next week and next month. We will be gone for 21 days. What a gift. What an opportunity. I do not take it for granted, either. I am very, very thankful.
For those of you interested, here is our itinerary. I hope to write as we travel, but will do what I can do.
If you know of something we must see that we are so close to, or that we must bring home, please chime in!
Tata for now!
I leave April 30 to May 4th for the Conference
OVERVIEW of our Maritimes Itinerary 2014 holiday together
Nova Scotia: 11 days
Halifax 1 day plus 2 back
Lunnenberg 1 day
East Coast 1 day
South Shore 1 day and driving to Cape Breton
Cape Breton 3 ½ days
Northumberland 1 ½ days (Dutchman Farm area)
PEI: 3 days
Newfoundland: 7 days
Day 1: Arrive May 4 Sunday 2014: Halifax
Car pick up in Halifax, NS (YHZ)
Waverley Inn

to May 8th 2014

1266 Barrington Street, Halifax, NS, B3J 1Y5
Property Information: +1 902 423-9346
Dinner with Janet at Two Doors Down (Voula joined us!) Lovely evening! Great casual ambiance and quality food.

Day 2: May 5 Monday 2014: Halifax
Tour or Halifax City by Tall Tale Tours and Peggy's Cove 9 am to 3pm

Robert Young
talltaletours@gmail.com
highlights of Halifax, then 35km along the coast to Peggys with lots of time to photograph and enjoy the scenery.total time.6 hrs.

Lunch: Ryer's Lobster Stand

enroute to Peggy's Cove – The best Lobster the entire trip!
Didi's Locally Made Ice Cream: also sold in the Public Gardens – try the N S blueberry flavour (tried the Haskap: excellent!)

Dinner: Brooklyn Warehouse at 6:00pm – did not make it, had dinner in the room 🙁

booked by Candice (http://brooklynwarehouse.ca)
Phone/ 902.446.8181
Email/ eat@brooklynwarehouse.ca2795 Windsor St/Halifax/NS/B3K5E3
2795 Windsor St
Halifax, NS B3K 5E3
Day 3: May 6 Tuesday 2014 Depart Halifax to Lunenburg:
Lovely Shelah Allen from Lunenburg Tours prepared this itinerary for us
7am: Scenic Drive to Chester through St Margaret's Bay, Hubbards, and other pretty seaside communities. You will arrive in Chester one hour + later.
leave Halifax's Waverly Inn (downtown) and exit city via highway 103 South.
leave highway at Exit 5 (Timberley/Tantallon) going left at top of ramp and proceeding to Highway 3/Lighthouse Route (right) = make sure you turn right. We turned left and ended up back in Halifax! Still got to the tour in time, missed the scenic route, though went back in the afternoon and there was plenty of time for it.
8-8:30am: Coffee at Kiwi Café, Chester
drive through village, continuing on Lighthouse Route to Mahone Bay.
9-9:45am: Mahone Bay Stroll
Park at lot across from three churches (top of harbour) and stroll around Mahone Bay: there are a number of gift shops along Main Street. (Unfortunately most open at 10am in the Spring)
Don't miss Amos Pewter http://www.amospewter.com/ showcasing in-house made pewter gifts and accessories, which opens at 9am.
9:45 to 10am Lunenburg
Continue on Lighthouse route (left at monument intersection) to Lunenburg: the first stop you come to will be a T at intersection with route 332.
Turn left: you will quickly come to a sign pointing right for Lunenburg. DO NOT turn right, rather proceed on route 332.
You will see a large building on a hill in the distance to the right – that is the Lunenburg Academy; turn right onto Kissing Bridge Road (there will be water coming up on the left when you make this turn).
Drive up the hill past the cemetery to Cornwallis Street (first right), turn right
Take next right onto Lawrence Street; after one block you will reach the Lunenburg Academy grounds, where you will find us
Park there. It's free and your car will be safe until you return.
10am to 12pm Essential Lunenburg plus Waterfront and Flavours Tour – excellent tour with Ashley and Shelah!

http://www.lunenburgwalkingtours.com/tour-calendar/

Shelah: shelah@lunenburgwalkingtours.com 902-521-6867
Waterfront – sites to point out – fisheries – waterfront development
Scallop company year round was out for 8 days, so we missed this! 🙁
BlueNose – built and launched…
Grocery store – Lunnenburg Pudding, Sausage and a sauerkraut tasting that was wonderful! Foodlands also had Savoury and dried local cranberries.
Distillery Ironworks – distillery – kraft – old blacksmith shop – won 5 international gold prizes for varieties in London
Crafts – folk art – wooden carves – galleries Nogglers – missed this spot
Rug hooking/ matt braiding – missed this spot
Family of artists – Purcells
12 noon: Lunch at the Salt Shaker
12:15 reservation don't usually take them, but made an exception for us
owned by award-winning Fleur de Sel Restaurant (not open on Tuesdays in the spring). The mushroom pizza and beet salad are Shelah's favourites.

scallops for your meal, seriously, and a side of Tancook Island sauerkraut
had the Seafood Chowder and Vanja had a sandwich; both were excellent, as was the service (everything comes with biscuits)
1:30 to 3:30pm: Stroll Lincoln and Montague Streets Vanja was not well; he slept while I backtracked to the scenic tour route missed in the morning. I also went to the hospital to buy the old local cookbook and shopped around town a bit before heading out.
many shops and galleries

stopping for fair-trade Laughing Whale coffee and
homemade treat at Shop on the Corner – missed it… a lot of shops were closed as we were so early in the season

You may also want to revisit some of the street you saw during the tour or discover new ones as you wind your way back up to get your car at the Academy grounds.
Remember, the town is designed on a grid pattern and placed between two harbours, the Academy at one end and Blockhouse Hill at the other, so you can't really get lost.
3:30 to 5pm Check into the Boscawen Inn
Boscawen Inn, 150 Cumberland Street, http://boscawen.ca

102 main floor
beautiful bed and breakfast Inn with great proprietors; extraordinary breakfast and breakfast room
5pm: Blue Rocks and Stonehurst (10 minutes from Lunenburg)
For a beautiful scenic look around, leave Lunenburg via Pelham Street which becomes the Blue Rocks Road.
When you arrive at the head of the cove turn right onto Herring Rock Road and follow along to The Point; this is a dead end: you are now looking out at Eastern Points.
Come back the same road turning right as you pass the house with a Lighthouse structure on the top.
Go straight through the intersection. This road takes you to Stonehurst, site of several film shootings including Delores Clairborne and all the Jessie Stone (Tom Selleck) movies.
Soon, after you pass a small United Church on the left, you will come to a fork in the road. Go right (Stonehurst South) and wind your way out to the end for a classic South Shore vista.
Follow the same road back. When you get back into Blue Rocks and are at the intersection, this time go right and the road will come back onto the Blue Rocks Road again, and you can make your way back to Lunenburg.
When you arrive back in town perhaps drive around a bit:

there is great architecture everywhere including in the "newtown" area.
If you drive around the harbour you will reach the "other side" (you'll see the Bluenose Golf Course ahead of you). This is THE Lunenburg photo op. And we did take advantage of it!
As you drive back keep your eyes open for a set of tall masts toward the top of the harbour. You are seeing the rebuilt Bluenose II, tied up at the Lunenburg Foundry wharf. As you come by their parking lot (across from the tennis court) you might notice some red buildings with old looking signs painted on the sides. That was the site of part of the filming of Moby Dick. And yes, that is a piece of the Berlin wall in the parking lot. Your supper destination is just up the hill, near the gas station you passed on the way through town.
6:30pm Supper at the Knot Pub
Tuesday Stephanie – reservations made for 6:30
http://www.theknotpub.ca/ This is where the locals go for consistently great food and fun atmosphere: the Caesar salad and mussel soup are famous. Had the Caesar salad and it was exactly like the one mom makes. First time anyone has made it that good! Had the scallops – should have had the mussel soup. Scallops were overcooked. Vanja enjoyed his burger. Great little local spot.

The Knot Pub 902 634 3334
4 Dufferin St.
Lunenburg, NS

After supper leave your car parked and take a stroll across the street where there are a couple of beautiful buildings including the Bluenose Lodge and the James D. Eisenhauer house next door.
Turn around and spot the fire hall then walk toward and past it into a small park. This is the site of the pre-Foreign Protestant settlement when the French lived with the Mi'kmaq people in a village they called Merleguish. Turn around and you'll have a spectacular view of Bluenose II dockside.
Day 4: May 7 Wednesday 2014 Depart Lunenburg to Pubnico
a continuation of Shelah's Itinerary for us until 3PM today
7:30am Breakfast at the B&B – incredible!
8:30 to 10:00am Ferry Crossing at 10:15
Depart Lunenburg via Victoria Road (back over by the tennis court), turning left onto route 332 just a few KMs from town.
Follow route 332 (ignore the ferry sign when you see it – you are taking a different route) to Rose Bay.
As soon as you pass the General Store, turn left onto Lower Rose Bay Road; drive a few minutes to Kingsburg for a stunning view out over Lunenburg Bay
In the village, turn right to go to Hirtles Beach for a peak and a sniff of the salt air only a beach can provide.

Watch your time as you need 20 minutes to get to the ferry for the 10:15 crossing – there was a lot of time!

Return via the same road to route 332 turning left back onto the road and follow the signs to the ferry (going across the small bridge in Riverport).

The LaHave Ferry takes cash only and is $5.

The crossing takes only a few minutes. When the ferry lands, you will be in LaHave. Turn left onto route 331.
10:30 to 11:00am LaHave Bakery: do not miss this building and the treats here! The oatcakes are famous!
For a history lesson of the area, visit The National Historic Site of the first capital of New France between 1632 -1636, Fort Ste-Marie-de-Grace near the bakery – ask them for directions. Here the Fort Point Museum paints a picture of life for the new French settlers and their native hosts, the Mi'kmaq
In a few seconds after arrival in LaHave you will see the LaHave Bakery on the left: it's time for coffee and a treat.

There is a craft cooperative on site as well, but this wasn't open for the season yet, either: all together now – GROAN!
11:00 to 11:45pm Petite Riviere Vineyards – which was, sadly, closed yet for the season when we arrived. We did stop at the Saltbox Gallery, though!
Continue along the 331 enjoying the beautiful views.
When you cross the bridge at Petite Riviere, turn right onto the Petite Riviere Road, which becomes the Crousetown Road.
You are heading to the Petite Riviere Vineyards http://www.petiterivierevineyards.ca/ Enjoy a few samples of this great local product.
11:45 to 1:00pm The Best Coast Cafe was also closed for the season.

Go back down to the 331 (you can stay on the Crousetown Road as it intersects the 331).
Turn right and drive to nearby Broad Cove where you will find The Best Coast Cafe, your lunch destination; no web site but a great spot.
Stop in Shelburne. It's a charming town. Charlotte Lane Cafe for a meal – which was also closed for the season, though they let us in, we met the chef and we chatted a bit; or Flying Fox Bake Shop for sweets & espresso – also closed as was the place the Charlotte Lane Cafe sent us to. Also the whole South Shore is lousy with antiques and craftshops – not yet open for the season, I will add.
1 to 3pm Pubnico Museum: Pubnico is the oldest Acadian village in the world
West Pubnico , Nova Scotia
Exit 31 on Highway 103
4.6 km on Route 335 South
Bernice from Pubnico bernice.dentremont@ns.sympatico.ca 902 762-3380 – The lovely Bernice has planned the rest of this day and tomorrow until 2pm for us.

We called and asked where we could stop enroute – we were about an hour early – for some lunch. "There is hamburger soup at the Musee." she answered. Little did we know it was brought from her house just for us! Absolutely delicious, too – I will add!




Change of plans: we went lobster fishing!

brought 2 lovely lobster's back to Bernice and Real's and he cooked it as a lobster fisherman does: steamed with lots of salt. Yummy!
visited the green house next door, then went for dinner at The Red Cap Inn and to bed.
3pm Wharf: Dennis Point Wharf – lobster fishing!
visit and went on lobster cars and talked to fishermen
lobster car is at the wharf and the boats come in – this is peak season
Check in at the Red Cap (902) 762-2112
7 pm Dinner at the Red Cap (902) 762-2112
8pm restaurant is closed redcaprestaurant@ns.aliantzinc.ca
Fricot is an Acadian specialty dish
Suggestion: Haddock with lobster sauce and bread pudding – I had the haddock with lobster sauce and rappie pie! No room for dessert!
1034 Route 335 S
Middle West Pubnico
Nova Scotia, Canada
B0W 2M0
Dusk Possibility but we were too tired.
Camp fire at Ye Olde Argyler and Some Mors and Tides – Bernice
Make a Fire and steam some clams on the sea shore on a tin if the weather enables
Day 5: May 8 Thursday 2014 Pubnico Tour and on to Chanterelle Inn
6:00 am – Breakfast Dennis Point Café , Lower West Pubnico
Local flavor – if the fisherman are not out fishing because of bad weather the restaurent if a famous hangout of local fishers and their chatter.

Dennis Point is where the warf is and this is the lobster capital in North America per Capita
I was served a "Traditional Acadian Breakfast": lobster omelete – a way of conserving the lobster and making it go further, Bernice told me
8:00 am – D'Eon's Rappie Pie: see Rappie Pie being made from the potato to the final product
Rapure, otherwise known as Rappie Pie is a favourite. Try it with molasses. RED CAP RESTAURANT Ask anyone on the French shore who makes the best rappie pie, and be prepared to stay awhile and discuss local ingredients and recipes.
8:30 am Historical Pubnico Acadian Village Tour 902 762-3380
with storyteller and a taste of home made molasses cookies
9:00 am Acadian Museum History and Crafts: biscuits, homemade jams (gooseberry was dynamite and the company and biscuits, unforgettable)
11:00 Windmills of Pubnico
11 am Folk Art Shany: Sticks and Stones
Visit Alyssa Foods, a family business know for its salt fish, Bacalao Saladok which is shipped to many Italian and Portuguese families in Upper Canada. Take home a traditional wooden box of salt fish to make your own traditional fish cakes. – forgot to do either, was too busy!
Perhaps you could try Digby chicks (smoked herring), or salt Pollock. Either way remember to ask for recipes.
12 noon Eel Lake Oyster Farm
Ruisseau oysters from a local grower and try them Nova Scotia style.
1:30 pm Depart Area for Cape Breton Island 8 hour drive advice below was given by the lovely Deb
Ice wine is what you'll want to look for, and Bulwark's Cider (so good). Annapolis Royal is kind of famous: you probably remember it as Port Royal, settled 1604. Pull off the faster highway that you'll use for most of the region (101) and drive through it on the 1, at minimum, and admire all the historic houses; I'm not sure if the historic site is open in late April.
Definitely stop in Wolfville, home of Acadia University and lots more beautiful Victorian houses, and eat at one of the places on Main Street – or outside Wolfville at Le Caveau, the restaurant at Grand Pre Winery. You'll also want to stop at one of the farm stands along the way, and at Tangled Garden, in Grand Pre, who make the most gorgeous jellies and chutneys. This part of the province was originally Acadian, then Planter/Loyalist after the deportations.
We went back the same way we came, so didn't go through the valley at all

Irving Big Stop in Auld's Cove. Authentic truck stop food, Maritime road trip staple weren't hungry, so didn't stop


5 hours and 40 minutes after leaving Pubnico – without stoping is: Next place to stop: just before you cross the Canso Causeway, stop for food at the
good chowder or fish-n-chips, and the best lemon meringue pie. They also have a shop where you can get wee bottles of Crosby's molasses, and probably that dulse you want.
stopped on the way out of Cape Breton three days later – and there were no little souvenirs there any more. 🙁

Chanterelle Inn OR Country Inn Baddeck
www.chanterelleinn.com/ cottage arrival about 10 pm

Earlene Busch
Address: 48678 Cabot Trail, North River Bridge, Nova Scotia B0E 1B0, Canada
Day 6: May 9 Friday 2014 Fort Louisbourg
Open 9:30am to 4 pm

Tour 11 am Fort Louisbourg Tour sheryl.mackenzie@pc.gc.ca $73.60. one hour tour off season tour sheryl.mackenzie@pc.gc.ca
Tel/Tél: (902)733-3552
Meet at the Administration Office
Great tour, but the joke was on us: I was told the "Fort is only open Monday to Friday as it is slow season. We aren't open for the weekends, yet." So, I booked a tour and expected the entire fort to be operational. It was not. We were the only car in the lot. Not to be missed, but I would strongly suggest being there "in season".
Dinner: Chanterelle Inn 6 pm or 6:30 pm

Slow Food Meeting Dinner
Day 7: May 10 Saturday 2014
Cabot Trail

do it counterclockwise to see the most (outside lane)
only grocery store enroote: Cabot Trail Food Market: 29359 Cabot Trail Cape North, Nova Scotia Phone: 1-902-383-2677 Email: mylesdixon@ns.sympatico.ca
Cape North Farmers' Market – wrote to see if they were open, but no answer – 10 am to 1 pm every Saturday in season – nothing opened.
Deb says

eat when you stop in Cheticamp, which is an Acadian fishing hamlet, so it'll be tortiere and rappie pie and the like, and check out the hooked rugs, which were started as a cottage industry back in the 1910s or 1920s and have rightly become famous – but it was pouring rain. Nothing was opened that served old traditional Acadian Recipes according to the two places we stopped and asked at. We had lunch at Evangeline's and did have an odd Fricot made with a gravy instead of a stock and hadn't any dumplings in it.
Alexander Graham Bell Museum OPEN 9-5 on this day only as a Cruise Ship is coming in: recommened 60-90 minutes

902-295-2069 Monday 9am
we were told we could have a tour upon arrival, but the cruise ship was cancelled, so they were opened, but would not provide any tours; no white glove tours and no guided tours. We were the only ones there, but there were only 2 on staff – and they were so extremely knowledgeable as we did chat on the way out.

Dinner – Tom's Pizza at Baddeck



Day 8: May 11 Sunday 2014 Mother's Day
8:30am – 1pm Sydney: Cape Breton Farmer's Market – did not go as Bird Tour was cancelled; foggy day


340 Keltic Drive, Sydney River
Year round; Saturday 8:30am – 1pm
10 am BIRD ISLAND TOUR – we did call the morning of and she had our tour for the next day and wouldn't take us


Call to Confirm Night before: 1-800-661-6680/674-2384 whoever answers – to confirm tour at 10 am in the morning be there at 9:45 and about 45 mins from Chanterelle a
Warm clothing and blankets, hat and mittens
$35 each
Mabou Farmer's Market 11 am to 2pm in season – not in season, yet – but we drove there to see the town and drove to Baddeck for an early dinner

1 hour 45 minute drive to Mabou from Bird Ilands
1 hour from here back to Baddeck for the tour
Baddeck for dinner and shopping – shops closed

Dinner at Telegraph House

6:00 pm

reserved by Adam – 1-888-263-9840 or local number 902-295-1100

where Deb had her honeymoon


Email: telegraph@ns.sympatico.ca
Telegraph House 6:00 dinner
479 Chebucto Street
Baddeck, Nova Scotia
Mother's Day Meal: I had the special, then cancelled the dessert. The food was not good.

Day 9: May 12 Monday 2014 Leave Cape Breton and on to PEI
Pictou to PEI http://www.townofpictou.ca/pei_ferry_schedule.html

The shortbreads and oat cakes from Mrs MacGregor's are famous – and the oatcakes were being baked! We missed them! The shortbread was delicious!
Lunch in Pictou at Sharon's a small family business that was great and very nostalgic
cute little town, but an hour or less would do it
Ferry at Pictou to PEI – takes about 1.5 hrs
Caribou, Nova Scotia to Wood Islands, Prince Edward Island

2014 Dates

Times

May 1 – June 13

8:00, 11:15, 14:45, 18:15, 21:30

Automobiles Up to 6'6″ in Height

$69.00 round trip – no one way fare listed
Glasgow Glen Farm – 1 hour 15 minutes from ferry to the farm 5-5:30 pm – arrived on time, called as planned – no one was there; we waited. I e-mailed and Jeff never did call or e-mail back, so I was sincerely disappointed to miss the tour, and to have made such clear arrangements to have no one be there, answer, or ever return our message.

http://glasgowglenfarm.ca/ Jeff 902-628-9445
9 to 5 Monday to Friday
Cheeselady's Gouda Cheese Shop (old name)
1423 Winsloe Road
Winsloe, PE C1E 1Z3
Dinner: Simm's for Oysters


– 15 minutes from cheese farm 6:30 pm res – excellent gorgeous restaurant – great for oysters, expensive meals, but lovely
be sure to try oyster varieties: Raspberry Point's "Lucky Limes" if you can – nope, these weren't on the menu 🙁
86 Queen Street
Historic Charlottetown
Prince Edward Island, C1A 4A7
T: 902-894-7467 (SIMS)
Summerside Inn an hour away from the cheese farm late check in 8:00

98 Summer Street, Summerside, PEI, Canada, C1N 3J2
Meister.ken@gmail.com
Cell (902) 439-4387Buisness (902) 620-4993
Day 10: May 13 Tuesday 2014 PEI
Kensington – 16 minutes from Summerside

Eureka Garlic (organic garlic, including the BEST black garlic. Buy as much as you can!) al@eurekagarlic.ca
Al sells his black garlic for $30/pound. On Prince Edward Island, it is available directly from Al at his farm "Eureka Garlic" on the corner of Routes 2 and 233 in Kensington (902)836-5180.
I am Al's number one fan! His black garlic is the best in the world and he is as interesting as the day is long… seriously, he is generous with his time and any time you can get with him is well spent.
9 am – call Al first to remind him to expect us
Cavendish

See the beach – rest is tourist trappy – sand dunes on the beach are incredible – beach is expansive
Cow's Ice Cream on PEI somewhere – all closed for the season
Green Gables Open 9-15 Daily

Begin in the Visitor Centre, where an audio-visual presentation introduces the site. An exhibit highlights the life and works of L.M. Montgomery, Green Gables and PEI National Park. Next, explore interpretive displays in the barn or view an award-winning biographical film in the L.M. Montgomery theatre. In Green Gables House, guides are available to answer your questions as you view the restored rooms – complete with artifacts authentic to the period.
Very nice tour of the house, but cafe and aspects of the experience not in full swing, yet
Stanhope enroute to Dalvay – wonderful to see each of these beaches and the sand dunes
Brakley Beach enroute to Dalvay
Dalvay by the Sea – 40 minutes away from Cavandish – unbelievable beach

North Rustico for Traditional Lobster Supper at Fisherman's Warf

– actually had lunch here, but must say that this lobster is over prices and over cooked – go to Doiron Fishmarket and buy your own if you are there, like we were, in season – then cook it – or have them cook it on the spot, for you. Best advice you'll get for lobster on the island when the church suppers and Glasgow Lobster Suppers are not in full swing, yet.




Sandy said the Salad Bar fare opens Mother's Day but they would serve us a traditional lobster supper in the smaller restaurant side without the long salad bar open 12 noon to 8 pm then
30 minutes back from Dalvay

Summerside Inn – 45 minutes back to B and B
Day 11: May 14 Wednesday 2014 PEI
Victoria by the Sea – stunning – and the red sand beaches are a MUST to see; completely different than Dalvay

Charlottetown

Eat Cows Ice Cream – voted number one in the world
Gahan Beer – missed it

902-626-BEER (2337)
Address:126 Sydney St., Charlottetown
http://peiflavours.ca/index.php/flavours-trail/listing/The-Gahan-Beer/
historic Province House – Open 9-5 – missed it
Cow's Creamery – best tour, EVER!
902-370-3155 closed for the season, call Sheela 902 218 2244 called and left a long winded message
397 Capital Dr., Charlottetown
Avonlea Clothbound Cheddar – contact Andrea white
6:30 pm

Te

rra Rouge for Dinner 6:30 Valerie for 2 – had lunch here, instead: outstanding!

1 902 892 4032
gm@terrerougepei.com
72 Queen St, Charlottetown
Day 12: May 15 Thursday 2014 Mainland via Confederation Bridge
Amherst – (1 hour and 22 minutes from Summerside)

there is a Tim Horton's downtown, the stone buildings in Amherst are gorgeous, and Deanne Fitzpatrick's rug hooking studio is at 33 Church Street. She's amazing, and I bet she'd be happy to recommend a decent local restaurant with a great blueberry pie on the menu. No one makes it this season, we were told. This shop is a must stop and I am now completely hooked on hooking.
Truro
Glooscap Heritage Centre and Mi'kmaw Museum outside of Truro is wonderful. We got a great tour and enjoyed the learning experience.
http://www.glooscapheritagecentre.com/Glooscap Heritage Centre
65 Treaty Trail,
Millbrook, NS B6L 1W3
902 843-3493
Gift Shop: 902 843-3339
We are open year round
Spring/Summer open from 8-5pm 7 days/week
· Dinner: The Saltscapes Restaurant and General Store is a must (Mondays and Tuesdays, closed)

– had lunch here, and it was ok – Vanja really enjoyed his meal and the hamburger aroma was intoxicating!



http://www.saltscapesrestaurant.com/Wednesday – Sunday: 11:00 AM – 8:00 PM
25 Treaty Trail
Millbrook, NS
902-843-6700
Tulips and Thistle Bed & Breakfast
As requested please find driving directions to our B & B from the Amherst area – lovely couple and accommodation!
Directions: Traveling eastbound from the the Amherst area along highway 104 (Trans Canada Highway) take exit 17, Bible Hill. At the bottom of the ramp turn right and proceed approximately 300 meters to a set of traffic lights. Turn left on to Highway 4 East(Pictou Road) at the lights and proceed 1.4km to Tulips and Thistle Bed & Breakfast (913 Pictou Road, left hand side of road). Please note: At approximately 1km, a road veers to the right towards Manganese Mines. Stay to the left at this intersection
Ann & Larry MacCormack
913 Pictou Road, Truro, Nova Scotia, Canada, B6L 2N1
GPS Coordinates: N45.40458, W63.19515
Tel: 1-902-895-6141
Toll Free Phone: 1-866-724-7796 (North America only)
E-Mail: tulipsthistle@eastlink.ca
Website: www.tulipsandthistlebedandbreakfast.com
Day 13: Friday May 16 2014 Halifax fly to St Johns 5PM
That Dutchman's Farm (50 minutes from B and B) open at 9 – got there at 9:30 – excellent visit!

RR1 Upper Economy, Nova Scotia, Canada, BOM 1J0
don't take the coastal road from Amherst through Parrsboro to get there, it would add hours of driving to your trip: take the toll road through the interior, then the exit at Lower Debert to get onto the #2
(En route you'll pass through Bass River, famous for its' old furniture factory and has a great antique shop, a museum, and a gift/furniture store – below)
Maja and Willem van den Hoek are the owners. Best to call – they don't like email much
tel:902-647-2751
Dominion Chair Co. Ltd. (7 minutes from Cheese Farm will pass by on way there) – completely disappointing, but did buy fresh dulse from five islands

Phone: 902-647-2210
Dominion Chair Co. Ltd.
5637 Highway 2
Bass River, NS
B0M 1B0
Return Halifax car/Pick up St. John's Car
FLIGHT: 5:00 PM – 7:10 PM
Halifax (YHZ) to St. John's (YYT) 16/05/14 Car Pick Up: 16 May 2014 7:00 PM
http://www.thechefsinn.ca/Phone: (709) 753-3180
Toll Free 1-877-753-3180
29 Gower Street
St. John's, Newfoundland, Canada
Dinner late 8:30 Baccalo – outstanding experience: excellent staff, food and ambiance

65 Lemarchant Road
St. John's, Newfoundland A1C 2G9
(709) 579-6565
info@bacalaocuisine.ca
Day 14: Saturday, May 17 St John's
NewfoundlandTours.com 2.5-3 hour Combination Tour
Tracy Byrne, CTM – Darren Steel, tour guide
Travel Manager
info@NewfoundlandTours.com
www.NewfoundlandTours.com
Phone: 709 769 8687
Coffee at "Fixed" great café nearby – it was OK, said Vanja
Stop at Rocket on Water Street in St. John's for some nice lunch items, as well as some food items to take home – excellent experience, went twice
272 Water St, St John's, NL A1C 1B7
(709) 738-2011 Mon. – Fri.: 7:30 am – 9:00 pm Saturday: 8:00 am – 10:00 pm Sunday: 8:00 am – 6:00 pm
·

Mallard Cottage

Dinner reservations 6pm – outstanding small plates Saturday night dinner!

8 Barrows Road, St. John's, NL A1A 1G8
(709) 237-7314
https://www.seatme.yelp.com/r/confirmed/6GSK0CHN64/
Day 15: Sunday May 18 2014 St John's
11:30 AM- 1:30 PM Obrien's Boat tour – 30 minutes from downtown St John's
22 Lower Road, Bay Bulls, Newfoundland and Labrador A0A 1C0, Canada
Tour #1: Award Winning Boat Tour (2 hours) – outstanding experience!
Sunday, 18 May 2014 10:30 AM
2 adults Shuttle Service : no Valerie Lugonja valerie@acanadianfoodie.com – 780-709-5073
| | | | |
| --- | --- | --- | --- |
| Booking number: | ob1404259053622 | Amount due: | $129.95 CAD |
2:15 The Rooms for coffee and tour at 3:00pm (15 minute orientation tour) – outstanding location and menu and service!
Orientation Tours
Sundays & Holidays
12:30 pm & 3 pm
Tours are approximately 15 minutes in length and appointments are not necessary. Tours are included in the cost of admission to The Rooms. Tour are not offered during free admission periods.
L'anse aux Meadows – very close to st johns – didn't go yet…

Christian's Bar – slept…
23 George Street
(709) 753-9100 bday@nl.rogers.com
be sure to kiss a cod on George St


Same room is available again at Chef's Inn
Day 16: Monday May 19 2014 VICTORIA DAY St John's to Trinity NL
Grumpy Goat Gallery at Upper Island Cove enroute – gorgeous whimsical art and lovely drive
Dildo – pretty little town enroute to Trinity – both on Conception Bay

Artisan Inn, Trinity

Marieke and Tineke will make our itinerary for us when we arrive

Campbell House Queen Sized Room 99/night in the Fisher Cove Room upgraded kindly to #9 Cove Cottage: Lucky US!

Get in touch morning of the 19th with Inn to confirm dietary needs for dinner – done – dinner at 7

Day 17: Tuesday May 20 2014 Trinity NL
Breakfast at Twine Lofts (Artisan Inn)
Day 18: Wednesday May 21 2014 Trinity NL
Dinner: Bonavista Social Club 6:30


on the Bonavista Peninsula

Artisan Inn, Trinity
Day 19: Thursday May 22 2014 Leave Trinity for St Johns
Travel Back arrive about noon
Coffee at "Fixed" great café nearby
Stop at Rocket on Water Street in St. John's for some nice lunch items, as well as some food items to take home.

272 Water St, St John's, NL A1C 1B7
(709) 738-2011 Mon. – Fri.: 7:30 am – 9:00 pm Saturday: 8:00 am – 10:00 pm Sunday: 8:00 am – 6pm
Dinner: Chinched Bistro 6:30 pm reservation called in and sent in

7 Queen St. St. John's, NL Tel : 709-722-3100

Chef's Inn and afternoon here
Day 20: Friday: May 23 St John's to Halifax 12:35 PM
12:35 PM – 2:00 PM Porter Airlines 264
St. John's (YYT) to Halifax (YHZ) 23/05/14
12:00 PM Car Drop Off: 23 May 2014 12:00 PM
Waverly 135 night – Angela – beginning of high season

Dinner at Henry House South End

1222 Barrington Street, Halifax, NS www.henryhouse.ca for dinner in the pub – excellent pub food 902-423-5660 reservations for 2 not necessary
Day 21: Saturday May 24
Pete's 8 am to 8 pm 1515 Dresden Row for coffee and groceries Halifax
Historic Farmer's Market Saturdays only 7pm to 1pm
1496 Lower Water
Halifax, NS B3J 1R9
(902) 492-8772
Lunch: ferry terminal for coffee and pastries from Two If By Sea
Halifax Citadel Opening Day 9-5

Guided tours start from gate and are about an hour
5425 Sackville St, Halifax, NS B3J 3Y3
Canada's Best independent grocery store

Walk the waterfront boardwalk

Dinner: Chives 6:30 for 2 George Davis booked for us.
http://www.chives.ca/
1537 Barrington Street
Reservations 902-420-9626
Open 7 days a week 5:00 to 9:30
Waverly 135 night – Angela – beginning of high season
Day 22: Sunday May 25 2014, Depart Halifax for Edmonton
Edna's for Brunch: http://ednarestaurant.com/ 10 – 12

do not take reservations, be there early
902.431.5683 info@ednarestaurant.com 2053 Gottingen Street
Foodie Tour at 1 pm -3 00 http://localtastingtours.com

Leaves from 1209 Marginal Rd, Halifax, NS B3H 4P8
(902) 492-4043
Meet us at the main doors of the Halifax Seaport Farmers Market 1209 Marginal Road on the waterfront at 1:20 pm pay cash or credit at the site ($30 tax in) Emily
Maritime Bus 22 one way – get a ticket one way – 63 dollars

Airport express
1-800-350-6945
Plane leaves at 6:30 pm

The sketch at the top of the page is by the ultra talented Chandler O'Leary from here.