.This Sour Cherry Tart Ball is an ACF Original Creation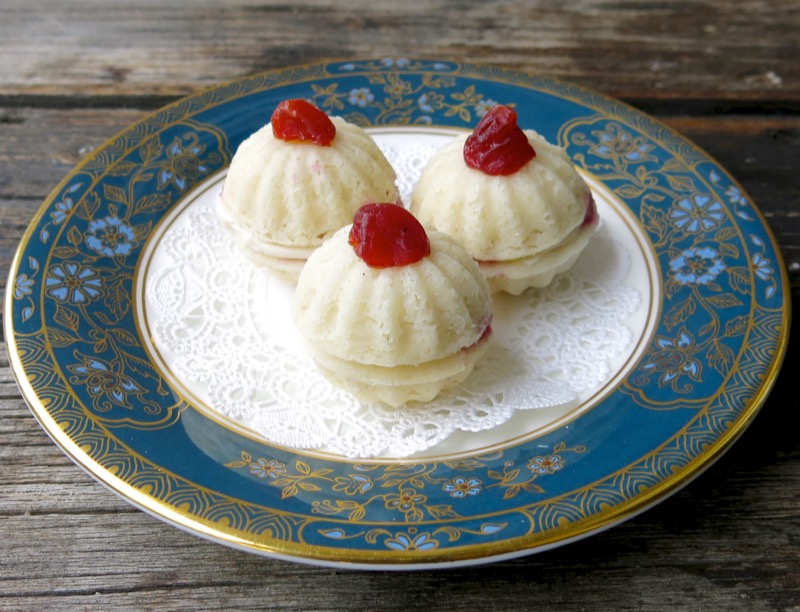 Happy 2017 one and all! I am finishing up the posts from my Christmas Baking regime 2016. Each year is the same, yet different, and I was particularly thrilled to find the inspiration to make this special Sour Cherry Tart Ball for my Traditional Christmas 2016 Baking platter.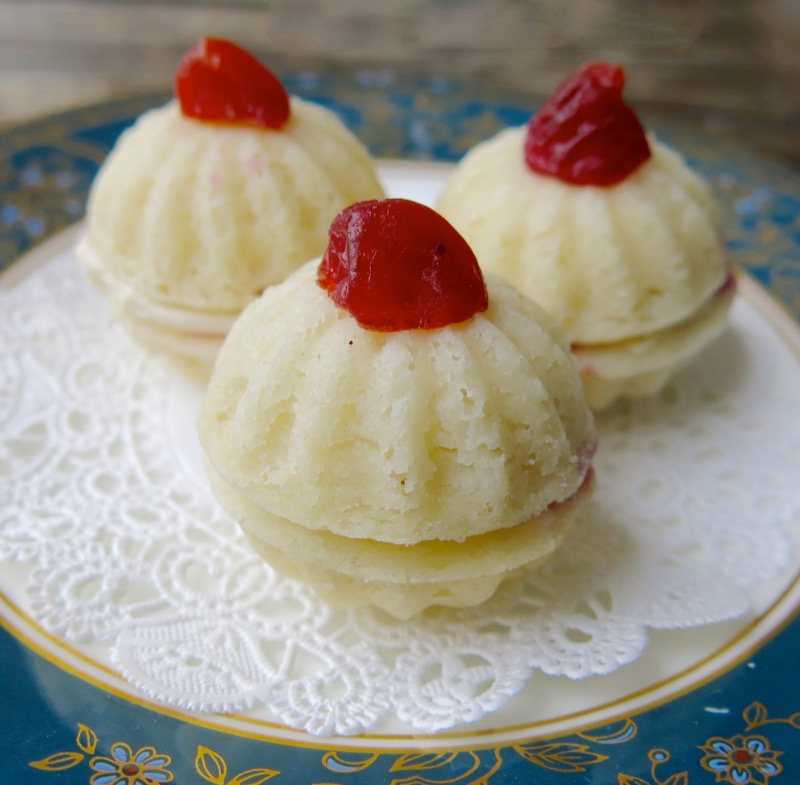 Gorgeous dusted with icing sugar snow, I went with simple for the debut. Ohhh-ahhhh! What are these? What is inside? Isn't that what the holidays are also about: those hidden treasures?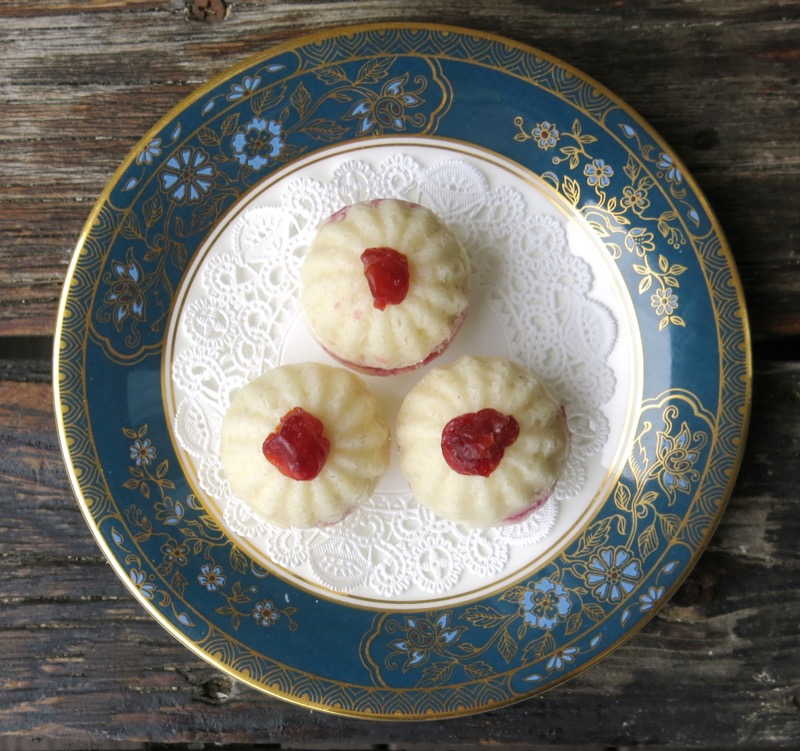 I treasure my sour cherries and can rarely use them all as the Evan's Cherry Tree in our yard is so prolific. This Christmas, Aleksandra, my nephew's girlfriend, gifted me with a jar of Sour Cherry Slatko that her mother had made. Slatko is a traditional Serbian Spoon Fruit that is excessively sweet and served to guests upon arrival to honour their visit with an icy cold glass of water on the side to compensate for the sugar. Well, we are Canadian, after all, and the Sour Cherry Slatko is a divine concoction that is unfortunately not excessively sweet to the North American palate. When I received this treasured gift, I knew immediately that I was going to use it somehow in a Christmas Tart.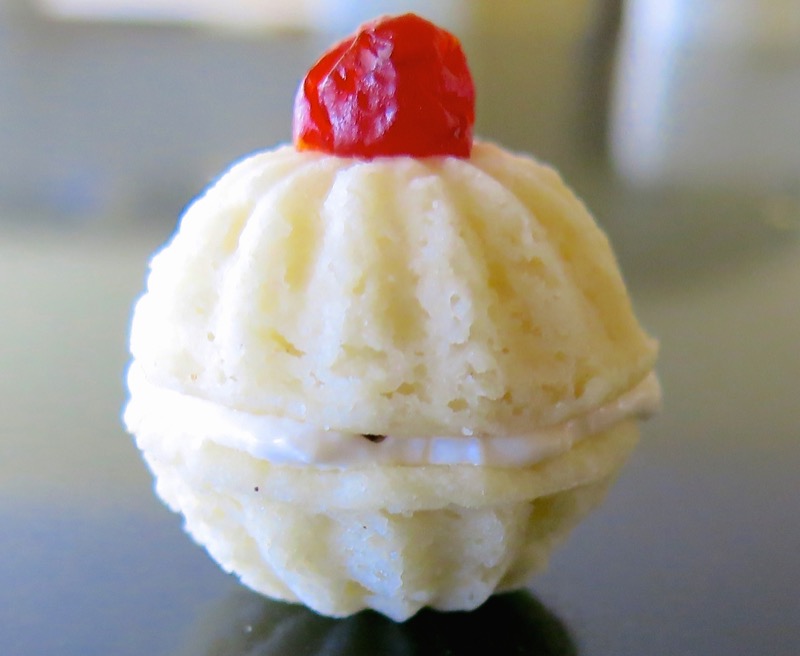 When planning my 2016 Christmas Tart and Cookie Platter (and planning is always an important part of the process) I like to have 4 tarts. Butter Tarts and Mincemeat Tarts are a given as traditional Canadian Christmas fare. The Lemon Curd Shortbread Tart is a family favourite and I would likely hear a lot of squawking and balking if I didn't make it, so it is consistently the third. My Salted Caramel Chocolate Mousse Shortbread Tart has been a requested favourite the past couple of years, but this year, I heard: "Don't make it mom! We love it too much and no one needs it!"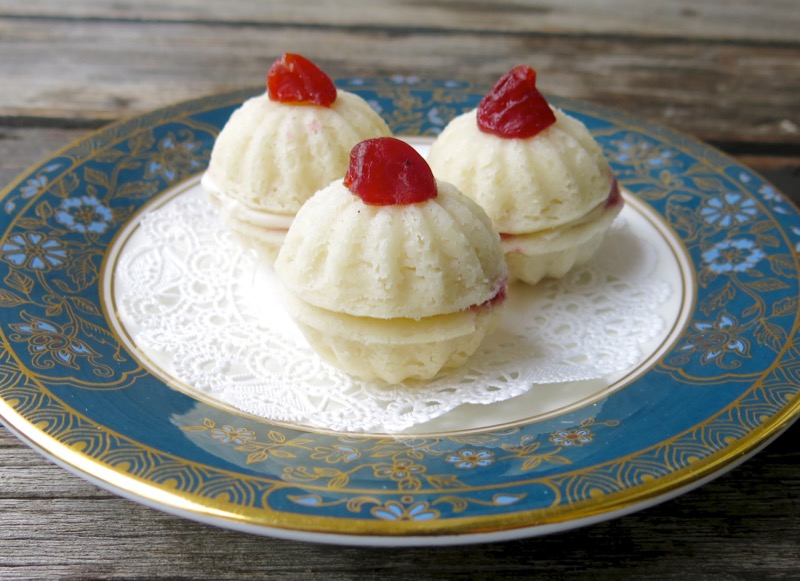 I had filled the shortbread tart shells with sour cherries and lemon curd a couple of years and that was pretty, and delicious. But, this year, scrounging through my pans and cutters, I found a tart pan I hadn't used in a few years that inspired me to make a tart ball as I recalled when using it last time into little Apricot Tassies that I never wrote about, that the tart shape formed a perfect ball when one was placed upon the other.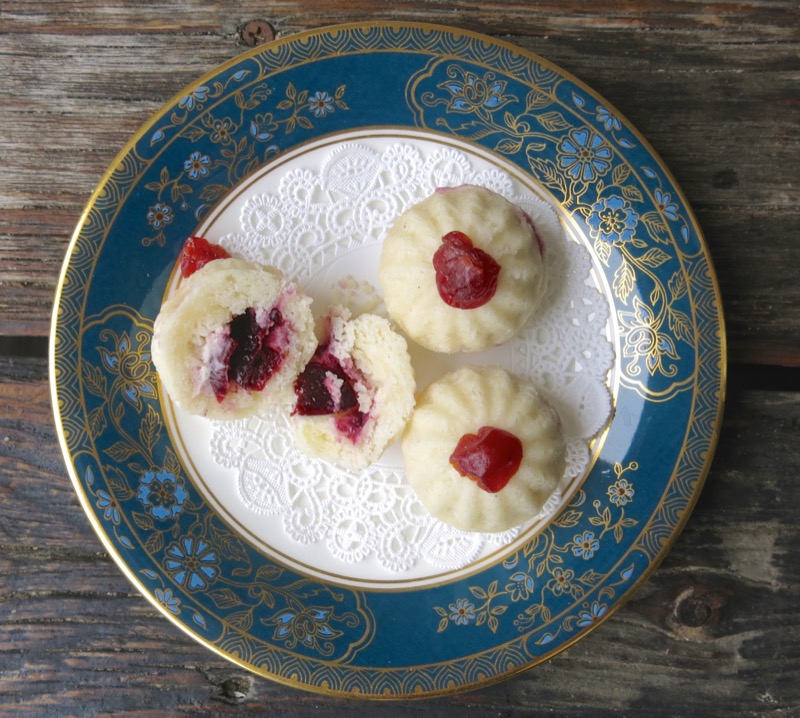 A sticky flavourful preserved Evan's cherry on top of each, I created a creamy filling and in the very centre, carefully placed one sour cherry from the Slatko jar. What better way to honour such a treasure than to hide it inside a Christmas Ball tart as a surprise treasure for each to discover?
Sour Cherry Tart Ball: Making the Dough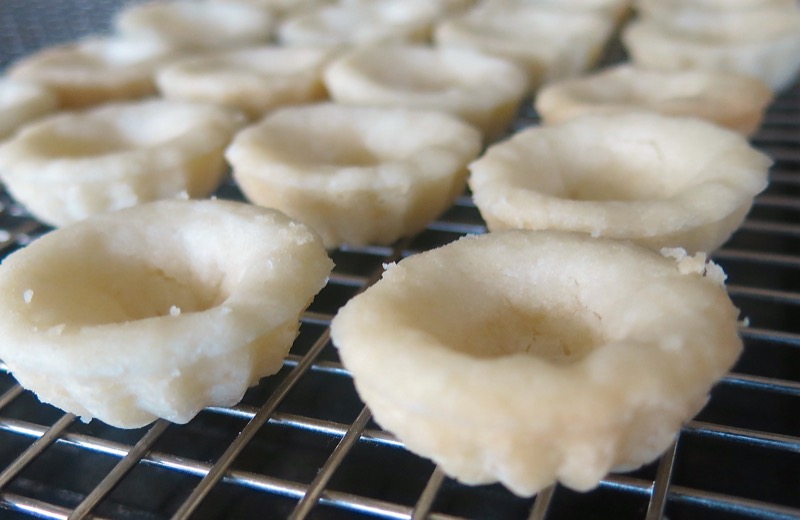 The recipe and step by step instructions for making the dough for these Miniature Shortbread Tart Shells is here.
Sour Cherry Tart Ball: Making the Filling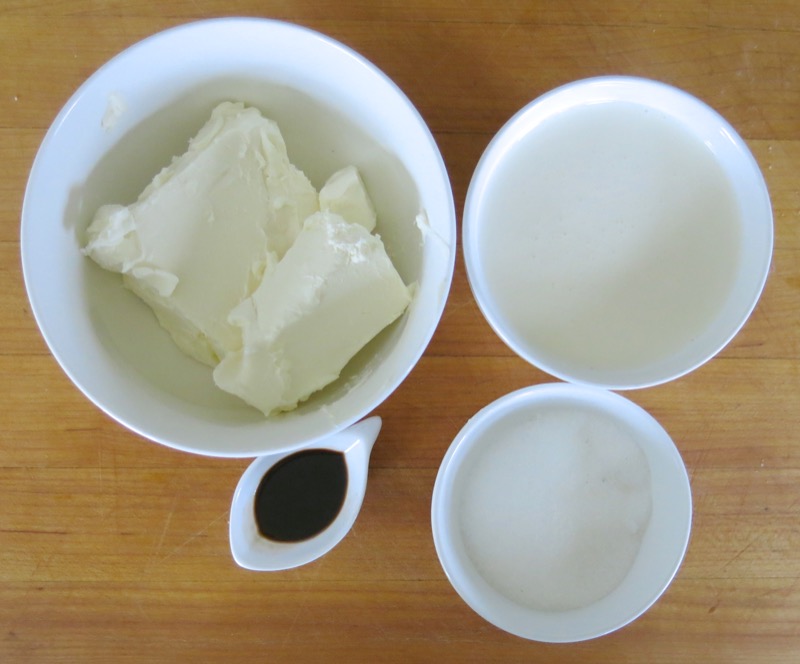 Mis en place for the filling is simple, delicious and lends itself to a variety of flavourful fruity surprises. The Sour Cherry Slatko is a lovely burst of clean tart fruity glory that sparkles within the unctuous fatty velvet of the creamy concoction within the buttery crunch of the shortbread crust. However, a multitude of treasured fruity preserves and flavours would work well within this festive tarty ball.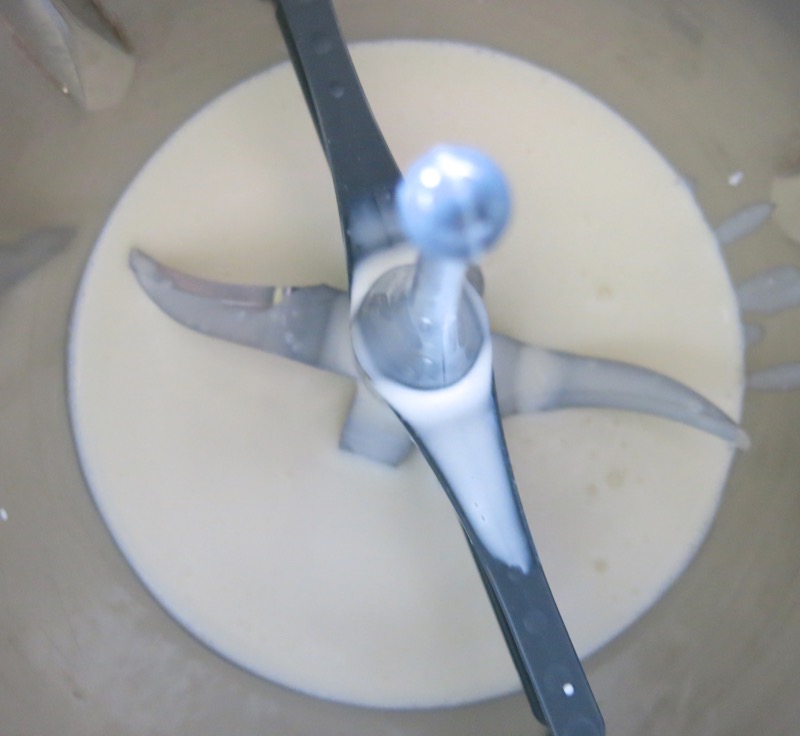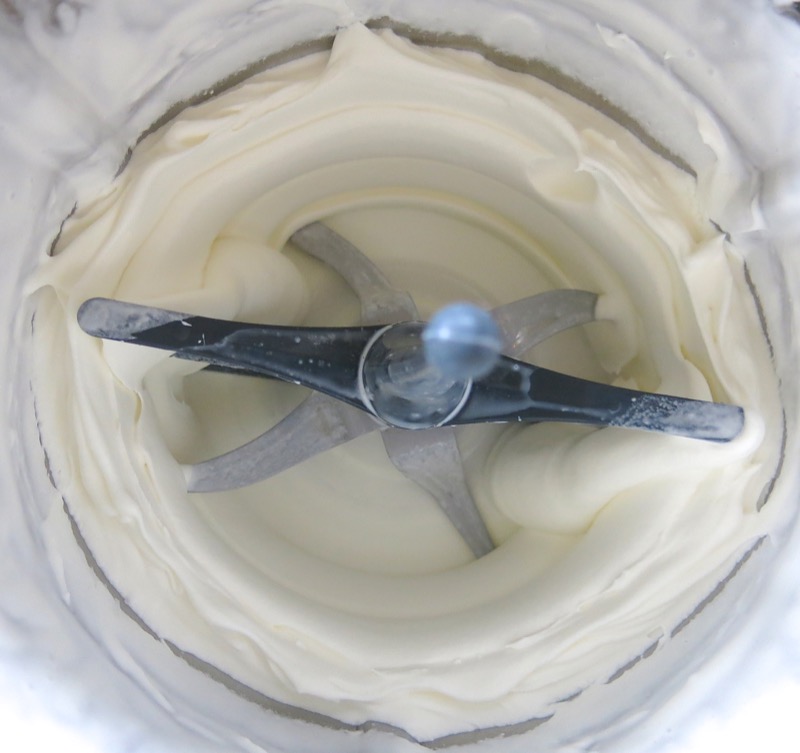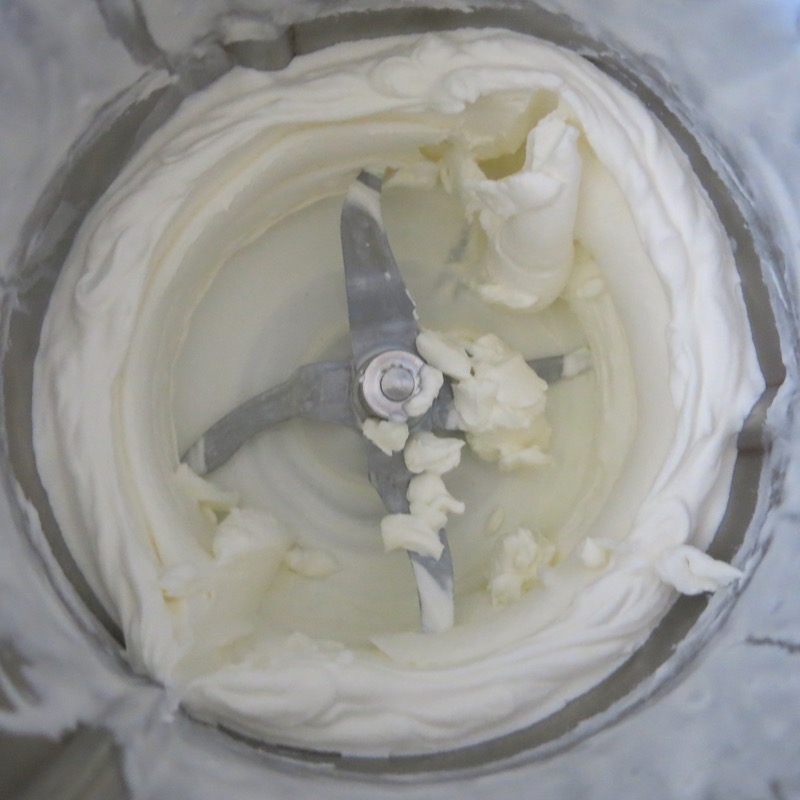 I use my Thermomix for everything I do, but the instructions for making the filling with an electric mixer are also included in the following recipe. Above, the whipped cream is whipped into stiff peaks, but not into butter.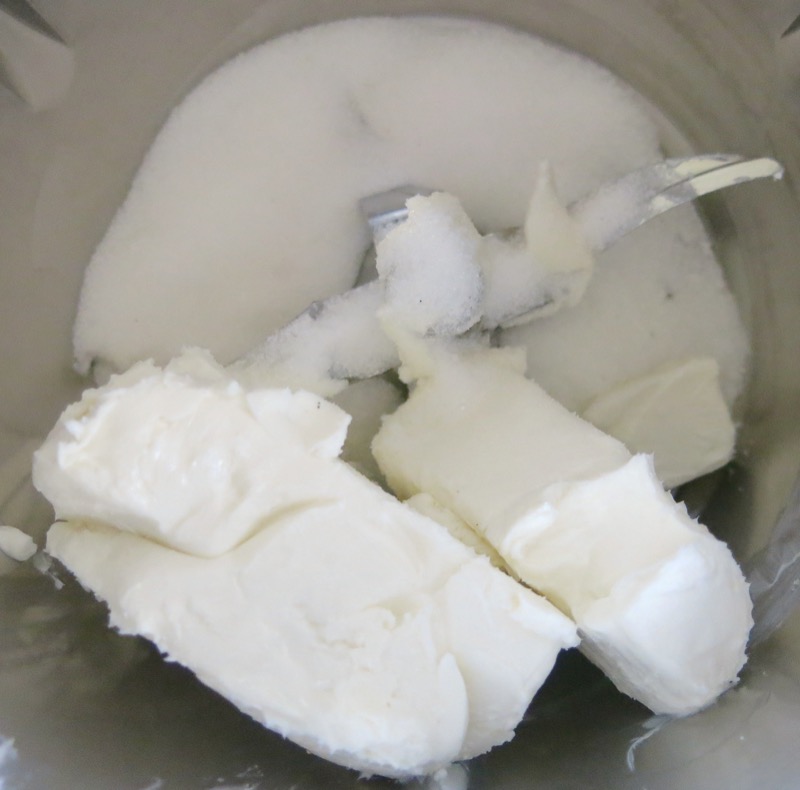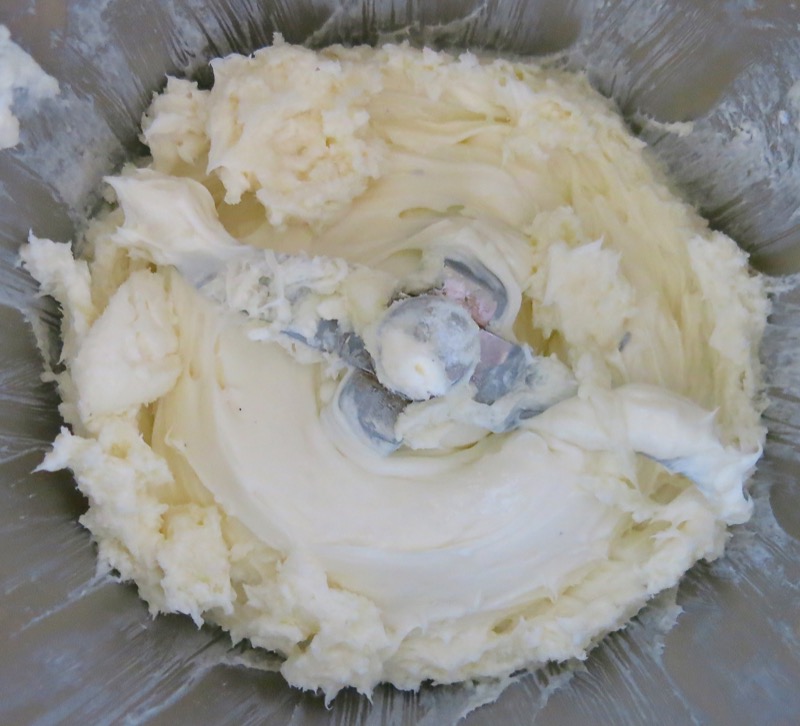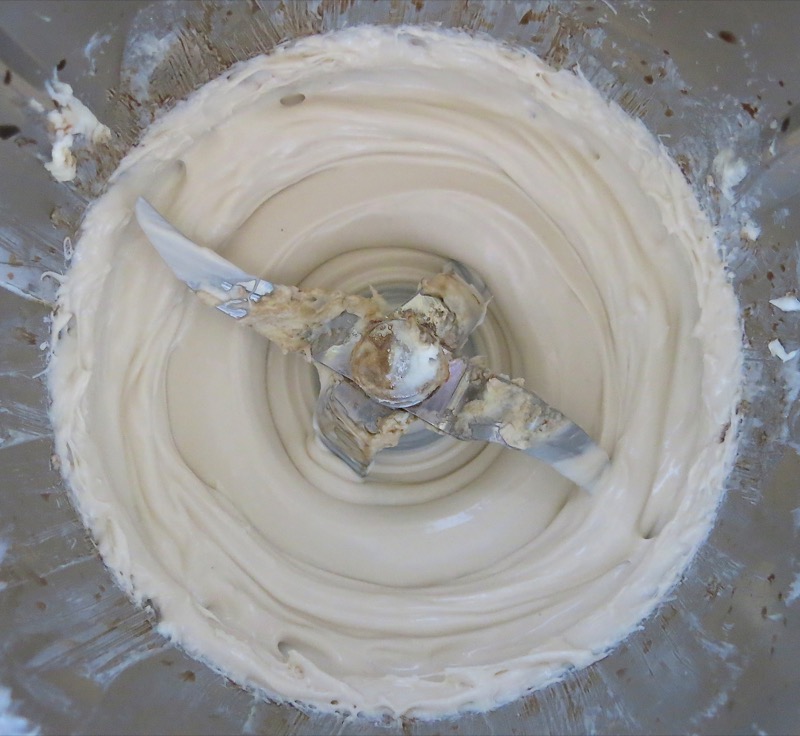 Without cleaning the TM bowl, the cream cheese and sugar are whipped together with the vanilla.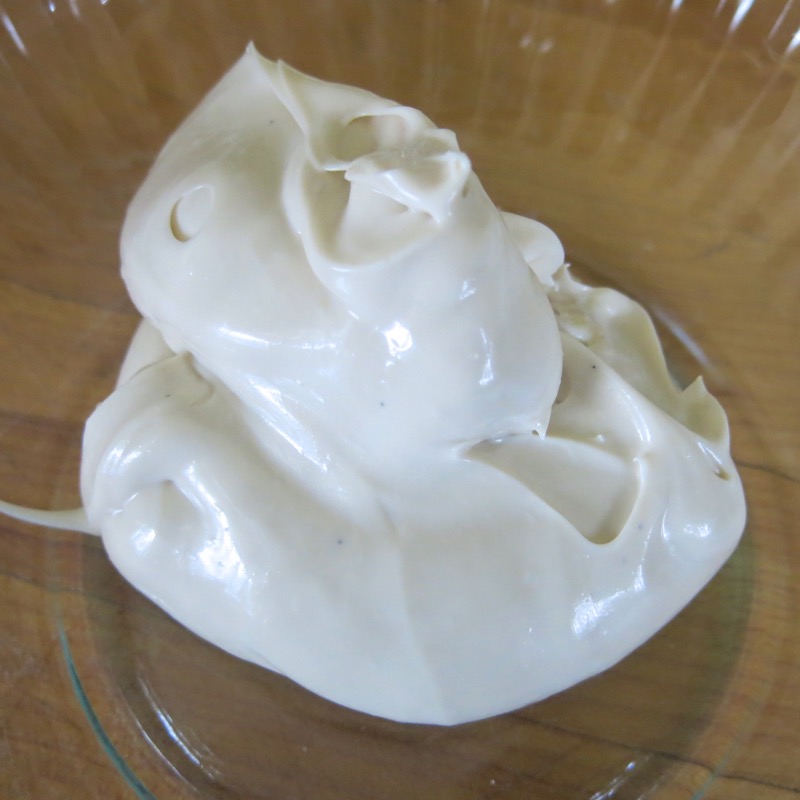 Silken cream cheese mixture, above.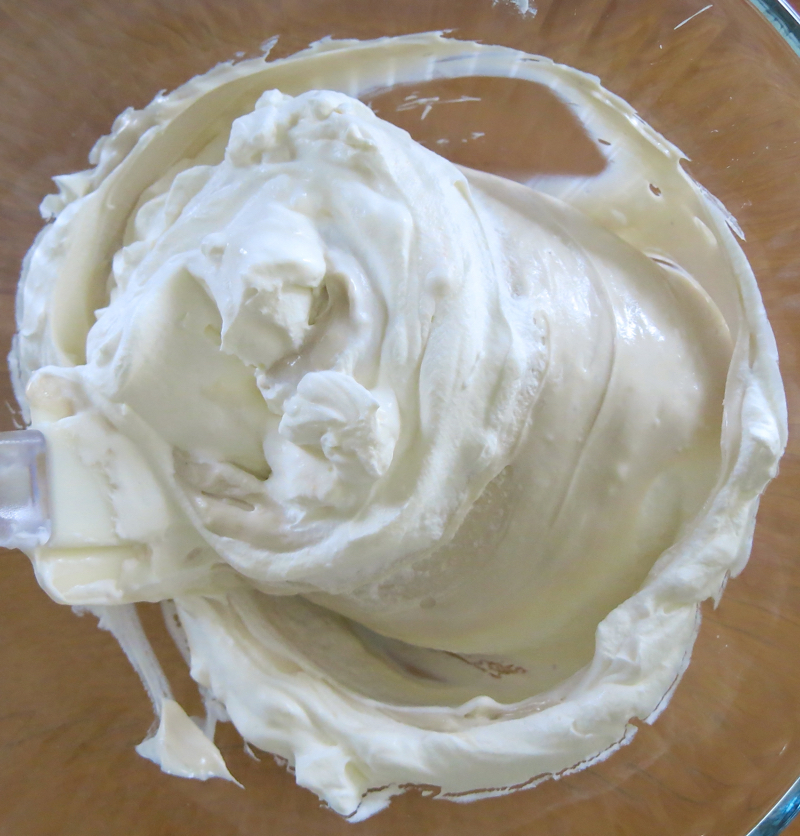 Stiffly whipped cream gently folded into cheesy concoction until fully incorporated to make a lovely light rich creamy shortbread tart filling.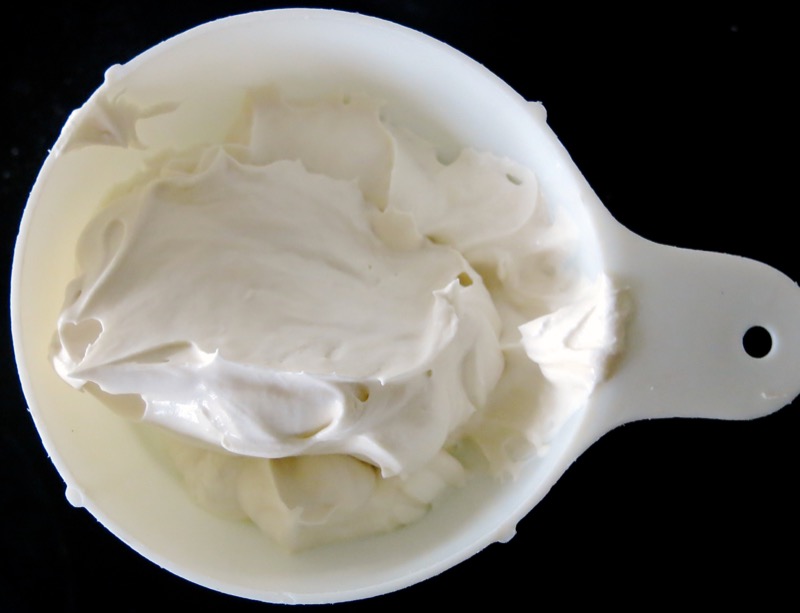 Best stored inside an air tight container in the fridge until ready to use. Will keep up to one month.
Sour Cherry Tart Ball: Putting it all Together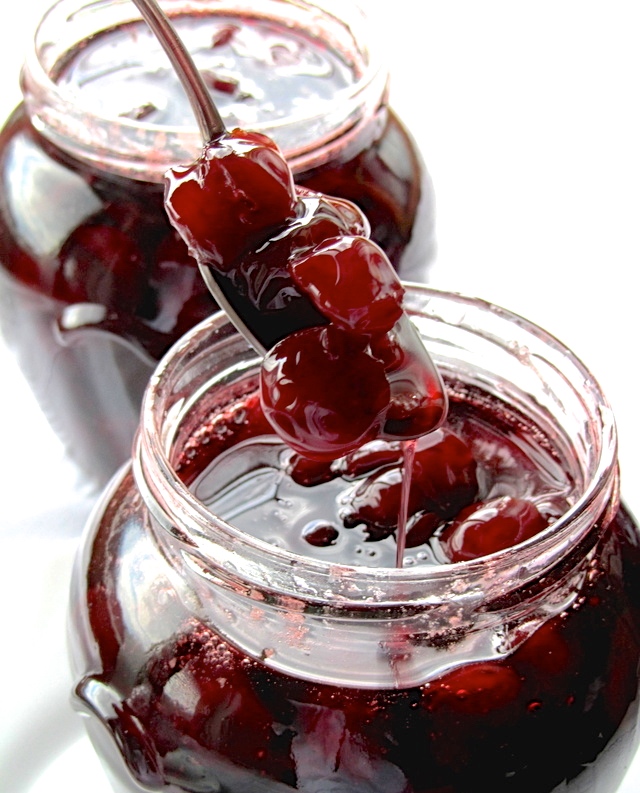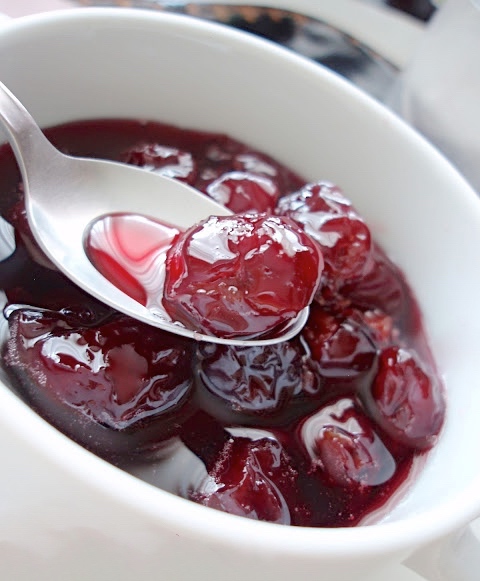 Above, the lovely slatko. I used one cherry for the centre of each Sour Cherry Tart Ball.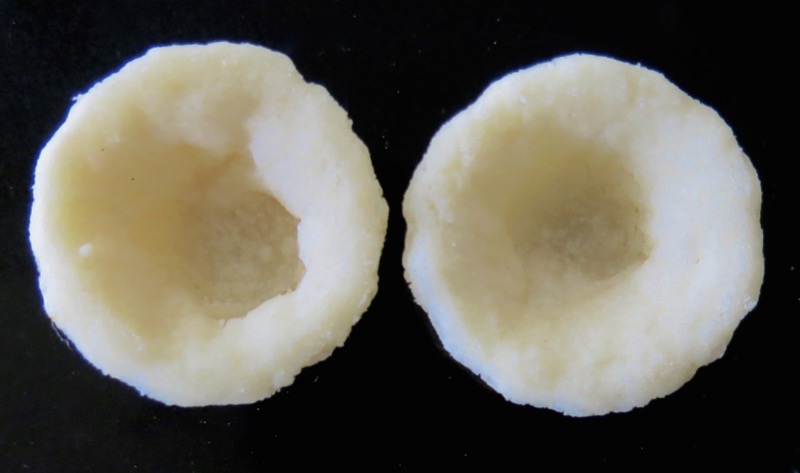 Shells ready.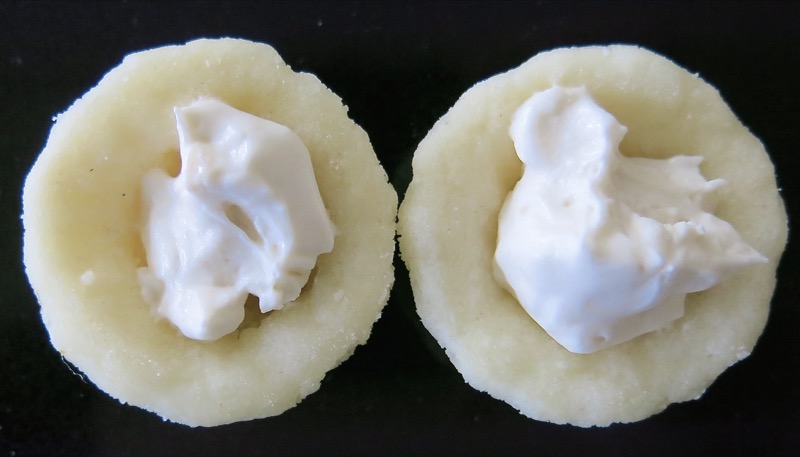 Each half filled with a small dollop of the cream filling.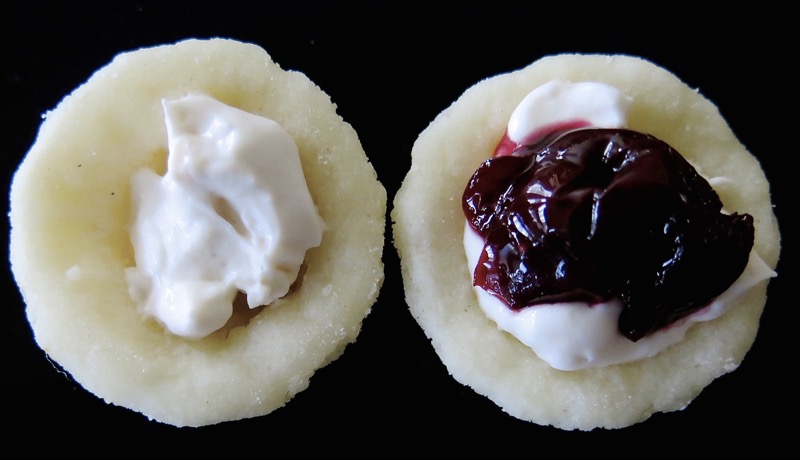 One preserved sour cherry is placed on the "bottom half" of the ball tart.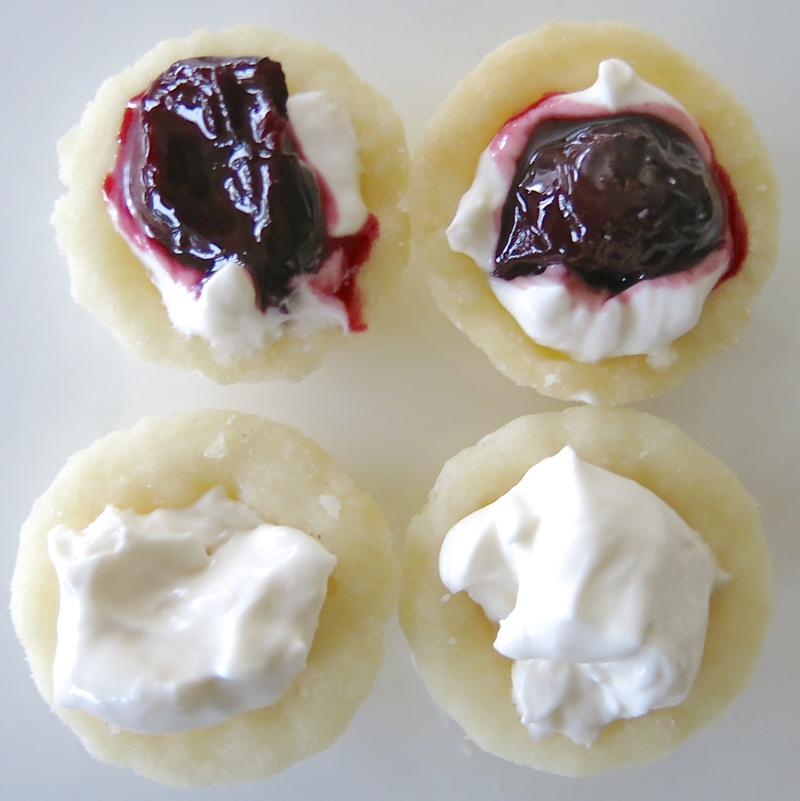 Above, the "bottom halves" are in the upper portion of the image. Place the tart shell filled with cream only over the cherry filled half to create a ball.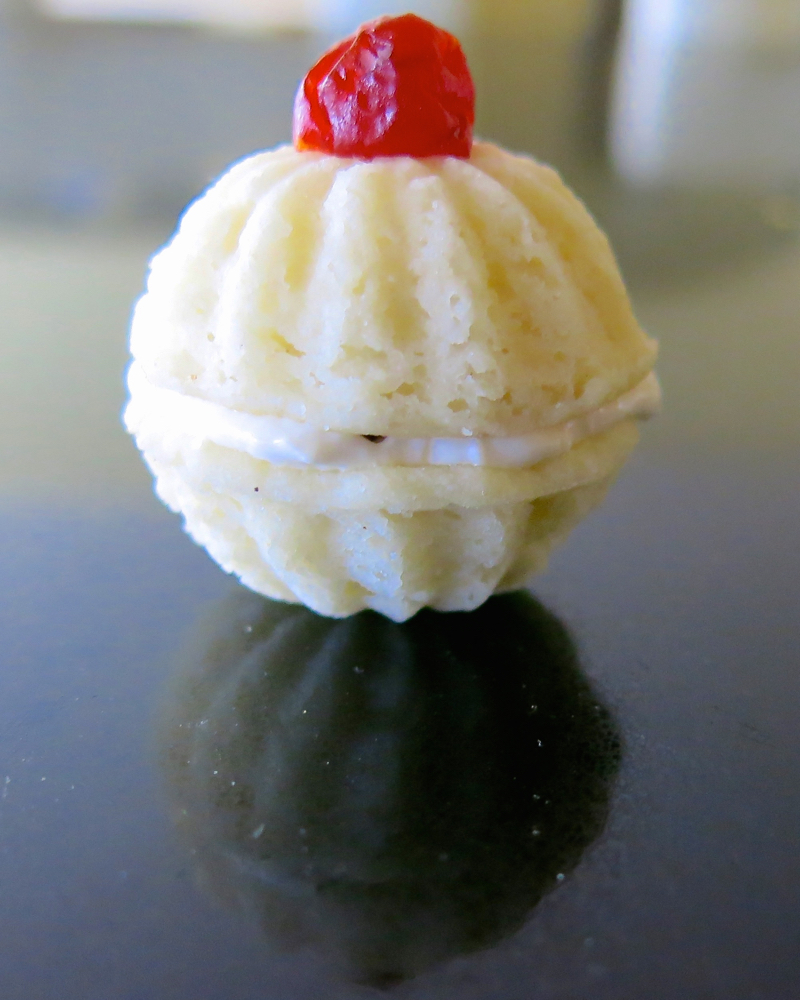 No need to press.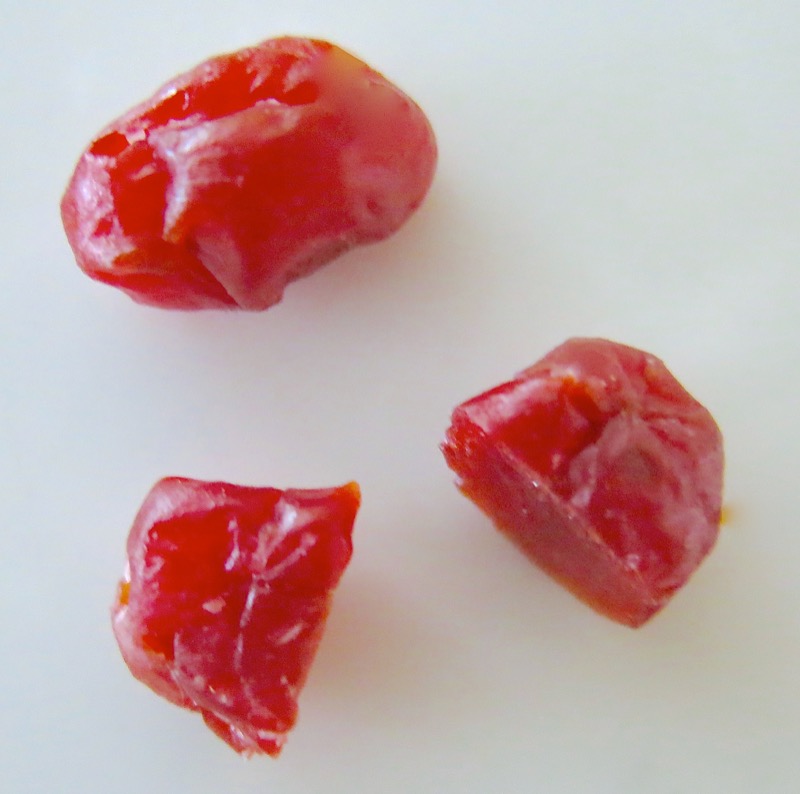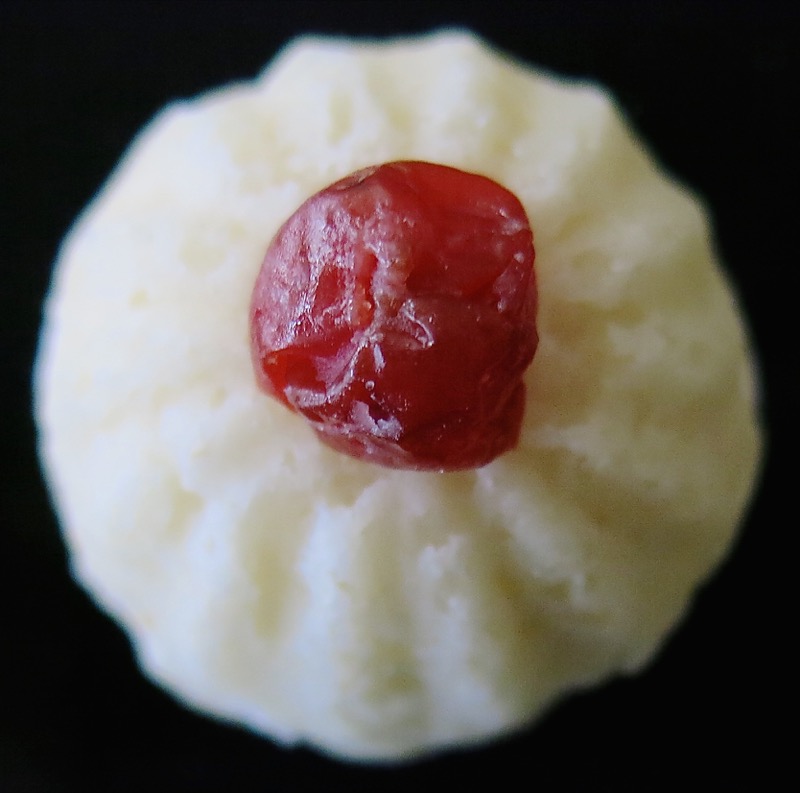 Halve one preserved sour cherry; place the sticky cut end on top of the tart ball or dome. The sticky end of the cherry will adhere to the shell and provide a rather stately garnish quietly revealing the interior.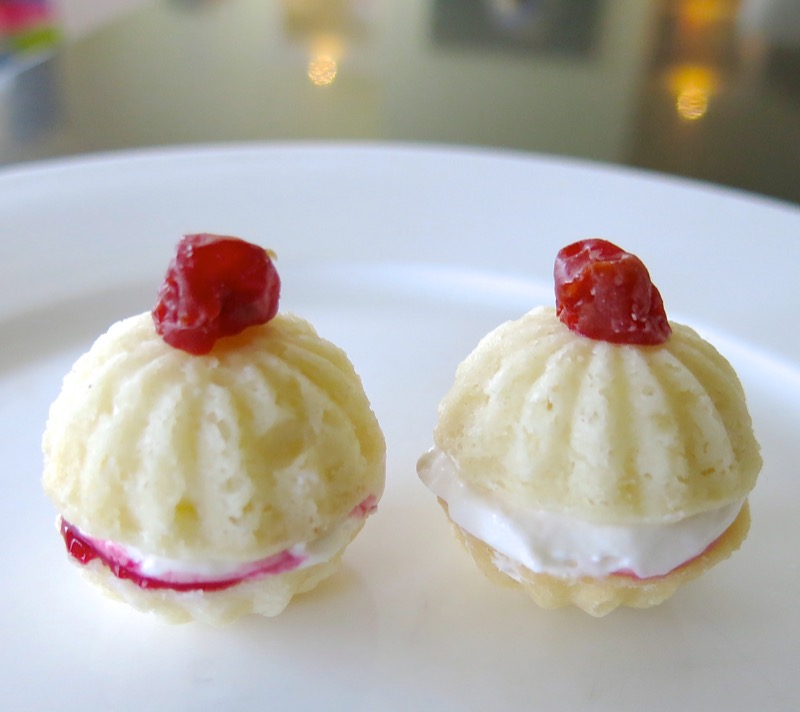 A bit of juice from the filling might rim the circumference of the ball; charm, I say!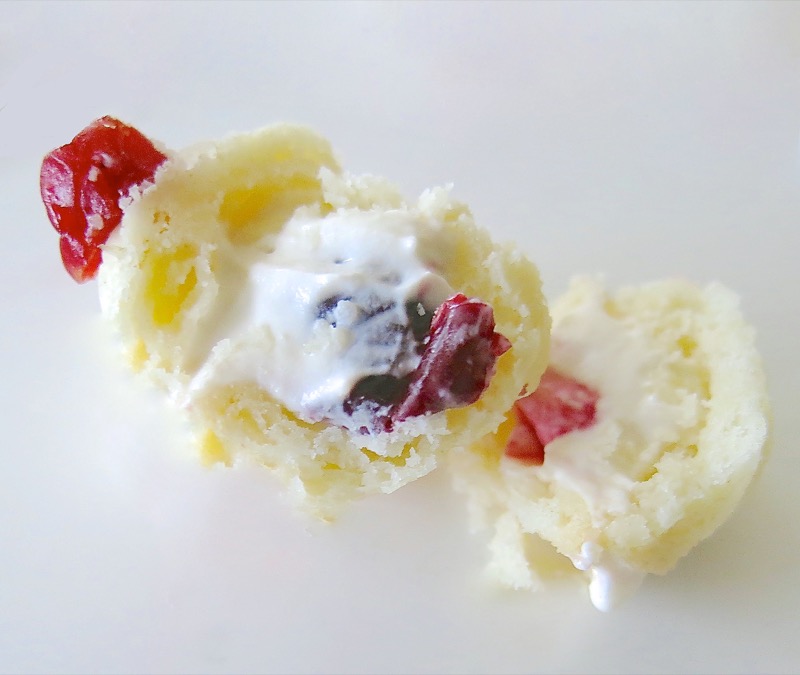 What does it look like inside? I want to see it! Tip #1: best eaten popping the entire ball into your mouth at once. You will never "see" the inside surprise in this fashion, but you will most definitely enjoy an incredible taste and texture experience: buttery flakes shatter giving way to a thick rich full bodied cream encasing a chewy tart burst of cherry-berry "let the bells ring out" festive fun! If you bite into it, instead, the ball crumbles and it is very difficult to capture the falling bits.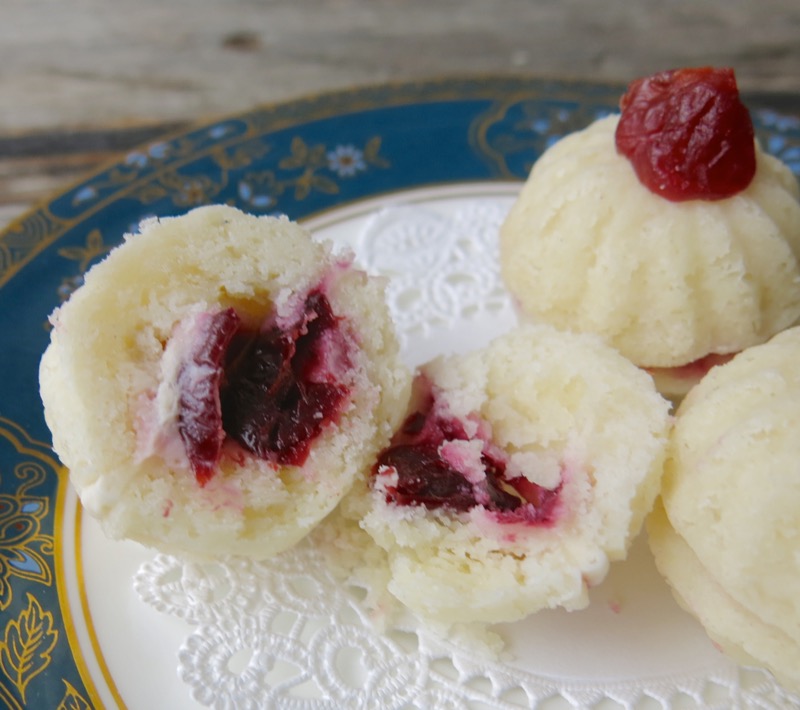 Above, I cut into a Sour Cherry Tart Ball that was on the cookie tray until after the guests left. Still lovely to look at and delicious, yet the silken body within the cream so essential for the mouthfeel and textural experience has somewhat seeped into the shell.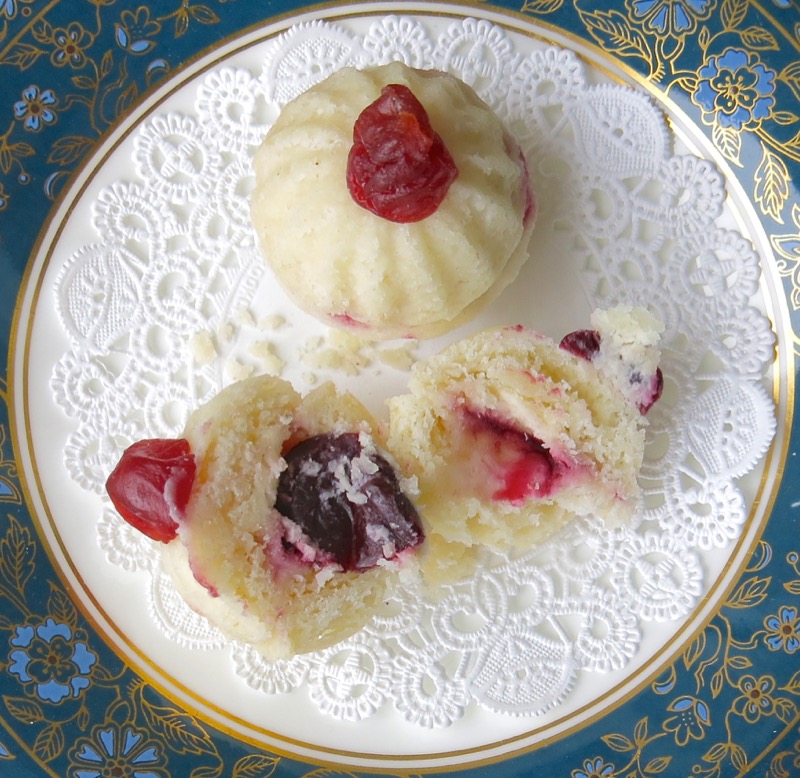 Delicious either way, but best best best fresh fresh fresh! As with everything, no? So eager to hear what you think of this creation!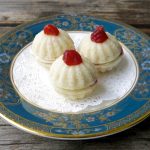 Sour Cherry Ball Tart Christmas 2016 aka Sour Cherry Dome Tart


The Sour Cherry Ball Tart is an ACF original creation. The show stopper on your Christmas Cookie Platter where the shortbread tart ball encases a rich creamy filling with a tart preserved cherry inside!
Total Time
2
hours
16
minutes
Ingredients
Ingredients for the Tart Shell:
All ingredients and instructions for this recipe can be found here.
Ingredients for the Filling:
One 8 ounce package or 225 grams full fat cream cheese

, room temperature

¼

cup

or 50 grams granulated white sugar

1

teaspoon

or 5 grams pure vanilla extract

1

cup

or 240 grams heavy 'whipping' cream

(35% butterfat), ice cold

18

preserved sour cherries

, or Slatko Cherries
Garnish:
Recipe for the Preserved Cherries for the Garnish on top of each dome is here.

Use 9 for 18 tarts; cut each in half
Instructions
Instructions for the Tart Shell:
Instructions for the Filling:
Combine sugar, room temperature cream cheese and vanilla together with electric mixer until silky smooth

In another bowl, whip cream until stiff peaks form

Fold egg whites gently into cream cheese mixture until filling is fully combined

Store in airtight container in refrigerator until ready to use
Instructions for the Filling with the Thermomix:
Whip egg whites in spotless TM bowl until stiff peaks form, as per instructions in the Basic Cookbook; remove to another bowl and set aside

Without cleaning TM bowl, weigh sugar, room temperature cream and vanilla together; whip until silky for 2 minutes on speed 2

Fold cream cheese mixture gently into egg whites until fully combined

Store in airtight container in refrigerator until ready to use
Instructions for Putting it all Together:
Arrange tart shells in a row side by side; carefully place a small dollop of filling in each shell

Add one preserved Slatko cherry to one of each pair of shells; place top half (with only filling and without cherry) on top of half filled with cherry

Using 1/2 of a preserved cherry, press cut side down on the top of the tart dome: the stickiness from the centre of the preserved cherry will enable it to stick to the shortbread tart
Recipe Notes
When making shells, remember that for every 36 shells you will yield only 18 Sour Cherry Tart Balls; there will likely be extra filling when making these tarts. The filling is the perfect amount for 36 of the miniature shortbread tart shells made in muffin tins that each hold more filling.