The first of my "Pucker Up" Series for 2014 with a DYNAMITE Giveaway!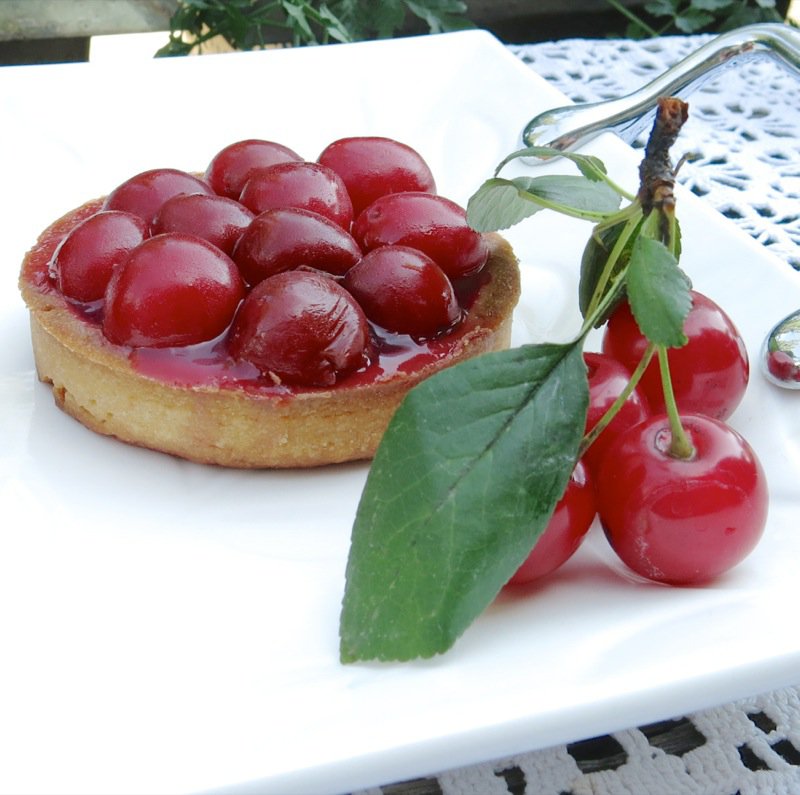 Mmmm. If you haven't noticed by now, I am a French Tart fiend. They make such a gorgeous presentation, don't you think?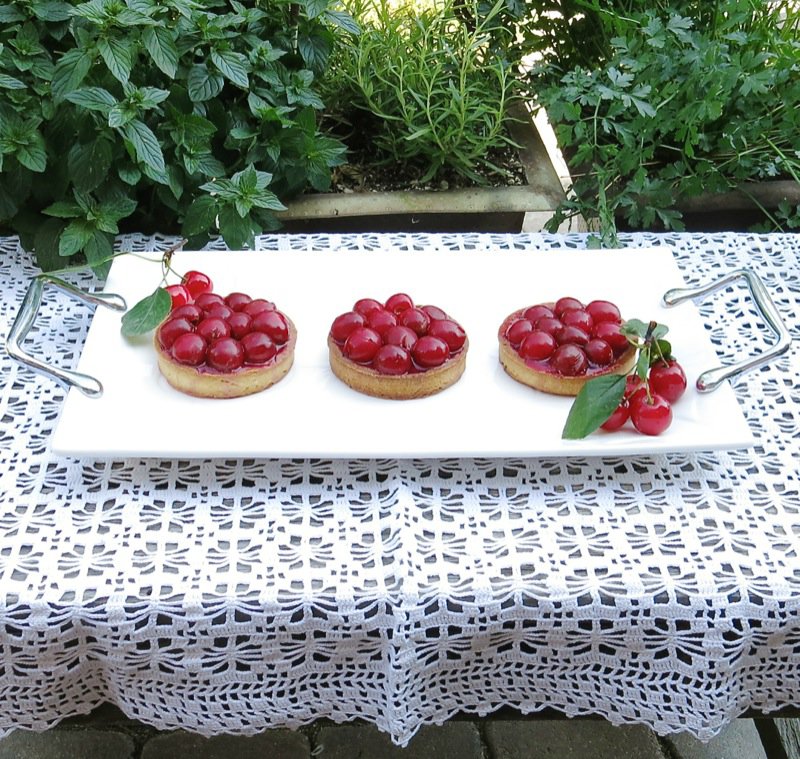 And sour cherries with almond? A match made in heaven. Wish the almonds grew in my back yard like these gorgeous cherries do.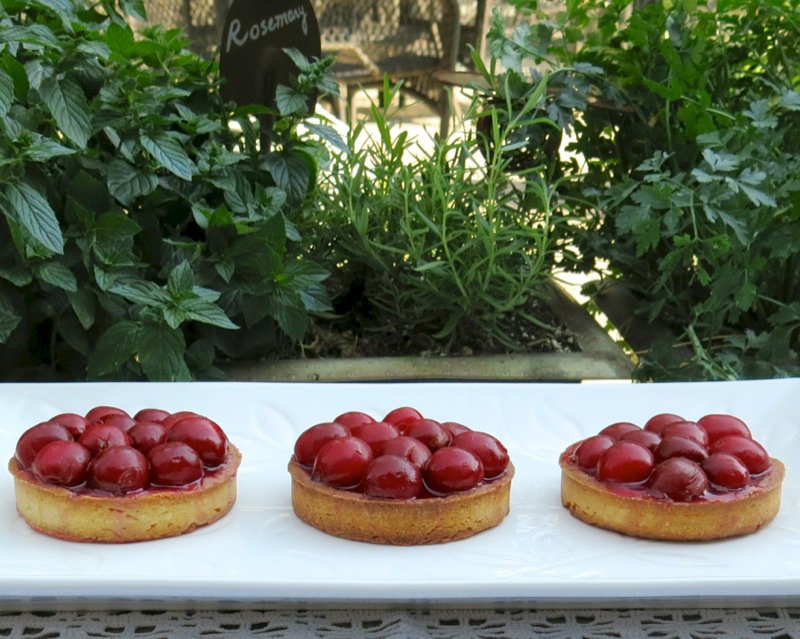 The power and versatility of this fruit never ceases to amaze. Great in sweet and savory recipes, fresh, frozen and preserved. Just look at those babies. Can you hear them calling your name?And there are "good-for-you" phytonutrients inside. What? Phytonutrients aren't essential for keeping you alive, unlike the vitamins and minerals that plant foods contain, but when you eat or drink phytonutrients, they aassist in keeping your body working properly. Can't beat that. And that's certainly the case with our own Alberta Evans Cherry. It is now being touted as another superfruit. Believe it. It contains (another big word) anthocyanins, a flavonoid that contributes to their bright red color and distinguishing taste that may possess preventative and therapeutic roles in a number of human diseases. Enough technical jargon. They are delicious and good for you as they pack one powerful punch of flavor!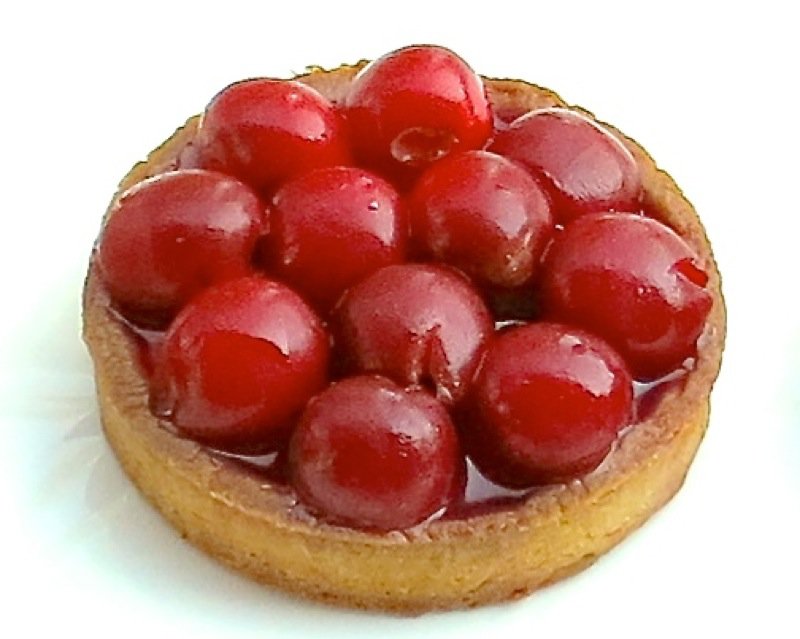 My cherries are usually ready mid-August, though other varieties are ripe mid to late July. Time for the cherry recipe repository! The season is never long enough for me to experiment, so I preserve and freeze them to enjoy all winter long. But, fresh? Ah! One must revel in the fresh, juicy bedazzeling jewels from Mother Nature's repertoire.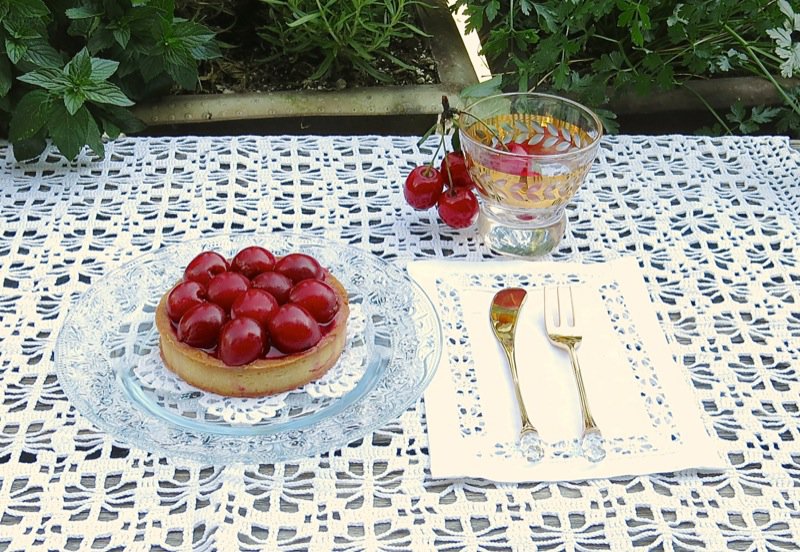 Nothing like a fancy little moment on the old farm bench.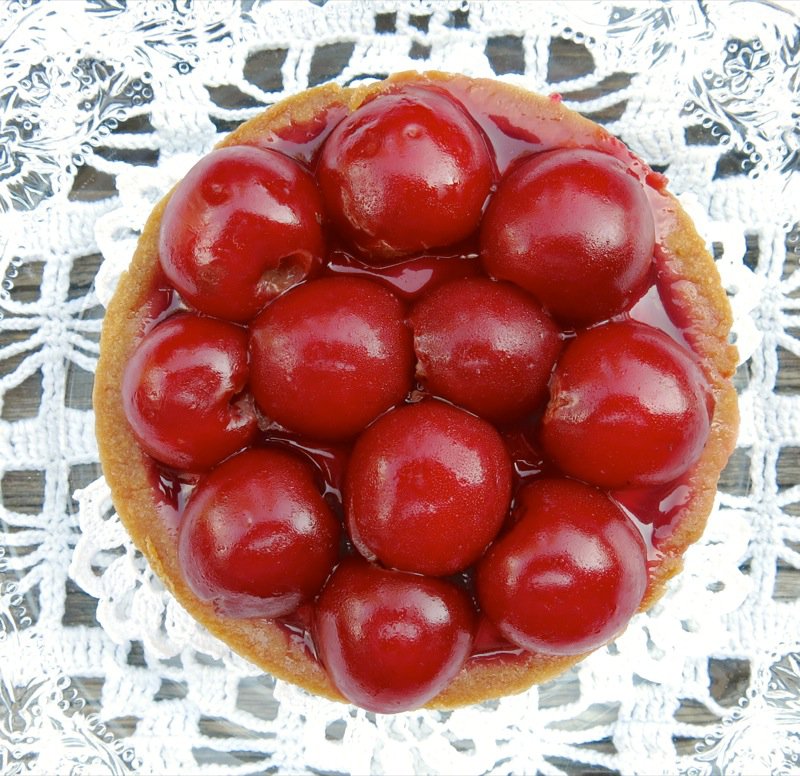 With a little tart.
With that in mind…. did you know that tart or sour is trending?
Expert trend trackers say "sour is the new spicy"
Consumer taste preferences are moving away from sweet (which obviously contributes to a new-found desire for tartness)
The Evans and Montmorency tart cherries are similar in taste and value as both have a unique sour-sweet taste that satisfies the growing preference for sour and tart flavors
Lucky me. Trendy tree in my back yard. Better buy a dress to match!
French Pastry Photo Essay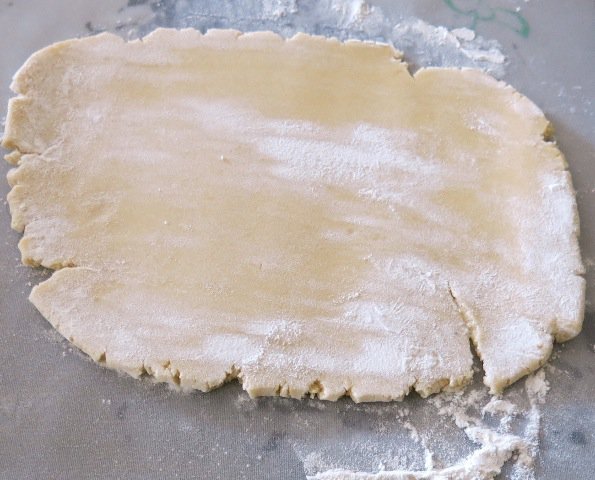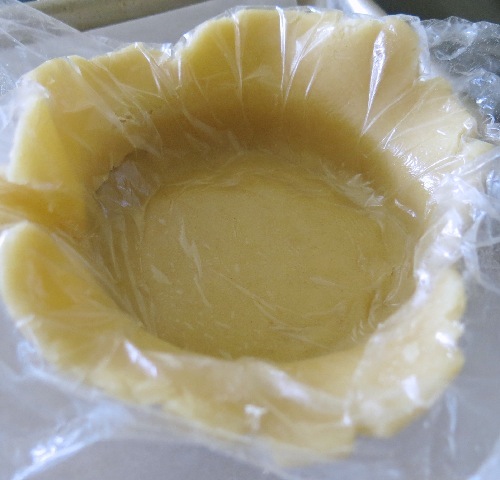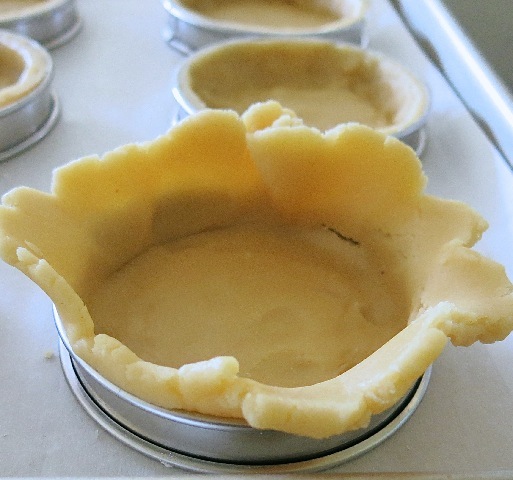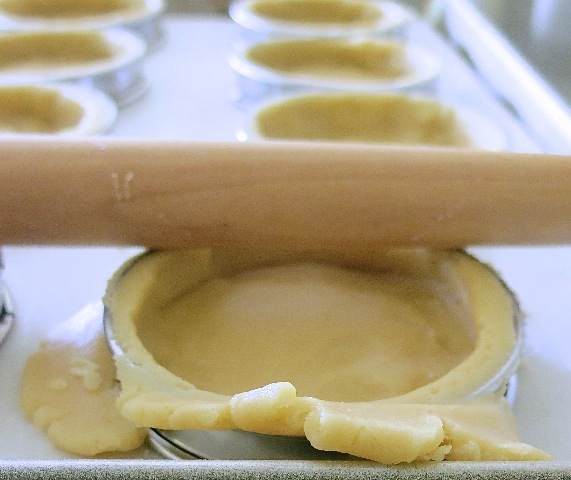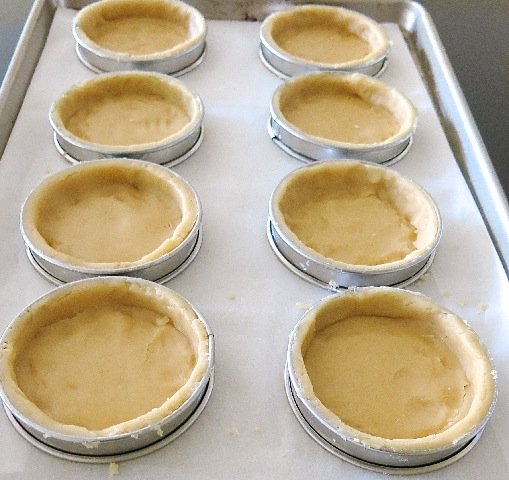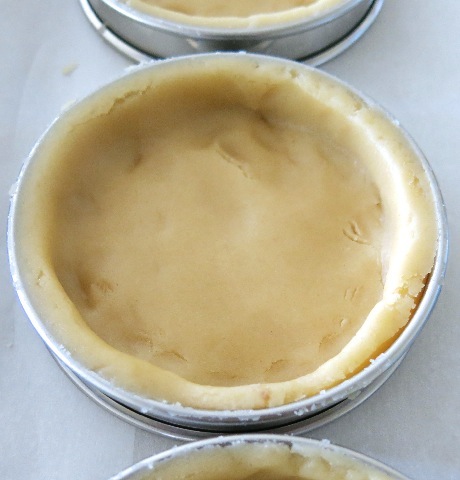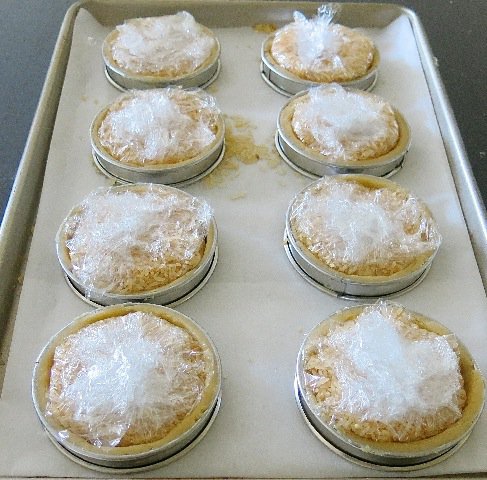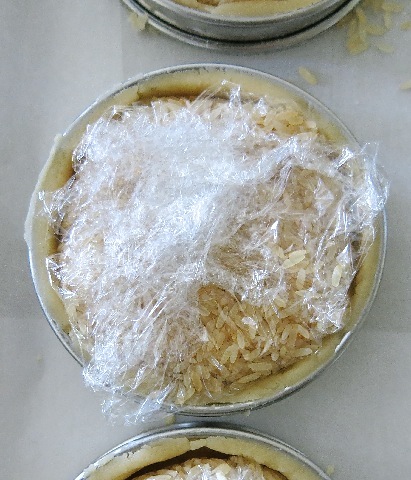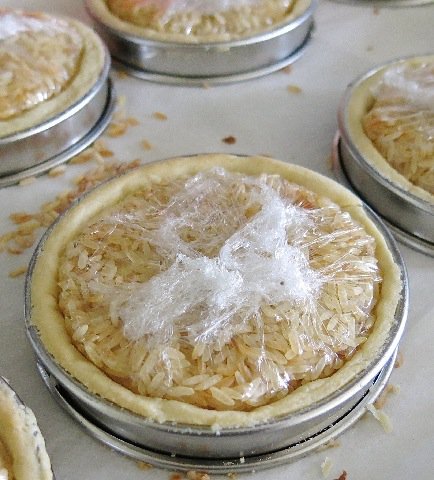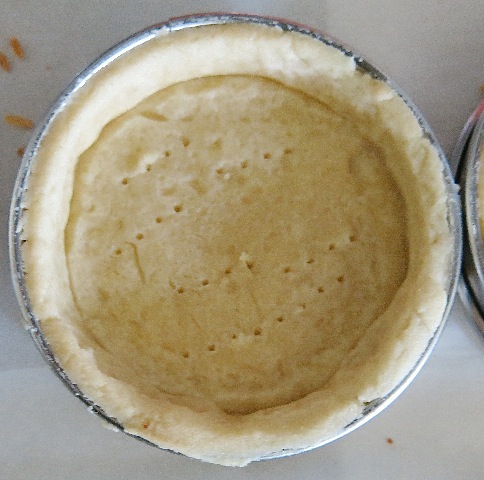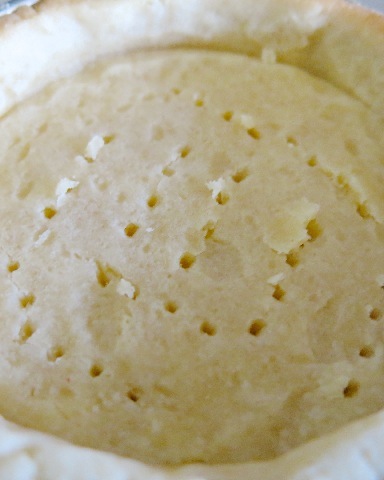 Now you have your shells blind baked and ready to fill!
Marzipan Filling and Cherry Gelée Tutorial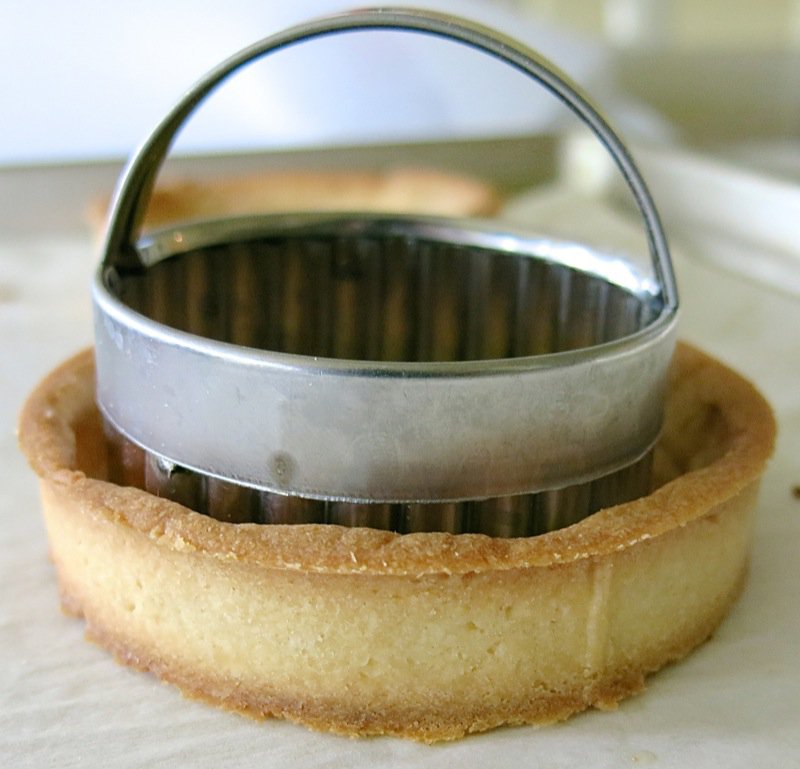 If you make your own marzipan like I do, roll it out to about 1/3 inch high; choose a cutter that is just a little smaller than the inside of your tart shell, and cut out discs of marzipan filling to place inside of each shell. If you buy it, simply slice off a thick disc per shell, as it usually comes in a roll, and flatten to fit into each tart.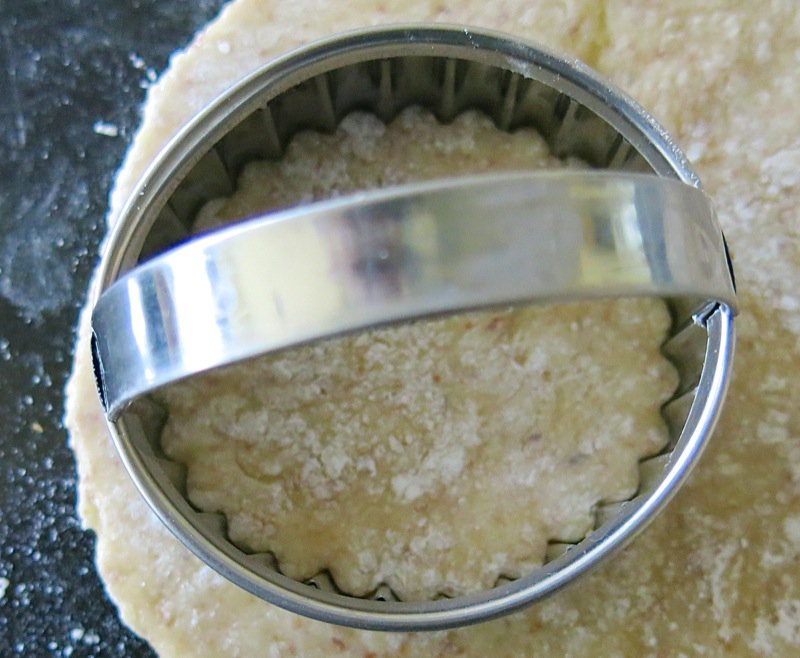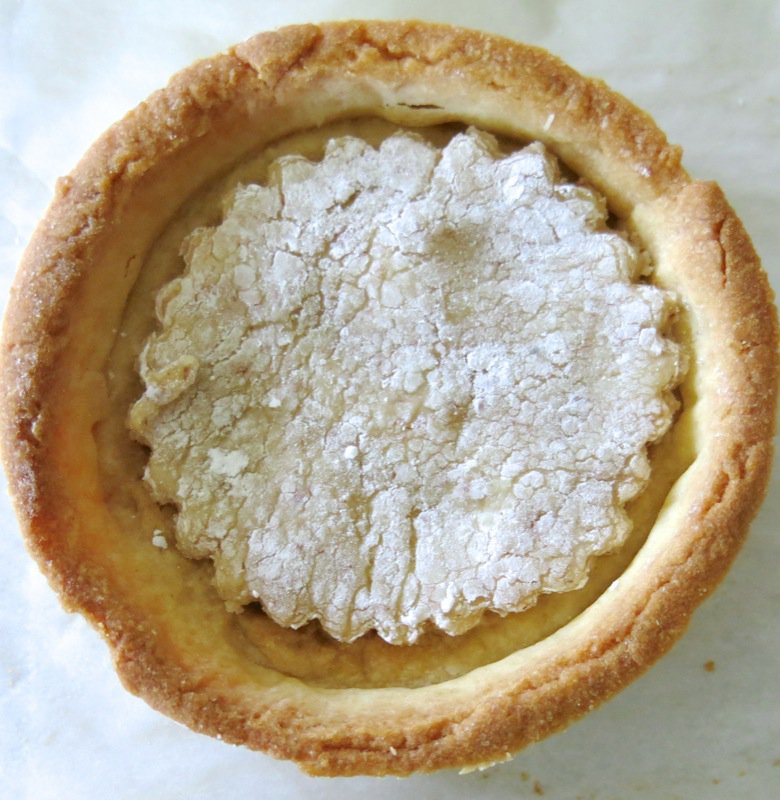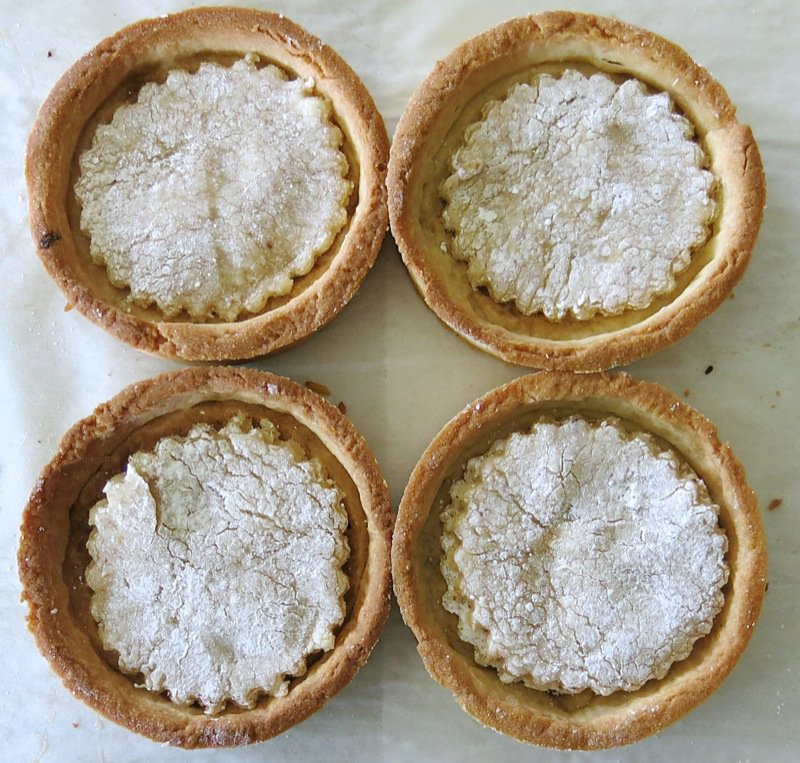 The space around the edge of the filling leaves room for the sour cherry gelée to cuddle in.
When pitting my cherries, I save the best looking ones for these kinds of recipes. Bet you didn't think there was such a thing as a good looking cherry, eh? Tuck them in around the edges on top of the filling and then tuck the ones in the middle into their space. Ensure, where possible, that you hide the holes. I left one showing, above left, so you can see how important it is that these are tucked in "properly".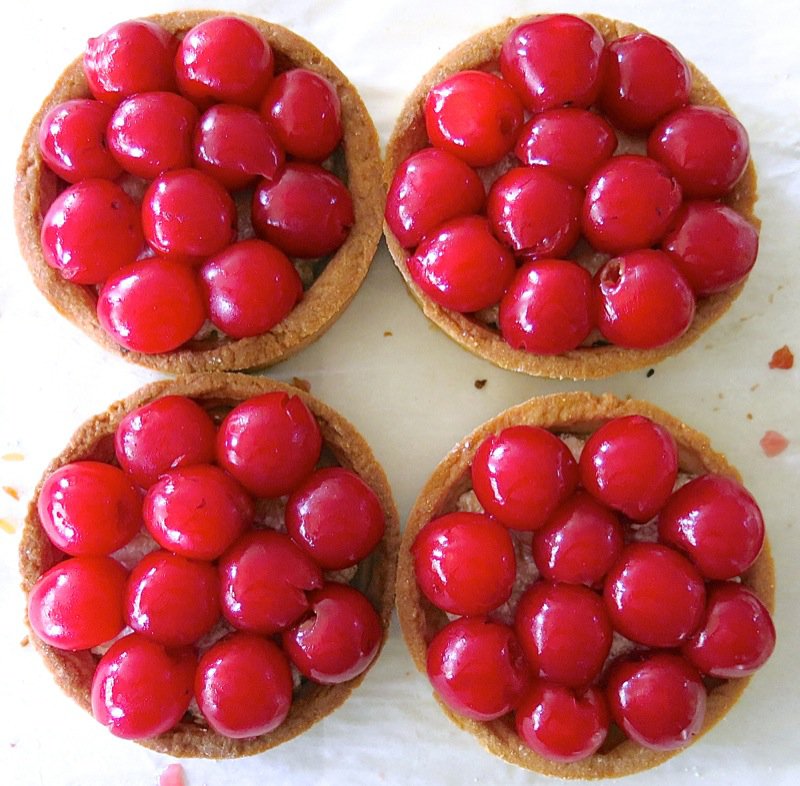 All done. Now they little glossy globules need to be glazed and the space around the cherries needs to be filled in with more pucker power.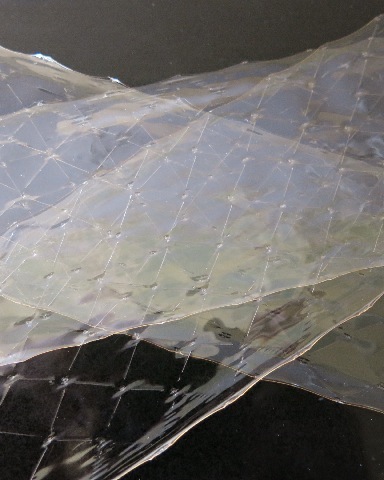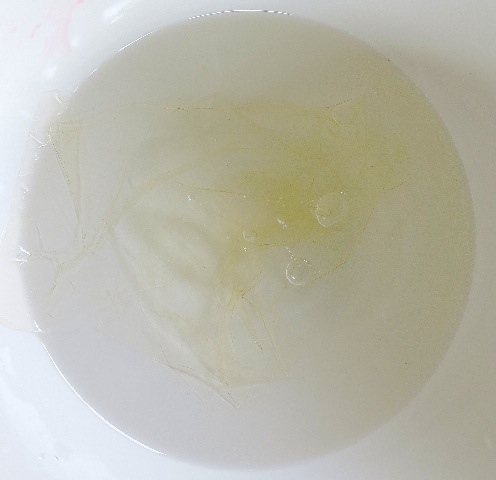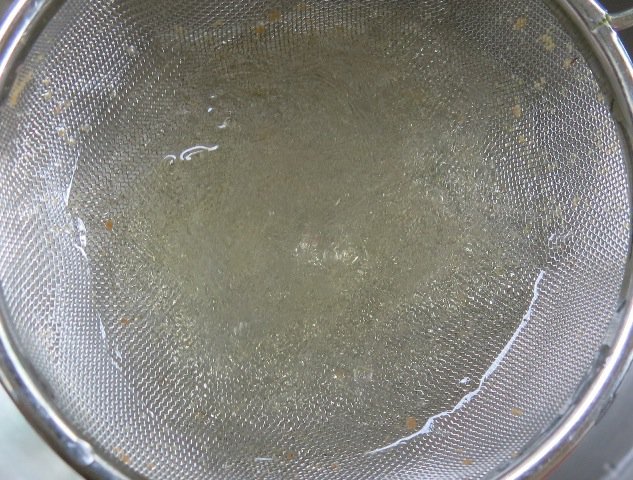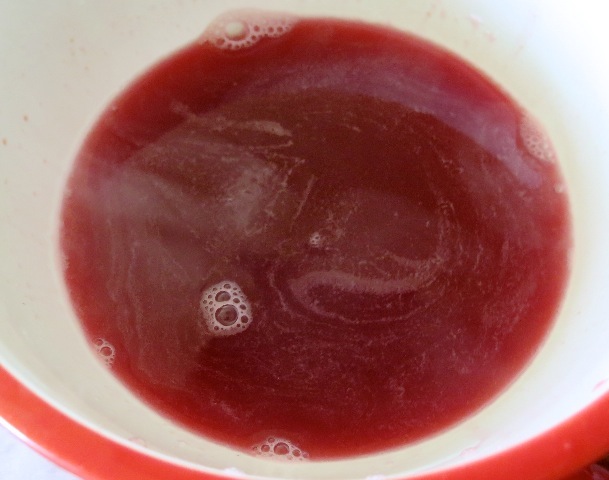 Above, left to right: gelatin sheets, gelatin sheets in water, straining sheets from water, homemade sour cherry juice that was warmed and has the softened gelatin sheets dissolved into it.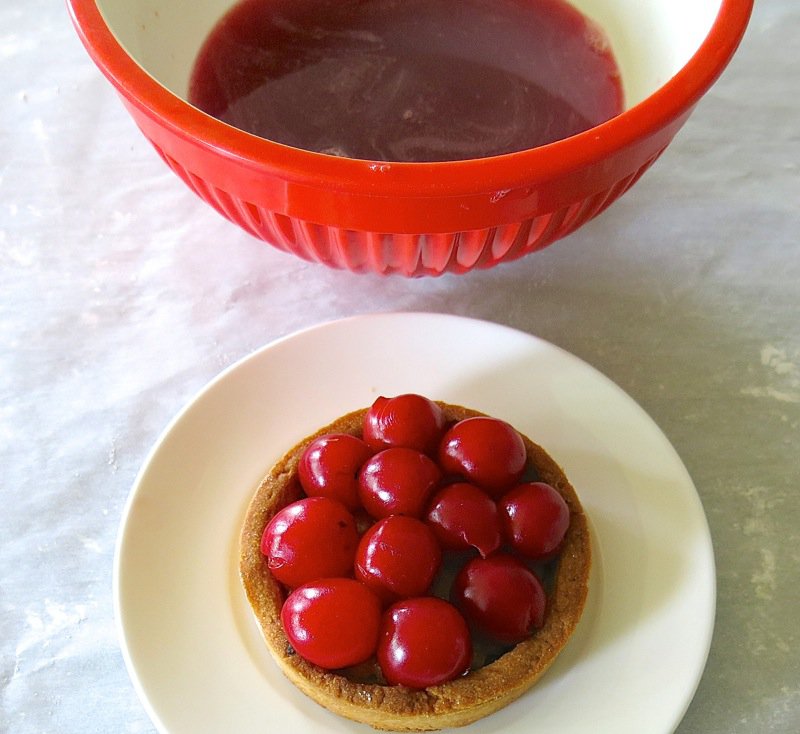 Gently ladle the liquid over each cherry in the tart. If your tart shell is brimming and it is difficult to cover your cherries which will likely be the case, refrigerate for 30 minutes and bring out and finish. As the liquid will be partially set, the second ladle will sit on top of the tart and with the cherries cold, adhere to them, as well.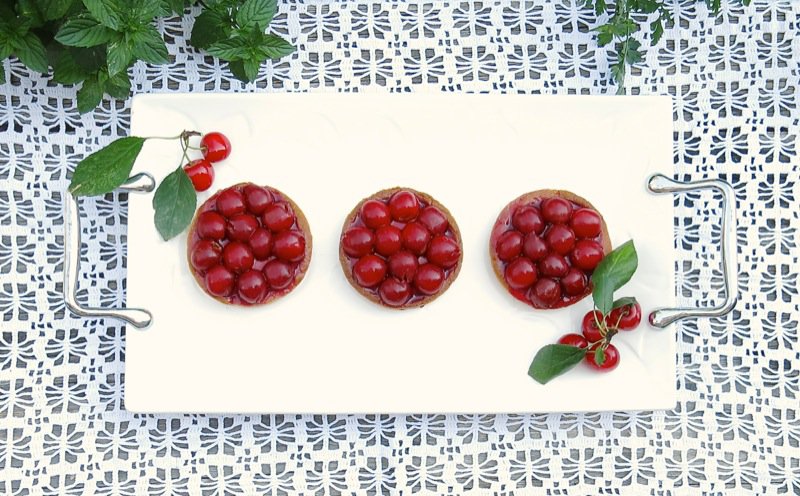 Ta-da! Let's get this party started! The lace cloth, above, was hand crocheted with the finest of white thread by Pava. I found so many of these gorgeous cloths in her storage that I had to bring some home. Vanja finds them old fashioned and only something one would find in an old lady's house. Hello?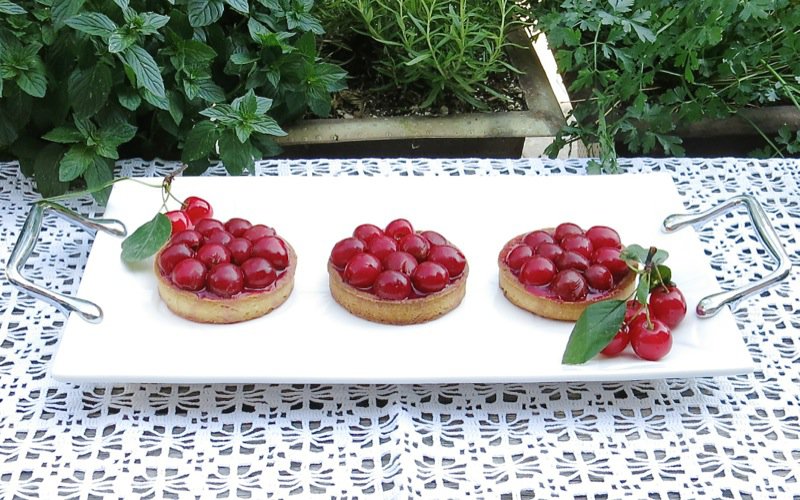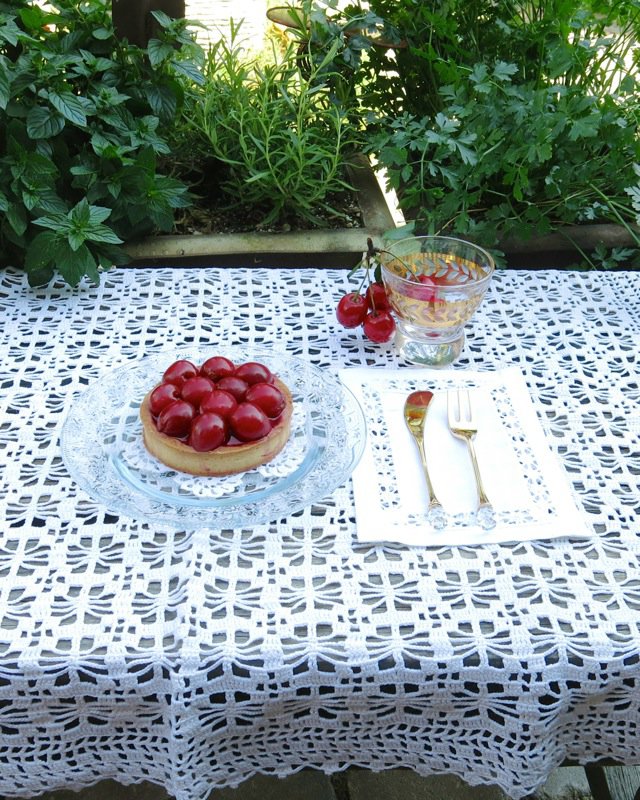 Party for one, and I am OK with that. There is a life time of memories stitched into this beautiful cloth. There is a season of goodness bursting from these gorgeous sour cherries and there is my labour of love. This recipe that I have created to add to my Sour Cherry Recipes. Shhhh! I need a moment to savor the sweet buttery crust as it provides a foil to the lush cherries with a toothsome crunch that melts on the tongue, followed by a bright "hello" from the ooey-gooey marzipan cushioning and absorbing the succulent puckery juice from these blissful cherries.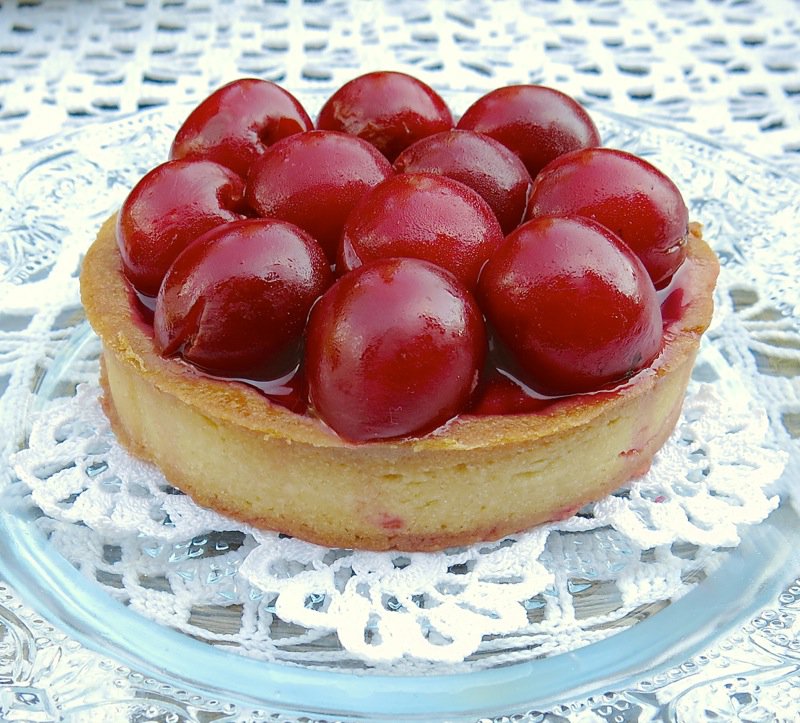 Yup. I did it. This is a mighty fine sweet and puckery mid afternoon treat… grand finale, or bedtime pleasure. Call it what you will and eat it when you like, you will enjoy this little ditty.
I promise.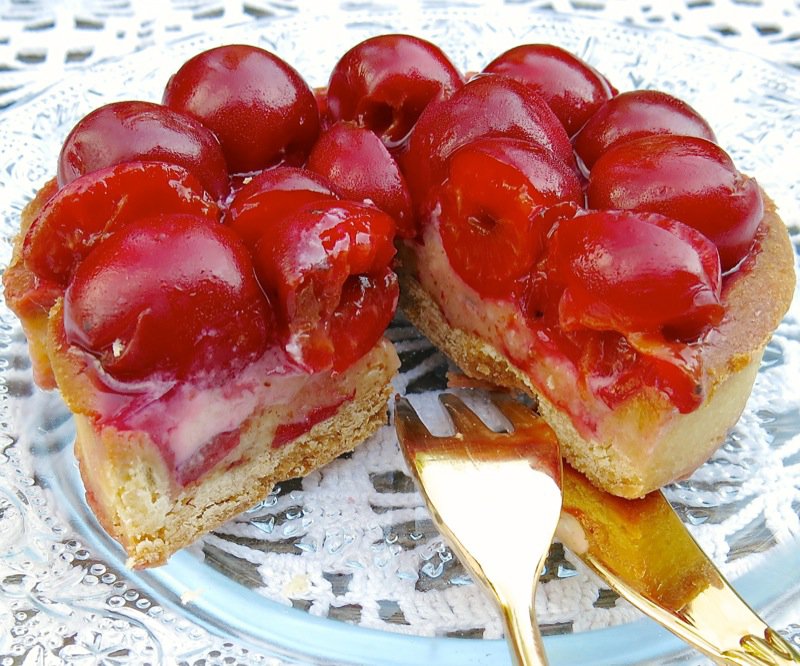 You know the rules. You have to bake and tell, right? No cheating. If you make this recipe, please let me know how it turned out for you. If you buy the marzipan, the cherries, and the juice, it is super easy to put together. And, Duchess Bakeshop in Edmonton may even sell you some of their blind baked French Tart shells, if you ask.
Delicious, Nutritious and Economical is my mantra. This recipe meets that criteria, and is on trend (as we have just learned) and purdy to look at, to boot!
So, get cooking! If you do – or if you don't there is a contest you can win for participating in the conversation on this and two more recipes I will post in the next two weeks. Details to follow the recipe, below. The prizes rock!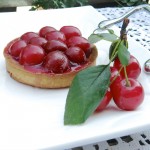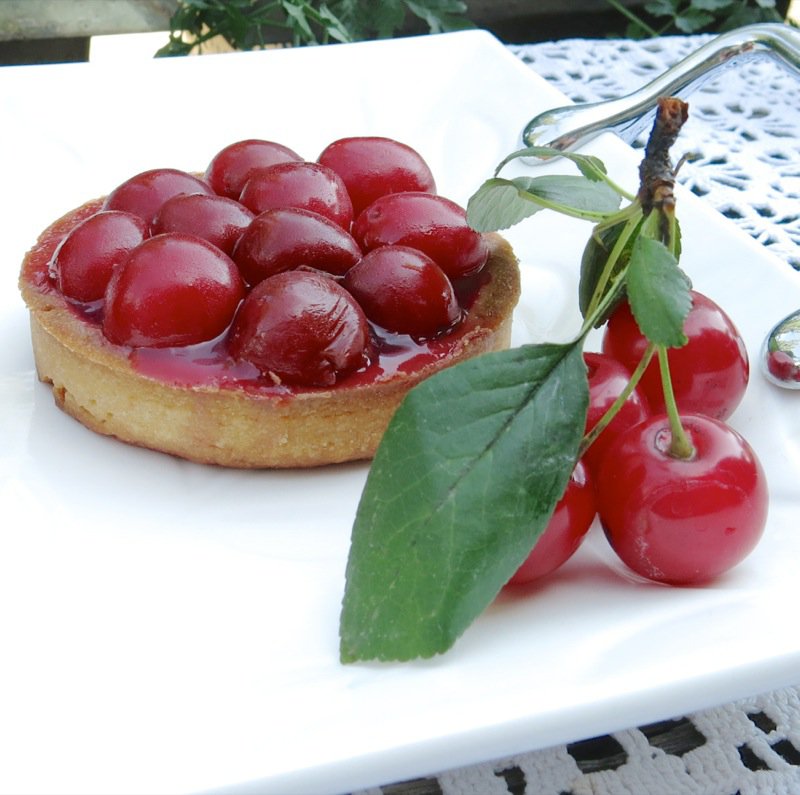 Sour Cherry Tart


These Marzipan Sour Cherry Tarts are a French Tart using the small individual rings with marzipan filling, fresh cherries glazed with sour cherry gelee.
Ingredients
Ingredients for cookie crust pastry:
175

grams

butter

100

grams

berry sugar

25

grams

egg

lemon zest from 1/2 a lemon

1/2

tsp

of vanilla extract

250

grams

flour
Ingredients for Marzipan Filling:
find the recipe here

, or buy it
Ingredients for the Gelee:
1

cup

tart or sour cherry juice

(recipe here)

1/4

cup

sugar

2

gelatin leaves

(one is supposed to be enough for one cup liquid, but it is not)
Putting it Together:
88

fresh pitted blemishless sour cherries: 11 per one small 4 inch tart ring size

Fresh mint for garnish

(optional)
Instructions
Instructions for pastry
Cream butter and sugar until sugar dissolves and mixture is voluminous

Add lemon zest and vanilla to egg; add half egg mixture very slowly to butter mixture on low speed

Add remaining egg mixture to butter mixture very slowly on low speed

Sift flour; add to butter-egg mixture slowly, until pastry comes together in a ball: do not over mix

Divide dough into 2; wrap each well in plastic wrap

Rest in refrigerator for 30 minutes or until the next day

Preheat oven to 375 F degrees

Take pastry dough out of refrigerator; if overnight, warm to pliable, but still very cool before rolling

Roll dough to 1/6 inch thick on pastry sheet or between two pieces of parchment paper; keep lightly floured to avoid sticking

Place parchment paper on cookie sheet; place pastry rings on top of paper for baking after covering with pastry

Place one ring over pastry; cut a circle around it much wider than its circumference to accommodate for sides of tart with overhang (cut eight circles)

Using plastic wrap on top of pastry, turn rolled pastry disc over (plastic wrap on top) and gently place over pastry ring (plastic wrap still on top) with sides folded slightly to insert somewhat vertically

With plastic wrap adhered to pastry, gently rest middle of pastry into pastry ring on parchment paper; relax pastry from center of ring toward outside edges to enable pastry room to curve into the right angled edge around inner circumference of ring without tearing (however, should pastry tear, simply press together with fingers)

Once sides and bottom of tart are evenly distributed with pastry and excess pastry hung over rim, roll rolling pin over top of tart ring to cut off extra pastry, leaving a smooth and aesthetically pleasing edge

Cut 8 ample squares of plastic wrap; place each in center of ring over pastry dough

Fill with rice to top edge of ring; fold excess wrap over rice to secure (it will melt into "a package" when baked)

Bake in middle rack of oven for 13-15 minutes, until sides are light golden

Remove from oven; remove each sac of rice from each tart ring (be careful, they will be hot; save for reuse)

Dock bottom of each shell with fork; bake for 10-12 more minutes until light golden brown

Cool on rack; remove rings
Instructions for gelee:
Soften gelatin sheets in 1/2 cup room temperature or slightly cool water for 2-3 minutes (until sheets transform into a soft mass)

Gently heat 1 cup fresh sour cherry juice to warm; ring water out of gelatin mass, or strain with a sieve

Add gelatin to warm juice; stir until completely dissolved: about 1 minute

Cool to room temperature
Assembling the Tart:
Roll marzipan on slightly powdered surface (use icing sugar) to 1/3 inch depth; using a circular cookie cutter a little smaller than diameter of inside of tart shell, cut one disc of marzipan for each tart

Place each disc in centre of each shell; decoratively arrange 11 fresh pitted cherries on thick cushion of marzipan

Gently spoon a portion of sour cherry gelee, still in liquid form at room temperature, over each cherry in each tart

Set tarts in refrigerator for 30 minutes to cool; gently spoon remaining portion of sour cherry gelee over cold cherries to glaze each one

Refrigerate until service; garnish with a sprig of fresh mint and a big smile
Recipe Notes
The pastry will take about an hour to make from start to finish.
The gelee can be made while the pastry is cooling.
If making your own marzipan, do it a day in advance and have it ready to go.
Cherries are best picked, pitted and placed on these tarts the same day
After the tarts have been glazed, they will last 3-4 days in the refrigerator.
Follow Valerie's board Sour Cherry Season and Recipes on Pinterest.
representing Canada's tart cherry growers and processors!
The giveaway includes the following:
Tart cherry juice
Dried tart cherries

The Deets for the Cherry Marketing Institute Giveaway August 28 to September 15, 2014.
Winner will be announced September 15, 2014 at midnight. Contest closes at 6 pm that same day.

The Deets:
arrangements will be made for the prize package to be mailed to your door
contest will close at 6 pm September 15, 2014
the winner will be announced via September 16, 2014, and I will attach the name to the bottom of this post with congratulations immediately upon selecting the winner.
all names will go in a hat (this is the way we do it at our house) and my husband will draw the winner; each name will go in for each entry as outlined below
yes, you can enter your name more than once (read below)
To enter the contest, you must do #1 or #2; the other ideas are opportunities for extra entries:
Write a comment about your personal experience with sour cherries on this post, or either of the other two sour cherry recipes that I am developing for the Cherry Marketing Institute (favourite recipes, include the link; favourite products, etc.)
OR write a comment about a great recipe you found over at Choose Cherries with the link, instead. (Check it out; there are some incredibly inspiring recipes there.)
Follow me on Twitter: has to be a new follow to count, sorry
Follow Tart Cherries on Twitter @choosecherries, also has to be a new entry to count
Tweet the contest and include @acanadianfoodie and @choosecherries in the tweet so I can count it as an entry in the draw; you can tweet daily (each tweet counts as an entry into the draw):

sample tweet (you can use) here:

Great prize from @choosecherries over at @acanadianfoodie Pucker Power Series 2014! DON'T miss out! #tartcherriesrock http://wp.me/p2OMxc-fJU
Like my Facebook page: (and I am talking the page, not this post) has to be a new "like" to count, sorry
Like the Tart Cherry Facebook page: has to be new to count
BONUS: You can get THREE entries if you share the link to this post and this contest on your own personal Facebook page and include "Valerie McKinney Rodgers Lugonja" in that post with the link
NOTE: please make sure you leave an e-mail with your comment below so that I can reach you to let you know if you are the winner, otherwise, you will not win!
That's an opportunity for A LOT of entries. I hope you take advantage of this opportunity as I KNOW this prize is definitely worth it.
Disclaimer: Have you figured out that this is a sponsored post, yet? It is. Thanks to the Cherry Marketing Institute for the opportunity to develop these recipes and introduce my readers to my Pucker Up 2014 Series.