A Rich Special Occasion Mashed Potato Side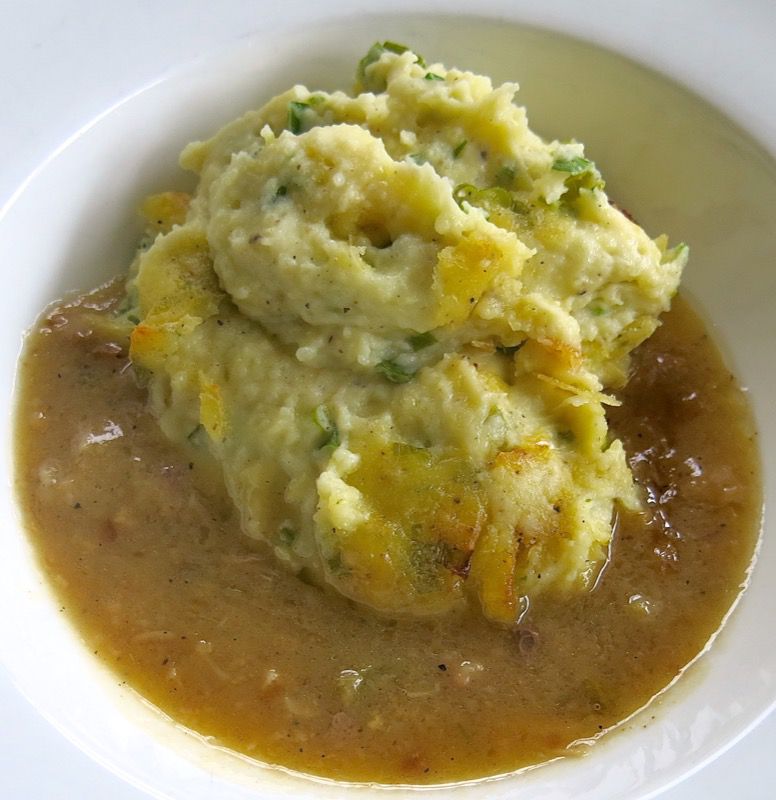 It's not easy to dress up mashed potatoes for a photo shoot.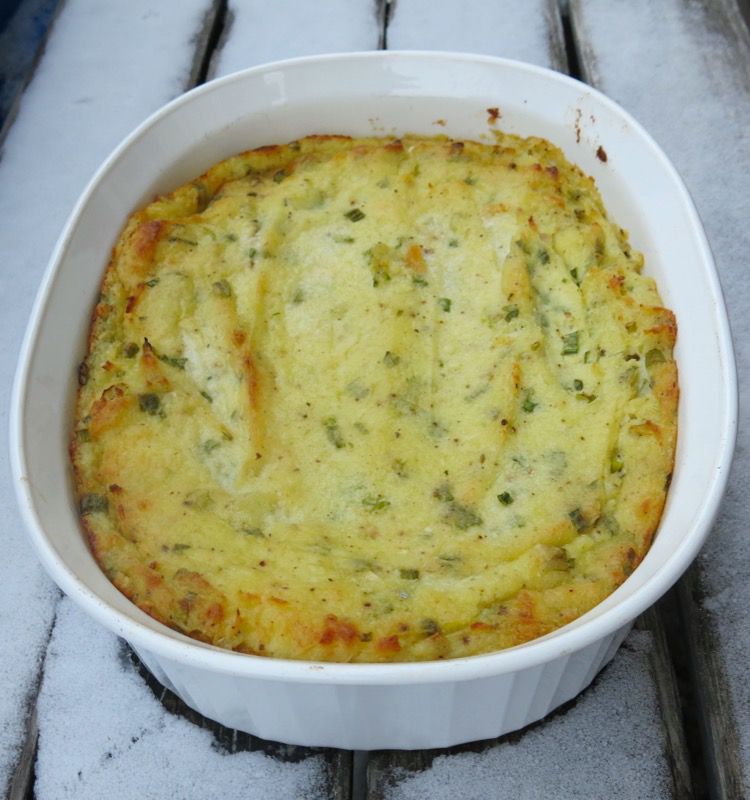 But, it is easy to prepare this scrumptious comforting side dish that you will be proud to escort to a festive potluck dinner or place prominently beside the main on a serve-yourself- buffet. Where ever you place this dish, guest will find it, come back for seconds, and lick the bowl clean. I heard someone say, "These are so good, they don't even need gravy!" Gravy? The thought hadn't occurred to me, so I had to try it. This is a "stand alone" dish. This is a "take me as I am" dish. This is an "I am absolutely good enough all by myself" dish. But, if you are exceptionally indulgent, by all means, add gravy. Not necessary, but does work with the dish. Much better than I had expected, actually. Much.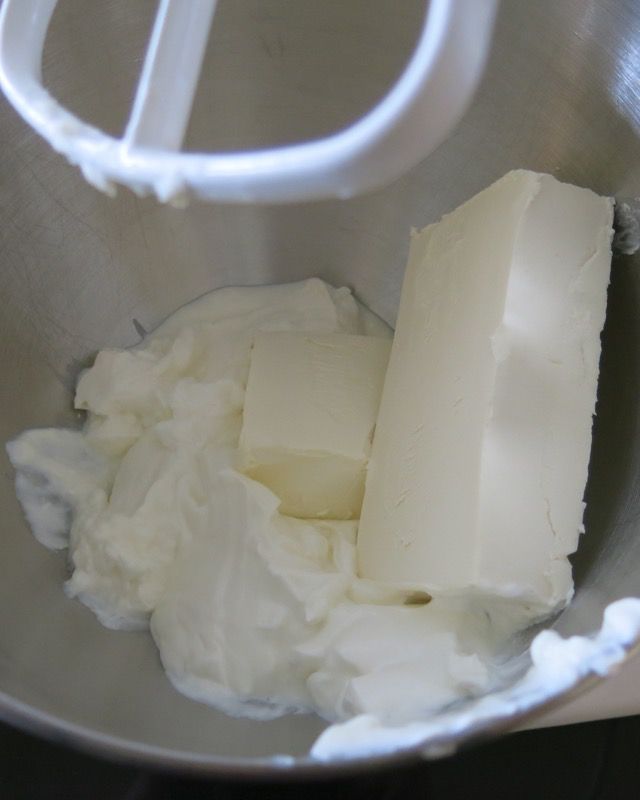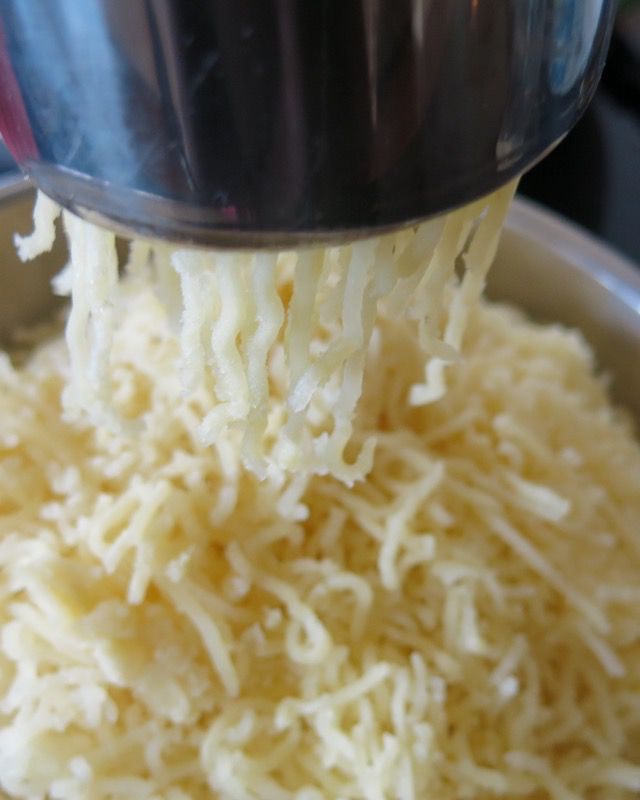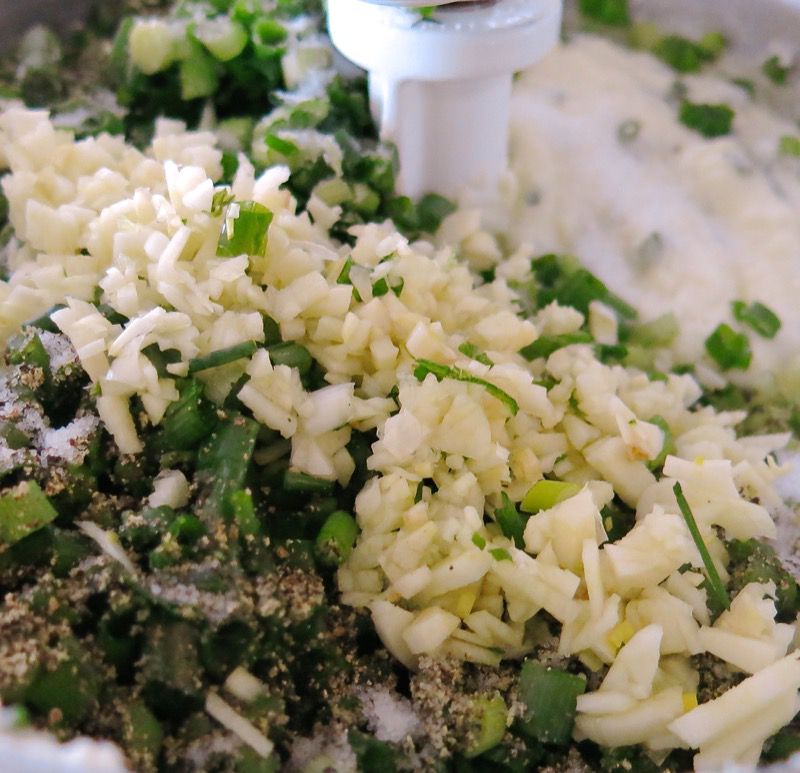 No mis en place photo. Sorry. This is a busy time of year. The sour cream and cream cheese are whipped together while the cooked yellow potatoes are riced. Hot riced potatoes are then added to the whipped ingredients and beat with electric mixer, to combine. Salt, pepper, butter are beat in. Onions are then added. Above, you see an over abundance of garlic in the mix. Three cloves added to 6 large potatoes. It was not pleasant, and I adore garlic. Let the onions be the star in this recipe. I learned the hard way.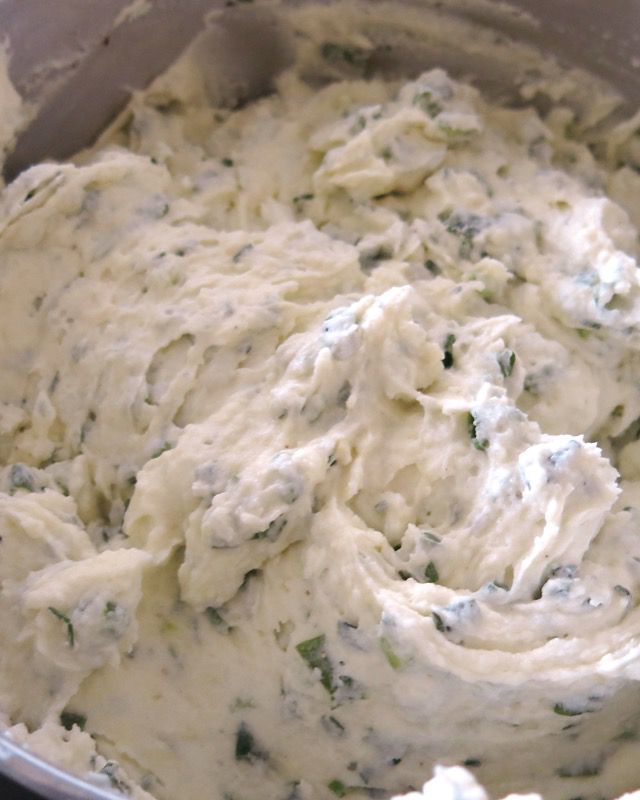 All done. This recipe would also be delicious used for the Twice Baked Potato recipe as the filling. Mmmmm.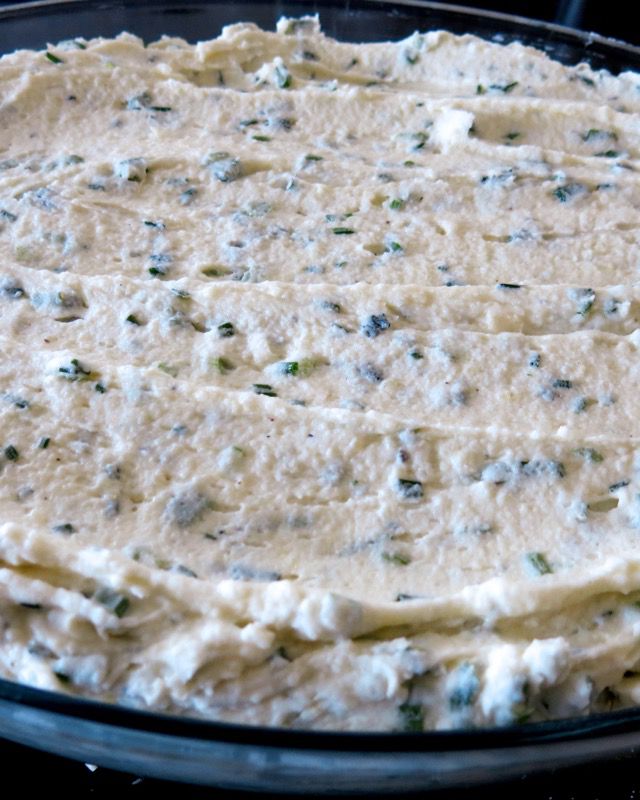 Into a buttered casserole, covered with plastic wrap overnight or for 24 hours, these are the perfect make ahead side.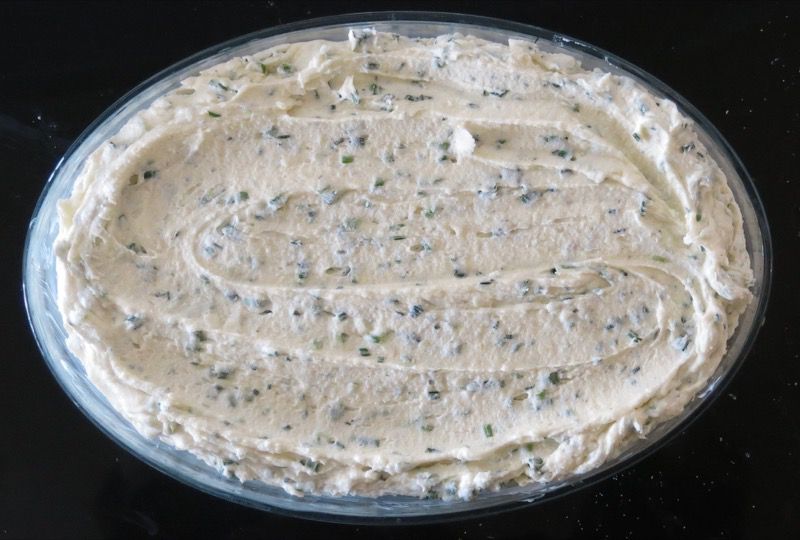 Above is a full recipe, and below is 1/2 a recipe (family friendly) with only 6 potatoes. The ingredients puff up when baked. Let the dish relax a bit on the counter to solidify.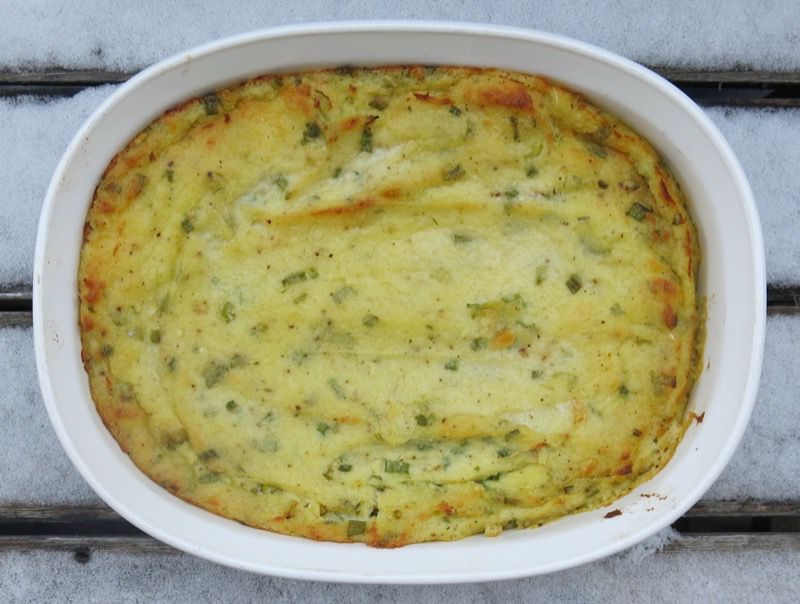 When making mashed potatoes with a hand mixer, or anything but a masher, I get gummy potatoes with a very off putting texture. Usually, I simply rice the potatoes, add nothing and they are delicious that simple. However, on occasion, especially when the list is long and the time is festive, it is such a pleasure to indulge and to be prepared. This recipe is that recipe.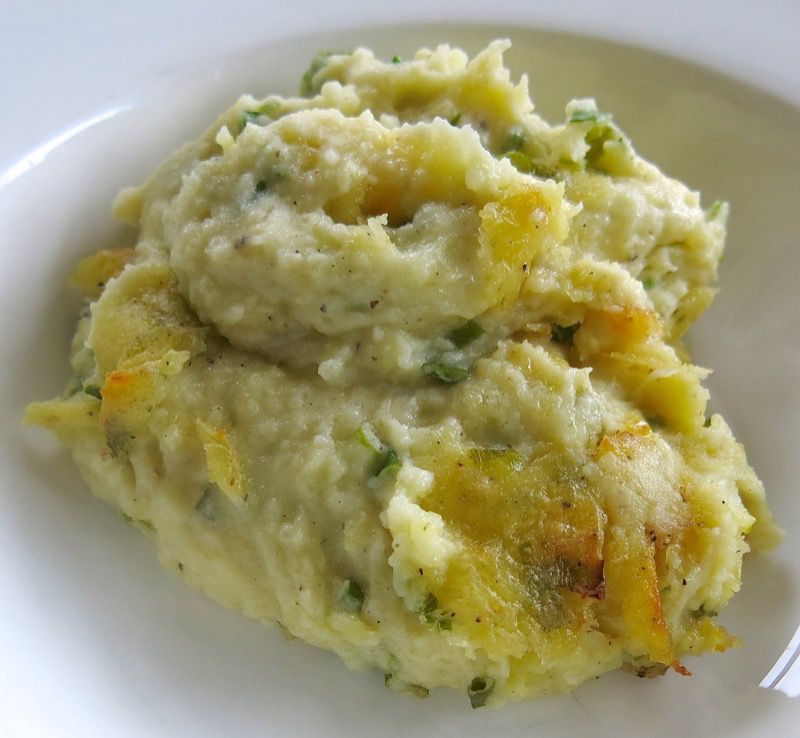 Scrumptious on their own. A hearty scoop could easily satisfy one for a midday meal, and one could likely not resist the urge for more.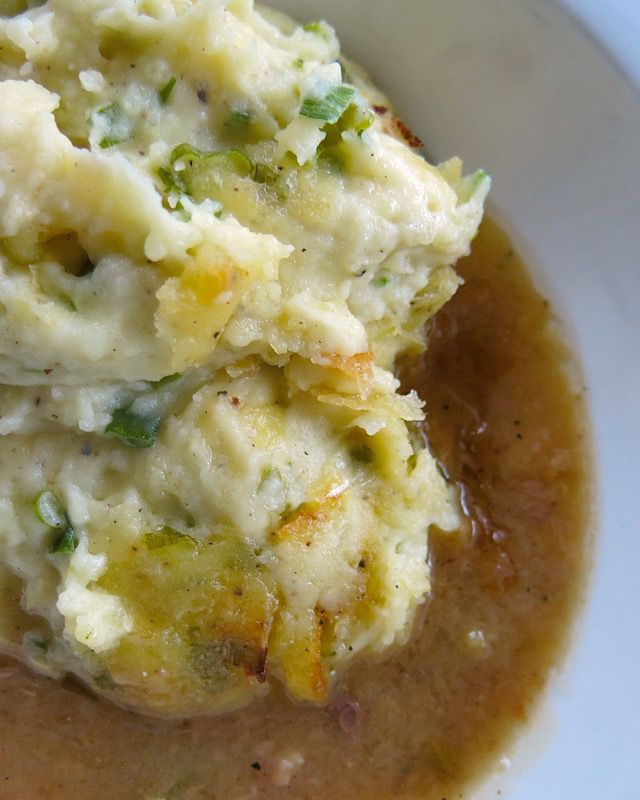 Even better. Yes. Did I say that? Even better with homemade gravy. The utmost of indulgences. And, if now isn't the time, when is?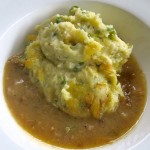 Retro Recipe: To Die For Make Ahead Mashed Potatoes


This is a great dish for a Potluck dinner, or great recipe to use to stuff twice baked stuffed potatoes. This year, it was on our Christmas dinner table to save last minute preparation time.
Ingredients
12

medium potatoes

1.5

cup

sour cream

12

ounces

cream cheese

6

tablespoons

butter

2 1/4

teaspoons

salt

3/4

teaspoon

pepper

milk

1

garlic clove

, minced (optional)

1/2

to 3/4 cup thinly sliced green onion
Instructions
Peel and cook potatoes until tender; put through ricer

Beat softened cream cheese and sour cream in mixing bowl

Add hot potatoes and beat until smooth, adding small amounts of milk as needed

Add butter, salt, pepper and beat until well-mixed

Add green onions; beat until well-mixed (and garlic, if desired)

Pour into well buttered casserole dish

Dot with additional butter

Refrigerate until next day

Bake for 30 minutes in 350°F oven (If making half batch, bake 20 minutes)

Garnish with bacon just before serving
Recipe Notes
I made variations of this recipe more than a few times. I love garlic, but do not use garlic unless you do so sparingly. Three cloves with 6 large potatoes was surprisingly off putting. This is a gorgeous sumptuous fluffy potato recipe scented of onions.
Do not use more than 3/4 cup of finely chopped greens for 6 potatoes. Some recipes say 1-1/2 cups. That makes the dish taste far too strongly of onions.
I was very surprised that the balance of flavours in this recipe was much more difficult to achieve than I thought. Follow the recipe the first time. Then improvise to suit your palate once you find what the initial recipe offers.
Key: Beat the potatoes into the cream and cheese while hot, otherwise they will be gummy. Ingredients must be combined when the potatoes are hot for a lovely fluffy mashed texture.