The newest trending crowd pleaser: Retro Tomato Soup Shrimp Dip!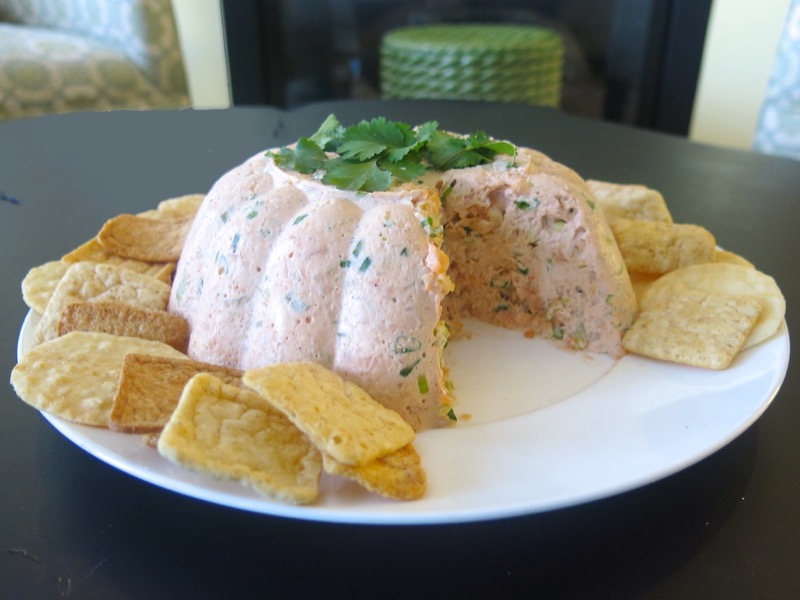 Mom's 80th Birthday Party was the last time I even thought of this recipe, and made it as it was one of her favourites when she was entertaining her bridge gals and partying on the weekends in our old Red Deer neighbourhood. I gave it a new life at her party by pouring the mixture into bite sized moulds and placing each on a cucumber slice. The perfect two bite compliment to the dainties at her 75th Birthday tea party. This year, mom will be 86… so that was 6 years ago and it was about 30 years before that when it was a staple on the party scene at our house and in many North American homes. The recipe was either on the side of a Tomato Soup can or came inside of the Philadelphia Cream Cheese box wrapper. Maybe both. In any case, it took the world by storm and this is one stellar recipe worth reclaiming for 21st century entertaining!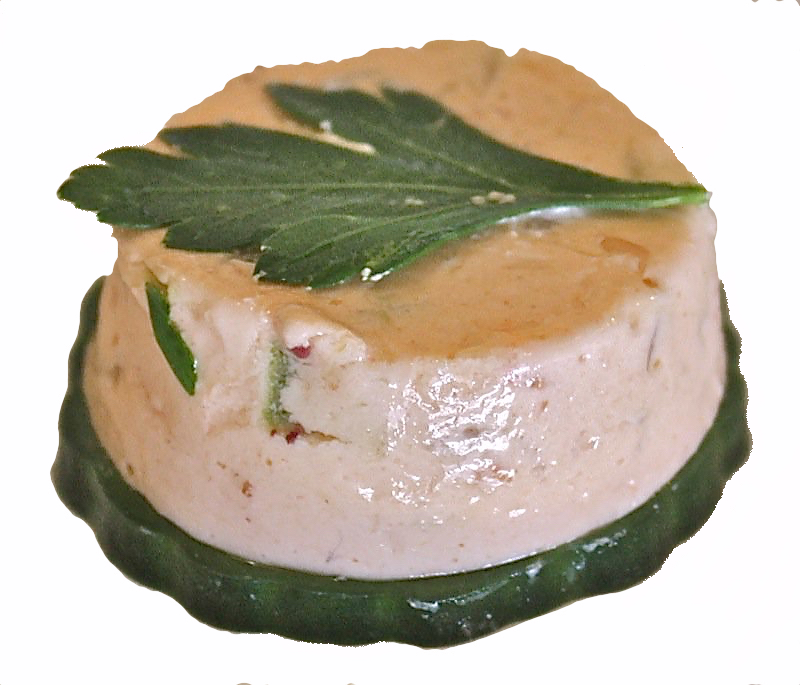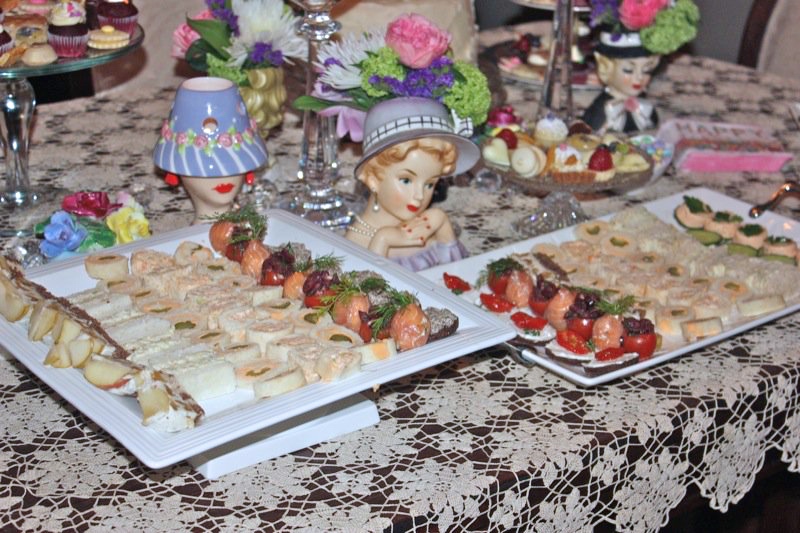 How did I ever do all that work for mom's party only 6 years ago? It seems like light years away and I enjoyed every second of it so much. You can see the little bites to the far right on the second plate, above.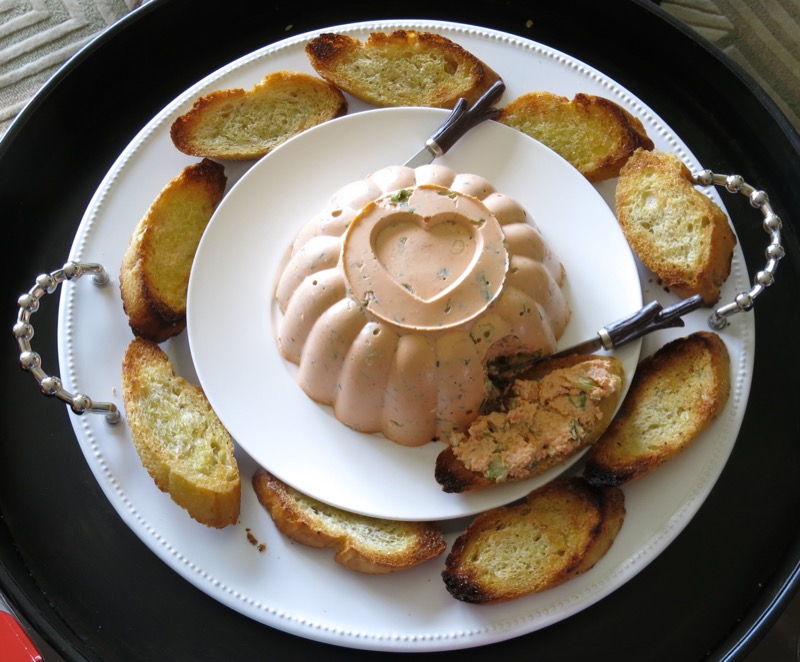 At a recent girlfriend gathering this year, Vicki brought this Tomato Soup Shrimp Dip for the appetizer. First time in 35 years that I dove into the dip and savored the memories, textures and flavours: unctuous sumptuous decadence. No doubt about it, this is not a "New Year's Resolution" recipe. It is laden with luxurious velvety cream cheese packed with crisp vegetables and chewy flavourful canned shrimp. Don't even think about using frozen or freshly steamed shrimp in this recipe. Canned shrimp is key. Who eats it anymore?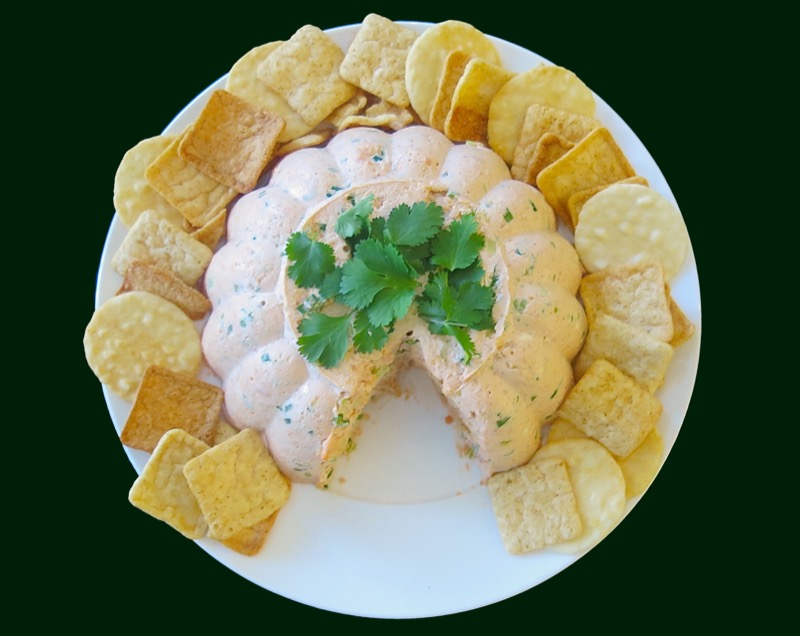 When I was a child, canned shrimp was a delicacy. It was expensive and delicious so certainly a special occasion purchase. We would use it in a special salad, mix it into fancy sandwiches and enrobe it with mayonnaise and veggies for a special spread. In the 70's, layered dips reared their heads and the canned shimp was replaced with larger frozen morsels thawed to juicy perfection. Most canned shrimp recipes fell into the bottoms of our recipe files and have long been forgotten.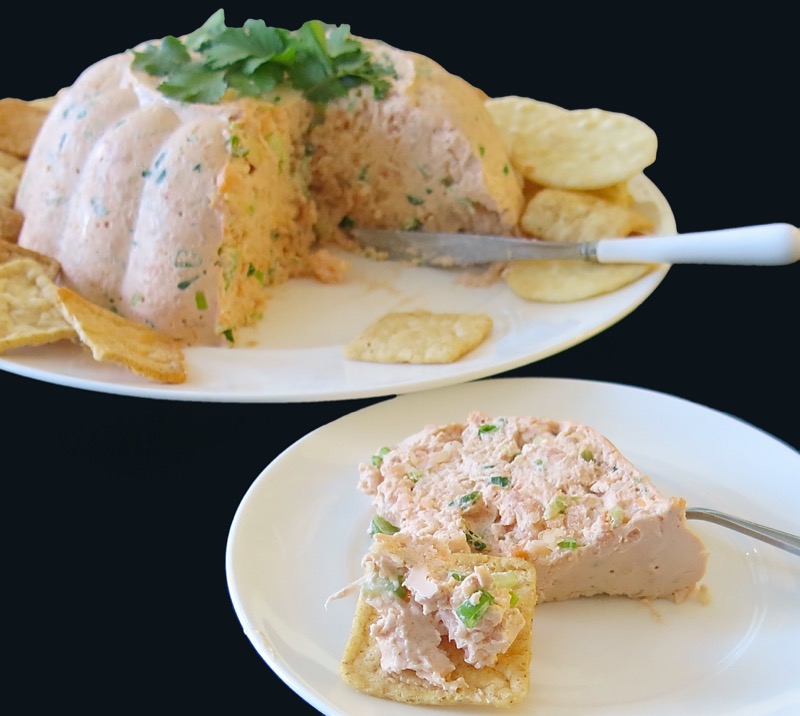 Mom's party was a study in past taste memories. Vicki's appetizer peaked my interest in reviving this old favourite. I made it this year for part of the evening midnight snack for Lauren and Aaron as they would land in time to be home around midnight, and undoubtedly hungry. Even Vanja liked it. Yes, that is a standard of measure that is obvious evidence of its universal appeal.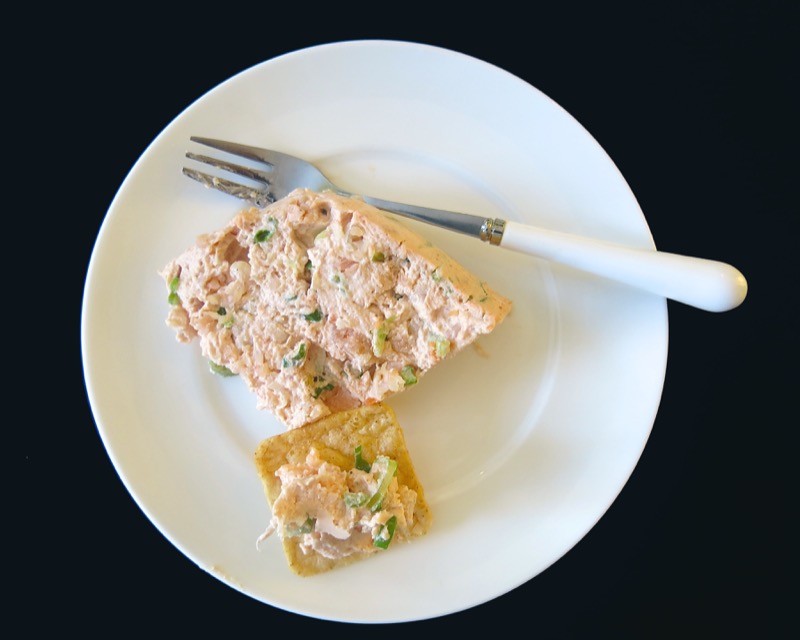 A slice over a lightly dressed green salad could serve as a fancy pants main for a lady's luncheon. But, it is a pretty generous amount for a little snack. The recipe made this old tupperware mould to the top with an extra cup I poured into two 1/2 cup serving bowls. In other words, it makes a lot.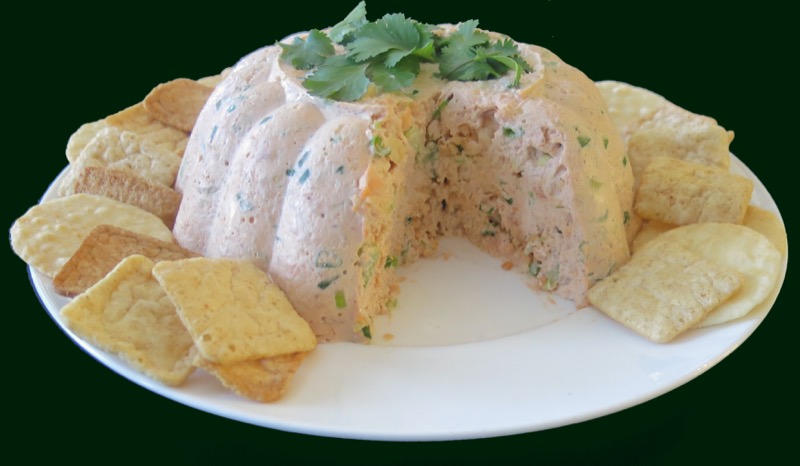 Delicious with fresh vegetables, over a salad, as a dip, served as an appetizer on a cucumber or in small individual moulds, this is an extremely versatile recipe that is easy to make with easily available ingredients that will cause almost everyone to go weak int he knees after their first bite. Yes, it is addictive.
Don't buy shrimp bits. Buy the nicest canned shrimp you can lay your hands on, drain it well.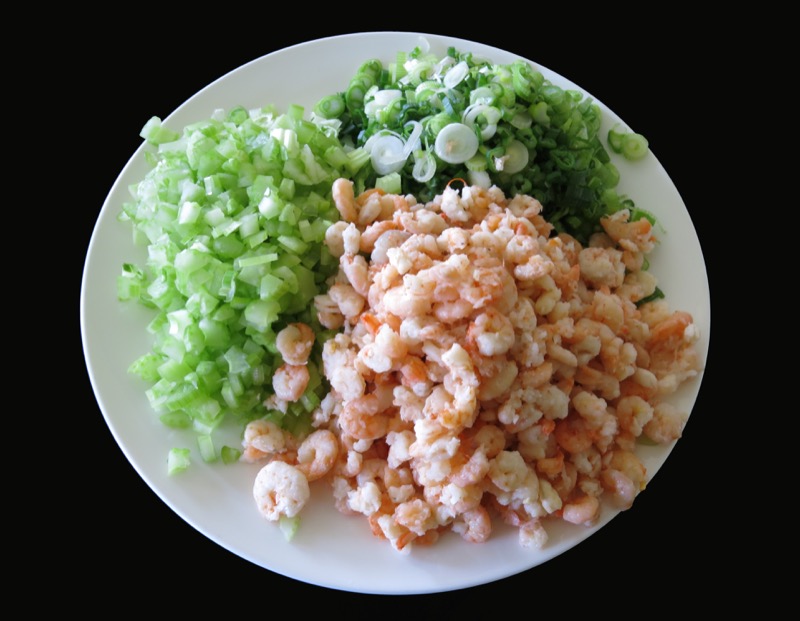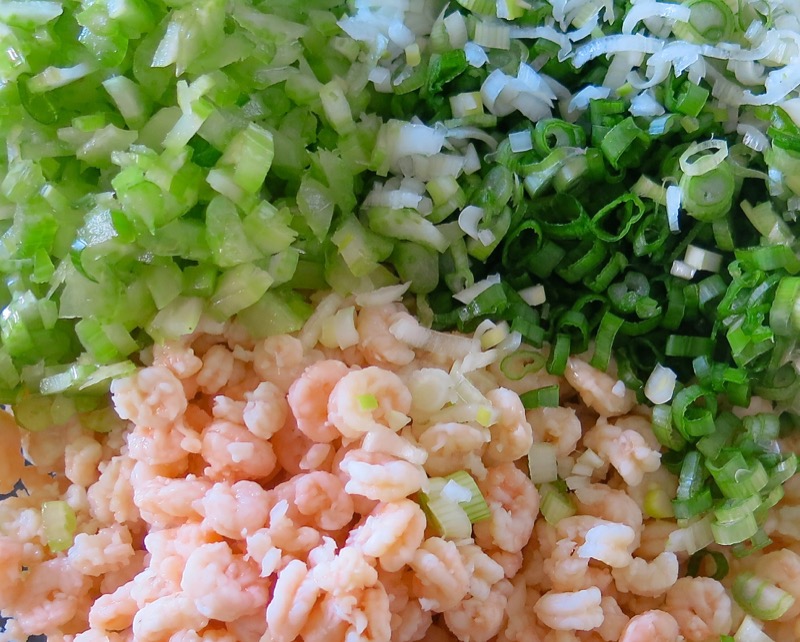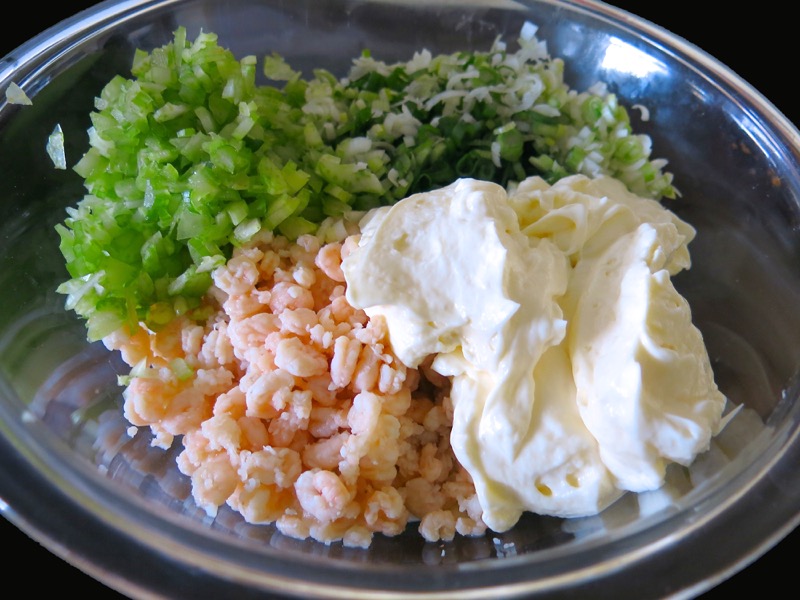 Simple. Celery, green onion, canned shrimp and mayo.
Cream cheese melted into canned tomato soup.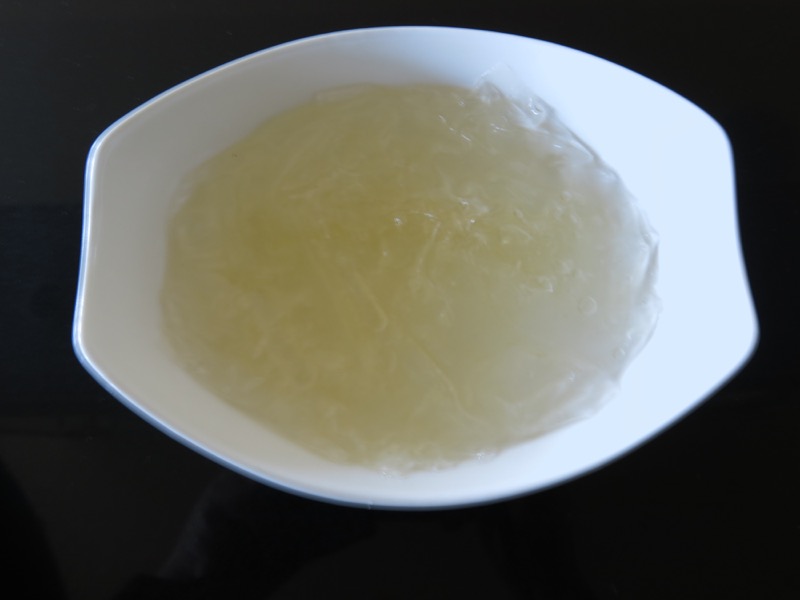 A good amount of gelatin soaked in cold water, squeezed and melted into the mix.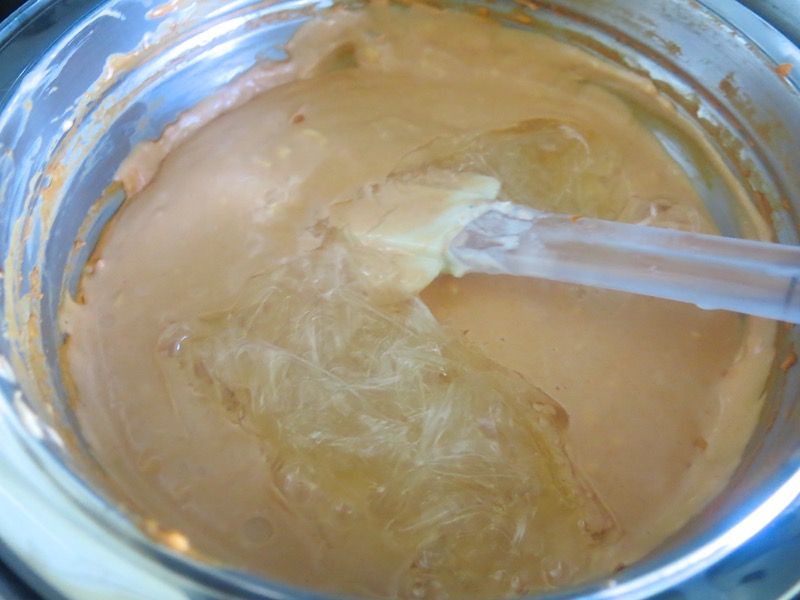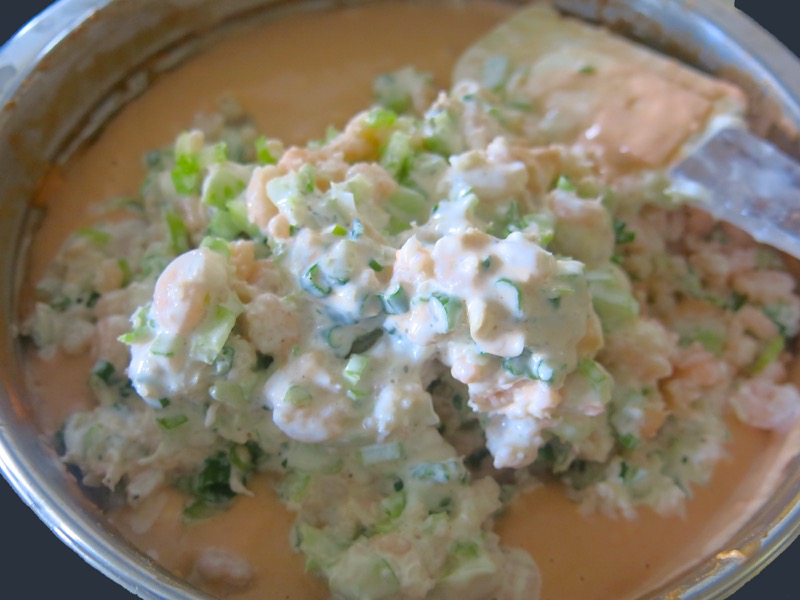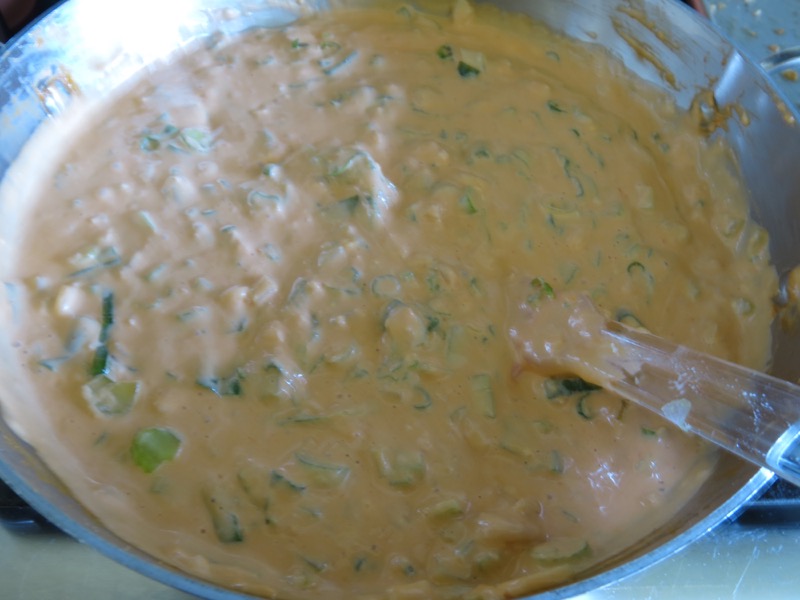 Stir in the remaining ingredients, pour into the mould, refrigerate to set.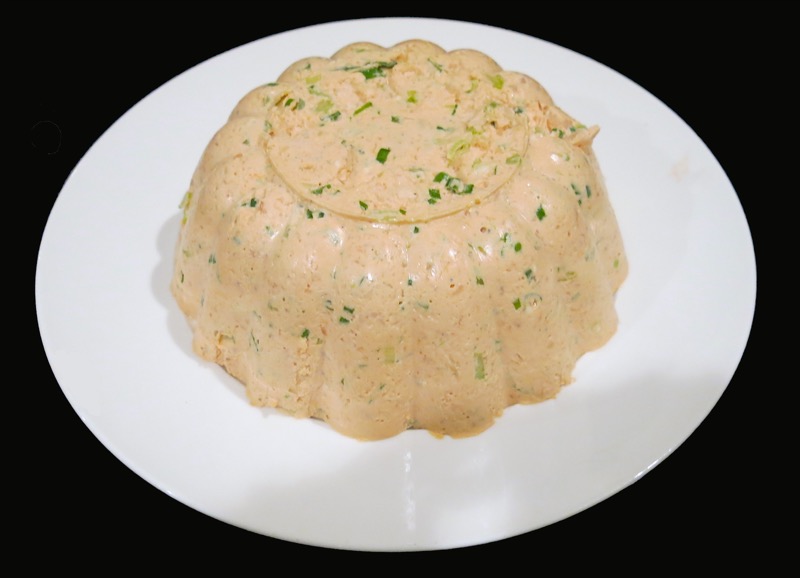 Yes. It is that simple: Tomato Soup Shrimp Dip in a mould.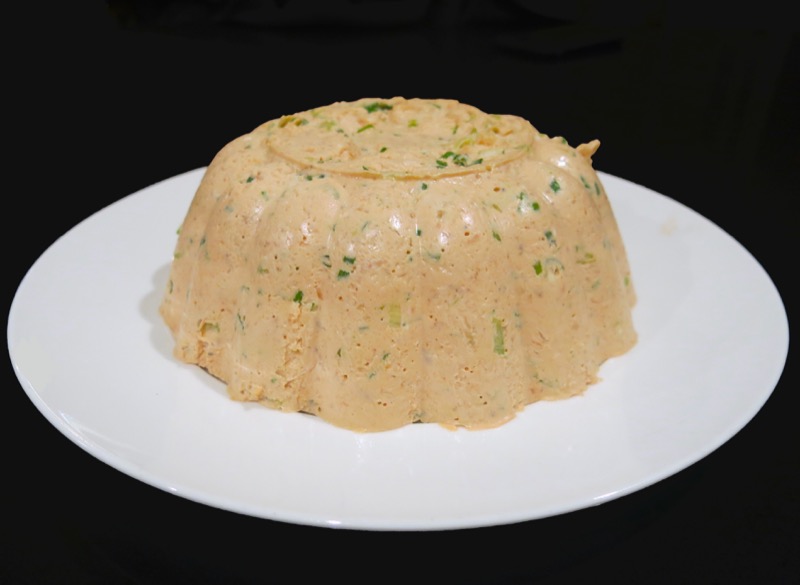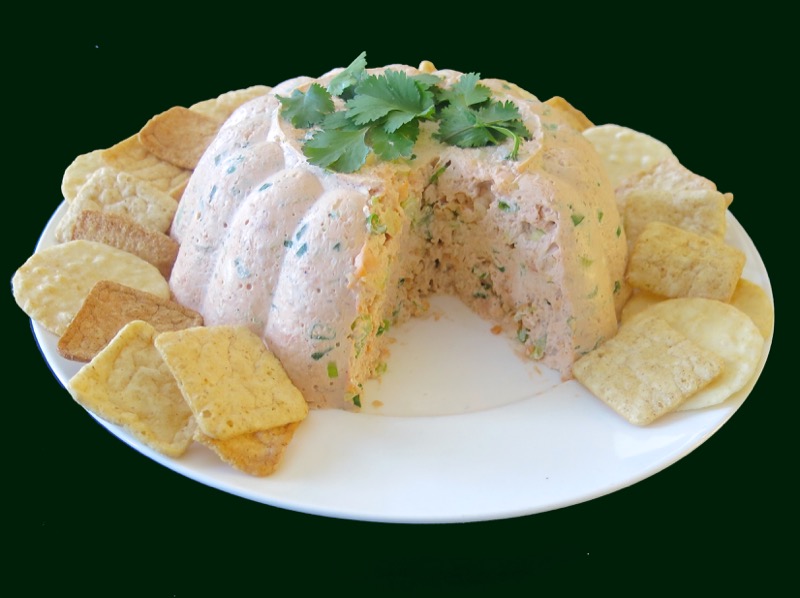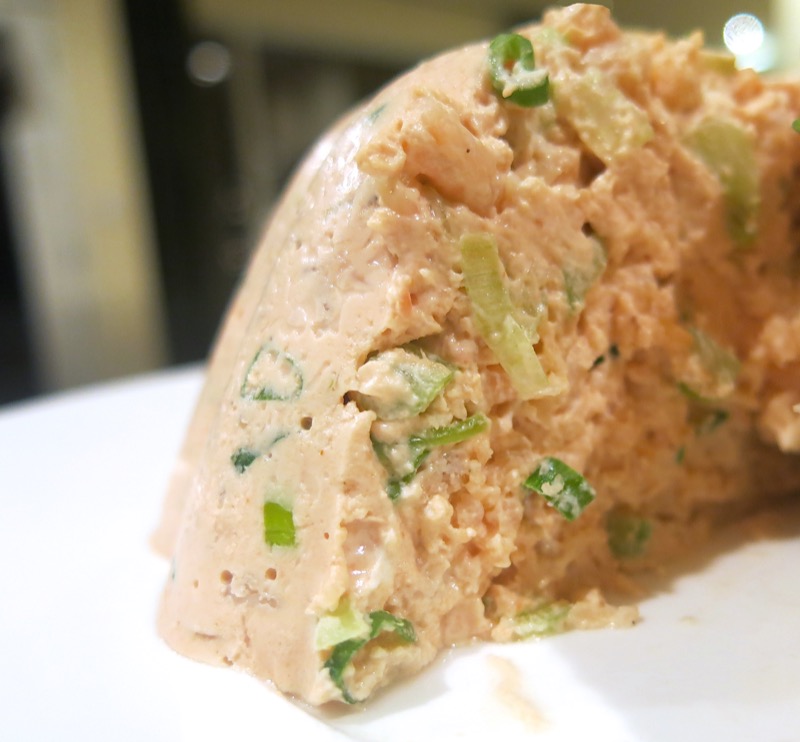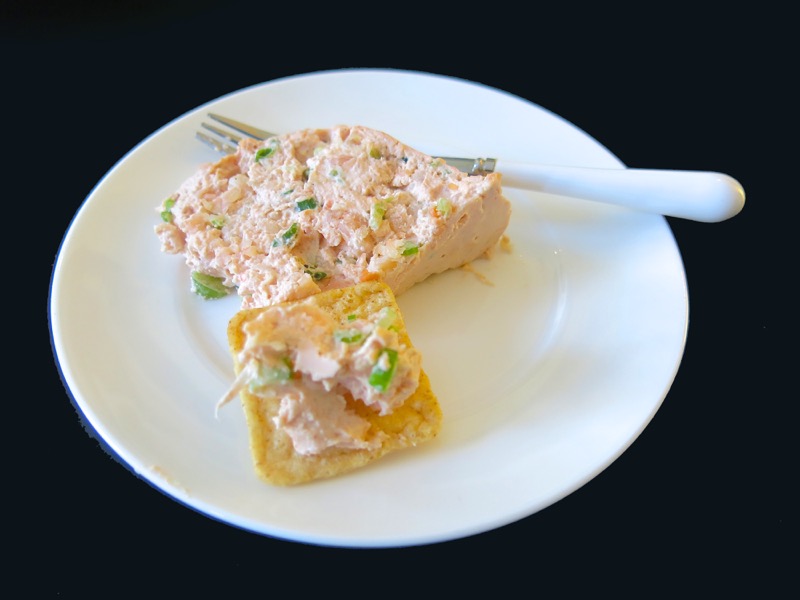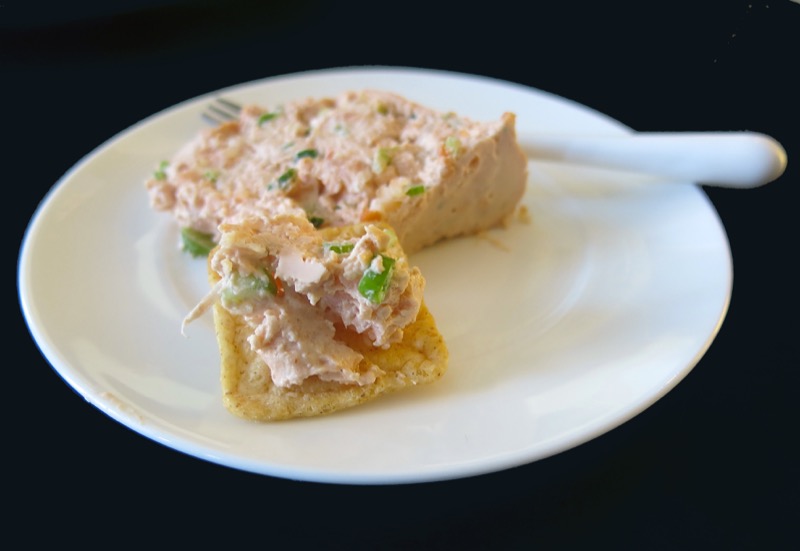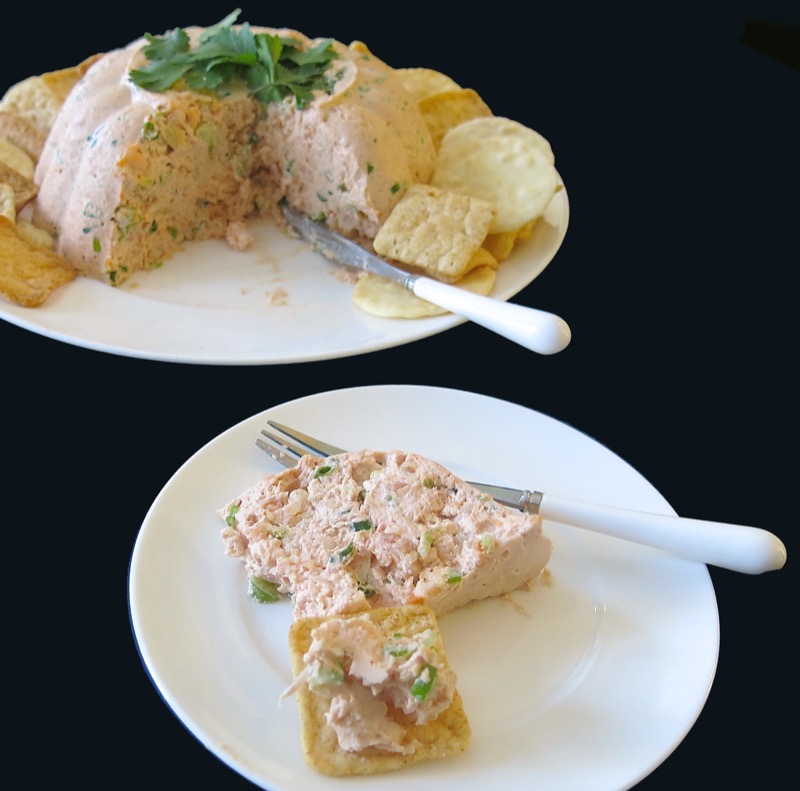 Feeding my family during the holidays to create tradition, warmth, memories of home all wrapped in hope for the future and so much love.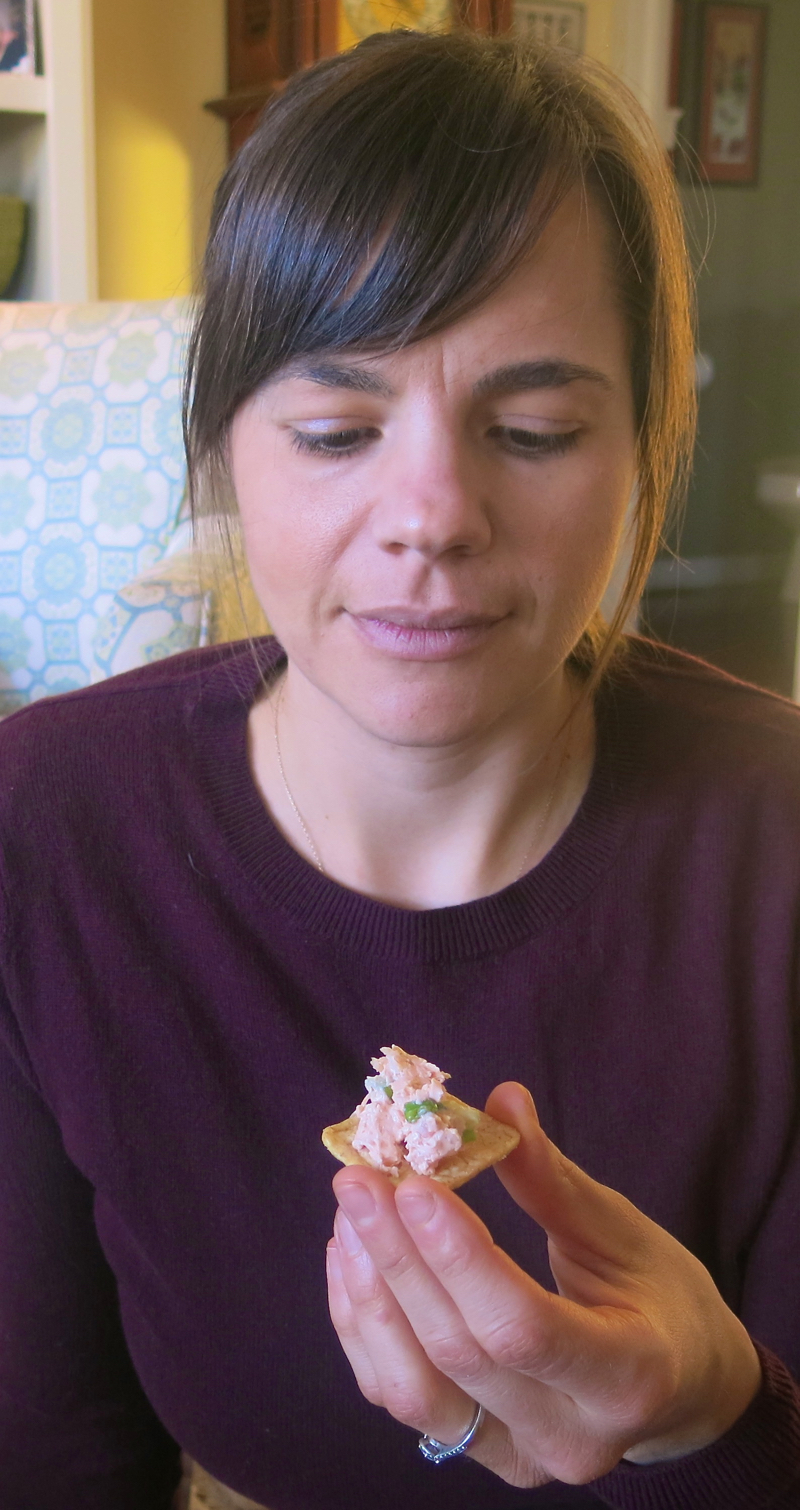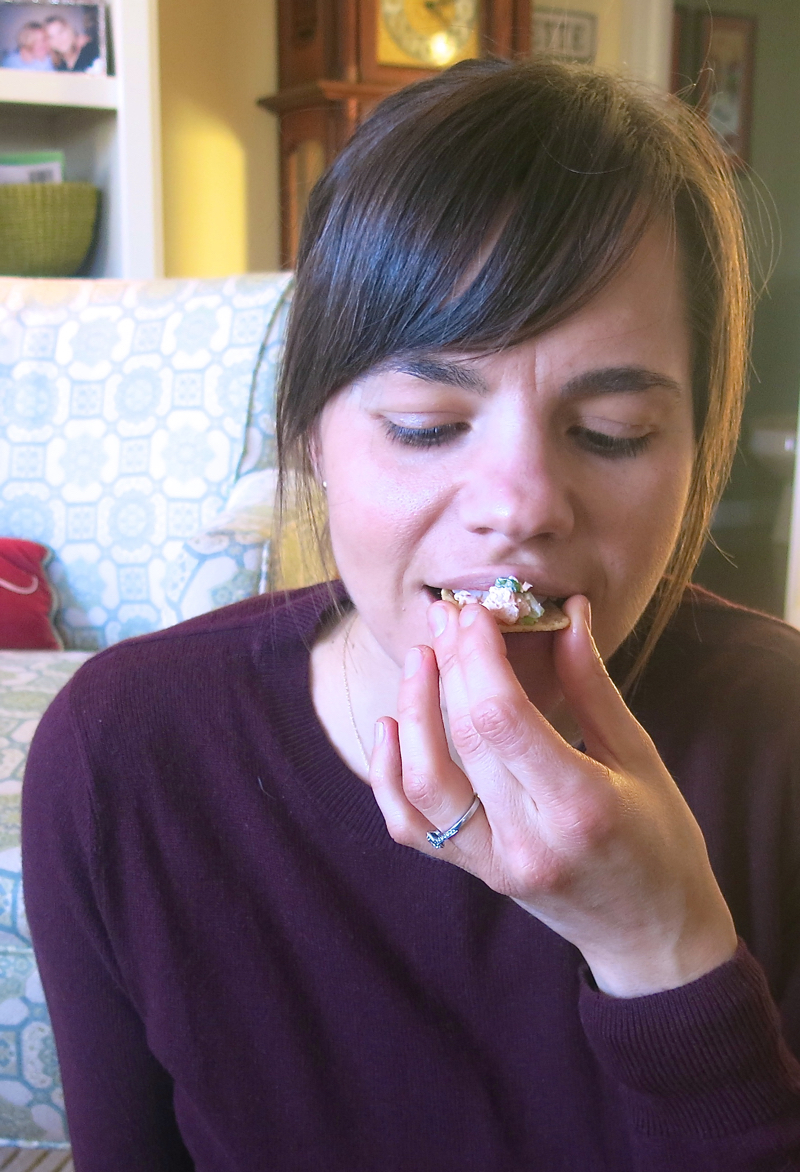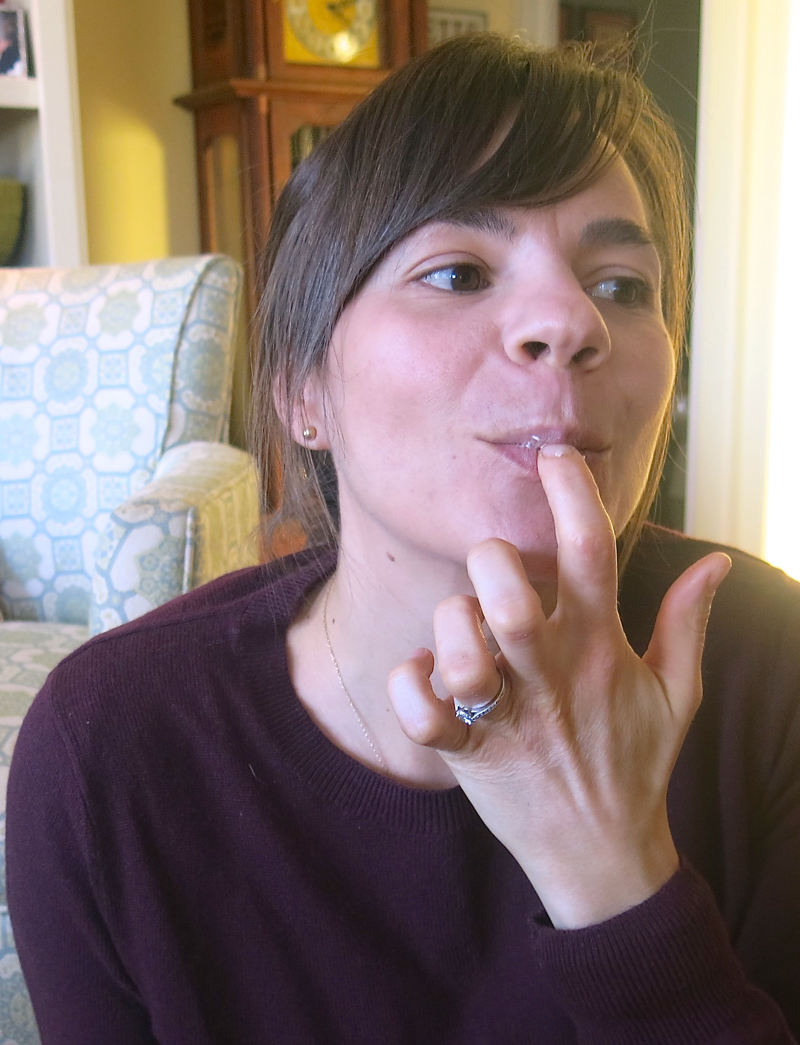 Lauren approved.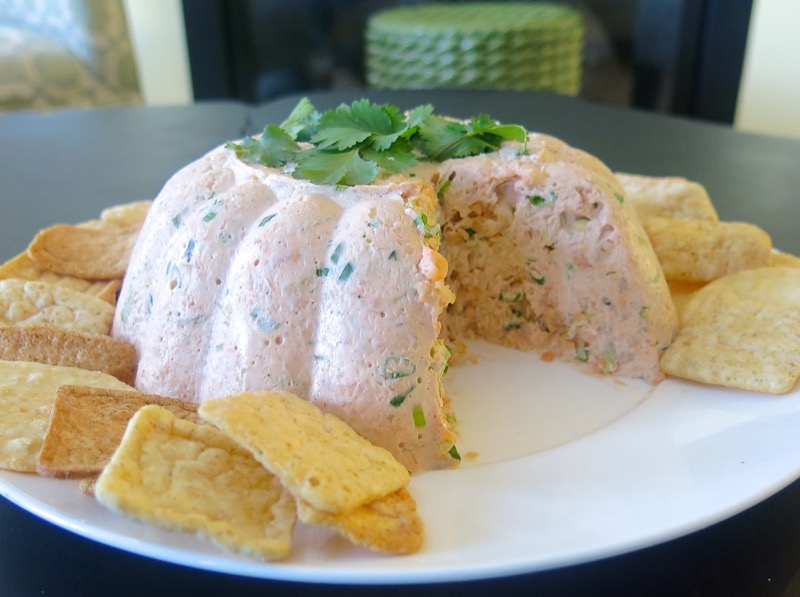 What's not to like, really? Unless you are not a seafood person. Do you remember this recipe? If so, make it again! If not, try it! Let's hear what you think about my new favourite go-to crowd pleaser this year: Tomato Soup Shrimp Dip!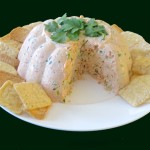 Retro Recipe: Shrimp Gelatin Salad or Dip Spread


This is a recipe from the 1960's and was probably originally on the side of a Campbell Tomato Soup can or on the Philadelphia Cream Cheese box.
Ingredients
1

can tomato soup

12

oz

cream cheese

1

cup

mayo

1 1/2

package gelatin or 6 sheets of gelatin

4 100

gram

cans shrimp

, drained and patted dry

2/3

cup

celery

, finely chopped (1-2 stalks)

2/3

cup

green onion

, finely chopped (one bunch, or 6 green onions)
Instructions
Place the first 2 ingredients into the top of a double boiler to melt the cheese and combine together, without lumps

Prepare gelatin sheets in cold water as per directions on package or sprinkle powdered gelatin over water as per instructions on package; mix into soup mixture

Add all other ingredients to soup mixture; stir well to combine

Pour into a mould; refrigerate overnight, or until set

Unmould and serve with crackers or fresh vegetables
Recipe Notes
I made 24 tiny pots 1/4 cup each for Amy's Baby Shower and had "just enough" exactly. No tasting, and you will get 24 servings 1/4 cup each.