Reboot Keto Cordon Blue Casserole: Sunday Dinner Special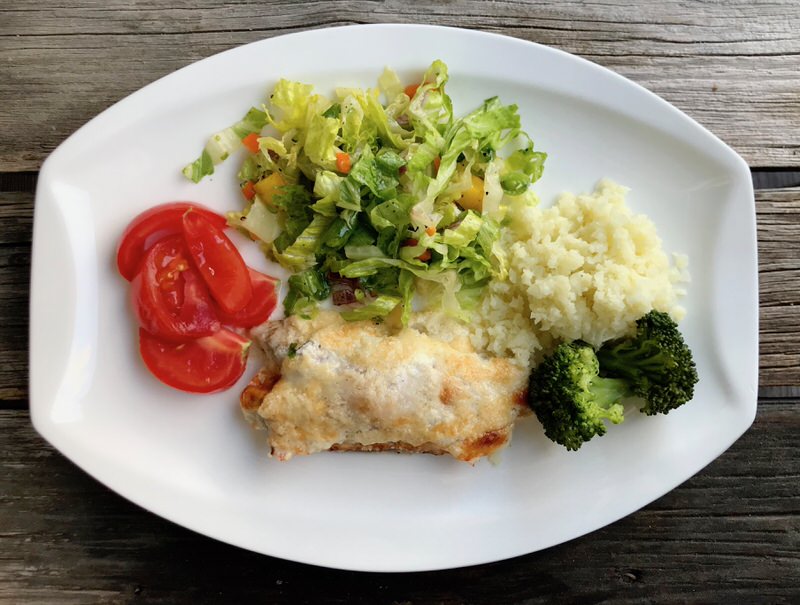 Keto Cordon Blue Casserole is a great option for a make-ahead freezer casserole. I make the Traditional Cordon Bleu each fall and freeze each individually for the winter, but this year, we cannot enjoy them until we are on the Impact Phase of the Evolv Health Total Reboot Program. The only 2 items in the Traditional Recipe that aren't good for Evolv Health Total RebootPhase One are the ham and the flour as this phase is all about rebooting your gut health; therefore, it's a great recipe for the Impact Phase and this is a great recipe for Phase 1.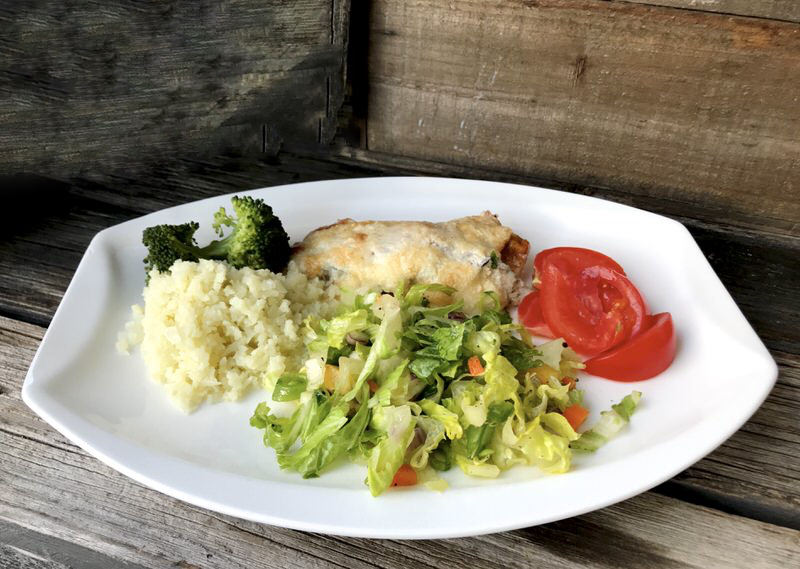 If you have a big appetite, this recipe is not for you. Each portion is only 1/2 a chicken breast. Most people will find these portions very satisfying, but you know who you are. If you are the kind of person that usually has a larger portion than most, there are other Reboot Keto recipes that will be better for you.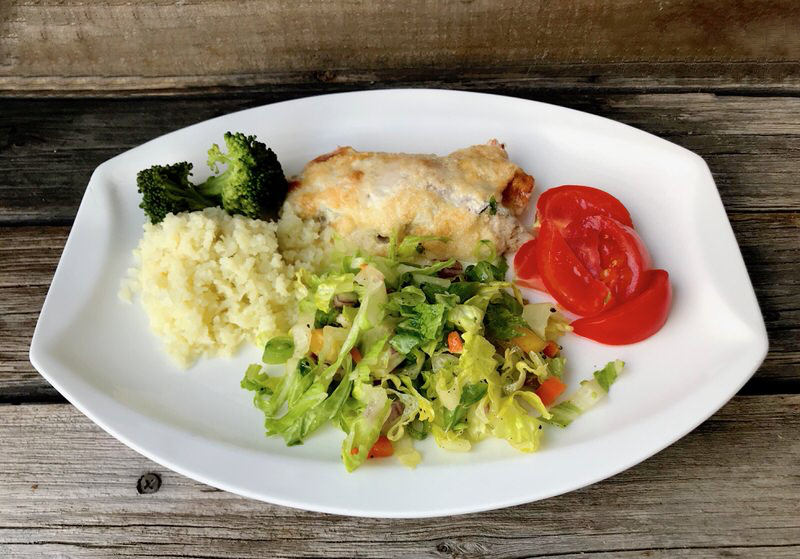 However, this recipe is exceptionally delicious and if you have a small or medium appetite or the discipline to eat reasonably slowly and let the food rest within for ten to twenty minutes. It is very satisfying as the cheese sauce is exceptionally rich. Perfect over cauliflower rice!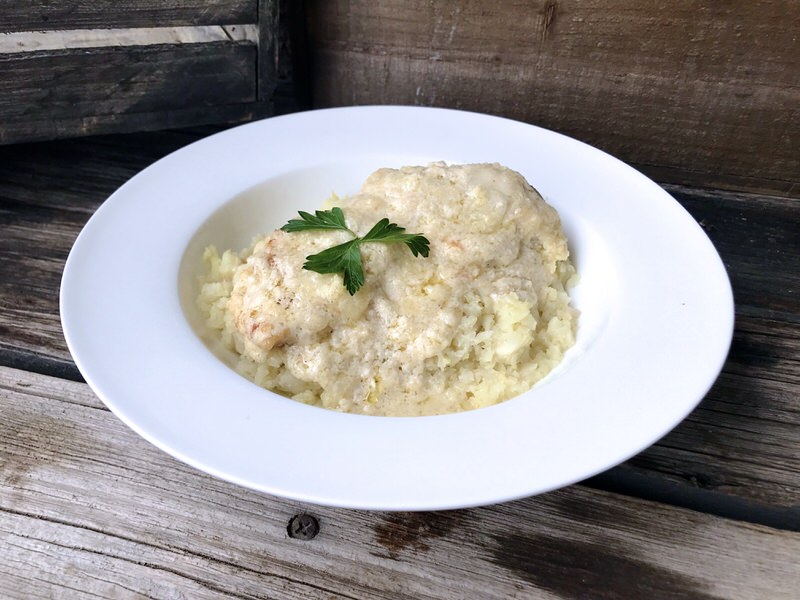 Talk about comfort in a bowl. Will have to do a post on cauliflower rice soon. So simple in the Thermomix and delicious! Even Vanja liked the cauliflower rice smothered in this unctuous smokey sumptuous cheese sauce.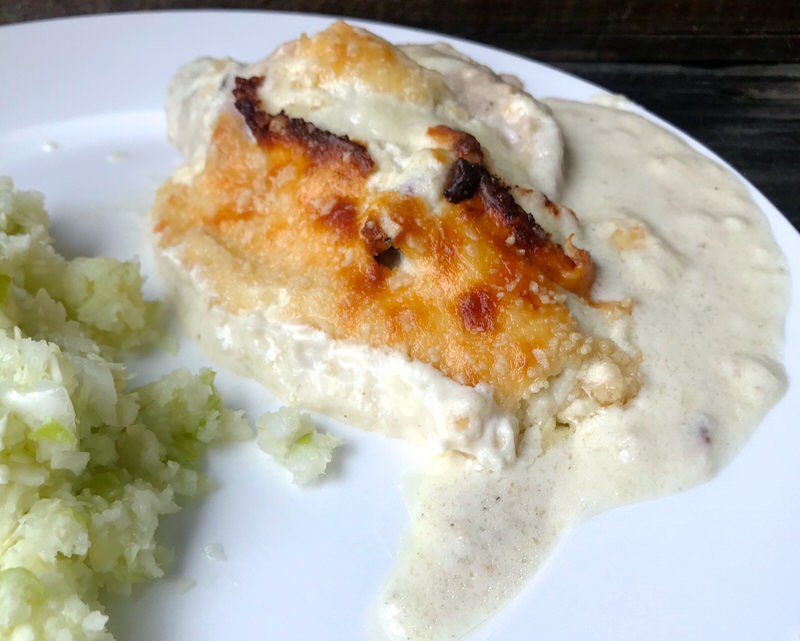 If you are rebooting your gut health on the 28-day Evolv Health Total Reboot Program, this recipe is for you even though the program is what I refer to as a "soft keto" diet. However, if you are into the full-blown Keto diet, this recipe works perfectly for you, as well.
Reboot Keto Cordon Blue Casserole: Mis en Place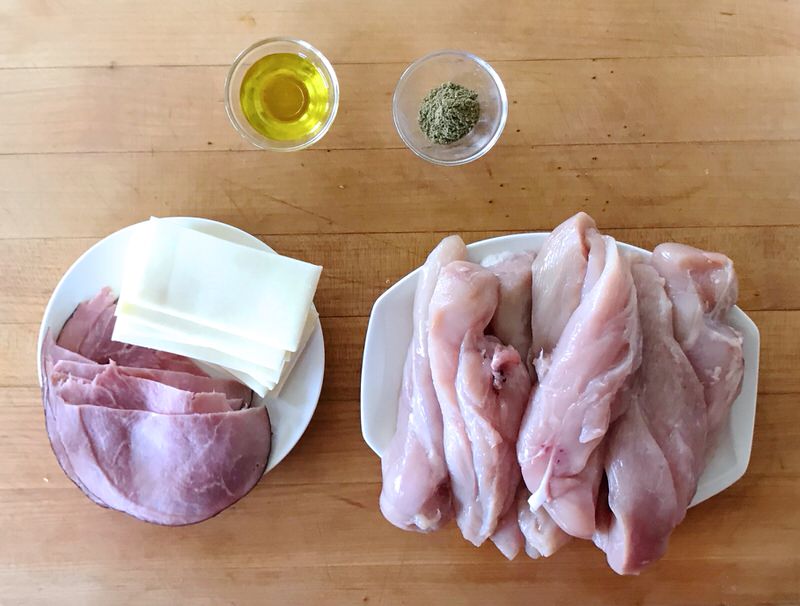 Simple preparation for this portion of the recipe. Know-your-farmer organic chicken breasts, halved as evenly as possible, artisan quality cured ham to avoid as many cured meat chemicals as possible, your favourite cheese, poultry seasoning or sage and some lovely olive oil or your choice of healthy fat.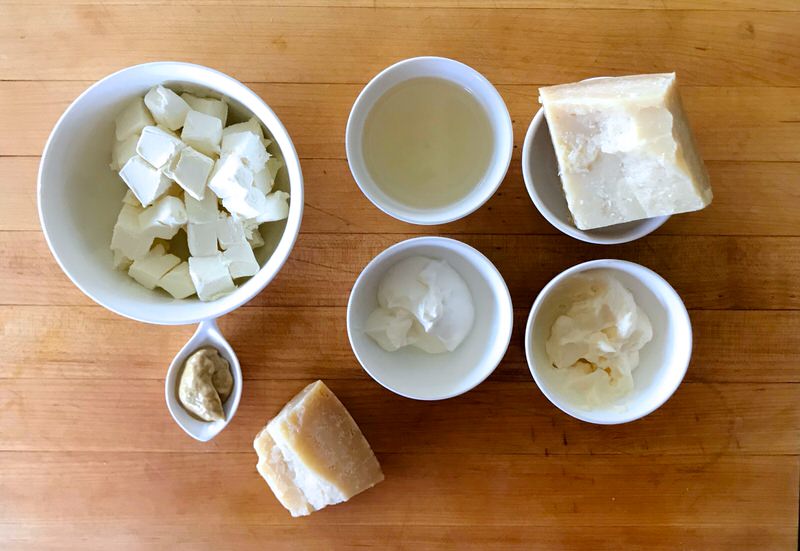 The sauce is another matter. Lots of ingredients, but nothing exotic, thus easy to make. Cream cheese, sour cream, organic mayonnaise, Parmesan cheese in two portions (one for the topping), chicken broth, and Dijon mustard.
Reboot Keto Cordon Blue Casserole: Making the Cheese Sauce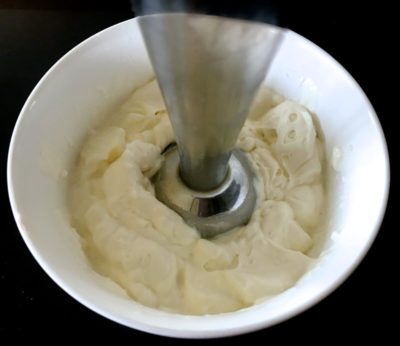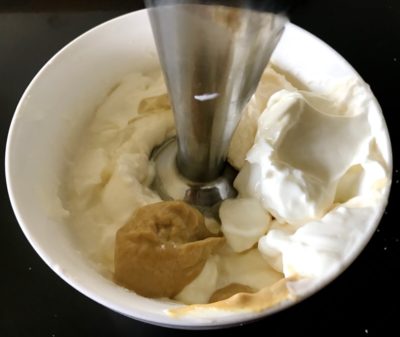 No need to combine the ingredients as I have, above, bit by bit. Place them all in one big bowl and blend together until as smooth as possible.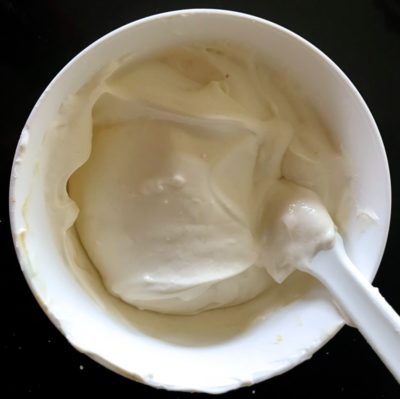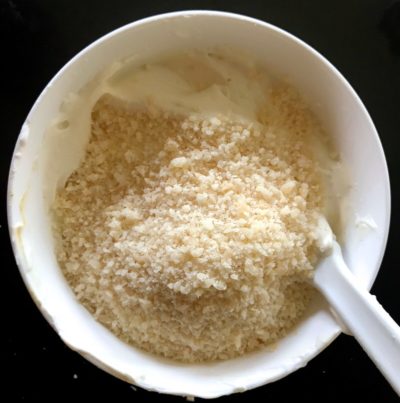 I was just enjoying the process.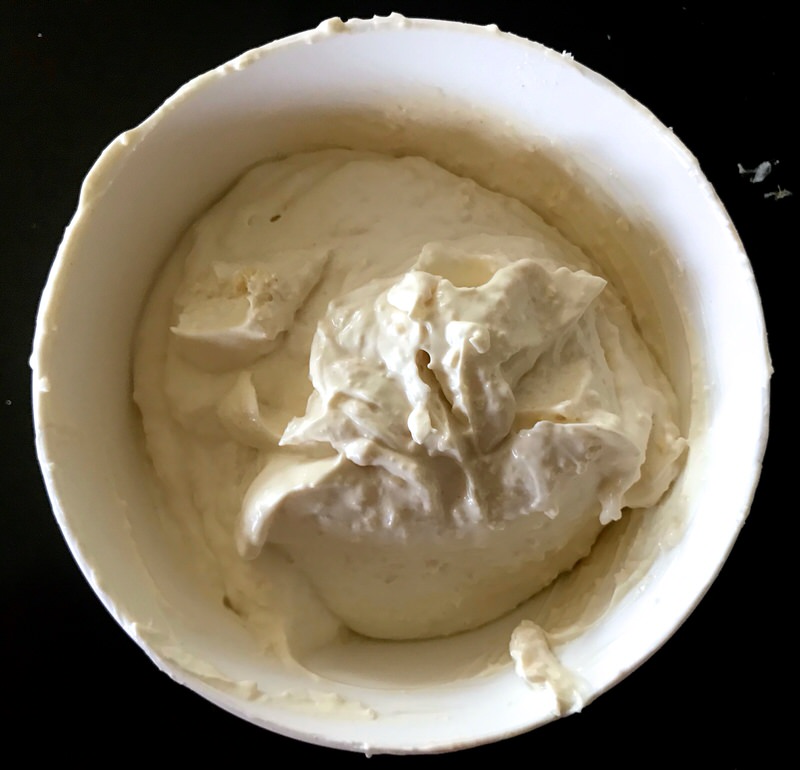 The sauce will be mighty thick, but when it's baked, thins out. Without the sauce, you have chicken breasts, cheese and ham. It is the sauce that provides the backdrop for the flavour profile of the dish: smokey decadence.
Reboot Keto Cordon Blue Casserole: Preparing the Chicken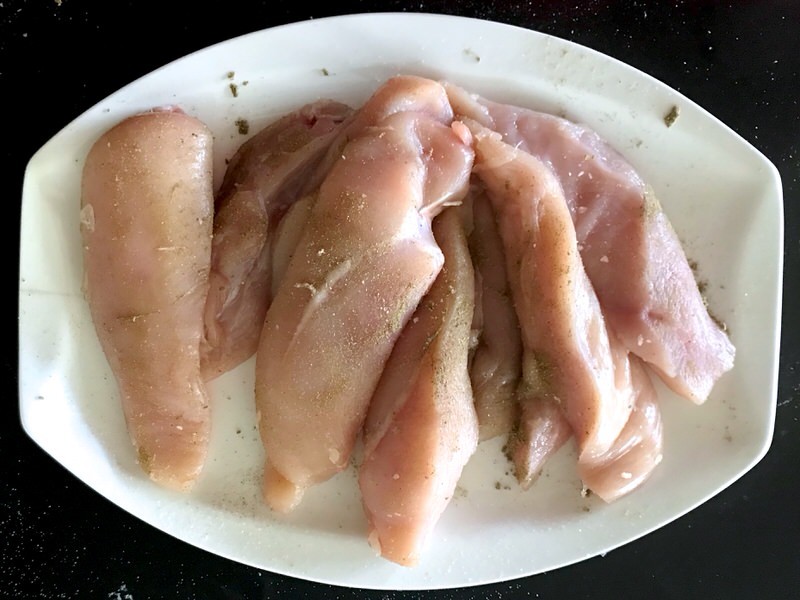 Be sure to rub those lovely farm-fresh thighs with a combination of the salt and the seasonings.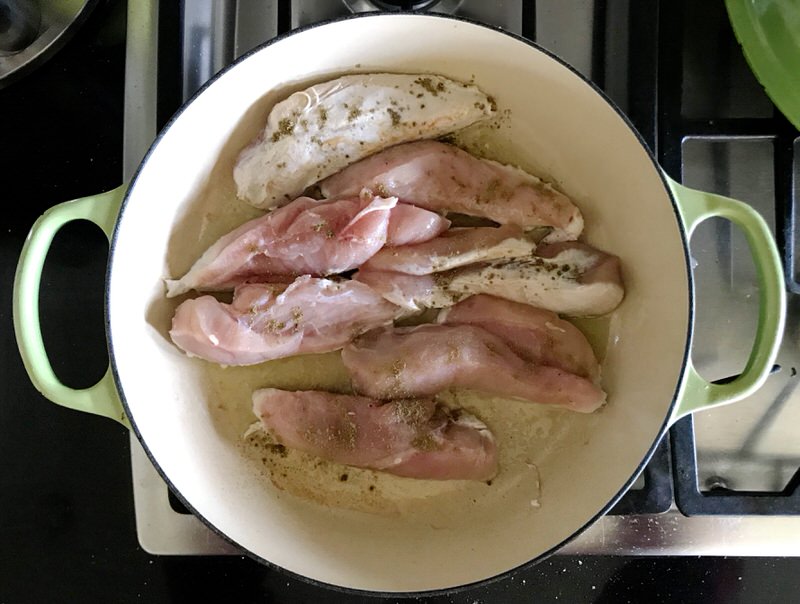 Brown each in olive oil 2 minutes per side in a heavy skillet until just browned. Now, we're ready to stack each serving!
Reboot Keto Cordon Blue Casserole: Building the Serving Stacks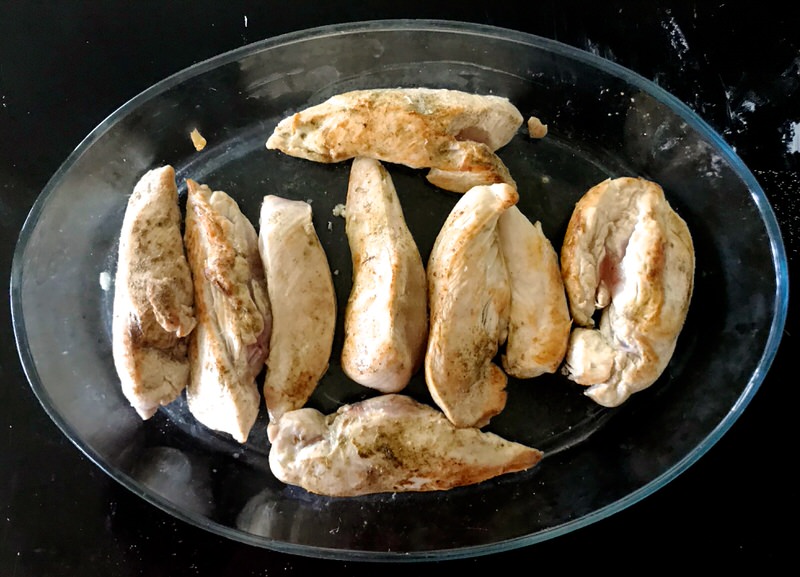 While a whole breast of chicken can be an ample portion, depending upon the size of the bird, a half a breast of chicken is rarely satisfying if you have a good appetite. Certainly, the cheese and ham stacked on each 1/2 breast with a generous dollop of sauce provide more than enough nutrients per adult serving, however, the eye will still see what it sees. Learning how to feel nourished and when one has eaten enough is often a problem when struggling with weight loss. Much less a problem with the "soft Keto" diet of the Total Reboot program as with 50% fat, 25-30% protein and 20-25% carbs, I rarely feel hungry.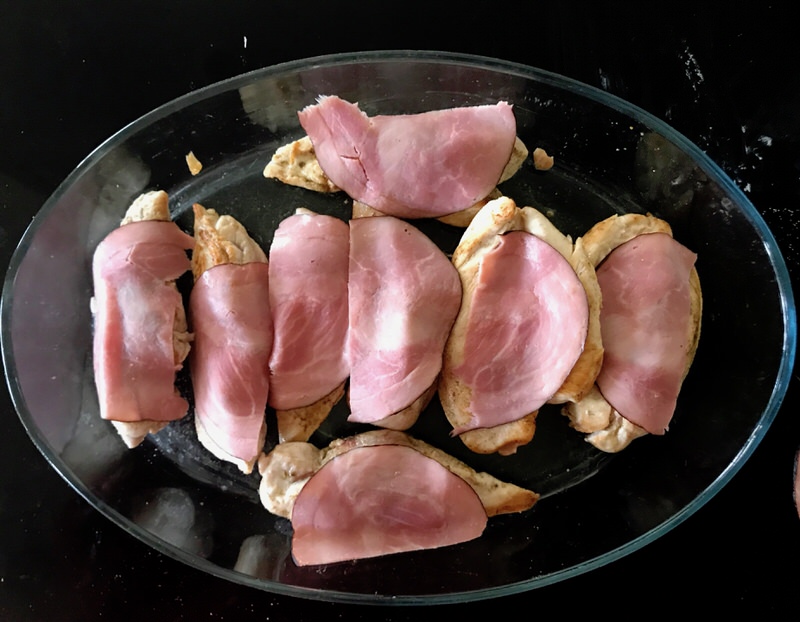 Each breast is covered with 1/2 slice of the ham, and then each portion is covered with 1/2 slice of cheese. Photo of cheese on top of the ham was not taken. Sigh.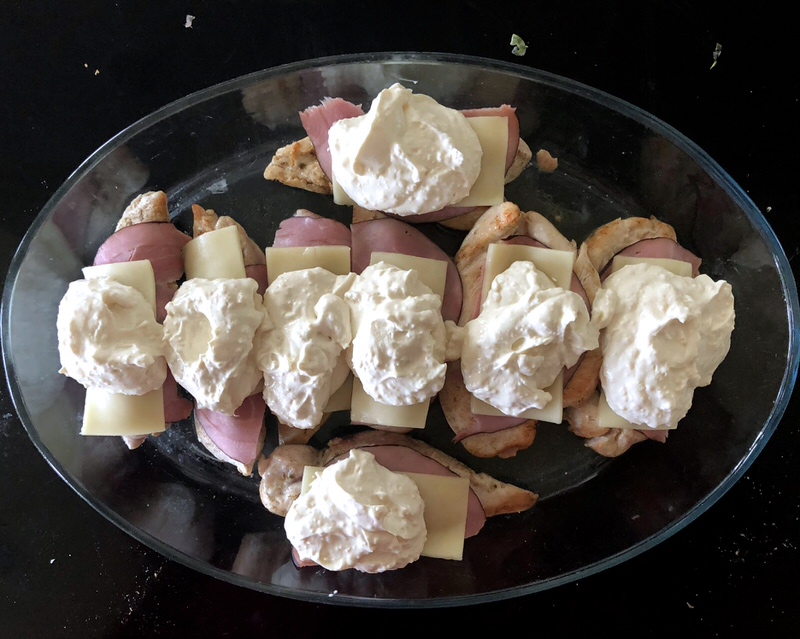 Best way to evenly proportion the sauce is to evenly dollop it on top of each serving.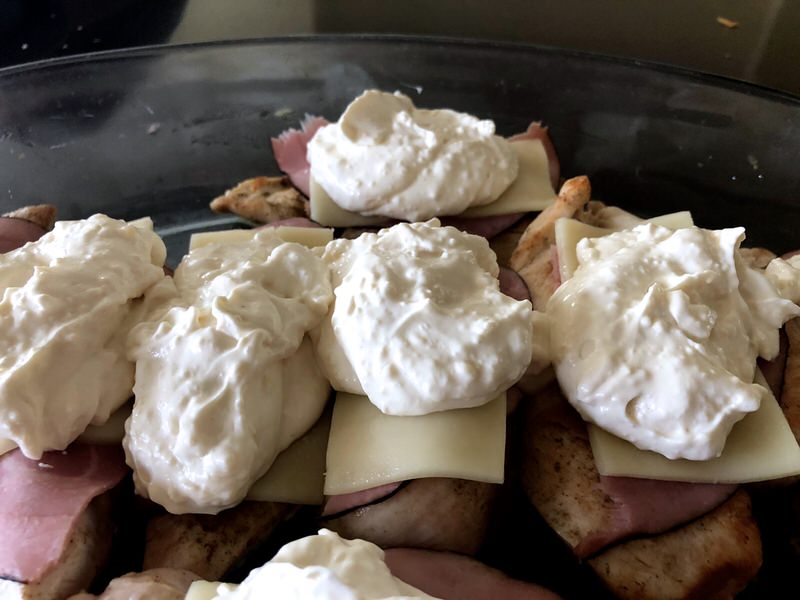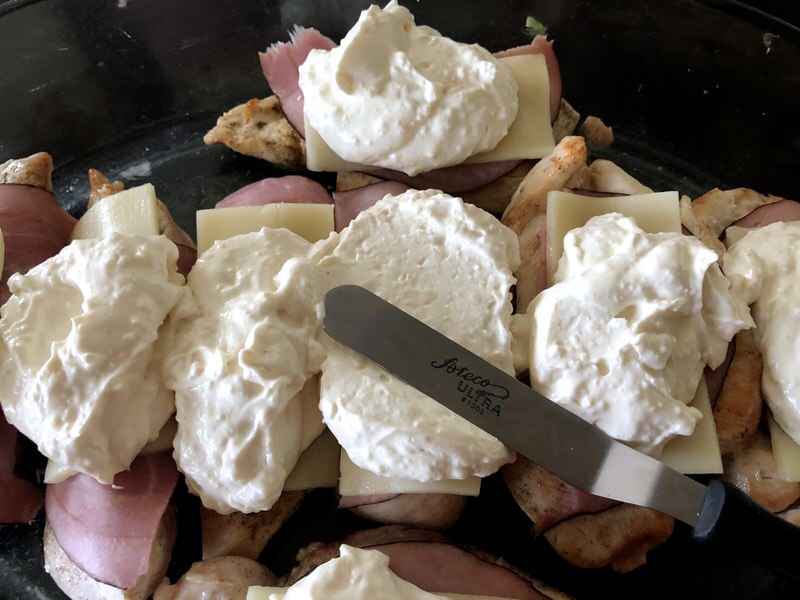 Love my off-set spatula for levelling out the sauce over each serving.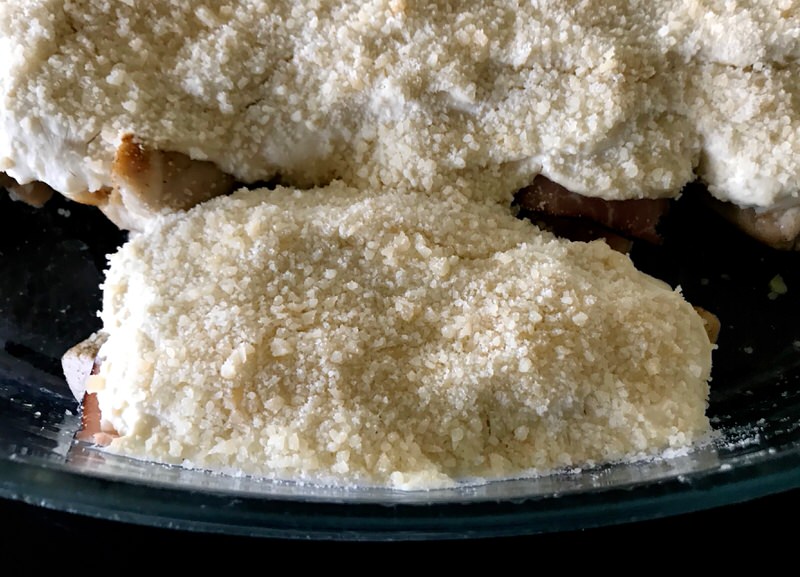 Portion the second bit of Parmesan evenly over each serving, as well. The generous amount of sauce and Parmesan per serving definitely impacts flavour.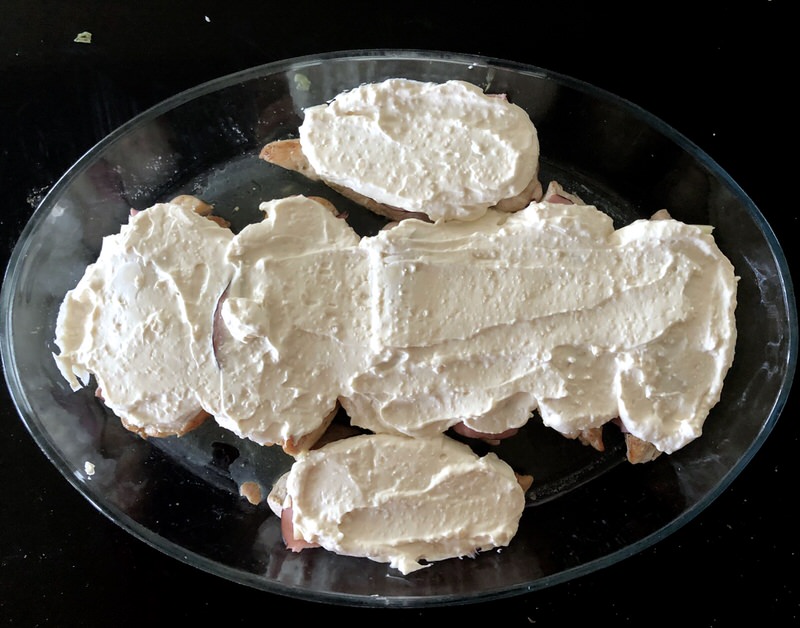 Ready for the oven, almost. Just needs Parmesan added, above.
Reboot Keto Cordon Blue Casserole: Baking and Serving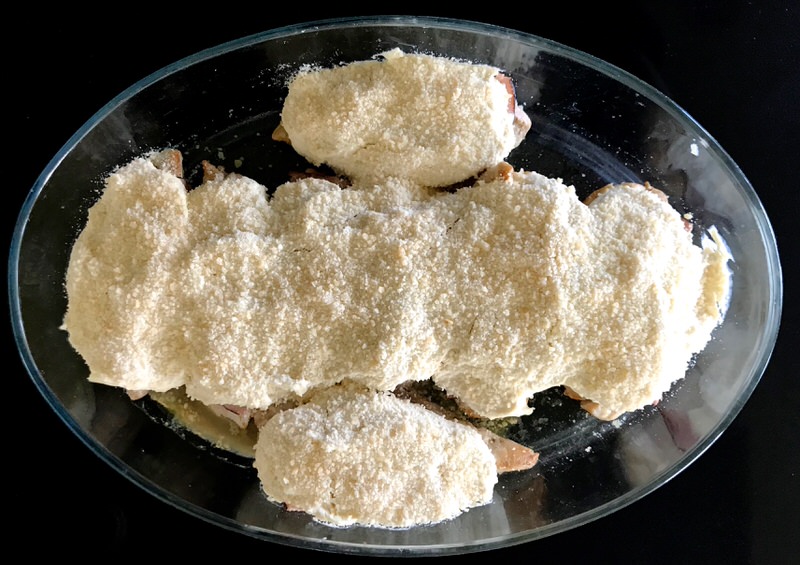 A work of art above, and an irresistible aromatic plate of pleasure, below.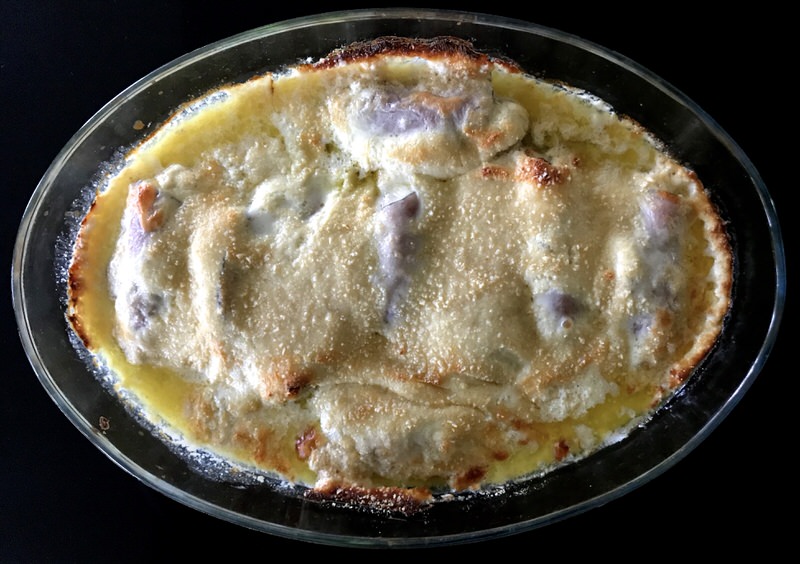 The sauce is delicious spooned over each serving or over the cauliflower rice.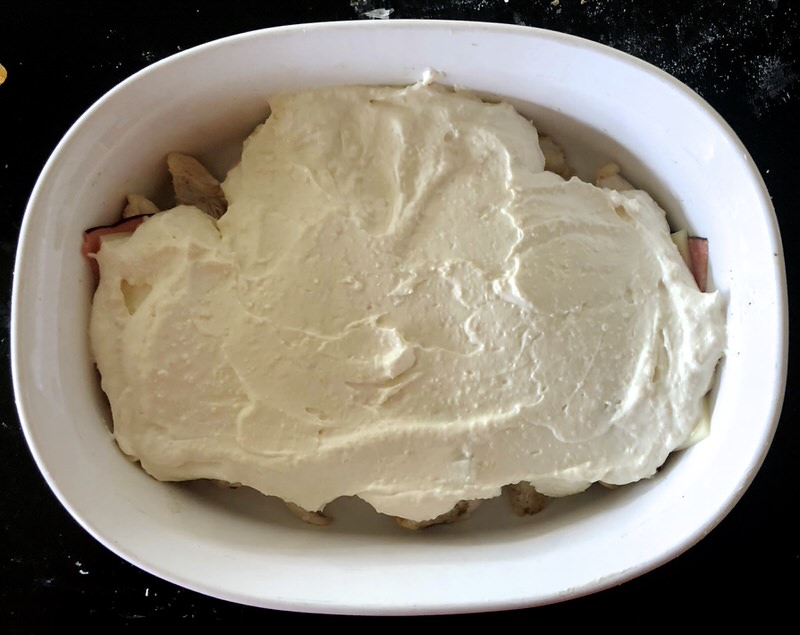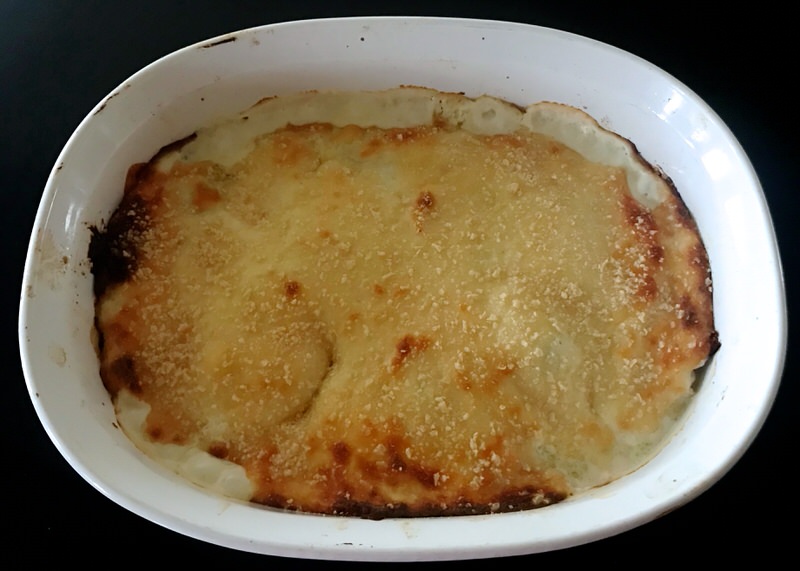 A smaller portion for Ragan to take home.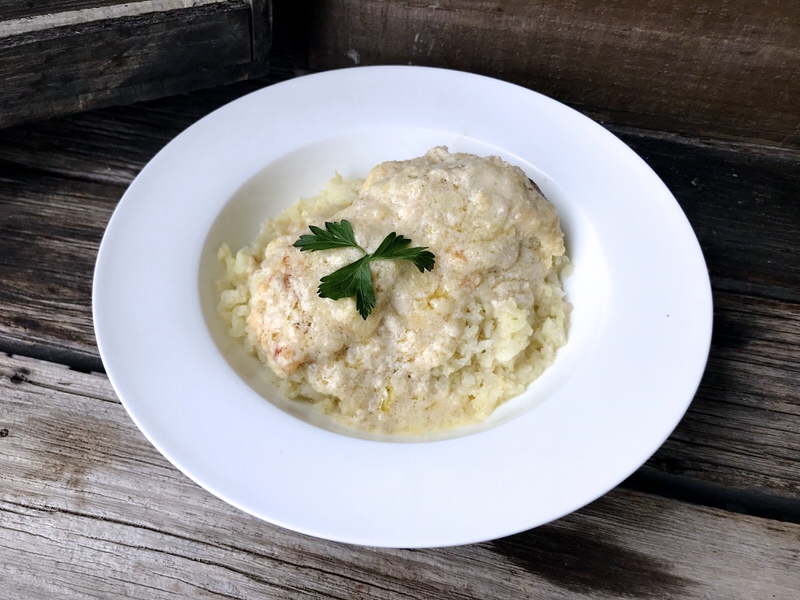 Served over cauliflower rice with fresh tomatoes or a salad on the side and you have an easy, delicious, nutritious whole meal deal!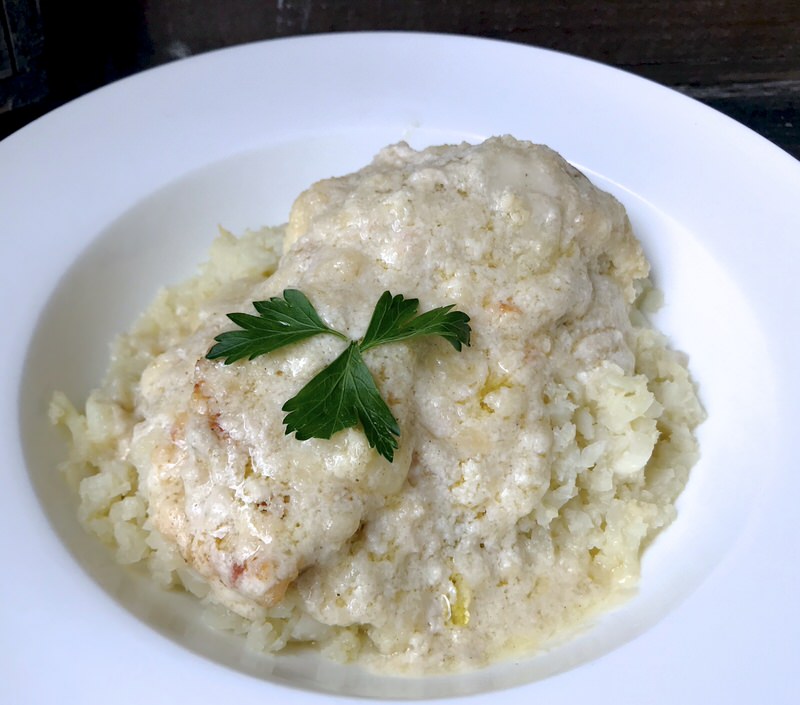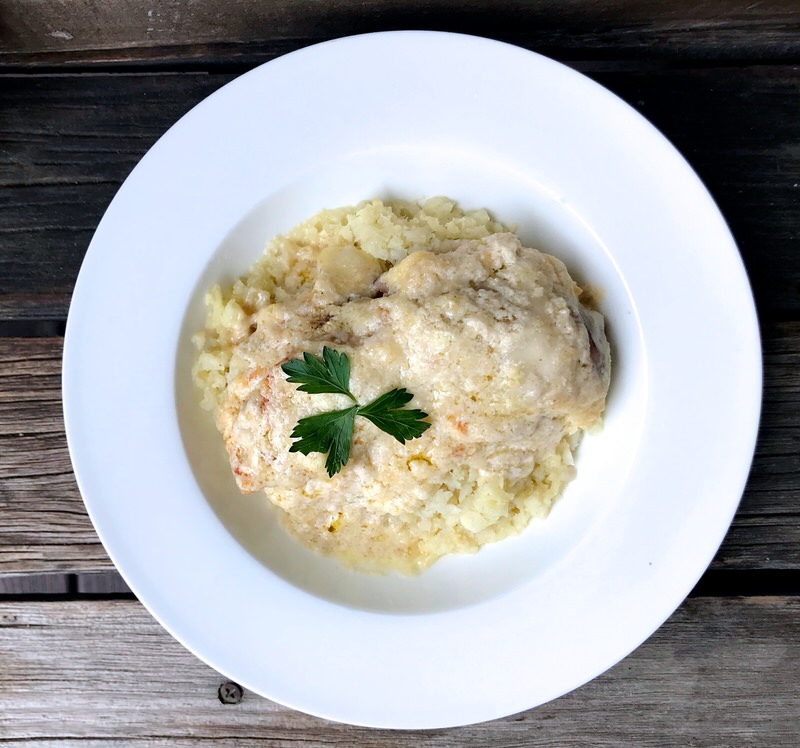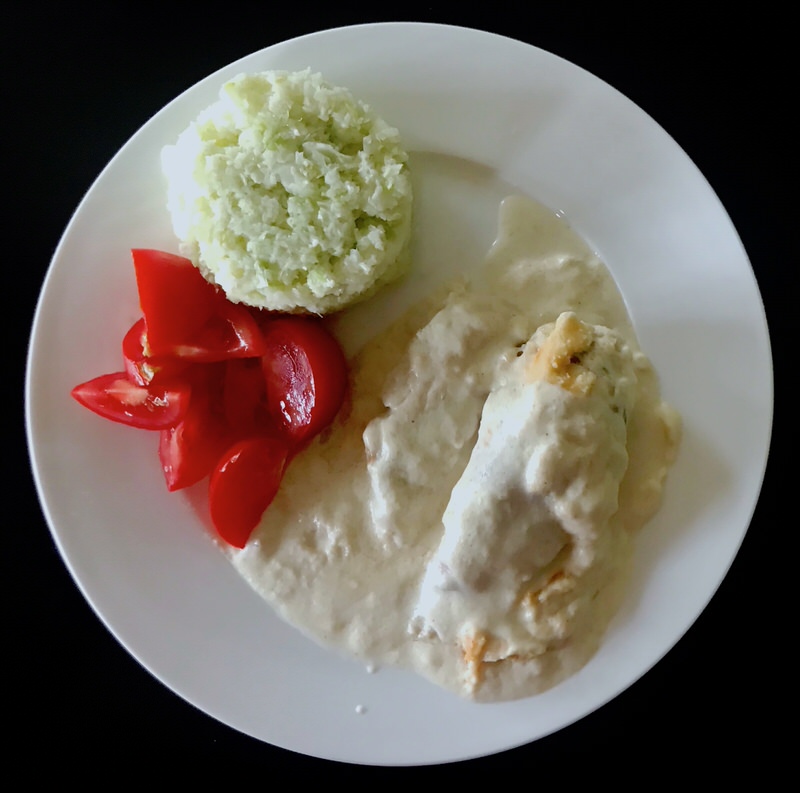 Or with a green apple slaw?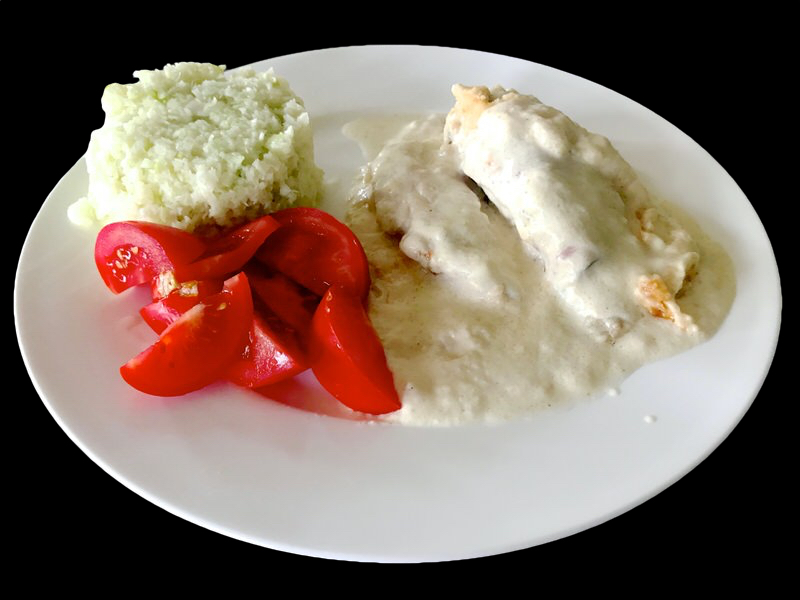 Vanja has tomatoes with every meal and never tires of them.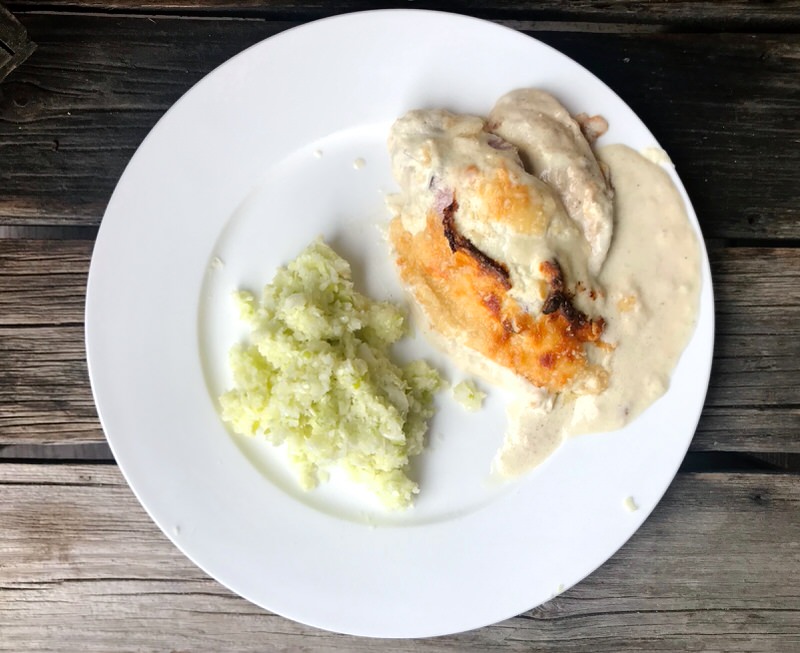 We do. With a daily intake of only about 20% carbohydrates, developing sides with impact and flavour, texture and sparkle is just necessary to compliment a usually high-in-fat and protein main.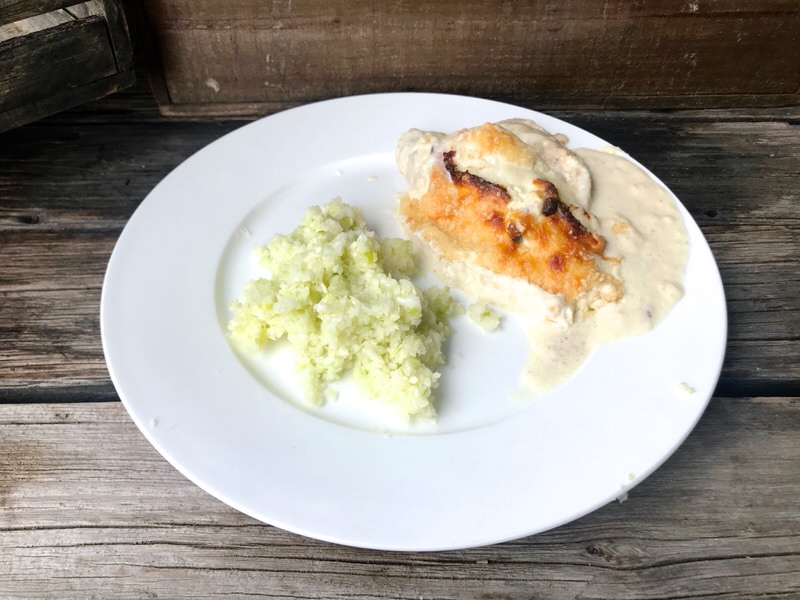 What do you think? Will you give it a go? Let me know if you do!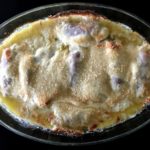 Reboot Keto Cordon Bleu Chicken Casserole
This is a delicious main recipe for Project 2019 Evolv Health Total Reboot which is a lovely Sunday dinner or Company Coming option! Freeze leftovers in individual portions for the family members on the Total Reboot Program.
Ingredients
Ingredients for Chicken Casserole
4

large

thick boneless, skinless organic chicken breasts, cut in half lengthwise for 8 portions

1

tablespoon

olive oil

½

teaspoon

sage

1

teaspoon

salt

4

slices

Black Forest ham

cut in half lengthwise for 8 portions

4

slices

Swiss cheese

cut in half lengthwise for 8 portions

1/2

cup

freshly grated Parmesan Cheese
Ingredients for Sauce
8

ounces

cream cheese

cut into cubes, at room temperature

¼

cup

chicken stock

¼

cup

full-fat sour cream

¼

cup

organic full fat mayonnaise

1

teaspoon

Dijon mustard

½

cup

freshly grated Parmesan
Instructions
Instructions for Sauce
Whisk softened cream cheese with chicken stock; add and whisk in sour cream, mayonnaise and Dijon

Stir in grated Parmesan (sauce will be thick); set aside
Instructions for Preparing Chicken
Pre-heat oven to 375; place rack in middle of oven

Heat olive oil in heavy pan; rub breasts with sage and salt and brown each for 2 minutes per side

Set aside on paper towel; blot top with another layer of paper towel
Instructions for Building the Serving Stacks and Baking the Casserole
Distribute 8 portions of chicken evenly in casserole dish; cover each with ham, then cheese

Dollop and spread sauce evenly over chicken portions; sprinkle with last ½ cup Parmesan cheese

Bake 35-40 minutes until bubbly and starting to brown on top
Reboot Keto Cordon Blue Casserole: Freezing Leftovers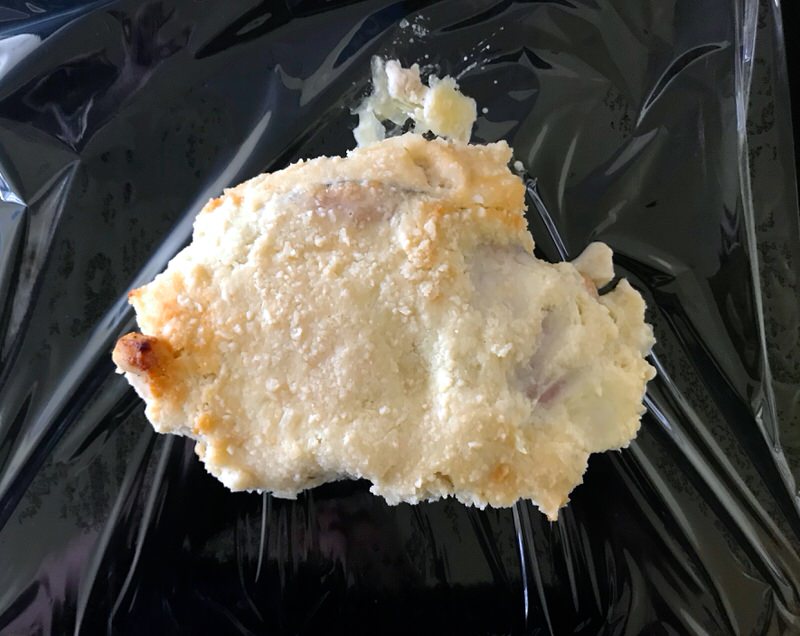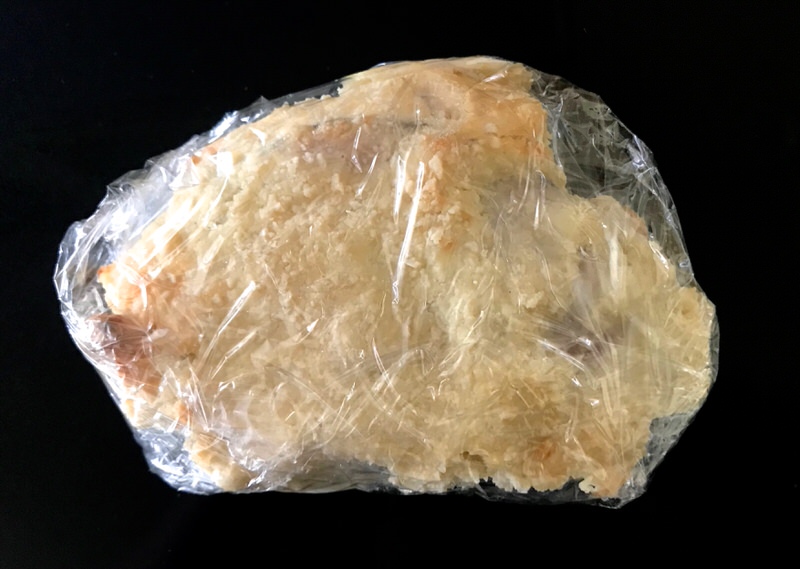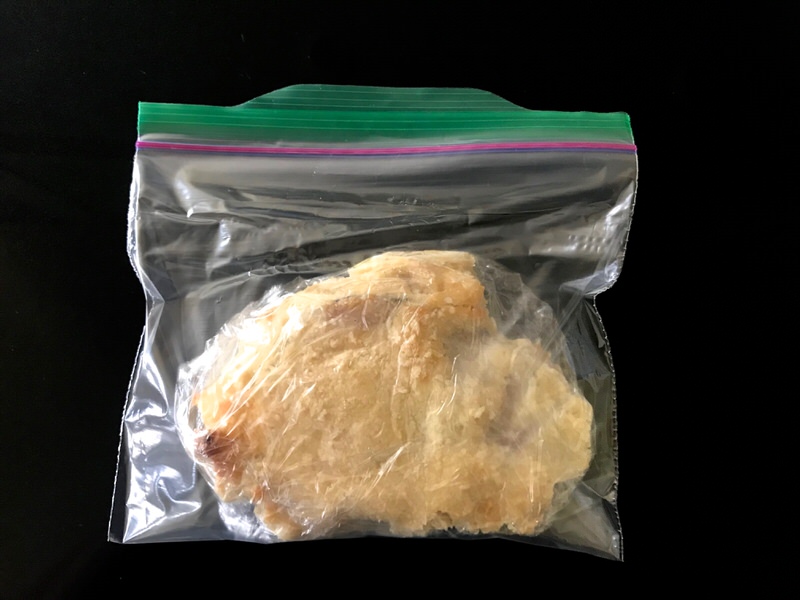 Everyone in the family may not be participating in the program, but they will still enjoy this dish. Therefore, if there are leftovers, it is a good idea to wrap them up individually for those on the program as they freeze beautifully and it is a lovely, healthy unwrap and zap choice.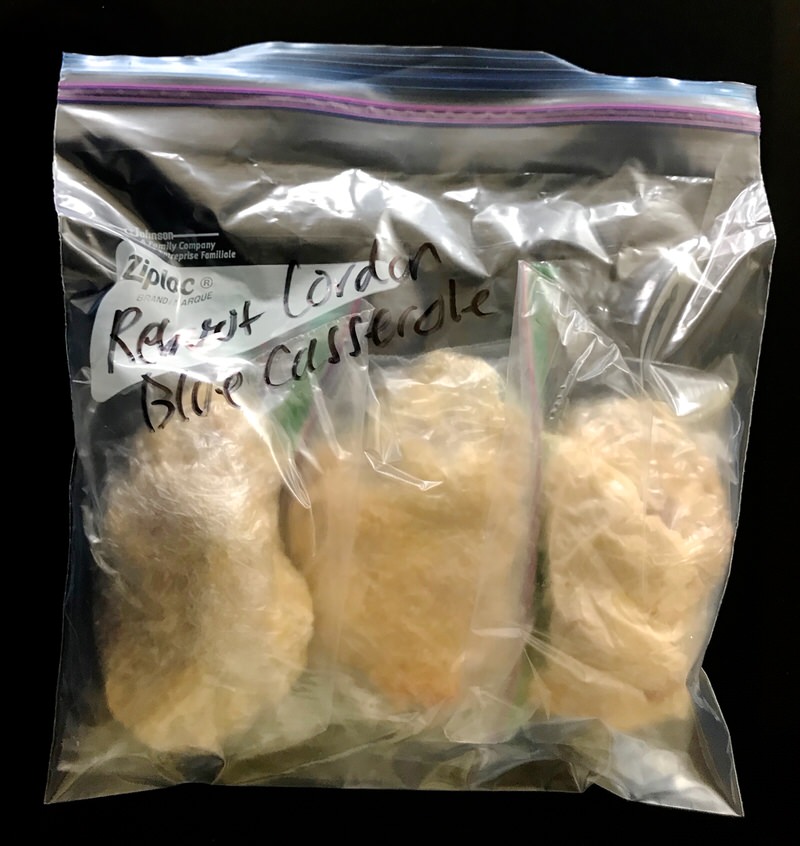 Interested in joining us? Let me know. This recipe is one of many from Project 2019: Evolv Health Reboot – Join Me!.