Pimento Cheese Spread: The Perfect Bite for Cracker Spoons!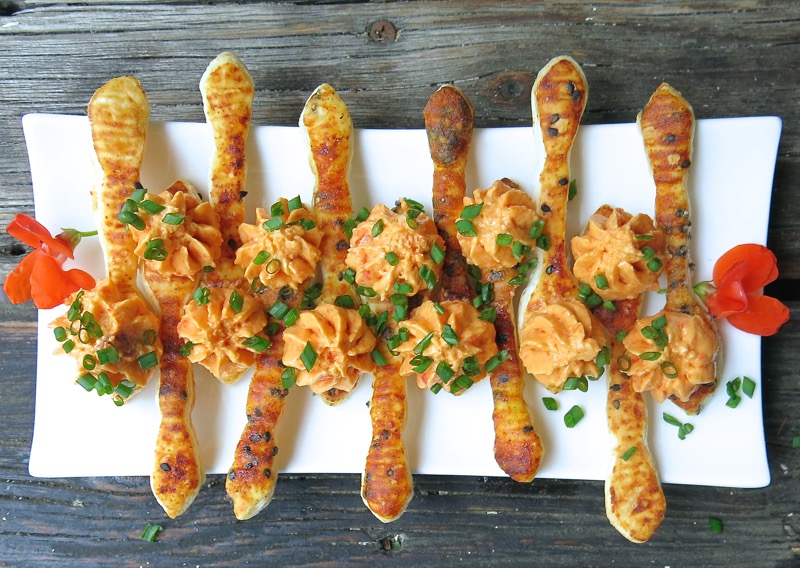 After making the cracker spoons, I knew I was going to use the Pimento Cheese Spread recipe from Southern Living Magazine simply because it looked colourful and I love pimento with cheese.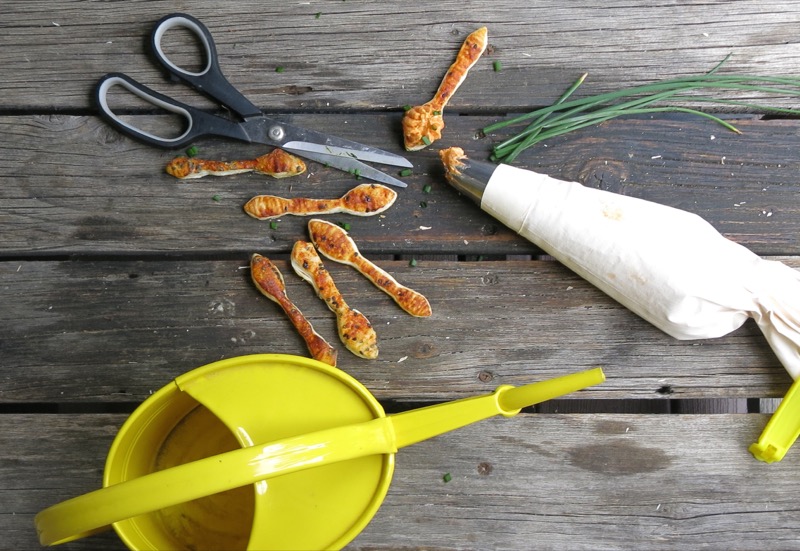 I love homemade crackers, cheese, pickles and peppers. Pimentos are pickled peppers, aren't they? What's not to like here? The Spoon Crackers were made and ready for Amy's Baby Shower for Heidi Marie. I only needed 24 for that party, but I made lots to have them on hand for a multitude of other uses.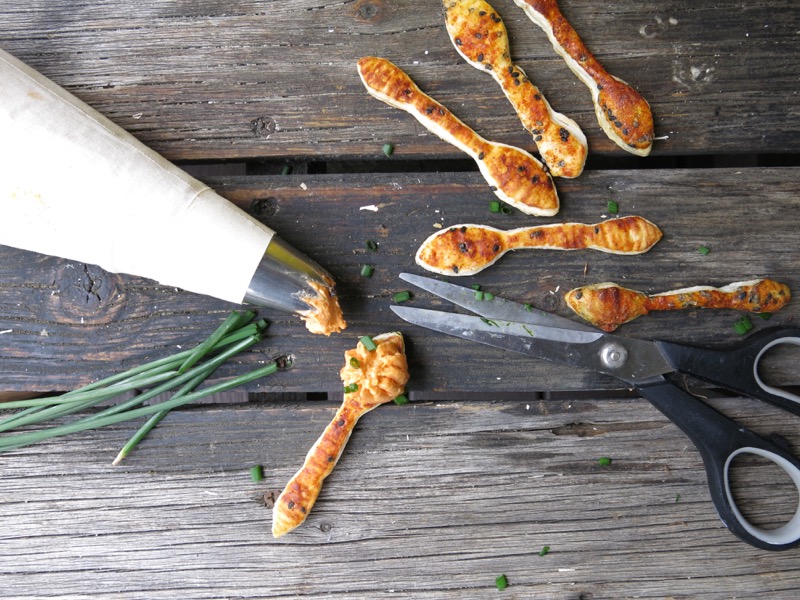 The chives did add a much needed kick to the gentle, tasty pimento cheese spread. If the party was a month earlier, chive flower petals would have been a gorgeous garnish. A month later, and any other herb flower would have added a tasty punch to the mix.
Last minute is not really my thing, any more. I try to plan all of my events with make ahead food. Of course, there are always last minute touches and garnishes. The cracker spoons required a last minute piping of the cheese spread onto each cracker to avoid a soggy bottom bite! I did enjoy the process as I planned for very few last minute moments like this. It was a beautiful Sunday morning. The birds were squawking in the poplar columnars as a little squirrel scampered atop the fence; the bees were sipping nectar from tomato flowers and humming in the warm morning sun. My little Prince William had just laid down for his morning nap after a lively play with Gramsy and Deda. All was well with the world. The shower would start at 1:30 and I was most definitely ready.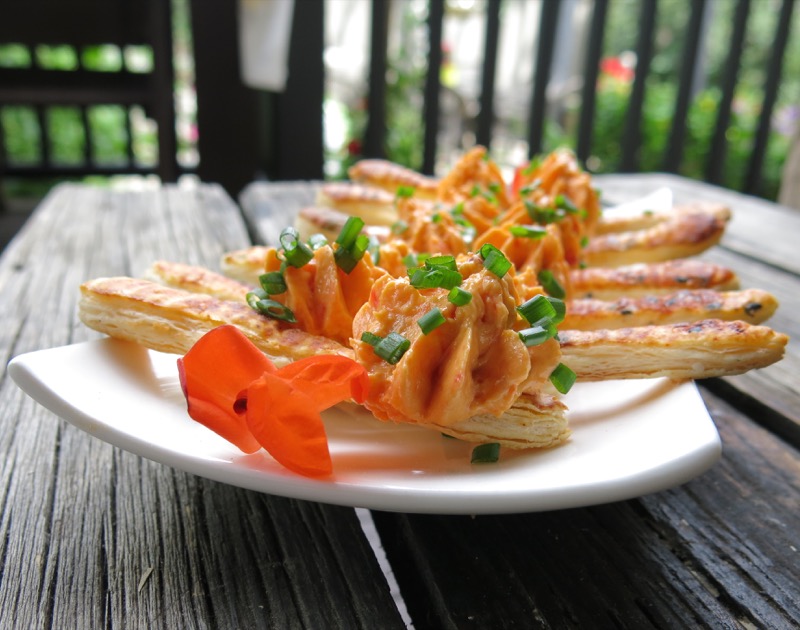 Oooo! I was happy with how pretty these little ditties looked. The flowers from the Scarlet Runner Beans on the side of our house added the perfect finishing touch to each plate. I prepared two.
Pimento Cheese Spread: Making it Happen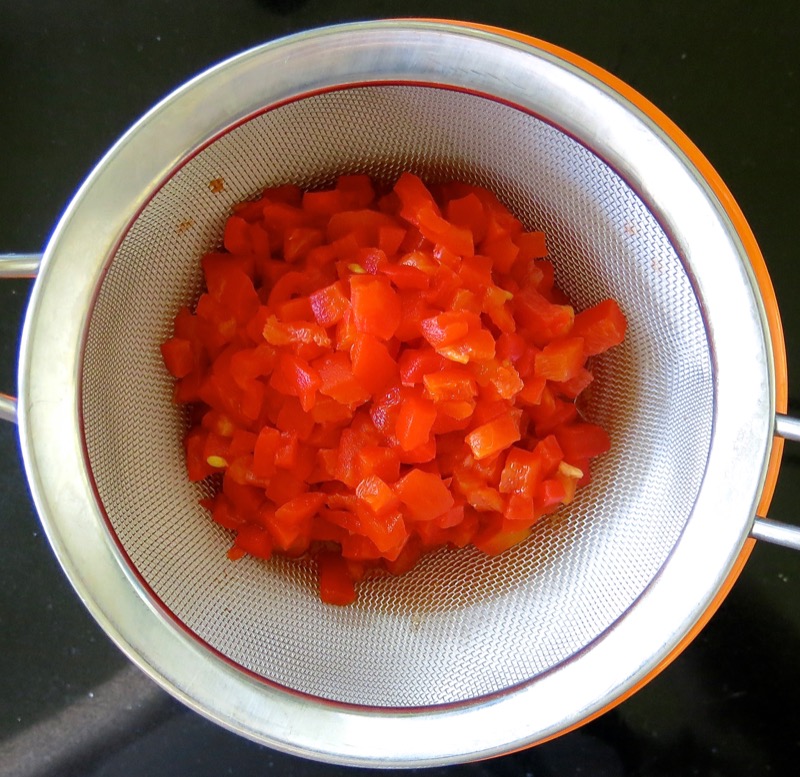 I drained a jar of chopped pimentos I found at the Italian Center Shop. I had never purchased them before, but there they were!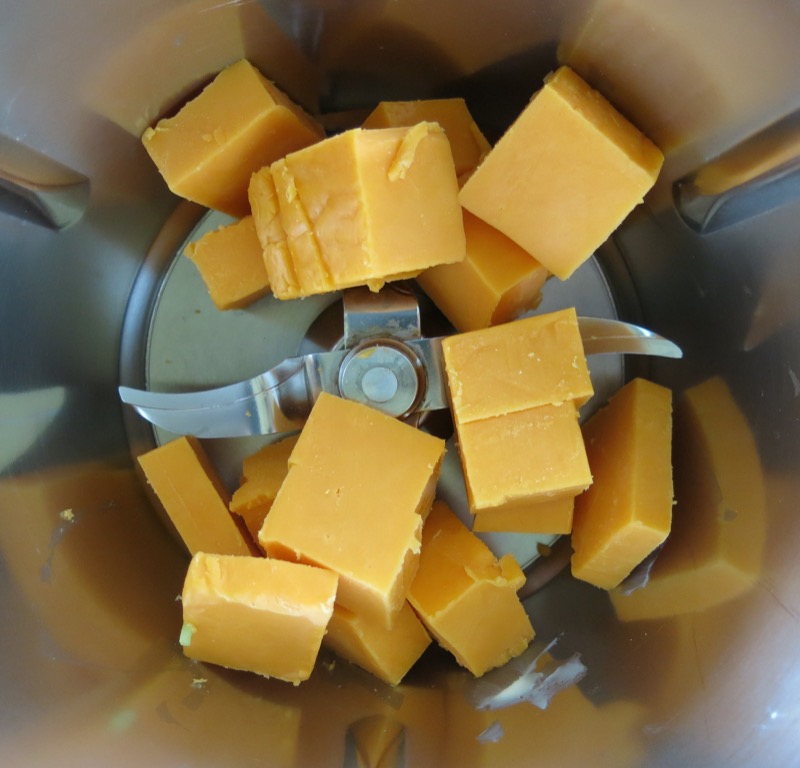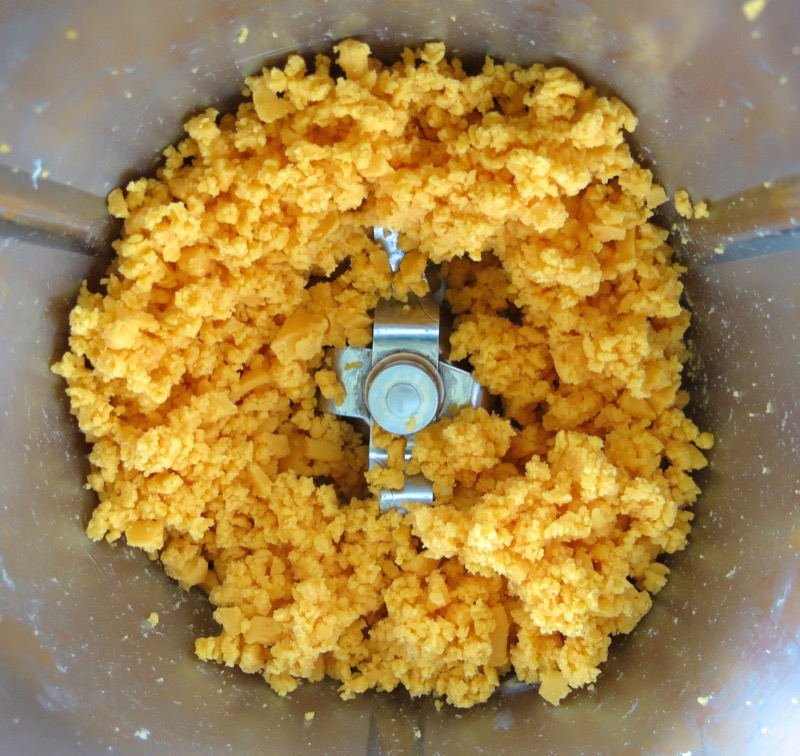 Grating cheese in the Thermomix takes exactly 1 second. Sometimes, two.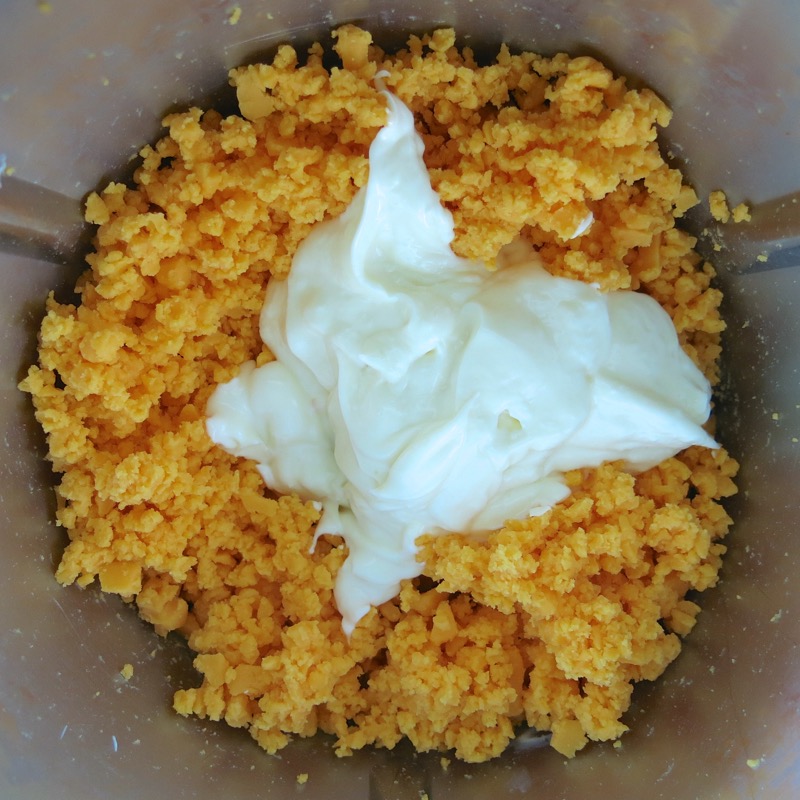 All ingredients into the Thermomix bowl.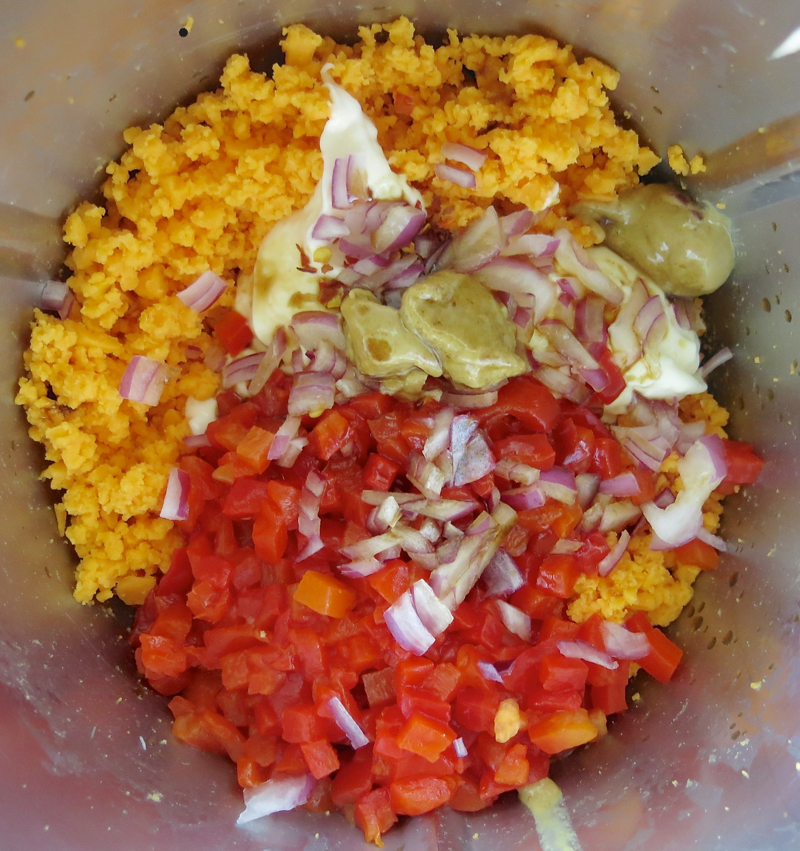 Combing them together took 10 seconds. Then, into the piping bag, and voilà!
Pimento Cheese Spread: Piping it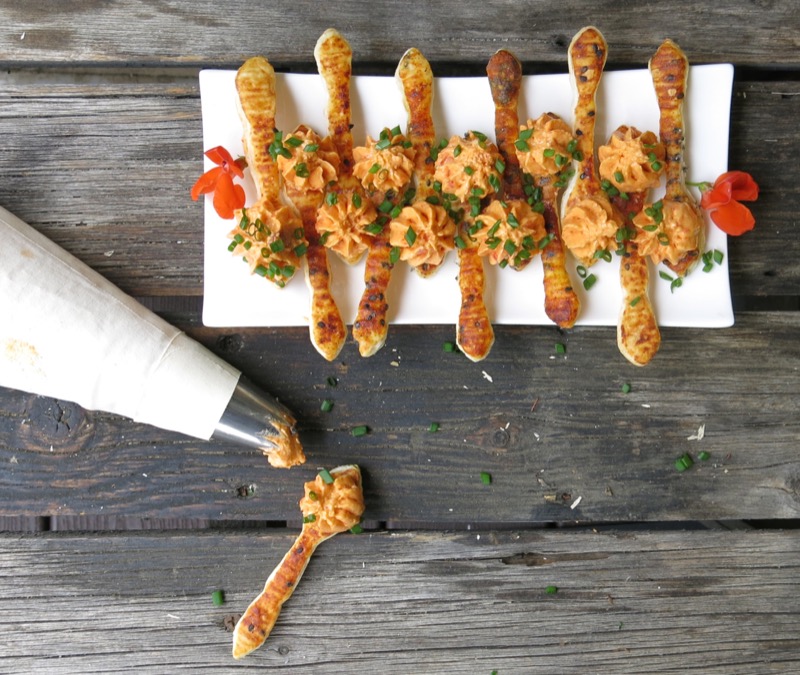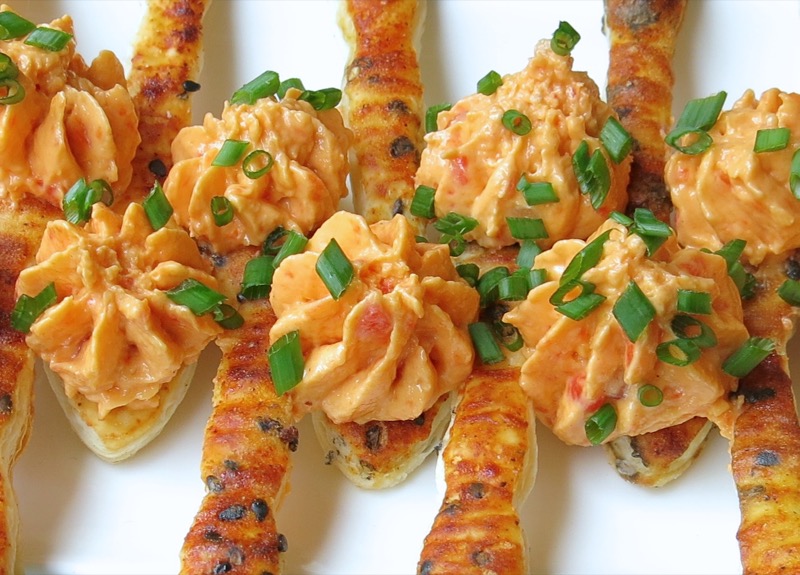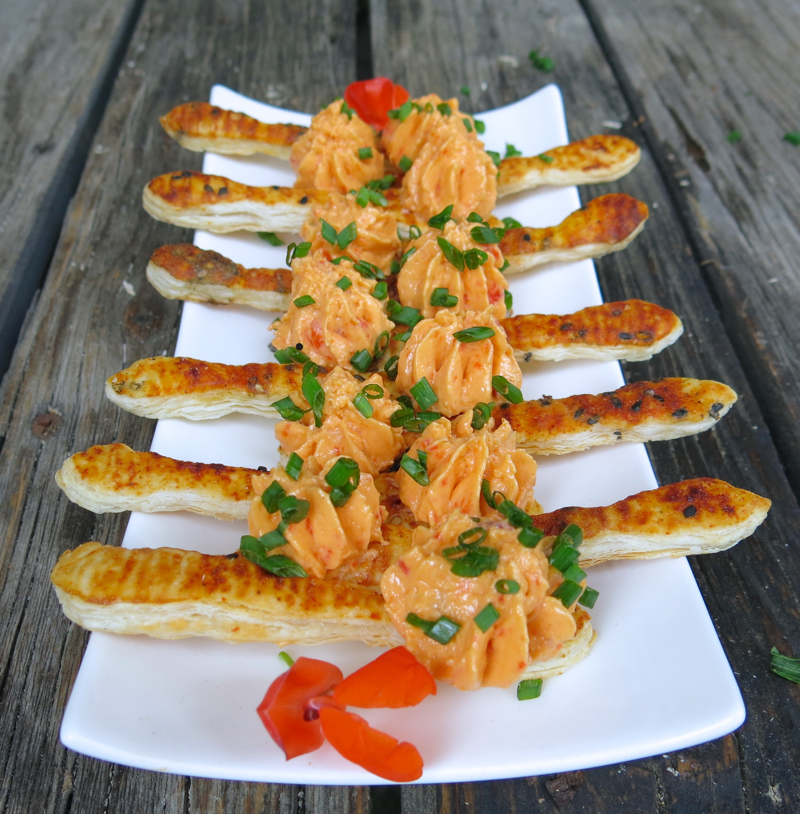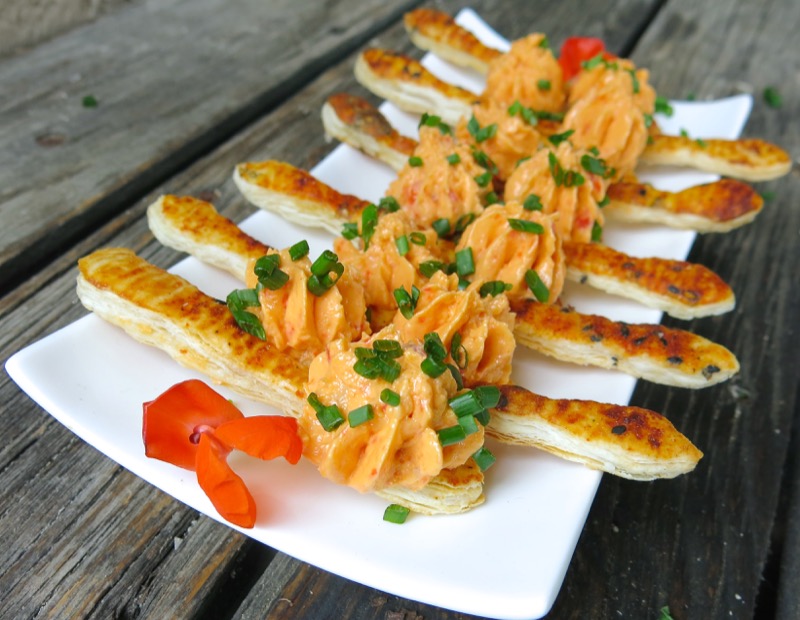 If you make it, I would love to hear from you. If you have a recipe for a great pimento cheese spread, I sure hope you share it!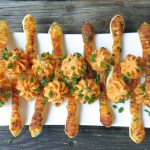 Simple Pimento Cheese Spread


This is a very simple cheese spread that is tasty and the perfect consistency to be piped out of a pastry bag beautifully; therefore, a lovely amuse bouche.
Ingredients
275

grams

or 10 ounces sharp Cheddar

(Imperial or Aged), cubed

100

grams

or 1/2 cup mayonnaise

200

grams

or 8 ounces diced red pimentos

20

grams

or 4 teaspoons chopped red onion

10

grams

or 2 teaspoons Dijon mustard

1/2

teaspoon

red pepper flakes or 1/4 teaspoon cayene pepper

20

grams

or 5 teaspoons Worcestershire sauce

Salt and freshly ground black pepper to taste

Finely snipped chives for garnish

(and chive flowers, if in season)
Instructions
Beat all ingredients together in a heavy duty mixing bowl until creamy and smooth; pipe onto crackers or plop into a bowl for self service

Garnish with chives and chive flowers
Instructions for Thermomix
Weigh cubed cheese into TM bowl; shred from 0-4 in 5 seconds

Weigh in all other ingredients; blend together from 0-4 for 1 minute, scraping the sides of the bowl down at the 30 second mark

Pipe onto crackers or plop into a bowl for self service

Garnish with chives and chive flowers
Recipe Notes