The Ultimate Cold Weather Offering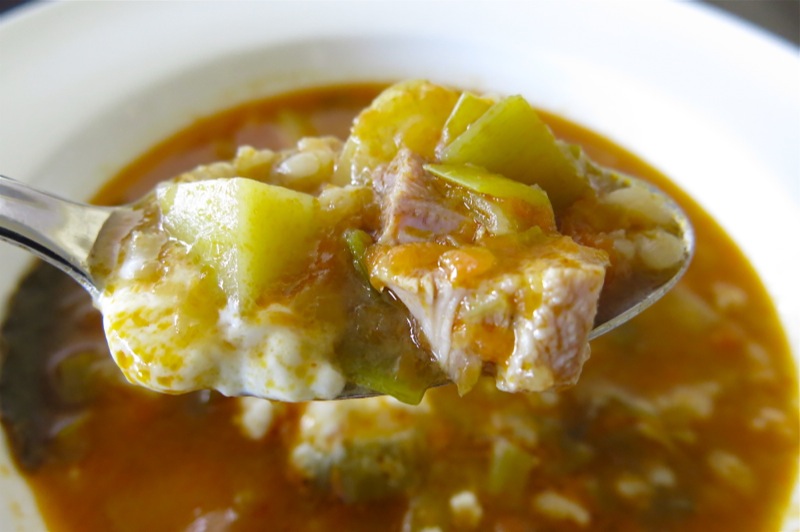 Nadia came over to teach me how to make homemade gnocchi the other day. I cannot wait to share that with you. It was such a blustery day and I had planned on making Cheese Soufflées for lunch. Too cold. A heart warming hearty soup was definitely in order as I was chilled to the bone. I had been eyeing this recipe as I was certain Vanja would like it and I am a barley fanatic.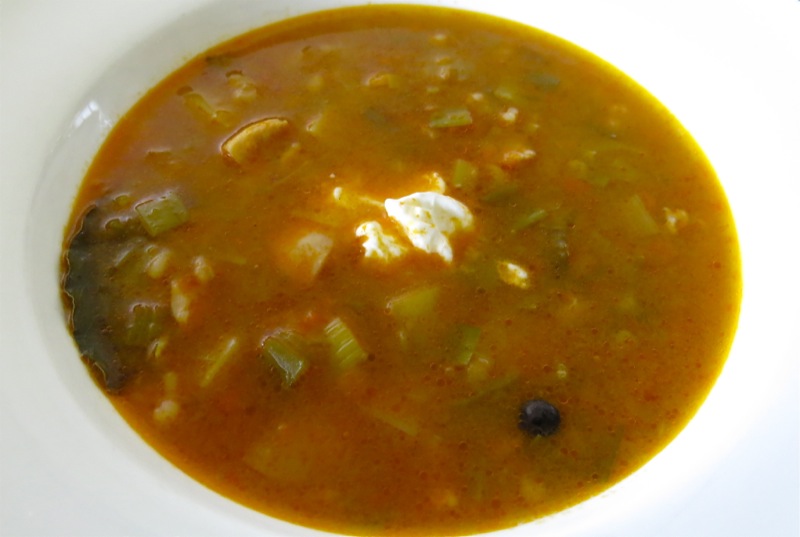 This is not a pretty soup. It is a rustic, plain Jane bowl of sumptuous comfort. Nose in the bowl, Vanja looked surprised. "This smells really good!" Of course, I usually sabotage the possibility of most "good food" with herbs or exotic vegetables like green beans, so he was eager to dig in to a bowl of soup that held sincere appeal, and he liked it, he liked it!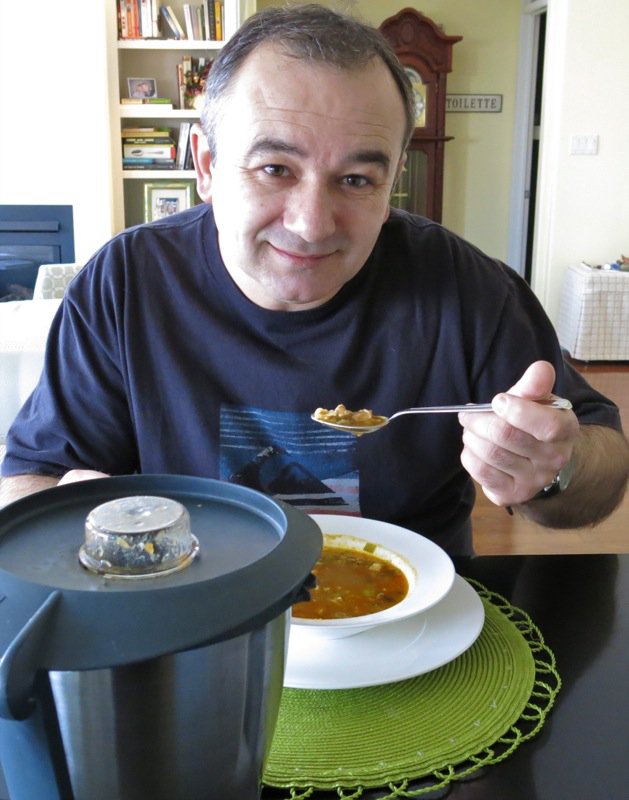 So did Nadia and I. There was nothing unusual about it. The pleasure was the satisfaction of the familiar and the rich unctuous depth of the broth. Granted, I added 4 cubes of homemade veal jus that really did elevate the flavour profile of this soup, but the structure is there. Without the veal jus, the experience would have been much lighter. The recipe suggestion of adding cubes or vegetable or bouillon paste is a good one.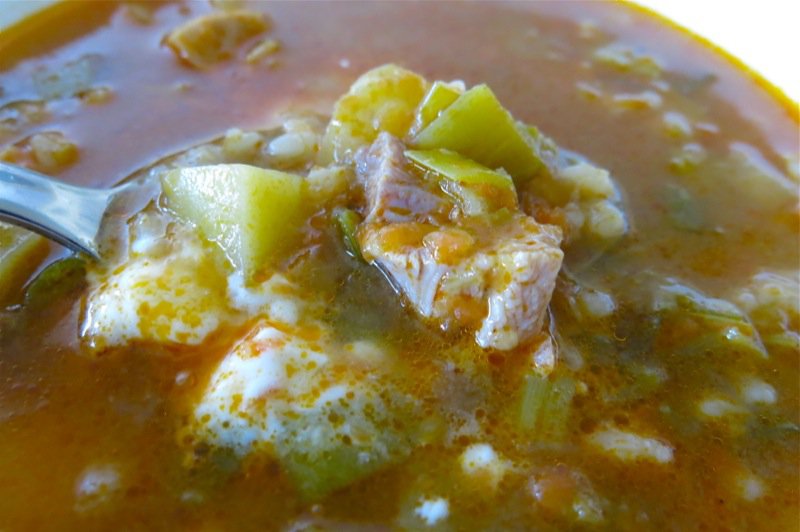 While cooking, the aroma of onions was strong. Too strong, yet their flavour was not predominant and the addition of the leeks integrated the vegetable flavours into mellow translucence that was sublime in the mouth with the chewy gelatinous barley bobbles. Lip-smacking fun.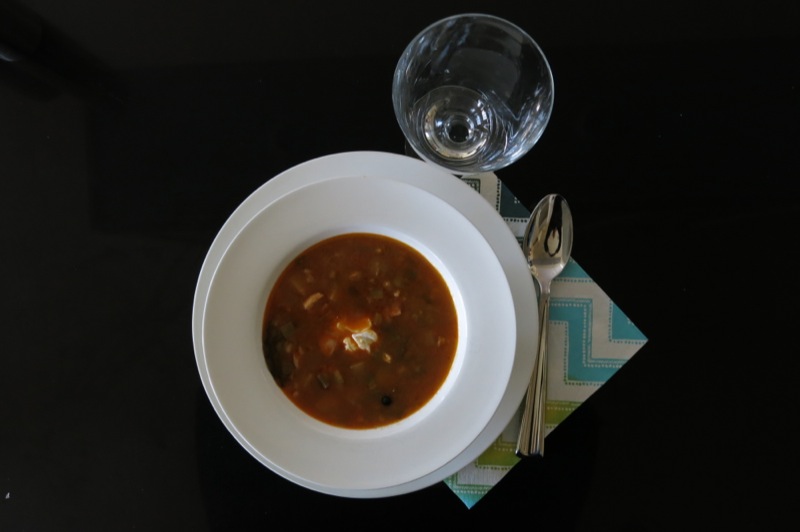 This is a Thermomix Recipe, but if you make soup, you will figure it out, or you can ask me and I can help you with how to make it on the stove top. In the Thermomix, the aromatics go in for a chop, then the leeks and butter are added and all are sautéed. After that, the remaining ingredients are added and cooked for 30 minutes. That is it.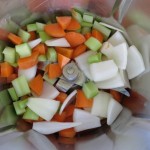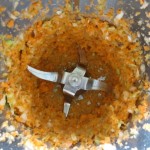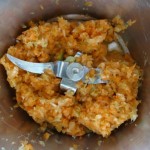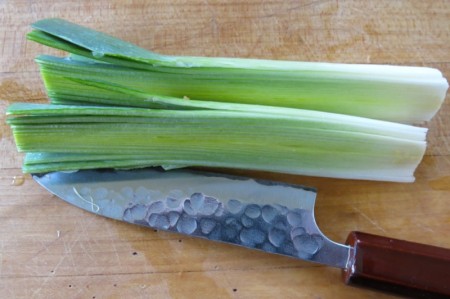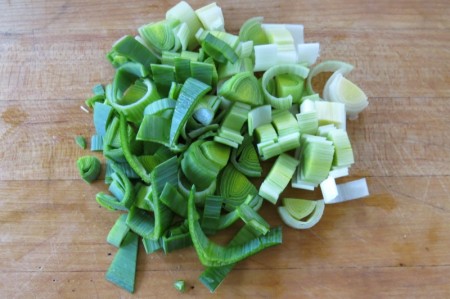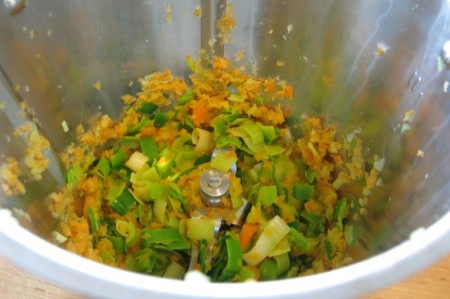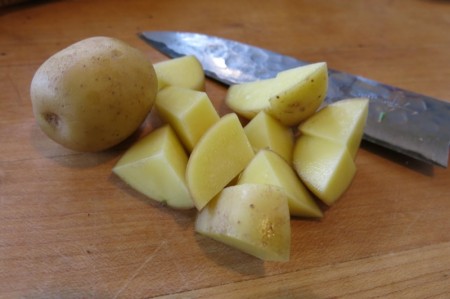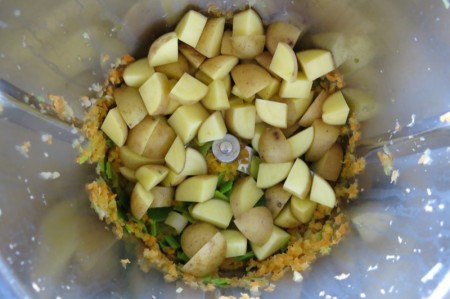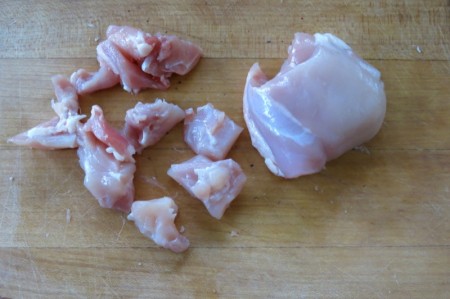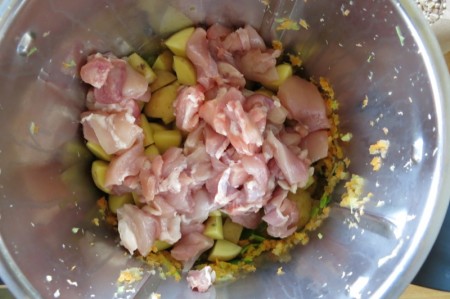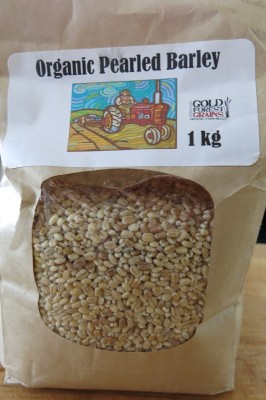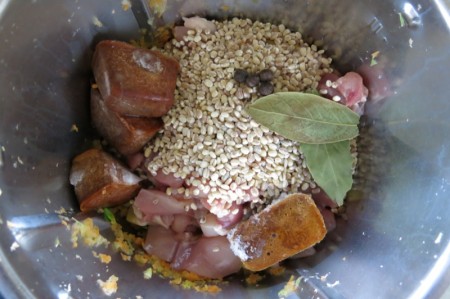 I have made veal jus more than a few times and not posted it because the photos are just not purdy. At all. But, I can see that I am going to need to write a tutorial about making veal jus. It takes a good 2 to 3 days in a great stock pot on the back burner, but is so worth it. To have these nuggets of gold in the freezer has revitalized more than a few mediocre concoctions and elevated some into unexpected spectacular flavour experiences. I have made Thomas Keller's recipe from The French Laundry a few times, with excellent results, yet his has a strong tomato base, so I have adapted a few recipes as I prefer a meaty base.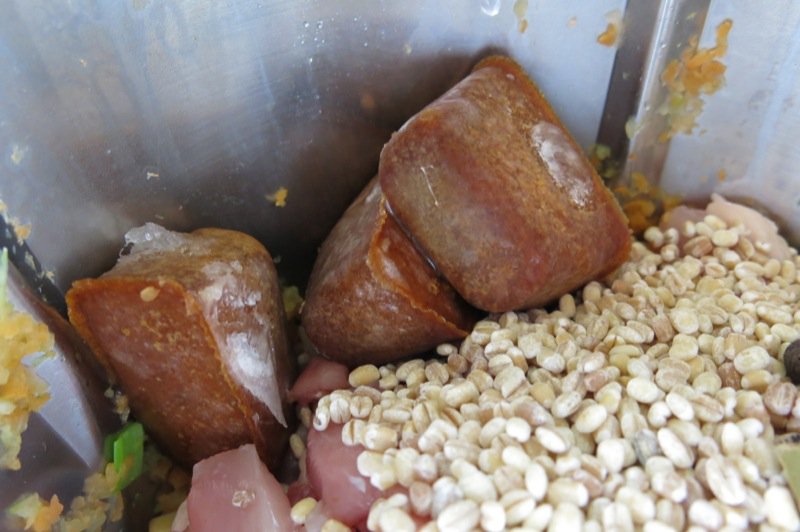 I actually wrote to the Alberta Barley Commission and asked if I could be their Ambassador, I love barley so much. They never answered. Ah, well. I will "ambass" anyway.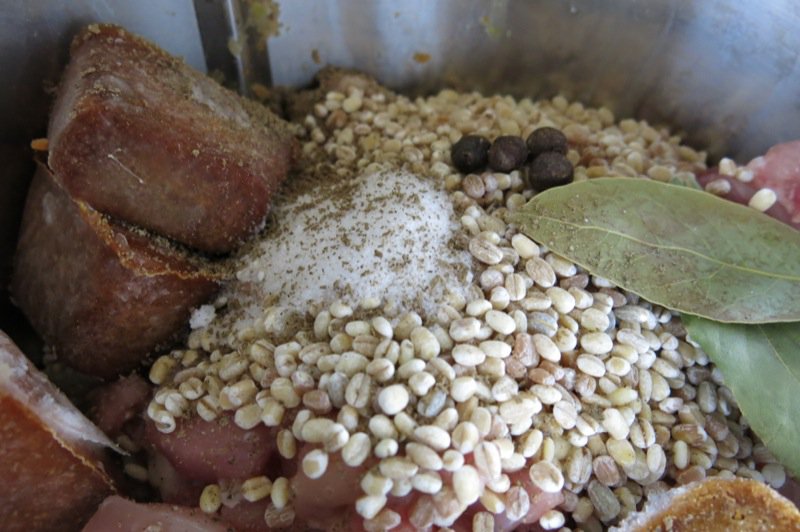 Every summer I buy a bay tree and hope I can winter it. I did one year. But, I have gorgeous home grown bay leaves all winter long, either way.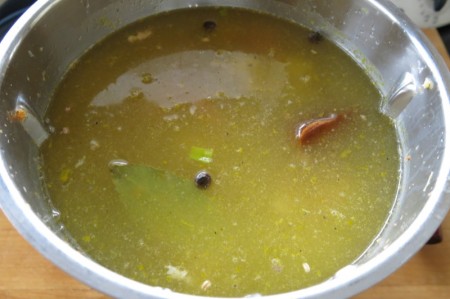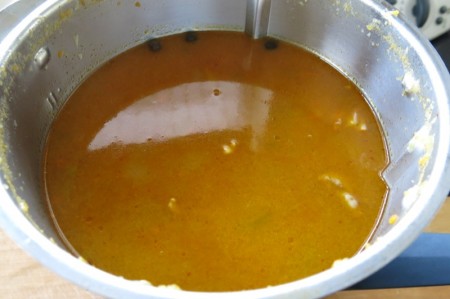 The colour of the broth changed considerably due to the veal jus.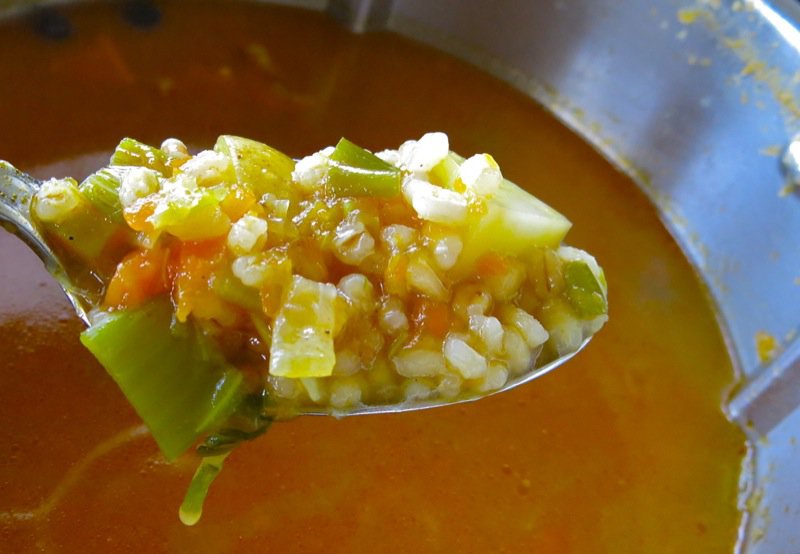 As the chicken cooked in the broth, the dimension of added flavor was apparent in the melted fatty bits on the surface of the broth, and the barely epitomized pleasure as it absorbs flavour and releases it through the playful chewing and slurping process.
Polish barley soup or Krupnik (KRROOP-neek) is one of the most popular soups of the Polish cuisine. Its name comes from the Slavic word for hulled grains, krupa. There are as many variations of this as there are people making it, yet the common ingredients are the potatoes, barley, carrots, celery and onions. Leeks or a leafy green vegetable is common. Mushrooms are sometimes added instead of meat, or with meat. Sour cream is usually added to the vegetarian version. This is really a very basic soup where one cannot go wrong if following the basic three steps: sauté the aromatics, add the potatoes and other vegetables with the stock, broth or water, and last, don't forget something to intensify the flavour (cubes of bouillon, seasoning, or paste).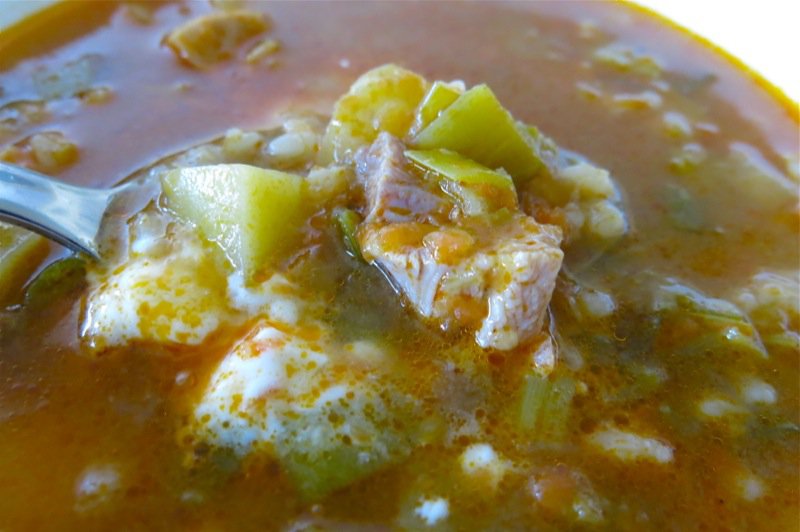 Ta-da! I so enjoy learning something this simple, novel and delicious that I can add to our family recipe repertoire with ease. And Vanja scored me a 9.5 on this one. "This is the best soup you have ever made!" And I only get a 9.5? What is that about?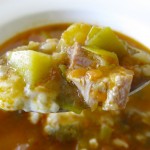 Polish Barley Soup with Chicken
With such gorgeous barley growing on the Canadian Prairies, this is a a soup one must try: with or without the chicken, a gorgeous hearty bowl of warm delicious comfort.
Ingredients
60

g

onion

, cut in half

100

g

of carrots

, roughly sliced

50

g

celery

, roughly sliced

100

g

leeks

, sliced

20

g

butter

200

g

potatoes

, cubed

200

g

chicken fillets

, cubed (I used thighs)

2

cubes meat stock or homemade stock paste

(I used 4 cubes homemade veal jus)

1100

g

water

(I used organic chicken broth)

1/4

teaspoon

pepper

100

g

barley

2

bay leaves

4

allspice berries

1

teaspoon

salt
Instructions
Scale onion, carrot and celery into TM bowl and chop 3 seconds at speed 5; use spatula to clean sides of the bowl

Scale leek and into the TM bowl; saute on reverse for 5 minutes at Varoma, speed soft

Scale remaining ingredients into TM bowl; boil for 30 minutes at 100C reverse speed 1

Season to taste; serve immediately
Anyway, I have made better soups, but this is a recipe that I am certain will become a family staple.