Homemade is always, always best, but….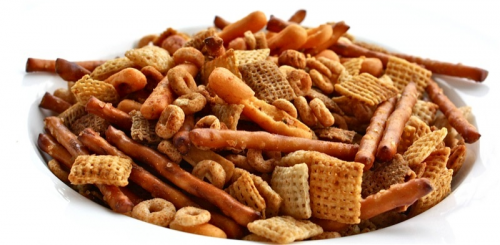 …honestly, this is the only reason I buy "store bought" cereals, and it actually upsets me… but, the life long tradition (OK, not life long… but, certainly significant) of munching on these warm out of mom's oven is one from the modern convenience food age that I have chosen to keep. For now. Because I LOVE them and they are not even close to anything you can buy in a box. Well, except that all of the ingredients come in a box. Except the "sauce". And that is almost completely butter. Don't let me deter you or influence you. But, if you are looking for that old fashioned (everything is relative) Nuts & Bolts recipe, this is it.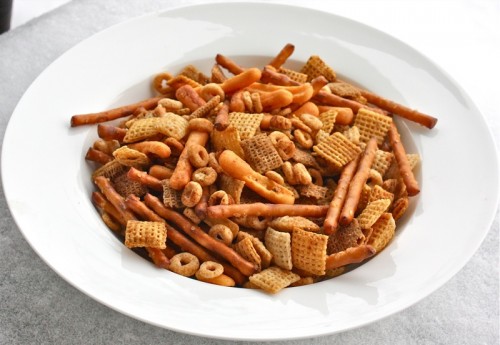 I remember taking the pretzel and piling the cheerios onto it as a child. Now, the cheerio hole is no longer big enough to do that. What's with that?
We also used to be able to buy wheat, corn, and rice Chex in Canada, but no more… so, use Shreddies and Life Cereal, or anything similar to these shapes. I will be honest. Nothing compares to the Chex. Shreddies are really good in this, but the Corn and Rice Chex cannot be substituted with anything I have found to be as tasty. Fortunately, I have a daughter in Palo Alto who keeps me in stock.
I just made three batches. I have a lot of family to share with… but, don't, for a minute, think these are good for you. I mean, boxed and processed cereal isn't good for you in the first place! Now, look at the butter in the recipe!!! Don't say I didn't warn you, but these are really, really addictive.
Nuts and Bolts Recipe (from the box)

Ingredients:
1 lb. butter
2 tbsp. Worcestershire Sauce
1 tbsp. garlic powder
1 1/2tsp. onion salt (didn't have any so I used 1 1/2tsp Vegeta)
1 1/2tsp. celery salt
1 1/2t Spike (this is not in the traditional version, but I add it because I like it)
4 cups Corn Chex (available in the US, not in Canada)
4 cups Wheat Chex (available in the US, not in Canada)
4 cups of Rice Chex (available in the US, not in Canada)
4 cups Cheerios
4 cups of pretzel sticks
1 box cheese nips or cheese bites
Instructions:
Heat oven to 250° F
Place butter in heavy pot; melt it while the oven is preheating
Add next five ingredients and stir well to combine
Combine all remaining ingredients in a large roaster, then transfer, if needed, to casserole dishes for baking (your pan can be full enough to toss, or to stir, but should not be heaping)
Pour sauce over in 1/2 cup increments, stirring gently and firmly to combine each time, until all has been mixed in
Bake for 1 1/2 hours; stir every 1/2 hour
Store in air tight container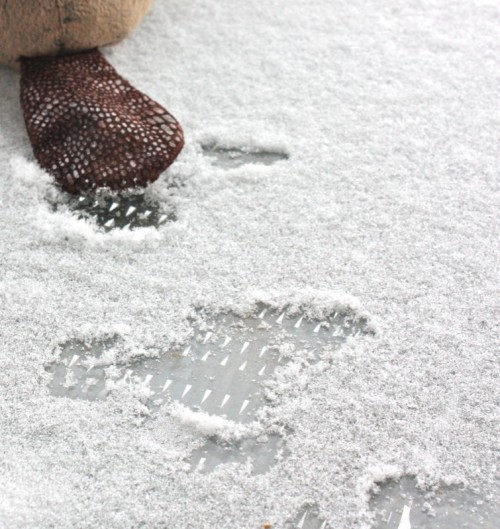 And whose tracks are these? This reminds me of the tracks I found last year! But, they do look different, and… upon investigation: AHHHHH!
I'll let him live in his little fantasy world – for now… as if I don't know…. EVERYTHING.