In honor of my respect, admiration and cyber-friendship with Heavenly Housewife, and my beautiful garden zucchini's bursting with spongy flesh!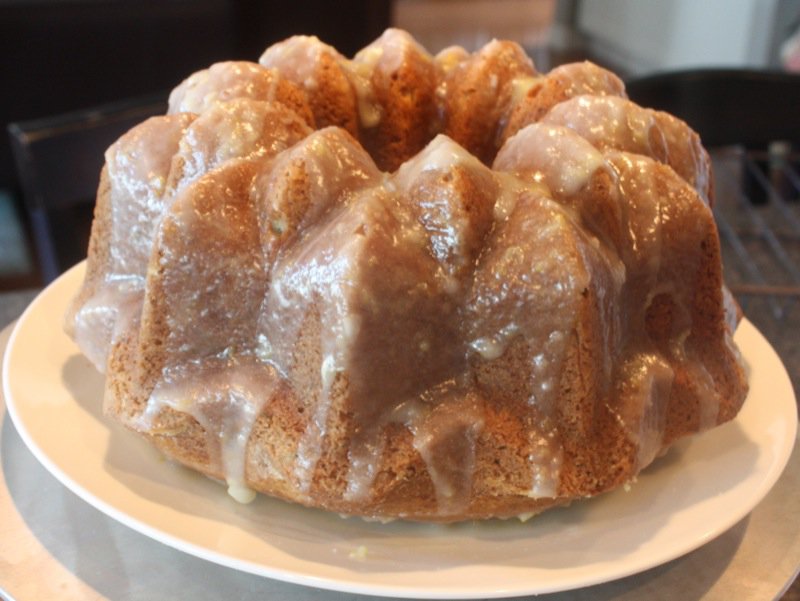 I bought various zucchini seeds this spring to plant in my garden as I wasn't sure which would produce the best flowers for making Stuffed Zucchini Flowers with. As it happens, they all worked very well, but the orange and green flowers stayed closed longer and therefore worked better. The yellow zucchini flower burst wide open like a sunflower the minute it appeared. I was always amazed every morning as I would peer through the great leaves to see what happened in each little patch overnight to find such vast growth each morning.I am convinced that if I made the time to sit for an hour I could actually watch them grow.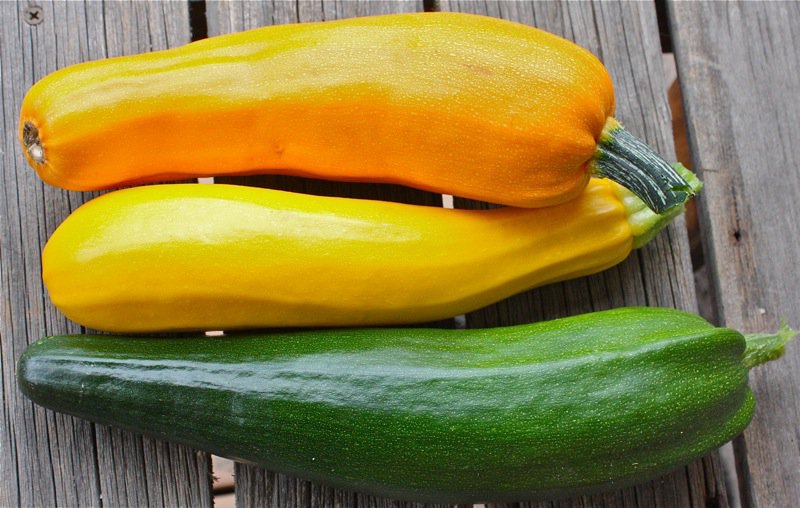 They are not very flavourful. Their texture is not very pleasing (at least, to me) but, aren't they gorgeous? And they are very nutritious. Archaeologists have traced their origins to Mexico, dating back from 7,000 to 5,500 BCE, when they were an integral part of the ancient diet of maize, beans, and squashes. That pre-Columbian food trio is still the mainstay of the Mexican cuisine and is known today as the "three sisters." Believe it or not, that is fairly recent information for me. The zucchini found its way to Europe where it is called zucchino in Italy and courgette in France and the England. (The English also refer to a variety that is slightly larger and plumper as marrow.) We just call it zucchini in Canada: green zucchini, yellow zucchini…
Now I am not one to dissect nutrients, as a rule. But, I like to know that an orange is high in Vitamin C and that if I don't have an orange, I can eat a potato because it is also high in Vitamin C… or a kiwi, or a strawberry, or a zucchini!
Zucchinis contain useful amounts of folate (24 mcg/100 g), potassium (280 mg/100 g) and vitamin A (384 IU [115 mcg]/100 g). Zucchinis are also an excellent source of vitamin C. Did you know you can have a zucchini instead of an orange to get your Vitamin C for the day? Dark green zucchini also have some beta carotene and all types provide small quantities of minerals. Skin colours range from almost black, dark green, pale green, pale green with grey, and yellow. The darker the squash, the more the nutrients.
With their high water content (more than 95 percent), zucchini squashes are very low in calories. There are only 13 calories in a half-cup of raw zucchini, with a slight increase to 18 calories in the same quantity cooked. Most of the nutrients are in the skin so always eat them unpeeled. Her recipe says to use a rasp to ensure that the zucchini is fine enough inside of the cake, so being the good little instruction follower that I am, that is exactly what I did. It took more than a little while to get two and a half cups, but I just thought about my garden and this zucchini and how wonderful it was to be doing something so basic and purposeful (and I watched Oprah).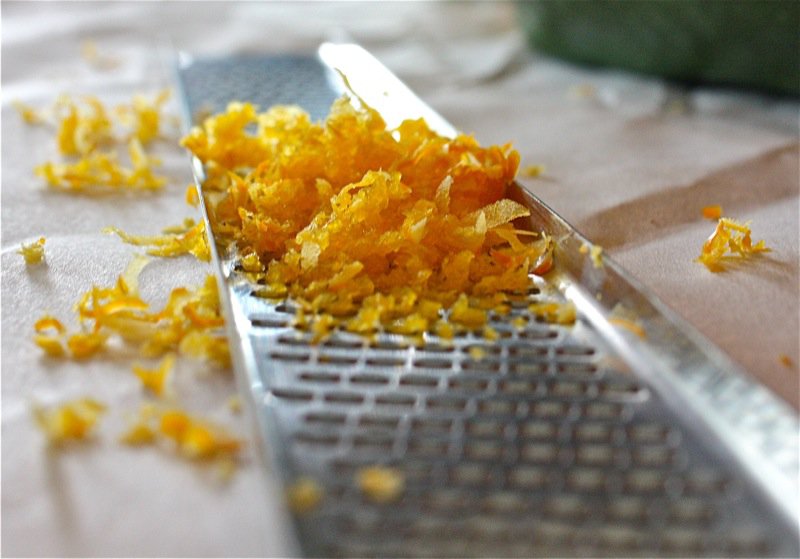 Heavenly Housewife has a website design that I can absolutely relate to – and covet. I used to be Heavenly, once. She is also hilariously funny and wry and dry and smart and savvy. All traits I admire and all qualities that I aspire to. I do get her humour, so I guess that says something about my intelligence! And she loves to bake and eat and travel. All things I love to do, too. She has even registered for Richard Bertinet's Bread Baking Course in Bath in October this year because she was so charmed (weren't you HH?) by my posts about it when I was there in March. I can't wait to read about her experience when she goes. It was a highlight of my life.
My three zucchini were very different inside. The orange one was dense and dry. The green one was dense and not quite so dry. The yellow one had seeds and appeared very moist. Yes, this all changed when I grated them.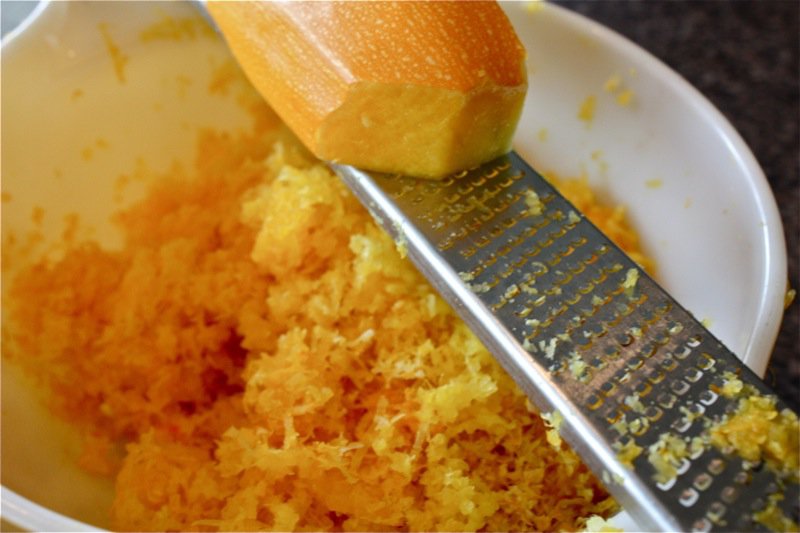 The green zucchini actually had so much moisture in it that I sat the grated bits in a sieve to strain it for a bit. The other two were not at all wet in comparison. I had them on parchment paper and each pile only wept a little.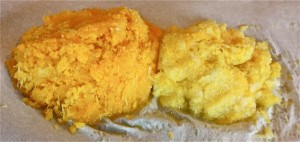 I then laid a teatowel across the finely shredded zucchini and flipped it over twice to absorb any wet juices. I didn't squeeze at all.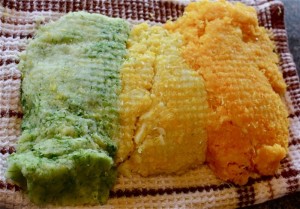 Beavie reminded me to measure all liquids at eye-level. HH gets upset when Beavie isn't included in a post. So does Beavie. They need to meet. HH has never met a cyber-friend in real life like I have. I have made a point of meeting the local blogging community "in the flesh". Sharon, from Only Here for the Food initiated Local Foodie Get Togethers through Edmonton Foodie Meet up. We have had three so far. The Brulee Blog and I both got the Momofuku Cookbook for Christmas, and she accepted my invitation to do a recipe from the cookbook at the same time. We still have to do another one… then we decided to meet at the City Market one Saturday morning for shopping and had lunch together. That was the beginning of a local blogging friendship I value. I hosted the Taste Tripping Party in June where I tried to include all Edmonton Foodies and Bloggers. It was in my home, so I chose to invite only people I knew personally, or people someone I trusted knew personally. I have had the honor of being taken shopping in Chinatown by local blogger LeQuan from LuvtoEat and going for a Garden Tour and Tasting at Kevin Kossowan's. I am finding my way around! I have decided that somewhere, somehow and in someway HH and I should and will meet. My hope is that is will be at a foreign cooking class we both want to take and are interested in and take together…. maybe even with others we know through the blogosphere. Wouldn't that be a blast?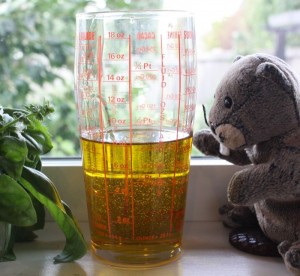 Until then, I decided that it was the zucchini cake that HH shared that I would bake because she made it look irresistible in her photograph and because didn't read carefully enough and though it was a recipe from one of Ottolenghi Cookbooks that she has raved on about in the past. Instead, it was Mario Batalli's Otto restaurant she had just visited and written about in NYC. You can see I learn a lot from her. Beavie was probably distracting me. Anyway, I chose it also because it was timely. I had grown zucchini for the first time in my life (for the flowers) and now had this amazing vegetable to make something with. What an opportunity!
So, I needed to contribute something personal to the recipe. I decided that it would be translating it to make it in my Thermomix. That is what I have done. It turned out beautifully, too! There are instructions for both at the end of this post.
The eggs, sugar, vanilla and olive oil went into the TM bowl together to be whisked into frothy goodness.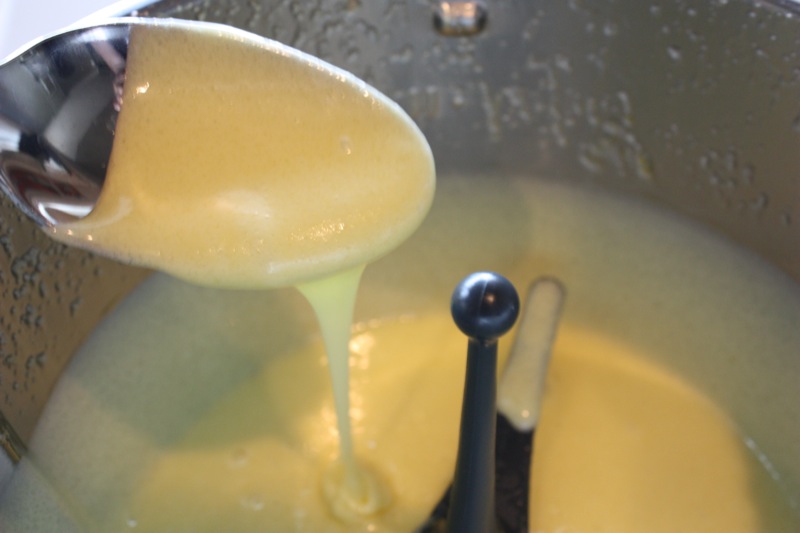 The dry ingredients and spices were then added and combined until the batter looked lush.
I chose to use some of each kind of zucchini. HH's is actually prettier as the green peel gives the cake a beautiful green confetti appeal which is lost when using the lighter colours.
The recipe suggests that the nuts be toasted in the oven. I have lost way too many nuts that way, and even met some really cute firemen doing that. I choose to toast them on top of the stove in a frying pan where I am there tending to them as they take so little time. After toasting the nuts, I ground them in the Thermomix (good thing I have two TM bowls). This would be important to do first.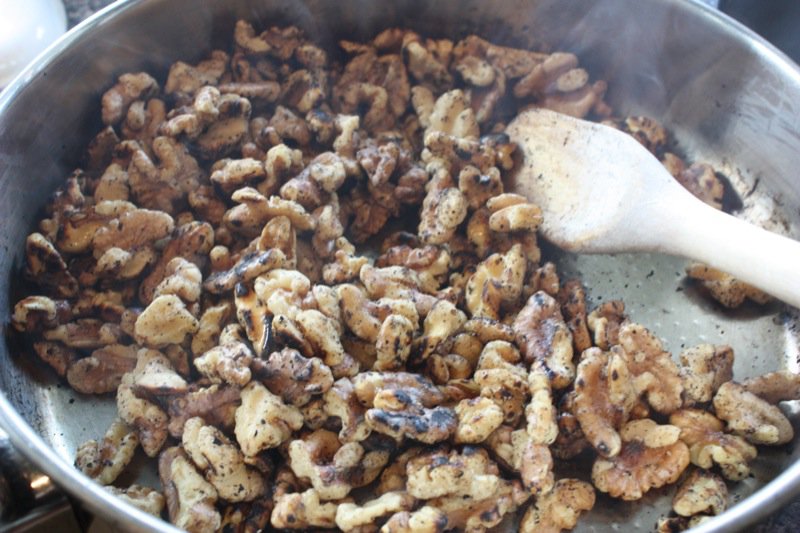 All I can tell you is that the freshly toasted ground nuts with the spices and the delicate moist zucchini insighted visions of golden leaves falling. Not yet, please! My tomatoes need some sun to turn red! But, it was a good warm fuzzy feeling!
The nuts and vegetable were folded into the batter and the batter poured into a buttered and floured Bundt pan.
I made the glaze while the cake was sitting for 10 minutes before removing it from the pan.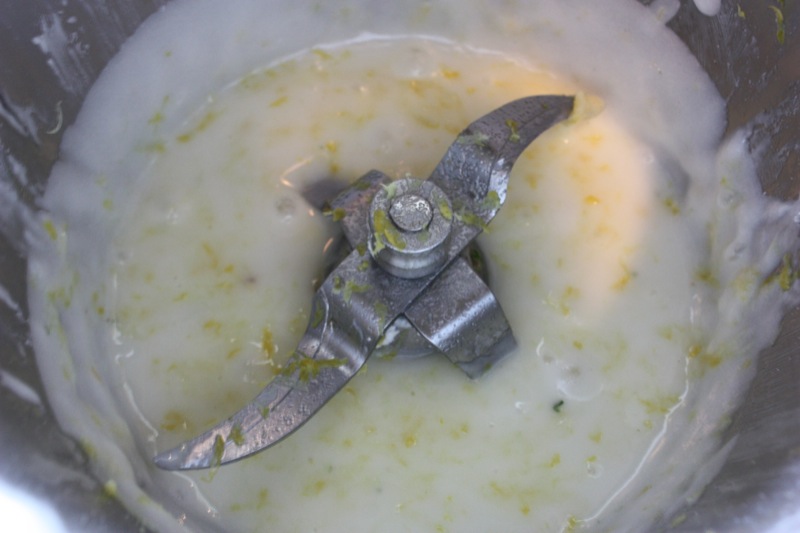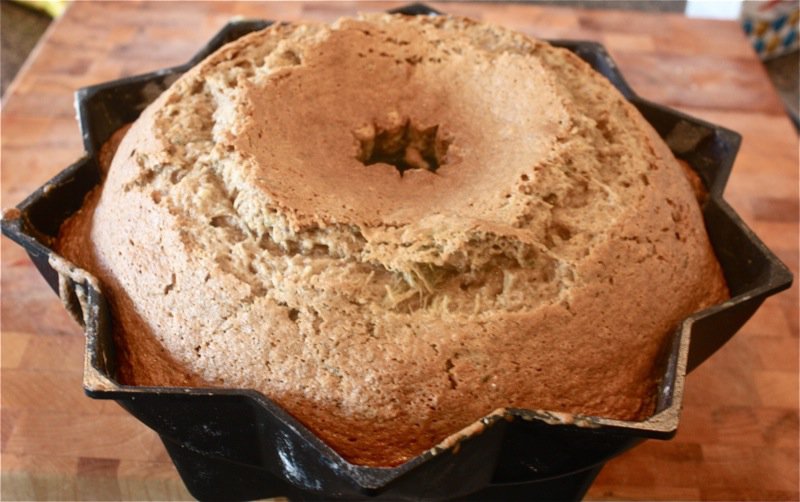 Out it plopped: perfect! I know exactly how your kitchen smelled HH! And I chose lemon even though Vanja does not like lemon because I realized he will not like this cake as I was making it. This is a lovely coffee cake. Moist and delicious. The lemon glaze lifts it up a notch from a 'regular old zucchini cake", but so do the toasted nuts and the very finely grated zucchini. The texture is fine and moist. I added cardamon instead of ginger which also added an exotic appeal. I should have added a bit in the glaze! I served it to my family after a meal on the weekend (after the Crème Brûlée.) Why do people say things like: "I like carrot cake better."? What does that have to do with anything? This is not a carrot cake. It is a zucchini cake. My mom's comment was, "I make a chocolate zucchini cake." My answer, "Yes, I know. It is delicious. What do you think of this one?"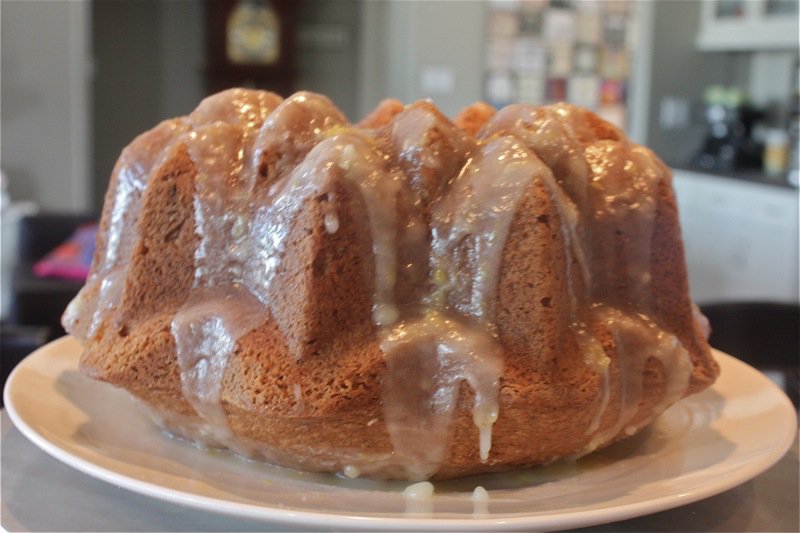 "I like mine better." And my daughter added, "I like grandma's better, too! It's chocolate. " What does that have to do with anything? This is not a chocolate cake. It is a zucchini cake. Personally, HH, between you and me, I enjoyed every little morsel of it. I thought it was wonderful. I loved it with coffee in the morning and as a snack after school. It was warm and spicy and moist and nutritious (it is homemade!) and every little bite of it had me thanking you. Food does bring people together. Even people we do not know. Guess who took a quarter of the cake home? Uh-huh: my mom. And guess who took another quarter of the cake home? Uh-huh, my daughter. So, there was one quarter left for me. Now it is all gone. I will definitely make it again, but next time I am making it in muffin form. Small muffins, with the glaze, with only the green zucchini and I will try adding some lemon zest to the cake and some cardamon to the glaze. These will then be lovely little lunch packages for me and maybe a special friend or student.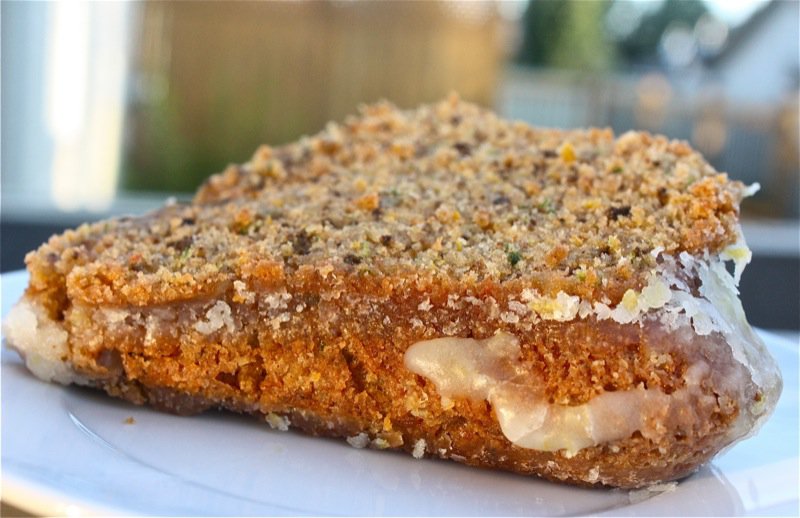 Zucchini Olive-Oil Cake with Lemon Crunch Glaze Recipe
by Gina DePalma, from "Dolce Italiano"
Ingredients for the Cake:
1 cup walnut pieces
2 cups unbleached all-purpose flour
1 teaspoon baking powder
1/2 teaspoon baking soda
1 teaspoon kosher salt
2 teaspoons ground cinnamon
1 teaspoon ground ginger (I used cardomon)
1/2 teaspoon ground nutmeg
3 large eggs
1 3/4 cups granulated sugar
1 cup extra-virgin olive oil
2 teaspoons pure vanilla extract
2 1/2 cups grated zucchini (about 2 small zucchini)
Confectioner's sugar, for dusting (optional)
Ingredients for the Lemon Crunch Glaze:
1/4 cup freshly squeezed lemon juice
1/3 cup granulated sugar
1 cup confectioners' sugar
Instructions for the Cake:
Preheat the oven to 350°F and position a rack in the center
Grease a 10 cup Bundt pan with butter, then dust it with flour to coat completely, tapping out the excess flour
Place the walnuts in a single layer on a baking sheet and toast them until they are golden brown and aromatic: 12 to 14 minutes; cool completely, then finely chop and set aside
Sift flour, baking powder, baking soda, salt, and spices into a medium bowl; set aside
In an electric mixer fitted with the paddle attachment, beat the eggs, sugar, and olive oil together on medium speed until light and fluffy, about 3 minutes, then beat in the vanilla extract
Scrape down the sides of the bowl with a spatula after each addition; beat in the dry ingredients all at once on low speed until they are thoroughly combined
Switch the mixer to medium speed and mix for 30 seconds; beat in the zucchini and the walnuts on low until completely incorporated, scraping down the sides of the bowl
Pour the batter into the prepared pan, smoothing the top with a spatula.
Thermomix Instructions for the Cake:
Preheat the oven to 350°F and position a rack in the center
Grease a 10 cup Bundt pan with butter, then dust it with flour to coat completely, tapping out the excess flour
Place the walnuts in a single layer in a frying pan and toast them until they are golden brown and aromatic: 12 to 14 minutes; stirring constantly; cool completely, and rub in tea towel to expel any loose burned skin
Chop for 5 seconds at speed 2-3, until fine; set aside
Scale the eggs, sugar, vanilla and olive oil into the TM bowl fitted with the butterfly: beat for 2 minutes on speed 3 until light and fluffy
Scale in flour, baking powder, baking soda, salt, and spices into TM bowl; combine at speed 2 for 10 seconds
Scrape down the sides of the bowl with a spatula
Insert the butterfly again, and add the zucchini and the walnuts; combine for 20 seconds at speed 2-3
Pour the batter into the prepared pan, smoothing the top with a spatula.
Bake for 45-50 minutes; cool for 10 minutes and invert onto a plate
Glaze
Instructions for the Glaze:
Mix all three ingredients together while cake is cooling; drizzle over the cake when it is still warm (but has cooled for 10 minutes)