A day of relationship building while preserving pickles and the tradition!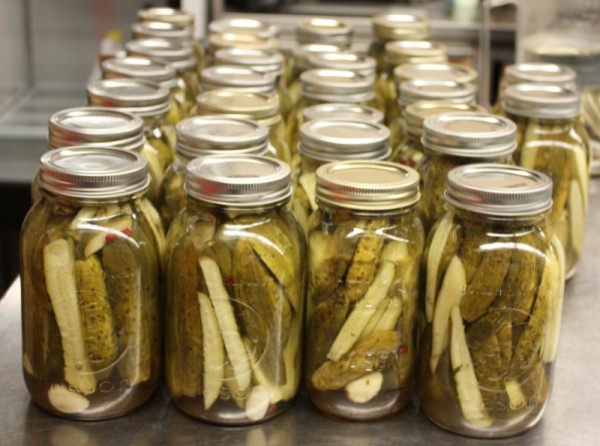 Cynthia Fawcett and friend cuddle during a prime "hair net" photo opp at the second Slow Food Canning Bee this fall! There is nothing like cooking or canning with a friend! Jowhanna Aleyne prepared this day as well as the Fruit Canning Bee in August. You can find the recipes for today here at Edmonton's Slow Food website. This is my photo essay of our day together!
What a fantastic day!
Brining Herb Recipe
Fills 2 one litre jars, or 4 one pint jars

Ingredients:
3 pounds small cucumbers
1 head fresh dill
2 cups white vinegar
1 cup cider vinegar
3 cups water
2/3 cups sugar
1/3 cup pickling salt
2 tbsp classic pickling spice blend, tied in a cheesecloth bag (recipe follows)
4 cloves garlic
8 allspice berries (Jowhanna used 3 pink peppercorns per jar, instead)
Instructions:
Scrub and drain cucumbers, ensuring the ends are 1/2 inch shorter than the height of the jar you are using; quarter each lengthwise so you have four spears from each length of cucumber
Snip the stems of each dill floret, leaving a bit of the stem length for a handle; you will need 4 florets per jar, 16 total
Heat 4 one pint jars in boiling water and sterilize (scald) the lids, tongs and funnel
Start to heat the water bath for processing the pickles
Combine the next 6 ingredient (#3 to in a large pot over high heat, stirring constantly until sugar and salt is dissolved; reduce and boil gently, stirring occasionally, for 15 minutes
Pack cucumber spears into hot jars: add dill, one garlic clove and 2 allspice berries per jar
Ladle hot brine into jar to cover cucumber spears leaving 1/2 inch headspace
Run a non-metallic utensil around the inside edge of the jar, allowing any trapped air to escape; add more brine if necessary
Wipe rims, top with flat lids, and screw on metal rings
Place jars in hot water bath, topping up with hot water, if necessary
Bring to a full rolling boil, and process for 15 minutes
Remove canner lid and wait 5 miutes before removing jars from the canner
Check seals, label and store in a cool, dry place for up to one year
Note: If you want to do 4 litres of pickles, you do not double the recipe; increase the liquid amounts by roughly 2 1/4 times the measures below, using large cucumbers cut into eighths