Red Deer is my hometown and two teachers here Dared to Dream!
Who could turn down an invitation to see that sweet, sincere and stunningly charming smile in person? Especially if the opportunity was happening in your home town? I was somewhat conflicted, which I will discuss later, but the fact that this school was celebrating the opening of their Nutritious Lunch program was equally as compelling for me. Hard to believe, I know.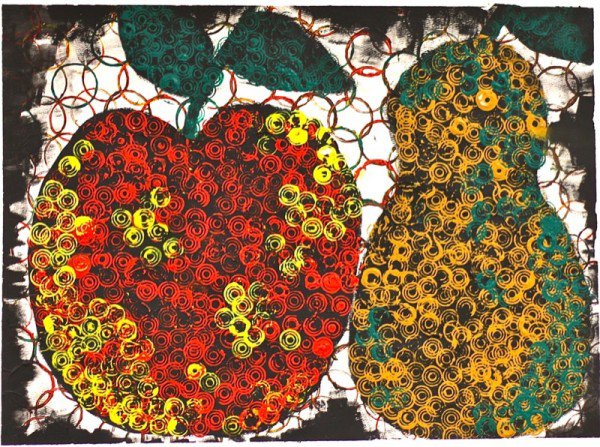 Retired November 30th after 30 years of teaching with Edmonton Public Schools, my last significant project was the Nutritious School Lunch Project at Kate Chegwin School. I am a Jamie Oliver fan! (Or he is mine; not sure who dug into the school lunch trenches first. 🙂 ) Any person or group of people sincere about improving the eating habits, health and education of our students I am interested in championing. The teachers of this school were undoubtedly sincere.
A grade 1 teacher, Vanessa Darling drove the idea. Dismayed by the poor lunches some of her students were bringing to school, she shared her concerns with Shannon Saringo, a grade 2 colleague. As it does take a village, the Public Health Nurse passed them the information about an opportunity to receive money from Hellman's Real Food Movement for a Healthy School initiative and together they applied for a 1.000 grant in 2010. Tasting Tuesdays was born with the support of the Foods Teacher who had her students prepare a favourite snack every Tuesday with a secret ingredient that would enhance the nutritive value of the snack and sell for 25 cents during the morning break. With portion control in mind, no one could buy over two: a chocolate chip cookies with kidney beans and pulse flour is one example.
The following year, the form included a proposition to "dream". Never imagining that their "dream" would be realized, these two young teachers dared to dream. They dreamt of a school cafeteria equipped with a new stove, oven, fridge, freezer and dishwasher to enable the preparation of healthy lunches at this school. About 200 middle school students were spending a significant amount of money on hot dogs, french fries, and the like, daily at the school. This, and the junk food machines, were huge money making entities for the school, as in all schools.
The elementary students at the school were rarely sent with lunch money, but those that were spent it as their older peers: on junk.
This dream of these two teachers was packed into the envelope with the application, sealed with a kiss, and sent to Hellman's corporate office in Toronto.
Camille J. Lerouge Elementary and Middle School became the first school in all of Canada to receive $25 000 from Hellman's Real Food campaign. They had dared to dream and their dream was now possible because of this brilliant branding campaign spearheaded and conceived by Stephanie Cox, Senior Branding Manager for Hellman's.
The kitchen was revamped and equipped by Christmas, and shortly after the nutritious lunches made their appearance for five dollars a plate. Cafeteria lunch numbers dropped dramatically at the middle school level and increased as dramatically at the elementary school level. There is an average of 60 lunches purchase per day now, less than six weeks into this new venture. The middle school students have turned their noses up to the healthier choices, initially, as they consistently seem to do. TheCafeteria Service Provider told me that she is beginning to involve them in the food preparation and there are a host of other initiatives underway to entice them back to their school cafeteria at lunch. My own experience has provided consistent evidence that if they make it, they will eat it. They will be back, and certainly, over time, this is an incredible coup for this small Alberta school.
Bravo to Vanessa, Shannon and the entire team at Camille J. Lerouge who made this happen.
Luciana and I arrived at 8:30 in the morning. This was her old high school, and mine was across the street. We were looking forward to some girlfriend hometown time! Principal Patrick Maschio welcomed the special guests, Shannon Saringo explained the program and expressed gratitude for the opportunity, and Stephanie Cox, Hellman's Senior Brand Manager, promoted the Hellman's Real Food Movement. "There are only three significant ingredients in Hellman's mayonnaise: eggs, oil and vinegar. Hellman's uses real food and is committed to [providing opportunities for others to do the same through our Read Food Movement ]."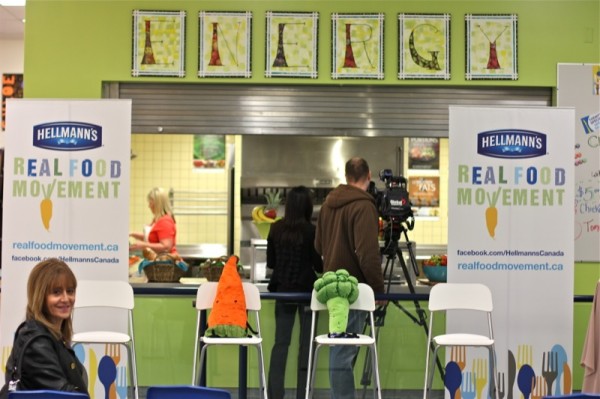 Stephanie introduced and welcomed Chuck Hughes in his forth year of partnership with them in this campaign and as he took over the mike, it was like huge stage lights suddenly lit up everything in the room: the show was on! His passion, energy, enthusiasm and genuine warmth is certainly a gift to this program. Chuck wound each of us effortlessly around his little finger as if tickling a kitty's tummy. We were spellbound yearning for more! Just look at his vibrant antics!
At this point, all were invited to a tasty vegetarian sandwich designed by Chuck and a tour of the spotless, functional well equipped kitchen that any school of this nature would be thrilled to own.
After a brief chat with several of the key players in "making this happen" we were directed outside for a "big surprise"! Students were filing out of their classrooms. The energy in the air was electric. This was not a little deal. AVW TELAV trucks were there with their equipment working on a documentary video of the changes within this school due to the Real Food Movement. TV cameras were there, newspaper photographers, and me. 🙂 Chef Chuck doesn't miss a beat. He looks right into the camera. I like that!
He was exceptional with students of all ages actively engaging them in every aspect of the day's activities.
Have you figured it out yet? Yes, sirreeeee! The monster truck is going to completely demolish the school's deep frier! The display of power of this truck in the space provided was somewhat unnerving. Clearly, it was safe, but it did not feel safe, adding to the drama!
Much more than one can imagine was put into place for this event on this day.
Back into the cafeteria, Chuck makes sandwiches with a small group of students. Incredible engaging fun! Tasting, talking, creating and eating. All loves of mine!
If they make it, they will eat it… with relish!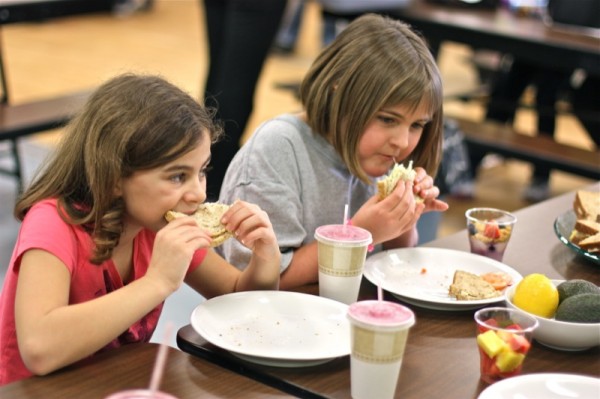 Like beads spilling into a size sorting chamber, little bodies filed into the cafeteria filling the tables and benches for lunch. Today there was a special treat: an unexpected sandwich for each!
I am consistently overcome by the antics of children engaging in new experiences. The little gal below is clearly delighted with the sandwich, explores it closely with inquisitive enthusiasm and pleasure. Then, places it back in its original spot and returns to her canned and preserved tuna salad with processed crackers. Hilarious.
I didn't stay to see how many sandwiches were left unopened, but many were opened and enjoyed. Some were rearranged (avocado out) and half eaten, but it was another wonderful tasting opportunity for the students at this school. We left the busy room filled with lively conversation and healthy food choices. Definitely, a wonderful day for the school, the students, Luciana and myself!

The hard questions: My interview with Chuck and Stephanie
As a fervent local food advocate and Slow Food Edmonton leader, the conflict that I had with this event was that Hellman's is a major multinational company that does have ethical food practice issues.
When Stephanie Cox, Senior Brand Manager for Hellman's, addressed the audience at Camille J. Lerouge, she was clear: Hellman's Mayonnaise has three main ingredients: eggs, vinegar and oil. There is nothing more real than that. The side of the jar adds water, salt and lemon juice… also real ingredients. As a real food activist myself, I know to ask: Where do the eggs come from? Are the chickens fed GMO soy or grains? Where does the oil come from? Is the canola GMO free? Both of these questions were not answered directly at that time and my research has indicated that they do use GMO fed chickens and GMO grains used in this product. There is no law at the moment enforcing companies to include GMO products on their manufacturer labels. The last ingredient on the label is a huge concern, as well: EDTA: calcium disodium edta.
What is it? Calcium disodium EDTA is a white, odorless, crystalline powder, with a faint, salty taste. In the food industry, it is commonly used a preservative and sequestrant. Calcium disodium EDTA is made from formaldehyde, sodium cyanide, and Ethylenediamine. Calcium disodium EDTA is widely used and is becoming one of the most common organic pollutants. It is on the American FDA priority list of food additives to be studied for mutagenic, teratogenic, subsacute, and reproductive effects to see if it is associated with birth defects, cancer or reproductive problems. Clearly, the amount in a jar of mayonnaise is very small and individual risk is, for the most part, negligible. It could cause cramps, nausea, vomiting, diarrhea, headaches, low blood pressure, skin problems, and fever. It is not safe to consume more than 3 grams per day and who knows how much of this one would consume when the amount in what we eat is not even identified? Those within the upper echelons of Unilever, Hellman's parent company need to "get real" and align their food products with this campaign.
Stephanie Cox, as their senior brand executive, conceived this brilliant campaign on their behalf. There is no doubt about that. Hellman's is an incredibly successful Canadian company that buys 90% of their eggs, oil and vinegar from Canada which is definitely not cheaper than sourcing from out of the country. They have also made a concerted effort to use free range eggs in their "half the fat" product provided by Burnbrae Farms.
Burnbrae Farms is a Canadian company which gets most of its eggs from local farms across Canada.
On rare occasions, the available supply of eggs cannot meet the demand from our customers and on these occasions we will import eggs from the United States to ensure consumers have access to fresh eggs. This occurs a few times a year, generally in high demand times such as Easter, Thanksgiving and Christmas.
What the hens eat is vague and without reference to GMO free sourcing: A hen's diet consists of grains, proteins, vitamins, minerals and plenty of fresh water. We in the food business knows that means there is no GMO standard within this company. If there was, it would be advertised.
When I asked Stephanie what does Hellman's do above the required standard, her first response was that all Hellman's products were FDA approved. Of course they are, or they wouldn't be on the market. The FDA approval is laden with flaws and constantly evolving within the confines of economic and political pressures coupled and compounded by research and consumer pressure. I was able to get this answer from Stephanie to include in this piece:
We've carefully crafted the formula for Hellmann's to be as real as possible while maintaining the quality and taste of our product. Calcium Disodium EDTA is a necessary preservative to help ensure the freshness and safety of the eggs found in Hellmann's products. The other ingredients in Hellmann's products are real, simple ingredients "" like eggs from Quebec and Ontario and canola oil from the prairies.
In terms of genetically modified oils "" Our sourcing of canola oil is consistent with our commitment to beginning with real ingredients that are sourced within Canada.
Ingredients from biotechnology are present in many foods and food products. Many of the ingredients (e.g. grains, oils) we or our suppliers use are, by the nature of our business, sourced from the commodity markets. These commodity markets in general do not currently segregate traditional foods from foods that are derived from biotechnology, because they are both approved as safe by Canada's rigorous regulatory processes.
The federal government, through Health Canada and the Canadian Food Inspection Agency (CFIA), has effective regulatory controls to help ensure that foods from biotechnology are safe for both human consumption and the environment. It is a process where all scientific data is reviewed , assessed and then reassessed. Health Canada will only approve a new GMO product after rigorous scientific and environmental safety testing. This is a rigorous process that can take up to seven years to complete. This regulatory system exists to ensure that every possible precaution is taken in assessing the safety of foods before they are made available to consumers.

To find out more about foods from biotechnology you can contact the Food Biotechnology Communications Network at 1-877-FOODBIO or by visiting their web site at www.foodbiotech.org. Â Also, for information specific to canola oil visit www.canola-council.org <http://www.canola-council.org>

To summarize, yes the company uses GMO products because and as many other companies do. ETDA is necessary to produce the standard of product Hellman's produces. The FDA has approved these food products so that is the standard we rise to.
For a company that has undertaken a "Real Food Movement" that focuses on mothers and children, I wanted to know what they were setting a higher standard. 'We are working to consistently improve our product." Sadly, not with the pure intent of their own movement.
When I asked Shannon if she had investigated Hellman's, or the source of the funding for an alignment with the "Real Food Movement" within the integrity of the promoting companies she answered, "We just saw this as the wonderful opportunity it is: the opportunity to feed our students delicious, nutritious, and economical lunches every day." That it is. Oh, what a web we weave.
When I asked Chuck why he aligned with a multi-national food corporation that used eggs from factory hatcheries his answer was, "Hey, I don't get much time to interact with people or to influence people when I am in the kitchen at my restaurants. This gives me a real opportunity to share my passion for real food with kids which is so important. I love kids! I'm just a big kid, myself!" When asked about whether he was concerned about where the three simple products eggs, vinegar and oil, come from that go into Hellman's, his answer was, "Yes. They are using free range eggs, but the real answer is that there isn't enough for the demand of the public. They use all they can get and then they use other eggs when they need more."
This is a public issue. Unless the consumer makes it clear that the FDA regulations need to address the GMO issue and include product labeling, at the very least, for products that include genetically modified ingredients, nothing will change. As Stephanie said, "Ingredients from biotechnology are present in many foods and food products. Many of the ingredients (e.g. grains, oils) we or our suppliers use are, by the nature of our business, sourced from the commodity markets. These commodity markets in general do not currently segregate traditional foods from foods that are derived from biotechnology, because they are both approved as safe by Canada's rigorous regulatory processes." Â Until EDTA is examined more closely in the US, or until the environmental impact of it is too costly, nothing will change FDA-wise.
I am passionate about supporting Canadian companies. The use of GMO products in anything is not acceptable, but the practice is rampant. EDTA is not necessary. Hellman's and Unilever need to "get real" here. They have forged a wonderful opportunity to be the leaders of the pack.