My first contribution to Presto Pasta Night #277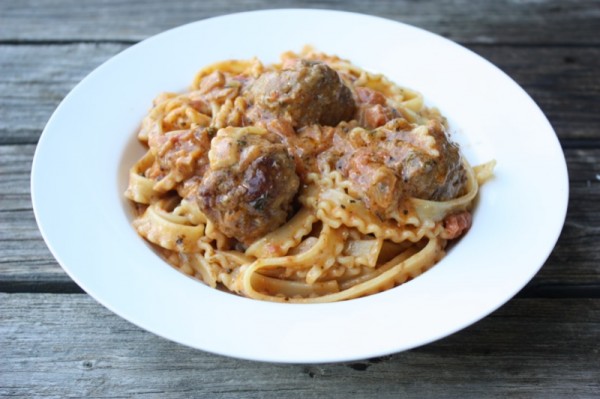 I had actually planned to do a HAPPY 100th BIRTHDAY post to Julia Child today! I made a lovely raspberry dessert from her cookbook with my freshly picked raspberries. But, I had not yet uploaded the photos and went to do that this morning. My web host is 1&1 and I could not upload. I called them and found out that I had reached my limit and had to buy and upgrade. The upgrade is five dollars a month. That is fine. The not fine part is that there was no notification about this. No time for me to purchase the upgrade prior to to being to upload photos to my own site and this new package will take up to 48 hours to implement. Rubbish!
If this was the day I had to post a Cheesepalooza Challenge, or another post of critical importance to me, I would be beside myself. As it is, I am sad to not be acknowledging one of my favourite food loving icons properly today. I will do so when I can upload photos again. Fortunately, I do have this post in my draft folder that I was planning on posting tomorrow for my first entry ever into Presto Pasta Nights that I have enjoyed reading about many times on More Than Burnt Toast and that Simona, from briciole is hosting this month. I met Simona when I hosted My Legume Love Affair and now she is participlating with us in Cheesepalooza! Now that is a testament to the purpose of relationships developed through blogging about food!
I usually never photograph our evening meals. They are just too boring most of the time… and if they are not, they are too personal, or I am just enjoying not flipping out the camera while I make our evening meal. However, I was making one of Vanja's favourite home foods on a sweltering hot day a couple of weeks ago and did pull out the camera to record me cooking on the grill outside to avoid heating up the kitchen. Simple really. Nature's Green Acres grass fed hamburger (from the 1/2 cow I bought last fall), lots of garlic, some homemade bread crumbs, minced onion, eggs and salt and pepper.
When I make meatballs, I always freeze 3/4 of the batch for other meals. A frozen package of my always-on-hand and used-to-enhance-so-many-dishes Best Ever Homemade Tomato Sauce was thrown in with the browned balls, a little cream was added. This wide crimped pasta is a favourite of ours. I cooked it at the same time, tossed it with the sauce and served this in one bowl. Three meat balls contained one quarter pound of beef. The ultra simple tomato onion salad on the side was the perfect compliment and rounded out the necessary fresh component needed for this simple family evening meal.