Best place for lunch in Edmonton March 14 2014!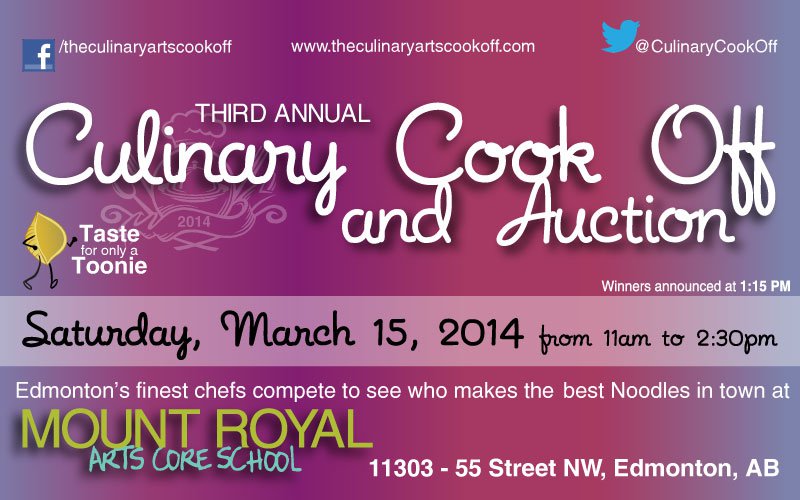 See you ALL at the THIRD ANNUAL CULINARY COOK OFF tomorrow – or TODAY!
11am and 2:30pm
March 15, 2014
Mount Royal School
11303 55 Street Edmonton
Edmonton's Popular Food Competition and Fundraiser is back for its third year and I have been honoured to judge the food all three years, so I really hope to see you all there. This is the BEST and most successful fundraiser for children's learning that I have seen in my 30 long years of teaching. It is the brainchild, and spearheaded by my food blogging pal and local food blog hero, Karlynn Johnson. Yet, she would be the first to say: It takes a village.
Edmonton, AB, March 5, 2014– One of last year's most successful Edmonton Food events; the Culinary Cook Off; which pits Edmonton's chefs against one another in a contest to produce the best dish, is back for its third year.
Hosted by City TV Breakfast Television's Ryan Jesperson, this one of a kind event she says features top celebrity judges from around the city – but I will be there, too! We get to taste and choose the city's best pasta from a host of amazing competitors. Everyone knows how much I adore tastings. I learn so much from them!
The cook off features awards for People's Choice, Judges Choice and Kids Choice awards. Now in its third year, the theme for this year's cook off is Noodles and Doodles.
"This year, don't come expecting your typical pasta. These creations from Edmonton's best chefs will take your taste buds in directions you never thought possible." – Karlynn Johnston
Samples of these delicacies will be available at family friendly prices of $2 per sample.
My fellow judges for the Culinary Cook Off are:
Liane Faulder, food writer for the Edmonton Journal,
Phil Wilson the local food blogger at Baconhound.com,
Chef Stanley Townsend, the head of the Culinary Arts Program at NAIT and
Jennie Marshall the leader of YELP Edmonton
Come with money as there are also silent and live auctions: gorgeous children's artwork for sale as well as numerous other incredible finds.
Family Activity
Of course this is a family centric event as it is all about the kids! It will include additional activities such as crafts in the Family Fun Zone offered by Mount Royal's Little Einstein's day care. Proceeds will benefit Mount Royal's Parent Advisory Council who provide funds for activities and events integral to the Arts Core Programming for the school.
To learn more about this event or sponsorship opportunities, please visit http://theculinaryartscookoff.comor follow@culinarycookoffon Twitter