All about the sprout!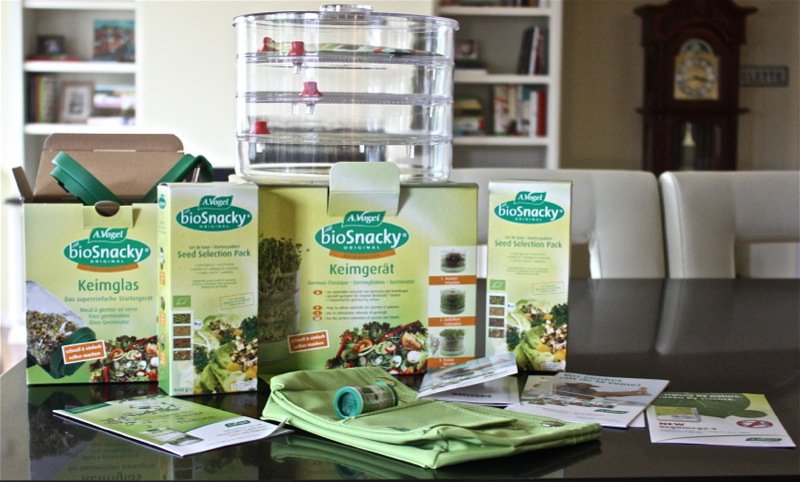 I was a bit of an odd duck. Who knew? When I was 18, I worried constantly that the world was going to end. My family would starve. We would be unprepared and what could I do? I bought wheat. Bushels of it. I bought a stone ground wheat grinder that could be run by a bike if there wasn't any electricity. I built my own food dehydrator. I learned to make bread, and yogurt. I canned, preserved and learned about wholistic healing. It was the 70's, after all.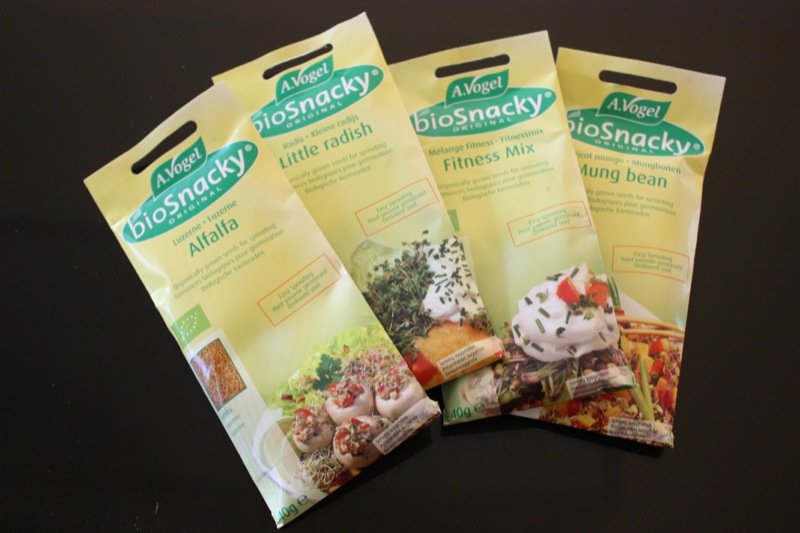 And no, I wasn't high on something. It is just how it was then… but carried a little to the extreme. And I bought a plastic seed sprouter from Germany. No internet, remember. Only magazines, and libraries, and research the good old fashioned way. My sprouter arrived via Canada Post one day. I was excited. It had 6 levels, was green plastic, and was quite large. I recall it being very expensive, too. Mung beans, alfalfa sprouts, radish seeds… and so much more were sprouted in that sprouter. I piled the sprouts high on my homemade 100% whole wheat stone ground (on my own Magic Mill grinder) bread.
What happened to my sprouter, which, in the 70's had exactly the same little red thingy's as the BioSnacky has? It was a bit of an anomaly design-wise as it was definitely a few feet into the future. I believe I left it at a school. I used to do sprouting with my students when I became a teacher, and one year, I could just not find it – anywhere.
No longer 18. Still an odd duck. Many now know. No longer worry that the world will come to an end or that my family will starve. I do, however, worry about eating healthy and have a considerable food storage. Still make everything I can from scratch. Even my own cheese. And grow as much as possible on my own little urban plot. So, when Food Bloggers of Canada announced the possibility of participating in a sprouting event, I applied. It is an odd season to sprout indoors, but a great season to get excited about it… as everything is sprouting outside. I used to use my sprouter through the Winter. This one is smaller, easier to store and I can see I would easily use it all year long.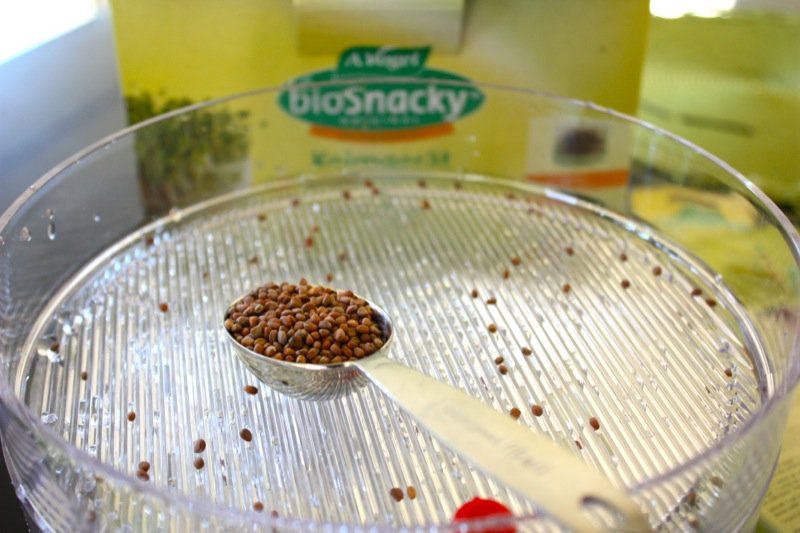 Received it last Friday. Cleaned it and filled the three trays up on Monday: a different variety of seeds on each tray (rinsed first): radish, above; mung bean, below.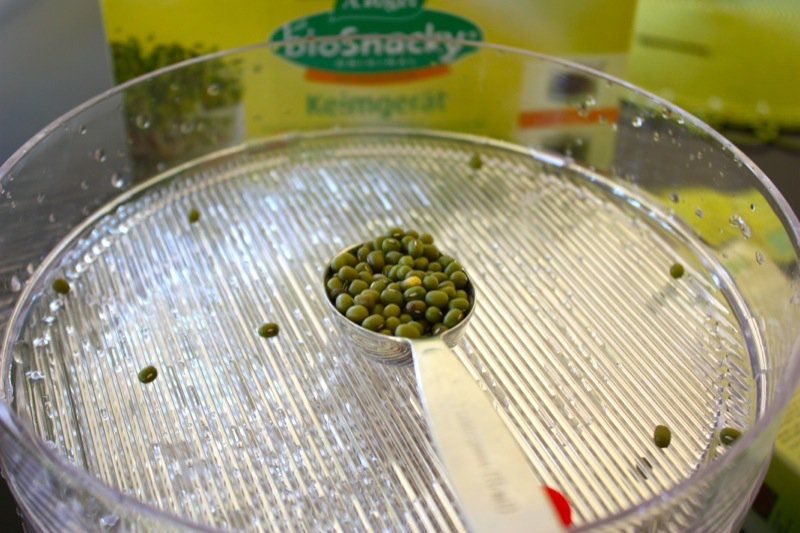 Some kind of healthy super mix variety in the last tray…
Covered the little red "thingy" with water, and did so again, yesterday. The seeds are to be watered every two days and the sprouts are to be ready within 5 to 6 days.
Once the water had drained into the bottom tray, I used it to water my indoor plants.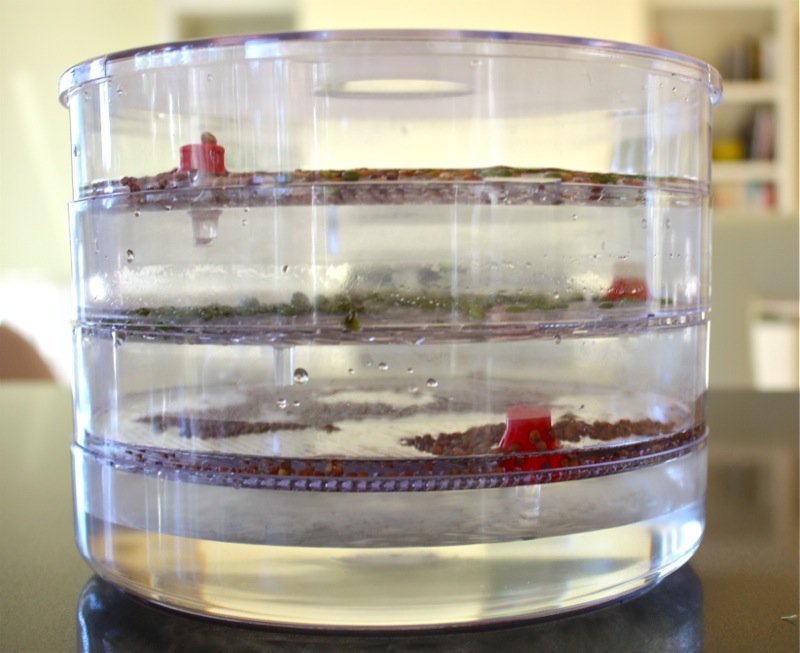 Sat it in the sun to sprout it out.
Today, June 20th is day 4, in the morning, so 3 days of sprouting… first is the "mighty mix", followed by the mung bean and the radish sprouts.
Are these not gorgeous and the radish sprouts are delicious now! My dilemma? I am to come up with creative ways to use the sprouts. Ideas? Please.

Photos of each tray at the end of the cycle, when each is ready to be eaten, and used: 5 days from the start: Mungbeans, Super Mix, Radish Sprouts.
What you can WIN!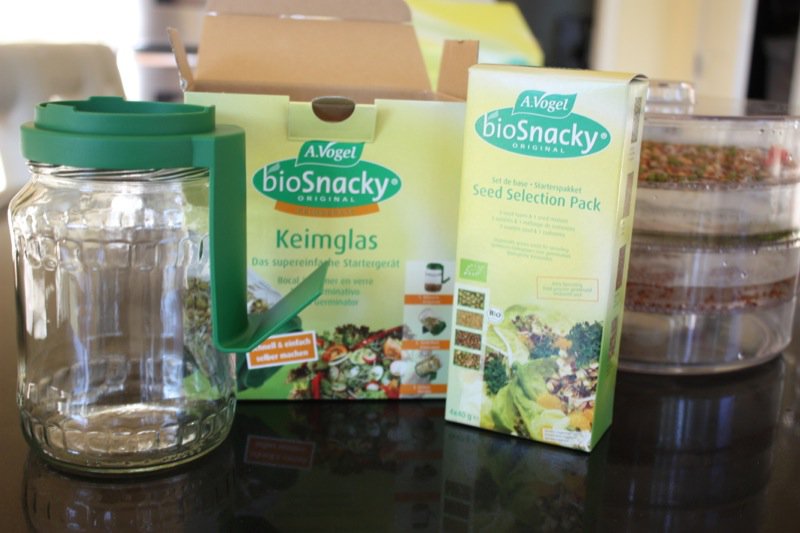 Each idea will get a name in the draw to win a BioSnacky Sprouter jar from me! Don't miss out, and please help out!
I will make one of the recipe ideas you share and post it early next week…. and I really need ideas!
Important Links: