Canadian Rocky Mountains is the Ultimate Venue for a Canadian Culinary Retreat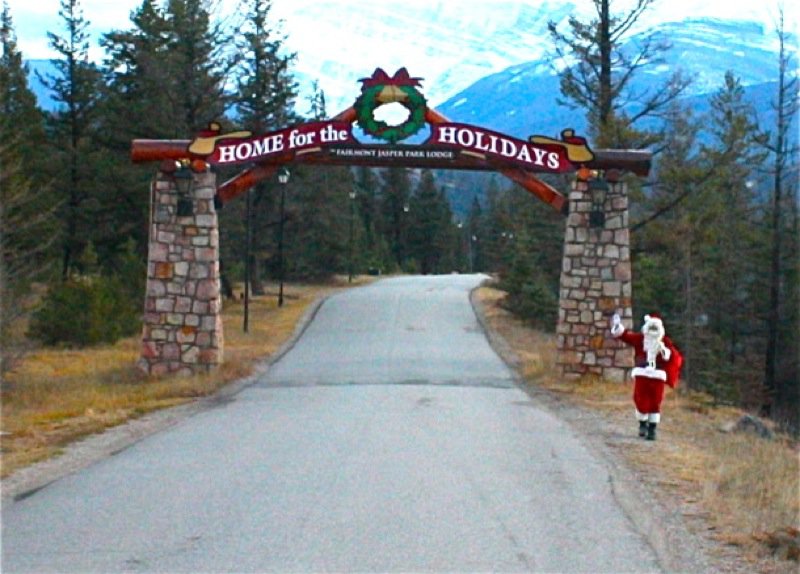 The mountains are only four hours away from where I live and still, I am spiritually moved, every time. Each season in the mountains is a must. Just before the snow flies, and sometimes during the first snow, Christmas happens at the Fairmont Jasper Park Lodge, in November. Christmas in November offters short reprieve between bringing in the harvest, getting the children settled in school and the onset of Christmas.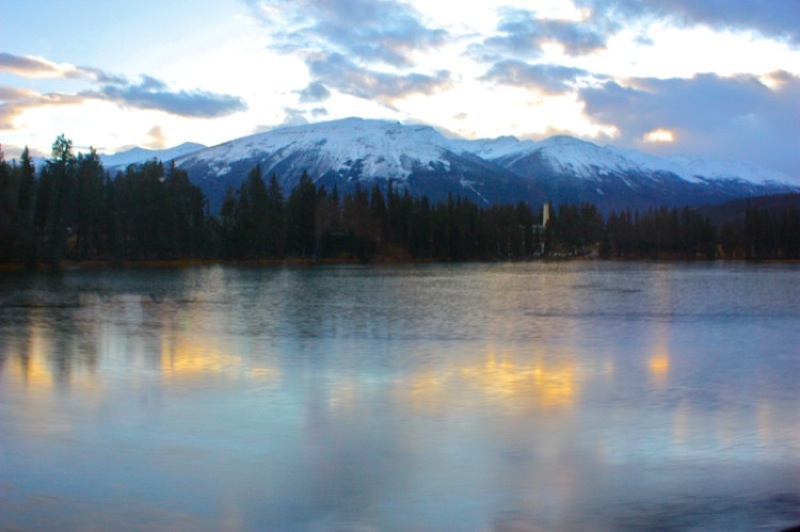 The sunset view from the Lodge and through the restaurant window (above) and the morning view walking from our cabin (below) climbs inside my soul and soothes my spirit. The light reflects an imaginary aurora borealis in the water. The air, the rising craggy rocked peaks, and the aquamarine waters are humbling and revitalizing. There is an energy. Only in these sprawling Canadian mountains, a vitality works its way completely through the core of my being awakening that primordial wonder and respect for place and space. The purity of a land untouched by man. An unfathomable lure and allure. This is the place I get to know me better. This is the place I come to listen. To me.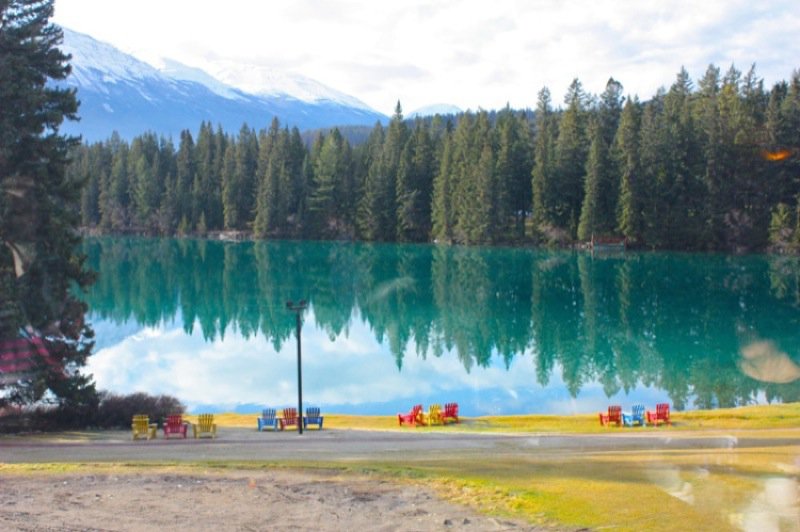 To realize that behind this body of water is a world class resort is surreal. Particularly. as the preservation of the area is paramount to the draw of the hotel guests. Wildlife thrives and moves through the rhythm of the day as if we are not here. But, we are. Living in the city, now, as most of us do, nature is precious. And then, there is the ambiance inside of the lodge.
Yup. The Atmosphere and Ambiance of Christmas in November juxtapose perfectly: the inside to the out and the outside to the in. There is magic in the air, everywhere.
5 Reasons to attend Christmas in November 2013
XMAS+YOU!
Part 1: eXtra Value
Part 2: Much food, friendship and frivolity
Part 3: Atmosphere and Ambiance
The remaining will follow the next two days this week:
Part 4: Service second to none
Learn about the attention to detail.
Part 5: You deserve it
Highlights of three sessions:
Michael and Anna Olsen's,
Julie Van Rosendaal and Pierre Lemieux, and
Keoma Franceschi with Teresa Spinelli.
These articles will follow next week:
The Founder of Christmas in November: Judy Schultz
Congratulations Elizabeth Baird: A Canadian Food Hero
Full Disclosure: Mom and I paid for our Christmas in November Package as explained above; however, I was upgraded to the Silver Anniversary Package in exchange for writing a couple of articles about the event. I just cannot do a couple of articles. There is simply too much to share. But, I didn't pay for the Silver Anniversary Package and certainly enjoyed it in exchange for my writing, here, and more to come.