Meeting old friends, Making new ones, Frivolous Fun and FOOD: Glorious FOOD!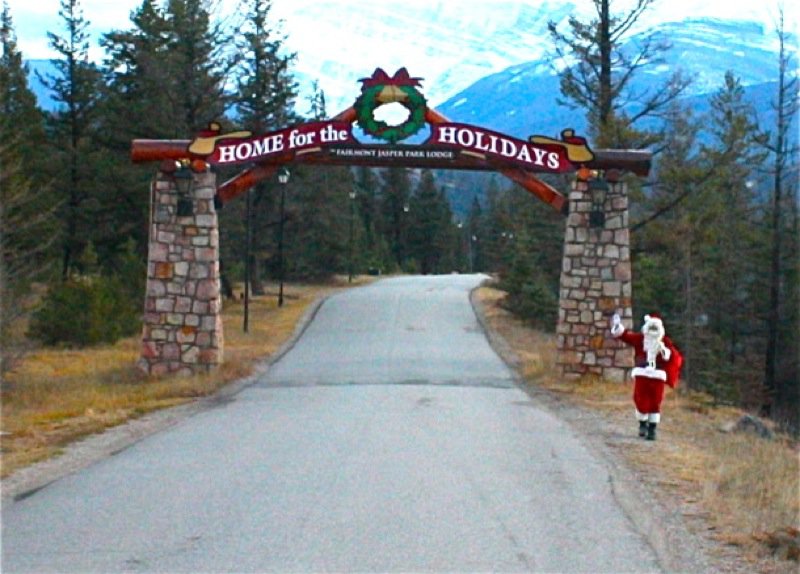 Christmas in November is Edmonton's best kept secret. 90% of the attendees live in Edmonton. I did meet people from several states, BC and Eastern Canada that were attending, as well, but this world class culinary event sells out every year mainly through local support. That is great, but I would like to let the cat out of the bag and get this event on our National Culinary map, and on the international stage, as well. It would simply not be possible for anyone, anyplace, anywhere to do this better than the Fairmont Jasper Park Lodge.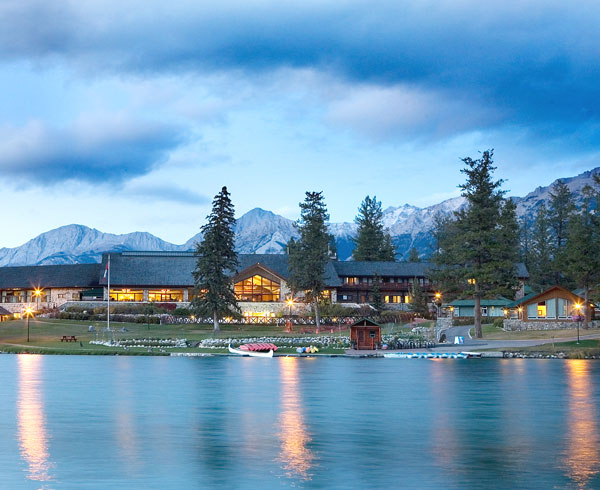 Food, glorious food… so much glorious food… from the coffee and muffins at the Hotel Mcdonald we were greeted with chestnuts roasting on the open fire. Yes! Upon entering the lodge, there was the aroma of spiced apples and hot chocolate. Christmas treats and sweets for the taking and warm smiles with Santa's caps greeting from all directions.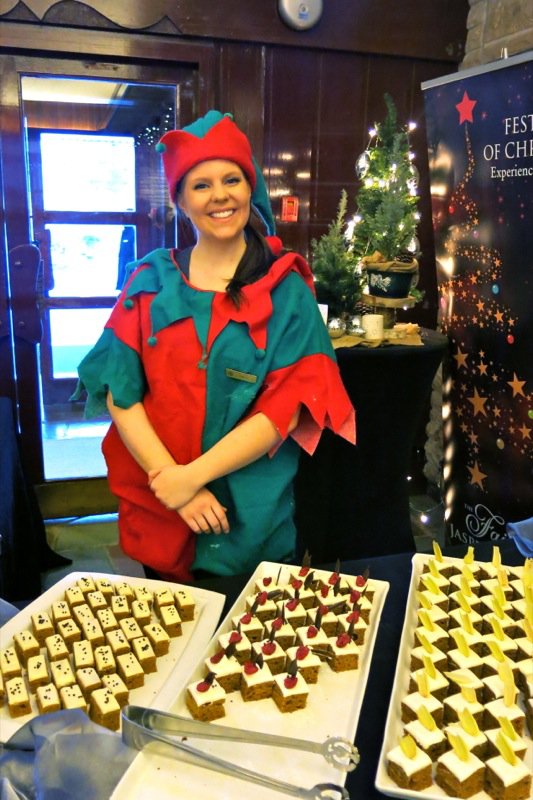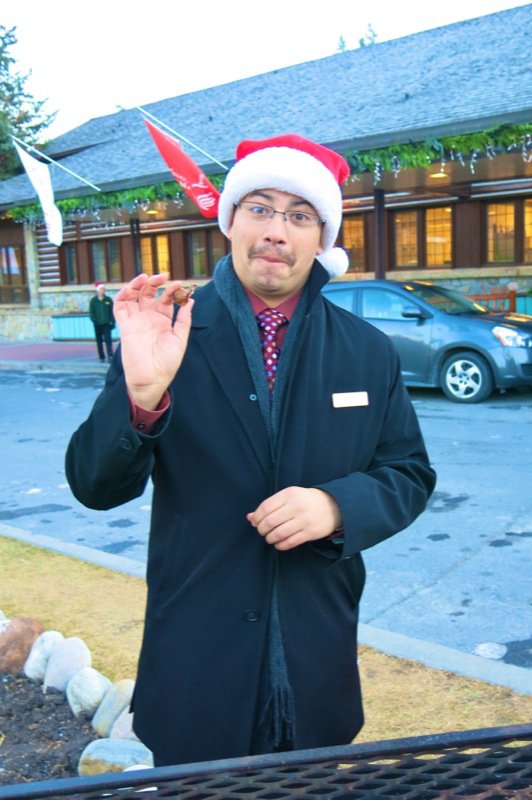 Much Food
Much food, friendship and frivolity is Part 2 of my five part series about Christmas in November 2013. Food, glorious food… so much glorious food… from the coffee and muffins at the Hotel Mcdonald, we were greeted with chestnuts roasting on the open fire. Yes! Before even exiting the bus, the fragrance of a meaty-nutty somethin' somethin' wafts through the air in a wisp of smoke from the open fire in front of the main lodge. Chestnuts! Roasting on the open fire! I immediately broke into song. Jack Frost was not nipping at my nose, though. The evening was lovely!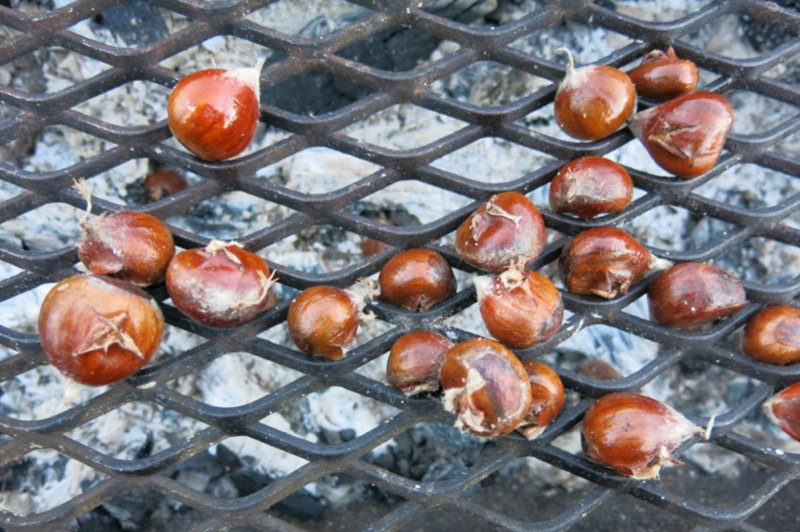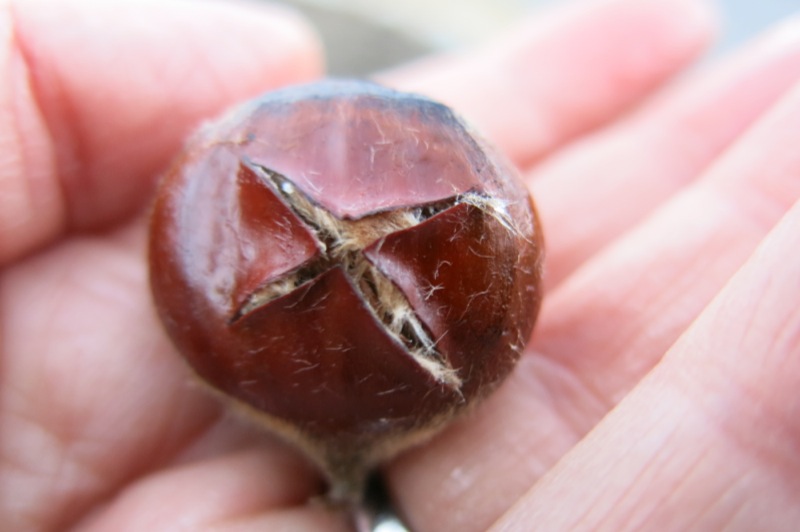 Welcome treats awaited in the main lodge: hot chocolate, sweets… a little yummy to take away any tummy grumbles after the four hour bus ride.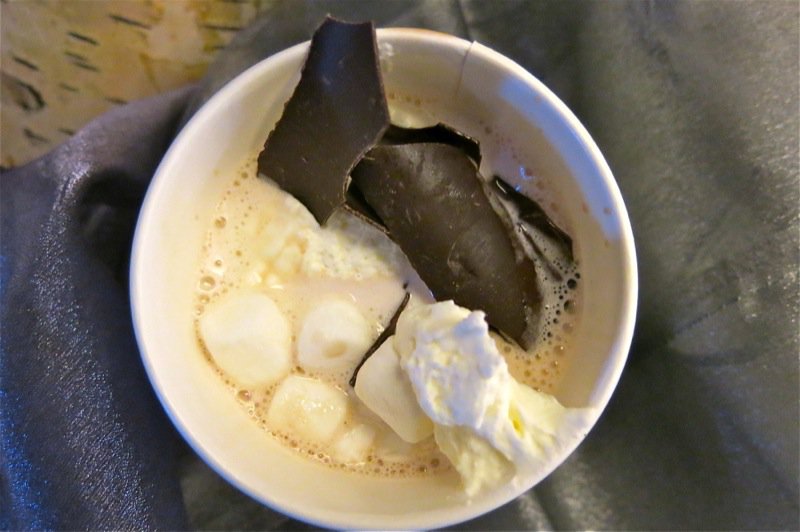 In our room, within minutes of exiting the bus, champagne awaited, with glasses, cookies, and more nibbles.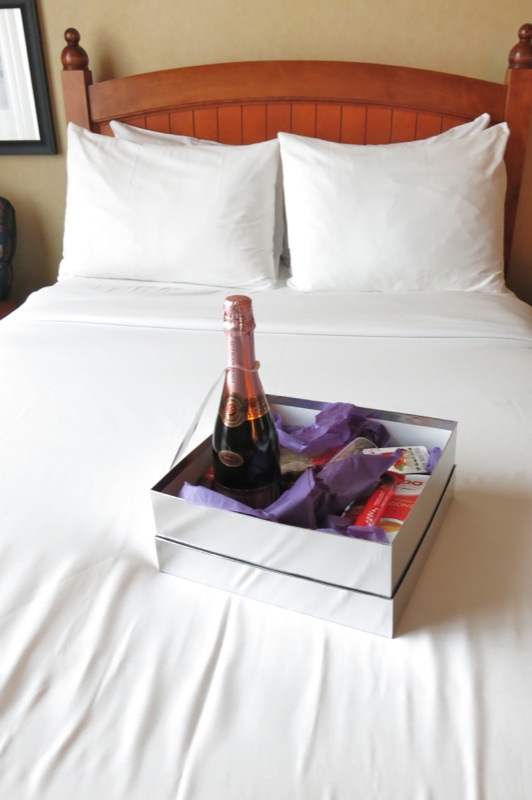 If you bought the Silver Anniversary package for 300 dollars a person each (an extra) there was a reception before the Dinner reception to meet and greet the celebrity presenters. Gorgeous signature cocktails, open bar, hand served appetizers and lots of intimate moments to ogle and drool over your favourite people, all in one room.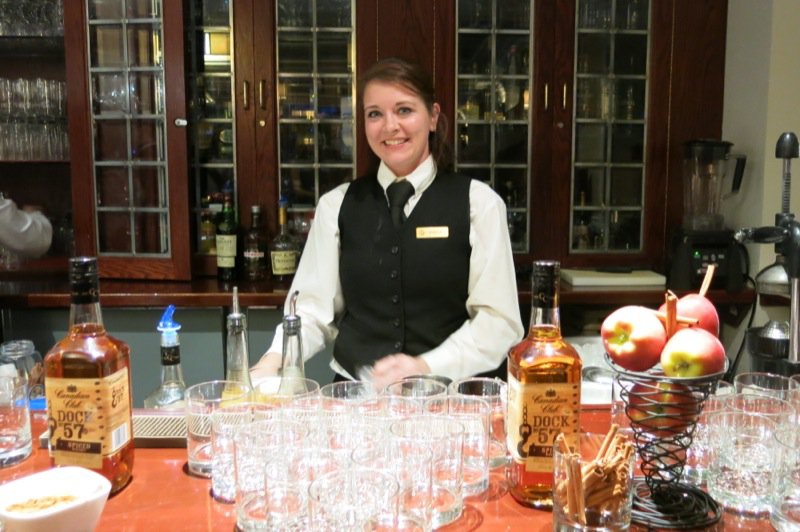 Upstairs to the main hall, there were cocktails, martinis and red and white wine as far as the eye could see. Seriously. No one is driving. We are all sleeping over.
The Reception Dinner always has a Theme. This year, it was the Silver Anniversary and each of 5 stations offered small plates from that specific 5 year era. The 6th station was the dessert station. An outline of each station follows.
1988-1993
Smoked Duck Confit and Orecchiette Pasta Casserole, Sweet and Sour Meatballs, Beef Roulade, Seafood Station featuring 8 different kinds of fish and shell fish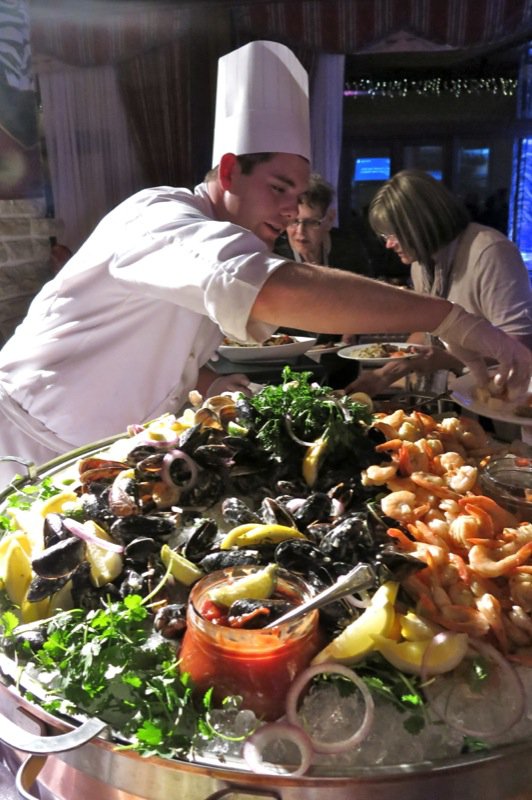 1993-1998
Striploin and Yorkshire Pudding with Red Wine Glaze, Creamy Heirloom Potato Bake, Twin Meadows Organic Vegetable Crudite, Roasted Heirloom Carrot and Squash Salad
1998-2003
Canadian Cheese Selection, Raclette, and Tabouleh
2003-2008
Veal Cheek Cassoulet, Crab Cakes, Housemade Porketta, Wild and Foraged Mushroom Risotto in Parmesan Wheel
2008-2013
Truffled Soup, Butter Chicken, and a Tuna Bite
Desserts
Traditional Fruit Triffle, Whoopie Pies, An assortment of 5 cakes, Mini Winter Floats and Hot Mini Donut Station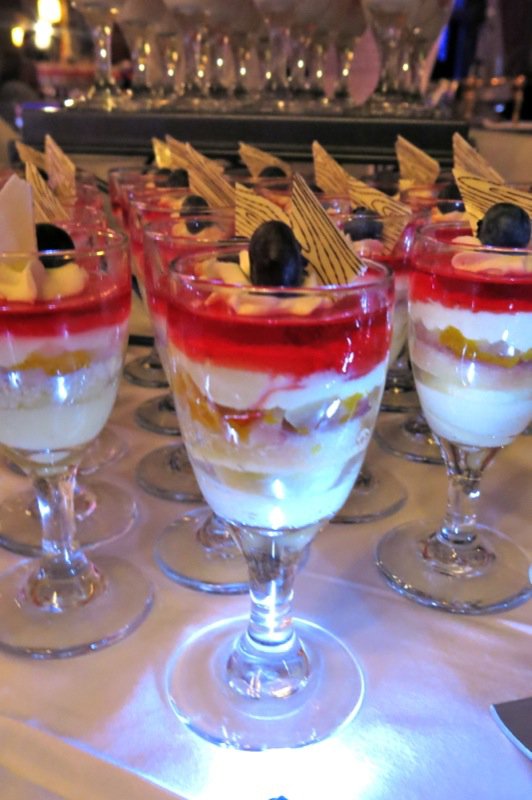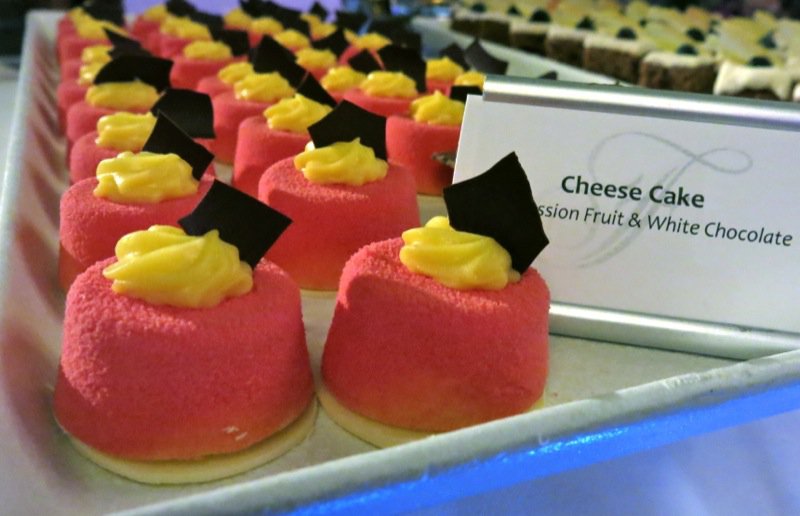 Now, that is just the end of the first day. Are you getting the idea? eXtra Value. Yes. Food? Oh, yes. And there is more.
Can you imagine the choices? I ate the soup, above, a little risotto and raclette and called in a night. Edified. Satiated. Living inside of a Christmas Holiday Fantasy. Back to our room, I tucked myself into that famous Fairmont fit-for-a-king bed and sunk into a fresh mountain air slumber that somehow refreshes every fibre of one's being.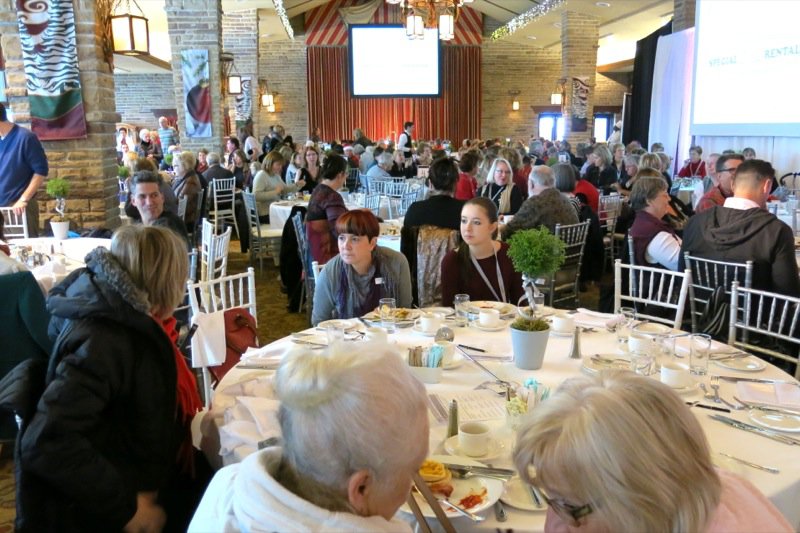 Breakfasts were hardy: we are in the mountains! Bacon, eggs, sausages, hot and cold cereals, sweet rolls, beverages, and more. Both mornings. Coffee, Tea and Juice service at the table. Buffet breakfasts. Lunches were three courses. Three courses. More than I feed my family at our evening meal each night. Below is a sample of one three course lunch: The Christmas Dinner. Should I add that the evening meal was a 5 course Gala dinner? Probably not. (But it was.)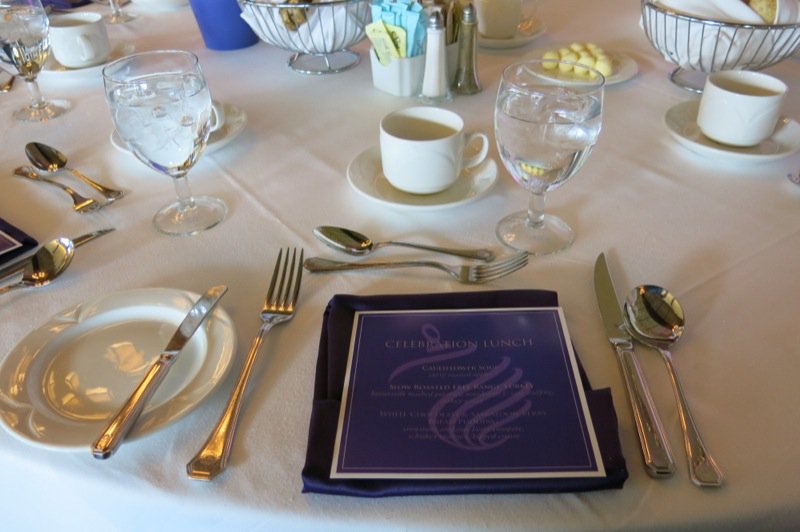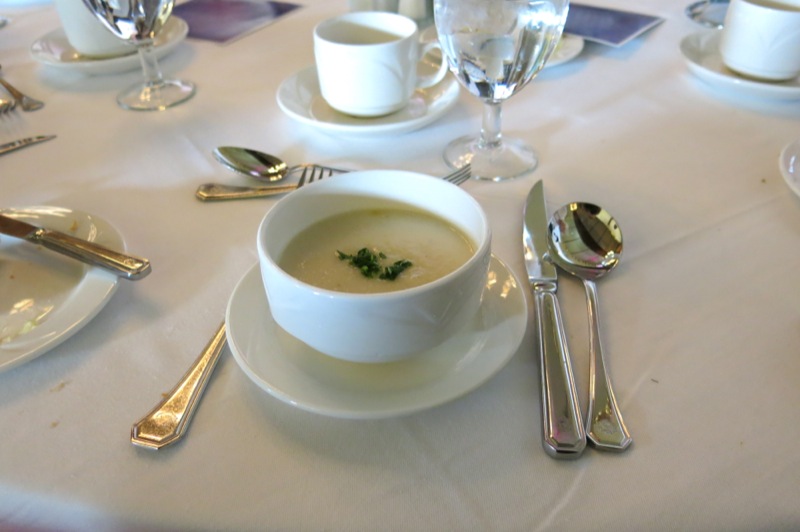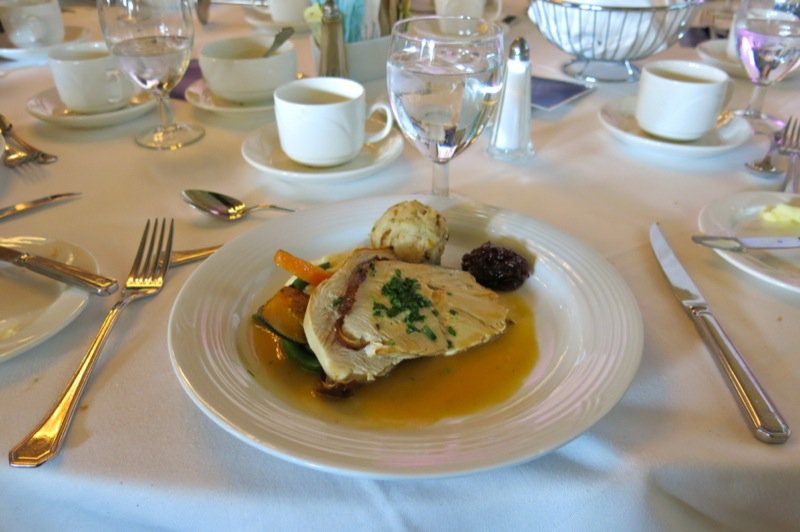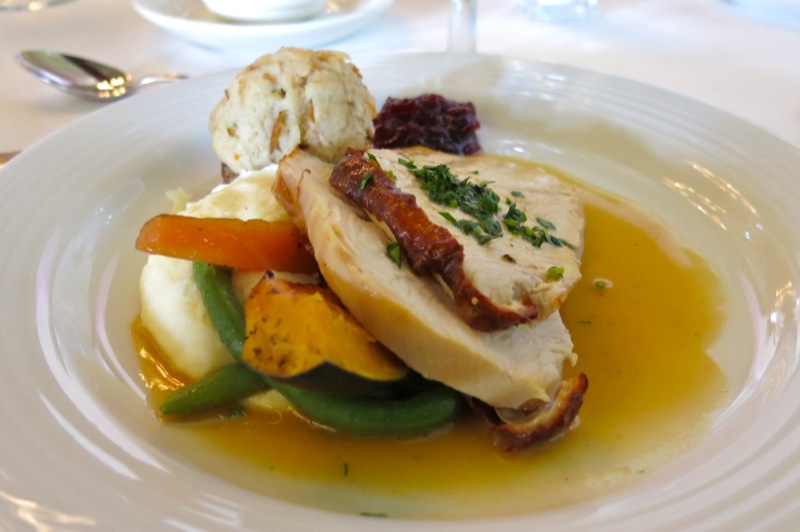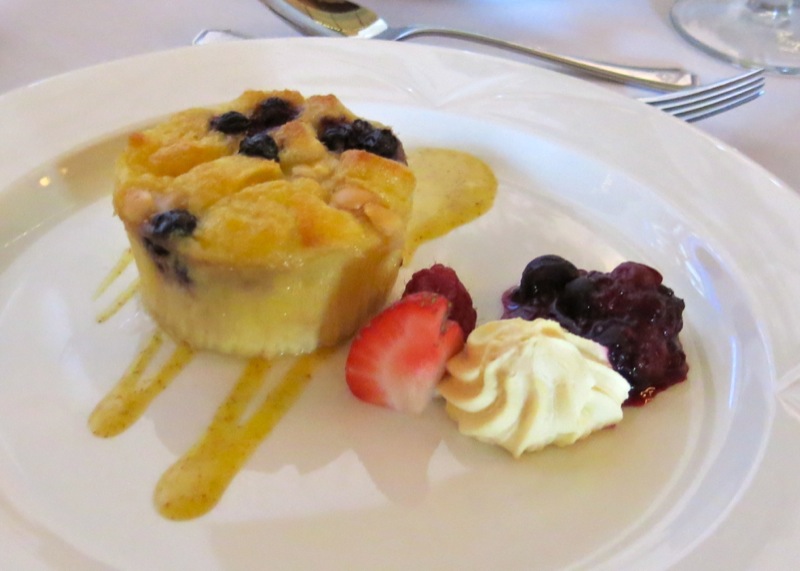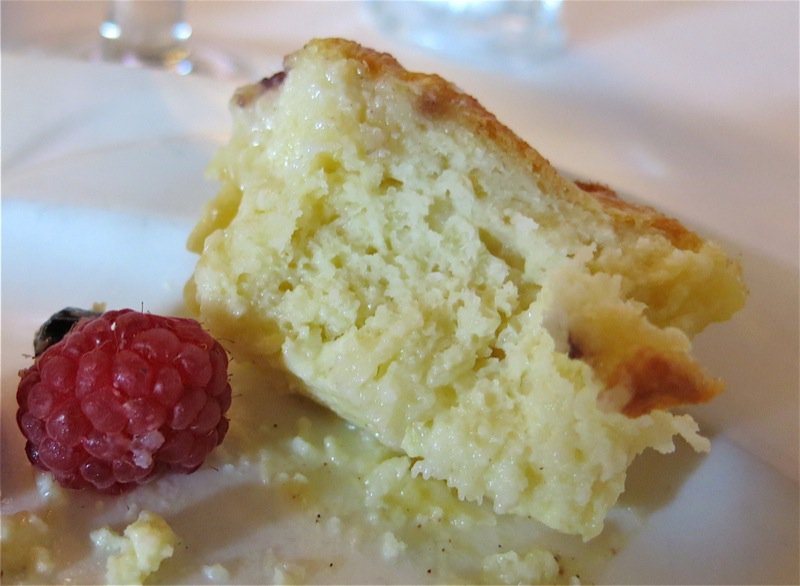 Dinner the first night was tenderloin with an unforgettable potato dish. Soup first, and the main followed with a chocolate pyramid dessert that found all of Table 19 licking our plates in public. Nothing is sacred at Christmas in November. I am attempting to get the recipe for the potatoes to share.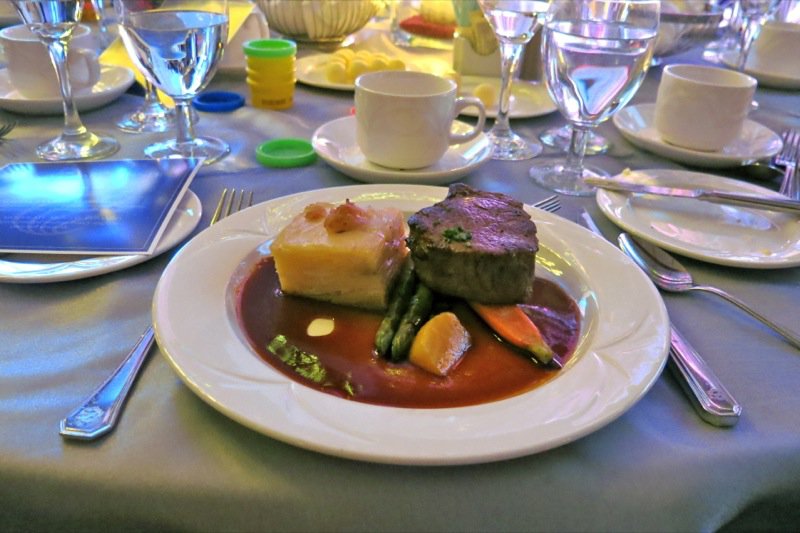 The Gala Dinner is the night everyone dresses up. Photos with Santa. Lovely reception and a great meal, This year, it was an unexpected 5 courses in honour of the Silver Anniversary. Truffle soup with an unforgettable short rib ravioli hiding in the bottom. The groans of satisfaction were deeply harmonic. Mom said the beet quinoa salad that followed was her favourite plate of the entire event. It was that good.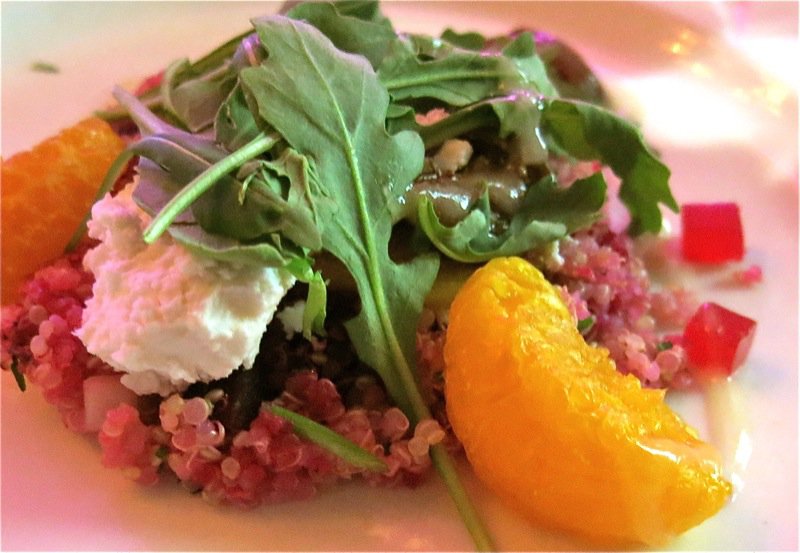 The first year, twenty five years ago, each table was presented a Crown Roast of Pork. Imagine? And a carving set. This year, we had an honorary carving of the first crown roast, and the plates were then brought out for each of us with huge slices of bone in ribs from the crown roasts, perfectly cooked. I don't eat pork, and it was a savoury succulent addictive candy accompanied by a Moroccan style sauce with dried fruit. The cheese course followed. The grand finale was a rhubarb tart. Honestly? I didn't make it to the end. I exited after the main. Mom was just lighting up at that time and filled me in on what I missed. Oh, what a feast. Oh, what a celebration.
The final morning, beverages and sweet buns are offered before the sessions buffet style, then a brunch of all brunches is set out to send us home waddling out the door. Everyone lines up and pushes the person ahead: each pushing the one in front, through the door – PLOP – and then the next – push and plop – until we have all been squeezed out and are able to waddle to the line for the bus.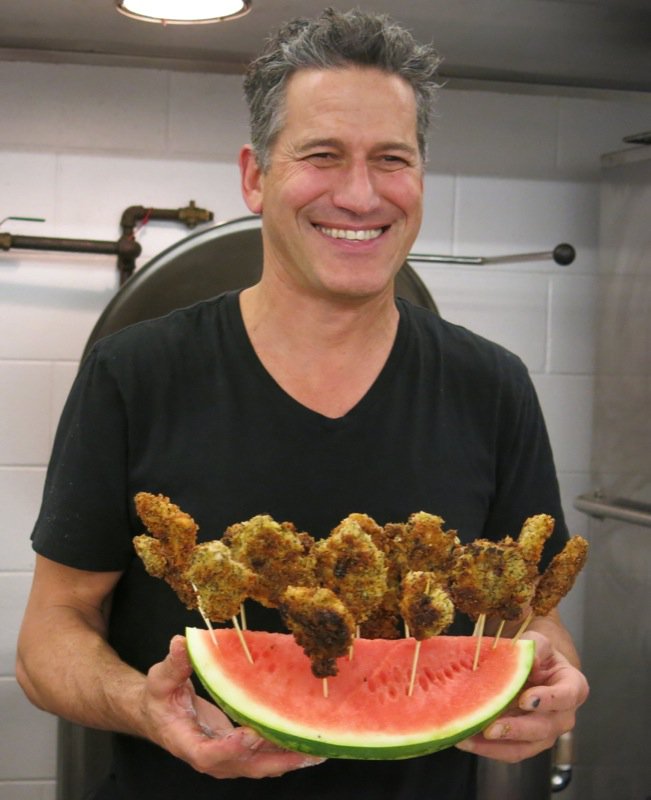 The Sliver Package offered another evening reception the second night before dinner. It was a class with Bob Bloomer. Champagne. Appetizers. Meat on a Stick. Great company. This was the highlight of the Silver Package for me. You have me whenever I get to learn something new.
Much Friendship
Time to reconnect with loved ones, reconnect with long lost pals and make new friendships. Mom and I did it all. Arriving at the Hotel Mcdonald, there were two couple that I had not laid eyes on for 25 years, yet I worked so closely with them at the onset of my teaching career. What an incredible gift it was to reconnect with them.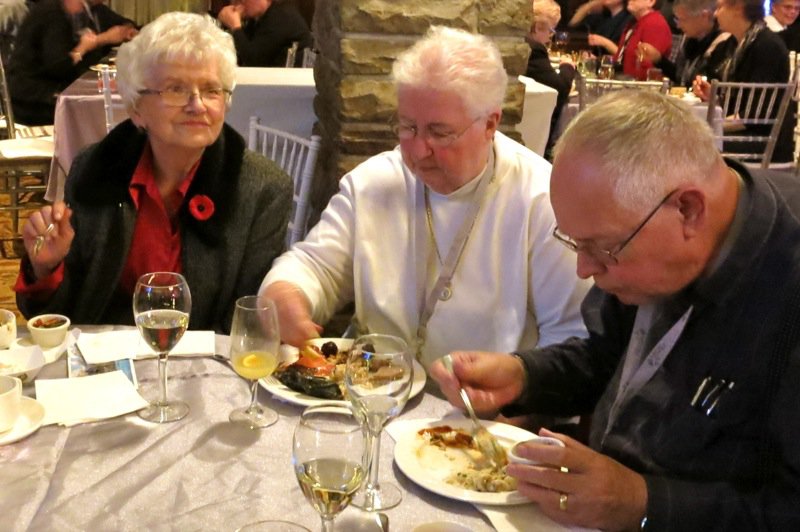 At the Silver Anniversary reception the first evening, there was Loree, an old school buddy, and her daughter Kaylie. (I am certain Kaylie will win the free space next year for the most tweets. She was in 7th heaven meeting all of her food network star idols.)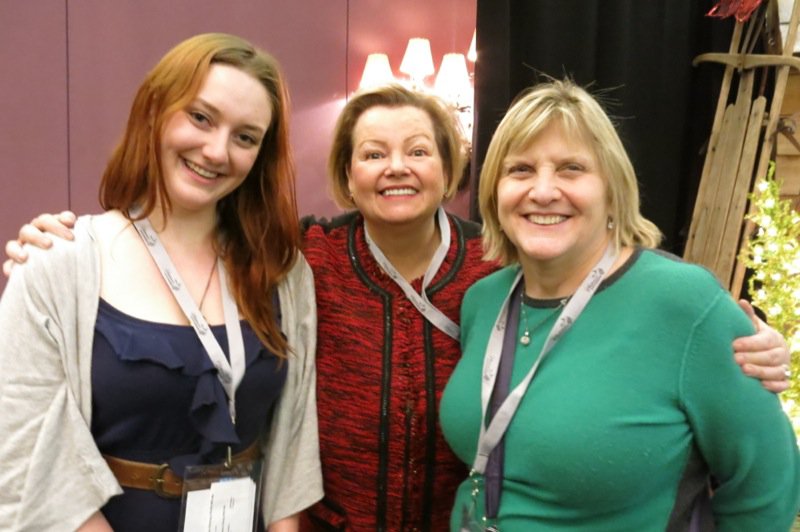 Some things are just meant to be. The table arrangements are set out like a cruise ship (though I have never taken a cruise). You sit with the same people the entire time. Mom and I were asked to move tables after the first two meals and it was a bit disconcerting, yet I was disappointed that we were not seated with other participants, originally, as that is where you find out about what classes are hot. The afternoon of our last session on the first day. we met a wonderful gal, Michelle, and then her three crazy gal-pals. They just lit up the room, and for some kind of odd moved-by-the-spirit-of-the-moment reason, I took their photo.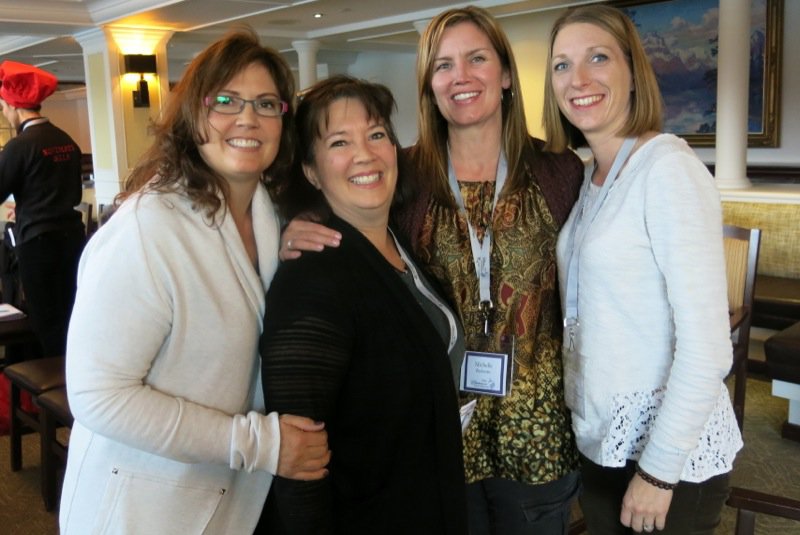 We then discovered they had also purchased the Silver Package when we arrived at the Bob Blummer session shortly after, and there they were! More giggles.
Immediately after that session, mom and I arrived a little hesitantly to our newly assigned Table 19, and guess who our table-mates were? Serendipity. The crazy gal-pals! Party time! As we were all Silver Package participants, we had a Celebrity sit at our table. Our celebrities were: Sue Dunn and Marna Praill. We could not have had lovelier company. I am having the gals over for lunch in a couple of weeks.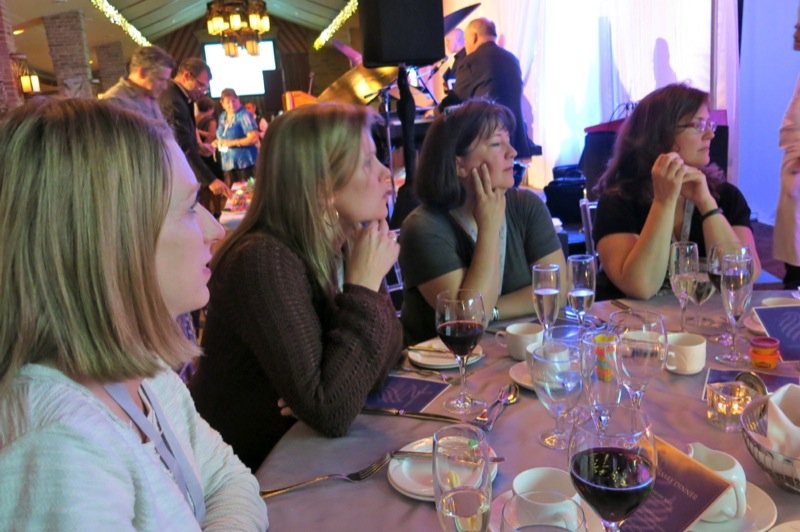 But the story gets even wilder! Only one of the gals knew how to tweet, so they were all just learning. We traded phones to follow one another that first night, and Michelle almost had a heart attach when she saw my Twitter page with my website photo on it. She looked at it. She looked at me. She looked the photo and back at me. Is… this… YOU? She asked? Really? Well, I know I have put on a little weight since caring for dad this past year, but thought the photo was still in the realm of "me". I mean, Ann Landers kept the same photo for 50 years, and I just changed mine October. It is barely a year old. But, I confess. Though it was not photo shopped, I know how to hide a chin or two. You can see that when you look at the photo of me with Michelle below, that she had to take once she realized that she follows my site and uses my recipes. I was honoured that she actually reads what I write and was so excited to meet me. Kind of shocked, actually. But, as she is so much fun, just enjoyed the hilarity of it all.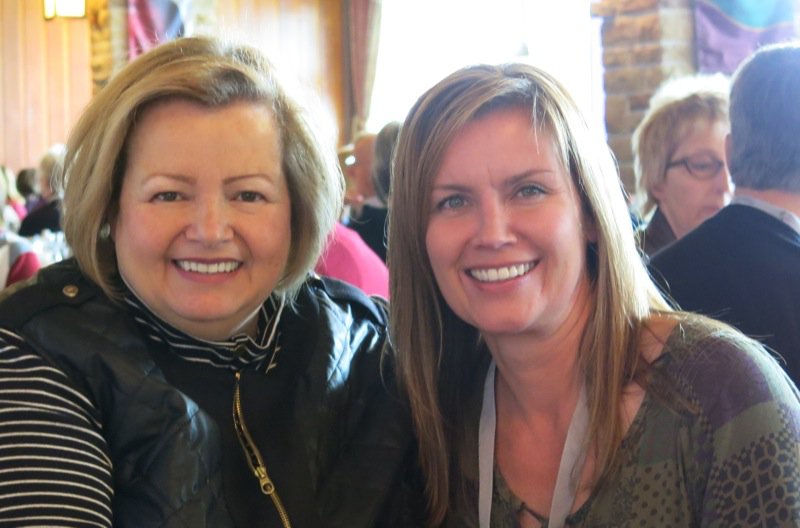 And new friends make great memories. Michelle knew it was mom's 63rd anniversary and the first without dad the night of the gala. She took it upon herself to let the hosts know, and mom danced the Anniversary Waltz on her Anniversary with Nik Manojlovich. I was long gone, but Michelle took the video. I saw it on twitter and mom will never forget that moment. Dad got a great little giggle over it, too.
Before the gala the following night, I was doubly honoured to meet Pauline, who did recognize me and introduced herself and daughter to me. It is such a thrill to meet a reader and someone who knows me better than my own family, for the most part. Pauline was lovely as were both of her daughters. The opportunity to connect this way was very special to me.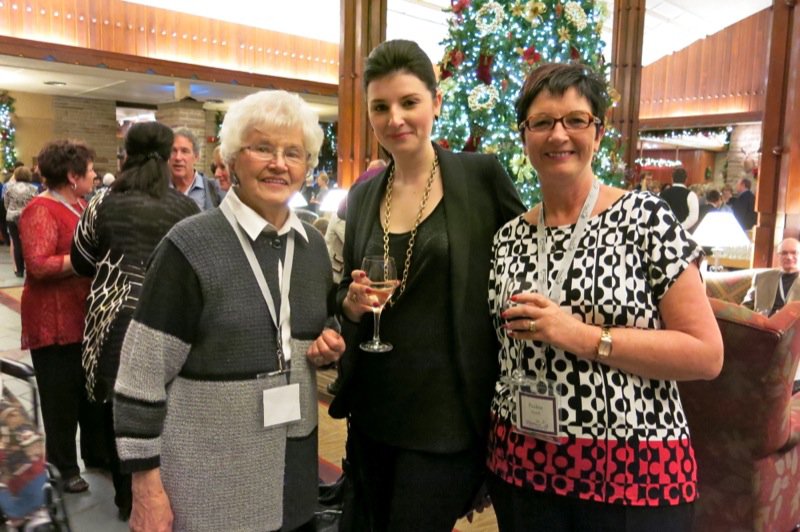 Much Frivolity
The Spirit of Christmas is in the air. It is everywhere. Smiling is simply contagious. The sense of purpose and community was evident and felt so comforting and secure. People invited people they'd never met before over to their room for drinks or after parties. Long walks and runs were happening around the lake in the morning and late afternoon. Being an Edmontonian at Christmas in November is almost like being at a reunion of best friends and like minded people. Each session the event is offered, there were people attending that I wish were attending with me. Great to see so many of us taking advantage of this outstanding Alberta Christmas culinary opportunity.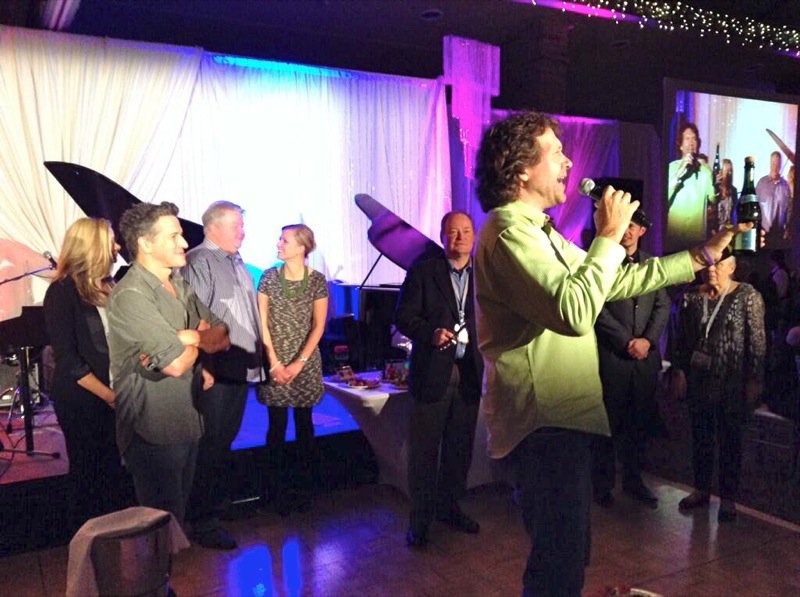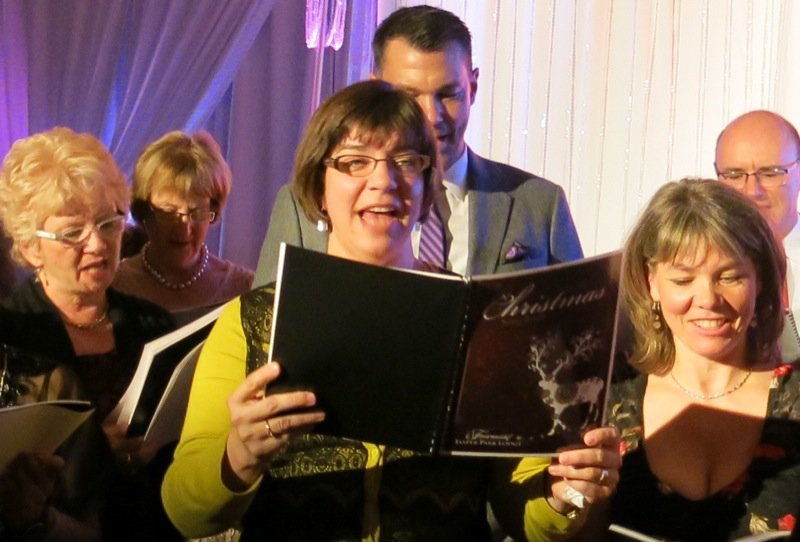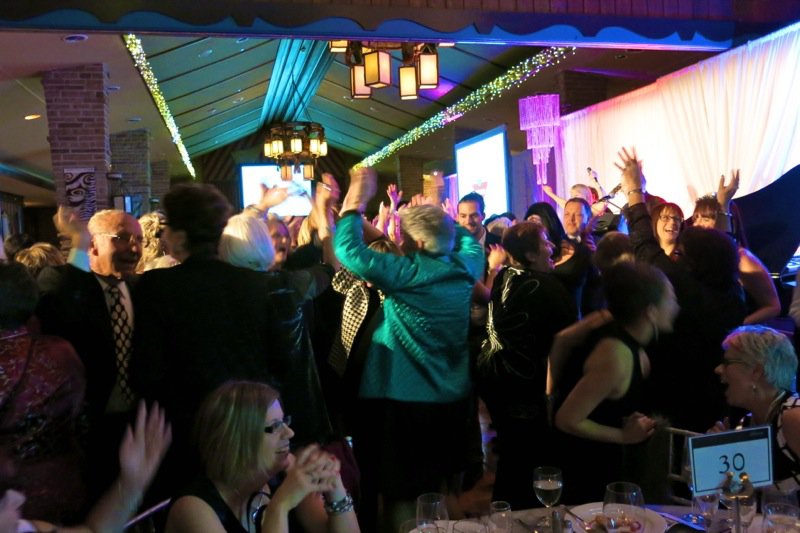 Honestly, I missed out on the partying this round, but certainly heard about it. If it was 10 years earlier, the party would have been at our place! We certainly had fun making our playdough sculpture the night of the gala, though.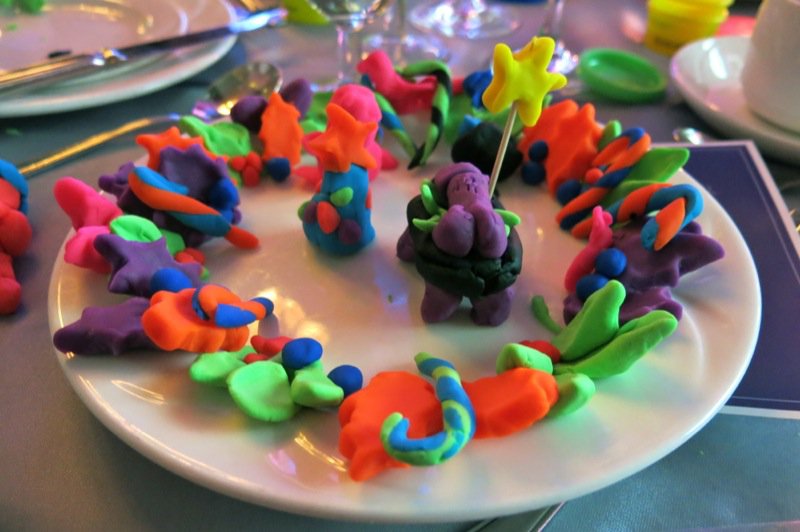 And mom did find her way home. Looking at the photos on my camera the next day, it looks like she had one heck of a good time!
'nuff said. There is just MUCH: Much food, friendship and frivolity
5 Reasons to attend Christmas in November 2013
XMAS+YOU!
(Above is Julie's squirrel just before it dove into the chocolate fountain!)
Part 1: eXtra Value
Part 2: Much food, friendship and frivolity
The remaining reasons will follow every day this week as well as two other articles:
Part 3: Atmosphere and Ambiance
What can I say? We are in one of the most beautiful places on the planet.
Part 4: Service second to none
Learn about the attention to detail.
Part 5: You deserve it
Highlights of three sessions:
Michael and Anna Olsen's,
Julie Van Rosendaal and Pierre Lemieux, and
Keoma Franceschi with Teresa Spinelli.
The Founder of Christmas in November: Judy Schultz
Congratulations Elizabeth Baird: A Canadian Food Hero

Full Disclosure: Mom and I paid for our Christmas in November Package as explained above; however, I was upgraded to the Silver Anniversary Package in exchange for writing a couple of articles about the event. I just cannot do a couple of articles. There is simply too much to share. But, I didn't pay for the Silver Anniversary Package and certainly enjoyed it in exchange for my writing, here, and more to come.
Also, the second photo of the Parmesan Cheese Risotto was not taken by me. I am trying to find the owner of the photo, and seek permission to use it – but it was too good not to use and hopefully we will connect soon.